In this blog post, we're talking about some air frying safety tips, when to put water in an air fryer and what you should know about the cooking process to get the best results, no matter the type of air fryer you use.
What is an air fryer?
An air fryer is essentially a convection oven with even heat distribution that allows you to cook your food at low to high temperatures in a matter of a few minutes.
In the airfryer, hot air is created with a heating element. The heat is then blown throughout the device by an inbuilt fan, distributing it evenly and creating a hot, dry atmosphere.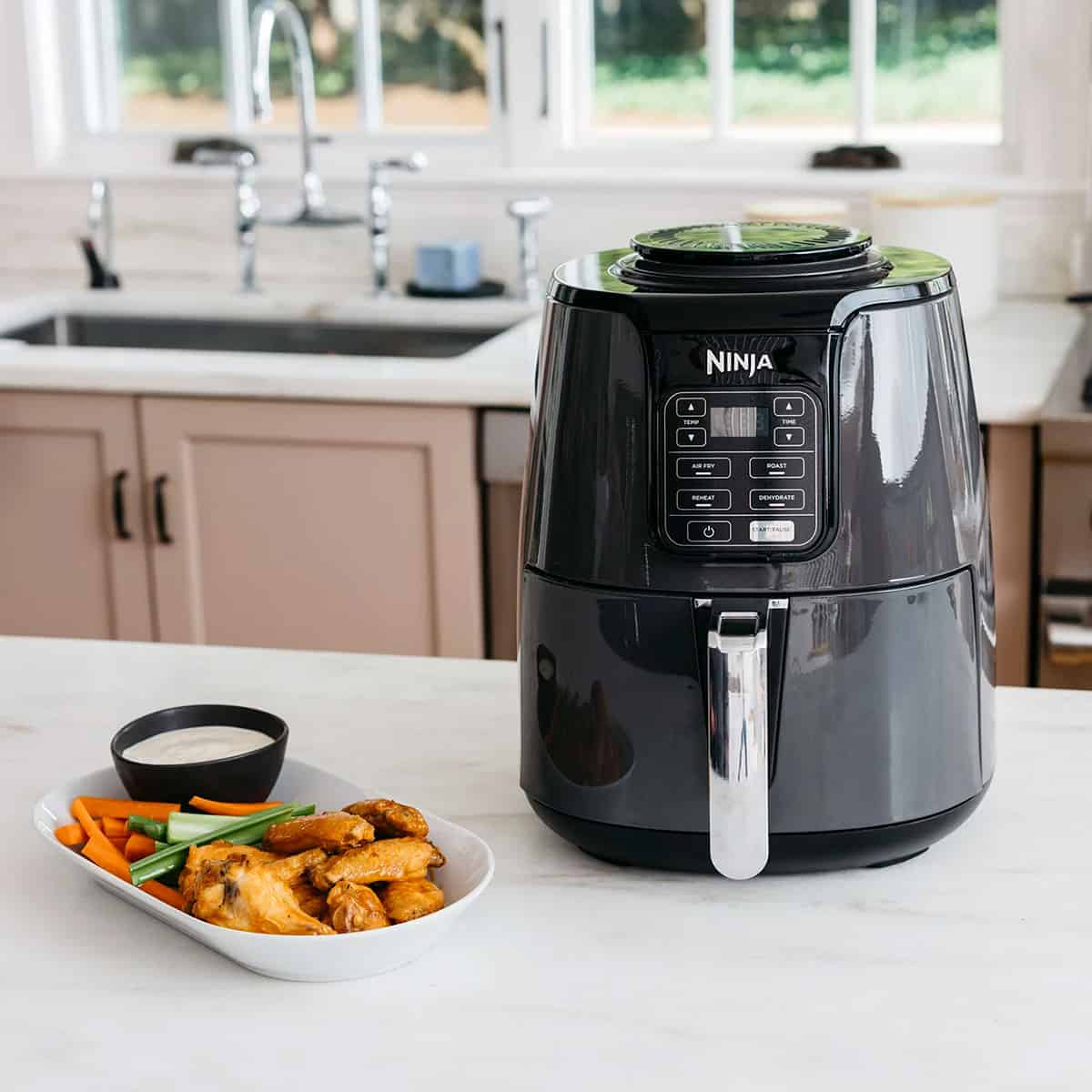 Once you get an air fryer, it might very easily become your favorite kitchen appliance. There are so many different ways to create delicious food in this glorious cooking appliance - the options are truly endless.
If you ask me, air fryers are truly the best things since the invention of the toaster!
Here are some of the many things that are brilliant about air fryers:
they are easy to use
reduces the cooking time of your favorite food compared to using an oven
uses less energy than the oven
a healthier alternative to using a deep fryer
a convenient electric appliance and a great addition to your kitchen equipment alongside an instant pot, slow cooker, and pressure cooker
allows you to cook food in healthy ways
cooks your favorite foods, such as French fries, with a fraction of the oil compared to deep frying
a great way to cook different types of food in just a few minutes
great for cooking crispy foods
a must-have for avid home cooks
you can even bake cookies, cake and pizza in an air fryer, as long as they fit the size of your air frying basket!
air fryers are a great way to reheat food
When using an air fryer, it's always a good idea to first read the entire manual.
Whilst all air fryers work with the same technology, there might be slightly different safety information depending on the brand and manufacturer. To be on the safe side, ensure you first read the entire manual and have understood any safety requirements for your device.
What are the parts of an air fryer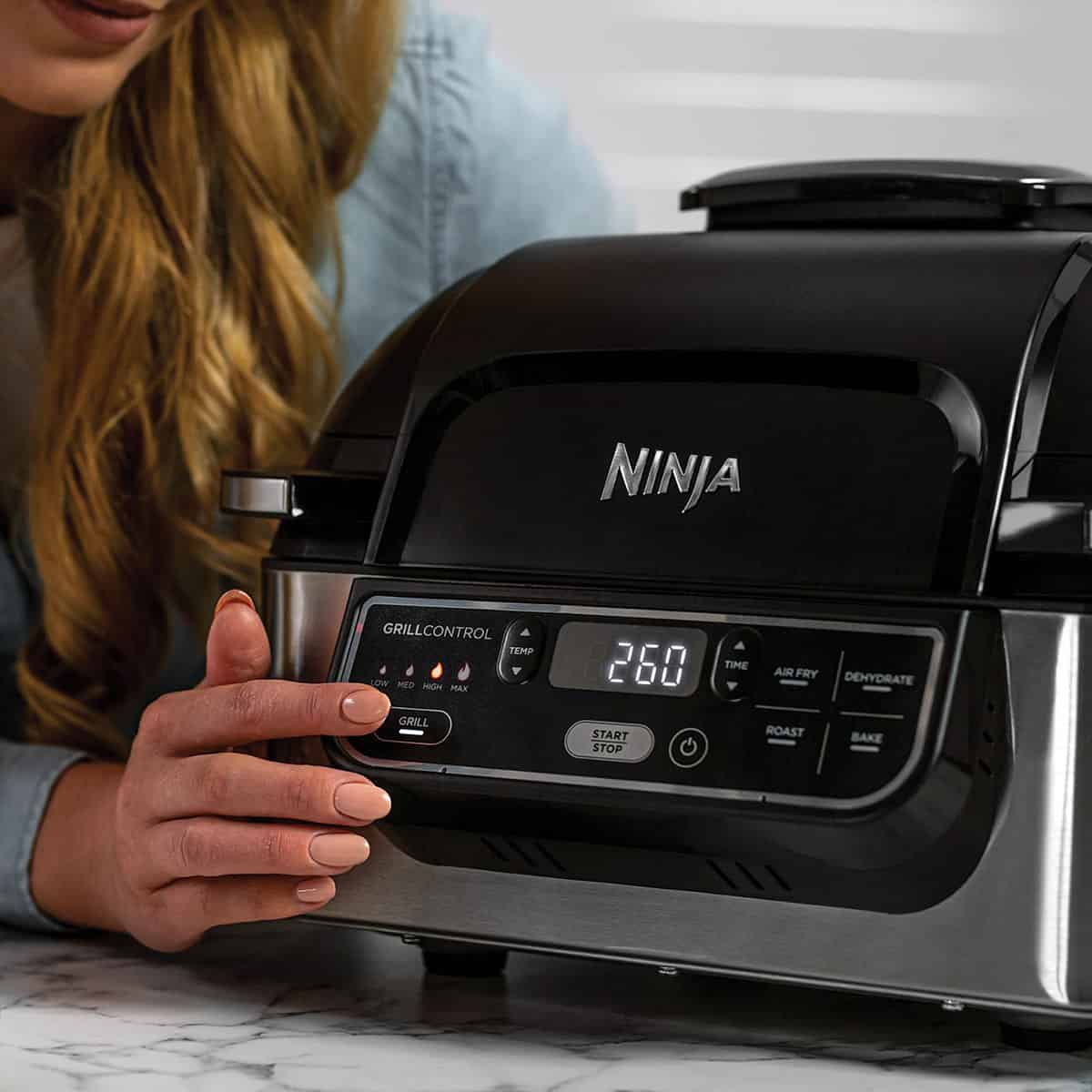 heating coil: all air fryers have a heating element, usually placed at the top inside the device. This heating coil electrically creates the temperature for the air fryer.
fan: Every air fryer has a fan that distributes the heat created by the heating element evenly. Most fans are hidden behind a grid for safety reasons.
cooking basket: this is the removable area for you to add your food. This can be removed and washed separately.
drip basket: most air fryers have a separate, removable basket that collects any drips and trimmings from your food.
main unit: the main unit is what is plugged into the power socket. It holds all electrical parts of the device, including the heating element and fan and should therefore never be submerged or in content with excessive amounts of water.
vent: the vent is usually placed on the back of the air fryer. It prevents the device from overheating and it released any excess steam from the device. Make sure there are at least 5 inches of space behind your device when in use, as it could otherwise damage the air fryer and become a hazard.
settings: any buttons, screens and settings for the device are located on the main unit. Depending on the device, these allow you to choose a temperature setting, cooking time and also additional settings such as cooking method (check your manual for details on your specific air fryer).
Can you steam food in an air fryer?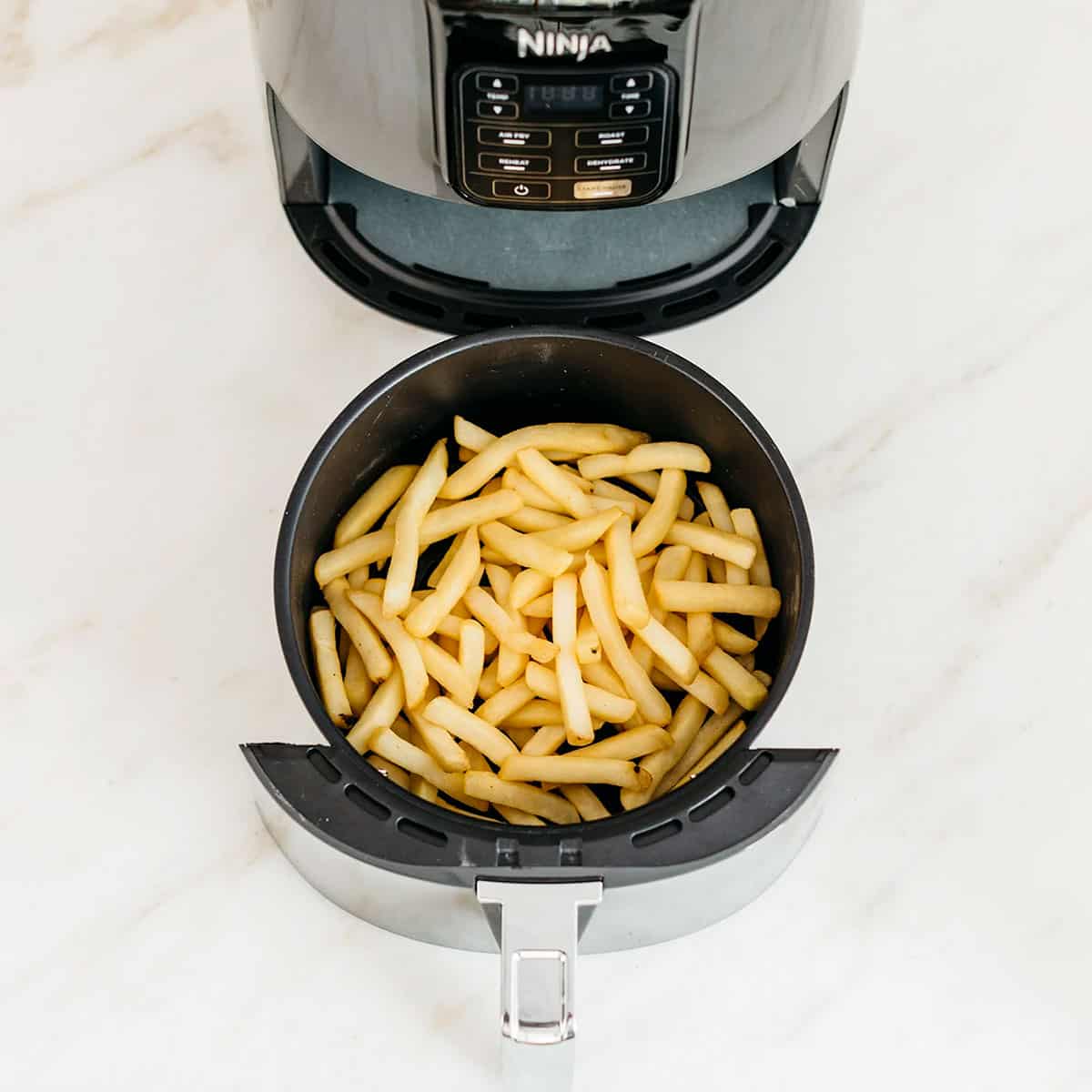 The short answer: no.
An Air fryer is not meant for steaming food and you should avoid adding lots of water or any excessive amounts of liquid to the air fryer. You also can't boil water in an air fryer, however, there are a few cooking methods that ideally require a small amount of water in your air fryer.
Air fryers generally don't have a compartment to hold liquid and they are not built to have water in them.
Only add a few tablespoons of water into the air fryer drawer, never more than that. Read more detail about when to use water in an air fryer below.
What happens if you add water to an air fryer?
Overall, adding a little bit of water can help to hydrate the food in your air fryer and prevent it from becoming too dry. It adds moisture into the atmosphere of your air fryer and it's a great way to refresh any baked items you might want to cook in your air fryer.
A little water can also be helpful in avoiding burned grease at the bottom of your air fryer (see more detail below).
If you add more than a few tablespoons of water to your air fryer, however, it can cause water droplets to fly as the fan inside the fryer rotates and splash the water all over the food making it soggy.
Attempting to boil water in an air fryer can also cause water droplets getting into the electric parts of your air fryer, creating a short circuit and permanently damaging your device.
Keep water away from the electronic parts of your air fryer at all times and never submerge an air fryer in water.
When to use water in an air fryer / When should I add water to an air fryer?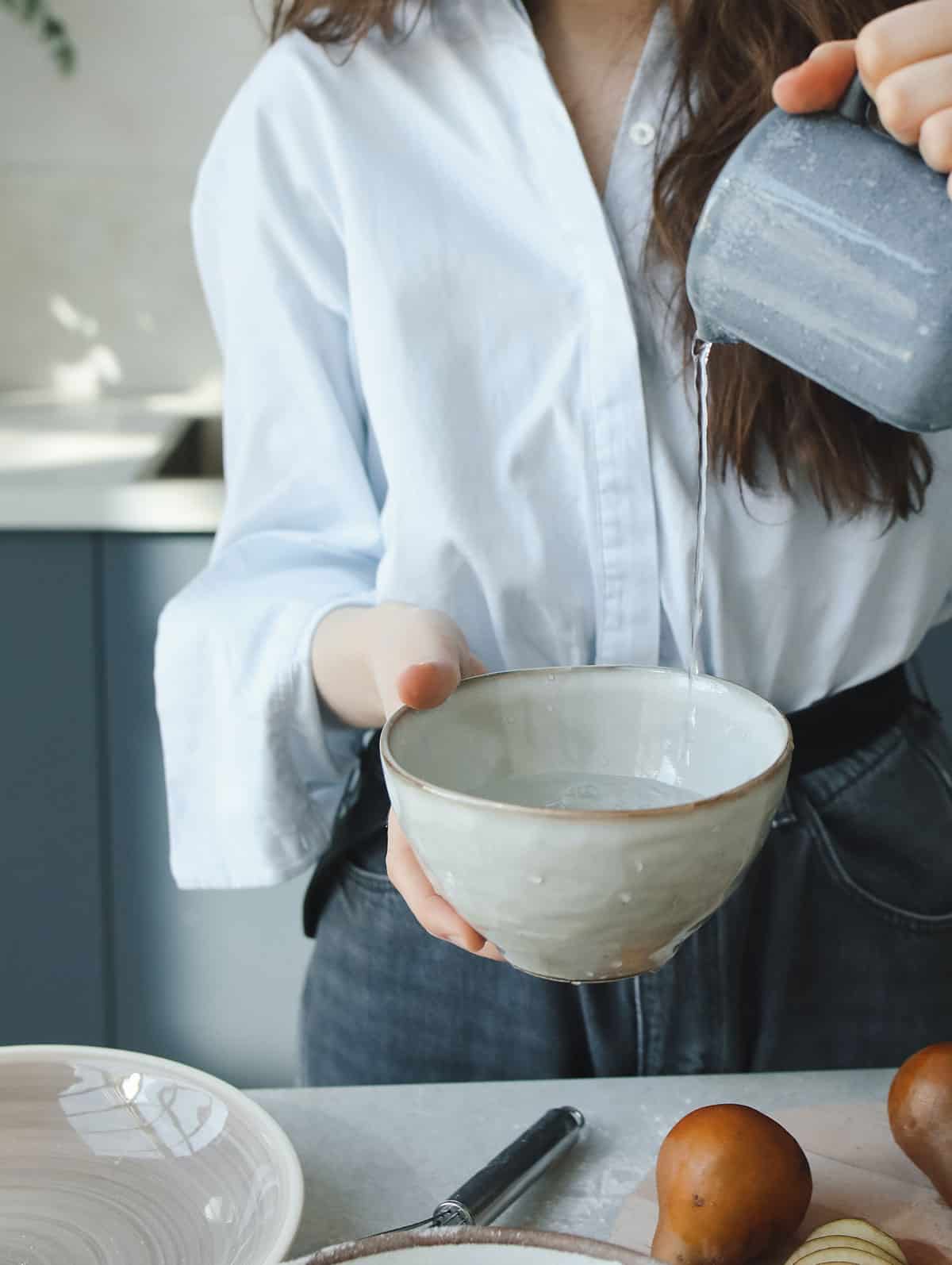 When cooking greasy food at high heat, such as burgers, steak, fish fillets, etc. (the vegan versions of those in my case!) and most foods that release a lot of fat when cooking, you can add a little water to your air fryer.
Without the water, grease from the fatty foods might drip down and it can burn on the bottom of the air fryer. This is not only an inconvenience when cleaning your air fryer, but can also cause toxic smoke production, including polycyclic aromatic hydrocarbons.
Small amounts of water at the bottom of my air fryer, can help catch any food drippings or food particles inside of the air fryer during the cooking process and prevent the formation of smoke.
If you're looking to cook crispy or crunchy food in your air fryer, such as french fries or chicken nuggets, then I wouldn't recommend adding ANY water to it as it can prevent your food from becoming crisp.
How much water to use in an air fryer?
You can add a little bit of water at the bottom of your air fryer, just below the air fryer basket. Check for the air fryer's bottom drawer, as some models might have a tiny drawer underneath the basket for this purpose.
Some air fryers can have a little maximum fill line inside their bottom basket, keep an eye out for it and never exceed the amount of water added. If your air fryer doesn't have a fill line, it's safest to stick to a few tablespoons of water at most.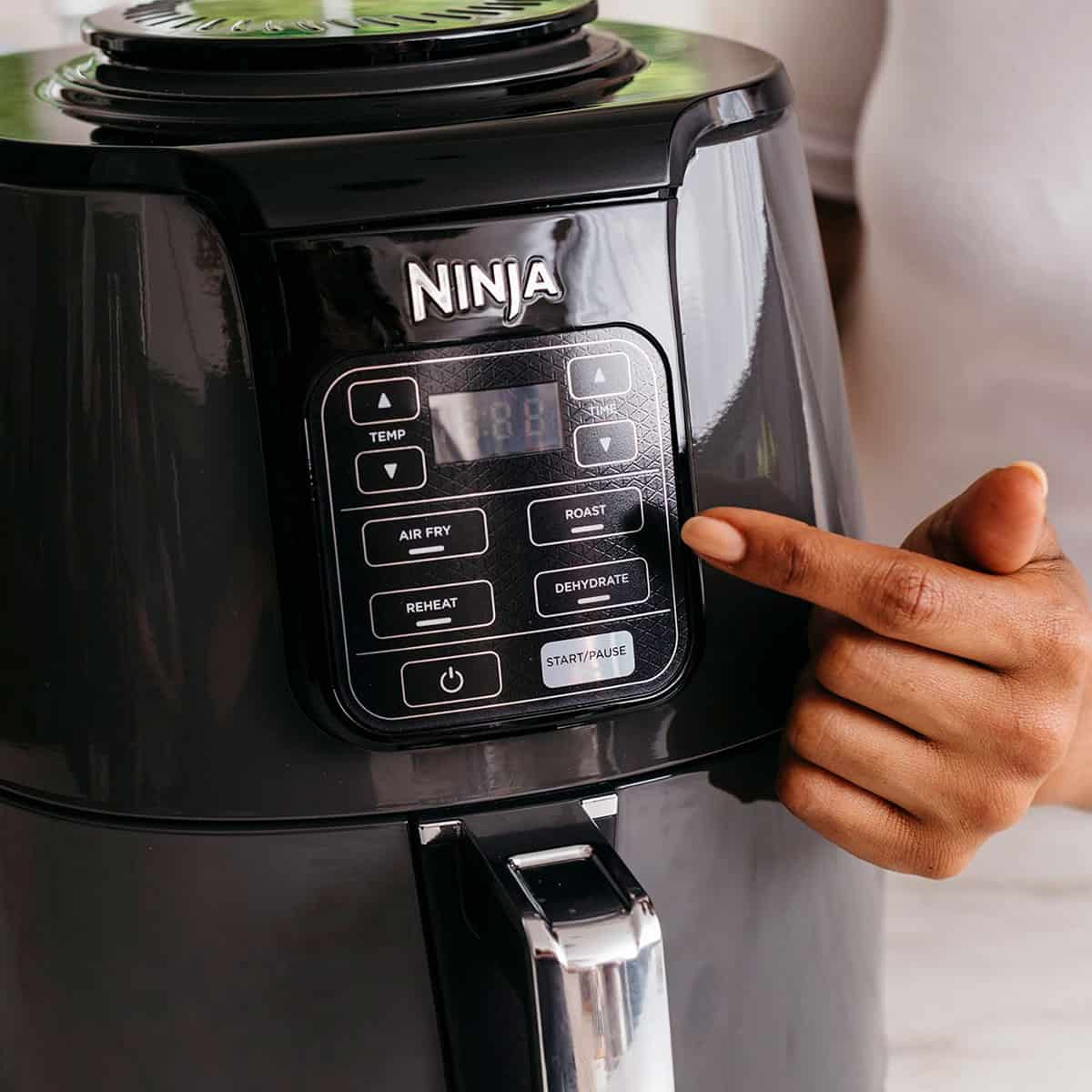 Tips & Tricks: Best practices to use your air fryer
Here are a few handy basic steps to keep your air fryer healthy:
Find the perfect place for your air fryer! Place it on a level surface and make sure it's heat-resistant and has enough space behind the air fryer to allow for the air to circulate behind the vent. Most manufacturers recommend at least 5 inches.
Ventilation is key! Make sure to not cover the vent of the air fryer while in use.
Preheat your air fryer before adding food! Some air fryers have a preheating function and they should let you know when the food can be added after 2-3 minutes of preheating. For best results, make sure your air fryer can get up to the temperature you've chosen before adding the food.
Get yourself a small spray bottle! Fill it with your favorite cooking oil and you'll be able to easily add a little oil to your air fryer food, a must for the perfect crisp! A spray bottle allows for easy dosage and is much easier than applying oil with a brush or trying to drizzle it onto the food. It's also useful to add a couple of oil sprays to your air fryer basket to prevent certain items from sticking. Whilst aerosol sprays with oil are becoming more popular, they might also contain compounds that could damage the coating of your air fryer basket, so a small hand-pumped spray bottle is the better option. My favorite oil to use in my air fryer is garlic-flavored, heat-resistant olive oil.
Invest in some accessories! If you look around your kitchen, you might already have some - most oven and heatproof dishes of cake tins should be air fryer safe too - just make sure they don't get in contact with the heating element, and of course, ensure they fit into the air fryer basket. To carefully remove items from your air fryer, I also recommend some heatproof oven gloves and tongs, so you can remove your tasty creations without burning your hands. Also, be careful with hot air escaping the air fryer when opening it!
Coat the bottom of your air fryer with aluminum foil! That way all the drippings will be easily caught and it's a great way to make the clean-up so much easier!
Don't overload your frying basket! This is very important. When you're in a rush, it can be tempting to cook a lot of food at once, but overcrowding the basket can only lead to uneven or partially uncooked food and even make your food soggy instead of crispy. I recommend adding everything in a single layer to your air fryer basket to allow for a tasty finished product.
If you're trying to get your food golden and crisp, spray it with small amounts of oil throughout the cooking process. Make sure not to add too much oil or your food might come out greasy and soggy.
Flip foods over halfway through the cooking process - this is where some heat-proof tongs can come in super handy! If you are cooking smaller foods, such as french fries, give the basket a gentle shake a couple of times during the cooking process. This will re-distribute the food inside the basket and allow them to cook more evenly.
Don't discard the collected juices from the bottom drawer right away! All types of things can collect in the drawer, including excess marinade, and juices from your food. If the food drippings are not too greasy, you can use these as a flavor boost and drizzle or brush them onto your food before serving.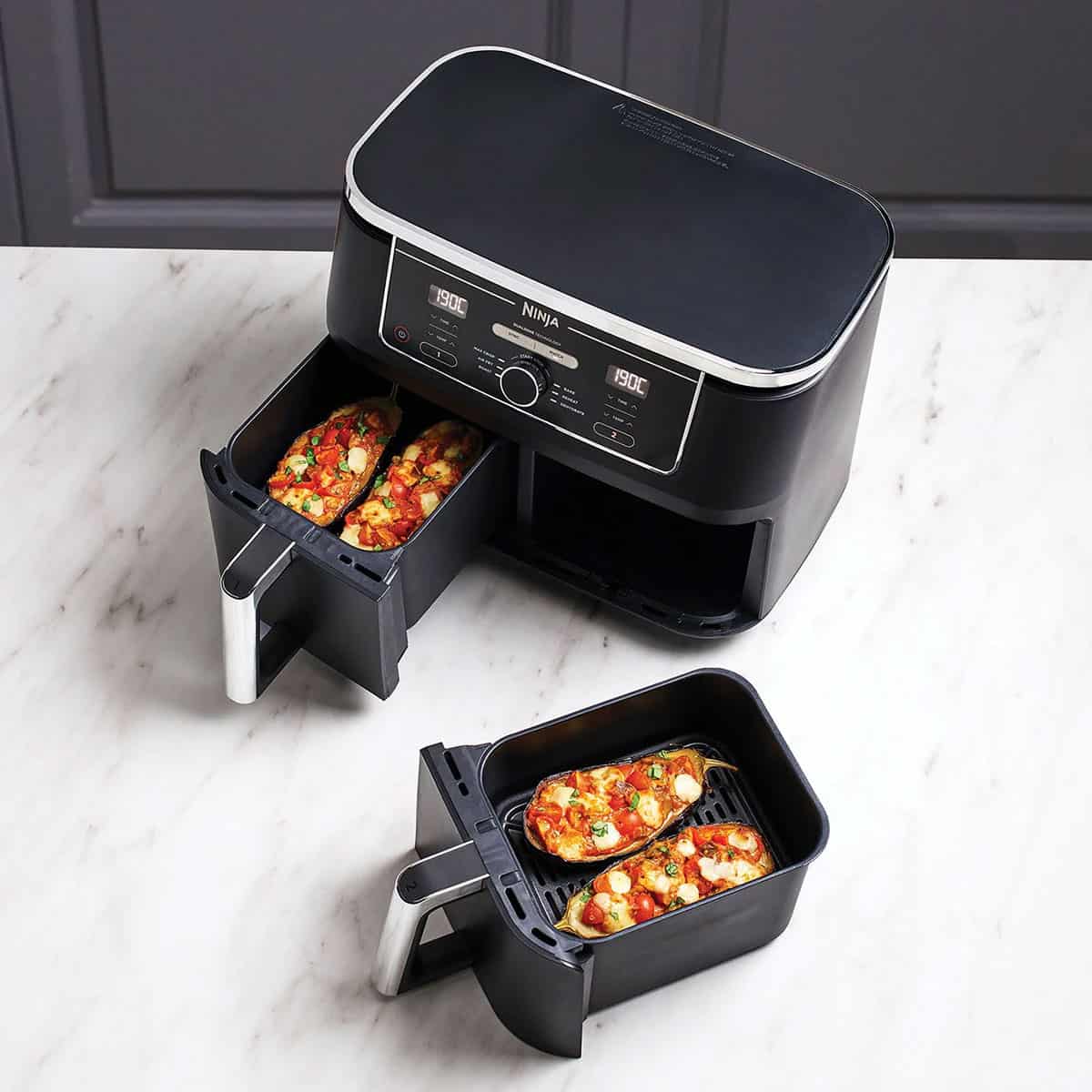 How to clean your air fryer
I know cleaning your kitchen appliances is the least fun of using them, but the good news is that cleaning your air fryer can be really quick and easy if you follow a few simple steps.
After cooking
Keeping your air fryer clean, starts right after the cooking process finishes!
The best option is to remove the air fryer basket once your food is cooked, before turning out the food. Depending on the type of air fryer, you want to make sure you're only adding your cooked food to your serving plates, not the excess grease and fat that have collected in the bottom drawer underneath.
Cleaning the bottom and drawer
Clean the bottom drawer and air fryer basket after every use!
The drawer itself is super easy to clean, so don't put it off.
If you're off to first enjoy your food after air frying, then carefully place it into the sink and fill it with soapy water. This way, any excess grease or drippings won't dry on the surface while you're off digging into your food. It's best to use hot water or warm water for this.
Rinse your air frying basket with warm water after you remove the food and wash it with hot water and soap to remove any food residues. You can also gently scrub it with a kitchen sponge to remove and tough spots.
If you leave the drawer or basket unwashed, it can start smelling unpleasantly in your kitchen and you risk food contamination when you're next using your air fryer.
Cleaning the main unit
Wipe the rest of the air fryer with a damp cloth to remove any spits and dribbles.
You can also use the air fryer to dry itself after washing - simply place the basket and drawer back into the device and turn it on for 2-3 minutes. And you're good to go!
The best foods to cook in an air fryer
There are lots of options to create delicious and healthy food in your air fryer (or healthy-ish compared to a deep fryer at least!). A few of my personal favorites include crispy air fryer gnocchi, kale chips, frozen air fryer burgers (made with beyond meat patties!), sweet potato fries, air fryer fingerling potatoes and crispy cauliflower wings.
For more, check out all of the air fryer recipes from the blog!
Frequently Asked Questions
Can I add parchment paper to an air fryer?
Yes, you can place parchment paper at the bottom of your air fryer to catch any excess grease or food drippings. Make sure to use a parchment that can stand high heat and hot oil.
Can I add aluminum foil to an air fryer?
Yes, you can add aluminum foil to your air fryer's bottom drawer! This will allow for a quick and easy clean-up.
Can I cook rice in an air fryer?
No, you can't cook rice in an air fryer. Get a rice cooker instead!
What should I not cook in an air fryer?
Do not cook anything coated in a wet batter in an air fryer. It will become gooey and lumpy instead of crispy or crunchy and not create the same results as frying in oil. I would also avoid cooking leafy greens in an air fryer as these can become airborne as the fan blows the hot air through the device. This can cause them to touch the heating element and burn, resulting in burnt food and smoke.
Latest Recipes:
*Disclosure: This page may contain affiliate links and sponsored links that earn me a small commission, at no additional cost to you. You can find more information in my Privacy Policy.
© Romy London / Romina Callwitz | All contents are copyright protected. Please do not use my images and content without prior permission. If you wish to re-publish this content, please get in touch via email. Thank you so much for supporting romylondonuk.com!