Create delicious, homemade treats with this easy Vegan Donut Recipe with cinnamon sugar - wonderfully soft and super tasty!
This recipe is:
100% vegan
nut-free
dairy-free
egg-free
super soft and fluffy
addictive 😉
really delicious
better than store-bought!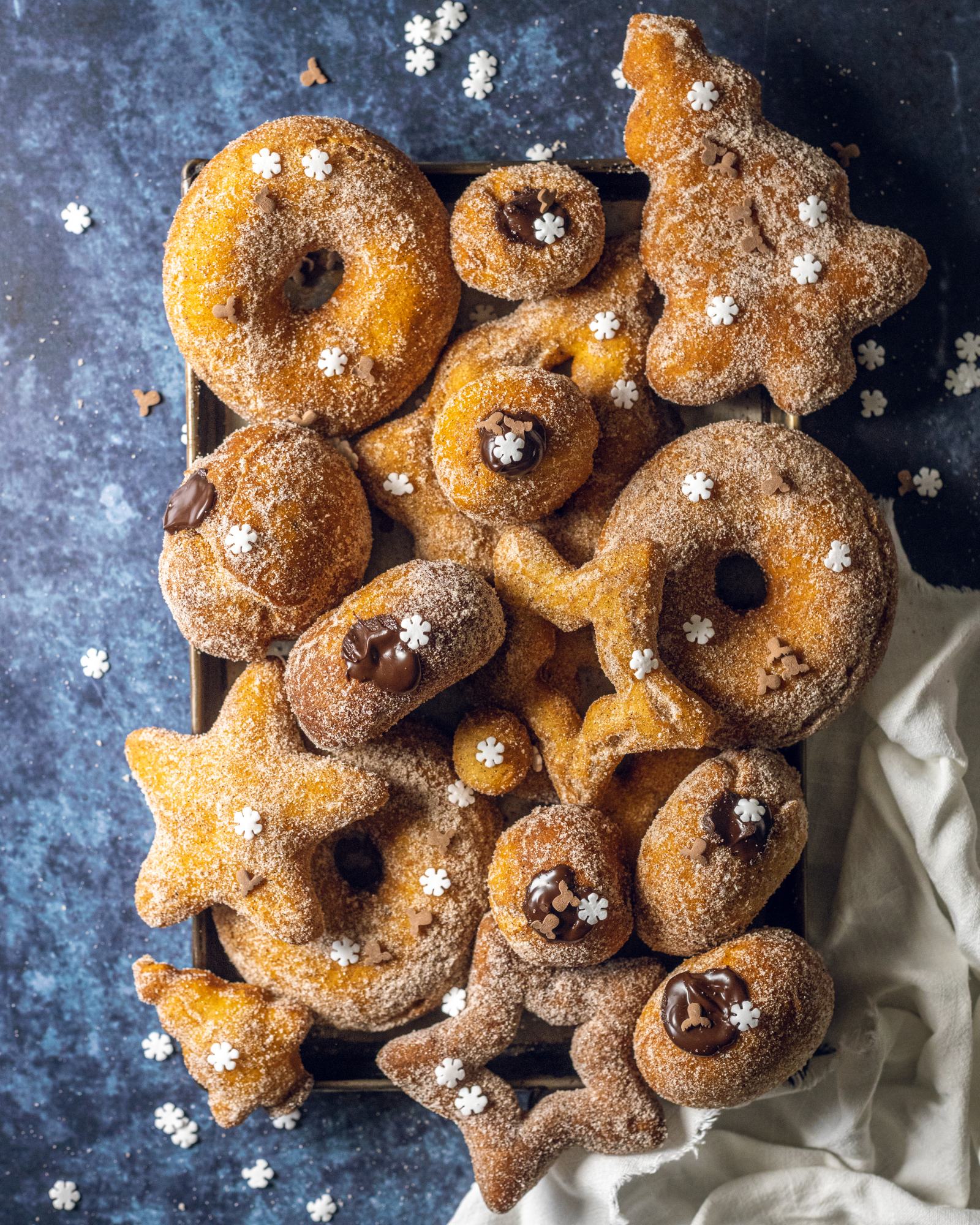 Ingredients
self-raising flour

dry active yeast

caster sugar

plant milk

vegan butter

fine salt

sunflower oil for frying

vegan chocolate
Equipment
mixing bowl
deep fryer OR a deep saucepan with a small diameter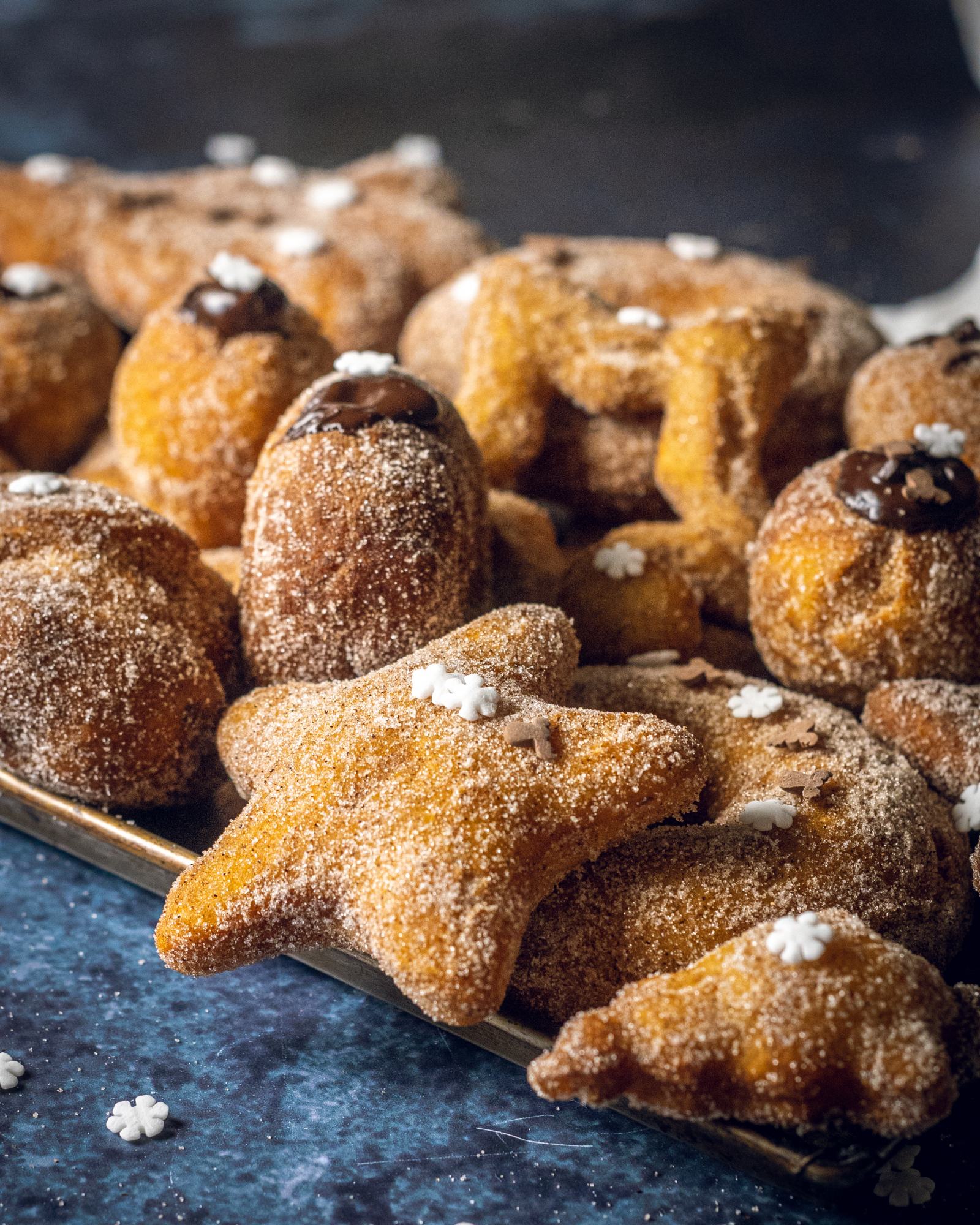 Instructions (Step-by-Step)
Step 1: How to make a flax egg
The flax egg is replacing the egg in this donut recipe. Simply combine them with a little water (roughly 3 tablespoons of water for each tablespoon of flaxseeds) and set them aside to soak for 10 minutes. During this time the flaxseed mixture will become thick and gloopy, and it is then ready to use in the donut batter.
Step 2: How to activate yeast
Make sure to use warm or lukewarm plant milk in order to activate the yeast, but at the same time make sure it's not hot, as this could kill off your yeast. Tt's best to go with a temperature that is slightly higher than lukewarm.
Pour the plant milk into a jug and sprinkle in sugar and yeast. Briefly stir, then set aside until you can see froth on top. This should take roughly 10 minutes.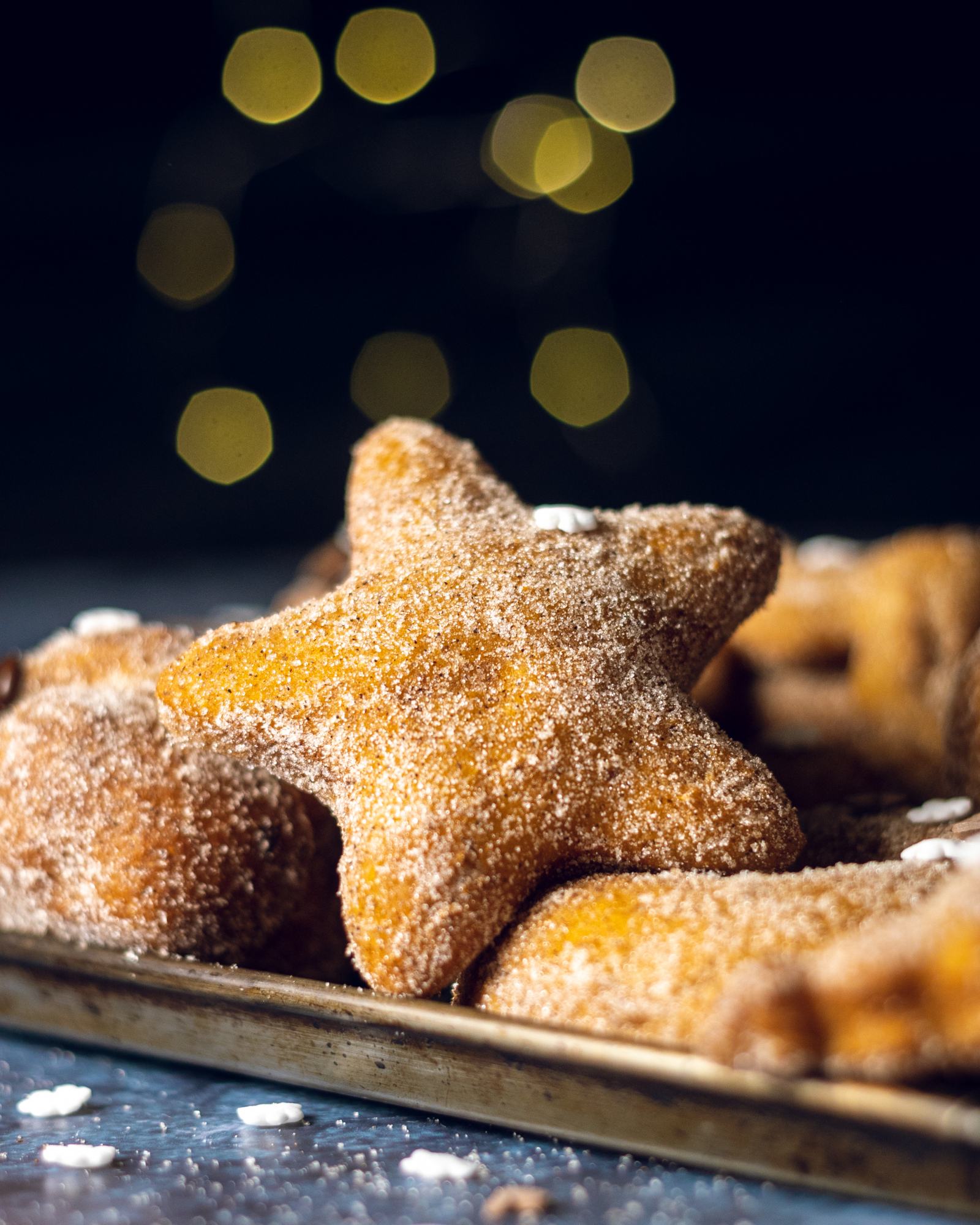 Step 3: Donut Dough
Sift the flour into a large bowl, then stir in the salt. In a separate bowl. combine melted vegan butter and flax egg.
Create a well in the middle of the dry ingredients and pour in the butter mix, as well as the yeast mix. Bring together with a spatula until the dough becomes thick and sticky.
Transfer to a floured kitchen surface and start kneading with your hands for two minutes until smooth. Shape into a ball and place it into a greased bowl, then cover and place in a warm spot for about 1-hour to rise - or until it has doubled in size.
Extra Tip: I like to turn on my oven at 50 degrees for 5 minutes and then place the bowl inside with the oven off and the door closed. This creates the perfect temperature for your dough to rise.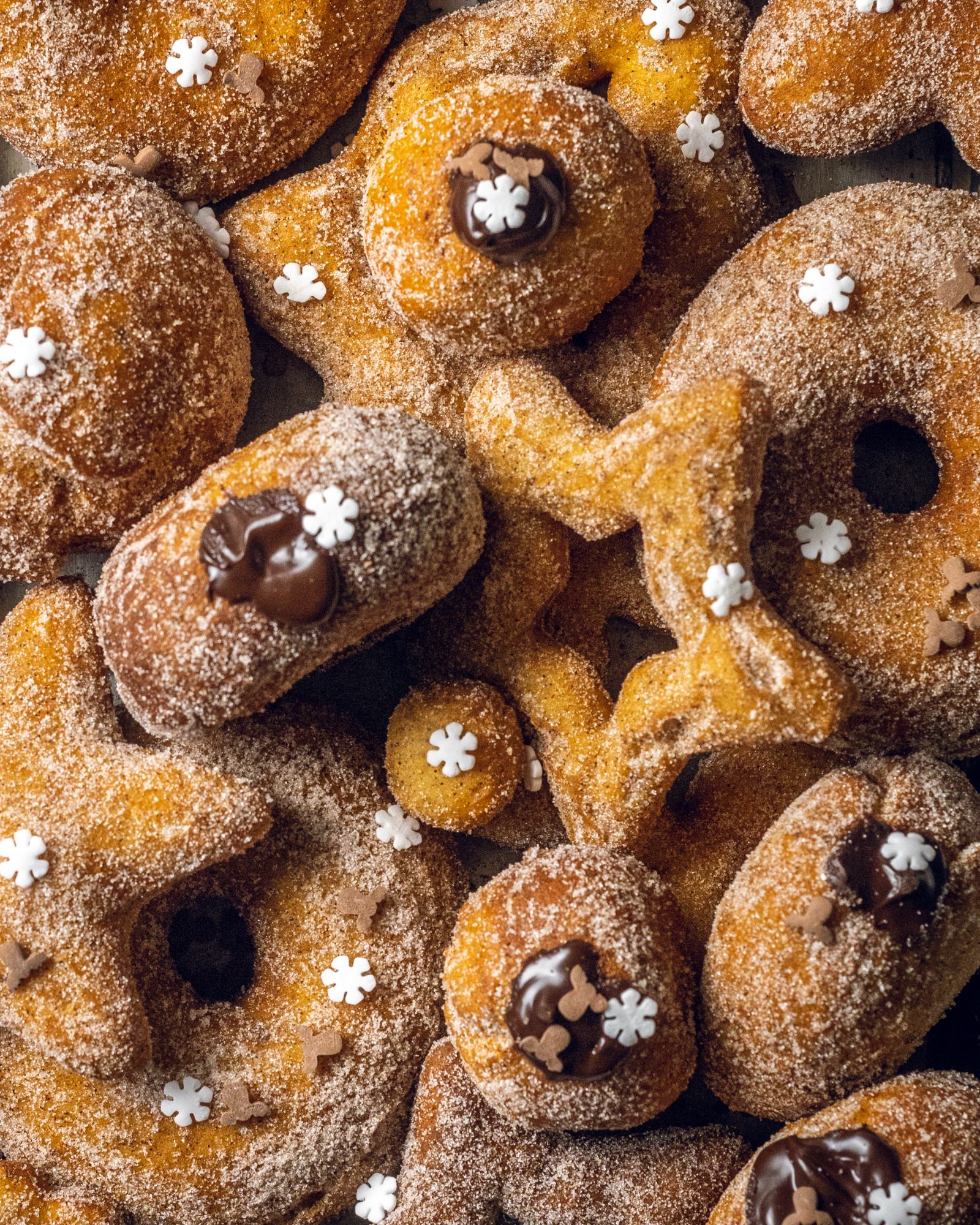 Once the dough is risen, you can already preheat your oil over low temperature. It's best to use a deep saucepan with a small diameter plus a lid for this. Make sure to heat the oil gently, over a low heat until it reaches 220°C.
Step 4: Shaping donuts
Remove the dough from the bowl and knead it once more for 30 seconds.
There are many options for shaping these vegan donuts, here are a few of my favourites:
Donut bites
To create little donut bites, first divide the dough into equal small pieces. Gently knead each ball with your hands, then roll between the palms of your hands or on a kitchen surface until smooth.
Filled Donuts
For filled donuts, the steps are similar! Simply divide the dough into equal pieces larger than donut bites. Bear in mind that the donuts with double in size when they are fried, so don't make them too big. I'd recommend doing a little test run once the oil is hot so you get an idea of how big they can become.
Classic Donut
For the classical round donut shape with a hole in the middle, simply roll out the dough to about 1 cm (1/2-inch) thickness. Use a large round cookie cutter to cut the donut shapes, then use either a tiny round cookie cutter to create the donut hole.
If you don't have a small cutter to hand, you can also use the clean lid from a bottle. The donut hole should look slightly smaller than what you probably think. I recommend frying a test donut before cutting the rest of them.
Shaped Donuts
Cookie cutters are fantastic to use for exciting donut shapes! I've used a star and a tree-shape on this occasion and the donuts were definitely eye-catching!
Simply roll out the dough on a lightly floured surface to 1/2-inch (1 cm) thickness and cut your shapes with the cookie cutters. Remove the excess dough and carefully lift the doughnut with a pallet knife to pick it up.
Once you've created your desired shapes, place them on lined baking trays and cover them with damp towels for another 30 minutes.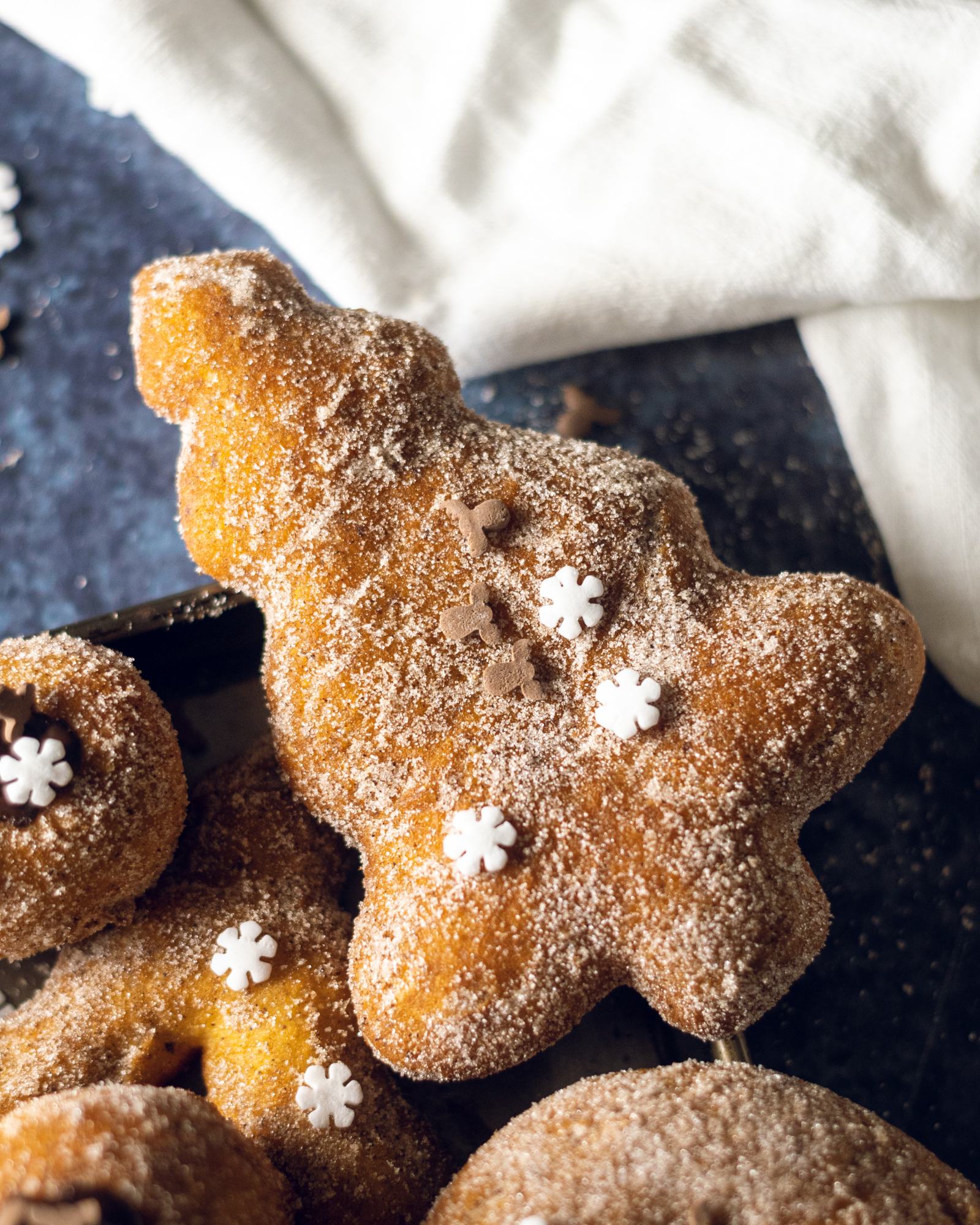 Step 5: Frying donuts
Carefully lower each donut into the hot oil, one at a time. Be very careful as the oil will be very hot! I recommend using a slotted ladle.
Fry each donut for roughly 20 seconds, then gently turn and fry for roughly 20 additional seconds or until golden on both sides. The frying time depends on the shape and size - however, they will fry very quickly, so please do not leave them unattended.
Once done, remove the donut and place it on a paper towel to remove any excess oil. Repeat until all of your donuts are done.
Step 6: Coating
In a small bowl, mix sugar and cinnamon, then coat each donut in the mix, once they have cooled down.
Step 7: Chocolate Filling
To create the vegan chocolate to fill the donuts, melt the chocolate and stir in the plant milk until you get a thick, smooth chocolate cream.
Transfer the chocolate cream to a piping bag with a long nozzle, pierce it into a donut and start piping to fill the donut with the chocolate cream.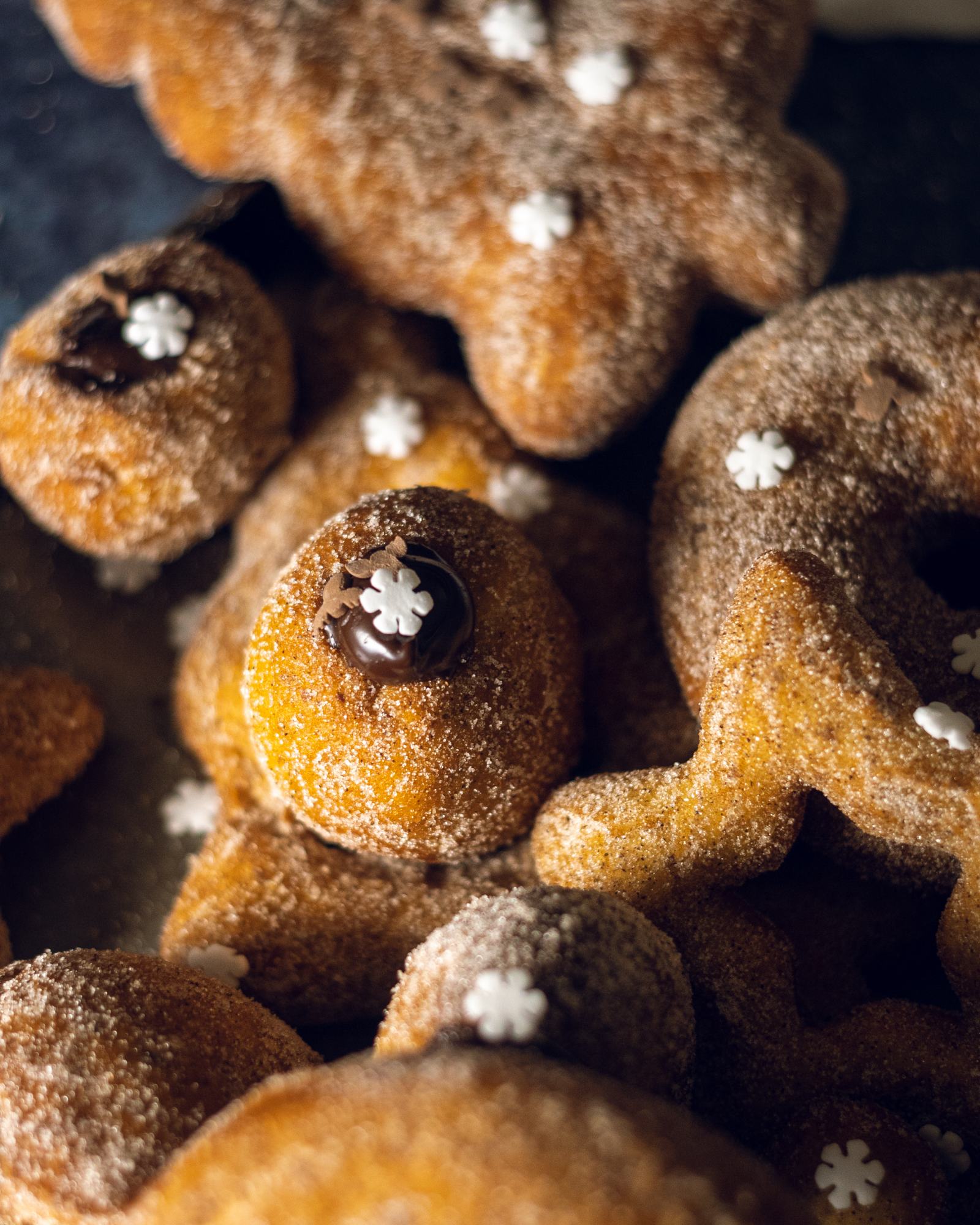 Storage
To store donuts, it's best to keep them in an airtight container at room temperature. Avoid refrigerating them, as this can cause them to dry out faster.
If you need to store them for a longer period of time, you can freeze them in an airtight container or freezer bag. To thaw frozen donuts, simply leave them at room temperature for a few hours or warm them up in the microwave for a few seconds.
You might also enjoy these recipes:
📌 If you love Pinterest you can pin any of the images to your boards!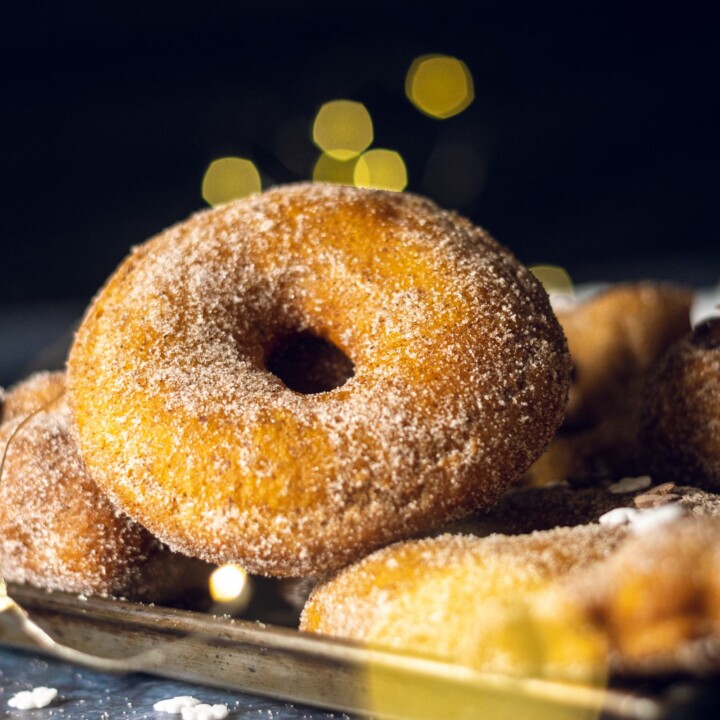 Vegan Donut Recipe with Cinnamon Sugar
Yield: 12-15

Prep Time: 2 hours

Cook Time: 3 minutes

Additional Time: 10 minutes

Total Time: 2 hours 13 minutes

Create delicious, homemade treats with this easy Vegan Donut Recipe with cinnamon sugar - wonderfully soft and super tasty!
Ingredients
600g self-raising flour
2 sachets of dry active yeast (14g)
75g caster sugar
330ml lukewarm plant milk
100g vegan butter, melted
2 tbsp flaxseeds
½ tsp fine salt
For the chocolate sauce (optional)
50ml plant milk
100g vegan chocolate
Instructions
Start by combining the flaxseeds with 4 tbsp water in a small bowl and set aside to soak for 10 minutes.
Pour the luke-warm dairy-free milk into a large jug and sprinkle over the yeast and sugar. Stir to combine and cover the jug with a tea towel. Place it into a warm place for about 10 minutes or until the yeast has gone frothy.
In the meantime, sieve the flour into a large mixing bowl and combine it with the fine salt. In a separate bowl, combine the melted butter and flaxseed mixture.
Create a well in the middle of your flour bowl and add in the butter mix as well as the frothy yeast mixture.
Combine with a spatula until the dough is thick enough to be handled by hand. Knead on a lightly floured surface for 2 minutes, then shape into a ball and place it back into a greased bowl, covering with a damp tea towel. Place the bowl in the closed oven and allow for it to rise for 1 hour or until it has doubled in size.
When the time elapses, place the sunflower oil into a deep saucepan of small diameter and carefully heat it over low heat. Once it reaches 220C it's ready to fry your doughnuts.
Whilst the oil is heating, prepare your doughnut bite shapes. Create equal round dough balls from your dough and place them onto a lined tray, leaving at least 2 inches between them. Cover again and let them rest until the oil has reached frying temperature.
Carefully lower the doughnut balls into the hot oil with a ladle, one at a time. They should only need between 20-30 seconds to fry, carefully turn them with the ladle during the frying process and remove them once golden. Place them on a kitchen towel to remove any excess oil.
Repeat until all dough balls are created.
Mix the caster sugar and cinnamon in a small bowl and coat your doughnuts in the sugar/cinnamon mix.
To create the chocolate sauce heat the chocolate and milk over a double boiler and stir until thoroughly combined and melted. To serve, either dip your doughnut balls into the chocolate sauce or use a piping bag with a long tip to fill your dough balls with the sauce instead.
Nutrition Information:
Yield: 15 Serving Size: 1
Amount Per Serving: Calories: 260Total Fat: 8gSaturated Fat: 5gTrans Fat: 0gUnsaturated Fat: 3gCholesterol: 18mgSodium: 617mgCarbohydrates: 40gFiber: 1gSugar: 9gProtein: 6g

For reference only.

Also, give these recipes a go: