If you love kale crisps, then these deliciously crunchy Air fryer Kale Chips with Cheese and Onion (Vegan) are for you!
They are a healthy and delicious snack to make in your air fryer, and not only are they packed with nutrients, but they're also easy to make and require minimal ingredients.
And if you're interested in learning more about how to get the most out of your air fryer, be sure to check out my post on whether or not you should add water to your air fryer. You might just discover some useful tips and tricks to make your air frying experience even better!
This recipe is:
vegan, dairy-free and egg-free
full of plant power, making it a perfectly healthy snack!
naturally gluten-free
full of plant power
naturally gluten free
extra cheesy and perfectly crunchy
easy to make with minimal ingredients
versatile and can be made in an air fryer or oven
seasoned with nutritional yeast flakes and onion powder for a tasty plant-based cheese and onion flavor
a delicious low-calorie snack
a great way to enjoy kale, a nutrient-dense leafy green
easy to store in an airtight container to maintain its crunchiness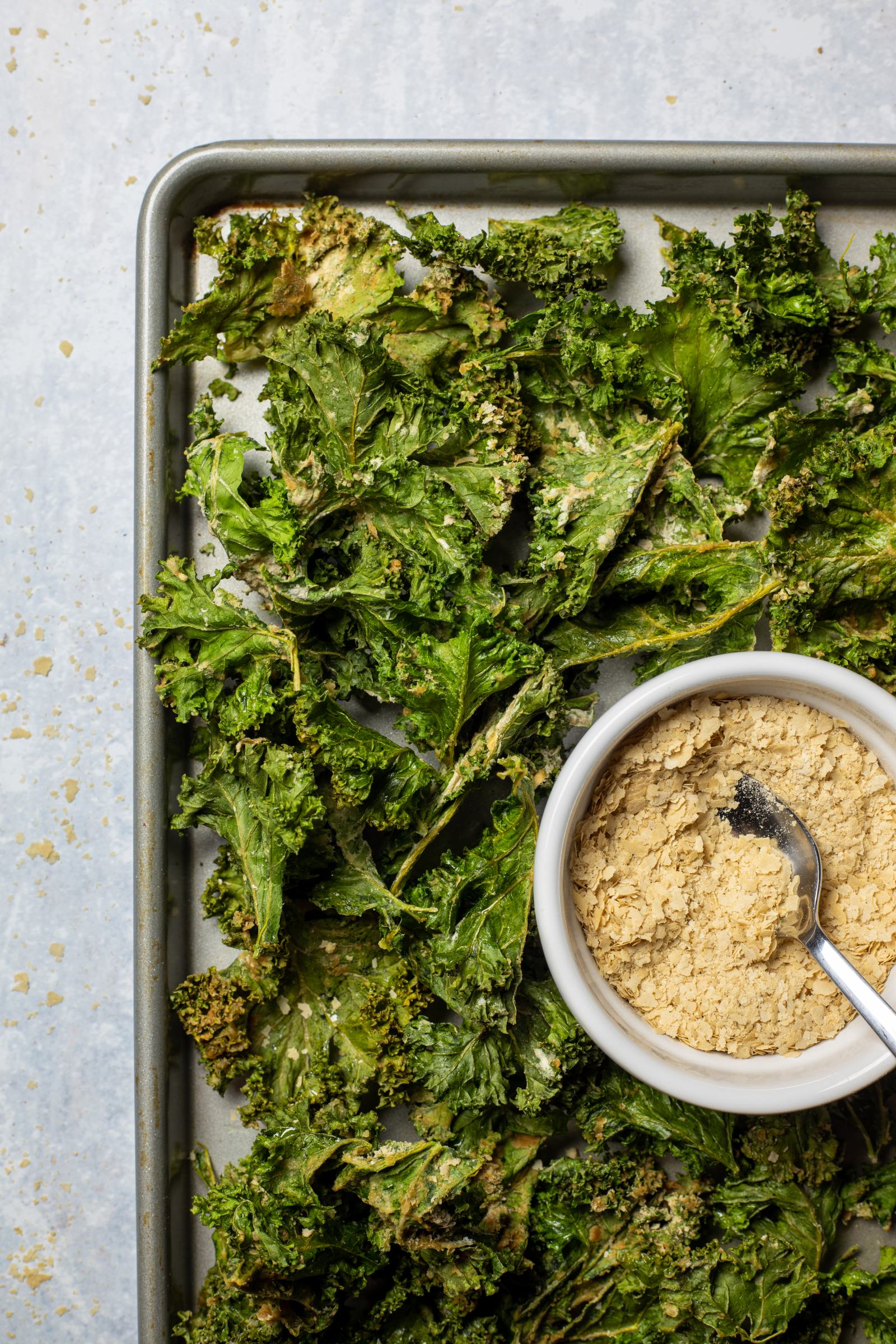 If you're looking for an alternative to cooking your kale chips in an air fryer or oven, you might want to try making a dehydrated kale chips recipe. Dehydrating kale chips involves removing all the moisture from the kale leaves, resulting in a crispy, crunchy texture. This method also helps to retain the nutrients in the kale, making it a tasty and healthy snack option!
I really feel like I'm "kale'ing" it with this delicious vegan cheese and onion kale chips recipe - pun intended! 😜
These vegan cheese & onion kale chips are seriously easy to make - so there are no excuses! No fancy equipment is needed (you can use the oven if you don't have an air fryer!) and you can easily get all the ingredients from a well-stocked supermarket - or order them online via Forest Wholefoods.
Ingredients & Notes
Fresh kale - washed & de-stemmed, make sure the leaves are completely dry before usig
Extra Virgin Olive Oil - use a high-quality olive oil with a high smoke point for best results
Nutritional Yeast flakes - to add a cheesy flavor to the kale chips
Onion powder - to complete the vegan cheese and onion flavor, a classic!
Salt - use to taste to adjust it to your own tastebuds
Equipment
Air Fryer - but you can there is a way to use an oven as well
Air Fryer liner - for easy cleaning
Instructions (Step-by-Step)
Step 1 - Preheat air fryer to 160ºC (320ºF).
Step 2 - Wash and de-stem kale leaves. Rip them up into bite-size chunks and place them in a large bowl.
Step 3 - Drizzle 1 tablespoon of extra virgin olive oil over the kale. Add nutritional yeast flakes, onion powder, and a pinch of salt. Mix everything together.
Step 4 - Place seasoned kale in air fryer and cook for 8-12 minutes. Keep an eye on it to make sure it doesn't burn.
Step 5 - If using an oven, keep it at a low heat (70º–80ºC/176ºF) and place kale chips on a greased baking tray in a single layer. Keep the oven door slightly open during cooking, and flip the chips regularly. Cook for 15-20 minutes.
Step 6 - Serve immediately or keep in an airtight container to maintain crunchiness.
How to oven bake kale chips
Here are some extra tips for making these kale chips in an oven instead:
Keep the oven at low heat, around 70º–80ºC (176ºF).
Place the kale chips on a greased baking tray in a single layer.
Keep the oven door slightly open during cooking to allow moisture to evaporate and ensure the chips become crunchy.
Flip the chips regularly during the baking process to avoid burning.
They should only need 15-20 minutes to begin with, but you'll probably want to flip and cook them for a bit longer to make sure they crisp up evenly.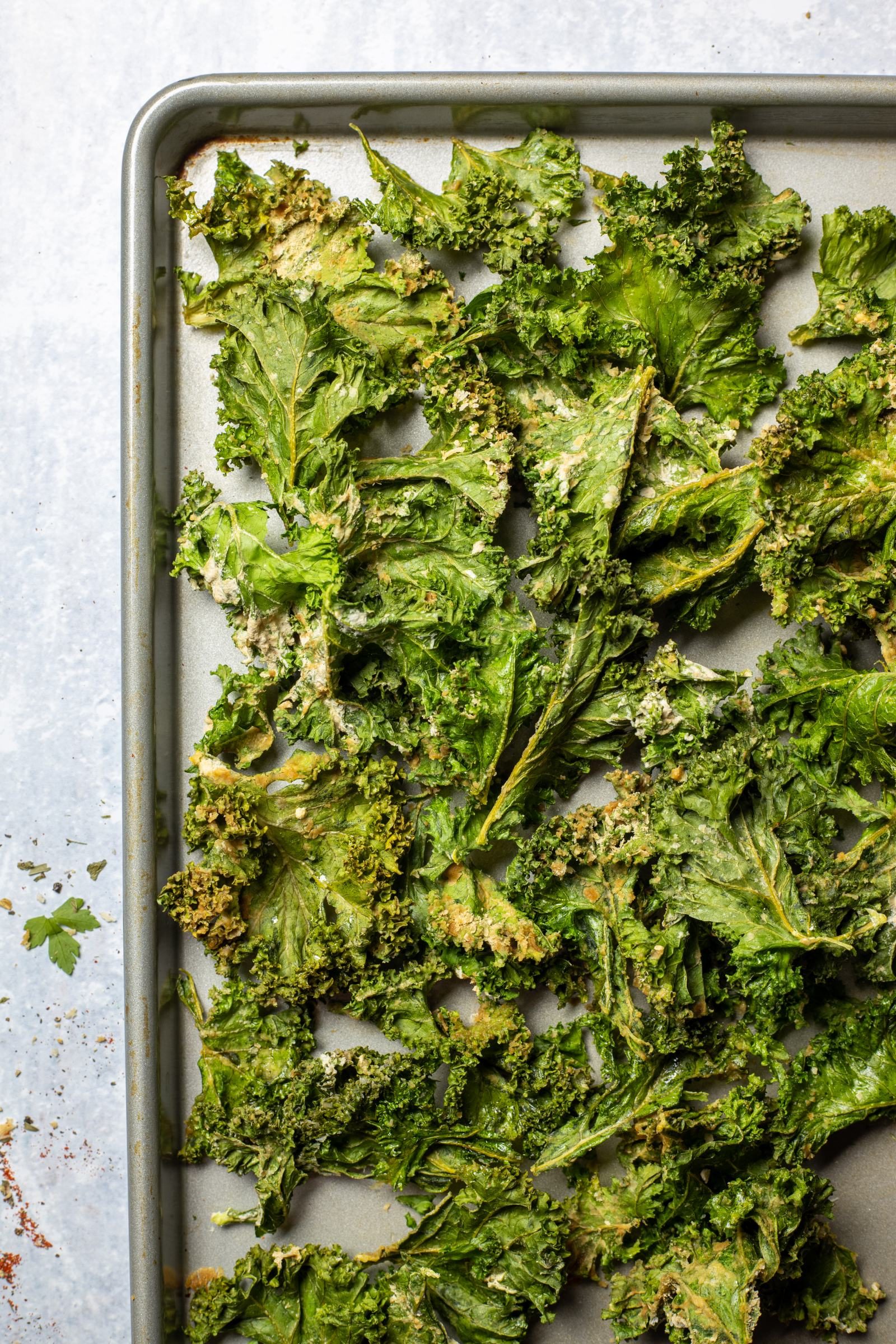 Storage
To store kale chips, place them in an airtight container at room temperature. They should be good for up to 5 days. If they start to lose their crunchiness, you can re-crisp them by placing them in the air fryer or oven for a few minutes.
What to serve with kale chips
These crunchy kale chips can be enjoyed on their own as a healthy snack or you can pair them with a variety of dips, such as this Spicy Butter Bean Dip, Garlic Tahini Dip, or fiery mango salsa. They can also be served as a side dish to add a little crunch to your meal!
📌 If you love Pinterest you can pin any of the images to your boards!
More Recipes to make in your Air Fryer
If you make this air fryer kale chips recipe at home, I would love to hear how it turned out! Please leave a recipe rating and let me know what you thought. 😊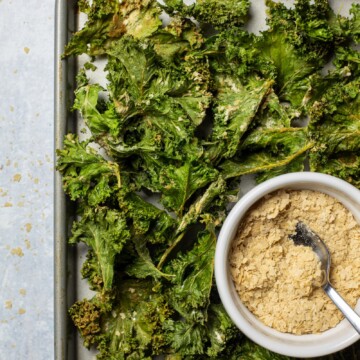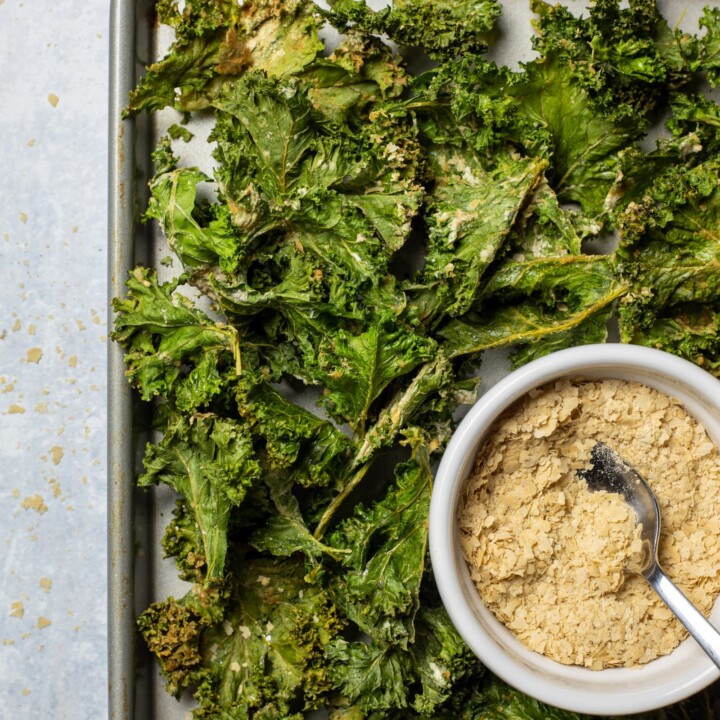 Air Fryer Kale Chips
These air fryer kale chips with cheese and onion flavor are a delicious and healthy snack that are easy to make with minimal ingredients. They're crispy, crunchy, and packed with plant power!
Ingredients
1

bunch

fresh kale (250 - 300g)

washed and stems removed

1

tbsp

olive oil

extra virgin

3

tbsp

nutritional yeast

1

tbsp

onion powder

1

pinch

sea salt
Instructions
Preheat your airfryer to 160ºC (320ºF).

Wash and de-stem your fresh kale, then rip it into bite size chunks with your hands and place it into a large bowl.

Drizzle 1 Tbsp extra virgin olive oil onto the kale, followed by the nutritional yeast flakes, onion powder and a sprinkle of salt.

Mix using a large spoon or your hands to ensure the kale is evenly coated.

Once it's ready, place the kale in your airfryer for about 8-12 minutes and be sure to check on it to make sure it doesn't burn.

Enjoy right away or keep in an airtight container to keep them crunchy!
Notes
Oven - If you don't have an airfryer, then you can also make these in the oven by placing the kale on a lined baking tray in a single layer and place it in a preheated oven (80ºC / 176ºF) for about 15-20 minutes to begin with.

Leave the oven door slightly open - best use a wooden spoon to keep the door a few centimetres open. Check back regularly to ensure it evenly crisps up and does not burn (this will happen quicker than you think!).

After 15-20 minutes turn the kale chips, so they can evenly crisp up.
Are you looking for more vegan finger foods and snacks? Then you'll love these recipes:
*Disclosure: This page may contain affiliate links and sponsored links that earn me a small commission, at no additional cost to you. You can find more information in my Privacy Policy.
 © Romy London / Romina Callwitz | All images and content are copyright protected. Please do not use my images and content without permission. If you wish to re-publish any recipes or images, please get in touch via email. Thanks for your support!