This delicious vegan Kale Caesar Salad recipe is served with a wonderfully creamy avocado dressing and created from only simple ingredients. Perfect for your next light lunch or dinner and pretty much any time of the year!
Salads like this one are a fantastic option for lunch or dinner because they're a blank canvas for all your favorite flavors and textures - and so is this kale caesar! The recipe is easy to adapt to your personal preference as the salad base and avocado caesar dressing works so well with a variety of different ingredients. Plus, it's an easy way to pack a ton of nutrients into your meal and feel absolutely satisfied afterwards!
If you love luscious and fresh salad bowls, make sure to also try this Grilled Zucchini Salad with homemade vegan feta and an zesty oil-free salad dressing that's simply perfect for hot summer days!
This recipe is:
100% vegan
deliciously creamy
full of flavour
naturally gluten-free
easy to adjust and easy to make
delicious
perfect for summer but also delicious all year round
nutritious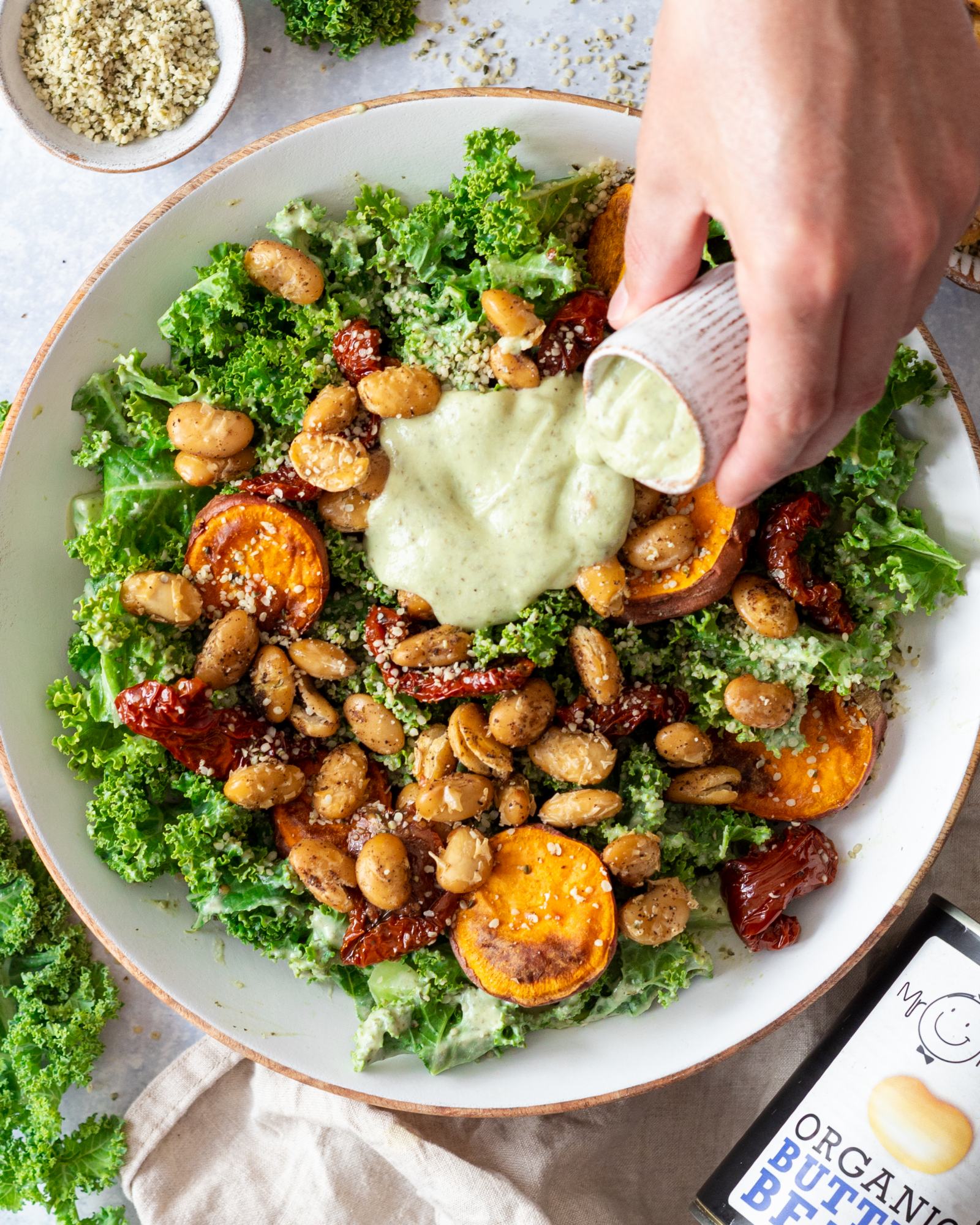 Ingredients
fresh curly kale - the fresher the better! You can use kale from your local grocery store but I usually find the best kale for this type of salad at the farmers market. The packaged stuff in store is usually chopped up and includes some tough stalks which make it less enjoyable. So if you have the change, definitely pick some fresh, full leaves of high-quality kale from the farmers market or health grocery store, such as Whole Foods Market.
apple cider vinegar - to massage the kale and turn it into a soft and delightful salad base. You can also use lemon juice for a zestier kale!
butter beans - use either canned or dried. If you use canned drain and rinse well. For dried butter beans, check the packaging instructions as they will require pre-soaking and cooking before you can use them in a recipe. For any leftover butter beans, try this Spicy Butter Bean Dip or this Ultra Creamy Butter Bean Curry!
olive oil - use a great quality extra virgin olive oil for the best flavor
seasonings - I like to season the kale salad with a sprinkle of garlic powder and sea salt flakes
sweet potato - totally optional but a delicious twist on Caesar Salad! You can cut the sweet potatoes into cubes and cook or roast them before adding them as a topping to your salad bowl.
sun-dried tomatoes - adds some delicious sweet umami to the salad. I like to use store-bought sun-dried tomatoes in oil. Let any excess oil drip off, then roughly chop the tomatoes before adding them to the bowl. You can also add a tablespoon full of capers alongside.
hemp seeds to serve (optional) - a delicious addition to add some tasty omega fats!
For the vegan avocado caesar dressing:
avocado - makes the dressing wonderfully creamy and adds a natural fat source to the salad
nutritional yeast - adds a wonderful cheesy flavor to the dressing
cashews - for extra creaminess! These need to be soft to blend into the dressing, so either soak them for 4-6 hours or overnight - or check out the recipe tips below on how to speed this up. If you've got any leftover cashews, turn them into some delicious Candied Cashews or into a luscious Vegan Cheese Sauce.
capers
sea salt & black pepper - to season to taste
fresh dill - swap this for dried dill if needed
Jump to the recipe card at the bottom for detailed quantities!
Equipment
food processor
a large mixing bowl
oven (to roast the butter beans and sweet potato)
Instructions (Step-by-Step)
You can easily prepare this recipe in a just a few simple steps:
Wash kale leaves and remove stems
Add kale to a bowl and drizzle with vinegar
Massage kale to soften it
Roast butter beans, bake sweet potato slices, and add sun-dried tomatoes
Blend avocado, softened cashews, capers, nutritional yeast, sea salt, dill and water in a food processor to make a creamy vegan avocado Caesar dressing
How to massage Kale
If you've ever bought kale before, you probably know that it usually comes with firm, tough leaves. To turn fresh kale into a delicious and soft kale Caesar salad, first wash the leaves and remove the tough stems. Then add the leaves to a large bowl and drizzle them with vinegar. Start massaging the kale! It will love the extra TLC and turn into a luscious green color, becoming softer and perfect for eating raw.
Extra Tips
To make a smooth and creamy avocado Caesar dressing, soak cashews in water for 4-6 hours or overnight to soften them. For a smoother dressing, scrape down the sides of the blender while processing.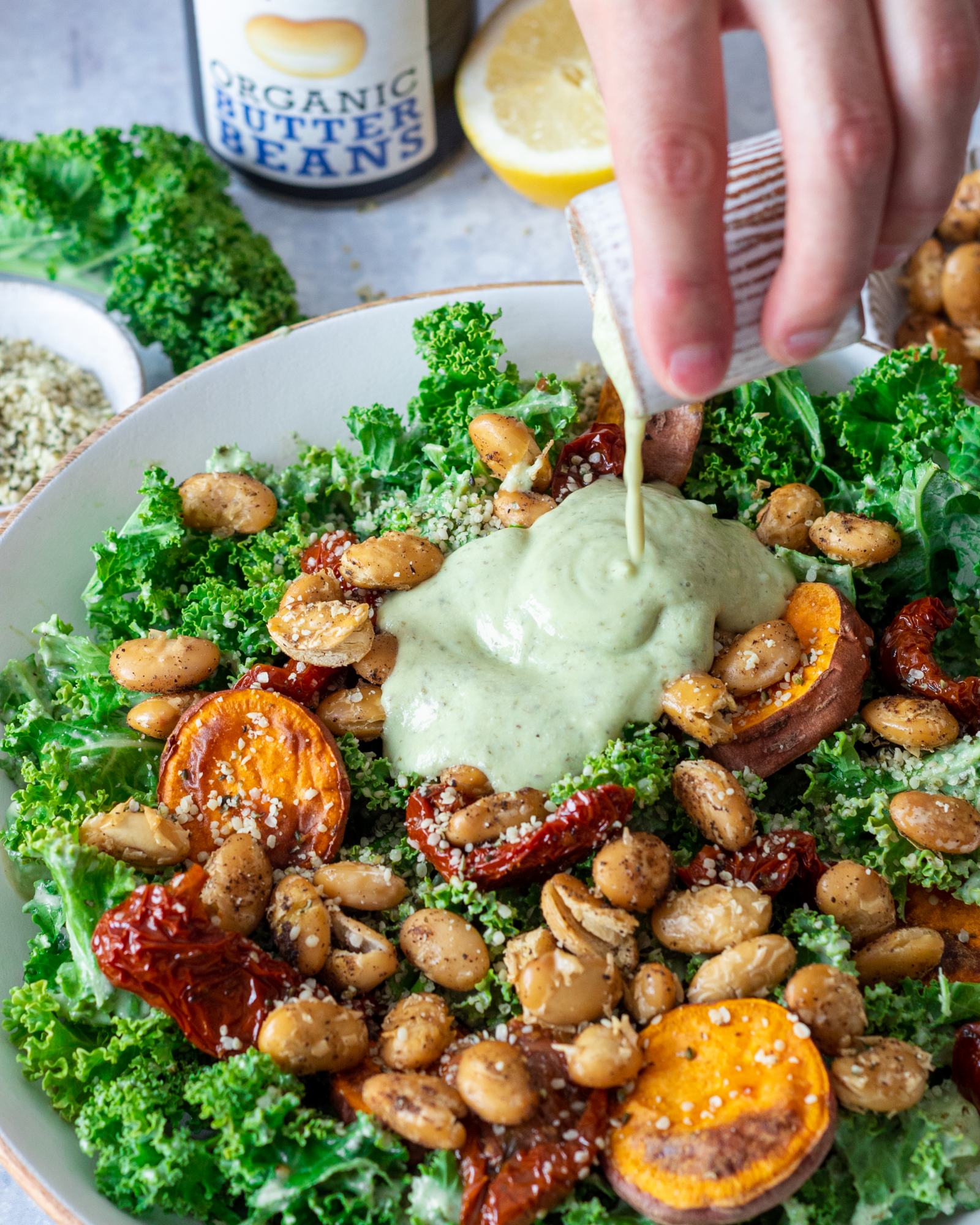 What to add to kale salad
In addition to the delicious additions I've made to this non-traditional kale Caesar salad, there are a couple of other tasty options you can add to your own vegan Caesar salad. Here is some delicious inspiration for you:
crispy baked or roasted chickpeas
a drizzle of fresh lemon juice
dijon mustard
vegan bacon bits
vegan chicken pieces for extra protein, such as this Grilled Vegan Chicken
smooth tahini
roasted beetroot wedges
fresh pomegranate seeds
sliced granny smith apple
crunchy nuts and seeds
antipasti such as grilled artichokes or olives
vegan cheese cubes (vegan feta is particularly delicious!)
serve alongside freshly baked rosemary focaccia for the ultimate treat!
you can also swap the caesar salad dressing for a deliciously tangy Oil-Free Salad Dressing!
Recipe FAQ
In case you have any questions about this kale caesar recipe, I've put together a few frequently asked questions here for you. If it's missing anything, simply leave a comment below and I'll get back to you as soon as I can.
Can I freeze creamy avocado dressing?
It is possible to freeze this salad dressing, however, it might require re-blending after gently defrosting the dressing. Best freeze it in portion sizes in either small containers or an ice cube tray. 
How to soften cashews in just 20 minutes?
For this recipe, it's important that the cashews are softened so they blend well and create a creamy and non-grainy dressing. To preserve as many nutrients in the cashews as possible, it's best to soak them in cold water for a minimum of 4-6 hours. This will soften them enough to smoothly blend them. If you're in a rush, however, there's a quick & easy way to soften your cashew nuts: Simply place them into boiling water for 20 minutes and they will be soft and ready to blend into a dressing. Because of the heat used in this process, however, the nuts can lose a significant amount of micronutrients, so take this into consideration when preparing the salad dressing.
How to store soaked cashews?
If you're soaking your cashews in advance, you can easily keep them in your fridge for multiple days until you're ready to use them. In order to make sure they stay fresh, rinse the nuts daily and refresh the water in your soaking container.
Can I swap the cashews for cashew butter?
Yes! Make sure to use a natural, unsalted and unsweetened cashew butter - best check the label and ensure nothing but cashews are listed on there. 
You might also enjoy these recipes:
📌 If you love Pinterest you can pin any of the images to your boards!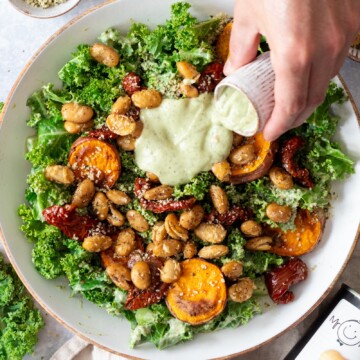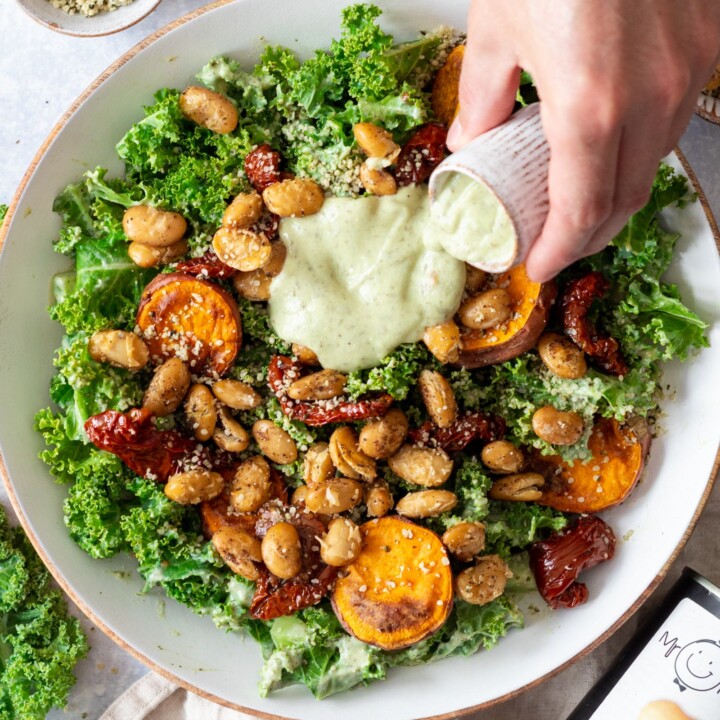 Vegan Kale Caesar Salad
This delicious vegan Kale Caesar Salad recipe is served with a wonderfully creamy avocado dressing and created from only simple ingredients. Perfect for your next light lunch of dinner and pretty much any time of the year!
Equipment
1 large bowl

1 baking tray
Ingredients
2

handfuls

fresh curly kale

1

tbsp

apple cider vinegar

1

7-oz

can of cooked butter beans (240g drained weight)

1/2

tbsp

olive oil

1

tsp

garlic powder

1

pinch

salt

1

large sweet potato

peeled and cut into 1/2-inch slices

2

tbsp

sun-dried tomatoes

drained
For the creamy avocado dressing:
1/2

avocado

1

tbsp

nutritional yeast

30

g

cashews

softened

1

tsp

capers

1/4

tsp

sea salt

1

tsp

dried dill

70-100

ml

water
Instructions
Soak your cashews in boiling water for 20 minutes until softened.

In the meantime wash the kale, place it in a large bowl and drizzle with the apple cider vinegar. Massage it with your hands until it begins to soften and become a vibrantly green colour.

Drain the tin of butter beans and place them on a lined baking tray. Drizzle with oil and sprinkle with the garlic powder, then place in the pre-heated oven at 180C for 15-20 minutes or until lightly crispy. Place the sweet potato slices in the oven at the same time until baked and softened.

For the avocado dressing, simply combine all ingredients in a blender or food processor until. smooth. Add as much water as needed to reach your desired texture.

Assemble the salad in a large sharing bowl or 2 smaller portion size bowls, drizzle the dressing on top and sprinkle with black pepper and hemp seeds (optional).
Notes
Cashews - If you'd like to preserve as many nutrients in your cashews as possible, you can soak them for a minimum of 4-6 hours to soften. The option of adding them to boiling water for 20 minutes is a quick option to soften them and prepare them for the next recipe steps, but through the heat, the nuts lose a lot of micronutrients and I only recommend this version if in a hurry.
Hungry for more vegan salad recipes? Here are a few that are just waiting for you to try them out:
*Disclosure: This page may contain affiliate links and sponsored links that earn me a small commission, at no additional cost to you. You can find more information in my Privacy Policy.
 © Romy London / Romina Callwitz | All images and content are copyright protected. Please do not use my images and content without permission. If you wish to re-publish any recipes or images, please get in touch via email. Thanks for your support!