You're going to love eating these Carrot Cake Muffins for breakfast. These muffins are a tasty stand-in. Moist and tender, studded with grated carrots.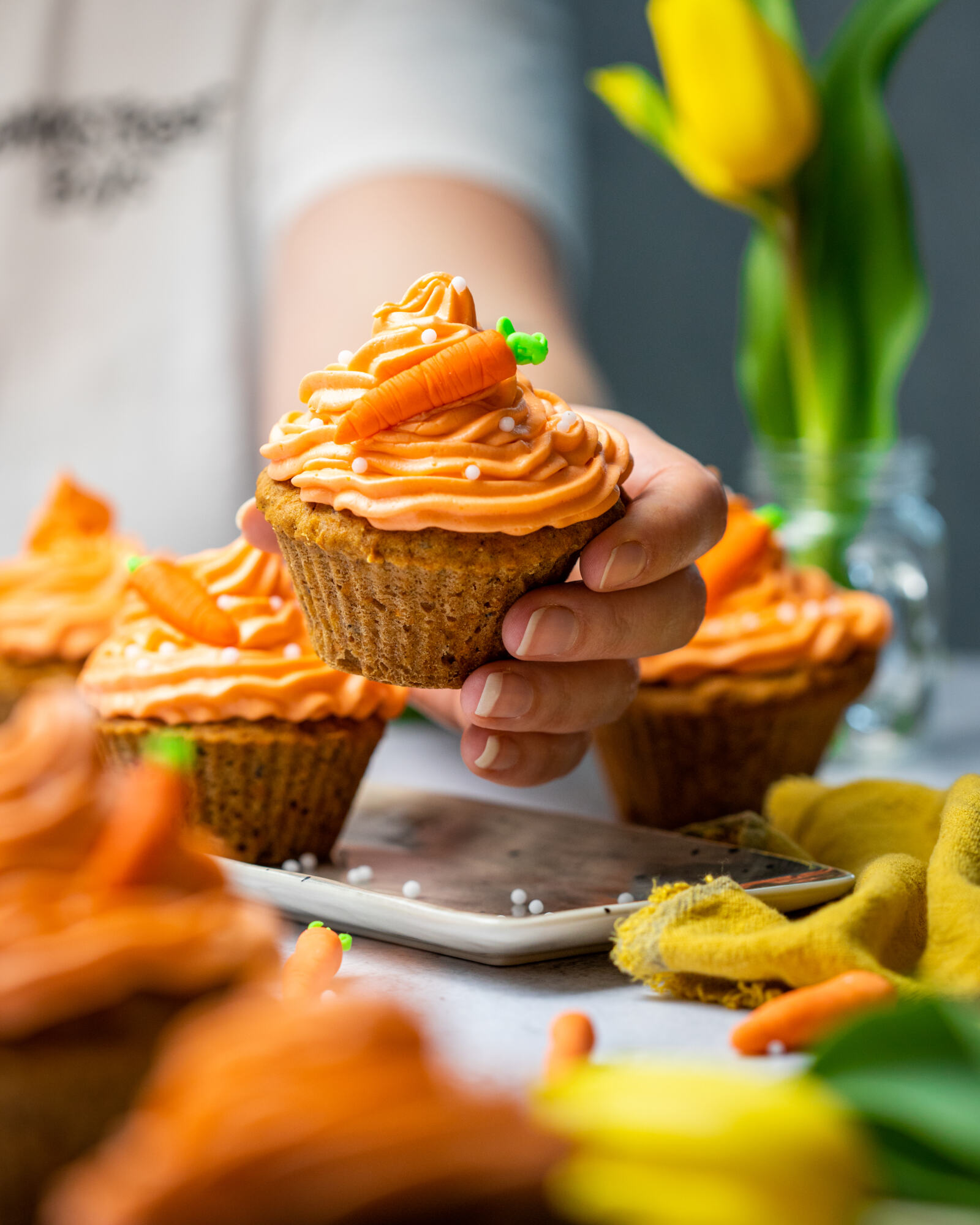 Vegan Carrot Cake Muffins
If you've known me for a while then you are probably aware that I am a total sucker for any kind of Vegan Carrot Cake Muffins Recipe (& pretty much everything Carrot Cake Muffins flavored of any form!)
There's just something magical in that sweet treat that also happens to include 1 of your 5 a day 😉 And when I was thinking of Easter recipes, this one came to my mind right away. Though I do wonder how I've made the connection between Easter and Vegan Carrot Cake Muffins in my mind... after all it's not the typical choice for Easter and I think it was most likely down to Easter bunnies and the carrots they eat... but hey: it's a connection!
Instead of creating an entire carrot cake (cause hey, we already have a recipe for that!) I chose to go with a Vegan Carrot Cake Muffins recipe this time - they're the perfect bring-along foodie item to share with friends and family. I don't know about your family, but for my parents, it was always a tradition to visit family on Easter - or on the other hand to invite them to our house, so my Mum would pretty much spend a day in the kitchen to create delicious, festive bakes alongside a number of other delicious items, but let's leave those for another time, shall we?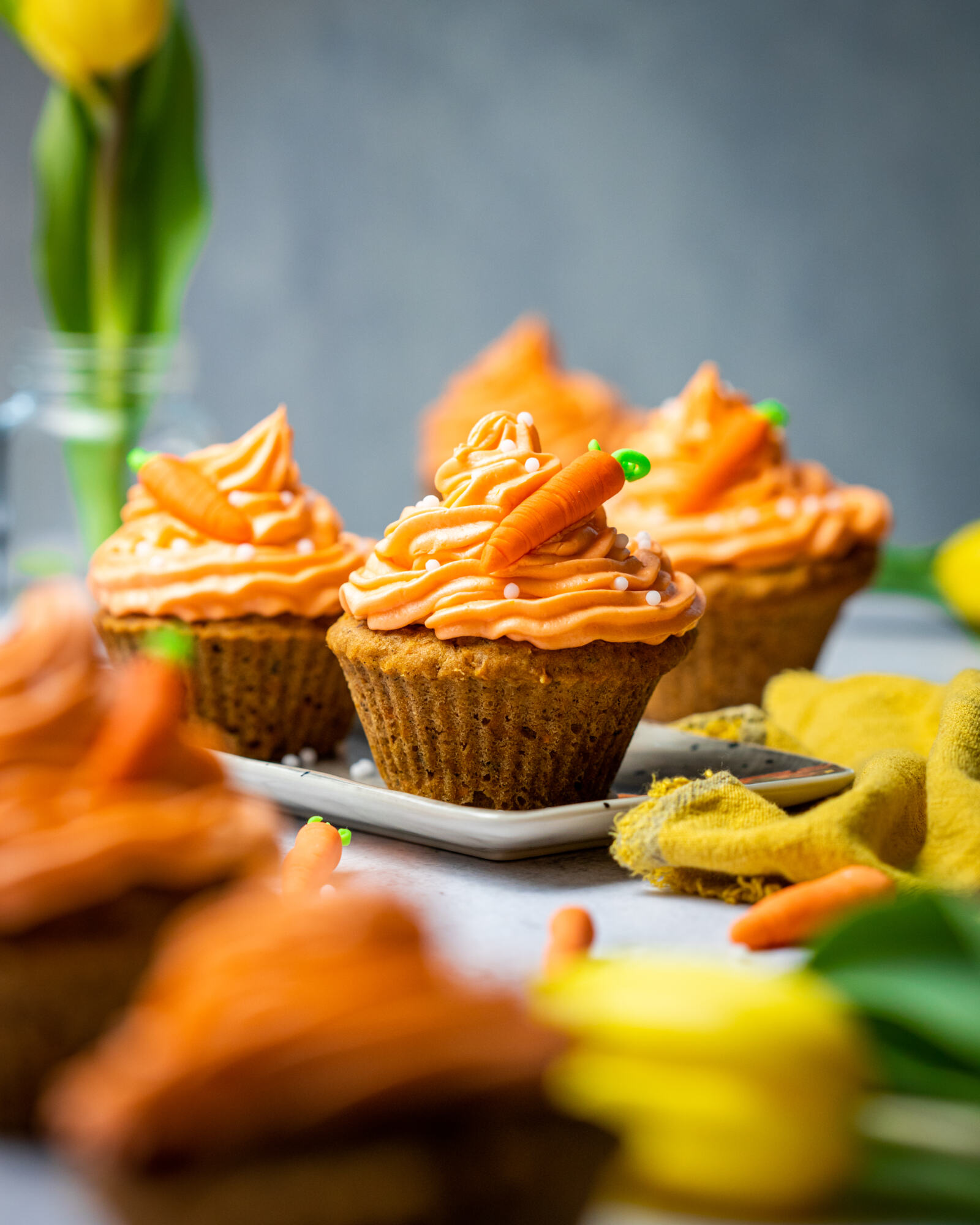 What you'll need to make this Vegan Carrot Cake Muffins Recipe
Ingredients
Coconut milk (you can replace this with any plant-based milk)
Apple cider vinegar
Water
All-purpose flour
Baking powder
Baking soda
Cinnamon
Ginger powder
Brown sugar
Vanilla extract
Coconut oil
Shredded carrots
For the topping:
Coconut oil
Lemon juice
Vanilla extract
Apple cider vinegar
Powdered sugar (aka. icing sugar)
Soy milk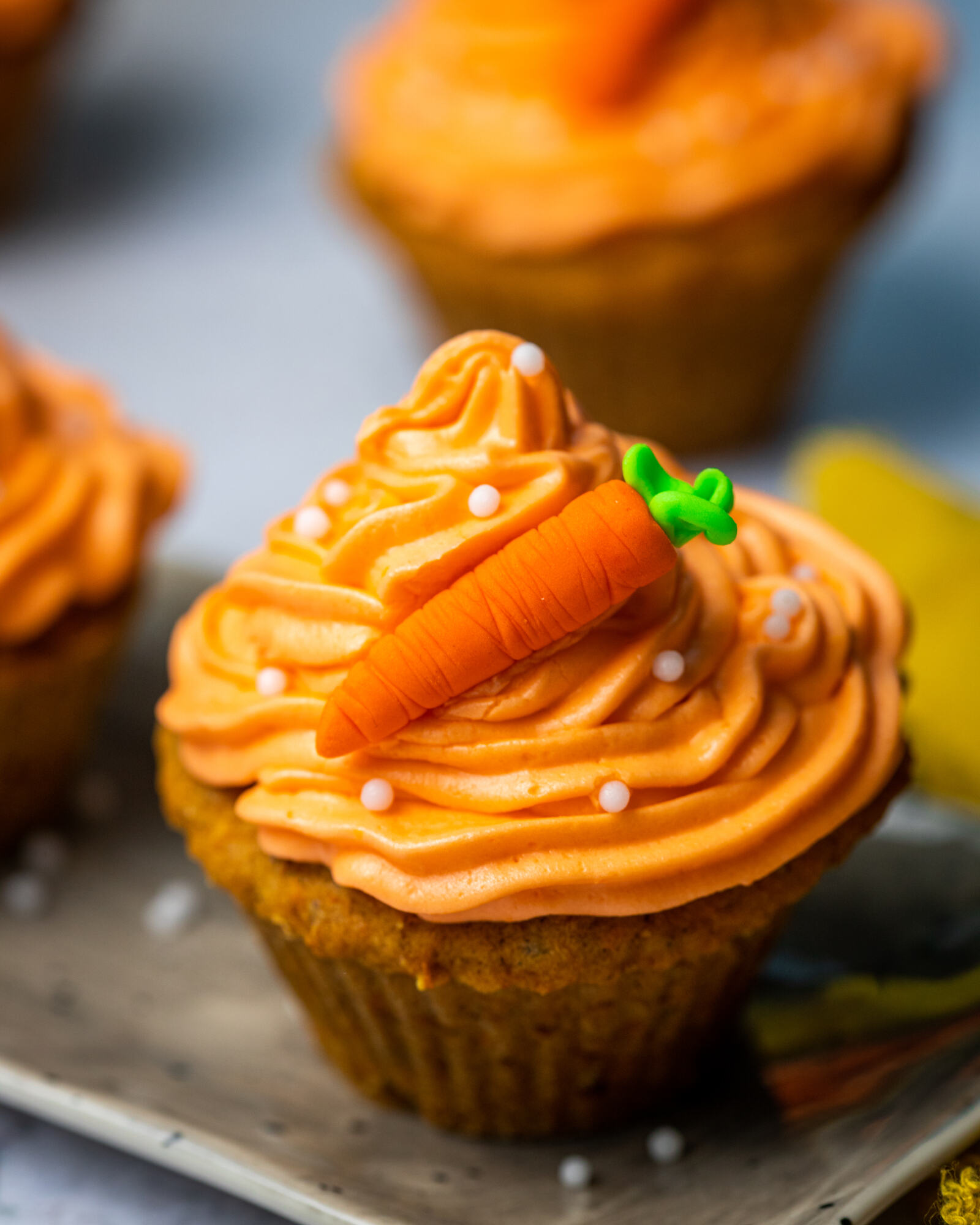 How to make Vegan Carrot Cake Muffins
To start with, mix together the coconut milk and apple cider vinegar. Then put it in the fridge and give it some time to curdle. Whilst waiting for that to happen, put your flax seeds in a small bowl, and blend them with 3 teaspoons of water and let it rest in the fridge alongside your milk and vinegar mixture - this is going to be your egg replacement.
Now, get a big bowl and sieve your flour, baking soda, and baking powder, then add your cinnamon and ginger powder, just to give a little kick to the mix. If you're using fresh ginger, be sure to only use a little bit of it and combine it with your wet ingredients, instead of the dry ones.
Next, go and get another bowl (a small one this time) and mix together the brown sugar, vanilla extract, and melted coconut oil. When ready, add this sweet and sticky mixture to your flour mix, alongside your shredded carrots. Be sure to thoroughly blend the carrots with the mixture, I'd suggest using a spatula for this.
Baking your Vegan Carrot Cake Muffins
Now that you've got your dough, it's time to preheat your oven to 340°F (170°C) and lightly grease the muffin tin with some coconut oil. Distribute your dough equally across 12 muffin compartments. Extra tip: If, like me, you're using a non-stick tin and have greased it with coconut oil you don't have to worry about using muffin lining (unless you want to that is!).
After 20 minutes in the oven, be sure to let your muffins cool down completely before adding any topping. This really important, otherwise the icing won't be able to set and it will just end up running down the sides!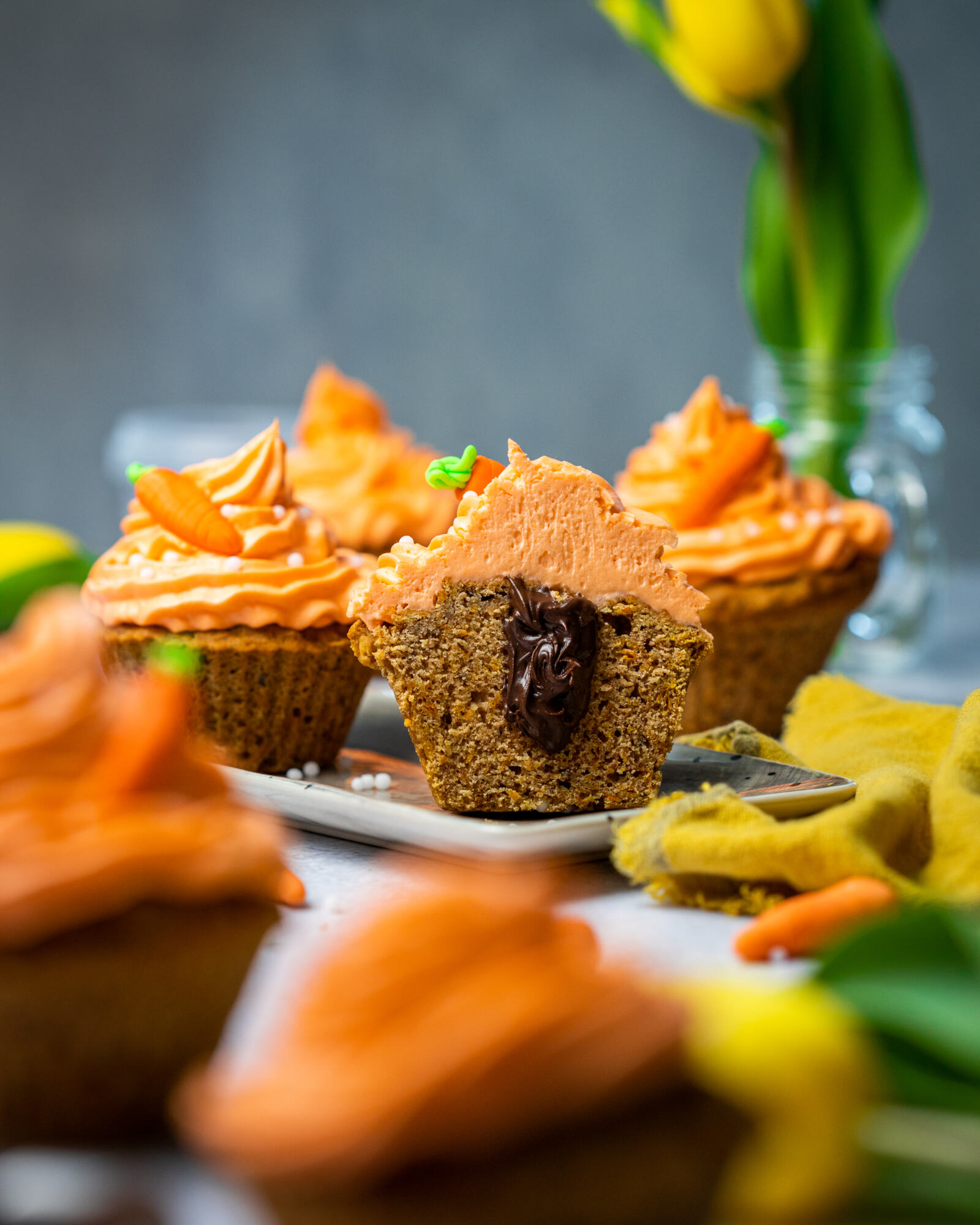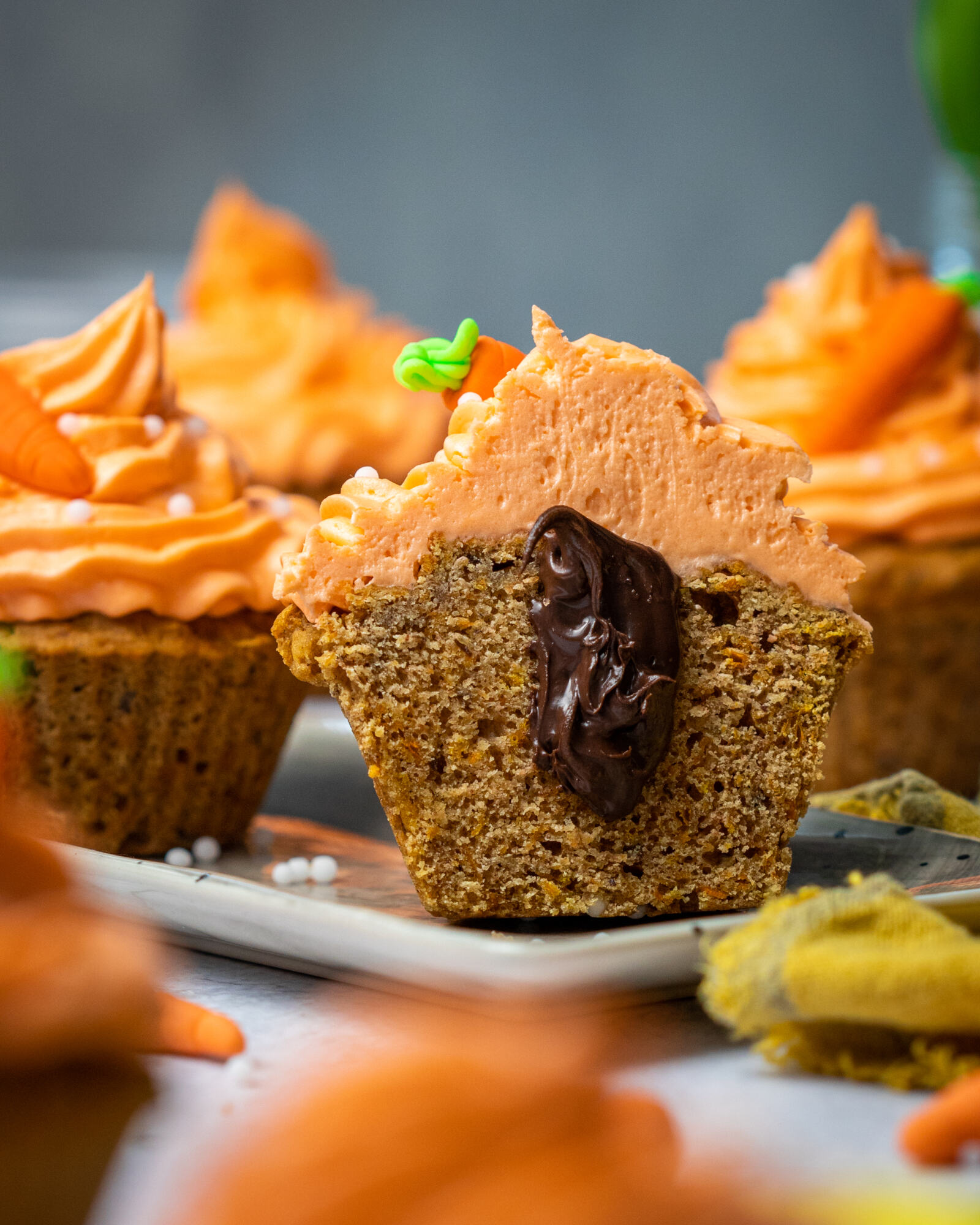 Make a topping for your vegan muffins
Firstly, mix together your remaining ingredients with a little melted coconut oil until you've got a smooth and creamy consistency. It's important to make sure that you're coconut oil has melted properly beforehand to ensure that your topping is thick and doesn't run down the sides!
If it does feel a little runny, don't panic, just add some extra icing sugar until it's thick and smooth.
Now that you've got your topping, grab a spoon and drizzle it over each muffin individually, or if you've got a piping bag you can use that to make a pretty pattern. When it comes to decorating cakes, it's really up to you how you want to do it and this should be a personal (and maybe even the most fun) part of baking!
For me, I love adding a sprinkle of shredded carrots, walnuts, or even some grated coconut!
You might also enjoy these recipes:
These Vegan Carrot Cake Muffins are:
100% Vegan
Dairy Free
Egg Free
Nut Free (apart from coconut)
Adapt-able to become gluten free - simply switch to a gluten-free flour blend
Super moist and delicious
Simple to recreate
📌 If you love Pinterest you can pin any of the images to your boards!
Print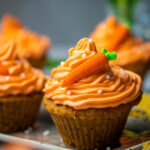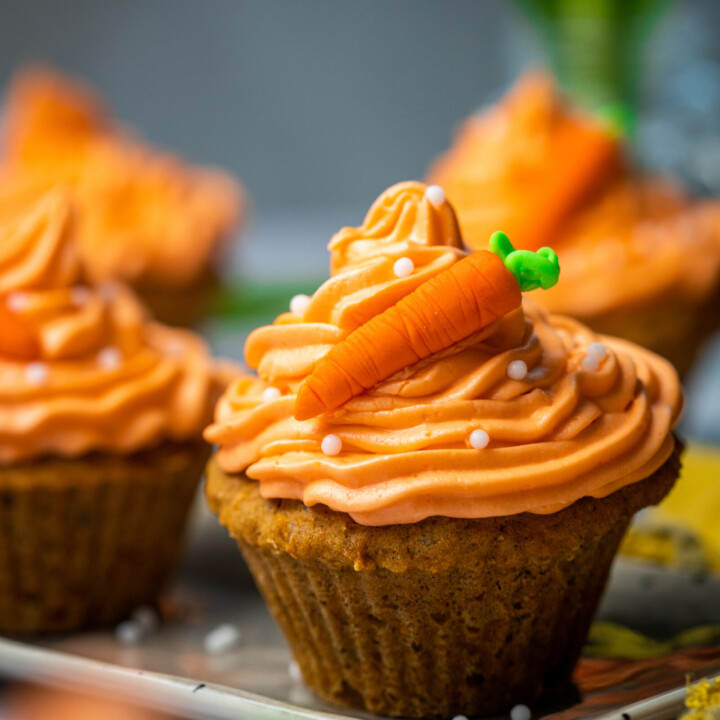 Vegan Carrot Cake Muffins
Author:

Prep Time:

10

Cook Time:

15

Total Time:

30

Yield:

10

servings

1

x

Category:

Muffins

Method:

Baking

Cuisine:

British

Diet:

Vegan
---
Description
These vegan Carrot Cake Muffins are simply the perfect sweet treat! I love creating these for Easter, but they're tasty any time of the year - if we're completely honest.
---
150

ml

coconut milk (you can replace this with any plant-based milk of your choice!)

1 tbsp

apple cider vinegar

1 tsp

milled flaxseeds

3 tsp

water

350

g

all-purpose flour

1/2 tsp

baking powder

1/2 tsp

baking soda

1 tsp

cinnamon

1/2 tsp

ginger powder

170

g

brown sugar

1 tsp

vanilla extract

170

g

coconut oil

2

-

3

large, shredded carrot
For the topping:
85

g

coconut oil

1/2 tsp

lemon juice

1 tsp

vanilla extract

1/2 tsp

apple cider vinegar

340

g

powdered sugar (icing sugar)

1 tsp

soy milk
---
Instructions
Mix the coconut milk and the apple cider vinegar and set aside in the fridge to curdle.
In the meantime, blend the flax seeds and 3 tsp of water in a small bowl and also set this aside into the fridge. This will be your egg replacer in the recipe.
Sieve the flour along with the baking powder and baking soda into a big bowl, then add the cinnamon and ginger powder. If you are using fresh ginger instead of the powdered version, make sure to only use a small amount and blend it into your wet ingredients for the recipe.
In a separate small bowl, combine the brown sugar with the vanilla extract and melted coconut oil and add it to the flour mixture. Also, mix in the shredded carrots and blend well using a spatula.
Preheat your oven to 340°F (170°C) and grease a muffin tin with a little coconut oil, then equally divide your dough between 12 muffin holes. Transfer them to the preheated oven and bake for 15-18 minutes or until risen and golden, then remove them from the oven. 
Let the muffins cool down completely before adding the topping. This is vital as the warmth of the muffins will otherwise keep your topping liquid and it will simply run down the sides of the muffins.
Now onto the topping: Blend the melted coconut oil with the rest of the ingredients until you get a smooth and creamy texture. Make sure that the coconut oil is properly melted beforehand and that your mix is thick and not runny. If it's too runny simply try adding a little more powdered sugar until a smooth but thick consistency is achieved. To get your topping onto the muffins you can simply use a large spoon to pour it over the individual muffins, or use a piping bag if you're into making a pretty pattern – completely down to you!
Feel free to decorate your carrot cake to your liking – my personal favourite is shredded carrot and walnuts, but shredded coconut it also very tasty! Leave the muffins out for the topping to dry completely until transferring to the fridge.
And finally the most important part: enjoy!
---
---
Nutrition
Serving Size:

10

Calories:

362

Sugar:

30g

Sodium:

236.8mg

Fat:

22g

Carbohydrates:

39.4g

Protein:

2.9g

Cholesterol:

50.7mg
Keywords: carrot cake muffins, carrot cake muffins recipe, vegan muffins, muffins, vegan carrot cake, vegan carrot cake muffins
If you love baking eater treats (or you just love baking!) why not try these recipes?
*Disclosure: This page may contain affiliate links and sponsored links that earn me a small commission, at no additional cost to you. You can find more information in my Privacy Policy.
 © Romy London / Romina Callwitz | All images and content are copyright protected. Please do not use my images and content without permission. If you wish to re-publish any recipes or images, please get in touch via email. Thanks for your support!