This Vegan Caramel Apple Parfait is a truly indulgent treat and the perfect dessert choice for your Thanksgiving and Christmas gatherings - or any other get-together that you want to serve a mouth-watering vegan dessert for!
Imagine the cozy warmth of aromatic spices and caramelized apples, paired with velvety coconut condensed milk and whipped coconut cream, layered with crunchy cinnamon cookies and a drizzle of butterscotch sauce... a true symphony of flavors from the first spoonful to the very last!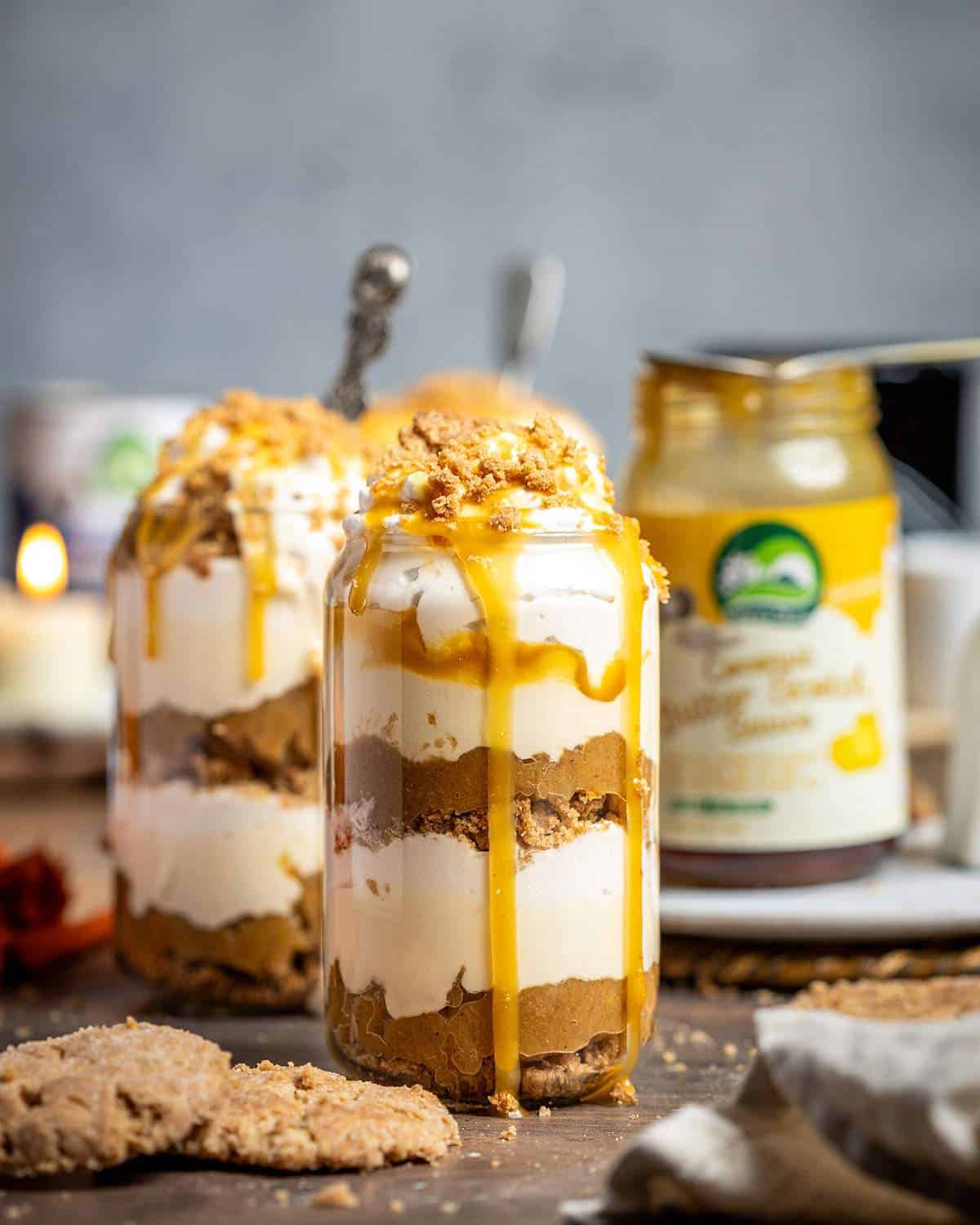 In this blog post, I will guide you through the process of creating and assembling this delicious parfait with just a few simple steps. And we will also explore some possible ingredient substitutions, and as always, some extra tips to ensure your dessert turns out perfect.
With these detailed instructions, you'll be able to effortlessly recreate this delightful dessert at home and impress your family and guests with this special treat!
Jump to:
Whilst this parfait can be enjoyed all year round, I really wanted to create a dessert that would capture the essence of my favorite season: fall! It's a recipe that holds a special place in my heart as it's an indulgent combination of my favorite flavors and textures and it never fails to make me smile.
Just picture a crisp autumn day, surrounded by vibrant leaves, a gentle chill in the air and the desire for an indulgent dessert filled with warming spices that tantalize your taste buds... that's where my irresistible vegan caramel apple parfait comes in.
Imagine indulging in layers of sweet caramelized apples, fragrant cinnamon cookies, and velvety whipped cream - I don't know about you but I'm already drooling just by typing this. So, let's dive into the recipe, so you can experience this special treat for yourself!
❤️ Why make this recipe?
The velvety texture and divine sweetness are a perfect indulgence, making this recipe the perfect dessert for a special occasion such as Thanksgiving or Christmas. Your guests definitely won't forget this dessert!
The combination of caramelized apples, warming spices, and creamy whipped cream creates a comforting and indulgent treat that will satisfy even the most insatiable sweet tooth!
The parfait is easy to prepare in advance and store it in the fridge overnight, making it a great dessert choice for your next dinner party.
It's also dairy-free and vegan, duh!
You can enjoy this versatile recipe all year round! It's the perfect cozy treat during chilly months, and a refreshing delight on warm summer days.
Plus: As the apples soften and release their sweet aroma, the kitchen becomes filled with a comforting warmth that is simply irresistible!
🌱 Ingredients & Notes
Here is everything you need for this indulgent dessert recipe: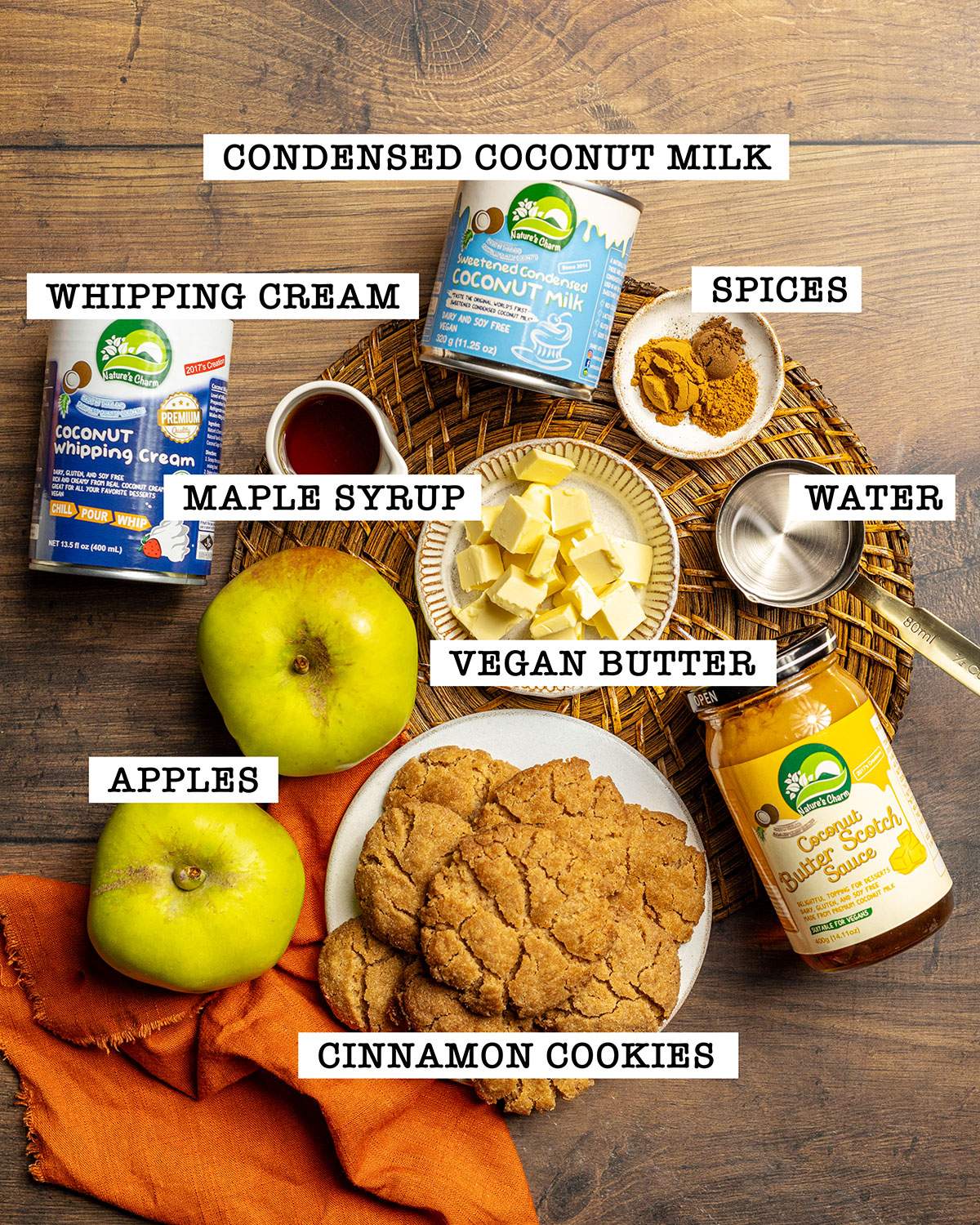 Apples - the fruity hero of this dessert! I used Bramley apples.
Vegan butter - for richness and depth of flavor when caramelizing the diced apples. Substitute with coconut oil.
Spices - cinnamon, nutmeg and ground allspice for warm and aromatic notes.
Condensed coconut milk - the condensed coconut milk from Nature's Charm is perfect for this recipe! It wonderfully caramelizes the apples, creating a creamy, sweet layer for the parfait and it's also 100% vegan!
Maple syrup - adds a natural, warm sweetness. Substitute with agave syrup.
Coconut whipping cream - for a luscious, creamy texture! I used Nature's Charm's Coconut Whipping Cream for the best results.
Cinnamon cookies - use store-bought cinnamon cookies or make your own! I've included a simple recipe below.
Butterscotch sauce for serving - optional, but simple divine! I used Coconut Butter Scotch Sauce from Nature's Charm.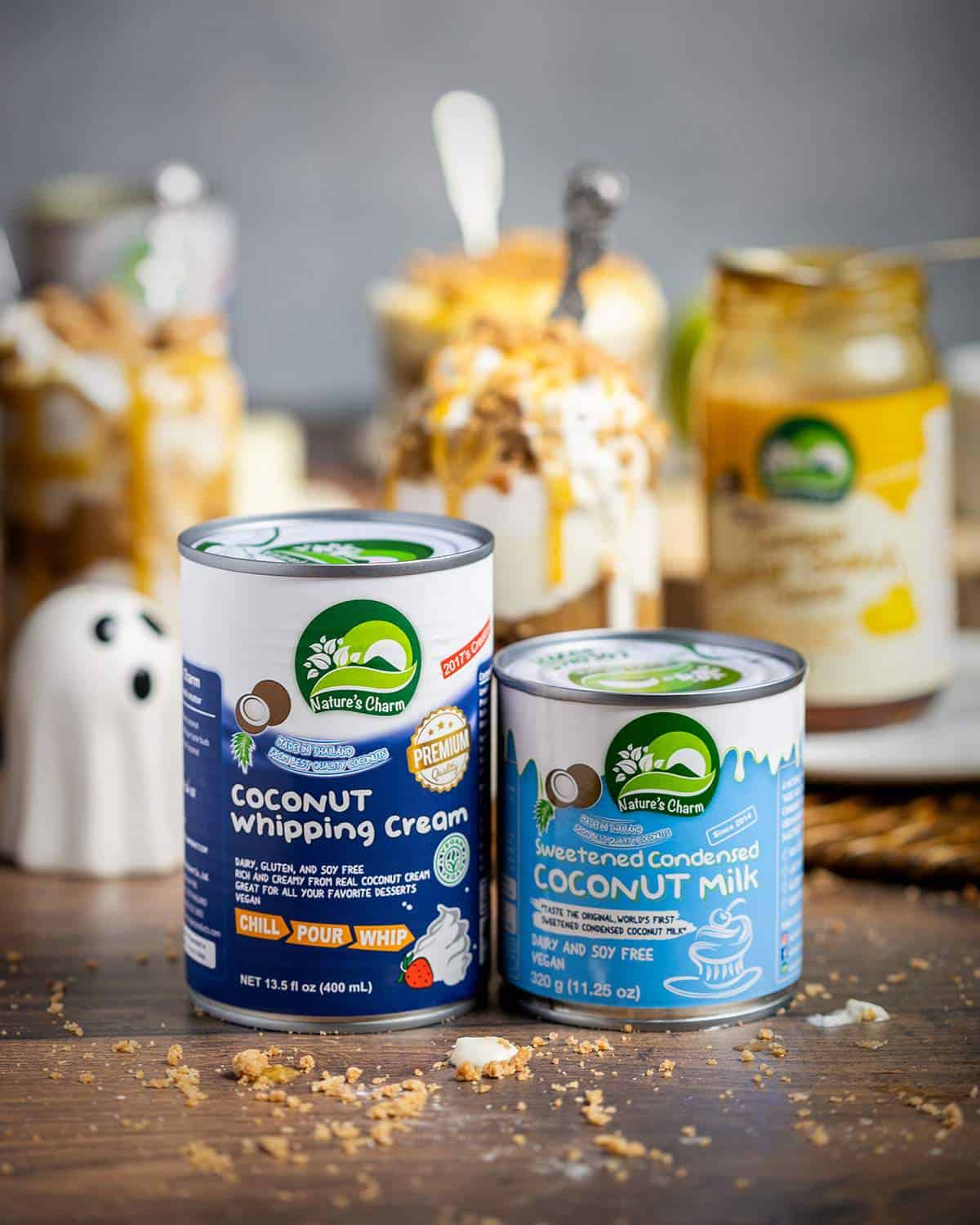 For the cinnamon cookies you will also need: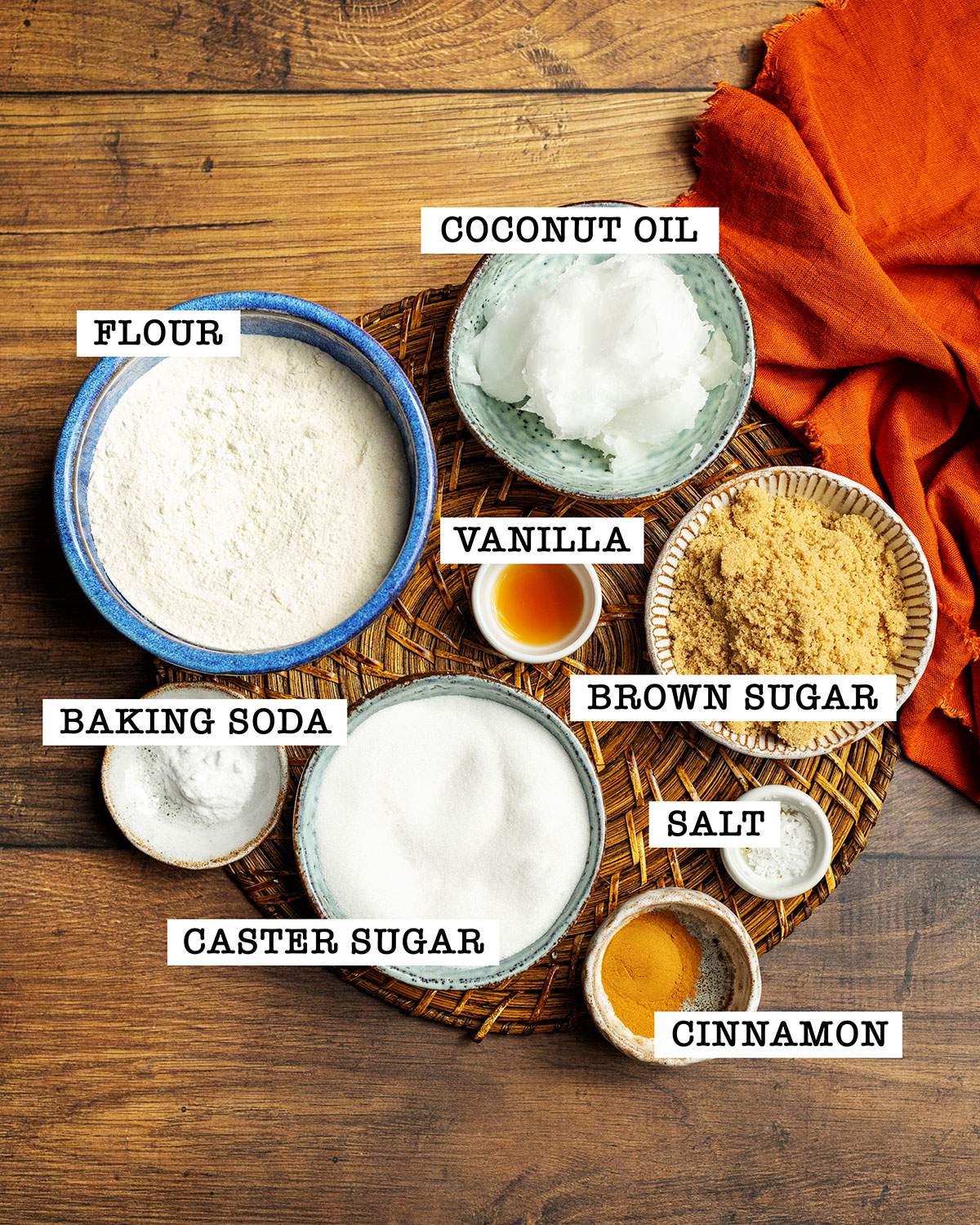 Coconut oil - softened, not melted, coconut oil. Use deodorised coconut oil if you don't like coconut flavor.
Sugar - a mix of granulated sugar and brown sugar. Use a little extra cinnamon sugar to roll the cookies in before baking for a wonderful, crackly crust!
Vanilla - use a high quality vanilla extract for flavor depth.
Flour - all purpose flour, substitute for a gluten-free flour mix intended for baking.
Cinnamon - ground cinnamon
Baking Soda - for the perfect rise!
Scroll to the recipe card at the bottom of the post for detailed quantities and measurements.
🔪 Equipment
For the cookies:
Mixing bowl
Electric mixer or whisk
Baking sheet and parchment paper
Cookie scoop or spoon
Wire rack
For the parfait:
Medium saucepan
Spatula or spoon for stirring
Parfait glasses or dessert cups
Measuring cups and spoons
Mixing bowl
Whisk or electric mixer
Baking sheet (for crushing cookies)
🧑‍🍳 Instructions (Step-by-Step)
Here's how you can easily make these vegan parfait jars at home in just a few simple steps. If you decide to use store-bought cinnamon cookies, you can skip ahead to Step 2.
Step 1: Prepare the cinnamon cookies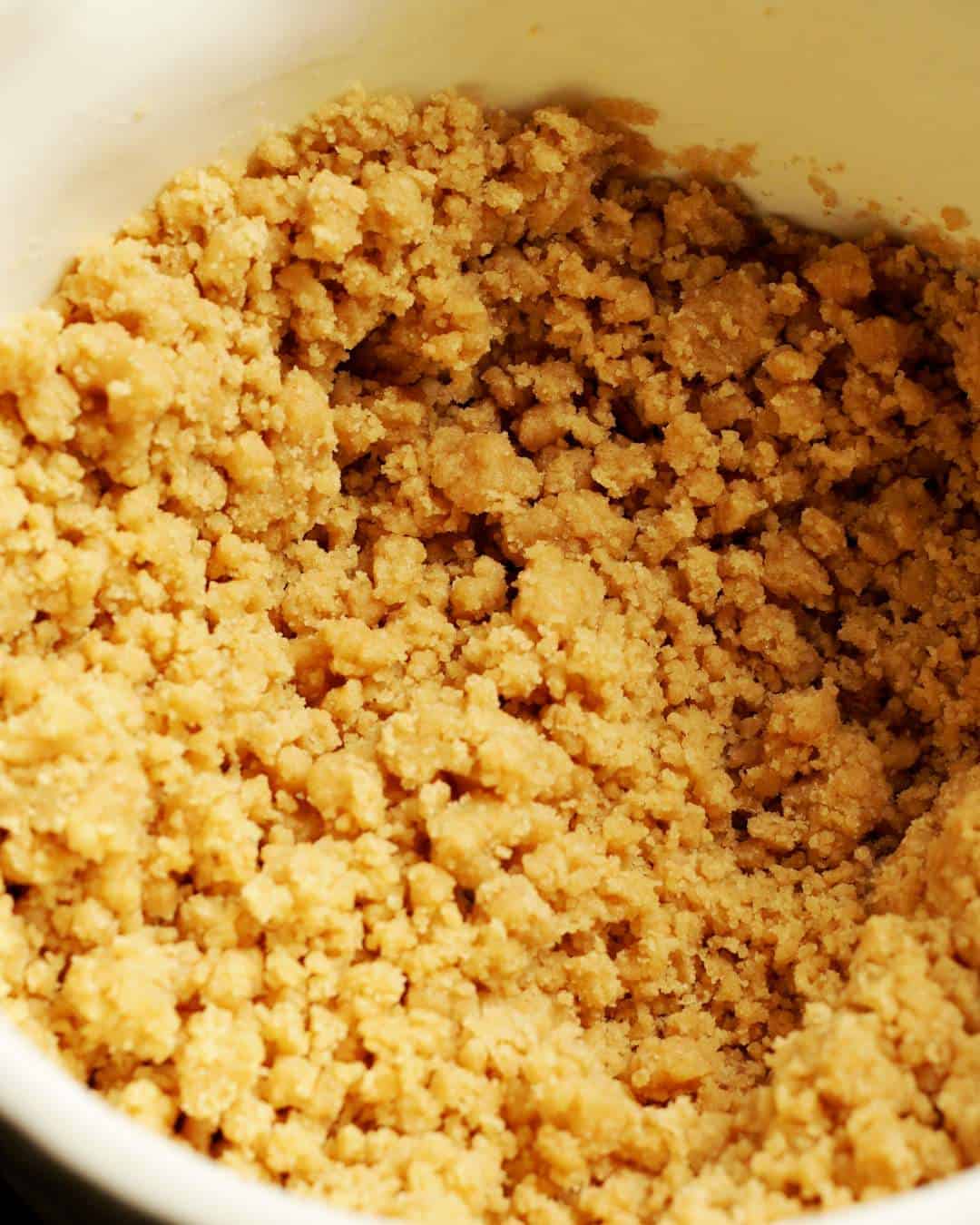 In a bowl, cream together coconut oil and both granulated and brown sugar, then mix in vanilla extract. In a second bowl whisk together flour, cinnamon, baking soda, and salt. Combine all ingredients into a dough.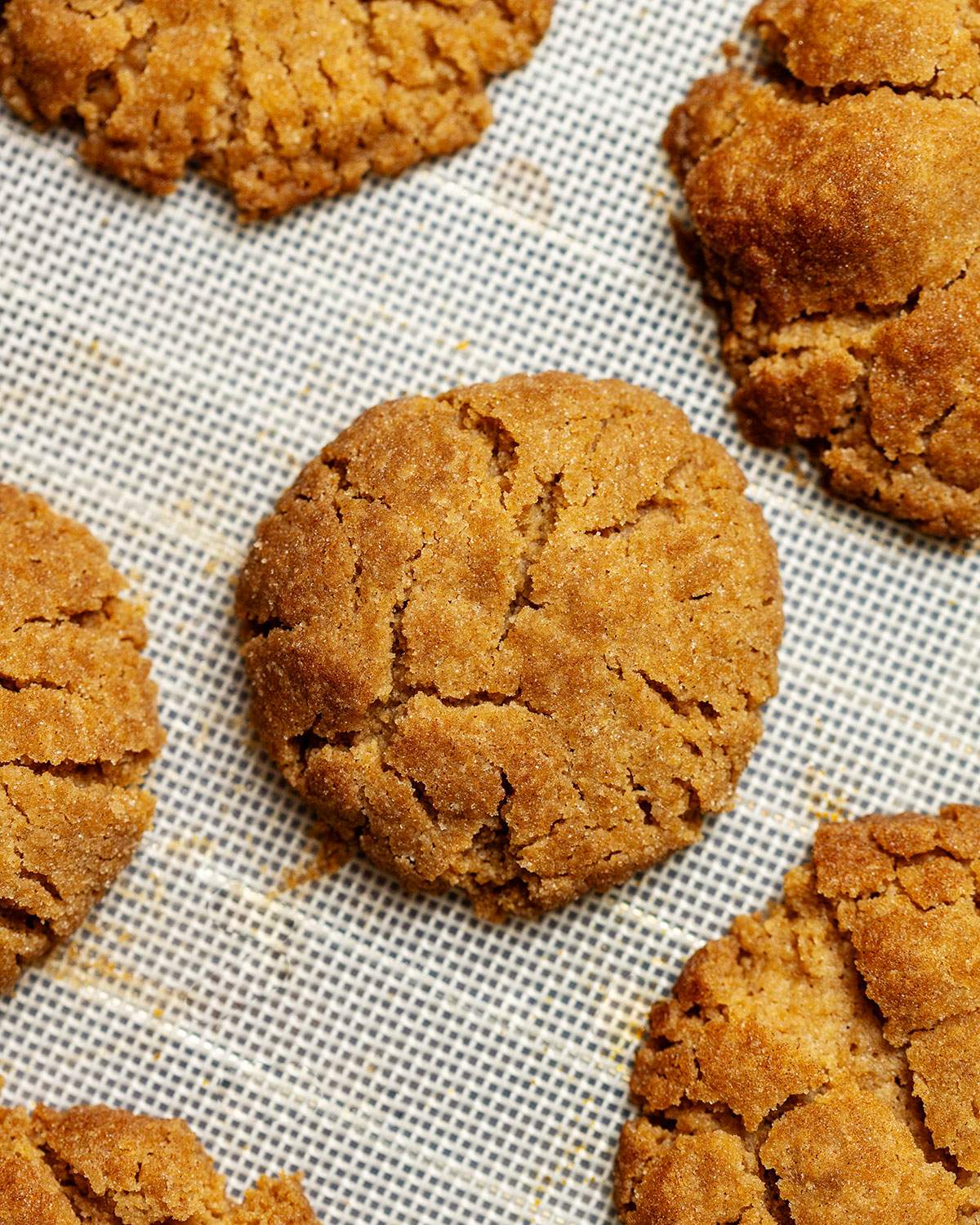 Shape into 12 cookie dough balls and roll them in cinnamon sugar. Refrigerate for 20 minutes, then bake until golden for 10-12 minutes at 350°F (180°C). Let them cool completely, then crush the cookies.
Step 2: Caramelizing the apples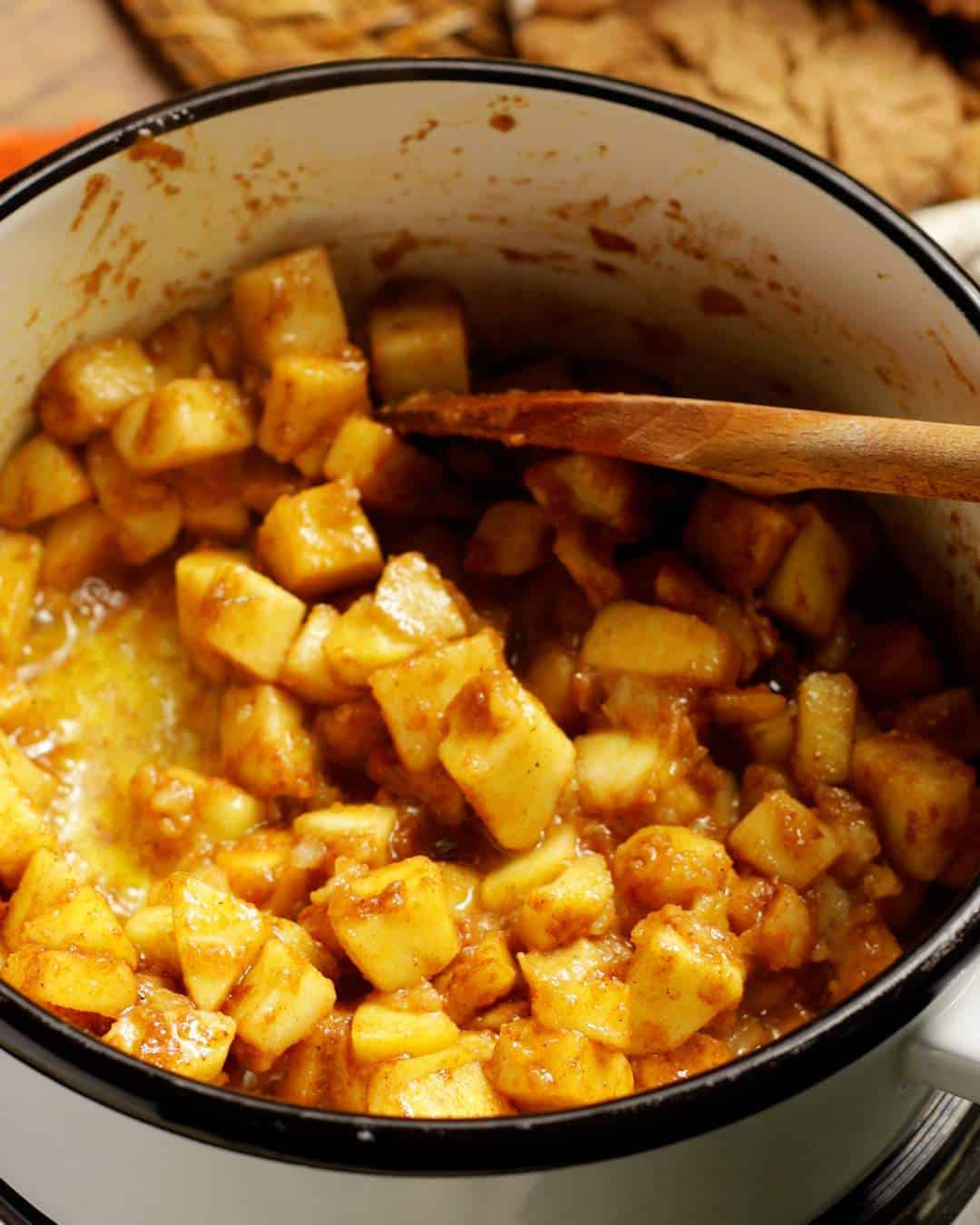 Melt vegan butter & add diced apples, cinnamon, nutmeg and allspice, and cook for 5-7 minutes until lightly caramelized.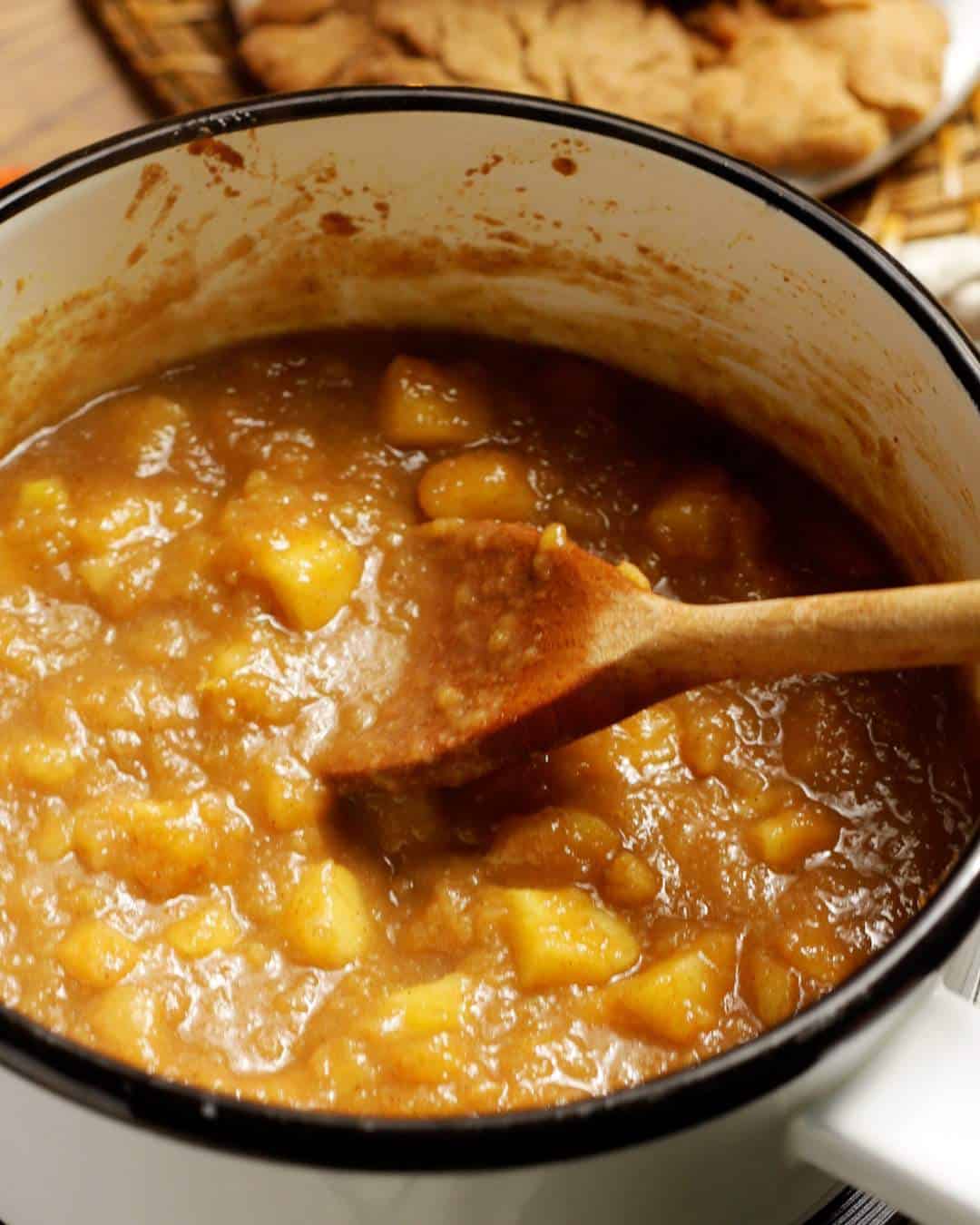 Add condensed milk, maple syrup, and water, and cook until the mix thickens and the apples are fully caramelized. Remove from heat and let cool.
Step 3: Mixing the layers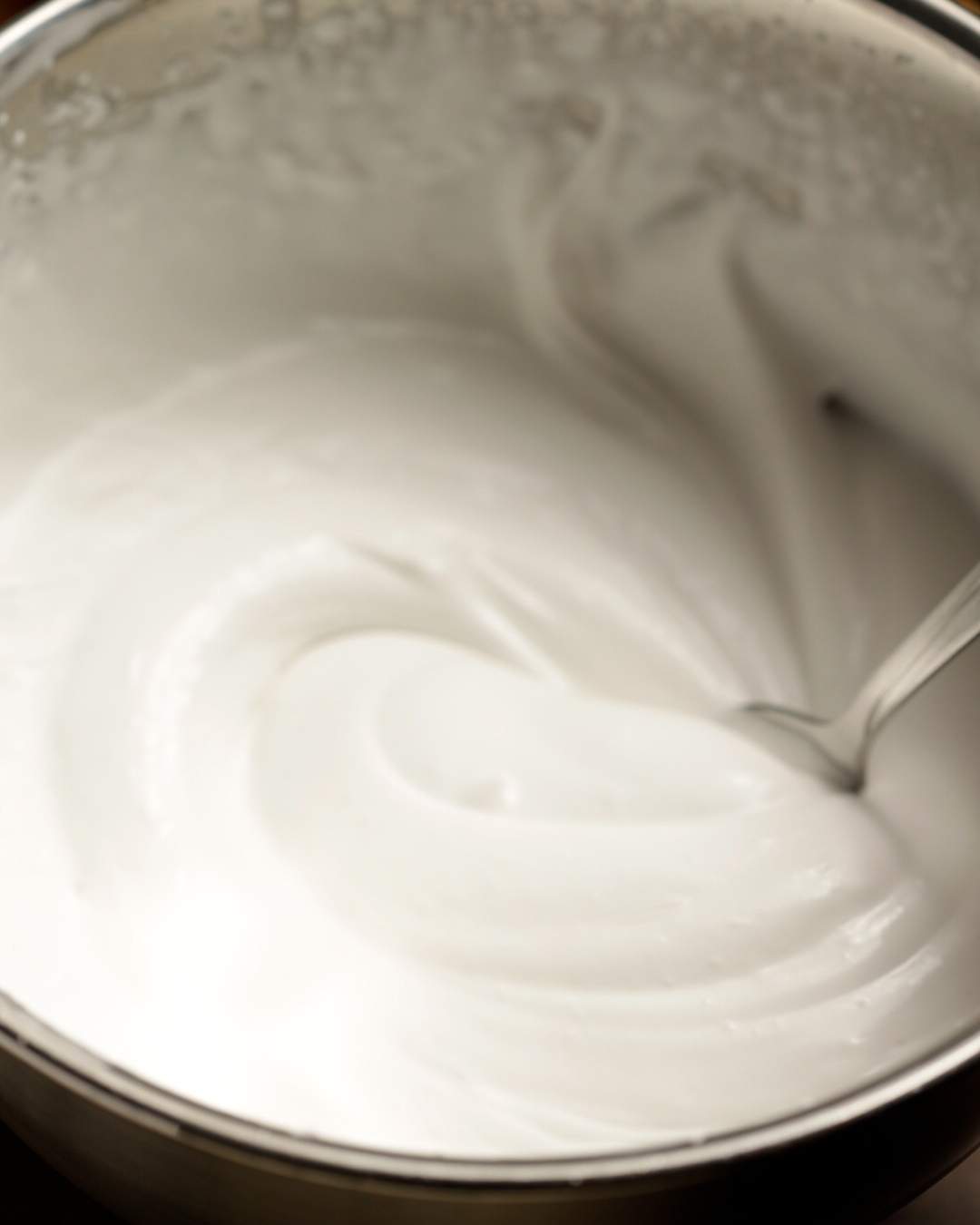 In another bowl, whip the coconut whipping cream until it forms stiff peaks.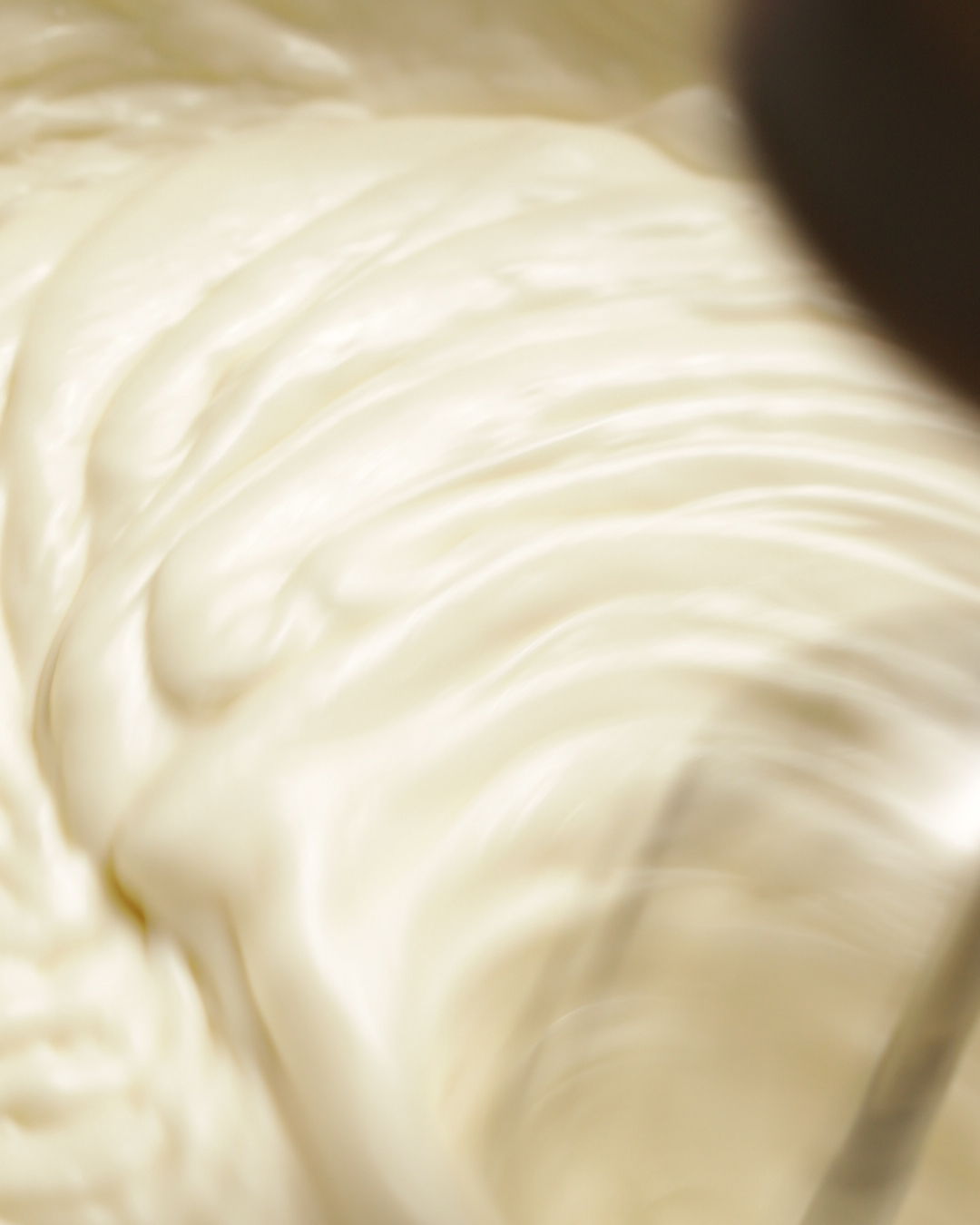 In a separate container, mix the coconut butterscotch sauce and 1/2 cup (120ml) of the whipped cream to create the sweet caramel layer.
Step 4: Assemble the parfait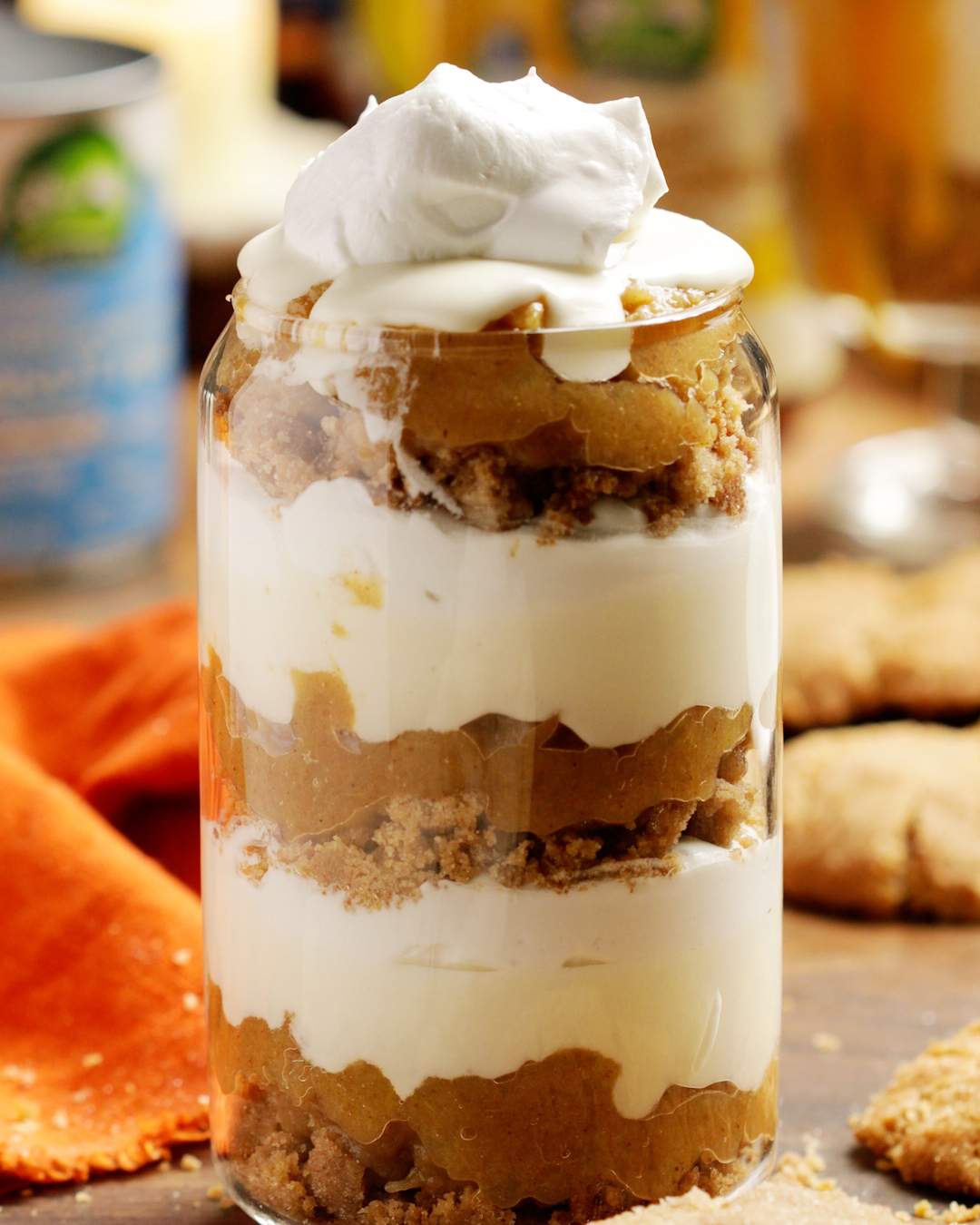 Layer crushed cinnamon cookies at the bottom of four glasses. Add a layer of the apples, top with a caramel layer and a layer of whipped cream. Repeat until the glasses are full and finish with whipped cream on top.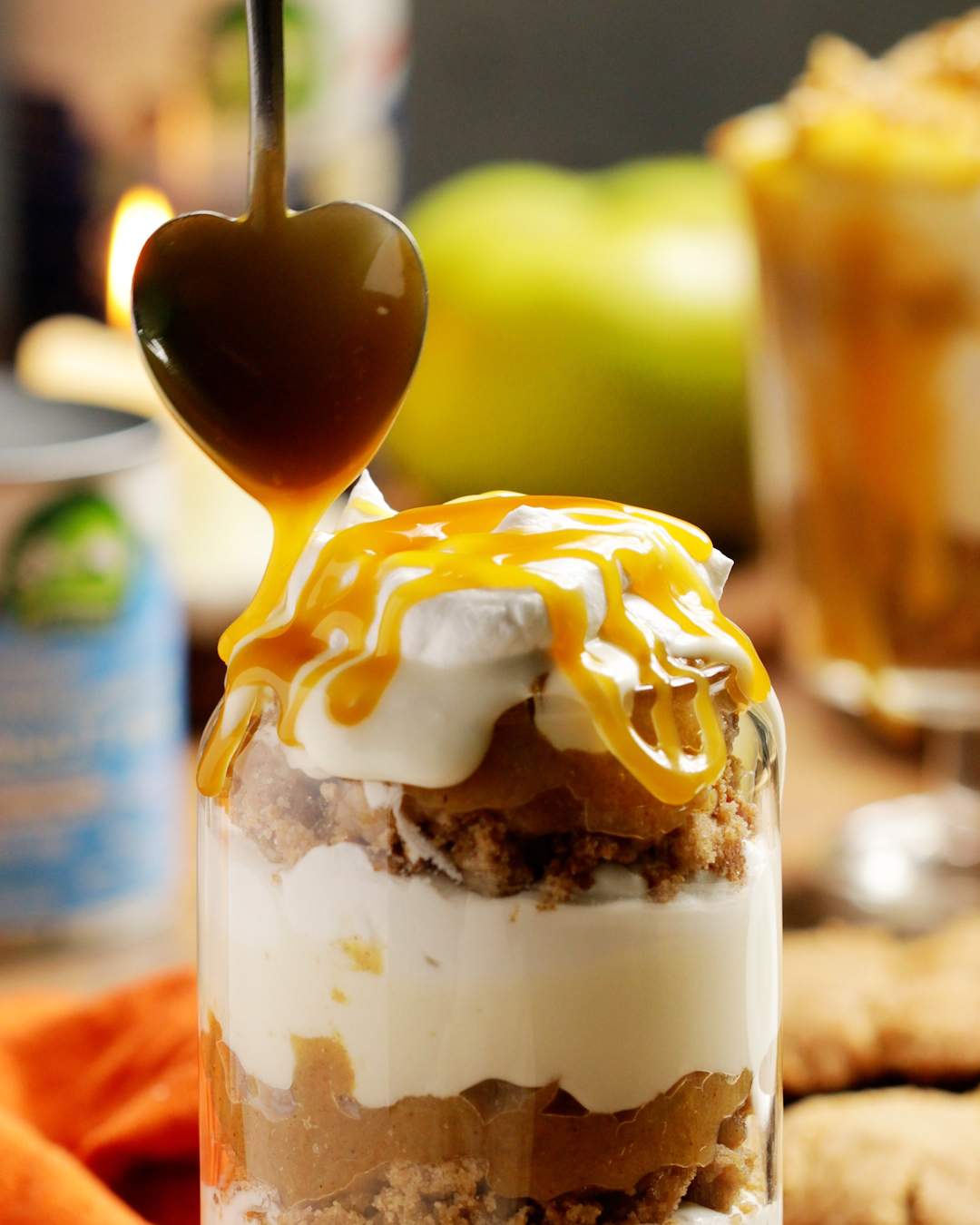 Drizzle coconut butterscotch sauce over the top and sprinkle with cinnamon cookie crumbs before serving.
Serve the parfait chilled and enjoy it with your loved ones.
To make it even more special, get creative with the presentation by using fancy glassware or dessert bowls to showcase the beautiful layers. And before taking that first indulgent spoonful, give the parfait a little stir with a long spoon or a dessert spoon to ensure that every bite is a perfect blend of flavors. Bon appétit!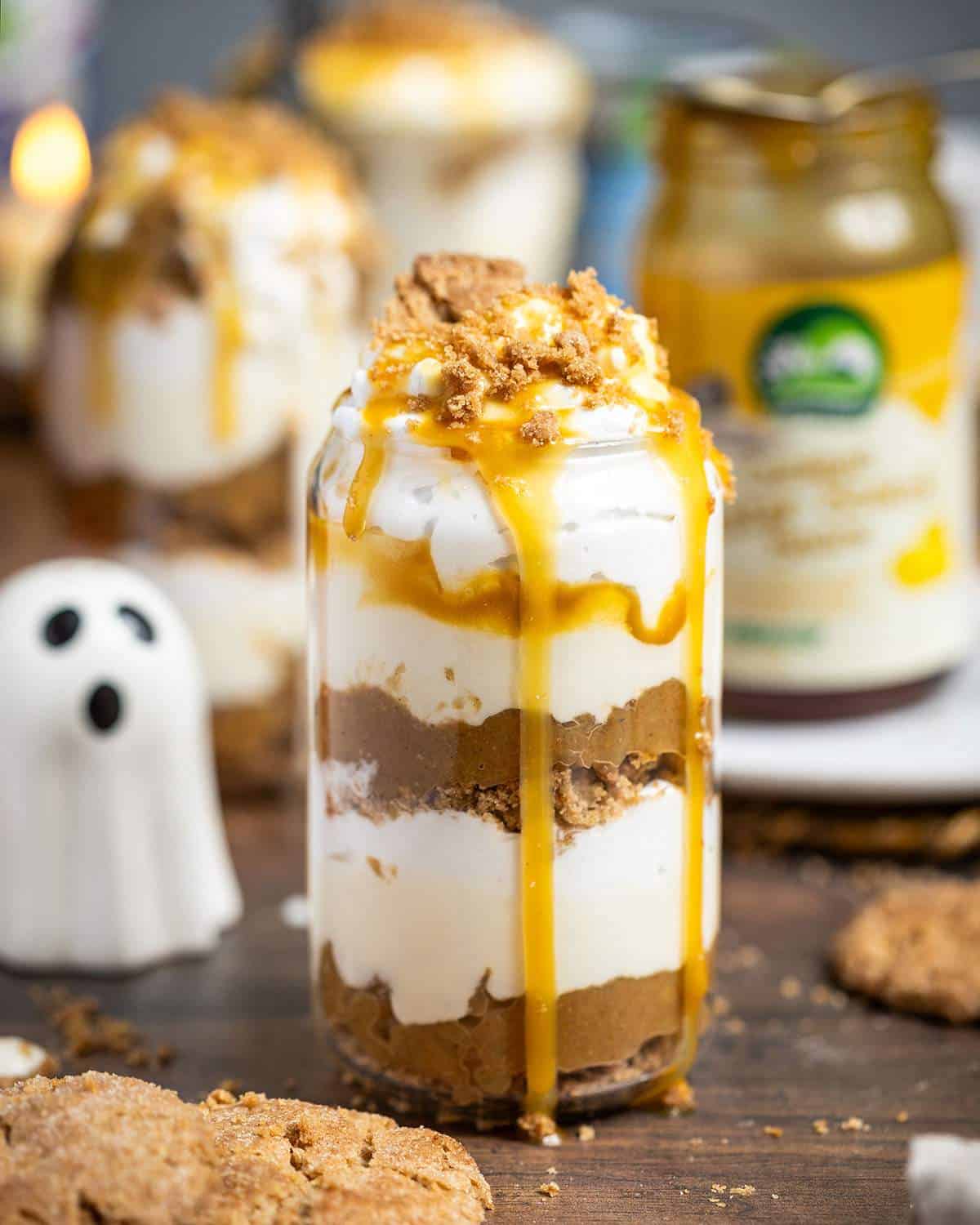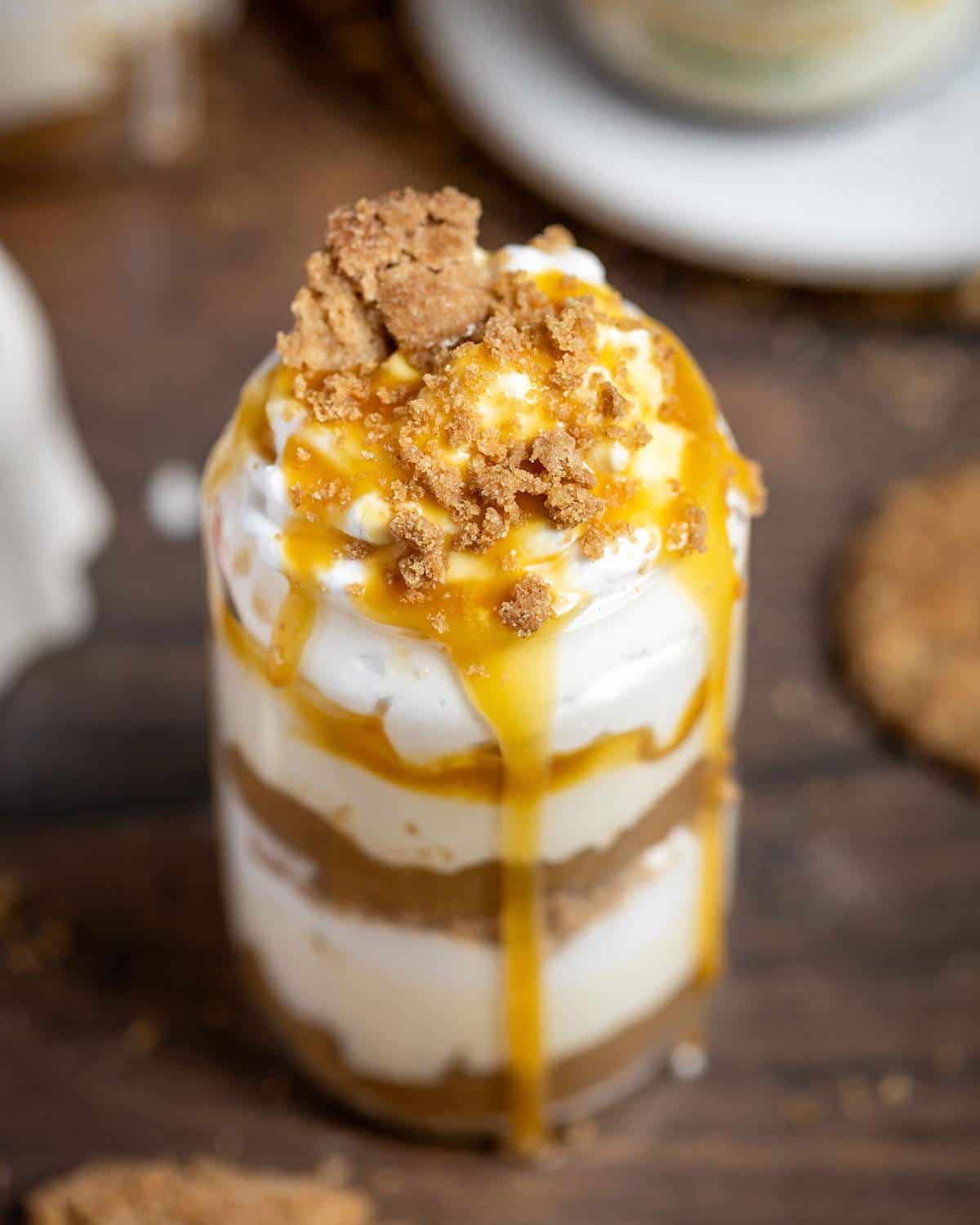 ❄️ How to Store Leftovers
If you have any leftovers, simply cover your parfait glasses and store them in the refrigerator for up to 2 days. However, it's best to consume the parfait fresh to fully enjoy its luscious flavors and textures.
🔜 More Vegan Dessert Recipes to Try
If you're a dessert lover, I'm sure you will enjoy some of my other dessert recipes, such as these Vegan Butterscotch Crumble Bars, that are a great way to use up any leftover butterscotch sauce or these crunchy Vegan Condensed Milk Waffles that can be created with coconut condensed milk.
📌 If you love Pinterest you can pin any of the images to your boards!
📝 Recipe
Here's a handy recipe card that you can print out and keep in your kitchen for easy reference: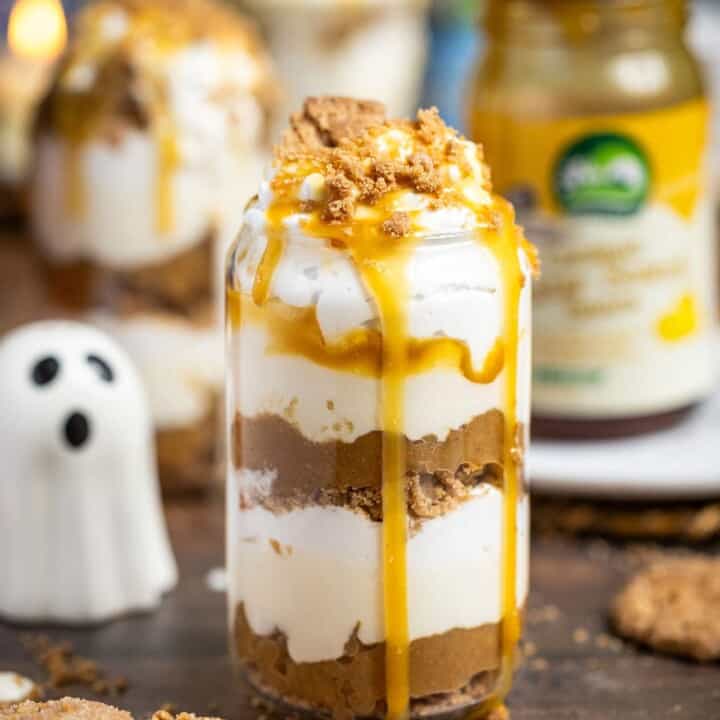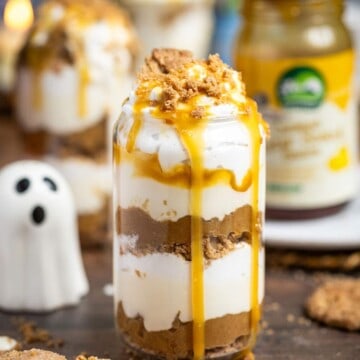 Vegan Caramel Apple Parfait
Indulge in the cozy warmth of this vegan caramel apple parfait. Layers of caramelized apples, cinnamon cookies, and whipped cream, drizzled with a heavenly coconut butterscotch sauce, create a deliciously creamy and comforting treat.
Equipment
3 mixing bowls

1 Electric mixer or whisk

1 Lined baking sheet

1 Cookie scoop or spoon

1 Wire rack for cooling

1 medium saucepan

1 Knife and cutting board

4 Parfait glasses or dessert bowls

1 spatula

1 Drizzling bottle or spoon for sauce
Ingredients
For the cinnamon cookies
1/2

cup

coconut oil (120 ml)

softened

1/2

cup

granulated sugar (120g)

1/4

cup

brown sugar (60g)

1

tsp

vanilla extract

1 1/2

cups

all-purpose flour (180g)

1

tsp

ground cinnamon

1/2

tsp

baking soda

1/4

tsp

salt
For the parfait
1/4

cup

vegan butter (60g)

2

medium

apples (300g)

peeled and diced

1

tsp

ground cinnamon

1/4

tsp

ground nutmeg

1/4

tsp

ground allspice

7

oz

sweetened condensed coconut milk (200 ml)

1/2 can

13.5

oz

coconut whipping cream (400 ml)

1 can

1/2

cup

coconut butterscotch sauce (120 ml)
Instructions
For the cinnamon cookies
Preheat the oven to 350°F (180°C) and line a baking sheet with parchment paper.

Cream together coconut oil, granulated sugar, and brown sugar. Add vanilla extract and mix until combined.

In a separate bowl, whisk together flour, cinnamon, baking soda, and salt.

Add dry ingredients to wet ingredients and mix until dough forms.

Form dough into small balls and place them on the prepared baking sheet.

Bake for 10-12 minutes, until edges turn golden brown. Cool cookies on the baking sheet for 5 minutes before transferring to a wire rack to cool completely.
For the parfait
In a medium saucepan, melt vegan butter over medium heat. Add diced apples, cinnamon, nutmeg, and allspice, and cook until apples are softened and lightly caramelized (5-7 minutes).

Add 1/4 cup (60ml) condensed coconut milk, and remove from heat when apples are fully caramelized. Let it cool.

In a bowl, whip coconut whipping cream until stiff peaks form.

Whip 3/4 of the butterscotch sauce with 1/2 cup (120ml) of the whipped cream for a sweet caramel layer.

To assemble the parfait, layer crushed cinnamon cookies at the bottom of four parfait glasses. Add apple mixture, caramel mixture, and whipped cream, repeating until glasses are full. Top with a drizzle of coconut butterscotch sauce and cookie crumbs.
Notes
Serving - Serve the parfait chilled in elegant glassware - get creative with the presentation using fancy glassware or dessert bowls! Before diving in, give the parfait a little stir to distribute the layers evenly. 
Apples - Feel free to experiment with different types of apples for varying flavors and textures. Some popular choices include Granny Smith, Honeycrisp, or Pink Lady apples.
Add Some Crunch - For an extra crunch, sprinkle some chopped nuts, such as walnuts or pecans, between the layers of the parfait.
Make it Gluten-Free - If you prefer a gluten-free version, use gluten-free cinnamon cookies or substitute them with gluten-free graham crackers or oats. 
Fridge - The parfait is best enjoyed immediately after assembly, but you can also refrigerate it for up to 24 hours before serving. 
Make it in Advance - If you want to prepare the components in advance, you can caramelize the apples and whip the coconut cream ahead of time. Store them separately in airtight containers in the refrigerator and assemble the parfait when ready to serve.
Garnish - Enhance the visual appeal of the parfait by garnishing it with a sprinkle of ground cinnamon, apple slices, or a dusting of cocoa powder.
Variations - Get creative by adding layers of your favorite vegan caramel sauce, chopped chocolate, or even a dollop of vegan ice cream between the parfait layers.
Batching - This recipe can easily be doubled or halved to accommodate different serving sizes. Simple adjust the ingredient quantities accordingly.
*Disclosure: This page may contain affiliate links and sponsored links that earn me a small commission, at no additional cost to you. You can find more information in my Privacy Policy.
 © Romy London / Romina Callwitz | All images and content are copyright protected. Please do not use my images and content without permission. If you wish to re-publish any recipes or images, please get in touch via email. Thanks for your support!