With this Vegan Poultry Seasoning Mix you can easily season your vegan meat alternatives, such as Seitan, tofu & Co! It's ready in just a few minutes and a great seasoning base for all kinds of vegan recipes.
This homemade poultry seasoning recipe is made with a variety of dried herbs as well as ground nutmeg, plus salt and ground black pepper. You can easily make this seasoning mix by blending the ingredients in a bowl - or you can create a fine powder seasoning by mixing everything in a spice grinder.
The vegan poultry mix is fantastic for recipes such as seasoning for vegan chicken, vegan Schnitzel or vegan turkey.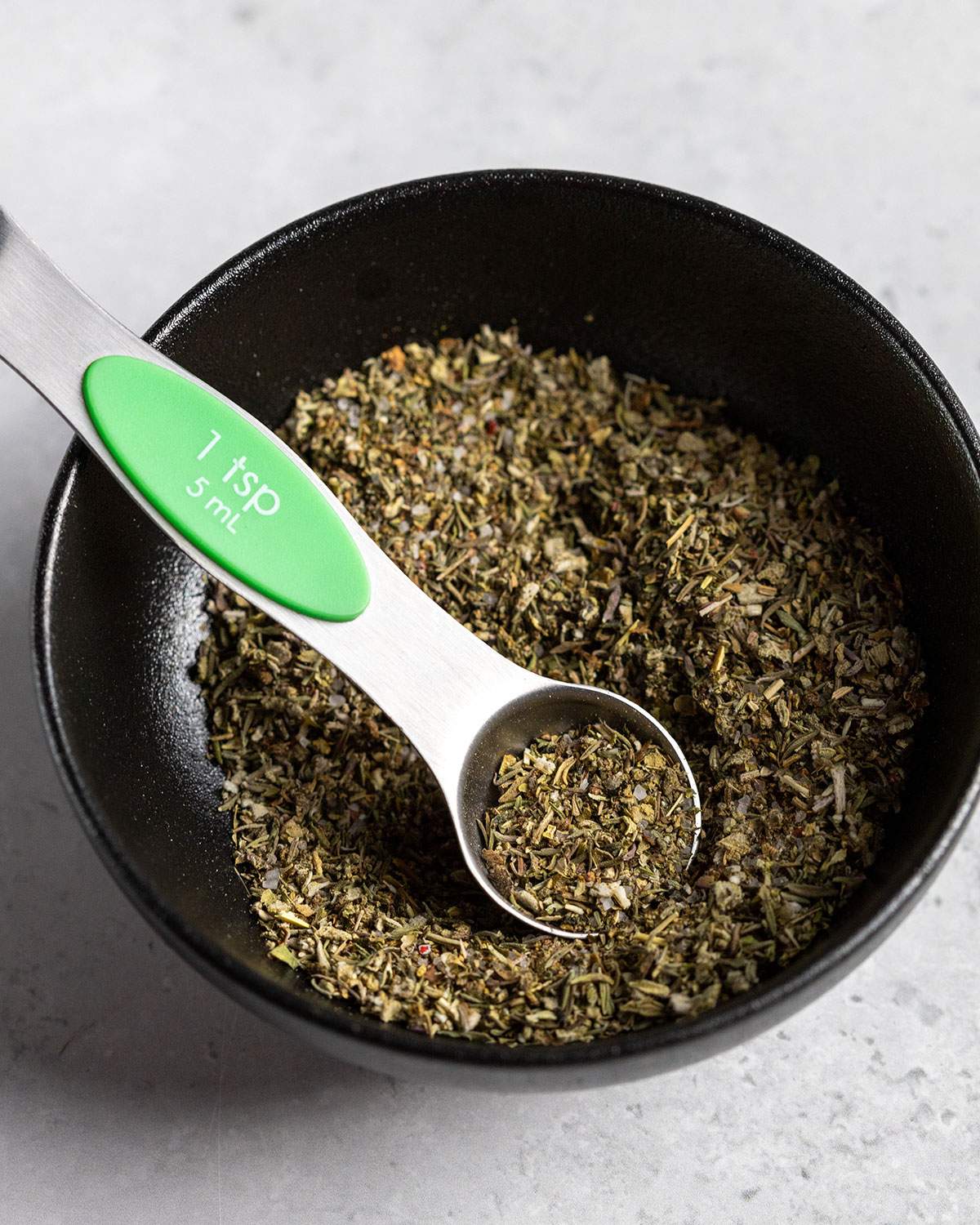 This recipe is:
vegan and vegetarian
easy to put together in just a few minutes
great for use in an instant pot or an air fryer
working well in a variety of dishes
made with dried herbs
Jump to:
Is poultry seasoning vegan?
There are a number of poultry seasonings out there that are accidentally vegan, but unfortunately they are not always widely available outside of the US.
If you can't find vegan poultry seasoning in your local grocery stores or simply prefer to make your own at home, this recipe is perfect for you!
What do you use poultry seasoning for?
Homemade poultry seasoning is great for a number of recipes. Traditionally it is mostly used to season different types of poultry and preparing them for a recipe - like a base seasoning that adds a delicious layer of seasoning.
How to use poultry seasoning in vegan recipes
Vegan poultry seasoning can be fantastic for a number of vegan recipes! I personally love to cook with Seitan and have been making my own vegan poultry seasoning for a number of recipes, such as Vegan Chicken, BBQ Seitan, vegan Schnitzel or Vegan Turkey.
Ingredients
Here's everything you need for this recipe: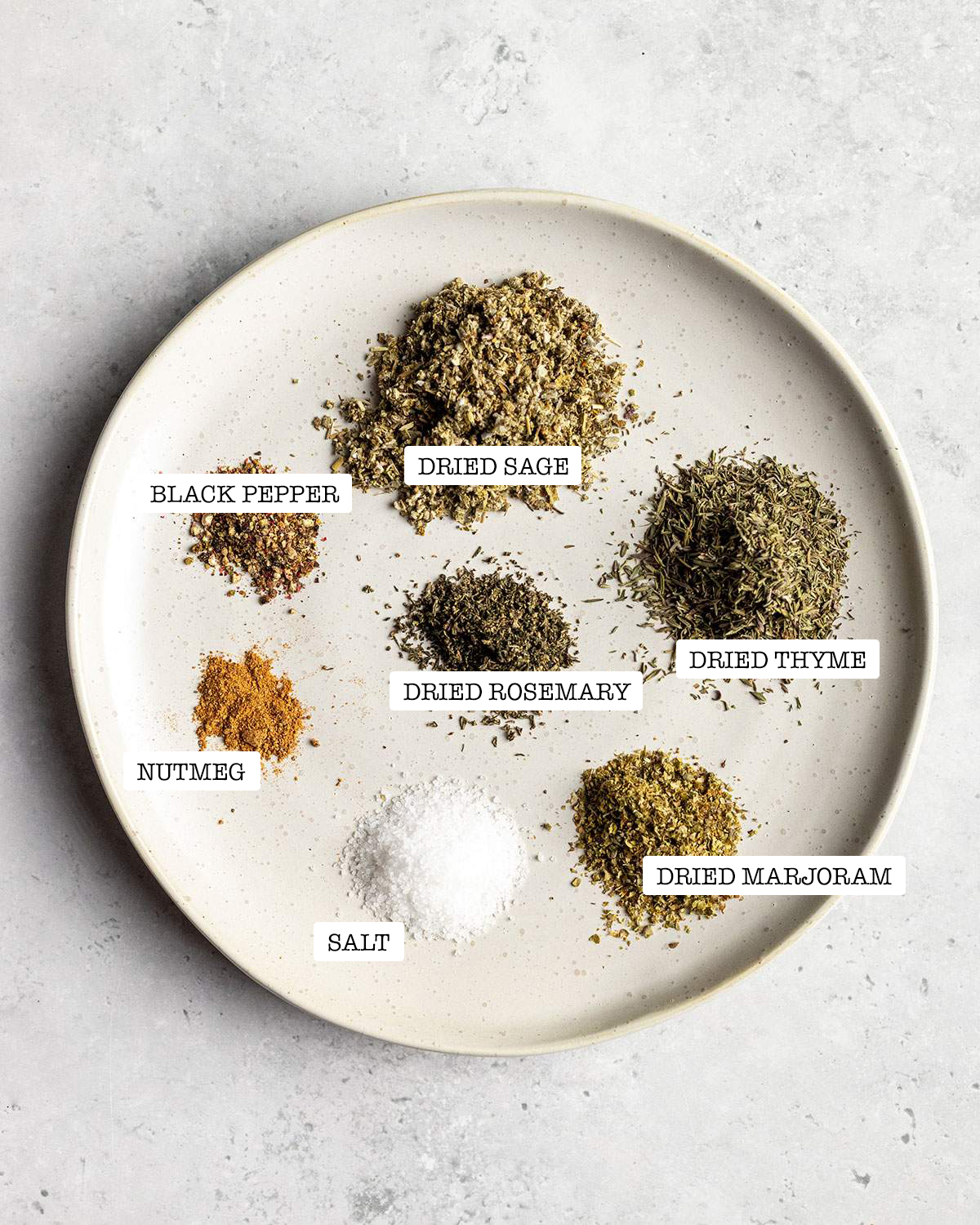 dried sage
dried thyme
dried marjoram
dried rosemary
salt
black pepper
nutmeg
See recipe card at the end of the post for quantities.
Equipment
Here's everything you need for this recipe:
a bowl to mix in
an airtight container, such as a small glass jar to store the seasoning mix
Instructions (Step-by-Step)
The seasoning mix is super easy to put together: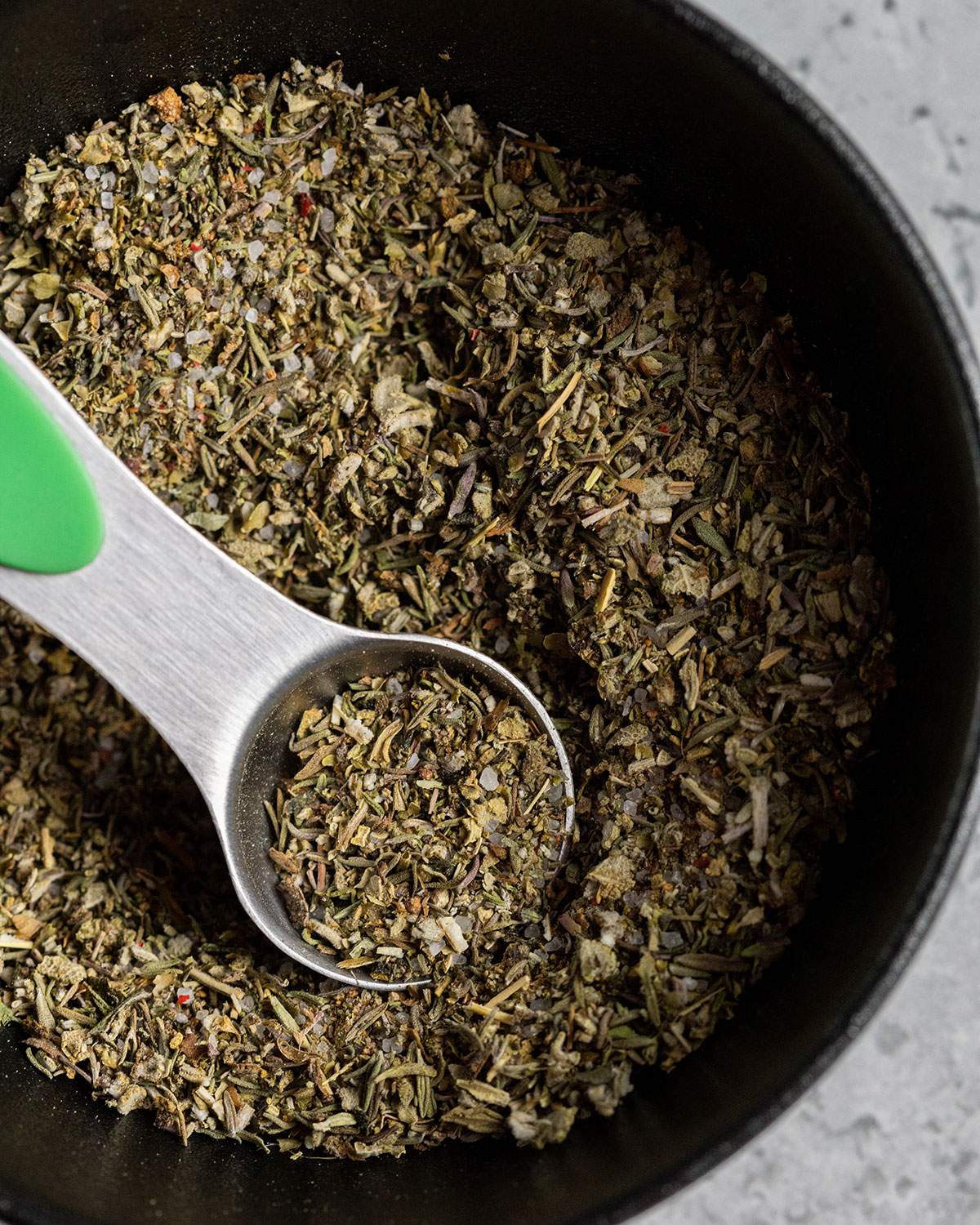 Place all ingredients into a small bowl and mix them with a spoon.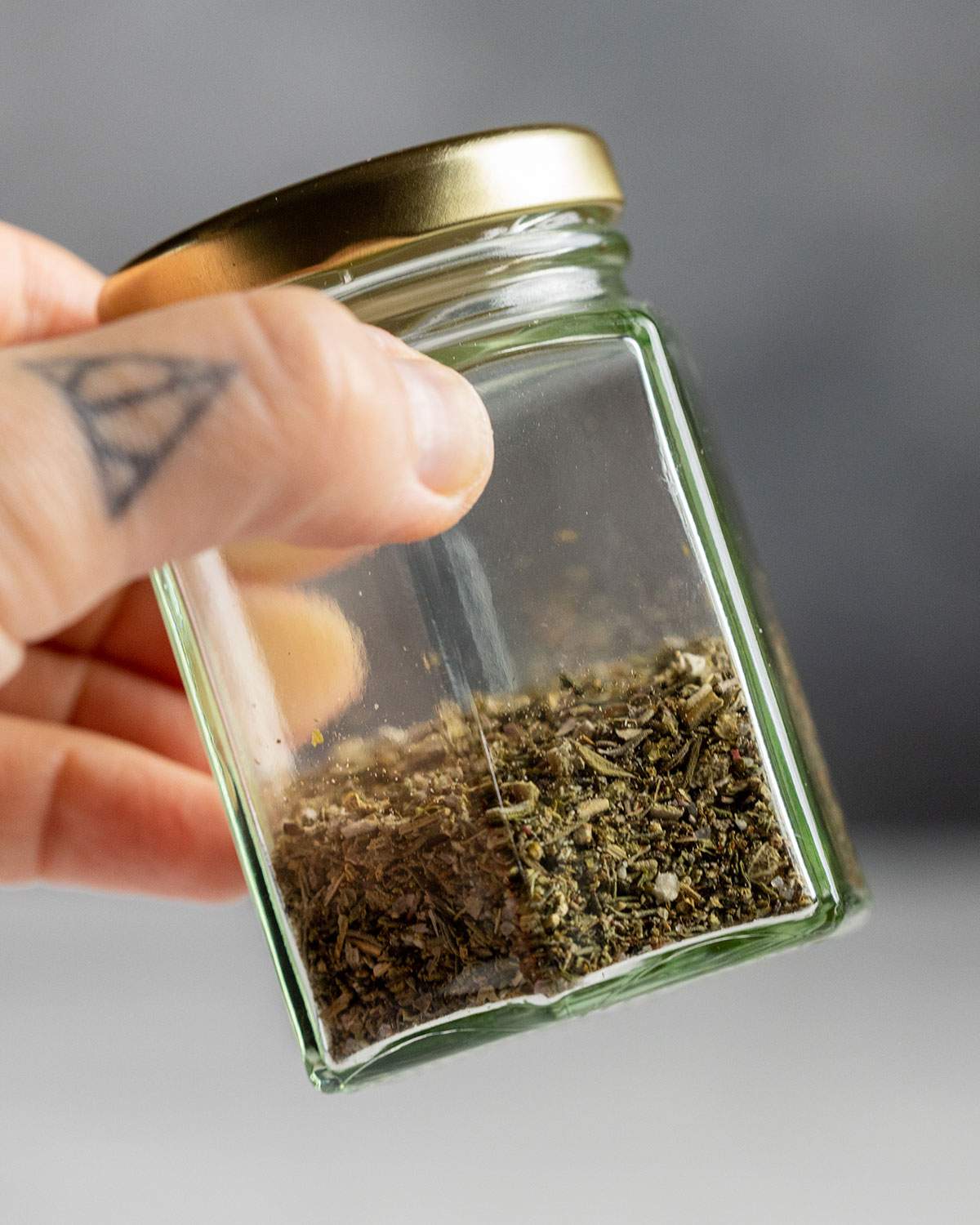 Transfer the herb mix into a small jar or air-tight container.
Useful tip: If you want your seasoning mix to be super fine and easily blend into your recipes without whole pieces of herbs, you can place the mix into a spice grinder and blend until you get a fine powder.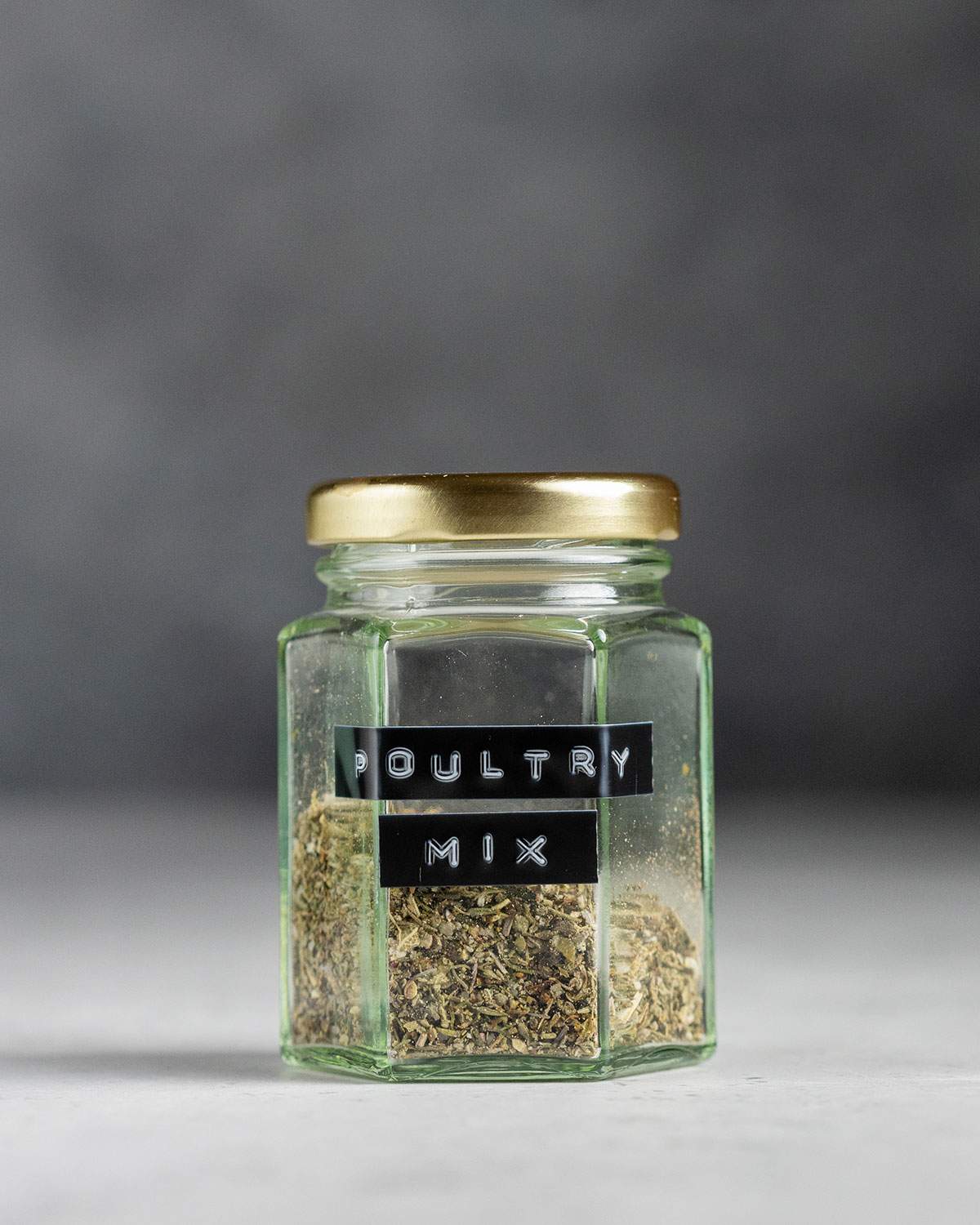 Storage
Store in a dry container and in a cool, dry place.
You can generally store it for as long as your herbs last, considering it's stored dry. This seasoning mix only makes a small amount, so it shouldn't last you long to use it up and you can always double/triple the recipe if you need more!
Substitution
If you're missing any of the ingredients, but are still in need of poultry seasoning RIGHT NOW, it's best to replace the seasoning mix with a mix of sage and thyme or marjoram (ratio 2:1). This will do the trick if you can't use the full seasoning mix!
Recipes to make with poultry seasoning
If you're looking for some vegan recipes to use your poultry seasoning in try this recipe for Vegan Chicken, these delicious Vegan Chicken Taquitos, BBQ Grilled Seitan on the barbecue in summer, or this Vegan Turkey for your festive meal!
Related Recipes
📌 If you love Pinterest you can pin any of the images to your boards!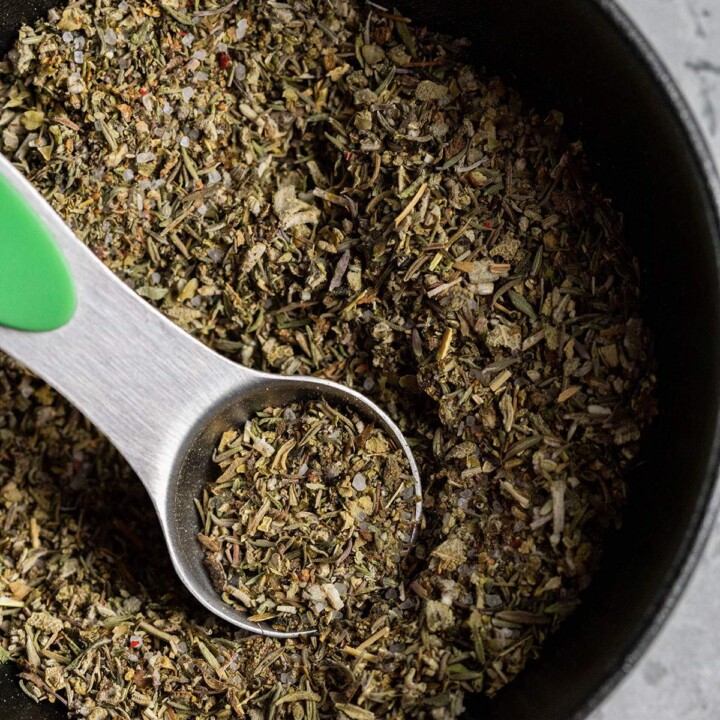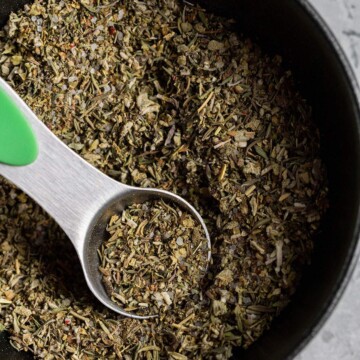 Vegan Poultry Seasoning
Super easy vegan poultry seasoning mix made with herbs and spices - perfect for vegan poultry recipes such as vegan chicken or vegan turkey.
Ingredients
4

tbsp

dried sage

2.5

tsp

dried thyme

1

tsp

fine salt

1

tsp

marjoram

1

tsp

dried rosemary

1/4

tsp

ground black pepper

1/8

tsp

ground nutmeg
Instructions
Place all ingredients into a small jar with an airtight lid. Shake to mix evenly and store in a dark, dry place.
Notes
Storage: Keep the seasoning mix in a cool, dry place for up to 6 months.* (*double check the BBD on the herbs you use. As long as the mix stays dry, you can keep it for longer than 6 months).
Latest Recipes
*Disclosure: This page may contain affiliate links and sponsored links that earn me a small commission, at no additional cost to you. You can find more information in my Privacy Policy.
 © Romy London / Romina Callwitz | All images and content are copyright protected. Please do not use my images and content without permission. If you wish to re-publish any recipes or images, please get in touch via email. Thanks for your support!