Vegan Breakfast Samosas Recipe — made with tortilla wraps, strawberries, and vegan chocolate spread, these make for the perfect quirky breakfast treat!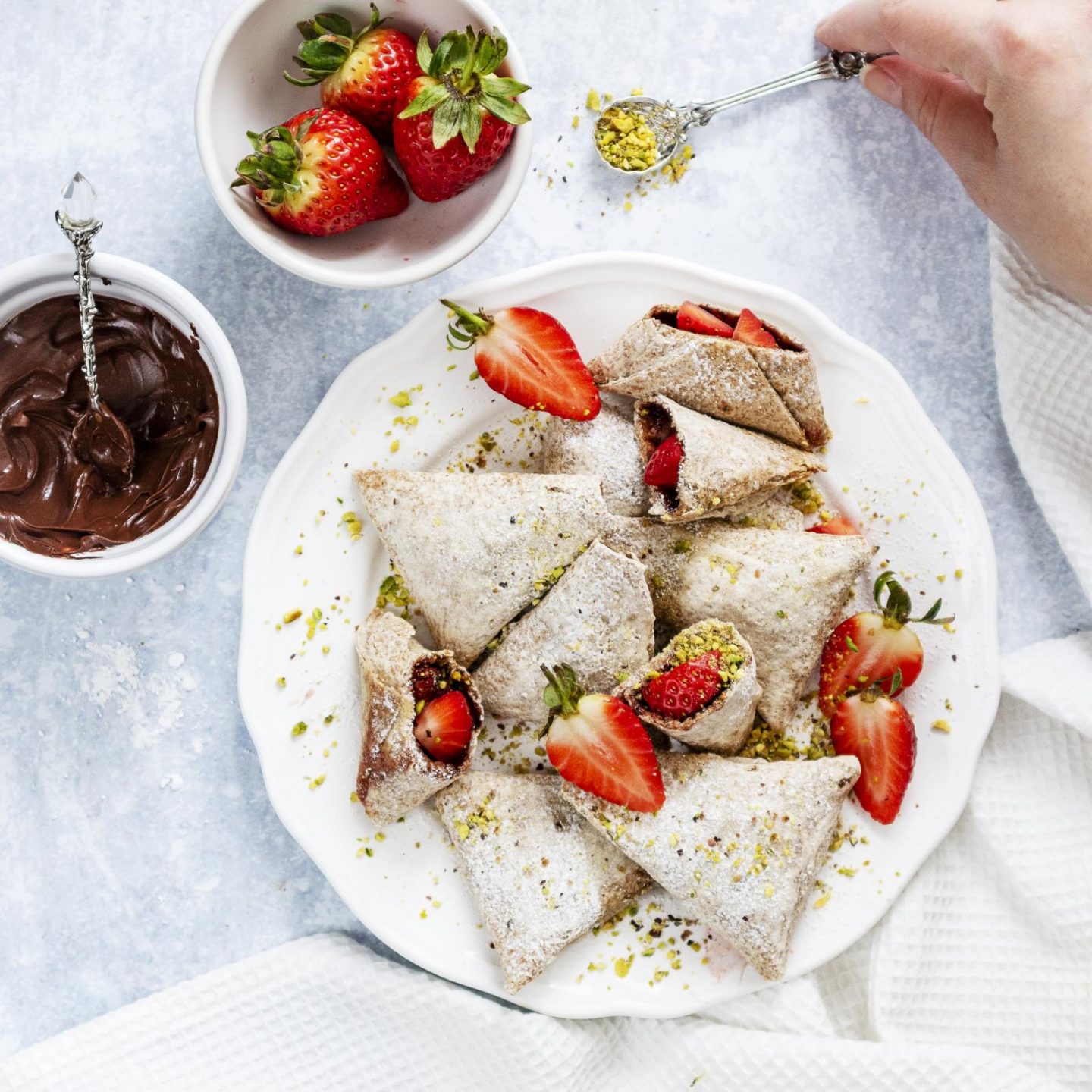 I absolutely love getting creative with sweet combinations in the kitchen, and a creative outburst is probably the best way to explain the creation of this Vegan Breakfast Samosas Recipe. They are a perfect indulgent breakfast option - but they also work well as a snack, a dessert or simply to wow your friends at the next dinner party!
Originally, I've seen this folding technique over on Bianca Zapatka's Instagram stories and it inspired me to give it a go myself and experiment with different fillings (both sweet and savory!).
The real magic of this Vegan Breakfast Samosas Recipe comes in the way they're folded. The samosas are made from whole wheat tortilla wraps, something you can find in pretty much every UK supermarket nowadays. To hold their pockets together I've used a sticky mixture of flour and water (2 parts flour, one part water). It's a truly amazing edible glue for occasions like these!
And if you're in the mood for even more strawberry goodness, be sure to check out this Vegan Strawberry Rhubarb Bread & Butter Pudding recipe!
What you'll need for this Vegan Breakfast Samosas Recipe
Ingredients
Whole wheat tortilla wraps
Flour
Water
Vegan chocolate spread (I used Mr Organic!)
Strawberries (or your favourite fruits)
Crushed hazelnuts
Powdered sugar (optional)
How to fold your tortillas for this Vegan Breakfast Samosas Recipe
Let me show you the folding process for this vegan breakfast samosas recipe, in a little more detail: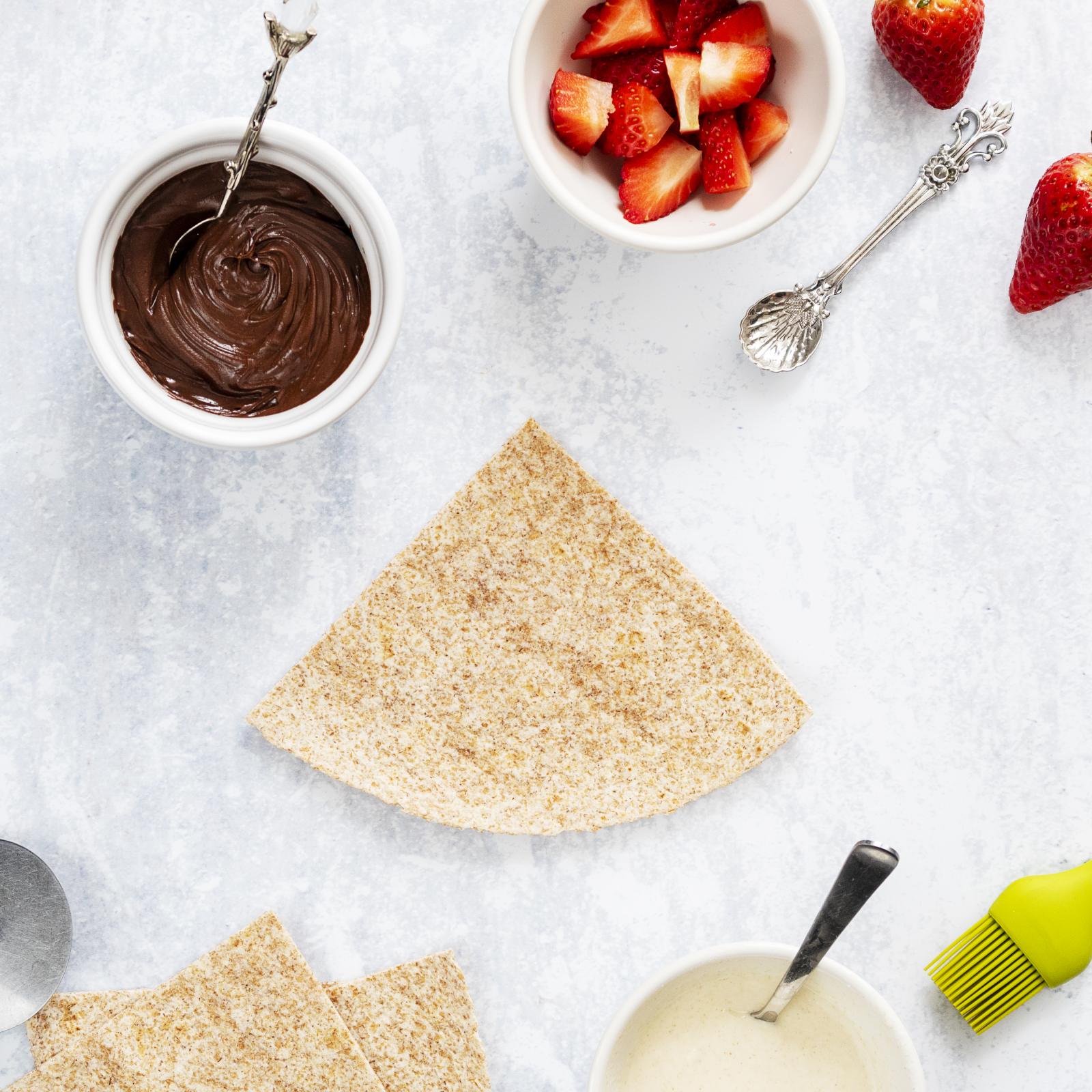 Firstly, cut your tortilla wraps into quarters. I like using a pizza cutter for this as it's the simplest and easiest way, but you can also use a sharp knife instead. Start the folding process by laying a quarter in front of you, with the tip pointing away. In the meantime create a 'glue' type mixture by combining 2 parts flour with 1 part water in a small bowl.
Now fold over the bottom right corner, so that the pointy end at the bottom is in line with the tip of the quarter. Spread gently with a little water/flour mixture. You really only need to use a little of this edible glue.
Fold over the bottom left corner to stick it onto the glue surface.
Voila - you've magically created a pocket! Start filling it with chocolate spread and your favourite fruits, but ensure not to overfill it, so you can still comfortably close the pocket afterwards.
Spread a little more glue on the inside of the 'lid'.
Aaaand fold it down to close the pocket.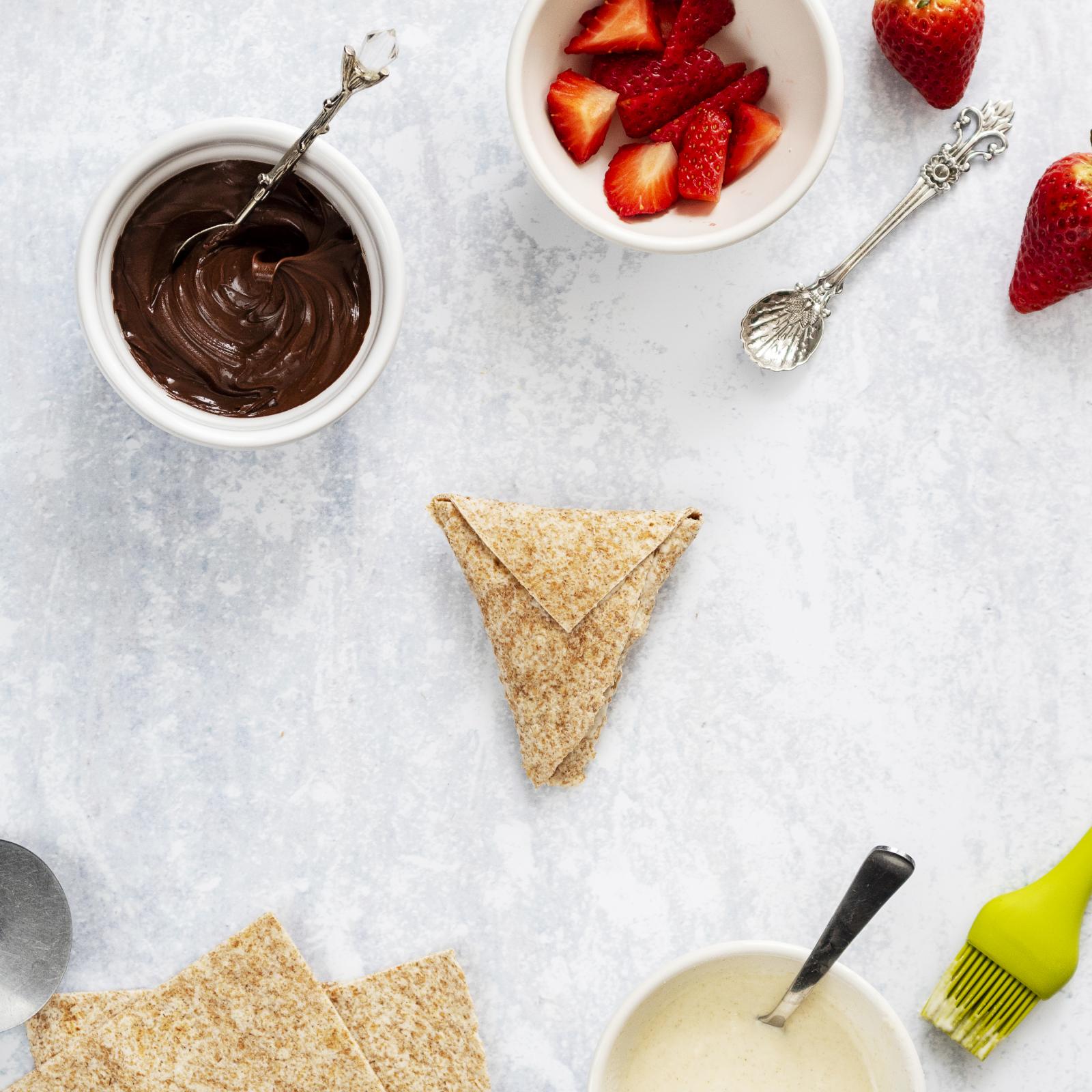 Repeat until you've used up all your quarters (or until you've run out of filling) and place the pockets on a baking sheet, ready for the oven!
Did I promise too much when I said this recipe is super simple? I think not! It's simply the perfect little hack to create something oh-so-sweet and I hope you enjoy this recipe just as much as I did.
What are you waiting for? Go, get creating!
This recipe is:
vegan
gluten-free option
palm oil-free
easy & quick to create
simple to adapt to your taste
super delicious!
more-ish
the wow-factor comes included!
📌 If you love Pinterest you can pin any of the images to your boards!
Print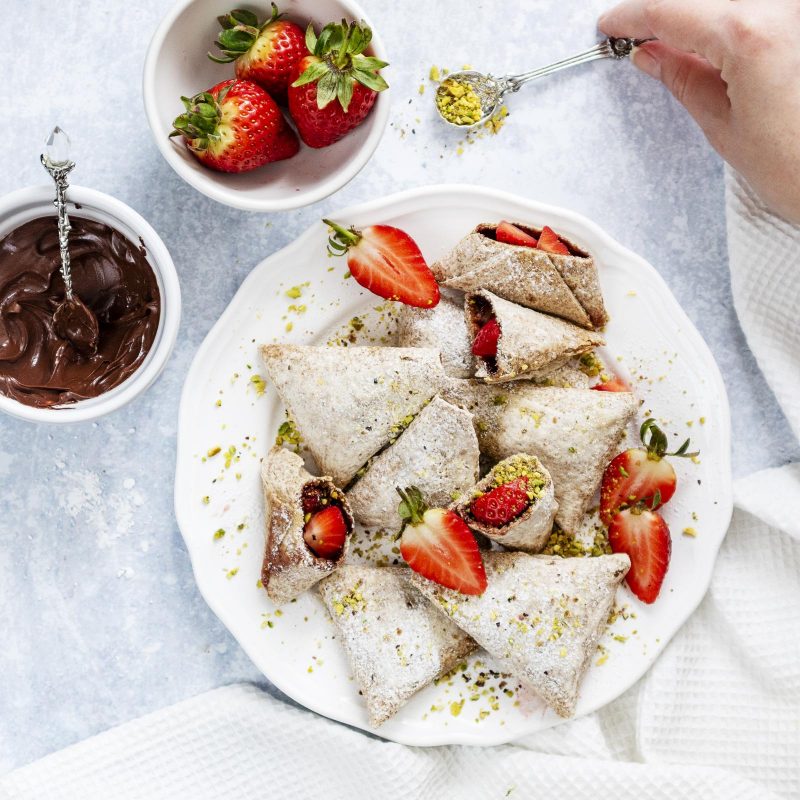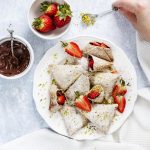 Vegan Breakfast Samosas Recipe
Author:

Prep Time:

10

Cook Time:

10

Total Time:

20 minutes

Yield:

8

1

x

Category:

Breakfast

Method:

Baking

Cuisine:

American

Diet:

Vegan
---
Description
This simple recipe for these vegan Breakfast samosas is perfect in more than one ways - as a snack, as a dessert, for breakfast or simply to wow your friends at your next vegan dinner party!
---
2

wholewheat tortilla wraps

2 Tbsp

flour

1 Tbsp

water

2 Tbsp

vegan chocolate spread (I used Mr Organic!)
a handful of strawberries (or your favourite fruits)

50g

crushed hazelnuts

1 Tbsp

powdered sugar (optional)
---
Instructions
In a small bowl combine the flour and water until you get a sticky, glue-like mixture.
Use a pizza cutter or a sharp knife to cut each tortilla wrap into 4 equal parts.
Fold each quarter in the following way: with the tip pointing away from you, fold in the bottom right corner and brush the flour-glue onto the top, then fold him the bottom left corner to create a pocket. Repeat until all tortilla wrap quarters are used up.
Fill each pocked with a spread of chocolate and freshly cut strawberries and about 1/4 tsp crushed hazelnuts.
Close each pocket by brushing more of the flour mix onto the 'lid' and folding it down to close the pocket.
Place in the oven at 180C for about 8-10 minutes.
Sprinkle with powdered sugar (optional) and more crushed hazelnuts and serve after a cooling period of 5-10 minutes.
---
Notes
Get creative! These sweet samosas are perfect for experimenting with different fillings! Apart from chocolate & strawberries, I personally love adding banana or peanut butter & raspberries - yum!
Keywords: samosas, vegan snacks, vegan chocolate
If you're looking for more vegan breakfast recipes - here are a few to get those creative juices flowing!
*Disclosure: This page may contain affiliate links and sponsored links that earn me a small commission, at no additional cost to you. You can find more information in my Privacy Policy.
 © Romy London / Romina Callwitz | All images and content are copyright protected. Please do not use my images and content without permission. If you wish to re-publish any recipes or images, please get in touch via email. Thanks for your support!