Vegan Protein Cheesecake Pudding Recipe - this delicious breakfast needs just three ingredients, making it perfect for tasty morning treats when you're in a rush!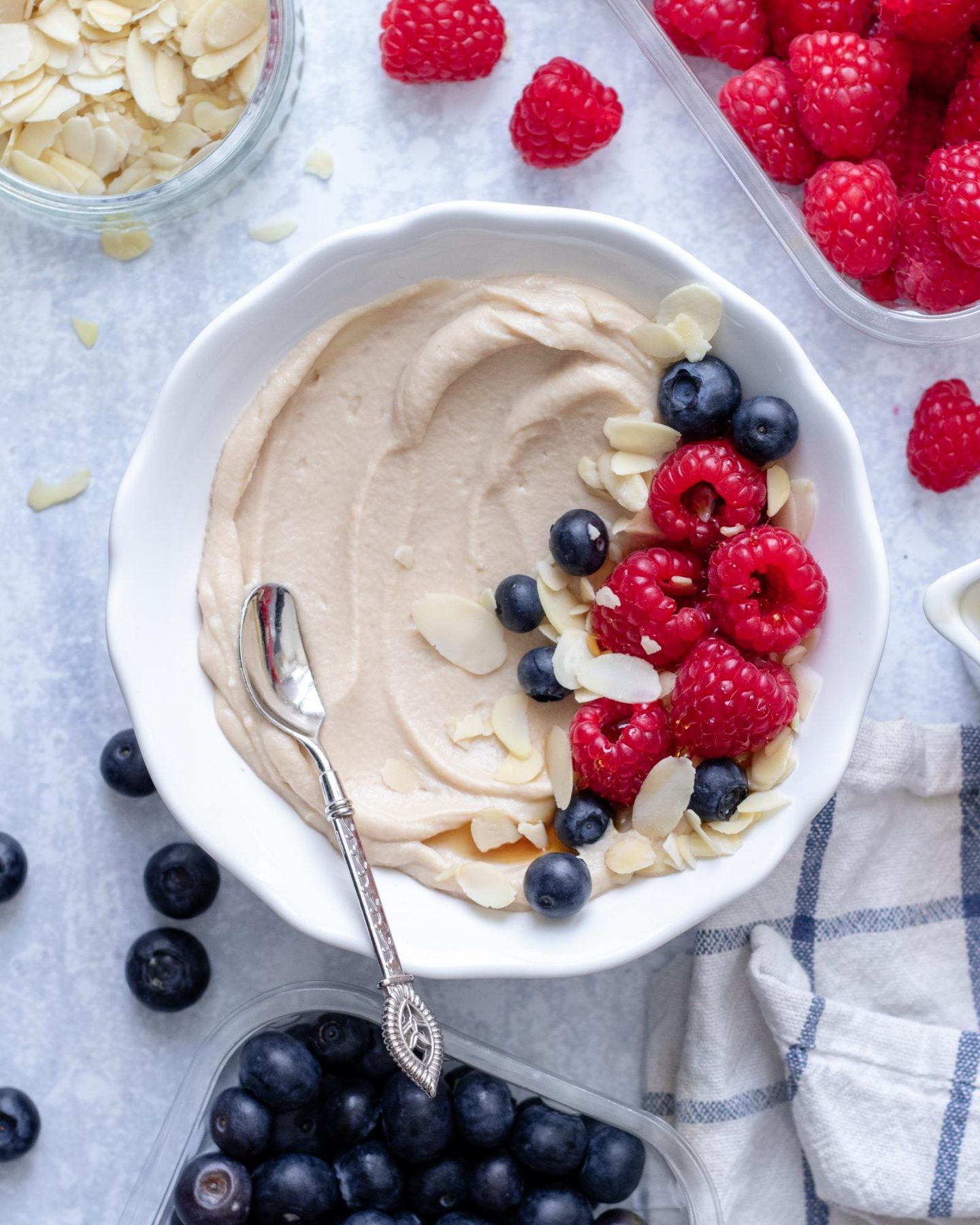 Protein Cheesecake Pudding
If you've visited my Instagram before, you probably know of my vegan protein breakfast bowls - however, let me introduce you to this new delicious Vegan Protein Cheesecake Pudding Recipe!
Created with just 3 base ingredients, it's super simple to recreate within minutes. If that doesn't make it the perfect high protein snack for us busy bees, then I don't know what does! Oh, and it also makes a pretty good dessert too!
What you'll need to make Vegan Protein Cheesecake Pudding Recipe
Ingredients
Coconut yogurt (I use Coconut Collab!)
Vegan vanilla protein
Myprotein FlavDrops, cheesecake flavour
Fruits & nuts for crunchy toppings
How to make Vegan Protein Cheesecake Pudding Recipe
The base
For the base of my Vegan Protein Cheesecake Pudding, I like to use a mix of Vanilla Flavoured Protein Powder and Coconut Yogurt. Simply combine 1 scoop of protein with 120g coconut yoghurt. Ideally use the back of a soup spoon to combine these two ingredients, and mix gently so that the protein powder doesn't go everywhere (believe me - I've been there!). The protein powder of my choice is the MyVegan/MyProtein Vanilla Flavoured Soy Protein Isolate.
Alternatively, you can also use unflavoured protein powder, that's totally up to you! Vanilla is simply my favourite as it reminds me of a New York cheesecake, but I've also created this bowl with unflavoured protein before. I'd just recommend not to use plain pea or hemp protein as these can have a strong taste on their own that doesn't at all resemble cheesecake, so be warned.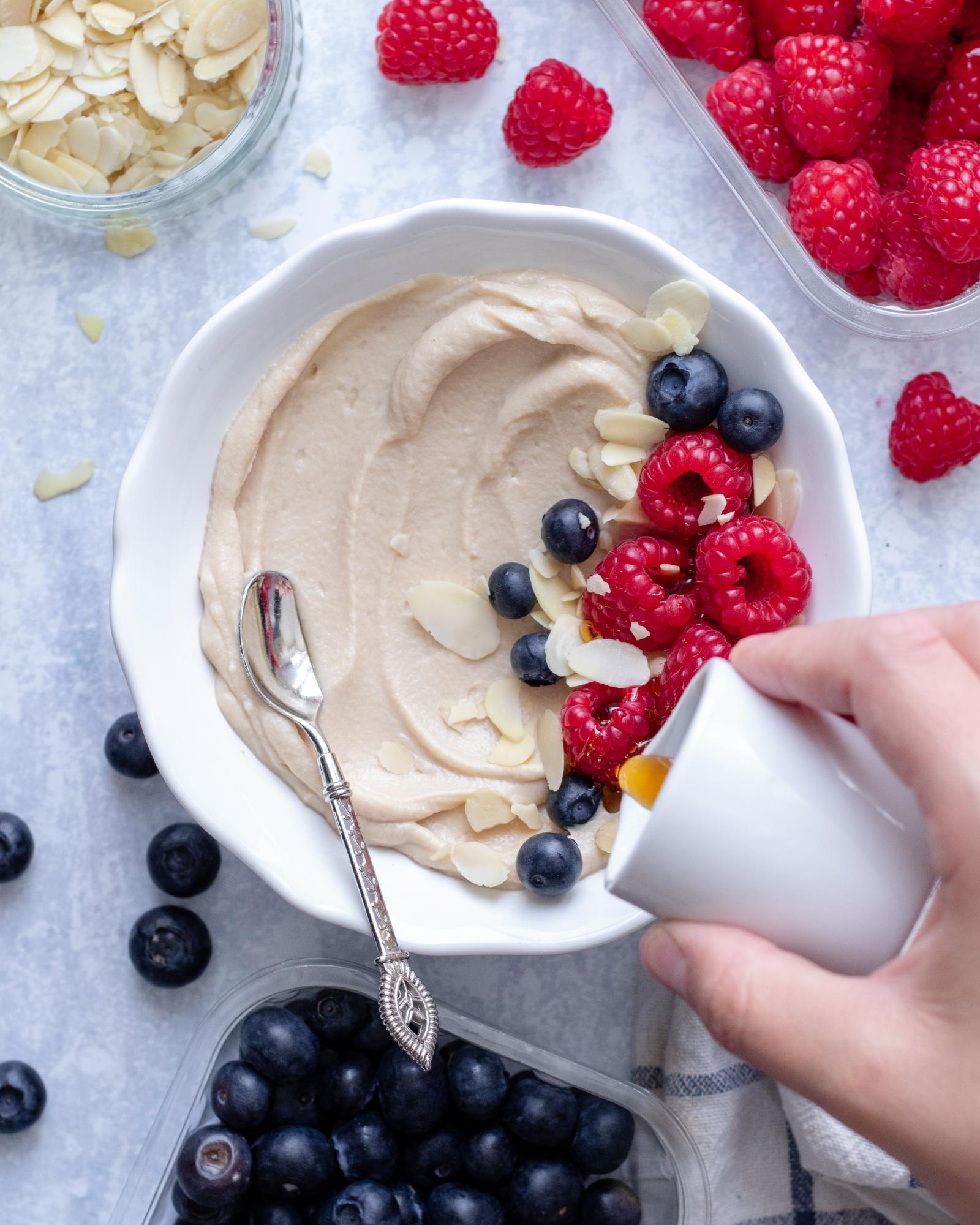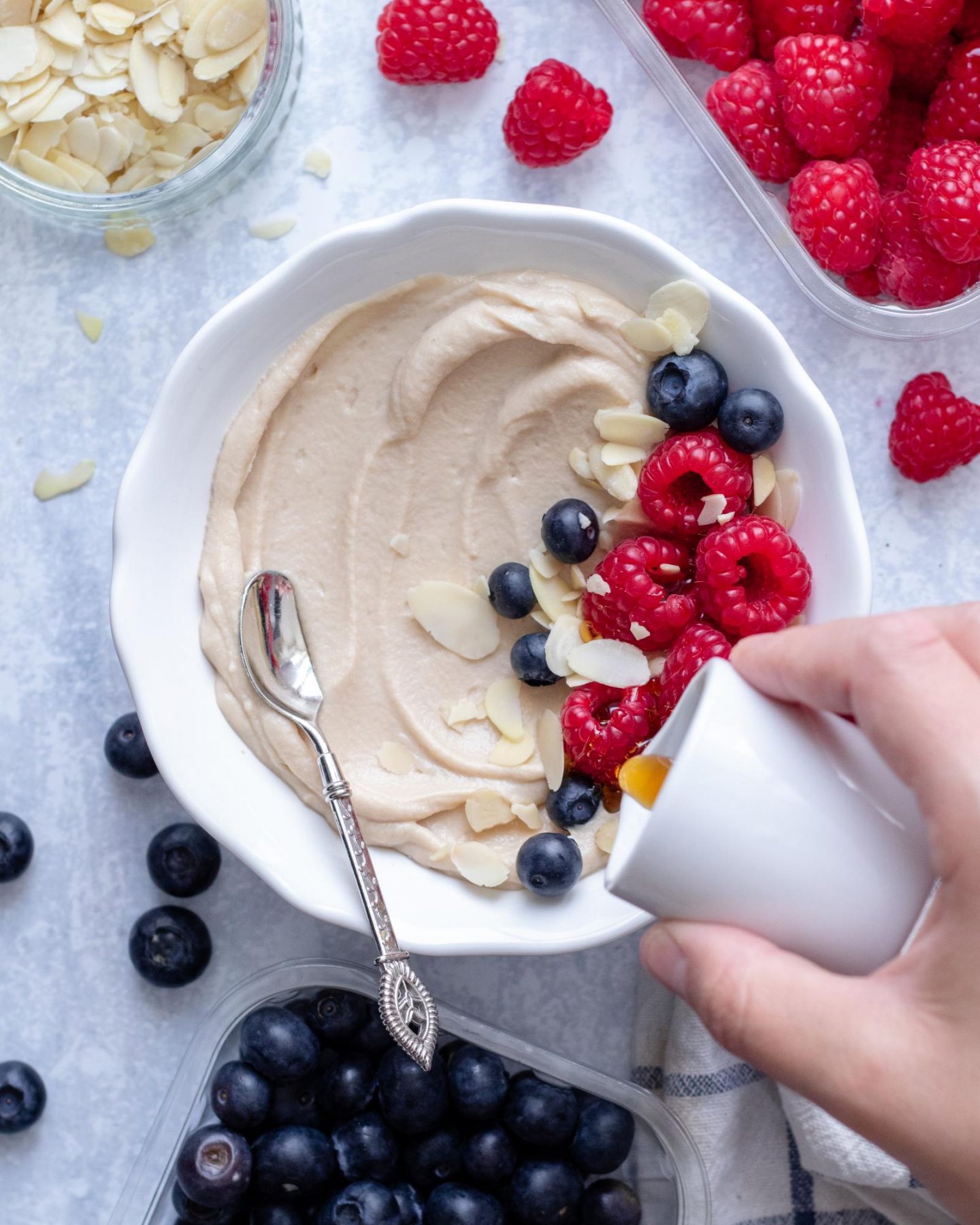 The cheesecake flavour
Ever since I discovered the MyProtein flavour drops I've been in love. They're the perfect & easy way to flavour a basic dish. For me, they help create delicious snacks that I can create in mere minutes when I'm too busy to stand in the kitchen for too long - and they taste absolutely delicious!
My favourite flavour—as you can probably already guess—is their 'Cheesecake' flavour drops, though I also have to admit I've not tried the entire flavour drop range yet (one day though, ha!)
With just a few drops, it creates the perfect subtle cheesecake flavour in this protein bowl and it's just the most convenient addition to create something delicious & healthy with little time.
This recipe is:
100% vegan
source of protein
plant-based
smooth and light
simply delicious
easy to make
gluten free
low sugar
egg-free
dairy-free
crunchy (if you want it to be!)
You might also enjoy these recipes:
📌 If you love Pinterest you can pin any of the images to your boards!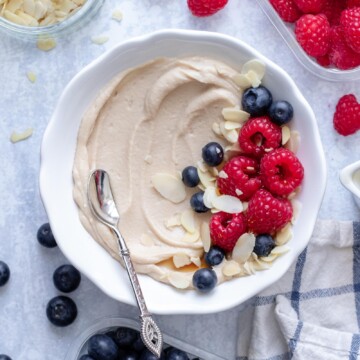 Vegan Protein Cheesecake Pudding
Delicious 3-ingredient vegan protein cheesecake pudding - perfect for breakfast or for the little hunger throughout the day!
Ingredients
130

g

coconut yogurt

30

g

vegan vanilla protein

5-8

drops

MyProtein flavour drops

Cheesecake Flavour

fruits and nuts for toppings
Instructions
In a medium size bowl gently combine the coconut yogurt with the flavour drops.

Add the protein powder in spoon after spoon, slowly mixing in the process until the protein powder is incorporated. The texture of the yogurt will change throughout the mixing process, and it'll become thick. Mix until all ingredients are completely combined.

Top with your favourite toppings - mine are fresh fruit like raspberries and blueberries plus some nuts for a delicious crunch!
Notes
Instead of vanilla flavoured protein you can also use unflavoured protein - I recommend using soy or rice protein as it'll work best for the flavour! Ideally stay away from hemp or pea protein as the flavour will simply not be the same!
Looking for more vegan breakfast options? Make sure to check out the vegan breakfast corner for more inspiration, here are a few of my faves:
*Disclosure: This page may contain affiliate links and sponsored links that earn me a small commission, at no additional cost to you. You can find more information in my Privacy Policy.
 © Romy London / Romina Callwitz | All images and content are copyright protected. Please do not use my images and content without permission. If you wish to re-publish any recipes or images, please get in touch via email. Thanks for your support!