Deliciously simple basic vegan protein pancakes recipe - made entirely without flour! Created with a base of vegan protein powder, flaxseeds and dairy-free yoghurt, these are a great high-protein vegan breakfast option.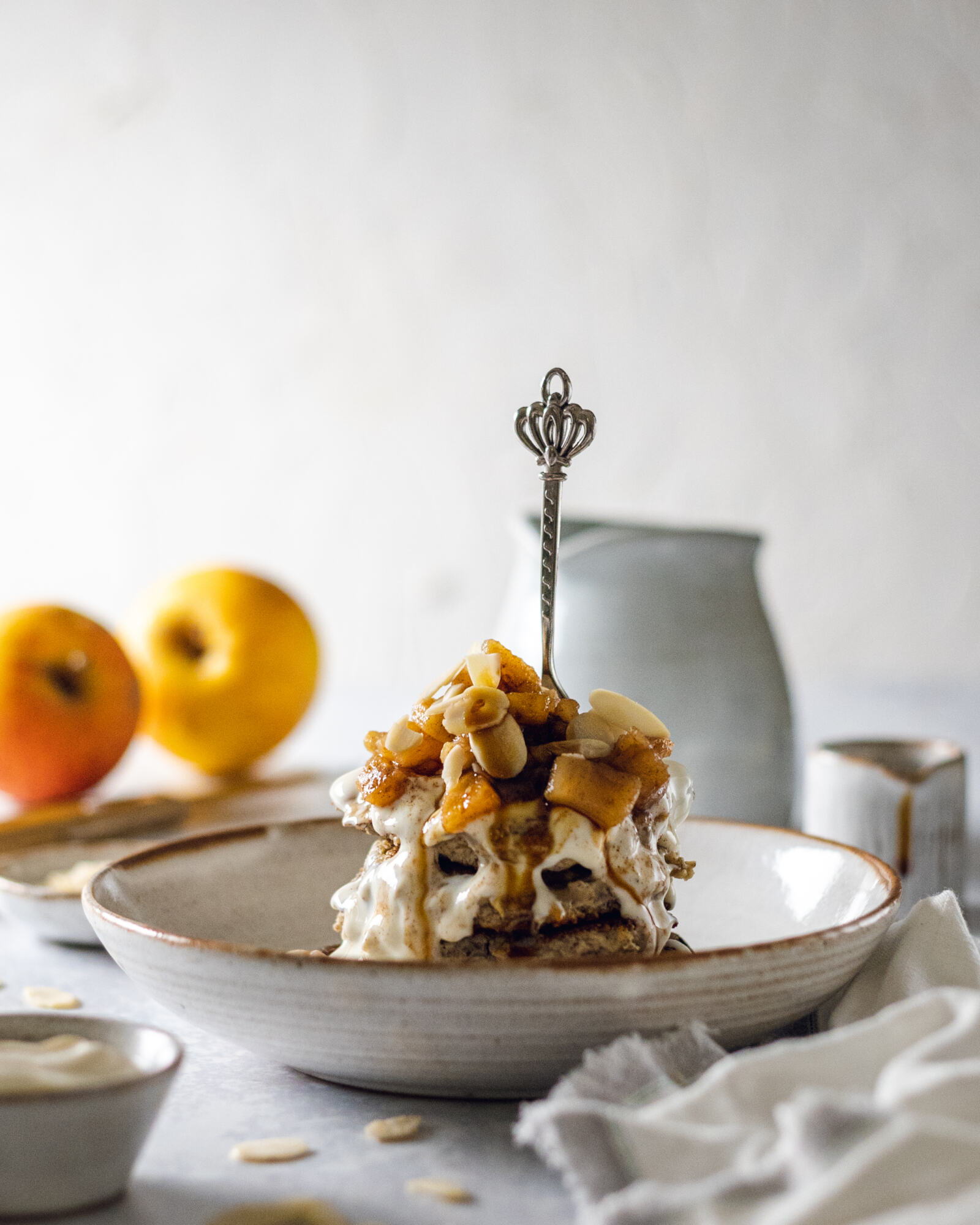 Flourless Vegan Protein Pancakes
Yes, pancakes can be a great way to include protein in your diet. No? Well, then keep reading, this basic vegan protein pancakes recipe - made entirely without flour - is for you! This pancake recipe is flour-free, which makes it low in carbs and naturally gluten-free. Instead of flour, the base for these pancakes is created from protein powder and flaxseeds. The addition of dairy-free yoghurt & baking soda makes the pancake batter super fluffy, which creates wonderfully soft and fluffy pancakes - and that's what I love most about this easy recipe!
I have also found that this recipe is a great way to use up any protein powders that I bought, but not enjoyed in their shake version - with some delicious toppings, this easy protein pancakes recipe makes even the grimiest of protein powders palatable and helps to avoid them going to waste entirely, so it's really a win-win, right?
What I have also found is that these protein pancakes keep me full and satisfied for hours, if I enjoy them for breakfast, and they are definitely a great way to add some extra (vegan) protein to your diet in a delicious and simple way. I particularly love making breakfast on the weekend - but have also made these throughout the week. They are great to make ahead and also freezer-friendly (see the notes below!).
What are your favourite pancake toppings?
What you'll need for these basic vegan protein pancakes
Ingredients
vegan protein powder: a plain or vanilla flavoured protein blend works great, I try to stay away from pure hemp protein powders for this recipe
ground flaxseeds: these will help firm up this flourless pancake batter
plant-based milk: I usually use unsweetened soy, but feel free to swap this out for your favourite one
baking soda: the baking soda will help fluff up the pancakes more

yoghurt: I love using yoghurt in bakes like pancakes, I feel it adds a wonderful softness to the texture
Equipment
a mixing bowl
non-stick pan (I use the crepes pan from Tefal and it's perfect!)
a whisk or spoon
a spatula to help flip the pancakes in the pan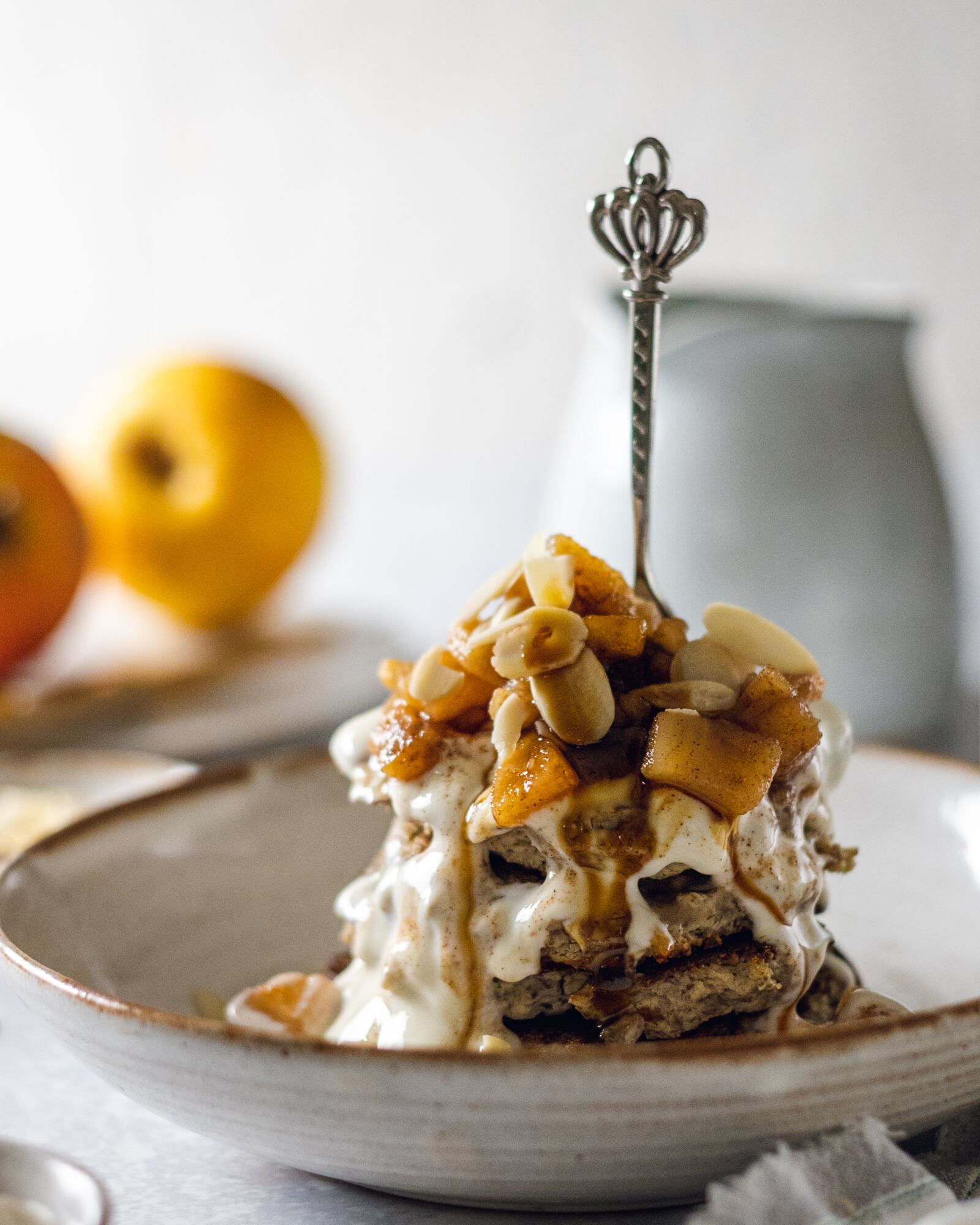 How to make vegan protein pancakes without flour
To make these flourless protein pancakes, start by first mixing your dry ingredients in a bowl: protein powder, flaxseeds and baking soda. As most ingredients in this recipe use 1/3 cup, I find it easiest and quickest to use this American cup measurement for this recipe (you can get some American cup measurements on Amazon, most sets come with 1 cup, 1/2 cup, 1/3 cup and 2/3 cup measurements).
Whisk or stir the dry ingredients to combine them, then create a little well in the middle and pour the wet ingredients - the plant milk and the yoghurt into this well. It's best to use a spoon or spatula to combine all of the ingredients, as the mix can become too sticky for a whisk.
Once combined, the pancake batter needs to be set aside for at least 10 minutes. This allows for the flaxseeds to be 'activated' and create a thicker mixture that will hold together in your pan without falling apart too easily.
After 10 minutes, check your pancake batter. Depending on the flaxseeds, and also protein and yoghurt that you use the batter can be a little too dry to stir. If that is the case, add a small amount of plant milk - we're talking 1-2 tablespoons here - whilst stirring until the mix is still thick, but stirrable again.
Heat a non-stick pan over low/medium heat. I use a non-stick crepes/pancake pan from Tefal, which has always been useful for these types of recipes. Depending on your pan, you might need to add a little grease to prevent the pancakes from sticking - I recommend using coconut oil, but you can use any heat-resistant flavour neutral oil if you don't have coconut oil to hand. If you're unsure whether you need any oil at all, do a little test with a small amount of pancake batter first.
Use 2 spoons to transfer pancake-portions into your pan and use the spoons to gently flatten and shape the pancakes. In my experience, flourless pancakes never turn out perfectly shaped, they are usually a little rustic looking, but that's totally fine. Once shaped leave the pancakes in the pan for 3-4 minutes without touching or moving them. When you can see that the bottom edges begin to brown you can carefully flip them with a spatula. For the second side, they usually need 2-3 minutes, but it depends on the thickness you've chosen. I usually make mine about 1 cm/ 1/2 inch. The best indicator is to watch the bottom edges and flip when they brown.
Once done, remove the pancakes from your pan and set them aside, then repeat until all your pancakes are ready. Enjoy them immediately or store them - find some tips on storage below!
How to top these vegan protein pancakes
There are endless delicious toppings for protein pancakes or pancakes in general. If you're out of inspiration, here are some ideas for you:
plain or flavoured vegan yoghurt
granola
nuts and seeds for an extra crunch
cacao nibs
banana - slices or caramelised (delicious!)
stewed, fresh or frozen berries
protein cream - made by mixing dairy-free yoghurt and a little vegan protein powder
different types of nut butter
agave syrup or maple syrup
dairy-free chocolate spread
(chia) jam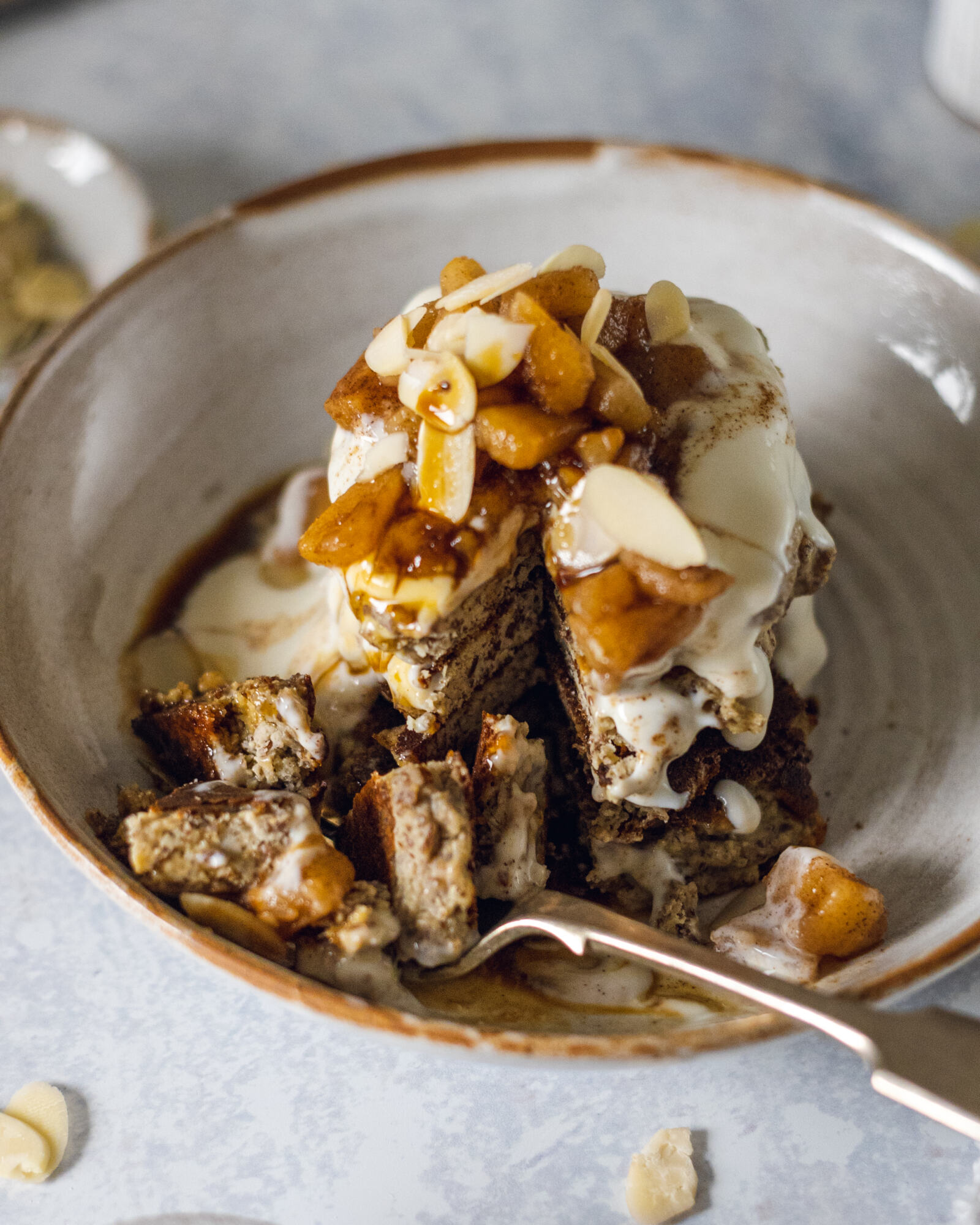 How to freeze pancakes
This basic vegan protein pancakes recipe is wonderful to make ahead of time! If you're making them the day before you can very easily store them in the fridge, but for longer time periods I recommend freezing your batch of pancakes. I've got some more detailed instructions for you below and hope they are helpful.
Fridge
Storing these protein pancakes in the fridge is great if you're making these a day in advance. To securely store them, place them in an airtight container and set them into your fridge as soon as they have cooled down. To reheat your pancakes, you can either place them into a non-stick pan over low heat for a few minutes, microwave them for no longer than 30 seconds to 1 minute, or simply place individual pancakes into your toaster on a low setting.
Freezer
These protein pancakes are great to batch-make and prepare for those mornings where there is not much time to make breakfast from scratch! To freeze your protein pancakes, simply allow for the pancakes to cool down completely at room temperature after you have made them. I have found that the best way to freeze them, is to keep the individual pancakes separate. You can do this in 2 ways:
freeze them individually, then once frozen combine them into one freezer container or bag
place them in a freezer container or bag and separate them with baking parchment in between the individual pancakes
Of course, you can also freeze them all together, if you're planning to defrost and eat them all at once, but I have found that keeping them separate makes it easier for me to enjoy them one at a time, and I personally prefer them that way.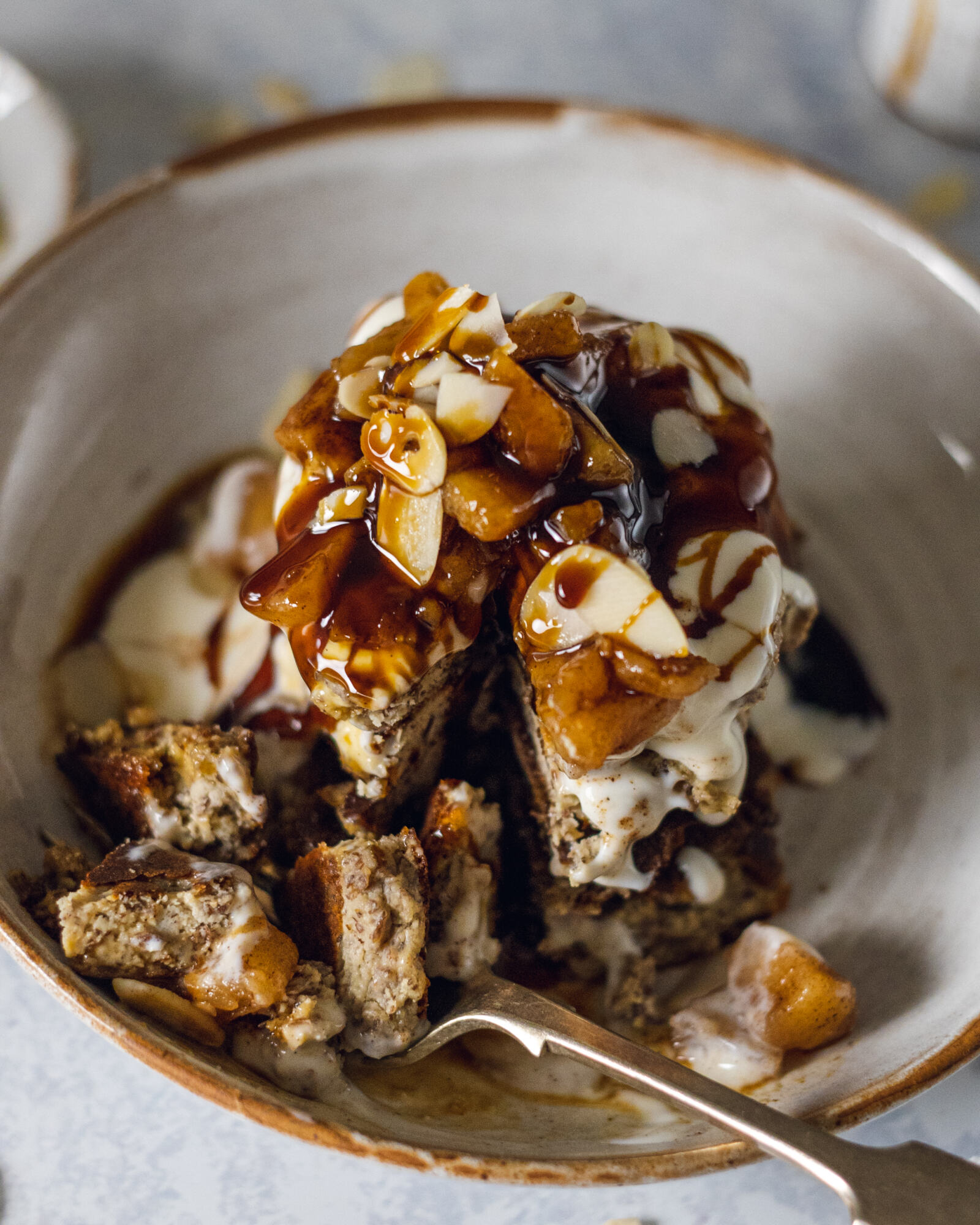 The portion size for this recipe
This recipe makes about 4-5 small pancakes, a perfect breakfast portion size, however, if you're adding lots of toppings you might want to have less or if you're batch making these in advance you might want to make more. Use this recipe as a guideline and multiply the ingredient amounts where needed.
You might also enjoy these recipes:
This recipe is:
100% vegan
naturally gluten-free
flourless
egg-free
dairy-free
easy to make
high in protein
using only simple ingredients
📌 If you love Pinterest you can pin any of the images to your boards!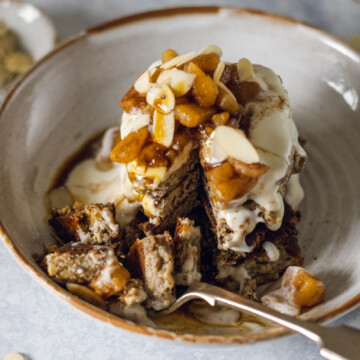 Vegan Protein Pancakes
Deliciously simple basic vegan protein pancakes recipe - made entirely without flour! Created with a base of vegan protein powder, flaxseeds and dairy-free yoghurt, these are a great high-protein vegan breakfast option.
Equipment
1 mixing bowl

1 non-stick pan
Ingredients
1/3

cup

vegan protein powder (50 g)

1/3

cup

flaxseeds (30 g)

1/3

cup

plant-based milk (85 ml)

1/4

tsp

baking soda

1/3

cup

vegan yogurt (100 g)

coconut oil

to grease the pan
Instructions
In a medium-size mixing bowl, combine the protein powder, flaxseeds, and baking soda. Create a well in the middle and pour in the plant-based milk and dairy-free yoghurt, then combine everything with a spoon or spatula.

Let the pancake batter rest for 10 minutes, then give it another stir - if it's a little dry, add 1 or 2 tablespoons of plant milk. Use 2 two spoons to add portion-sized pancakes into a hot non-stick pan - depending on your pan, you might need to add a little oil to grease it, I recommend using coconut oil. Use the spoons to gently shape the pancakes.

Flip after 3-4 minutes or when the bottom of the pancake is lightly browning. These usually need 3-4 minutes on low heat on the first side, then another 2-3 on the second, but the time might slightly differ depending on your pan and stovetop settings (I use a gas stovetop).

Assemble on a plate and add your favourite toppings - I love a good dollop of vegan yoghurt, fresh fruit and some granola or nuts and seeds for an extra crunch.
Notes
Pan - Use a non-stick pan for these pancakes as they can otherwise get stuck to the pan and be difficult to flip. I use a non-stick pan from Teflon that's specifically made for crepes and pancakes and they turn our perfectly each time when I use this pan. They're not expensive either, so worth investing in!
Protein powder - You can use flavoured protein powder in this recipe, I personally like to stick to either plain or vanilla flavoured powders and then add more flavours into the dish through the toppings.
High-protein - If you want to keep your toppings high-protein too, I can recommend mixing a little protein powder with yoghurt. It creates a thick, buttercream-like texture and it's wonderful to use on pancakes or in between them when creating a stack.
Toppings - Other great toppings with these are: stewed berries, banana, nuts and seeds, granola, nut butters, flavoured or plain yoghurt, a drizzle of maple or agave syrup, cacao nibs or dairy-free chocolate spread.
Are you looking for more vegan breakfast options? Here are a few that I think you might enjoy:
*Disclosure: This page may contain affiliate links and sponsored links that earn me a small commission, at no additional cost to you. You can find more information in my Privacy Policy.
 © Romy London / Romina Callwitz | All images and content are copyright protected. Please do not use my images and content without permission. If you wish to re-publish any recipes or images, please get in touch via email. Thanks for your support!