This Vegan Teriyaki Sauce Recipe is so ultra simple, that you won't believe it! It goes perfectly with noodles and rice and is a great staple recipe for your kitchen.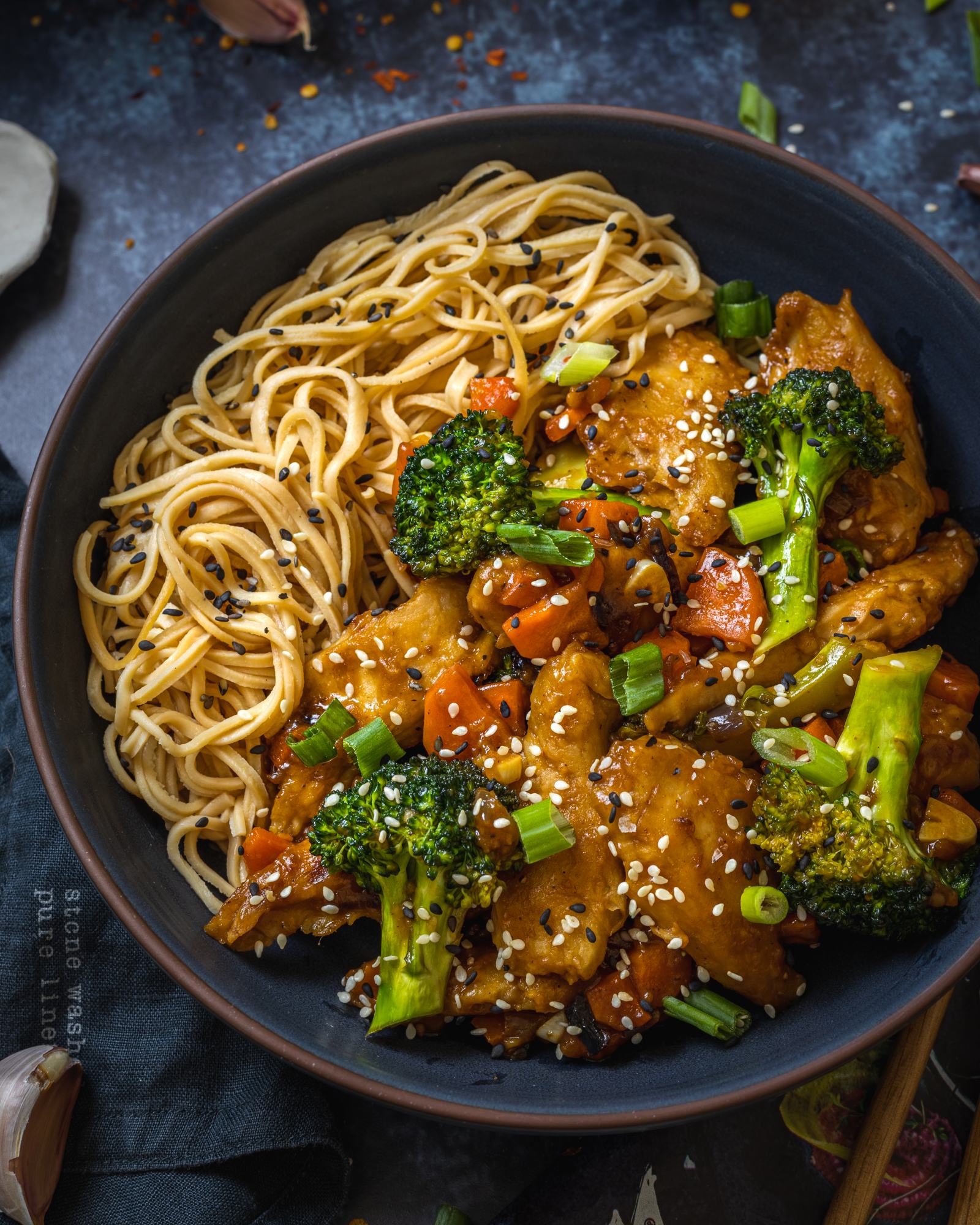 Vegan Teriyaki Sauce
Oh, and did I mention the Vegan Teriyaki Sauce Recipe is also super delicious and borderline addictive too? No, well, then it's probably time, so here we go! Seriously though, once you've made a homemade teriyaki sauce, you won't go back!
I've recently been loving this sauce. It's so versatile and is really quick and easy to make, which makes it a super delicious but low-effort option for a quick and easy vegan dinner.
Ingredients
The ingredients for this sauce are fairly simple:
Tamari: using tamari instead of regular soy sauce makes the sauce gluten free, it adds the salty flavour to the teriyaki sauce
Maple syrup: this will wonderfully caramelise in the pan and add some sweetness to the salty soy sauce
Ginger & garlic: ideally use fresh produce, finely diced, they add a delicious flavour to the sauce as well as a light tang
Chilli: of course you can use fresh diced chilli, however, I prefer chilli powder as I find it mixes better into the sauce. If you don't like it spicy, just leave it out!
Cornflour: the cornflour will help thicken the sauce when heated up in the pan, ensuring it'll perfectly stick to the rest of your ingredients and create that delicious teriyaki coating on your veggies & co.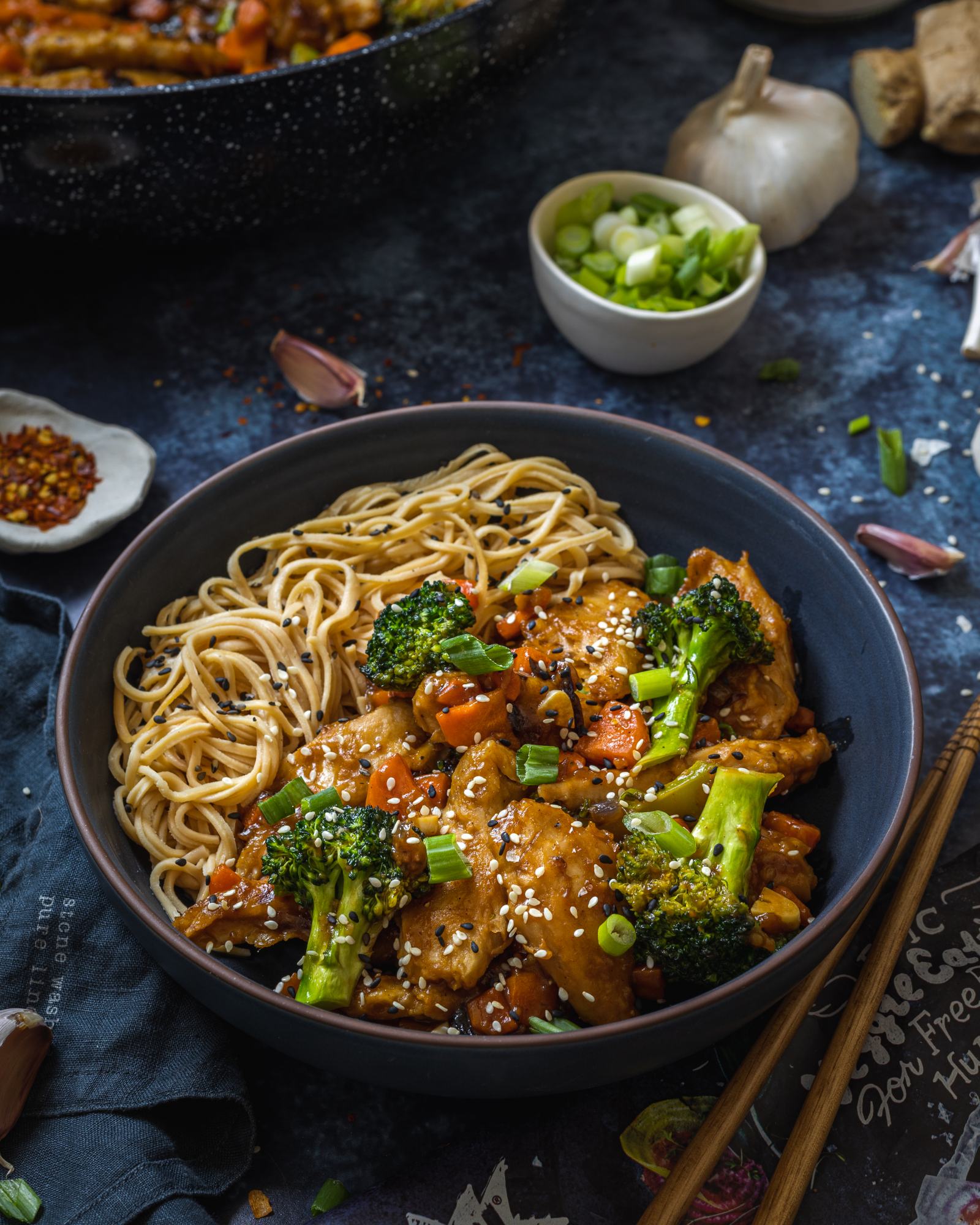 Instructions (Step-by-Step)
Mix all the ingredients for the sauce together in a small bowl, but be sure to add the cornflour last. Then, using a whisk mix it all together until everything has dissolved evenly into the liquids.
Next, prep all your favourite veggies and put the teriyaki sauce in a saucepan on medium heat along with other ingredients you'd like to coat in the sauce (I like to add some Oumph! pieces for example!). Stir the sauce continuously as the sauce gets thick and then take it off the heat after a minute or so.
That's it, it really is just that easy!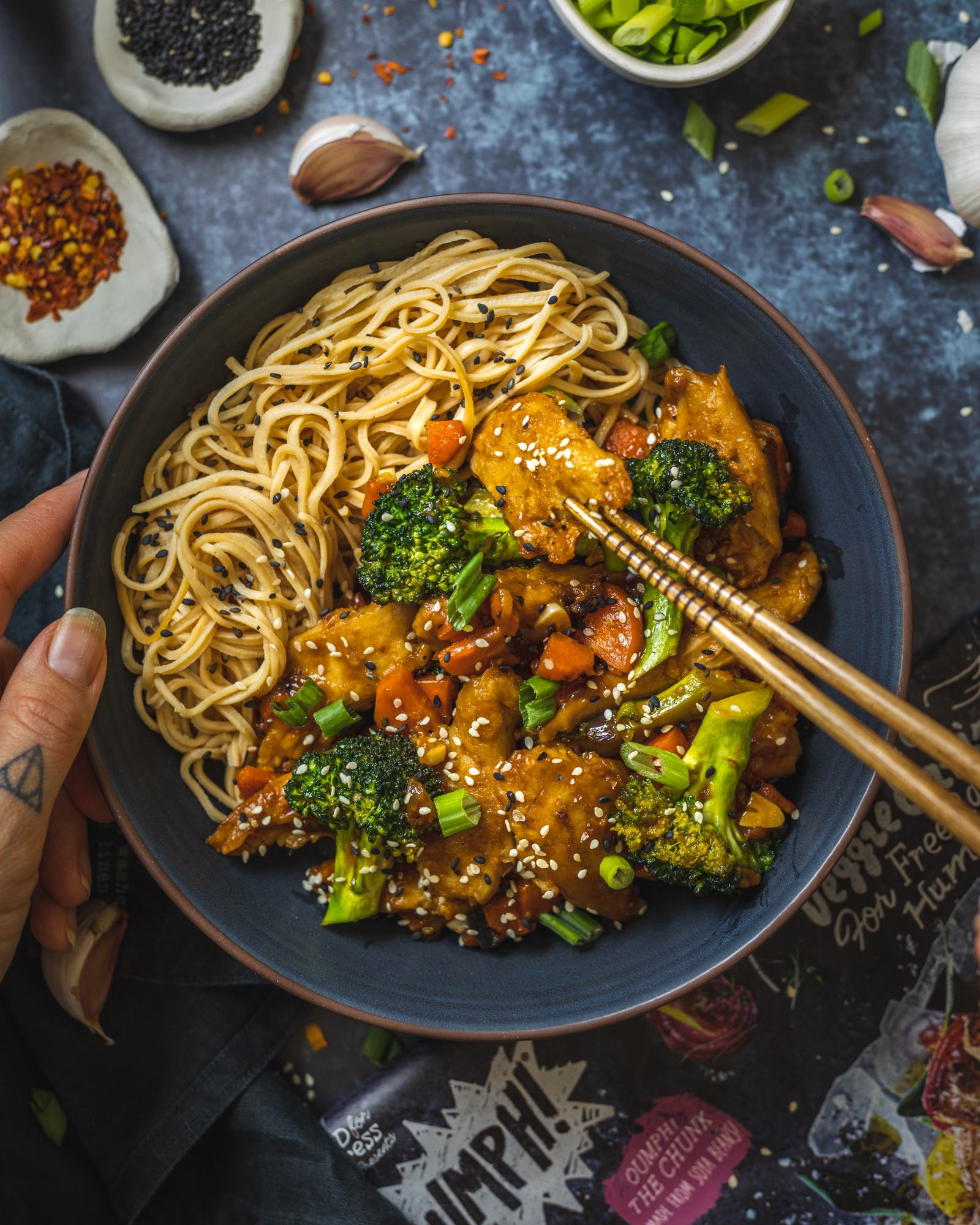 Serving
As I've already outlined - this sauce is perfect with a variety of different ingredients in so many combinations. I've found that both rice and noodles work perfectly.
For the bowl that you can see in these pictures, I have combined the sauce with soya noodles, Oumph 'The Chunk' (which basically tastes like plant-based chicken style pieces), carrot and broccoli.
In general, I think vegan chicken pieces add a great texture to a dish, so feel free to use your favourite chicken-style replacement and serve your favourite stir-fried veggies alongside.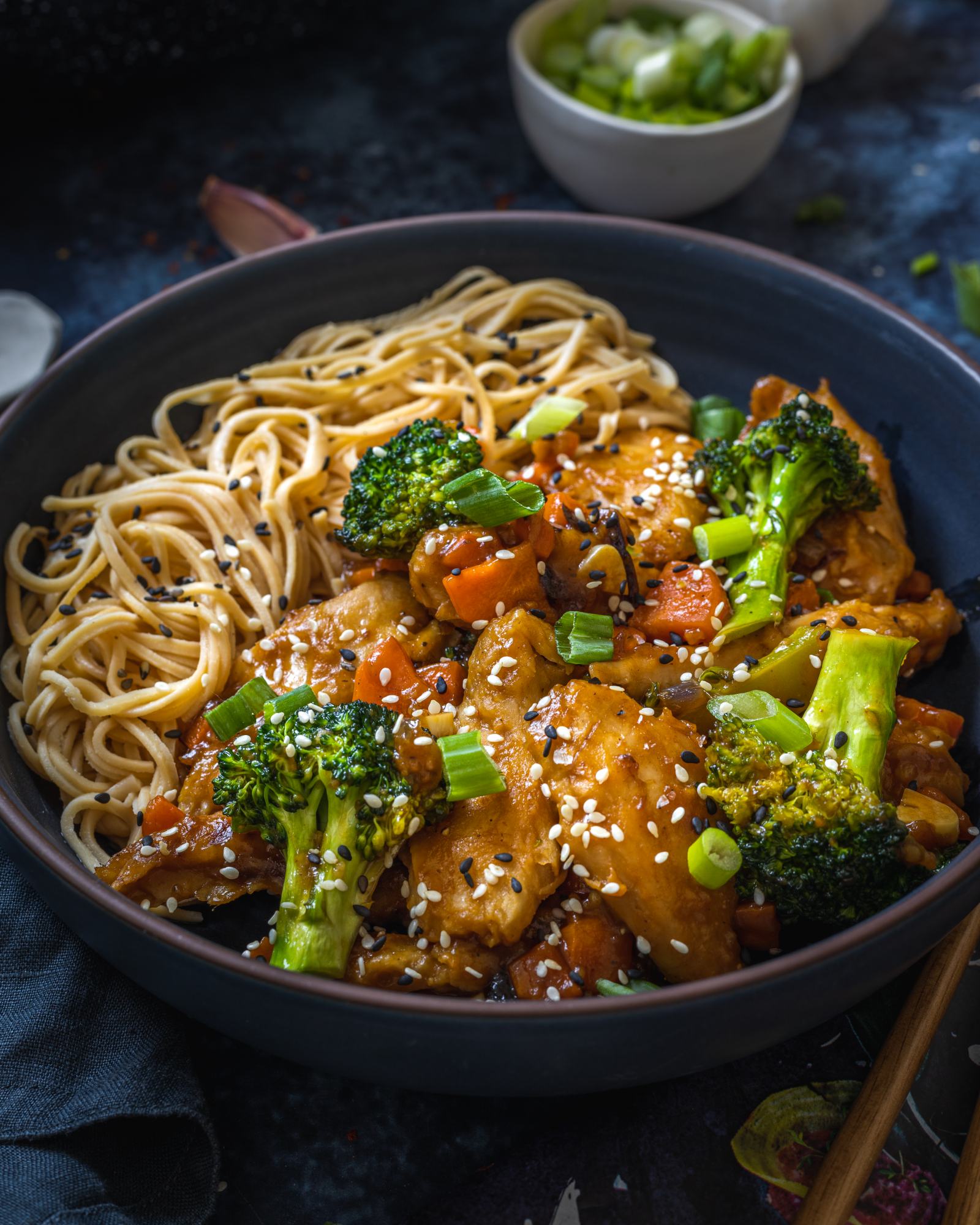 This recipe is:
vegan
sooooo easy!
naturally gluten free (make sure to use Tamari)
delicious
perfectly sticky
the perfect spice
tasty with rice or noodles
perfect with vegan chicken
You might also enjoy these recipes:
If noodles are your thing, then definitely give my Vegan Peanut Noodles - they're definitely a must-try! Another one you will surely enjoy is this simple Sesame Noodles Recipe - so easy to make and delicious both hot and cold. And to make your favorite take-away at home, try this Vegan Black Bean Ramen which is packed to the brim with flavor.
📌 If you love Pinterest you can pin any of the images to your boards!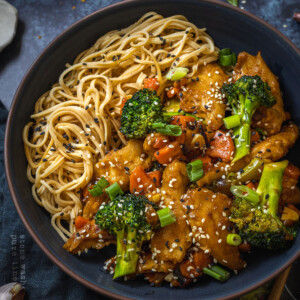 Vegan Teriyaki Sauce
This vegan teriyaki sauce is super easy to make, delicious and versatile and goes perfectly with noodles, rice, vegetables and everything in between!
Ingredients
3

tbsp

tamari soya sauce

2

tbsp

maple syrup

1

tbsp

sesame seeds

1

inch

piece fresh ginger

grated

1/4

tsp

chili powder

3

tbsp

water

1

tbsp

cornstarch
Instructions
In a small bowl, combine all the ingredients for the sauce. Add in the cornflour last and use a whisk to evenly dissolve it in the liquids.

Prepare your favourite vegetables as you desire, then add the teriyaki sauce to a pan over medium heat alongside other ingredients you'd like to add (I love adding vegan 'chicken' style pieces!) . Continuously stir as the sauce begins to thicken and take off the heat after a minute.

Serve with rice or noodles, vegetables, and your favourite vegan 'chicken' chunks (I love 'The chunk' from Oumph! the most!) and sprinkle with sesame seeds and spring onions.
Notes
For this recipe I've first dusted the Oumph pieces in a little flour, then tried them crispy in a little toasted sesame oil before adding the teriyaki sauce. It creates delicious & crunchy pieces that taste fantastic alongside the vegan teriyaki sauce.
Latest Recipes
Looking for more delicious vegan dinner ideas? Check out these recipes here or try some of my favourites below:
*Disclosure: This page may contain affiliate links and sponsored links that earn me a small commission, at no additional cost to you. You can find more information in my Privacy Policy.
 © Romy London / Romina Callwitz | All images and content are copyright protected. Please do not use my images and content without permission. If you wish to re-publish any recipes or images, please get in touch via email. Thanks for your support!