Mid-week dinners taken to the next level with this delicious and easy Vegan Black Bean Meatballs Recipe! Crafted with black beans, rolled oats, flaxseeds, and delicious spices - great with spaghetti and Co.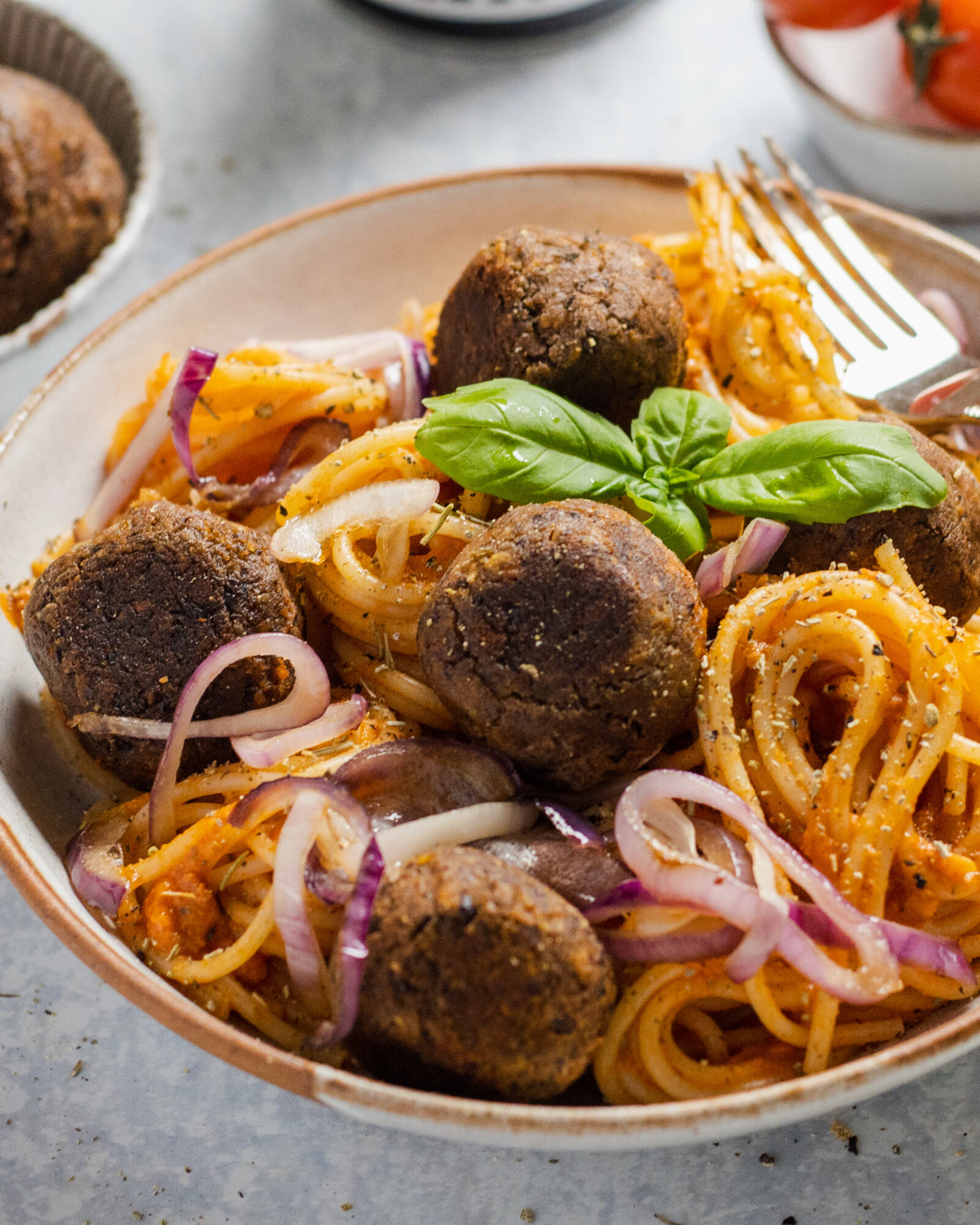 Ingredients
1 tbsp organic tomato ketchup
1 can of black beans, drained (400g, 240g drained weight)
2 tbsp olive oil
1 tbsp tomato puree
2 garlic cloves
5 tbsp rolled oats
1 small white onion, roughly chopped
a handful fresh coriander
2 tbsp flaxseeds
1 tbsp smoked paprika powder
a little oil to fry
Equipment
food processor
fridge
non-stick frying pan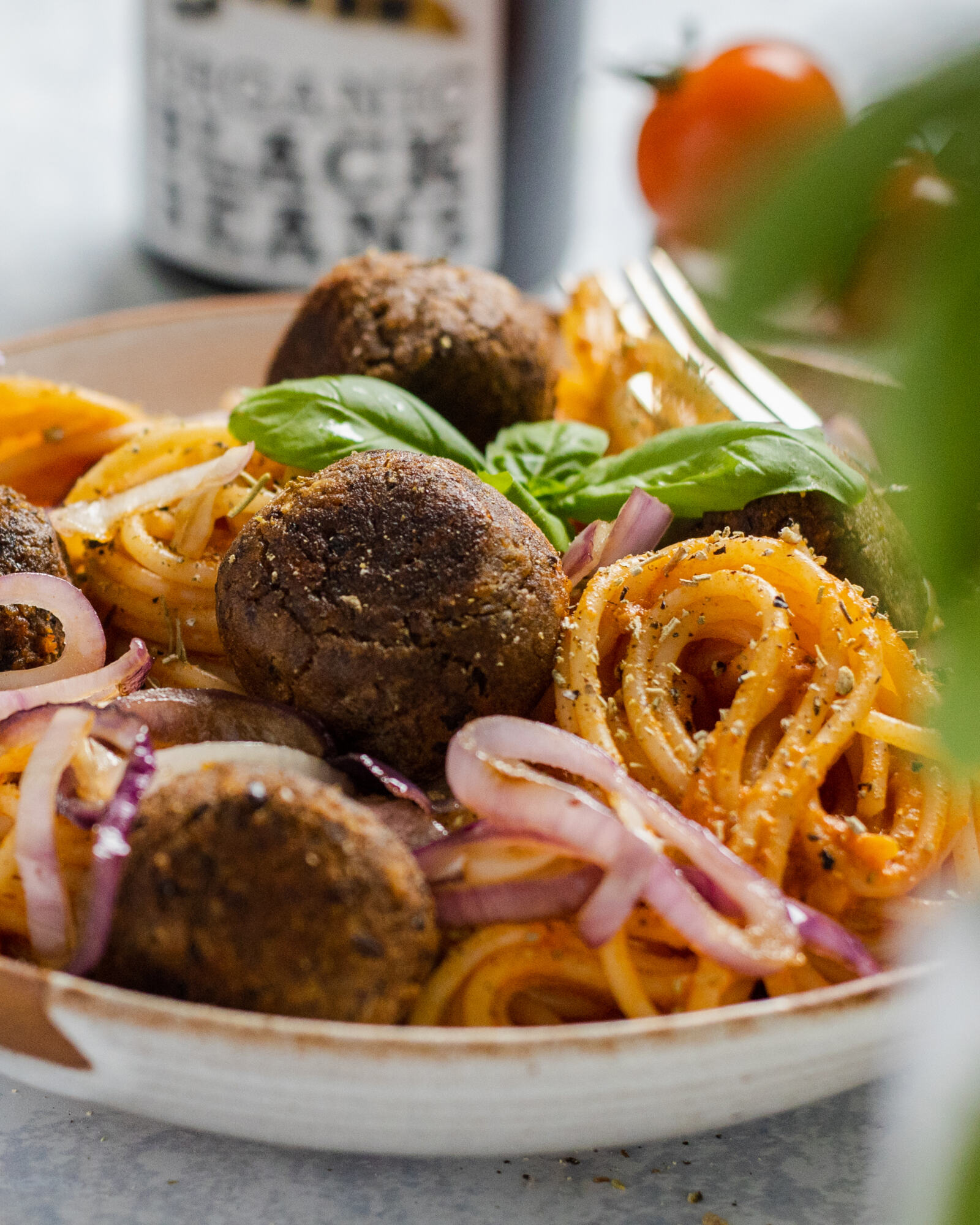 How to make vegan meatballs from black beans
I particularly love this recipe as the steps to making it are super simple! For this recipe, all you need is a food processor and a non-stick pan.
For the meatballs, place all ingredients into a food processor and process (pulse) for a minute until roughly combined - don't overmix, or your black bean meatball texture will be mushy afterwards - we want a bit of chunk here!
Once you get to your desired texture, roll the mix into your meatball shapes. I like using a tablespoon to roughly portion size the meatballs - if you're super accurate, you can even work with a scale... but that's definitely not necessary as they will be delicious either way 😉 Please use my images for size reference as the cooking time has been adjusted based on the size of the balls. Slightly smaller/bigger won't make a big change, but please adjust the cooking time based on how big you are planning to make these.
Once shaped, place them on a plate or a baking sheet and set them into the fridge for about 20 minutes, during this time the shape of your vegan meatballs will firm up and it will help them stick together better and not fall apart in the frying pan after. If you want to freeze these beanballs, now is the perfect time! (Please see my notes below!)
Towards the end of the 20 minutes, preheat your oil in a non-stick frying pan, then remove the meatballs from the fridge and gently fry them over medium heat, giving them a turn after 30-60 seconds. Stay close by to ensure not to burn them. They are done as soon as they are golden all around - this should take about 5-10 minutes depending on the size of your meatballs and the heat source you are using.
Serve them alongside spaghetti and tomato sauce (marinara is my favourite sauce to use for the typical spaghetti and meatball combination, but feel free to try out other options!). They are not only tasty alongside pasta, but also delicious with potatoes and gravy (super yum!), or in a vegan meatball sub, so please feel free to get creative with them!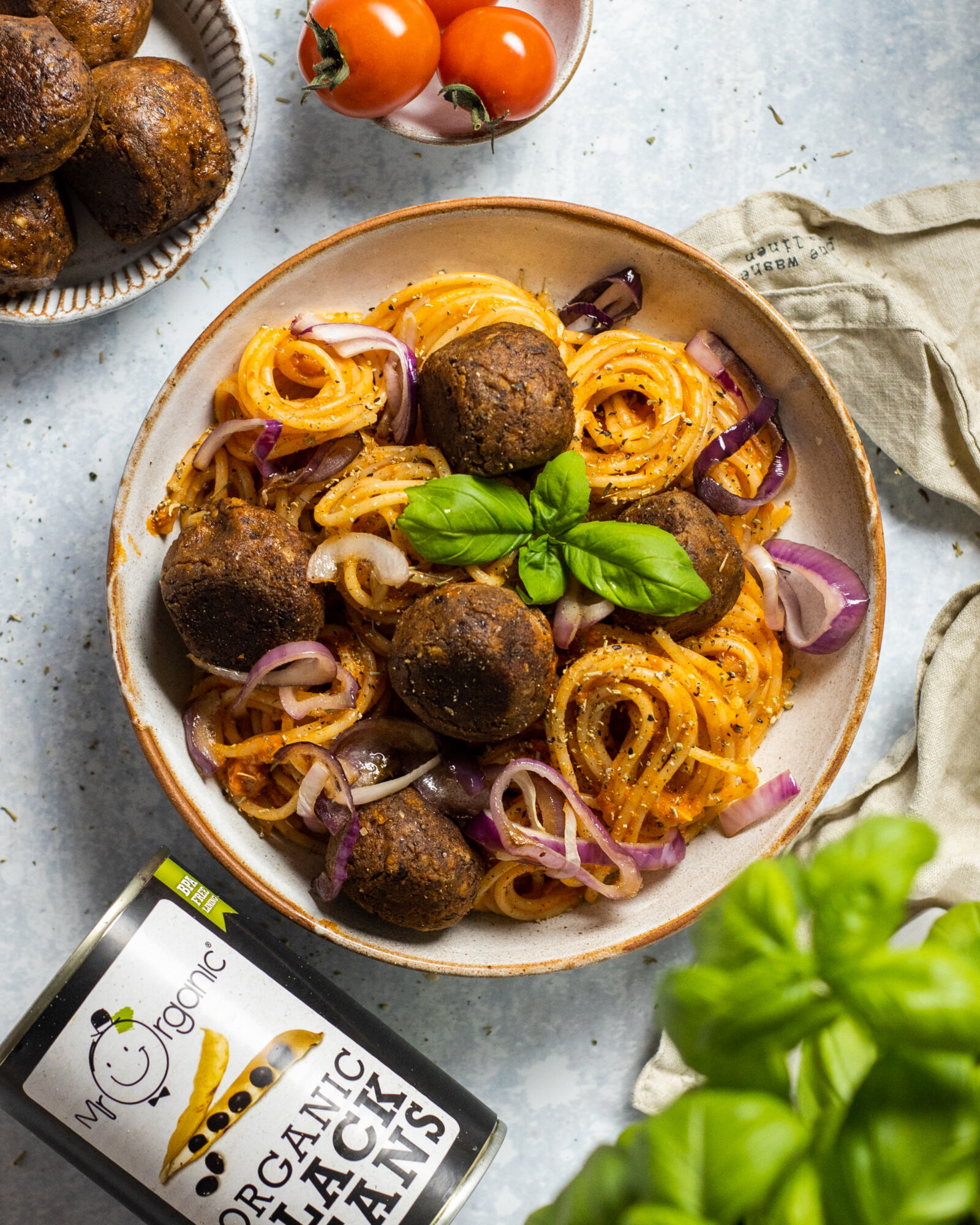 Frequently Asked Questions
Can I bake these black bean meatballs instead of frying them in oil?
Yes! I personally prefer them lightly fried in a little olive oil, but you can definitely swap the method for baking them in the oven until lightly crispy on the outside. Bake them at 170C in a preheated oven for about 15-20 minutes, flipping them halfway through, but stay nearby to make sure not to burn them.
Can you freeze black bean meatballs?
Yes! These vegan meatballs are great to make ahead of time and keep in the freezer - ready for use whenever you need them. The best way to freeze them is right after shaping them - instead of placing them in the fridge, place them straight into the freezer.
For best results, I recommend placing them on a plate in the freezer to allow them to freeze individually. Then once frozen (usually 4+ hours later), you can keep them in a space-saving freezer bag in your freezer.
When you're ready to cook your black bean meatballs, simply allow them to defrost at room temperature for 30 minutes before frying them in a pan.
How to make black bean meatballs gluten-free?
It's super simple to make this black bean meatballs recipe gluten-free on top of being vegan already. The only item in the ingredients list that could contain gluten would be the rolled oats. Nowadays there are multiple options available for gluten-free rolled oats in the supermarkets (at least in the UK where I am based) and to make this recipe gluten-free you can very easily swap out the regular rolled oats for a gluten-free alternative.
Are these spicy black bean meatballs?
The smoked paprika powder in the spices adds a little bit of tanginess to these meatballs, but there is not enough in the recipe to make them seriously spicy. If you like spice, however, see my tips below.
How to make spicy black bean meatballs?
To add some extra heat to these vegan meatballs, simply swap part or all of the ketchup in the recipe for sriracha or your favourite hot sauce (adjust the amount to your personal taste!).
What sauce to use for vegan spaghetti and meatballs?
Marinara sauce is your friend (it's basically a tomato and garlic pasta sauce!), but these vegan meatballs work wonders with a range of different tomato sauces! Try puttanesca or tomato & basil.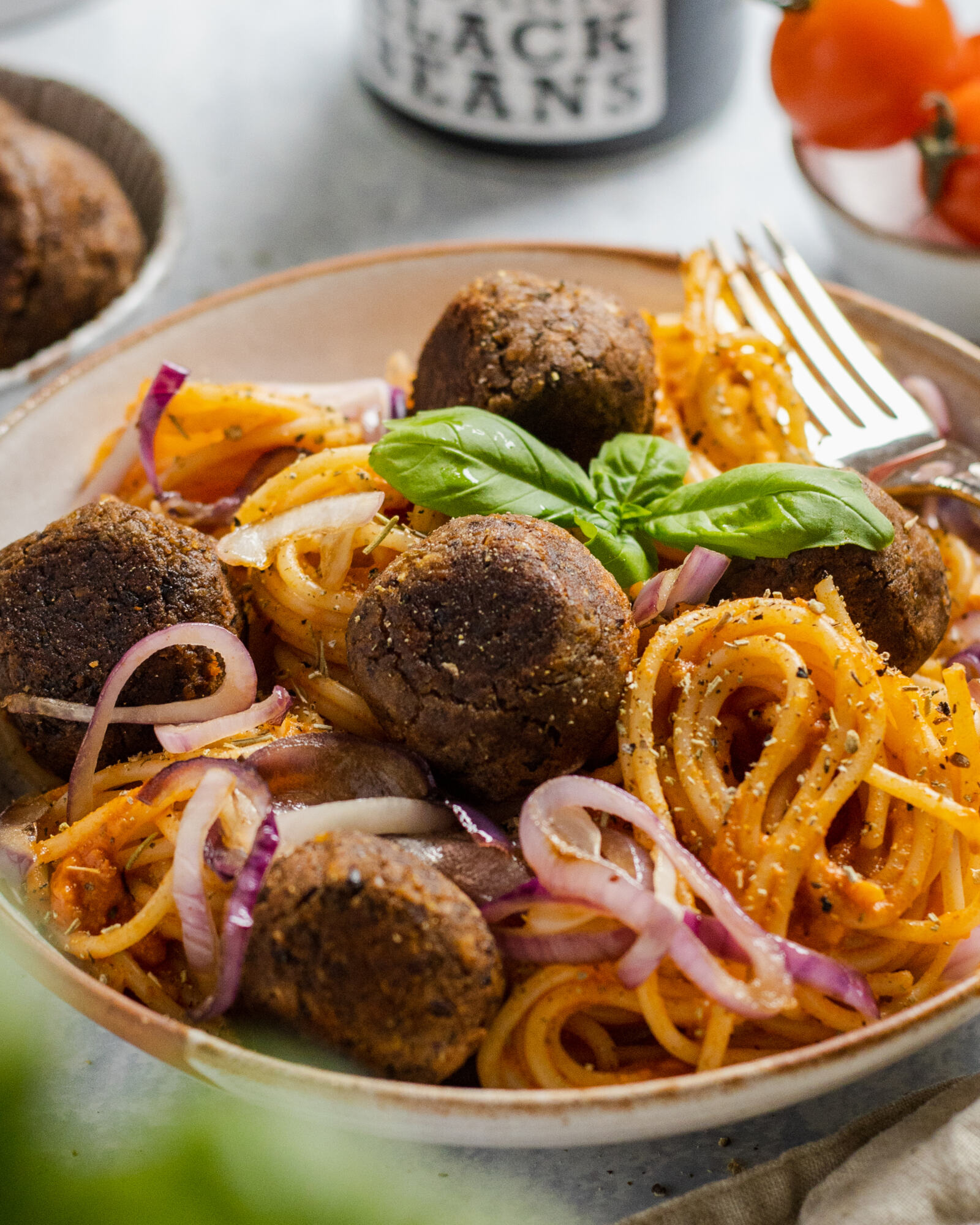 This recipe is:
100% vegan
super simple
delicious
more-ish
versatile
easy to make gluten-free (just swap for gluten-free oats!)
dairy-free
nut-free
freezer-friendly
You might also enjoy these recipes:
📌 If you love Pinterest you can pin any of the images to your boards!
Print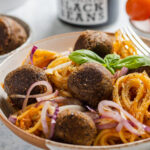 Vegan Black Bean Meatballs Recipe
Author:

Prep Time:

25

Cook Time:

10

Total Time:

35 minutes

Yield:

2

-3

1

x

Category:

Dinner

Method:

Food Processor

Cuisine:

British

Diet:

Vegan
---
Description
Next level vegan midweek meals with this delicious, easy Vegan Black Bean Meatballs Recipe! Crafted with black beans, oats & delicious spices. Super tasty as a vegan 'Spaghetti and Meatballs' alternative.
---
1 tbsp

organic tomato ketchup

1

can of black beans, drained (

400g

,

240g

drained weight)

2 tbsp

olive oil

1 tbsp

tomato puree

2

garlic cloves

5 Tbsp

rolled oats

1

small white onion, roughly chopped
a handful fresh coriander

2 tbsp

flaxseeds

1 tbsp

smoked paprika powder
a little oil to fry
To serve:
roughly

210g

spaghetti, cooked
a jar of your favourite vegan tomato pasta sauce
caramelised red onion (optional)
salt & pepper to taste
---
Instructions
Place all ingredients for the black bean balls into a food processor and process until roughly combined, but don't overmix.
Using your hands, form little round balls from the mixture and lay them onto a plate. Place them in the fridge for 20 minutes and preheat your oil in a non-stick frying pan in the meantime.
Fry your bean balls until golden on all sides.
Prepare your spaghetti according to packaging instructions and serve them with your favourite pasta sauce & the black bean balls.
---
Notes
You can freeze the bean balls for later use right after shaping them. Best place them on a plate in the freezer to individually freeze, then transfer to a freezer bag once frozen.
These vegan bean balls are delicious alongside spaghetti and other pasta, but also great served alongside potatoes with a delicious mushroom gravy (yum!).
Keywords: black bean balls, vegan meatballs, vegan spaghetti meatballs, vegan black bean balls, vegan dinner recipes, easy vegan dinner
You might also like these pasta dishes
*Disclosure: This page may contain affiliate links and sponsored links that earn me a small commission, at no additional cost to you. You can find more information in my Privacy Policy.
 © Romy London / Romina Callwitz | All images and content are copyright protected. Please do not use my images and content without permission. If you wish to re-publish any recipes or images, please get in touch via email. Thanks for your support!