Festive Vegan Lentil Wellington – the perfect delicious addition to the dinner table this Christmas!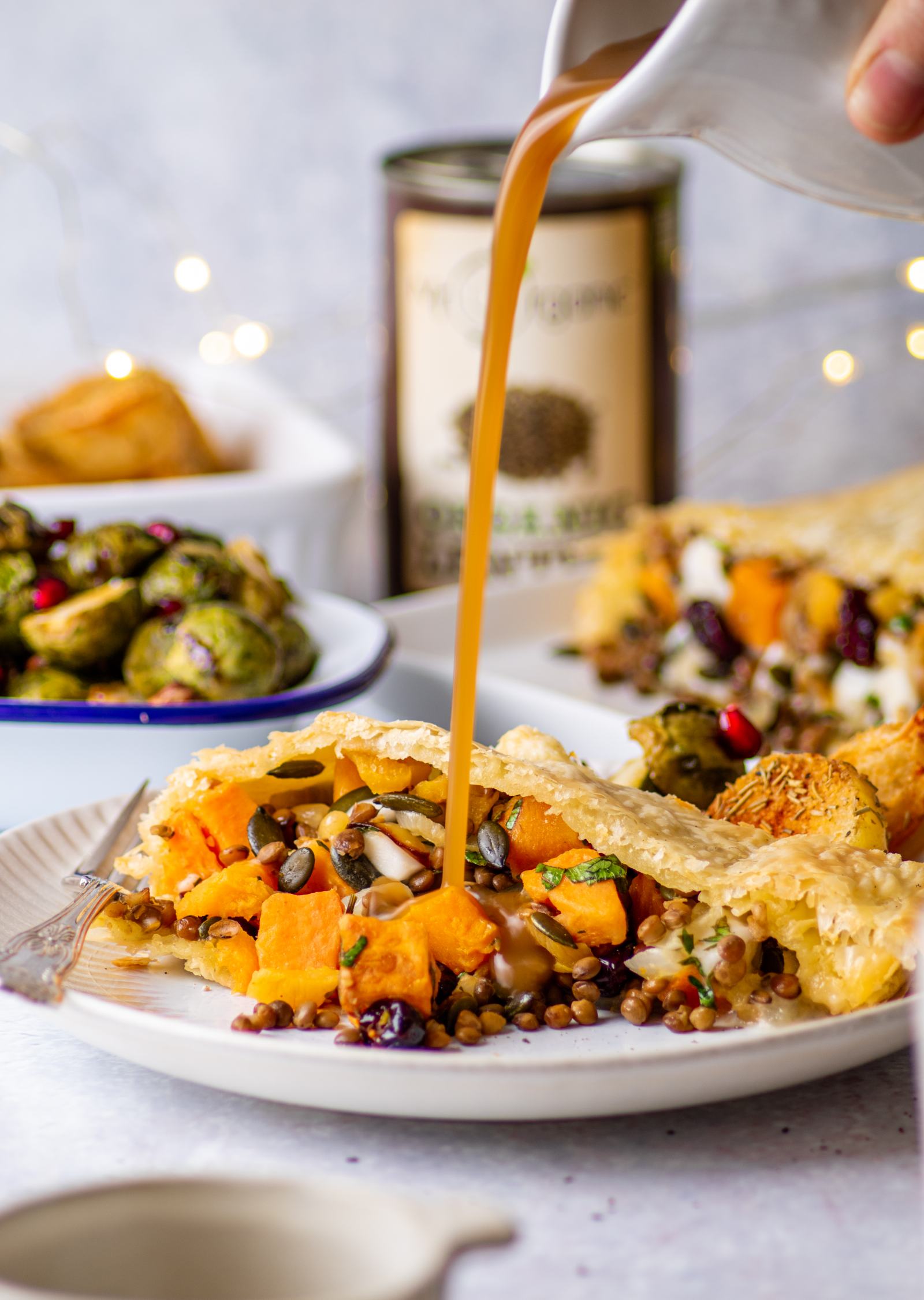 Oh what would a Christmas dinner be without a delicious roast… such as this dream of a Vegan Lentil Wellington recipe. Mouth-watering to say the least! Wellingtons have been one of my favourite additions to a Christmas meal for the past few years, the combination of a fluffy and slightly crispy pastry with rich, roasted filling full of flavour and a drizzle of vegan mushroom & onion gravy is simply THE DREAM.
What you'll need to make Festive Vegan Lentil Wellington Recipe
Ingredients
B

utternut squash

Y

ellow onion
Pine nuts
Pumpkin seeds
Fresh parsley, finely chopped
Lemon
Dried apricots
Dried cranberries
Puff pastry sheets
Almond milk (to brush)
Salt & pepper to taste
Creating the Vegan Lentil Wellington filling
In the filling for this delicious vegan lentil wellington, I've brought together a whole bunch of umami and seasonal flavours including lentils (as the name already suggests!) and squash, nuts and seeds to add to the texture, the acidity of a lemon and the sweetness of cranberries and apricots. All together they not only create a well-rounded, flavoursome filling for this wellington but also include at least one of your five a day. And isn't it amazing to have that in a mouth-watering Christmas meal?!
To create the filling I always like to start with roasting the butternut squash and onion in a little olive oil. Roasting these upfront brings out the full umami potential of these ingredients and it takes the wellington straight to next-level delicious! Also, the nuts and seeds get some roasting from me: for ease, I simply add them to the oven for the last few minutes of the roasting process.
The remainder of the ingredients for the filling are fairly simple as you just combine them with the roasted parts.
One vital thing to bear in mind, however: Let the filling cool down ENTIRELY before proceeding with filling the pastry sheets. If you omit this step the pastry will begin melting under the warm temperatures making it VERY difficult to shape, close and decorate the Wellington – so be warned.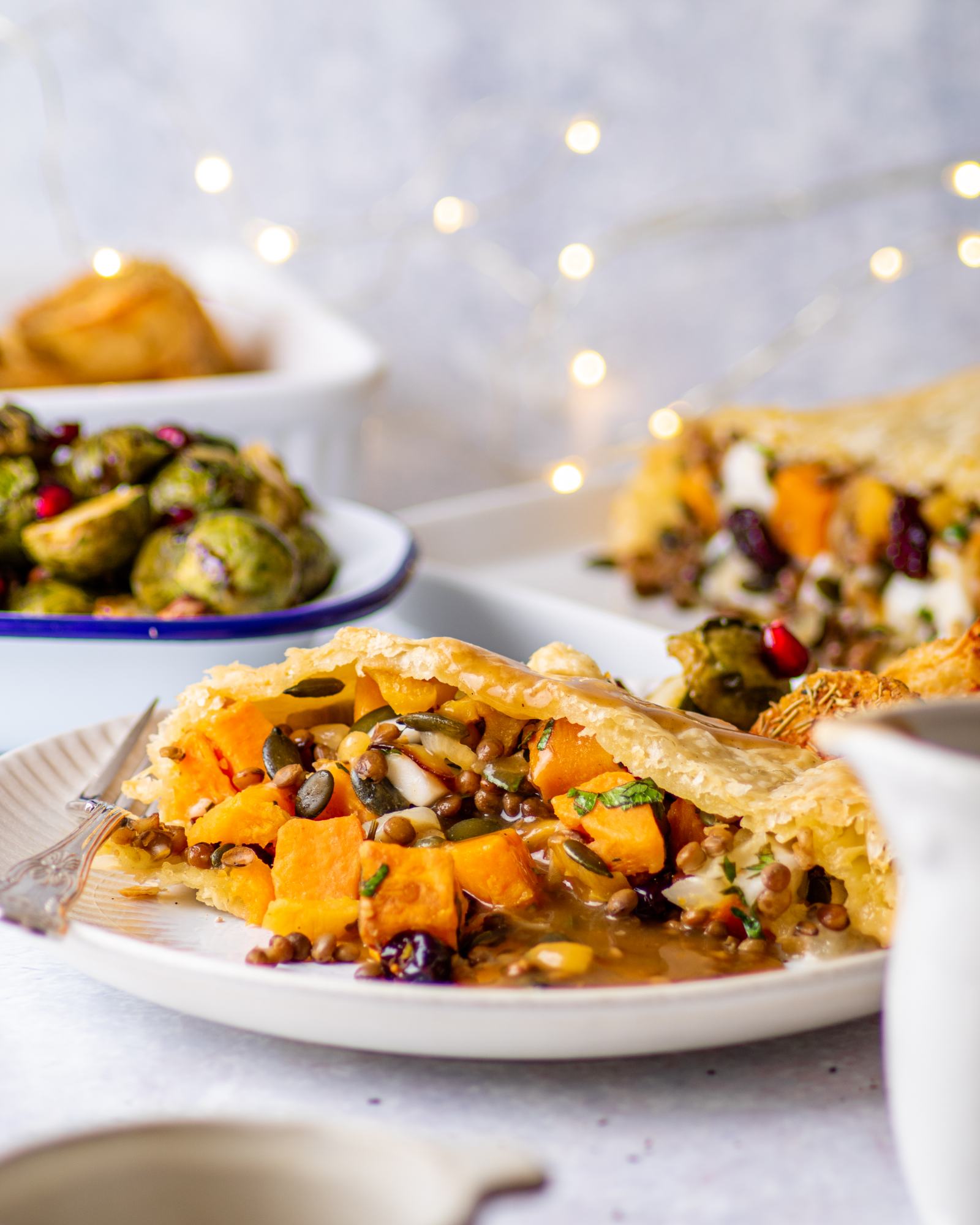 How to shape a wellington
To get the filling into the wellington and create a perfect shape I recommend using 2 pre-made ready-rolled puff pastries. The ones from Jusrol are accidentally vegan and perfect for this occasion. Just a pre-warning: there will be pastry leftovers in this way, but they are a perfect occasion to beautifully decorate the top of your wellington – think petals and leaves, stars and snowflakes – to make your Wellington a true show stopper!
Start by unrolling one sheet of vegan puff pastry on a lined baking tray. In a log shape, you place your cold lentil filling onto the top, leaving at least 2cm on each edge. Gently brush the outer edges with a little plant milk, then unroll the second pastry sheet and carefully place it on top of the Wellington – starting in one corner and gently placing it cm by cm.
Let the top pastry sheet rest for a minute or two so it naturally stretches around the log shape, then carefully place your cold and dry(!) hands-on top to pat the top pastry onto the lentil mixture. Using a sharp knife (or a pizza cutter as I like to do) carefully cut out your Wellington, leaving at least 1cm on the outer edge, then seal it with the back of a fork.
Transfer the baking tray to the oven and bake for 20-25 minutes or until your Vegan Lentil Wellington is wonderfully golden brown.
What to serve alongside a vegan wellington?
Well, I'm not sure if there's a norm with regards to what belongs on a place together with a Wellington (Like… in general, I didn't grow up in the UK and never had a non-vegan Wellington after all). BUT, here are a few of my ultimate favourites:
Vegan Roast Potatoes (the best!)
Mushroom & red onion gravy (also the best, especially in combination with the above!)
Maple roasted sweet potato or squash with pecans
Glazed & roasted brussels sprouts
Steamed or roasted veggies (think peas, carrots & co)
Tofu & cranberry balls
Garlic sautéed mushrooms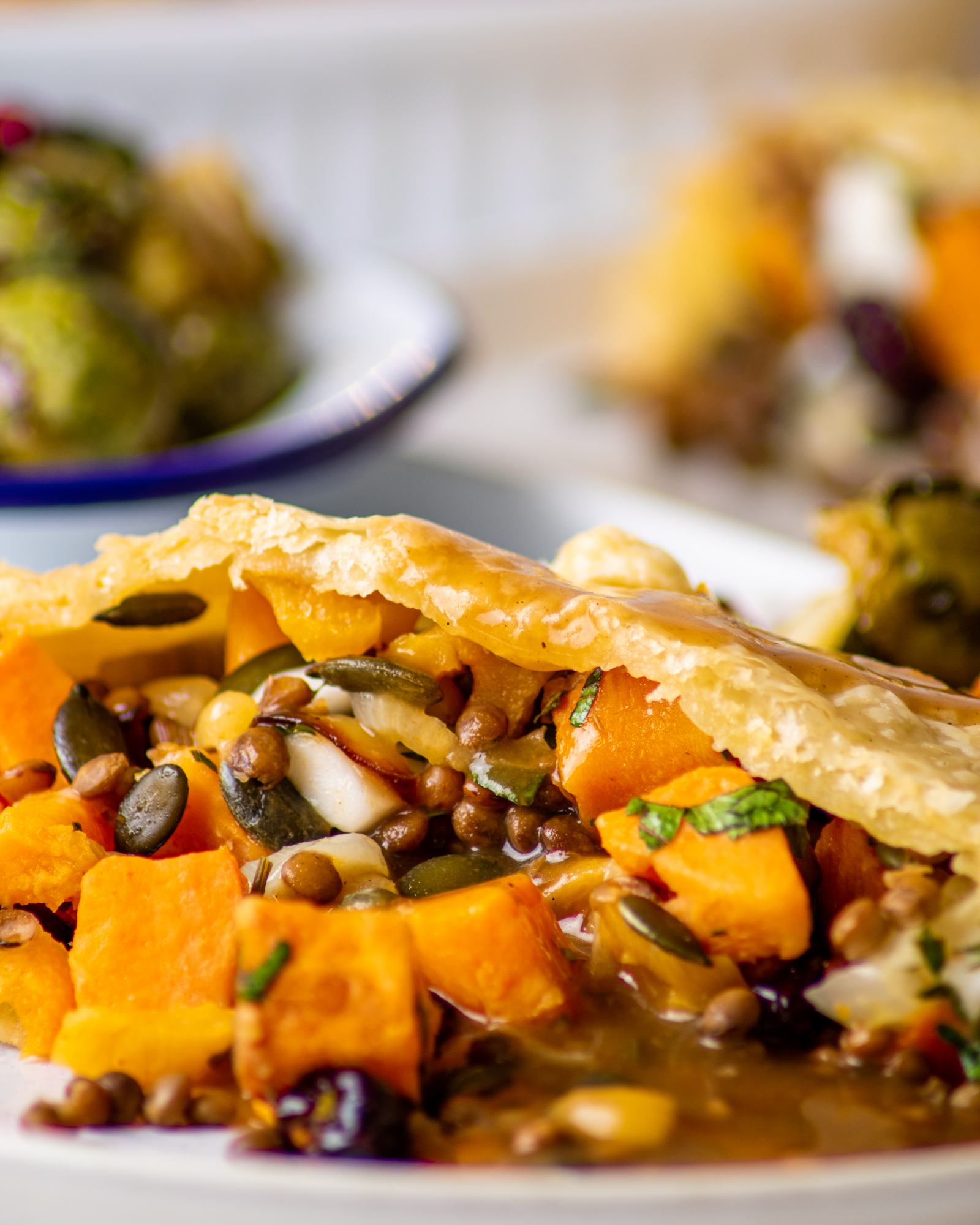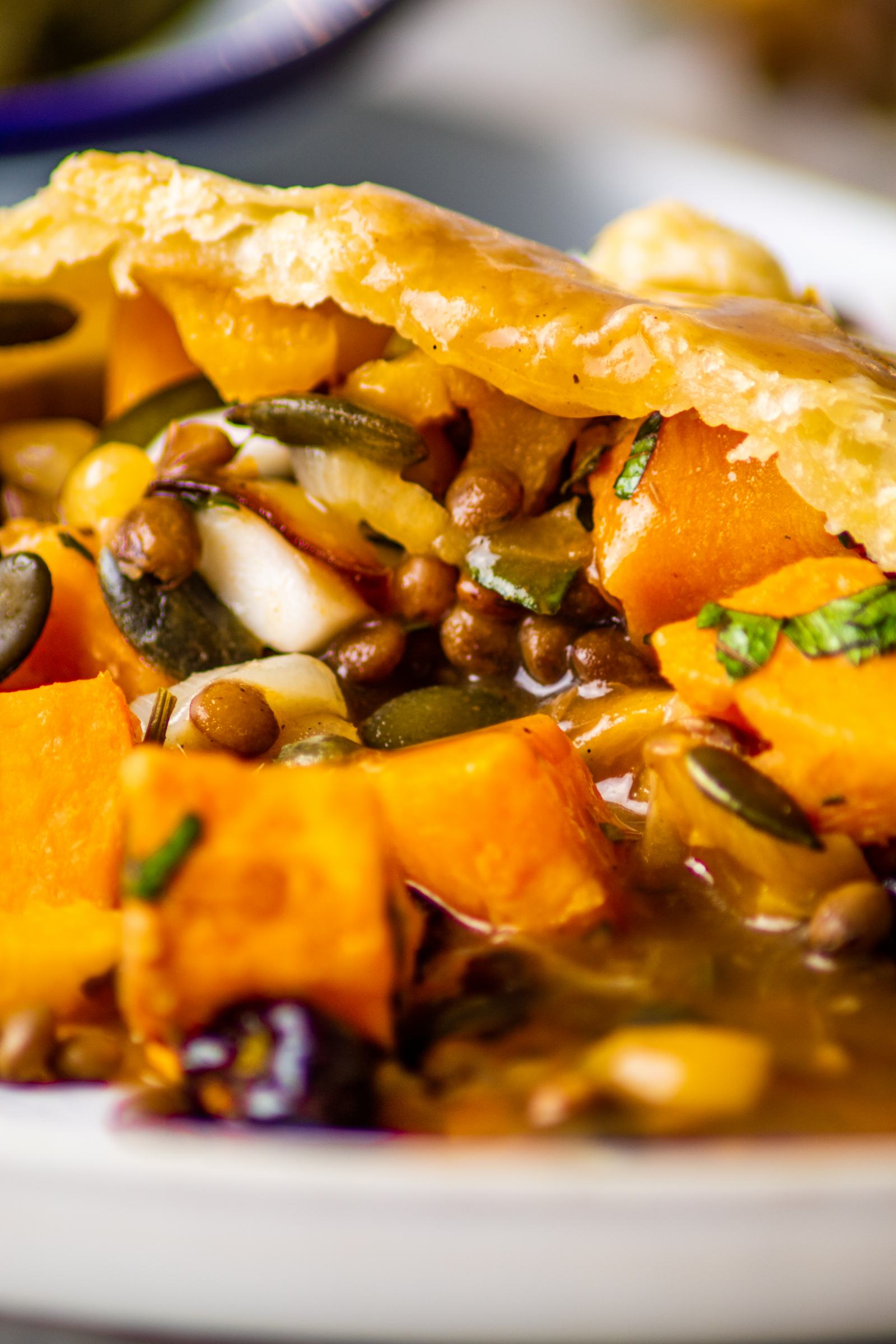 This recipe is:
vegan
festive
dairy-free
full of delicious goodness
easy to re-create
more-ish
rich in flavour
umami
including one of your five a day
for the entire family to enjoy
Print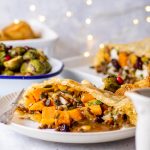 Festive Vegan Lentil Wellington
Author:

Prep Time:

15

Cook Time:

40

Total Time:

55 minutes

Yield:

4

-

6

1

x

Category:

Christmas

Method:

Roast

Cuisine:

English

Diet:

Vegan
---
Description
Festive Vegan Lentil Wellington – the perfect delicious addition to the dinner table this Christmas!
---
1/2

butternut squash, peeled & cubed

1

yellow onion, finely sliced

2 Tbsp

pine nuts

2 Tbsp

pumpkin seeds

1

tin Mr Organic Organic Lentils, drained
a handful of fresh parsley, finely chopped
juice of

1

lemon

8

dried apricots, finely chopped
a handful of dried cranberries

2

rolls puff pastry sheets
a splash of almond milk (to brush)
salt & pepper to taste
---
Instructions
Add squash and onion to an oven proof dish alongside olive oil, salt & pepper and roast in the oven at 190C for about 20 minutes. Add the pine nuts and pumpkin seeds to the oven for the last 3 minutes of the roasting process.
Combine all ingredients for the filling in a large bowl, add in the squash and onions and set aside to cool down completely (important!)
Unroll a puff pastry sheet and place your filling onto the sheet in log shape. Place the second, unrolled pastry sheet on the top and gently press it onto the filling. Take a pizza cutter or a knife to carefully cut out your Wellington, leaving about 1-2 cm on the outer edges. Use a fork or your fingers to pinch the edges together. With the leftover pastry, create any decorations for the top of your Wellington.
Brush the log with a little almond milk, then place in the oven at 180C for 20-25 minutes or until your pastry is golden.
Remove from the oven, slice and serve with vegan gravy, roast potatoes & Co.
Enjoy!
---
Keywords: vegan, vegan wellington, vegan Christmas roast, vegan roast, lentil wellington, vegan lentil wellington
Looking for more savoury festive food? Or maybe the perfect dessert for your dinner guests? Look no further, my Vegan Holiday recipes have got you covered! Here are a few of my favourites: