Vegan Keto Brownies - one of my vegan keto favorites of all time!
When you're doing vegan keto and that sweet craving kicks... that's truly not the best time being on keto - especially in the beginning, when the cravings do actually come more frequently.
When I personally experienced this in the past whilst on vegan keto it had me thinking 'hey, it must be possible to create a great treat, that's delicious and at the same time keto friendly'. The challenge was accepted and this Vegan Keto Brownie Recipe was born!
Vegan Keto Brownies Recipe
This low carb brownies recipe is:
100% vegan, made only plant based ingredients
naturally gluten-free
sweet-tasting
satisfying and delicious
chocoalte-y
low carb
vegan keto-friendly
the perfect keto snack
simply a treat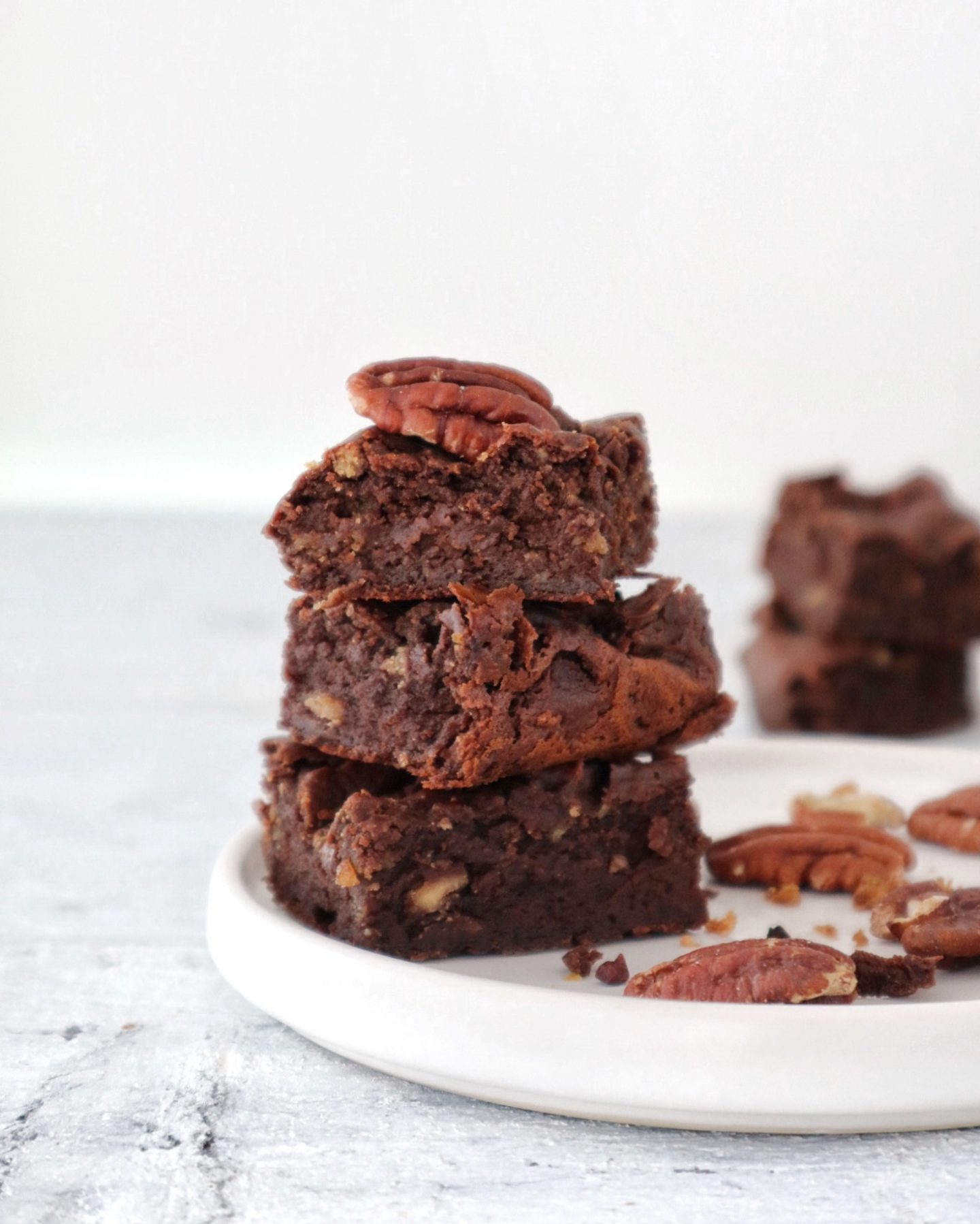 And these vegan keto brownies were the result of that challenge that I set myself! Incredible, right? And only using a handful of ingredients too - you'll be surprised that these can be created of such little ingredients and completely without refined sugar and practically also without flour.
This recipe actually started as some kind of experiment - something along the lines of 'I wonder whether it's possible to create a sweet treat without flour'. So I went into the kitchen, drew out my low-carb ingredients, and simply started blending some ingredients together in a bowl. And the magic happened: it worked out on the first attempt and these tasty brownies were the result! Crazy that there's no wheat flour in them, right?
Why I am stressing 'wheat' flour? Well technically there is a type of flour in them - if you would count peanut flour into the flour family, it's basically just dried and very finely ground peanuts 😉
Ingredients for this recipe
These vegan keto brownies are made with only a handful of ingredients:
ground flaxseeds: these add some natural oils into the recipe and also help bind it together
peanut butter: the base ingredient for this recipe! The peanut butter adds some fats into these brownies. For best results, use smooth peanut butter with peanuts as the only ingredient.
apple cider cider: in combination with the dairy-free milk, the vinegar creates a vegan version of buttermilk which helps the keto brownies rise in the oven.
baking powder: reacts with the vegan buttermilk in the recipe and gives these vegan keto brownies a soft and fluffy texture.
vanilla extract: to round up the flavor profile of this keto treat.
granulated sugar replacement: to add both sweetness and texture to the keto bake. I use the granulated version of Natvia for this recipe.
plant milk: soy is often my go-to, but use your personal favorite, such as almond milk or coconut milk.
peanut flour: we add a small amount of peanut flour to the mixto help bind the ingredients together. If you don't have peanut flour to hand, then swap for almond or coconut flour.
raw cacao powder: adding the delicious chocolate flavor to these keto brownies!
How to make vegan keto brownies
Step 1: Preparation
Preheat your oven to 180°C.
To make these keto brownies, start by creating vegan buttermilk. This is done by mixing the non-dairy milk with apple cider vinegar and setting it aside for about 10 minutes to let it curdle. After this time, it's ready to use in the recipe.
Step 2: Combine the batter
In a medium-size bowl, combine the flaxseeds, baking powder, granulated sugar replacement, peanut flour and raw cacao powder.
Stir in the peanut butter and vanilla extract, then pour in the vegan buttermilk mixture. Combine with a spatula until you get a smooth brownie batter.
Step 3: Baking and slicing
Transfer the batter into a greased and lined baking tin and bake for 15-20 minutes or until firm on the top
Allow for the brownies to cool down entirely before slicing - this is when they will firm up.
Storing the vegan keto brownies
Keep your sliced vegan keto brownies in an air-tight container in the fridge for up to 5 days.
You might also enjoy these recipes:
📌 If you love Pinterest you can pin any of the images to your boards!
Print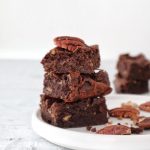 Vegan Keto Brownies
Author:

Prep Time:

15

Cook Time:

15

Total Time:

30 minutes

Yield:

2

-4

1

x

Category:

Keto

Method:

Baked

Cuisine:

British

Diet:

Vegan
---
Description
Flour-less vegan keto brownies - simple recipe with easy steps to create these deliciously gooey brownies. Vegan & gluten free.
---
---
Instructions
Add the non-dairy milk & the apple cider vinegar to a tall glass, stir and place in the fridge for about 10 minutes.
In a medium-size bowl combine all dry ingredients for the brownies.
Add the peanut butter and vanilla extract, then gently pour over the milk/vinegar mixture.
Whisk well until all ingredients are combined.
Transfer the batter into a greased baking tin (or a lined baking tin) and bake at 180C for 15-20 minutes or until firm.
Let me brownies cool down entirely before cutting and keep them in the fridge for up to 5 days.
---
Keywords: Vegan Keto, Recipes, Vegan Brownies, Keto Brownies, vegan keto snacks, low carb vegan brownies
Want to find out more about Vegan Keto? Check out this section of my website to find more information & recipes!
*Disclosure: This page may contain affiliate links and sponsored links that earn me a small commission, at no additional cost to you. You can find more information in my Privacy Policy.
 © Romy London / Romina Callwitz | All images and content are copyright protected. Please do not use my images and content without permission. If you wish to re-publish any recipes or images, please get in touch via email. Thanks for your support!