These vegan condensed milk waffles are delicious served as a sweet breakfast or as a dessert! They are crunchy, taste of delicious caramel and they are simply perfect for a sweet tooth.
You can serve these on their own, or top with fresh fruit, yogurt, a caramel drizzle and more. They are also delicious with dairy-free ice cream.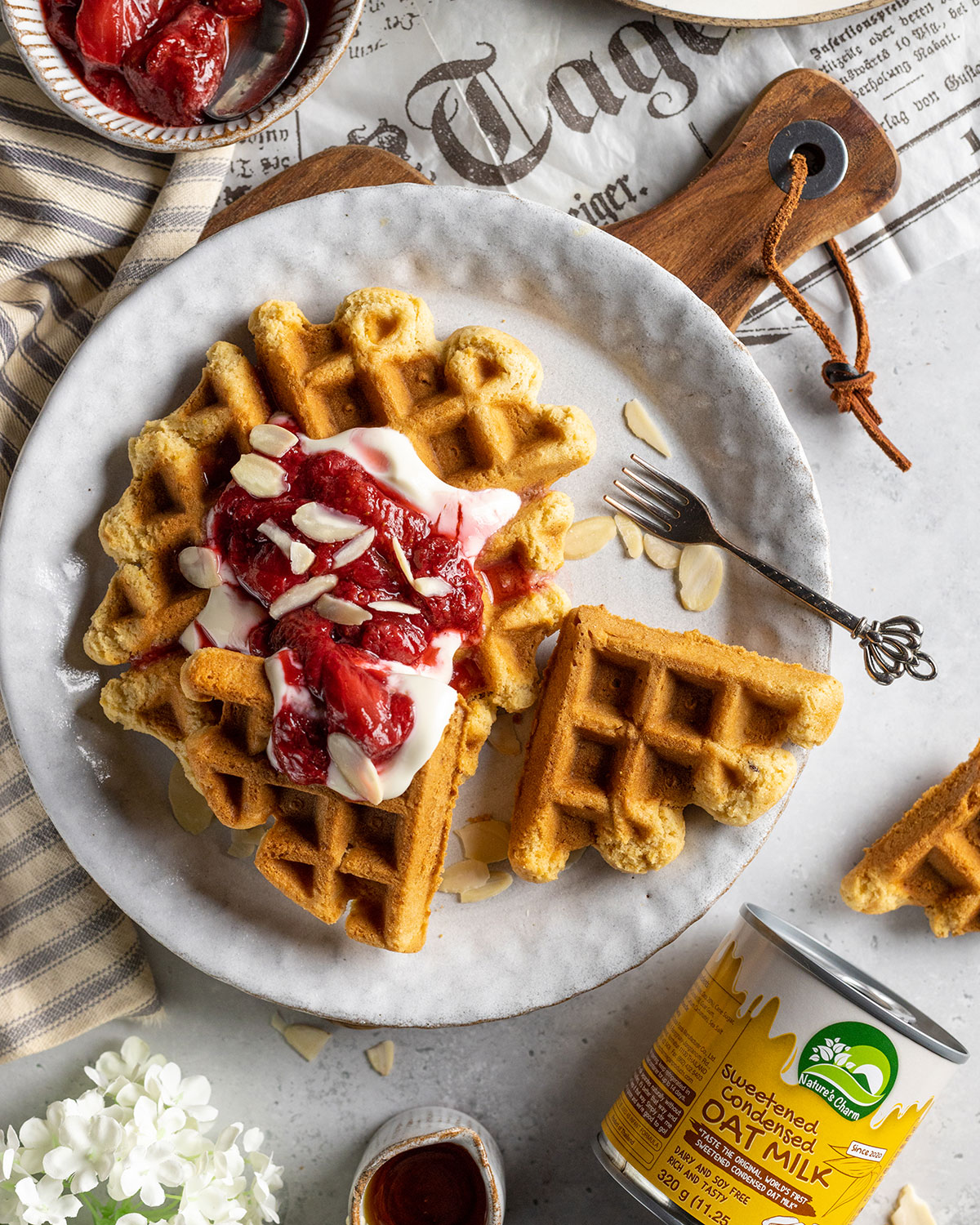 In Germany, where I grew up, condensed milk waffles are often also called "milkmaid waffles" or "Milchmädchenwaffeln" to be precise. They are simple, crunchy waffles that use sweetened condensed milk as one of the main ingredients.
In the waffle maker, the sweetened condensed milk caramelizes wonderfully, giving the waffles their unique crunchy texture and caramel flavor.
If you're a fan of vegan desserts made with vegan condensed milk, you might want to try out this Strawberry Rhubarb Bread & Butter Pudding recipe! It also uses Nature's Charm Condensed Milk and produces a sweet and tangy dessert perfect for any occasion!
Jump to:
What is condensed milk?
Condensed milk is traditionally cow's milk from which water has been removed. It is often sold canned and sweetened with sugar, and the terms "condensed milk" and "sweetened condensed milk" are often interchangeable nowadays.
The products are often used in a variety of sweet recipes and desserts such as ice cream, pies, fudge, candy and more.
What is vegan condensed milk made from?
Vegan condensed milk is made with a similar technique and can be created using oat milk or coconut milk. For this recipe, I have used the sweetened condensed oat milk by Nature's Charm.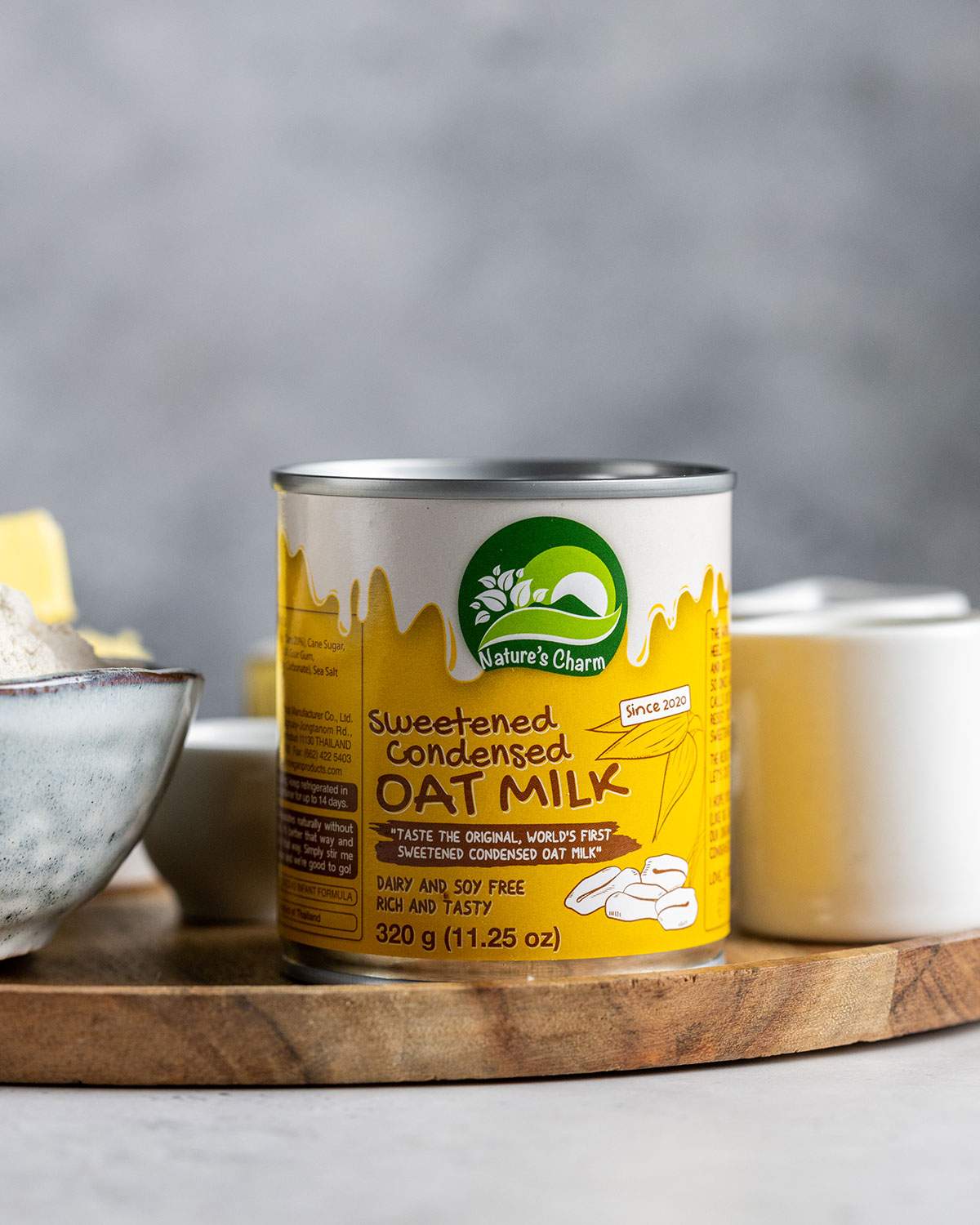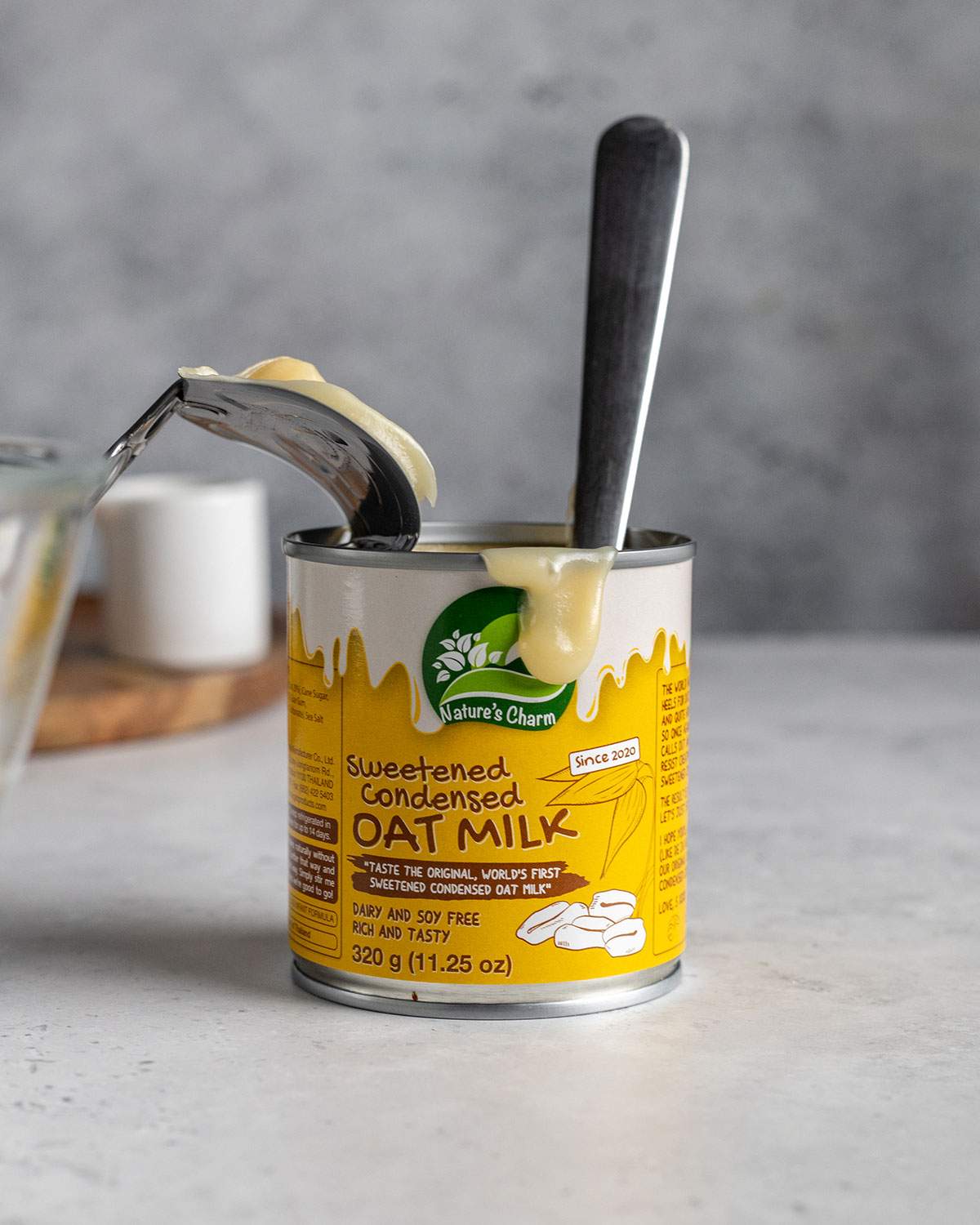 Ingredients and Notes
Here's everything you need for this recipe: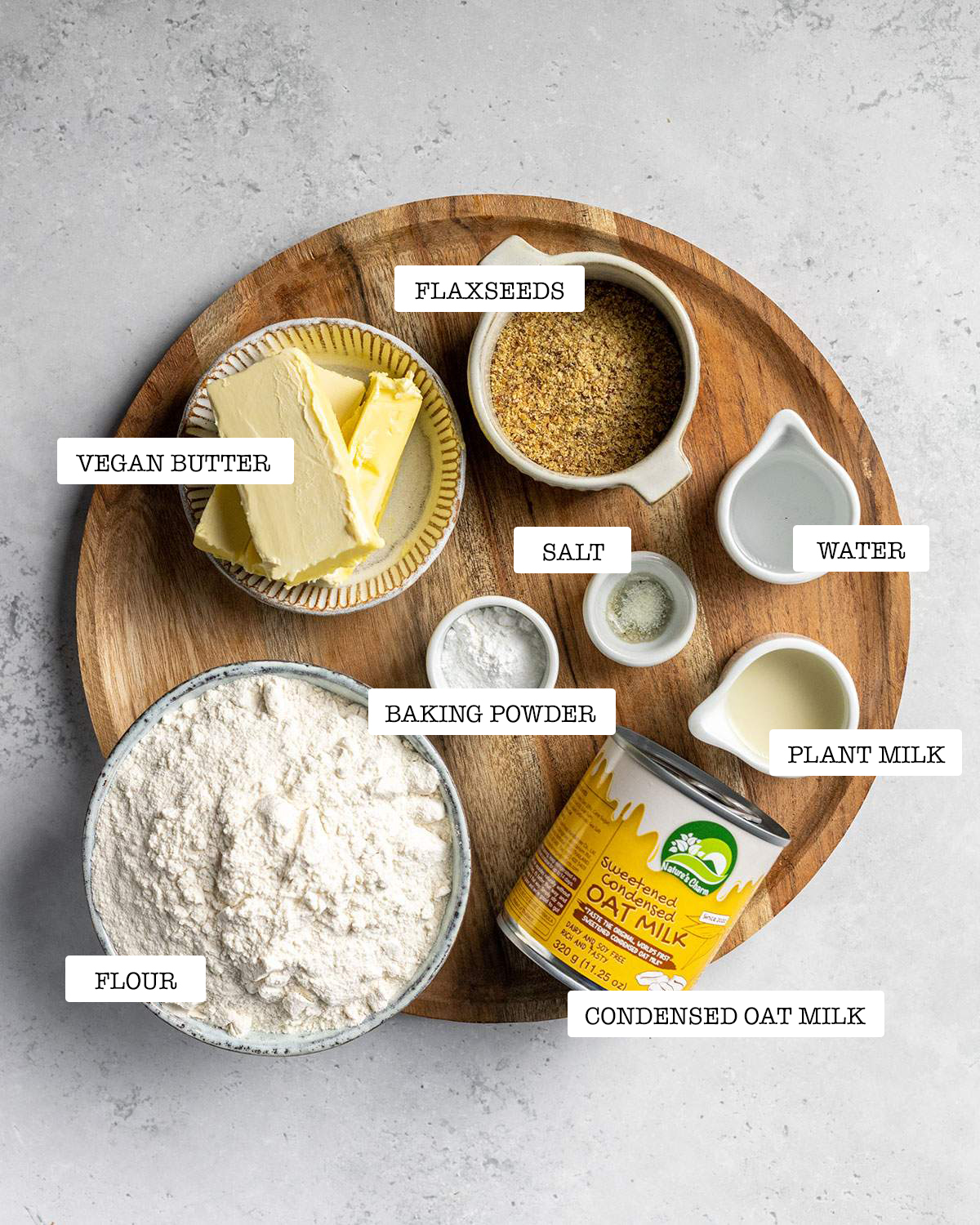 Vegan Condensed Milk - I like to use the vegan-friendly sweetened condensed milk by Nature's Charm
flour - all-purpose flour works perfectly for this recipe
vegan butter - I like to use unsalted flora plant butter for this reicpe
flax eggs - these are created with milled flaxseeds and water and will be the egg replacement in this vegan waffle recipe
baking powder
oil - depending on your waffle maker, you might want to lightly grease it to prevent the waffles from sticking. I like to brush a little coconut oil onto the waffle maker.
See recipe card for quantities.
Equipment
Here's everything you need for this recipe:
waffle maker
large mixing bowl
electric mixer
Instructions (Step-by-Step)
Here are all of the steps to making these vegan condensed milk waffles in detail: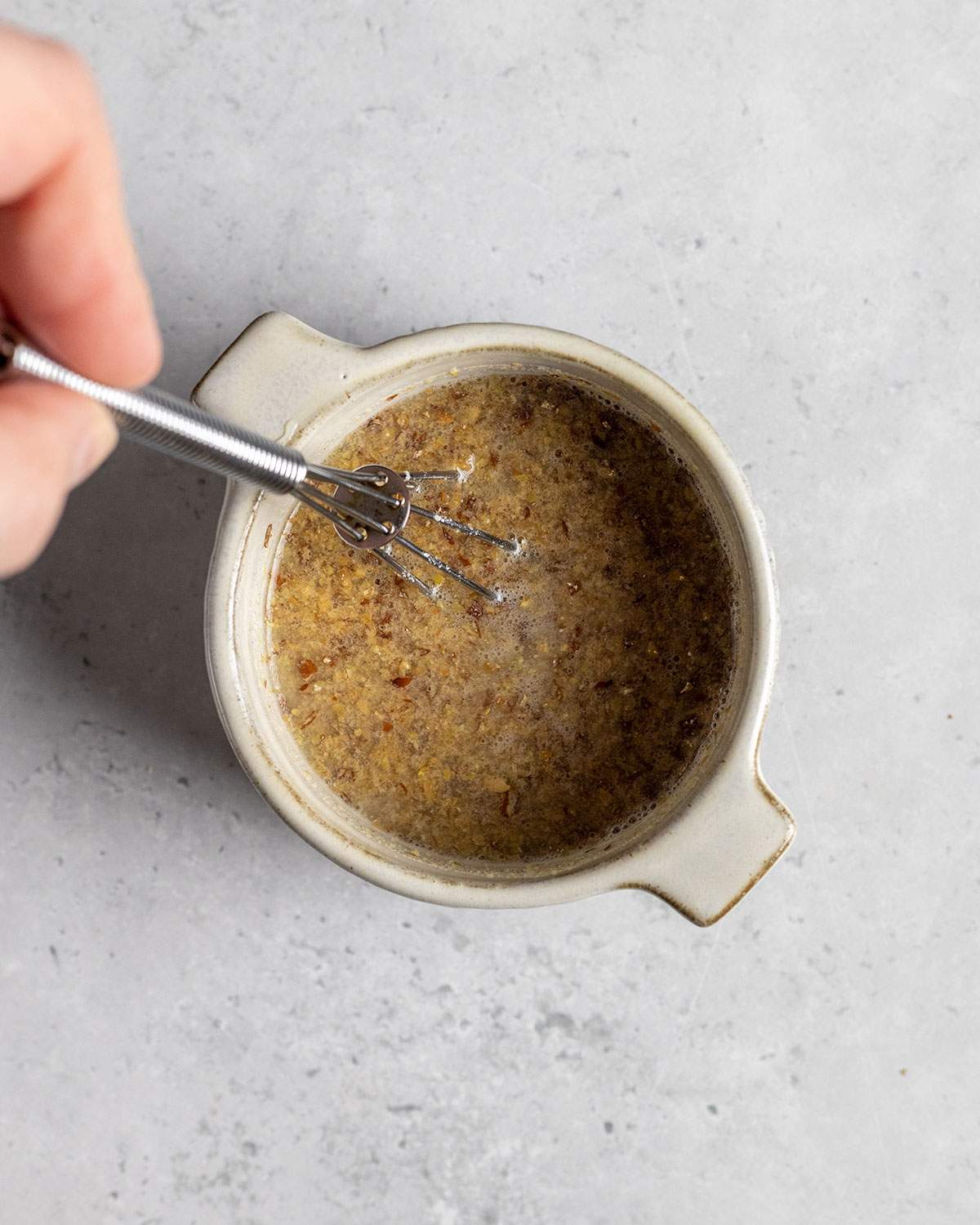 Mix the flaxseeds and water to make flax eggs and set them aside for 10 minutes to soak. The mix should be thick and gloopy.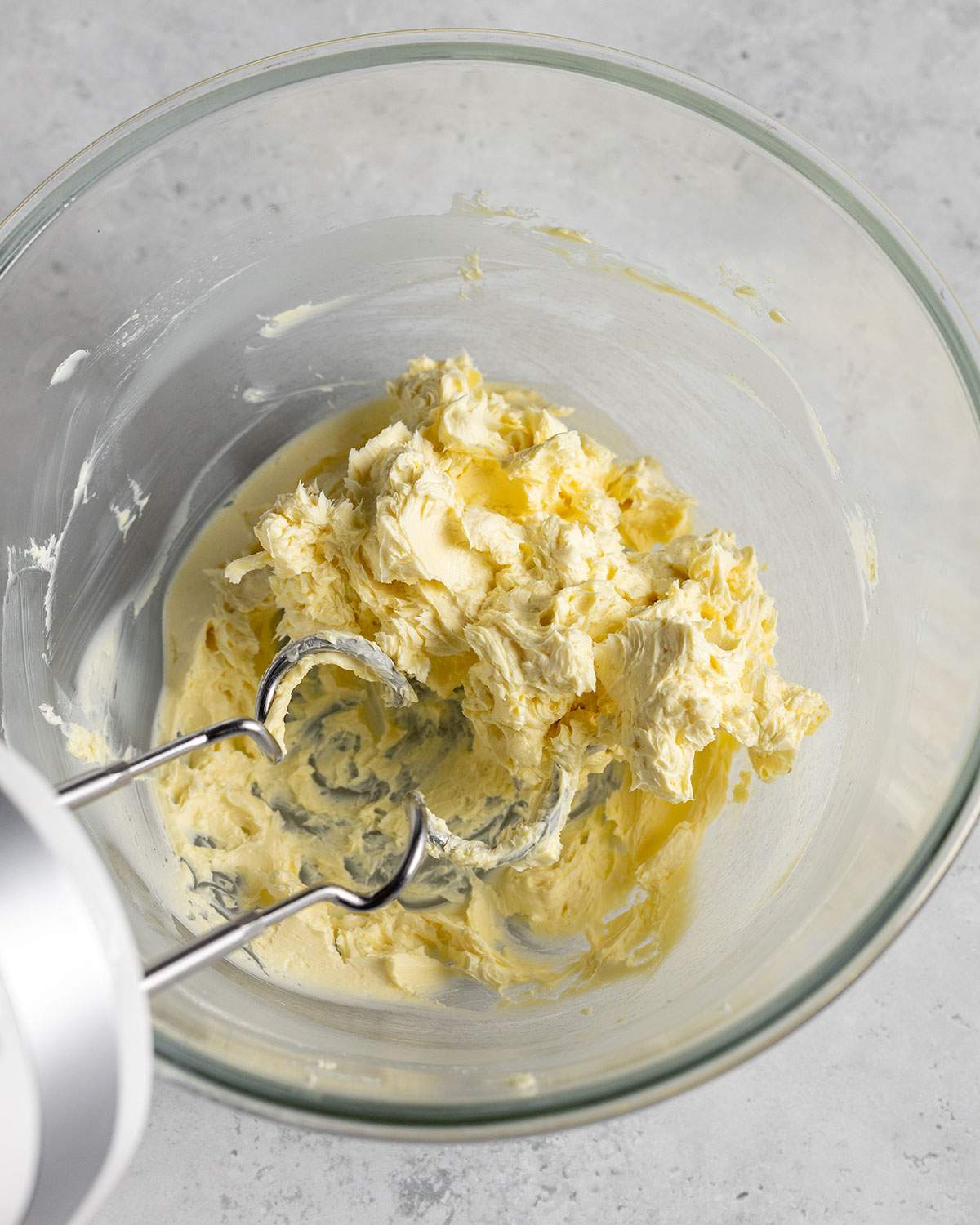 Cream the vegan butter in a bowl.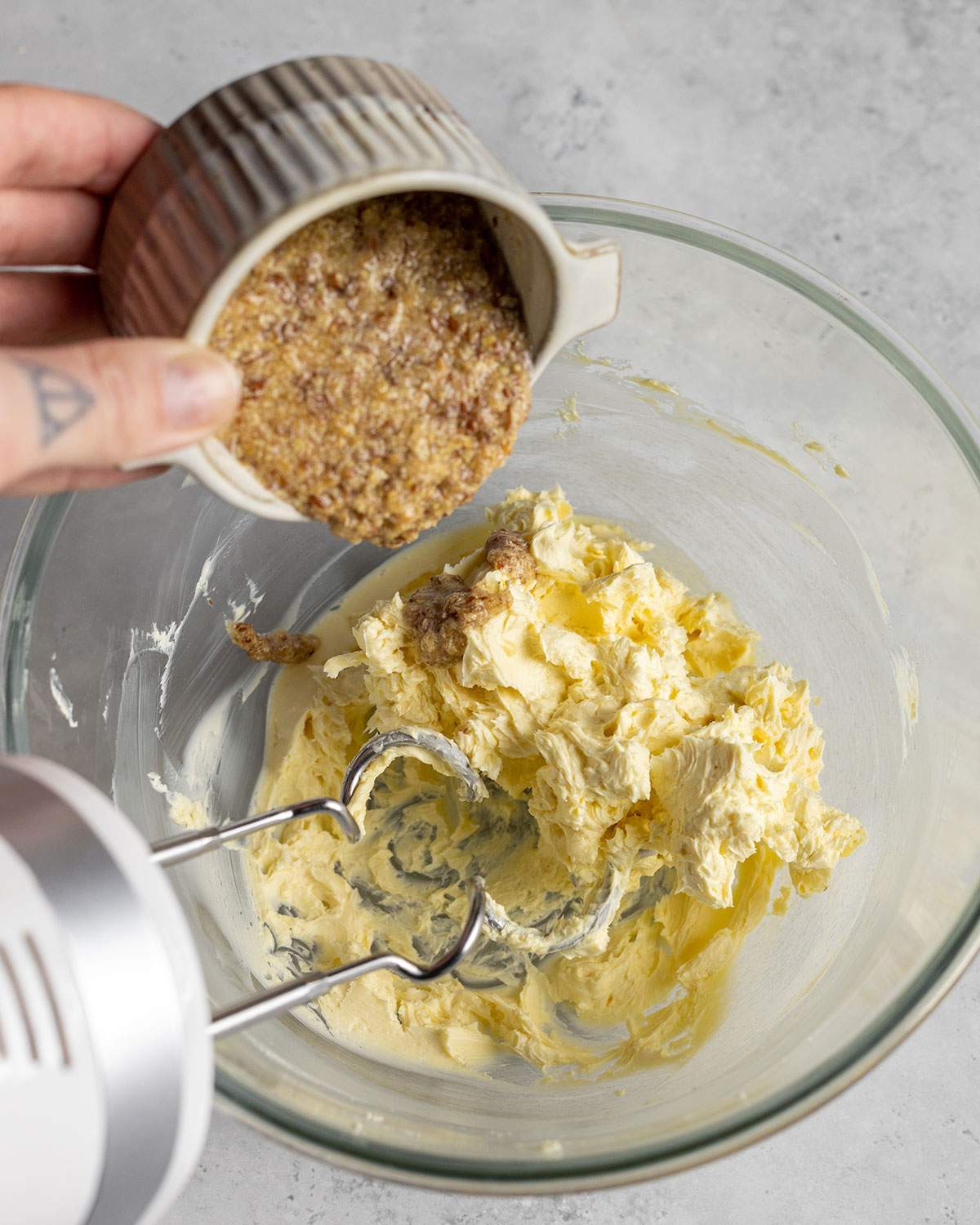 Add in the flax eggs.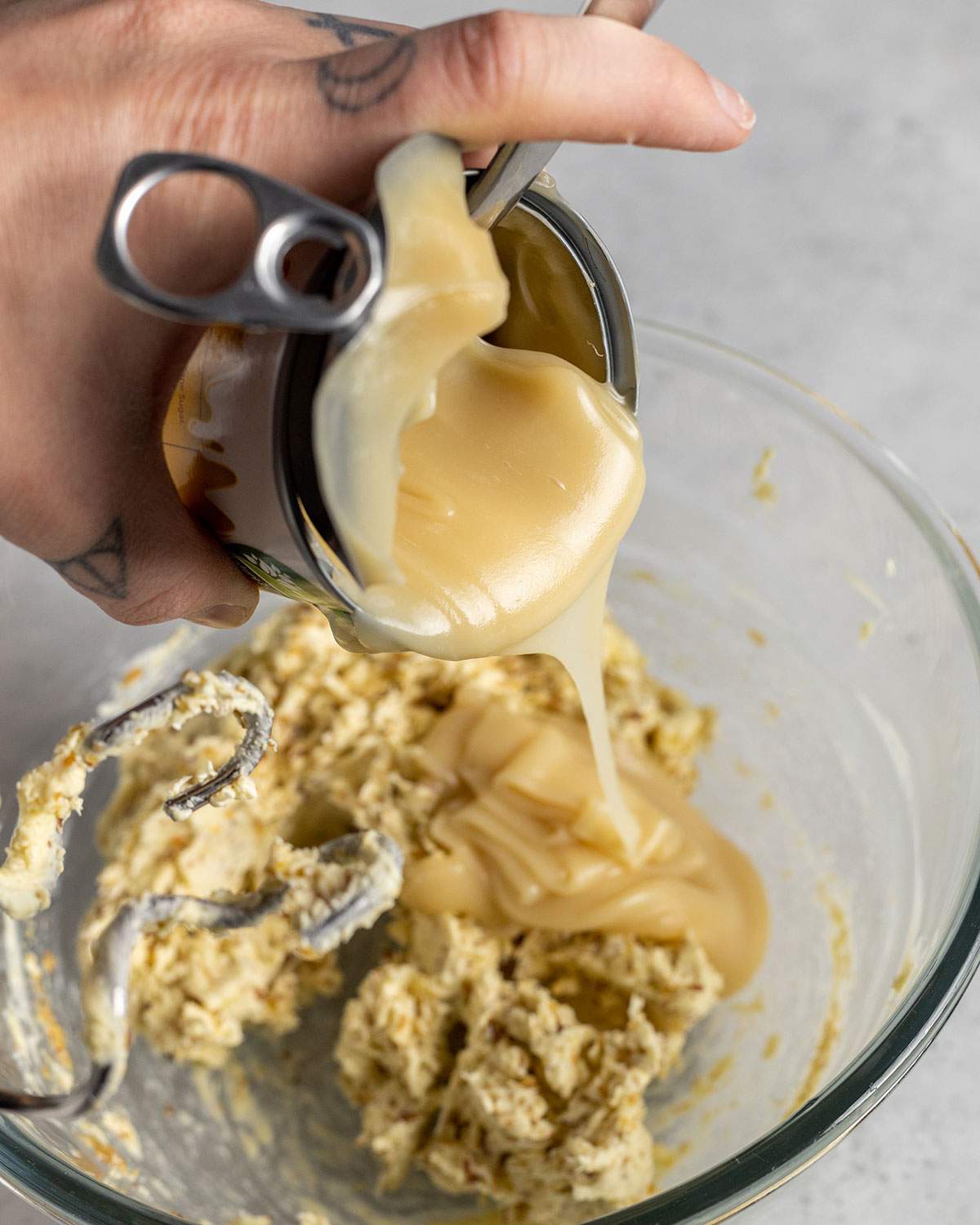 Mix in the sweetened condensed milk.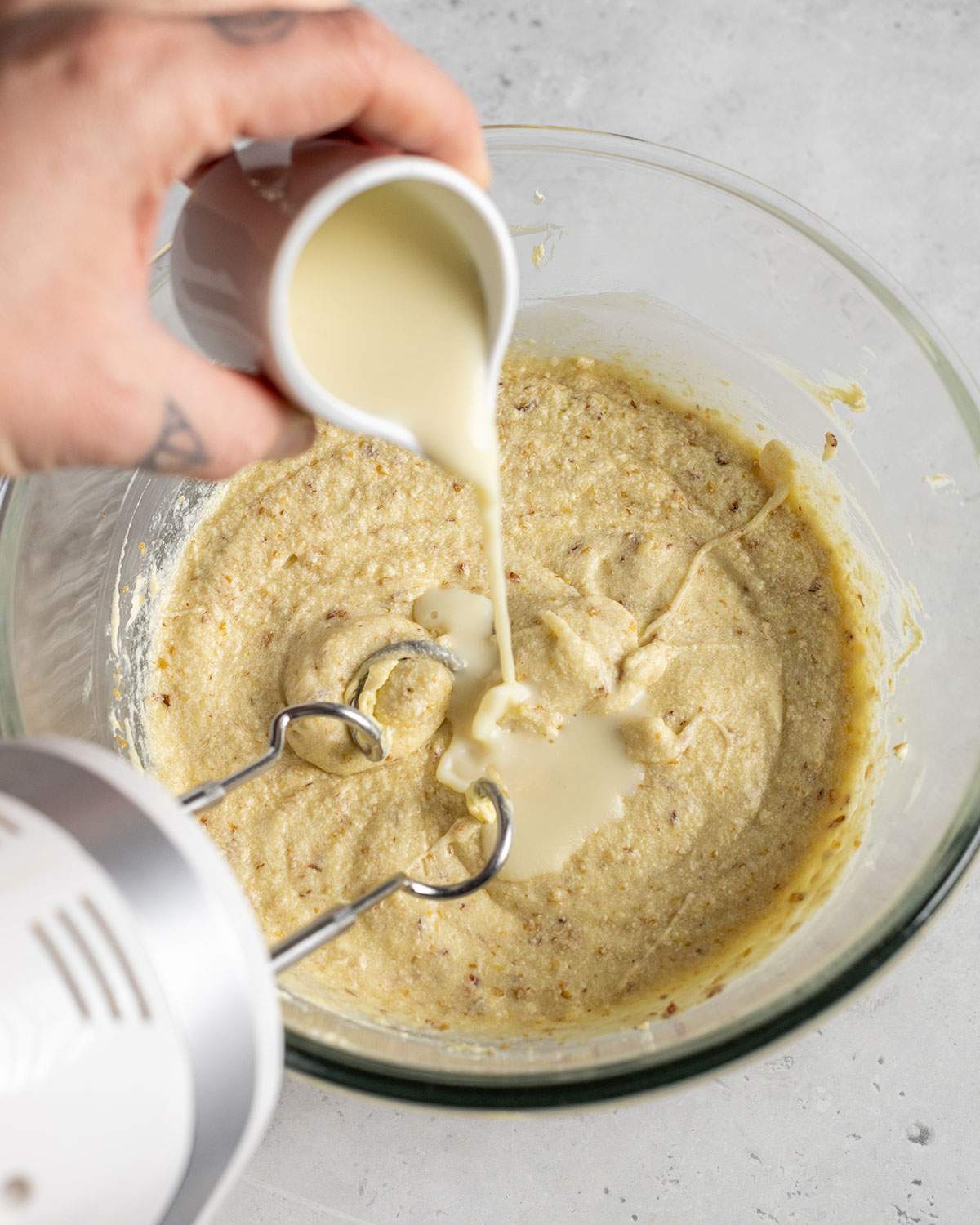 Blend in the plant milk.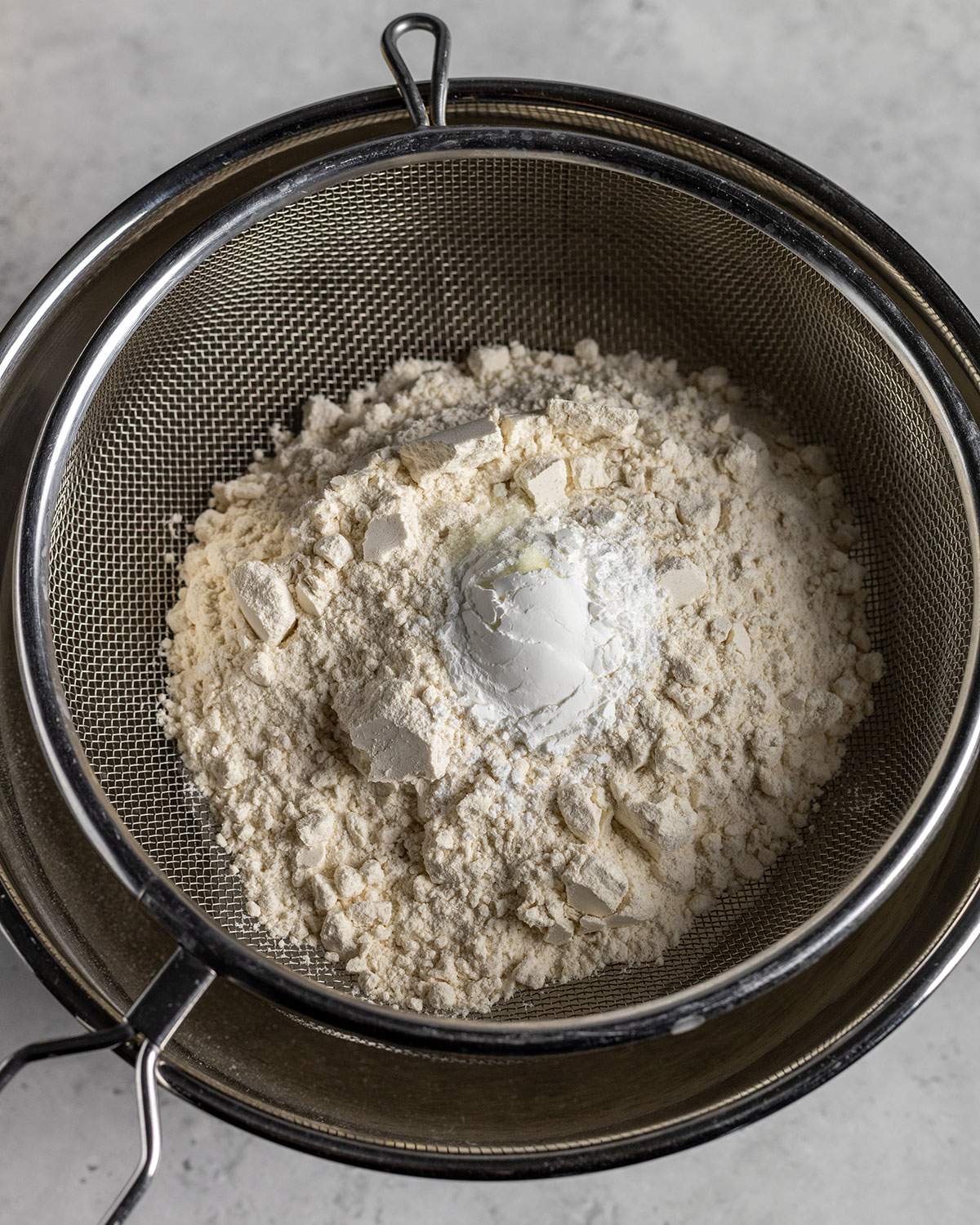 Sift the flour, baking powder and salt into a second bowl.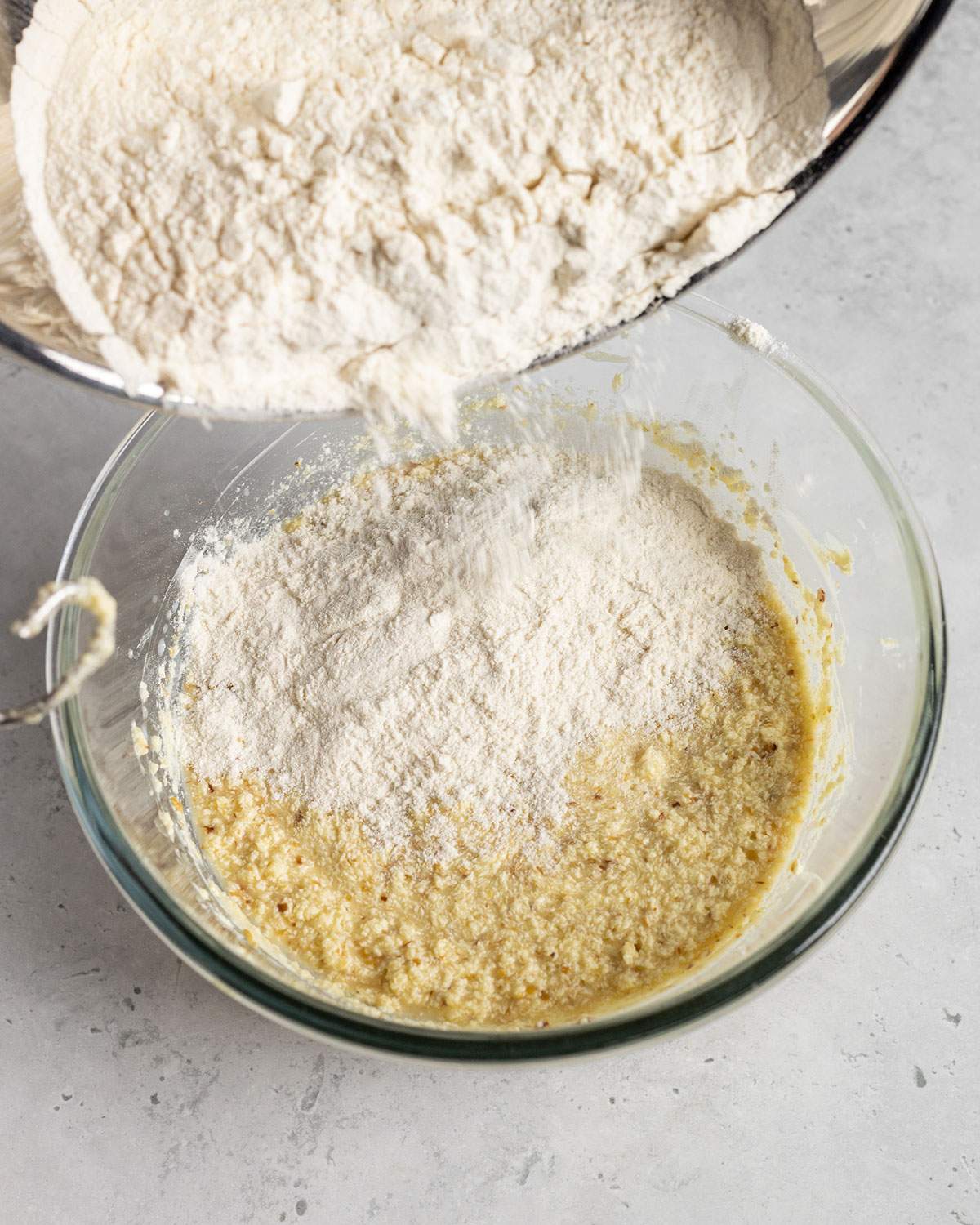 Slowly mix the dry ingredients into the wet mix.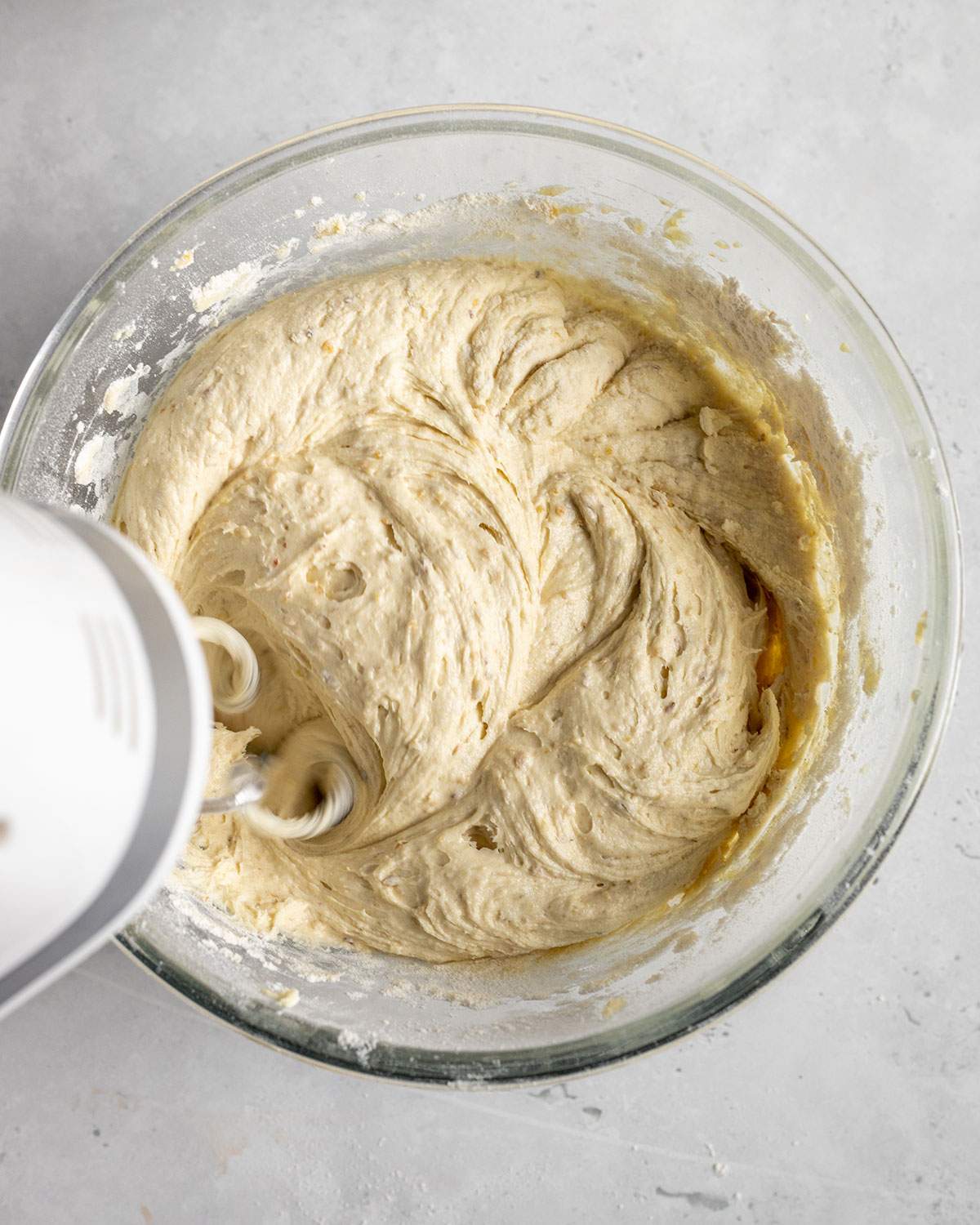 Mix with an electric hand mixer until the batter is smooth and fluffy.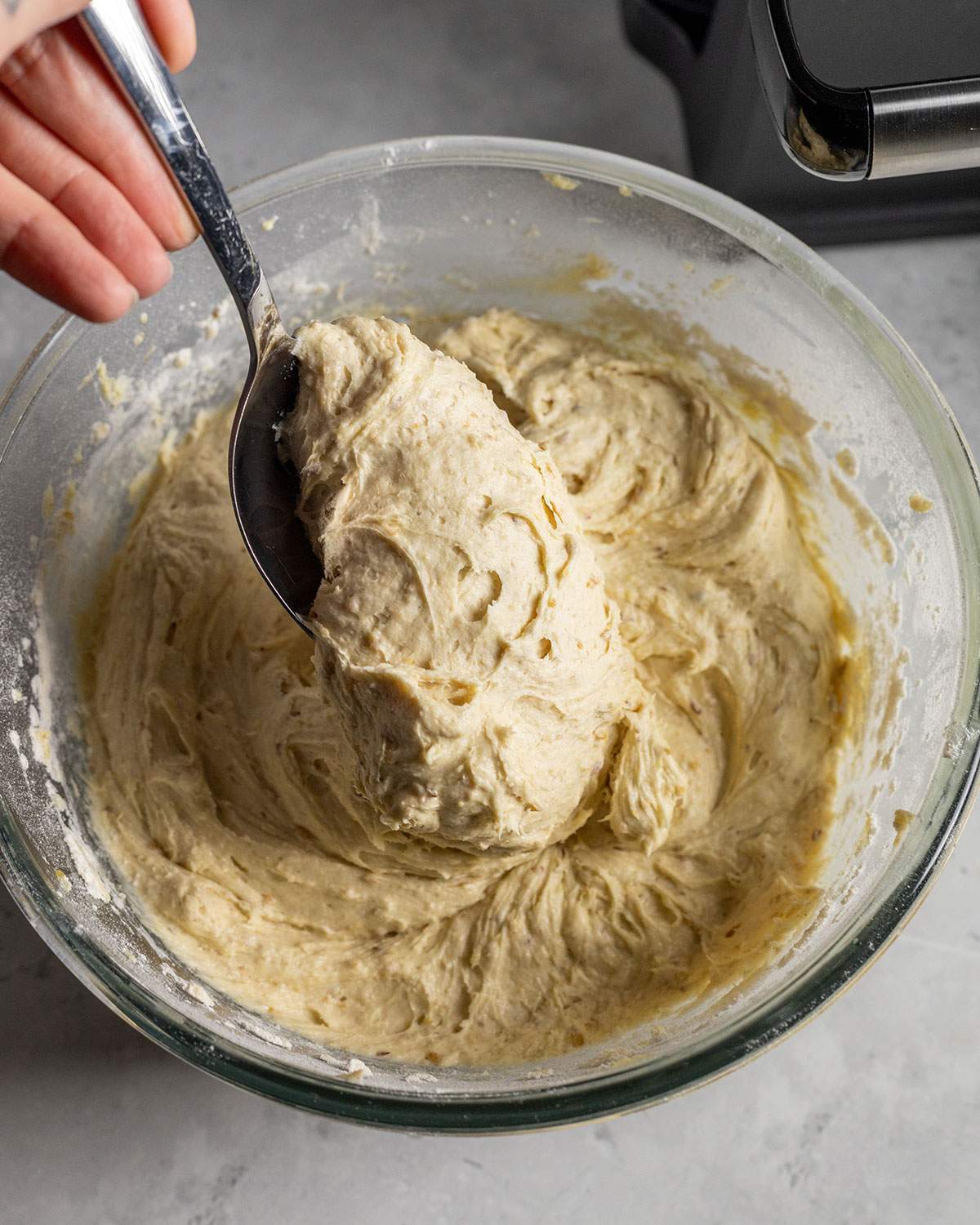 Portion with a large spoon.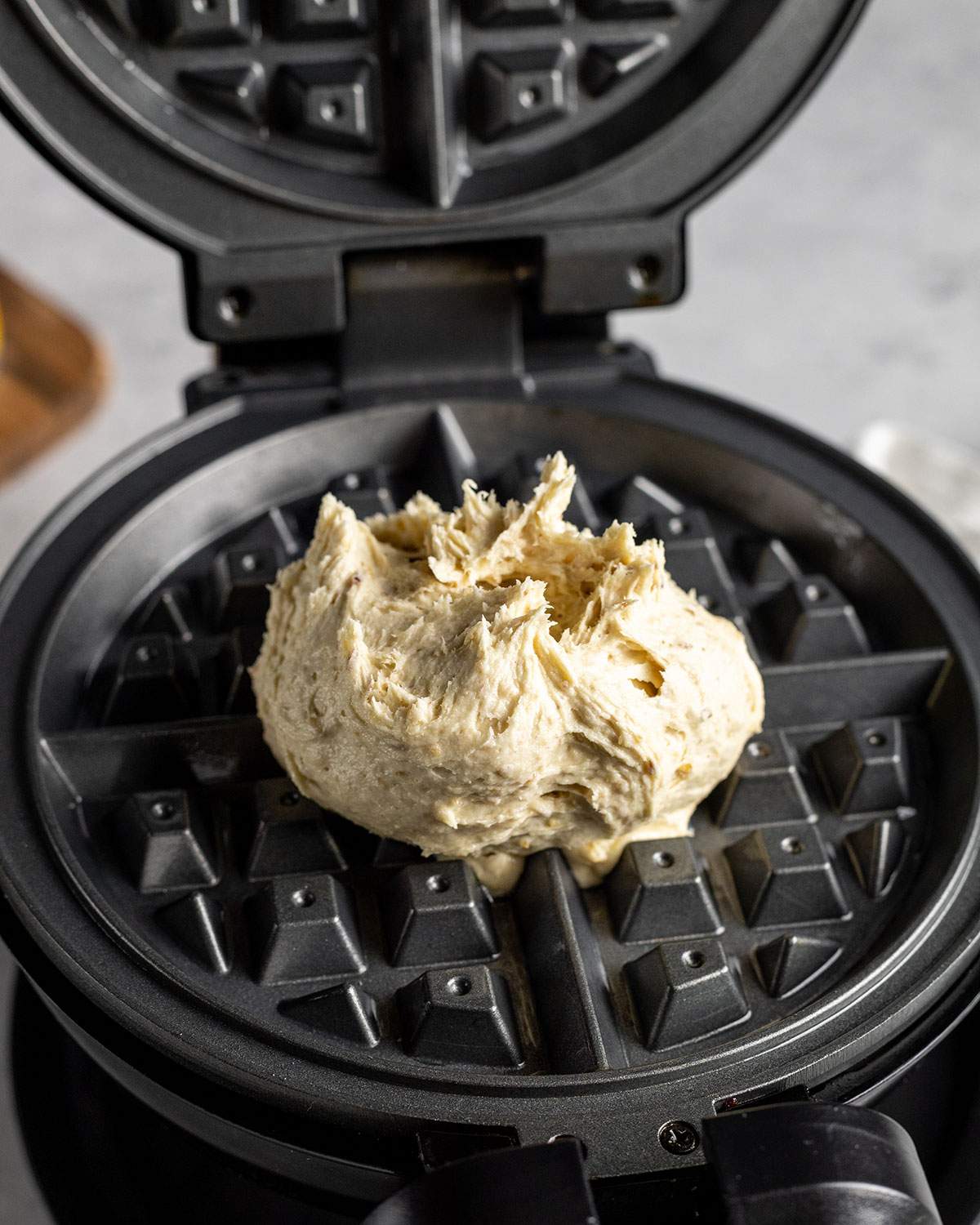 Place the batter into the centre of your waffle maker.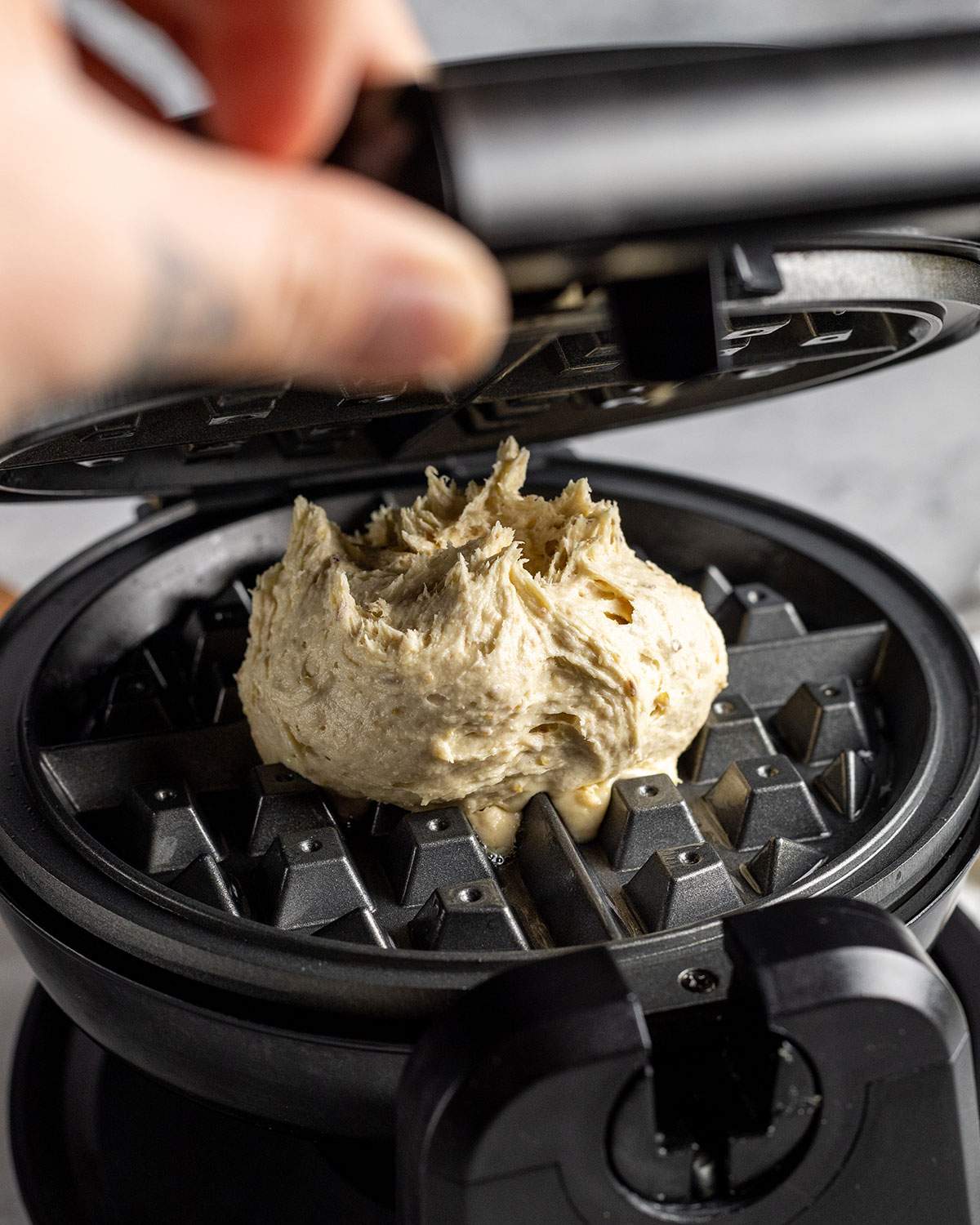 Close the waffle maker to cook the waffles.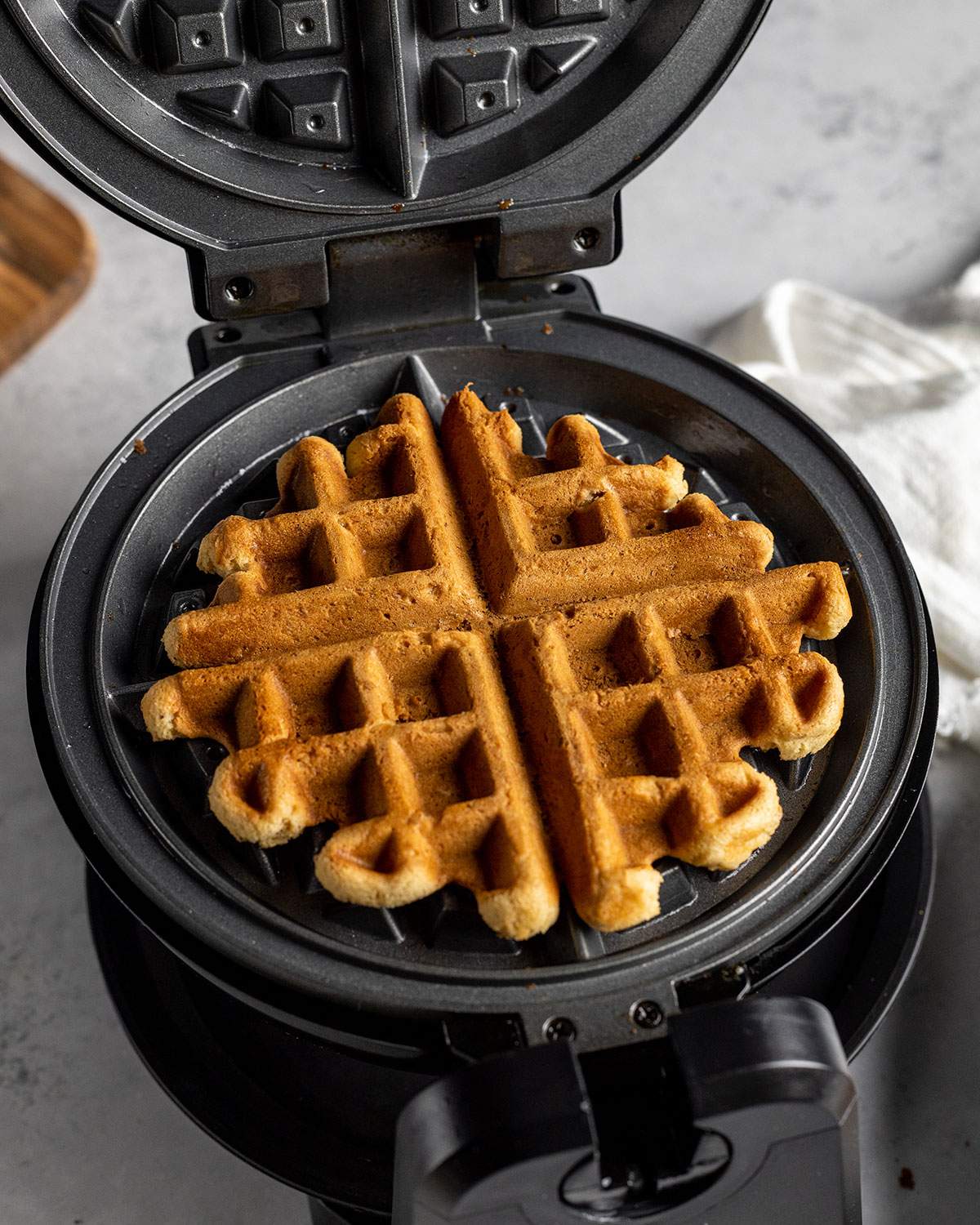 Once the waffle stops steaming, you can open the waffle maker and carefully remove the waffle.
Useful tip: The waffles will be soft whilst they're still in the hot waffle maker but they will harden and become crunchy as they cool down.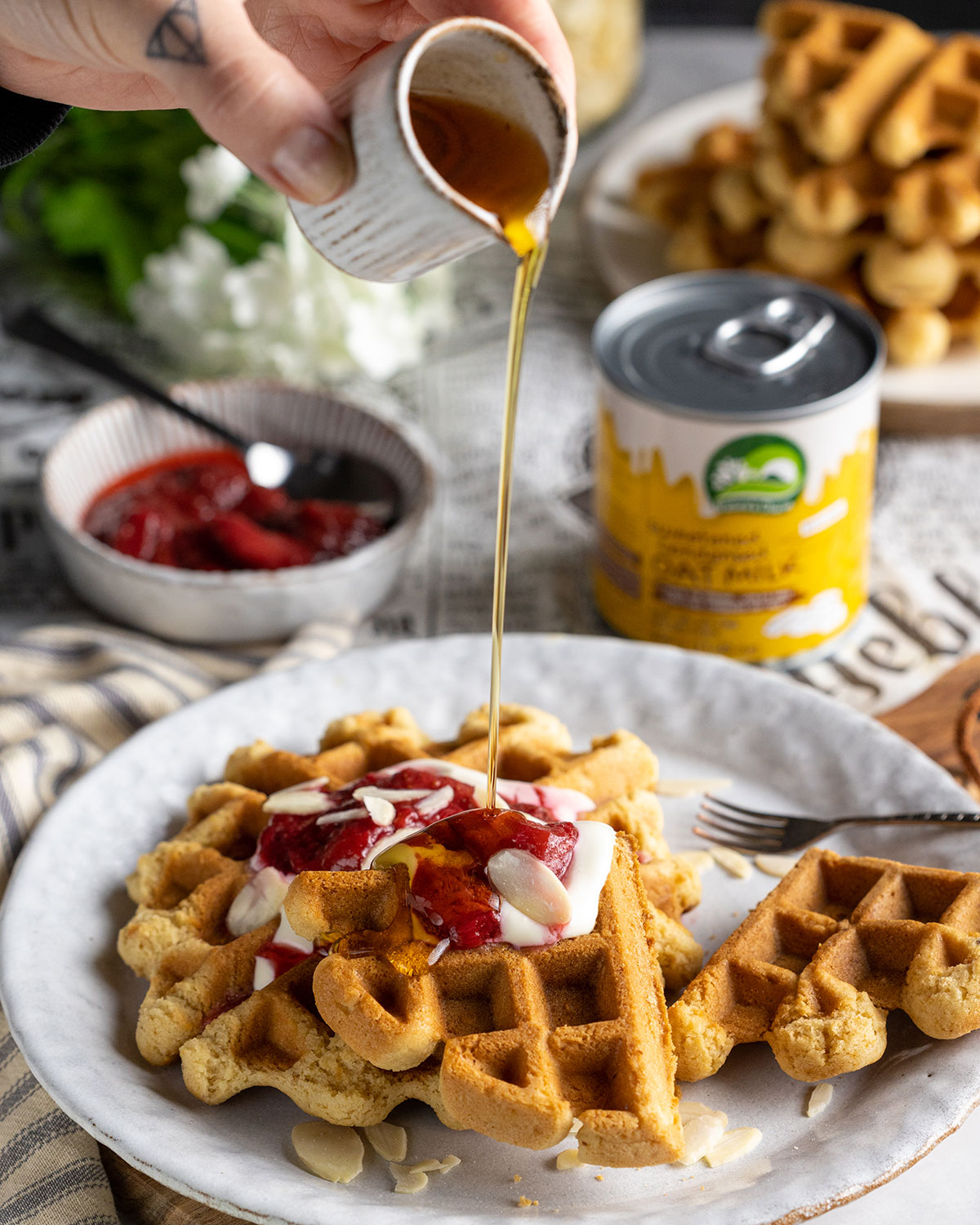 Serving
You can enjoy the waffles on their own or with your favorite waffle toppings! Some of my favorite ways to enjoy them is with a dollop of yogurt, stewed berries and a drizzle of maple syrup.
Here are a few more ideas for delicious waffle toppings:
vegan yogurt - I like to whip it up with a little vanilla protein powder
nuts and seeds - for a tasty crunch
a drizzle of nut butter - heat it up to make it super melty and easier to drizzle
maple syrup - or agave nectar. Vegan honey is also fantastic!
caramelized fruits - bananas and peaches are simply delicious
vegan caramel - a drizzle of caramel is divine on top!
dairy-free ice cream
whipped coconut cream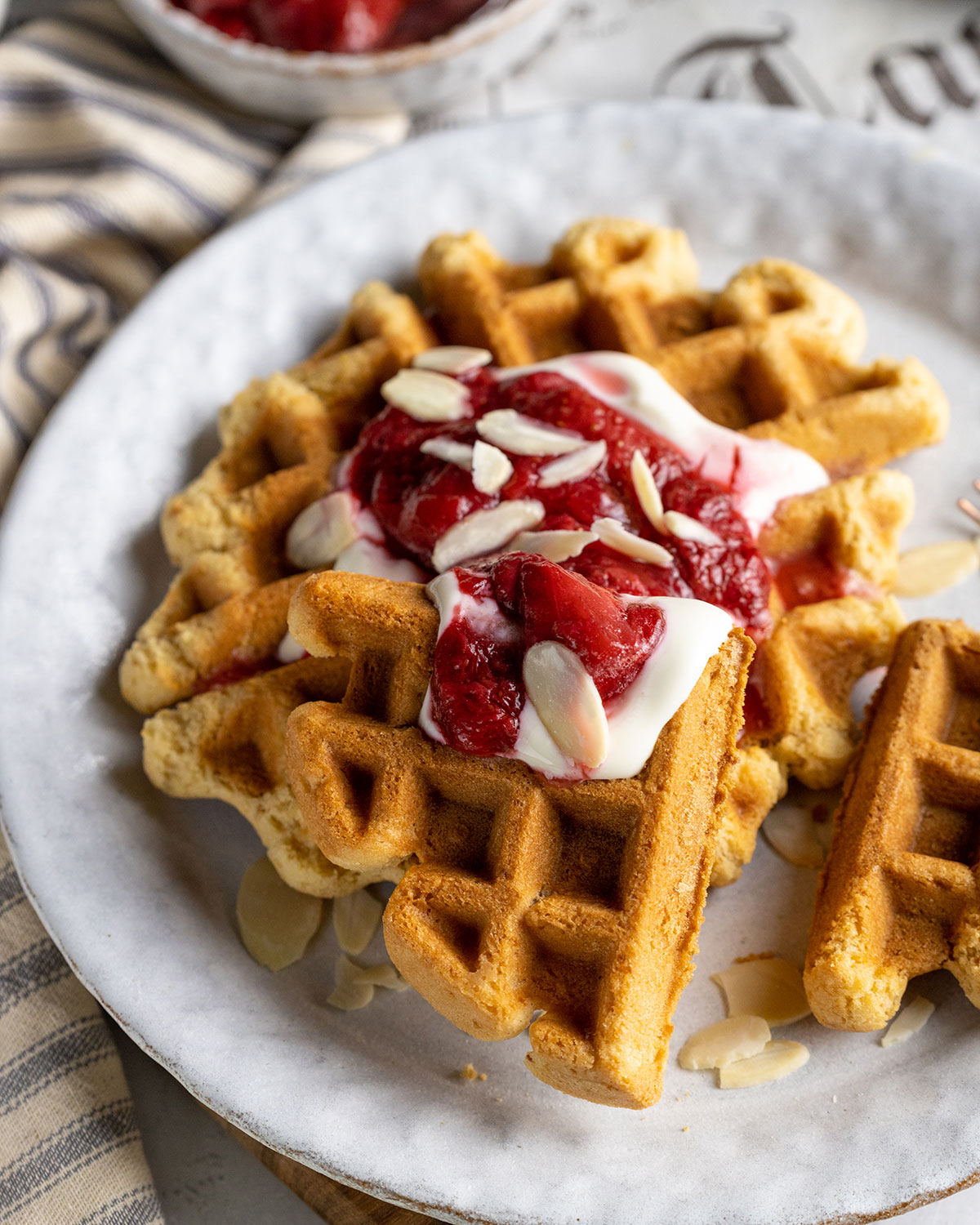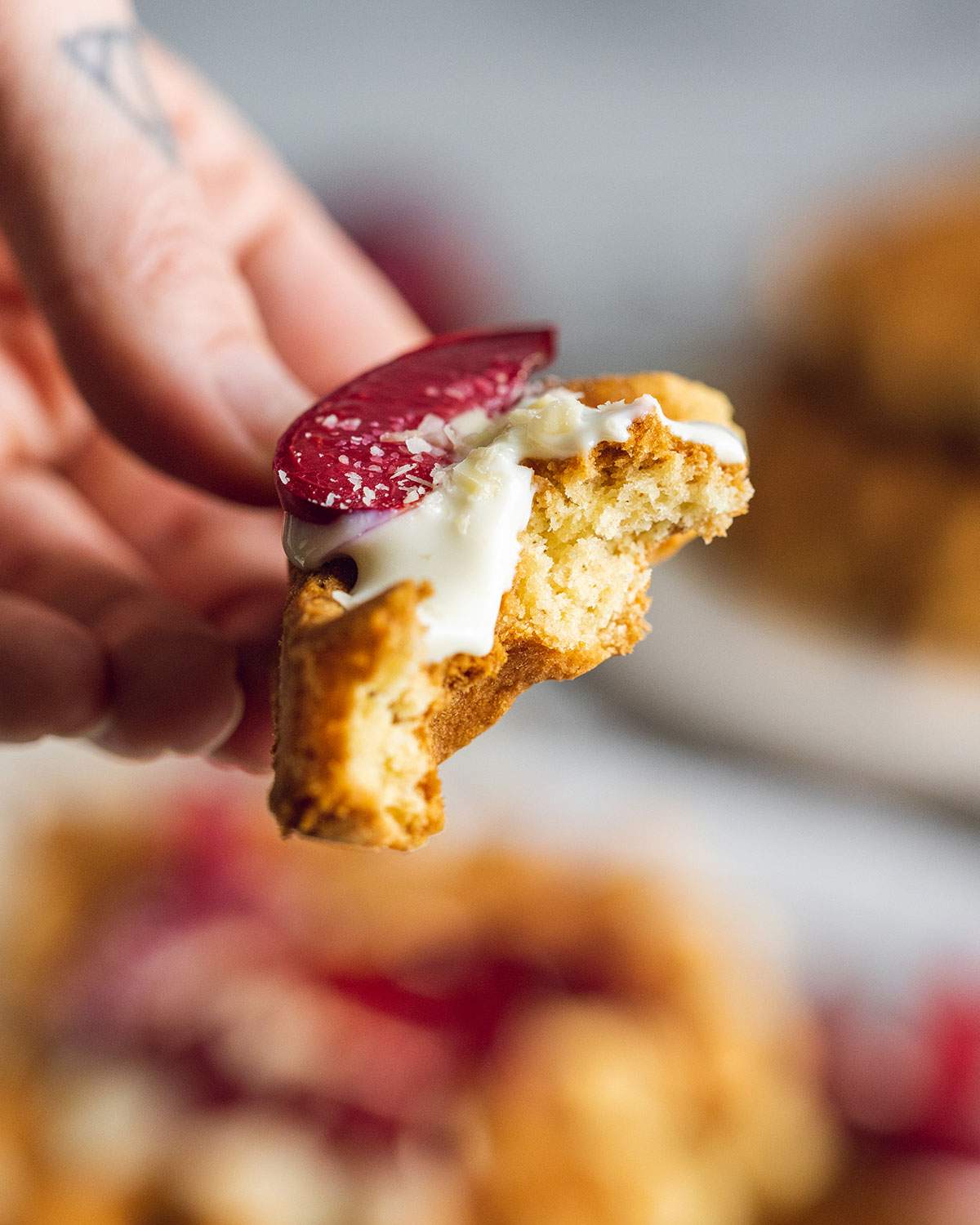 Storage
The waffles are best enjoyed fresh as they become dry over time, but they are still enjoyable for up to 3 days if stored in an air-tight container for up to 3 days.
Reheating the waffles
I recommend reheating the waffles for 1 minute in a toaster or in a non-stick pan.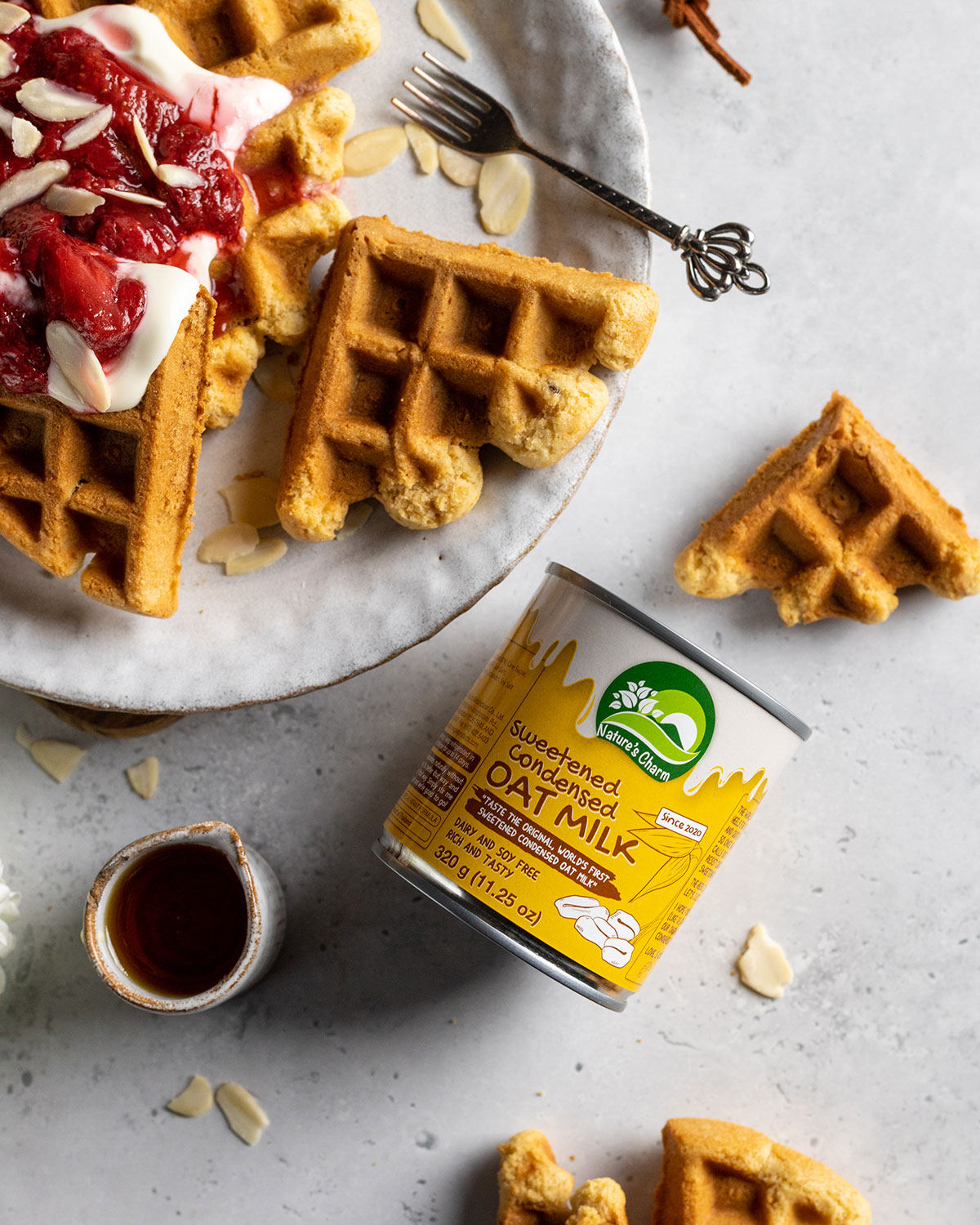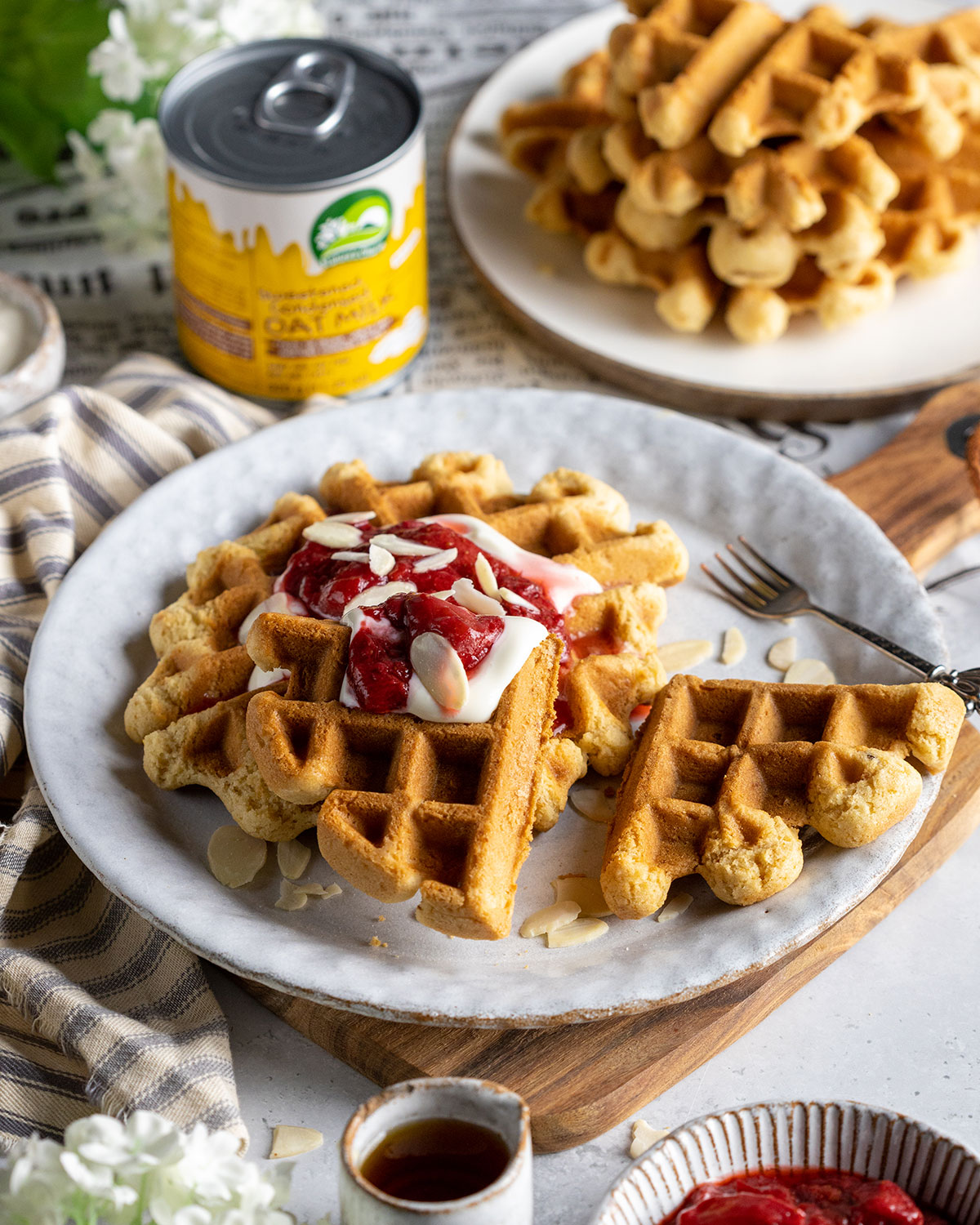 Substitutions
In case you don't have everything to hand, here a few ideas and notes for possible substitutions:
Condensed milk - you can swap the condensed oat milk for condensed coconut milk. They are just as delicious with a coconut note!
Flour - you can replace the all-purpose flour with a gluten-free baking mix
Vegan butter - swap for vegan margerine
Related Recipes
📌 If you love Pinterest you can pin any of the images to your boards!
Condensed Milk Waffles (Vegan)
Crispy condensed milk waffles with a delicious note of caramel! These are the perfect treat and a delicious dessert served with fruit on top.
Equipment
1 waffle maker

1 large mixing bowl

1 electric hand mixer
Ingredients
3

tbsp

flaxseeds

milled

water

2/3

cups

vegan butter (150 g)

e.g. Flora Unsalted

1

cup

sweetened condensed milk (vegan) (300 g)

I used Nature's Charm

3

tbsp

plant milk (45 ml)

e.g. soya or oat milk

2.5

cups

all-purpose flour (300 g)

1.5

tsp

baking powder

1

pinch

salt

coconut oil

for greasing (optional)
Instructions
Start by preheating your waffle maker and lightly grease with a little coconut oil to prevent the waffles from sticking.

In a small bowl, combine the milled flaxseeds with the water. Give them a brief stir, then set them aside to soak for 10 minutes. The flaxseeds should get thick and gloopy. If they are not there yet after 10 minutes, wait a little longer.

In a mixing bowl, beat the vegan butter using an electric hand mixer until creamy, then blend in the flax eggs.

Slowly pour in the vegan condensed milk and mix, then add in the plant milk.

In a separate bowl, sift the flour, baking powder and salt to avoid any big lumps.

Slowly sprinkle the flour mix into the wet ingredients and mix until well combined.

With a large spoon or ladle portion the waffle batter into the waffle maker. Make sure to leave some space around the edges as waffles tend to spread out. It's best to only add a little for the first waffle, then adjust for the next one to get an idea of how much you can add to your waffle maker, as every device can be a little different.

Bake the waffles in the waffle maker for a few minutes until cooked and golden. See the notes below regarding the baking time and some tips and tricks to make sure your waffles are cooked all the way through. The waffle should be soft whilst warm, but will become crispy as it cools down.

Repeat until the batter is used up and enjoy your waffles topped with vegan yogurt or cream and fresh fruit.
Notes
Cooking time -

The time might vary depending on your device but it's best not to open the device too early as the waffles could otherwise fall apart. The best indicator is checking the steam coming from the waffle maker: there should be a generous amount of steam coming from the waffle in the first 1-2 minutes as the liquid evaporates as it cooks. Once that steam reduces drastically, your waffle is ready. Make sure you can see the difference between steam and smoke and don't overcook them or they will be too tough, burnt and dry.
Latest Recipes
*Disclosure: This page may contain affiliate links and sponsored links that earn me a small commission, at no additional cost to you. You can find more information in my Privacy Policy.
 © Romy London / Romina Callwitz | All images and content are copyright protected. Please do not use my images and content without permission. If you wish to re-publish any recipes or images, please get in touch via email. Thanks for your support!