These wonderfully fluffy Vegan Buttermilk Pancakes will let your breakfast dreams come true - and I'm speaking from experience!
Created completely without egg this vegan pancake recipe uses only simple pantry ingredients and a simple hack that makes the pancakes so super soft and fluffy.
This recipe is:
100% vegan
optionally gluten free
super fluffy
delicious and filling
perfect for your Sunday brunch!
freezer-friendly
super tasty
made without eggs
easy to make at home
versatile as you can add your favorite toppings to the pancakes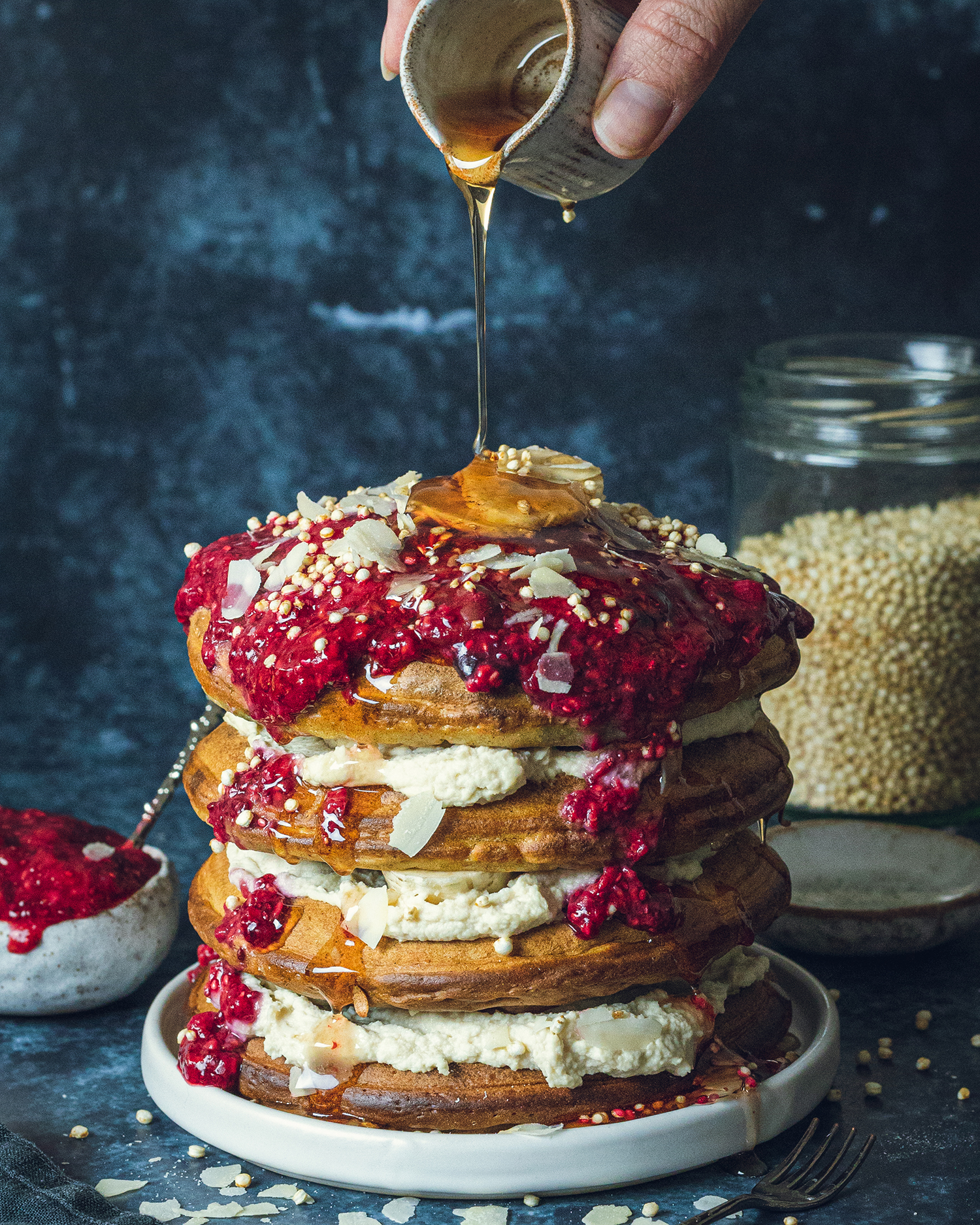 Pancakes are a firm favorite for me when it comes to weekend breakfasts. When I first created vegan pancakes, I really wanted to figure out how to make them super soft and fluffy without the use of eggs - and this recipe has been my go-to for years now!
With this recipe you can create perfectly fluffy pancakes at home - perfect for a weekend brunch (or any day of the week, let's be honest).
Jump to:
Ingredients and Notes
Vegan Buttermilk - This is created by combining soy milk (or another milk alternative like oat milk) with apple cider vinegar. Simply combine, stir and set aside to curdle for at least 10 minutes.
Vegan Yogurt - The perfect. ingredient to firstly replace the use of any eggs in this pancake recipe and secondly to help make your stack extra fluffy. Use a plain version!
Maple syrup - To add some delicious sweetness to your vegan buttermilk pancakes! Alternatively, you can use agave, fruit syrups or a vegan honey alternative. You can also replace it with sugar or leave it out completely if you'd like to keep your pancakes low sugar.
Baking powder and baking soda - as there's no egg in this recipe, the baking powder and soda will help your pancakes rise and become extra soft and fluffy!
Vanilla powder - I prefer using vanilla powder, but you can replace the powder with extract as well. Per 1/4 tsp powder, simply use 2 tsp extract instead.
Cinnamon - my favorite spice! The cinnamon will give your pancakes a wonderfully sweet flavour and make your house smell fantastic!
Flour - I use all-purpose flour, but you can easily make these gluten-free by swapping it out for a gluten-free flour mix.
To grease the pan, I like to use coconut oil when making sweet pancakes. The flavor fits perfectly! Alternatively, you can use a neutral flavour oil, such as rapeseed or vegan butter or margarine.
Equipment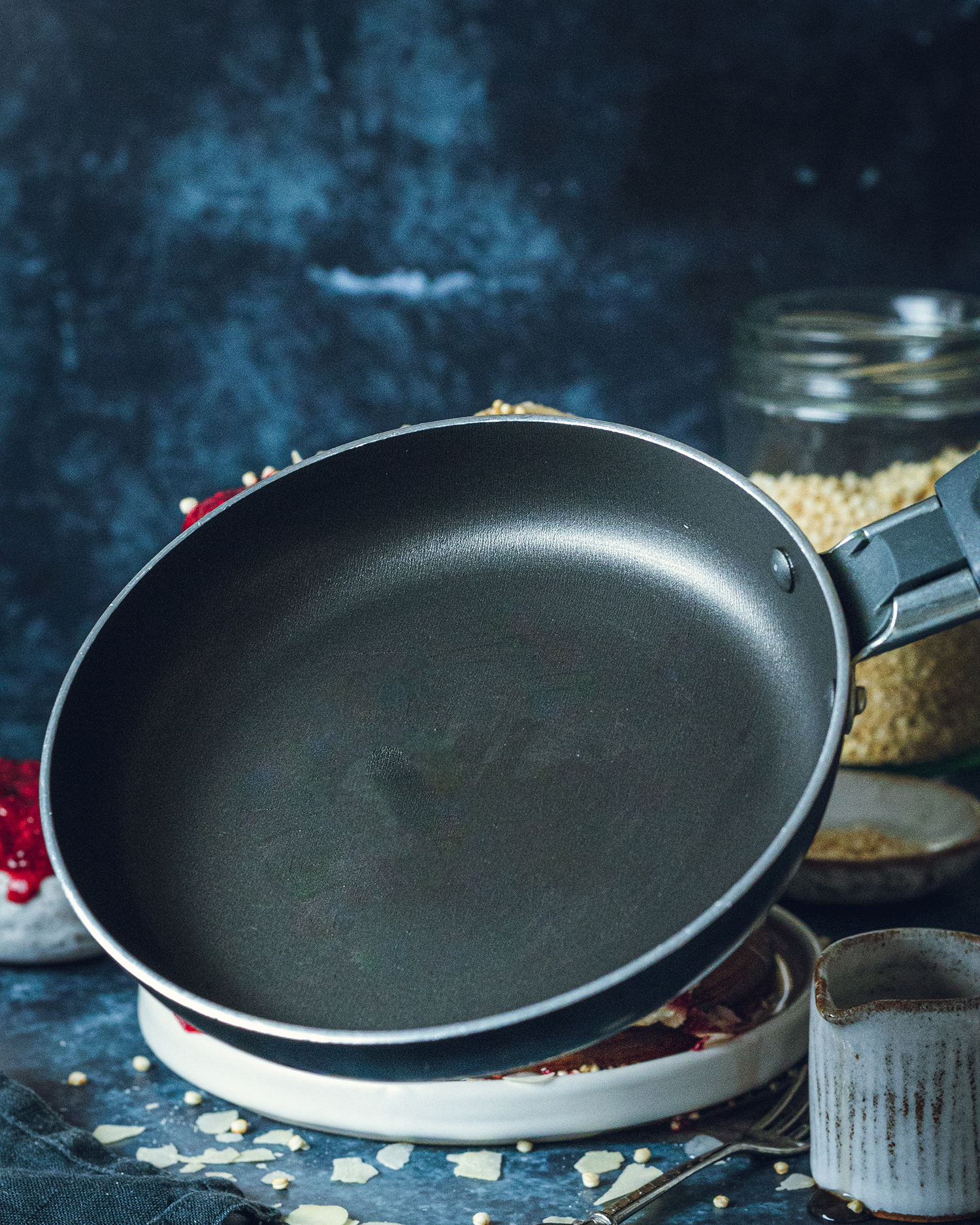 How to make vegan pancakes fluffy?
The secret to making fluffy vegan pancakes is in the ingredients.
For the perfectly soft and fluffy vegan pancakes, I add vinegar, baking soda and baking powder to my pancake batter. The vinegar - on this occasion apple cider vinegar - and plant milk are combined in the vegan buttermilk mix. The baking soda and baking powder are blended into the dry ingredients.
Once the dry ingredients are combined with the wet the vinegar/baking soda combination is going to start working and creates am airy, fluffy and bubbly vegan pancakes batter, which is key to creating fluffy pancakes.
Instructions (Step-by-Step)
These fluffy pancakes are easily made in just a few steps:
Step 1 - In a large bowl, combine all dry ingredients.
Step 2 - In a separate bowl or jug, mix the plant milk and vinegar and set aside for 10 minutes to curdle. This is our vegan buttermilk. Once curdled, mix in the rest of the wet ingredients.
Step 3 - Preheat small pan on the stove. Lightly grease it to prevent sticking.
Step 4 - Pour the curdled plant milk into the wet ingredients and immediately whisk to combine into a smooth batter.
Step 5 - Use a ladle or a large spoon to portion the pancake batter into the small pan. It's important not to move the pan too much whilst the pancake is settling.
Step 6 - Once the edge of the pancake appear firm, you can carefully flip the pancake and repeat on the second side. Cook until both sides are golden and the pancake firm throughout.
Extra tip:
To make creating a batch of pancakes quicker, I like to use 2 pans over medium heat: one small "egg" pan and a larger non-stick pan that could hold multiple pancakes.
You can first pour the batter into the small pan and once it holds its shape, simply flip the pancake into the larger pan to cook the second side. That way, you can work on multiple pancakes at a time.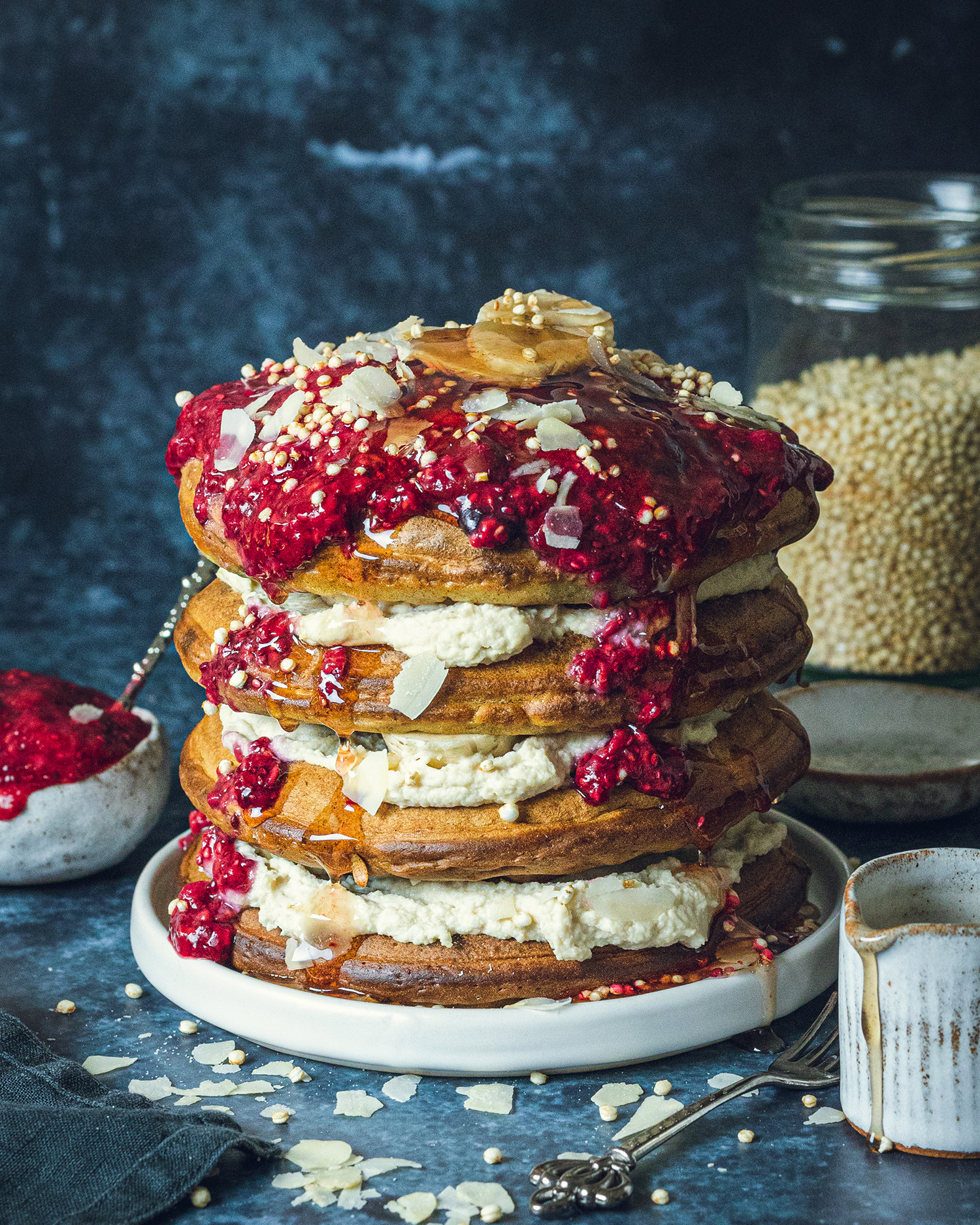 Serving and Toppings
Fruit or chia jam - My favorite pancake toppings include fresh fruit! At the current time (creating this recipe during the Coronavirus!) it is however not always easy to get my hands on fresh fruit (especially berries) and also recommended to only visit stores for emergency supplies, so instead of my usual fresh berries, I've topped my pancakes with an easy homemade chia jam created from frozen berries and chia seeds - yum!
Protein yogurt - I love adding layers of protein yoghurt in between my stacked pancakes. This is super simple to whip up: Simply combine. 1 scoop of vegan vanilla protein with 1 cup vegan yoghurt. So delicious and adding some extra protein to the meal. You can easily adjust this to chocolate cream by adding a vegan chocolate protein & 1/2 tsp cacao powder or adding in pink pitaya powder or spirulina for other exciting colours.
Nuts & seeds - A combination of different textures is always important for me when I create my recipes, so I love sprinkling a little extra crunch on top of soft and smooth recipes, such as this one. Flaked almonds, cacao nibs and puffed quinoa are some of my favorites. Simply use your favorite nuts & seeds or also some granola to add a delicious crunch to your pancakes!
Maple syrup - A generous drizzle of maple syrup is my absolute favorite way to finish off a pancake stack! If you don't have maple to hand, you can also use, agave, fruit syrups or a vegan honey alternative.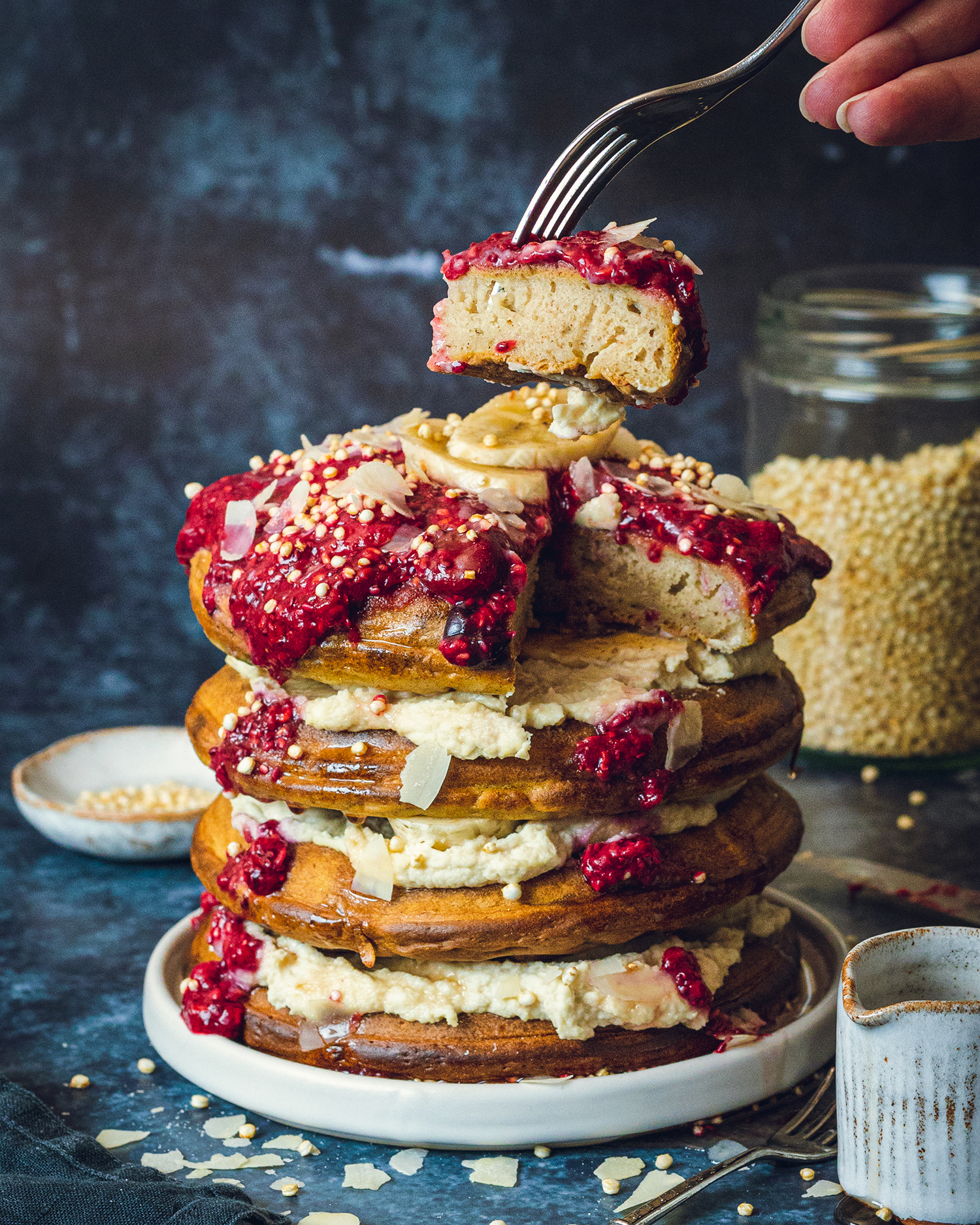 Storage
These vegan buttermilk pancakes are most delicious when they are served right away but you can also prepare them in advance and freeze them for future use. I love to do this regularly when I want to enjoy pancakes for breakfast during the week without having to create them from scratch on a midweek morning.
Freezing
To freeze the pancakes, I recommend freezing them individually - or simply use a piece of parchment in between the pancakes.
For best results, freeze them right after they have cooled down. That way they will remain fresh and soft, also after de-frosting.
You can store them in freezer bags or a freezer container - to avoid frostbite - for up to 3 months.
Defrosting and Reheating
Defrost the pancakes on the kitchen counter for roughly 30 minutes* after removing them from the freezer. *The time might vary depending on the room temperature and thickness of the pancakes.
To reheat, briefly place them into a non-stick pan and heat each side for 1-2 minutes on a low/medium heat. You don't want to cook or brown them further, just reheat, so keep a close eye on them.
You can also reheat them in the toaster - depending on their size! This is something I love to do when I need to be quick in the morning. The pancake edges tend to get a little dry and crispy in the toaster which I really enjoy!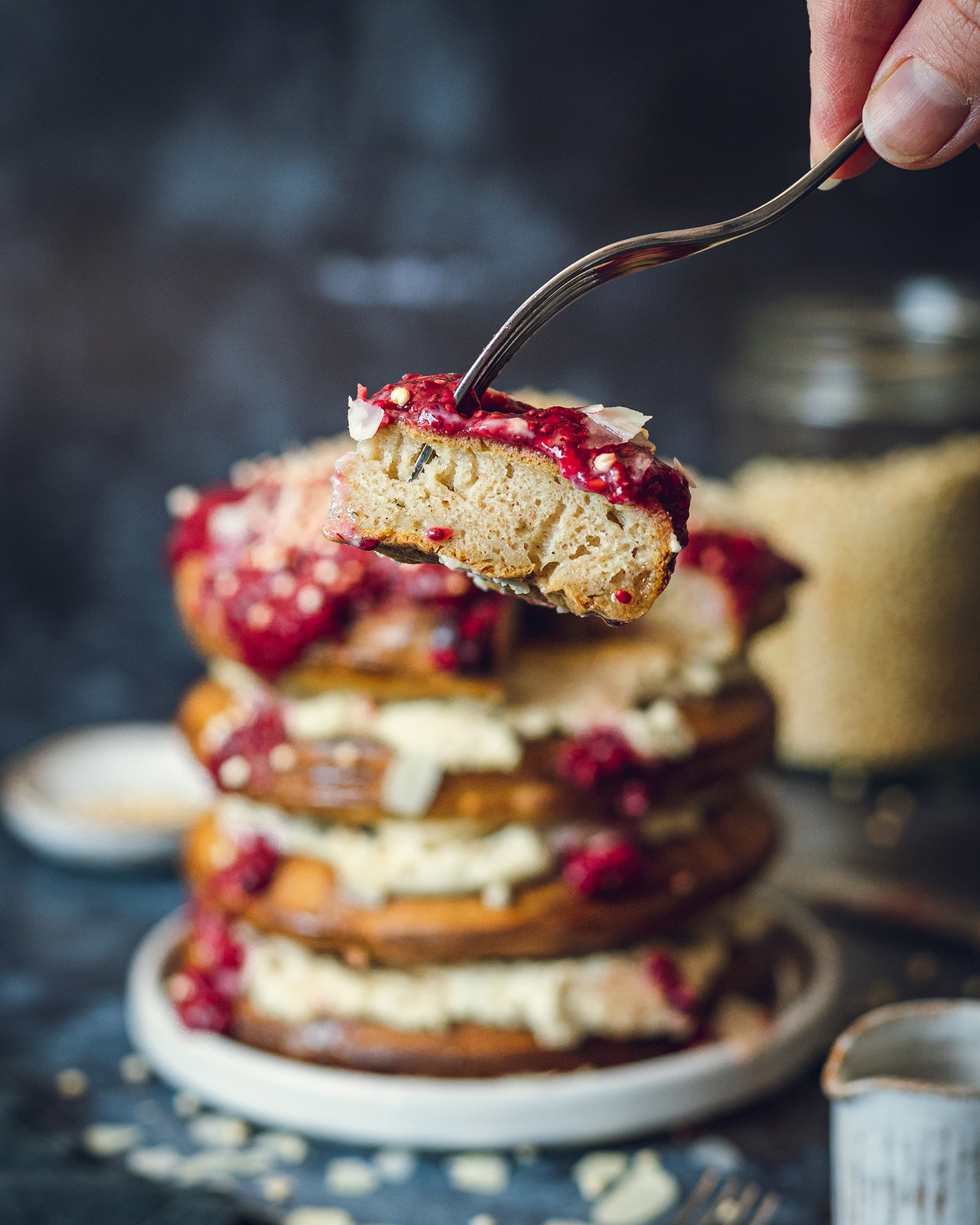 Variations
Gluten Free - To make a gluten-free version of these vegan buttermilk pancakes, simply swap out the gluten flour for a gluten-free alternative. It's important to note that nut-based flours, such as almond or coconut flour will not make a good flour substitute for this recipe. Use a ready-made gluten-free flour blend instead for these pancakes to work out.
Soya Free - If you're allergic to soy, then don't worry. You can easily swap out the soy milk I've utilised for your favorite plant milk. I'd recommend using oat, almond or coconut.
No Vinegar - replace it with the juice of 1/2 lemon. This will however add a lemony flavour to your pancakes, but it's very delicious & a great replacement!
Vanilla Extract - If you're using vanilla extract instead of the vanilla powder then replace it with 2 tsp extract instead of 1/4 tsp powder.
More breakfast recipes you should try
There are a bunch of delicious vegan breakfast recipes on the blog, so if you need some inspiration for your next morning meal, try my Mini Pancakes (Silver Dollar Pancakes), or my Pumpkin Spice Porridge, or if you're feeling more like something savory, then try my Vegan Egg McMuffin or a Vegan Shakshuka.
Love Pancakes? Here are a few more vegan pancake recipes you might enjoy:
📌 If you love Pinterest you can pin any of the images to your boards!
Print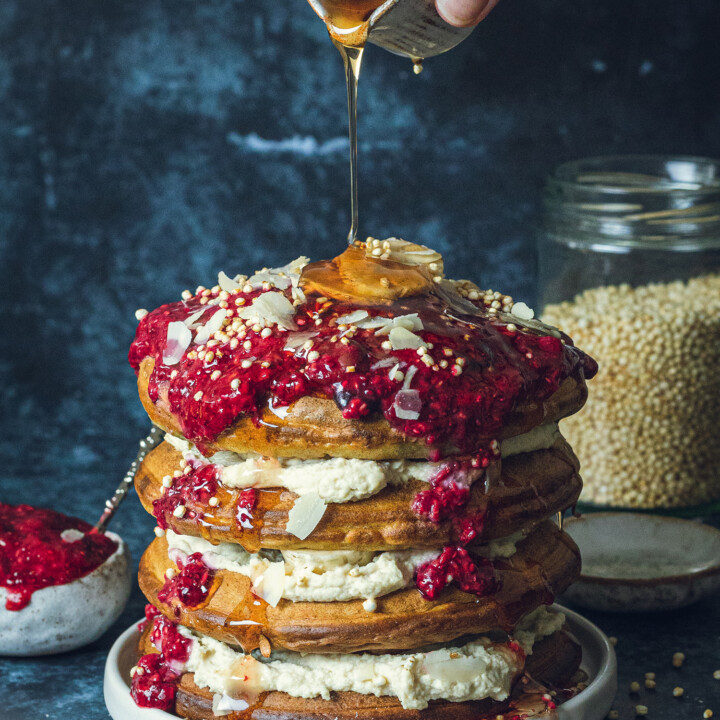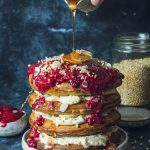 Vegan Buttermilk Pancakes
Author:

Prep Time:

15

Cook Time:

15

Total Time:

30 minutes

Yield:

2

1

x

Category:

Pancake

Method:

Stovetop

Cuisine:

British

Diet:

Vegan
---
Description
These Vegan Buttermilk Pancakes are wonderfully fluffy and the perfect vegan pancakes for weekend brunches and so easy to make at home!
---
200

ml

soya milk

1 tbsp

apple cider vinegar (I used Mr Organic)

2 tbsp

plain vegan yogurt (I used Nush)

2 tbsp

maple syrup

1 tsp

baking powder

1 tsp

baking soda

1/4 tsp

vanilla powder (or

2 tsp

vanilla extract)
pinch of salt

1/2 tsp

cinnamon

120

g

flour
coconut oil for greasing
---
Instructions
Grease and preheat 2 pans on your stove over medium heat: one small "egg" pan

and one larger non-stick pan.

In a jug combine your milk and apple cider vinegar and place them aside for 10 minutes to curdle. After, simply add in the maple syrup and vegan yogurt and whisk. 

In a large bowl mix your dry ingredients (flour, baking powder, baking soda, vanilla powder, salt, cinnamon).

Combine all ingredients in the large bowl and let the batter rest for a few minutes.
Start by spooning your mix into the small pan until it's about 1-2 cm thick. Don't touch it and let is rest for about 4-5 minutes or until your edges are starting to firm up. Be very quick when you flip the pancake into the larger crepe pan and repeat until the batter is used up.
This recipe should make 2 thick American style vegan buttermilk pancakes (= 1 portion). If you're looking to make more, simply scale up the recipe.
---
Keywords: vegan buttermilk pancakes, buttermilk pancakes, fluffy vegan pancakes, how to make fluffy vegan pancakes, vegan American pancakes
Latest Recipes
Looking for more pancake recipes? Give these ones a go!
*Disclosure: This page may contain affiliate links and sponsored links that earn me a small commission, at no additional cost to you. You can find more information in my Privacy Policy.
 © Romy London / Romina Callwitz | All images and content are copyright protected. Please do not use my images and content without permission. If you wish to re-publish any recipes or images, please get in touch via email. Thanks for your support!