Vegan Sesame Noodles Recipe - this simple and super tasty dish ticks all the boxes as it's high in protein and easy to make!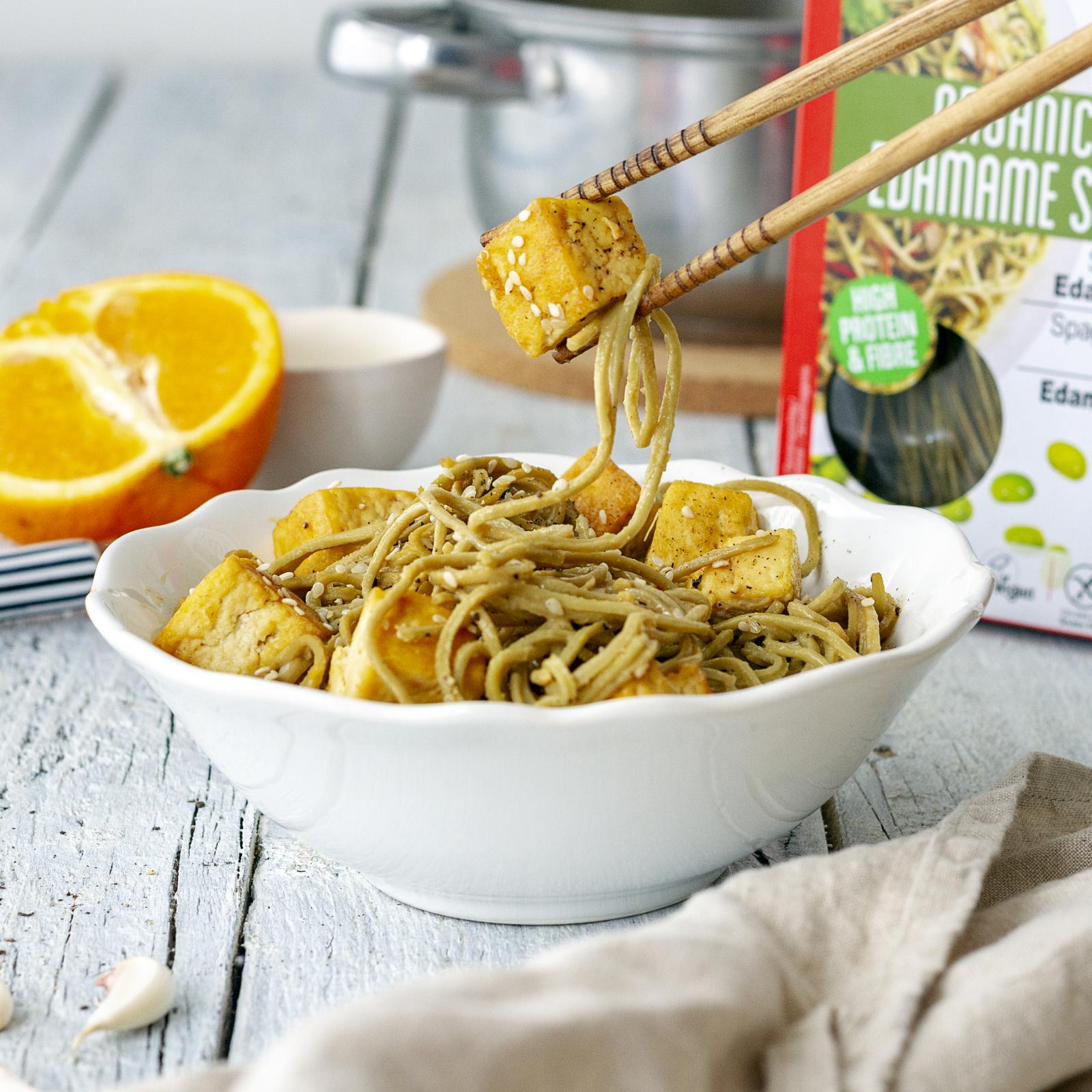 Vegan Sesame Noodles
What makes this delicious Vegan Sesame Noodles Recipe even more special is that it takes less than 20 minutes from start to finish! Magic, right?! I bet this will be one of your favourite noodle recipes before too long!
As noodles I've opted for Edamame Spaghetti in this case - they're perfect as they cook really quickly (3-5 minutes) and also bring a great portion of vegan protein into this dish. They have a slight flavour to them - considering they are made from edamame beans and not wheat - and it perfectly compliments the flavour of this zesty sesame sauce.
The base of the dish consists of noodles and tofu and I like to use toasted sesame oil in the preparation process for both of them, as it simply brings out the perfect umami flavour in this dish.
For the sauce, you might spot an unusual, yet simple ingredient: orange juice! It works a treat with the rest of the ingredients and adds a delicious, zesty-sweet flavour to the sauce, that's not too overpowering. If you like your food to be on the spicy side, you can always add an extra punch to this dish by upping the amount of sriracha you're adding (I opted for 1/2 tsp as I'm a delicate flower).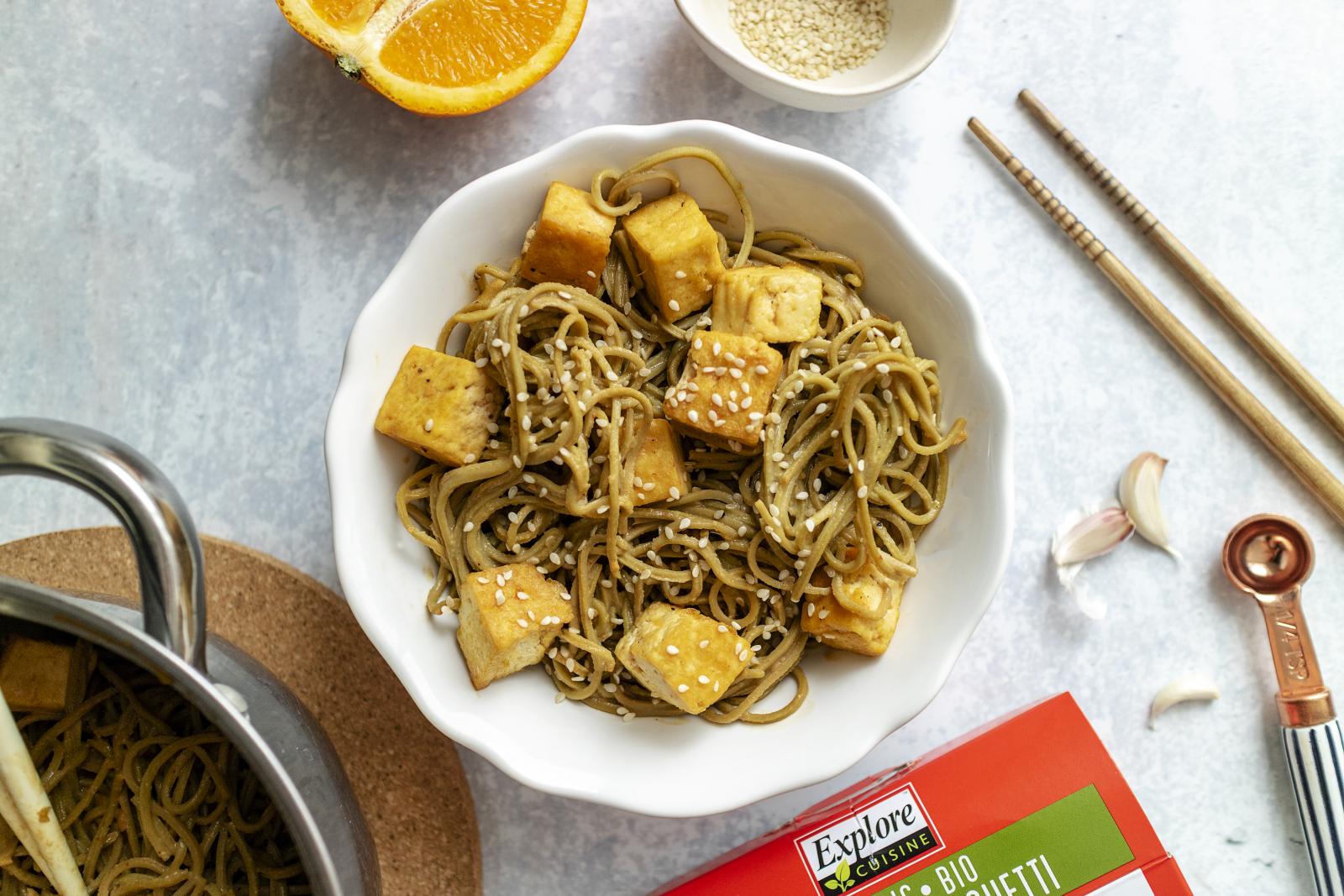 What you'll need to make this Vegan Sesame Noodles Recipe
Ingredients
For the noodles:
Salt
Toasted sesame oil
Tofu
Spring onions
Sesame seeds (optional)
For the sauce:
Garlic
Ginger root
Tahini
Sriracha
Apple cider vinegar
Orange juice (freshly squeezed or store-bought)
Soy sauce (light)
Pepper
Maple syrup or agave nectar
Peanut oil (optional)
Equipment
Instructions (Step-by-Step)
To begin, prepare your Edamame Spaghetti according to its instructions and boil in lightly salted water for 3-5 minutes. Once they're finished, add 1 tsp of sesame oil and set aside.
Next, get a medium-sized frying pan and add 1 Tbsp of sesame oil and fry your tofu until its golden on all sides. Once your tofu is cooked, put it to one side and you can make a start on your sauce.
Now, in your blender put in your chopped garlic and ginger, tahini, sriracha, vinegar, orange juice, soy sauce, pepper, syrup and peanut oil (optional). Blend all the ingredients together until you're left with a creamy sauce.
Toss your Edamame Spaghetti in the sauce before adding tofu and sprinkling your spring onions and sesame seeds.
And voila, you have a quick and easy vegan stir fry. I told you it was easy! 😉
Pro Tip: These simple sesame noodles actually taste fantastic both hot AND cold! So if you're in a rush or simply on-the-go, this dish is your best friend.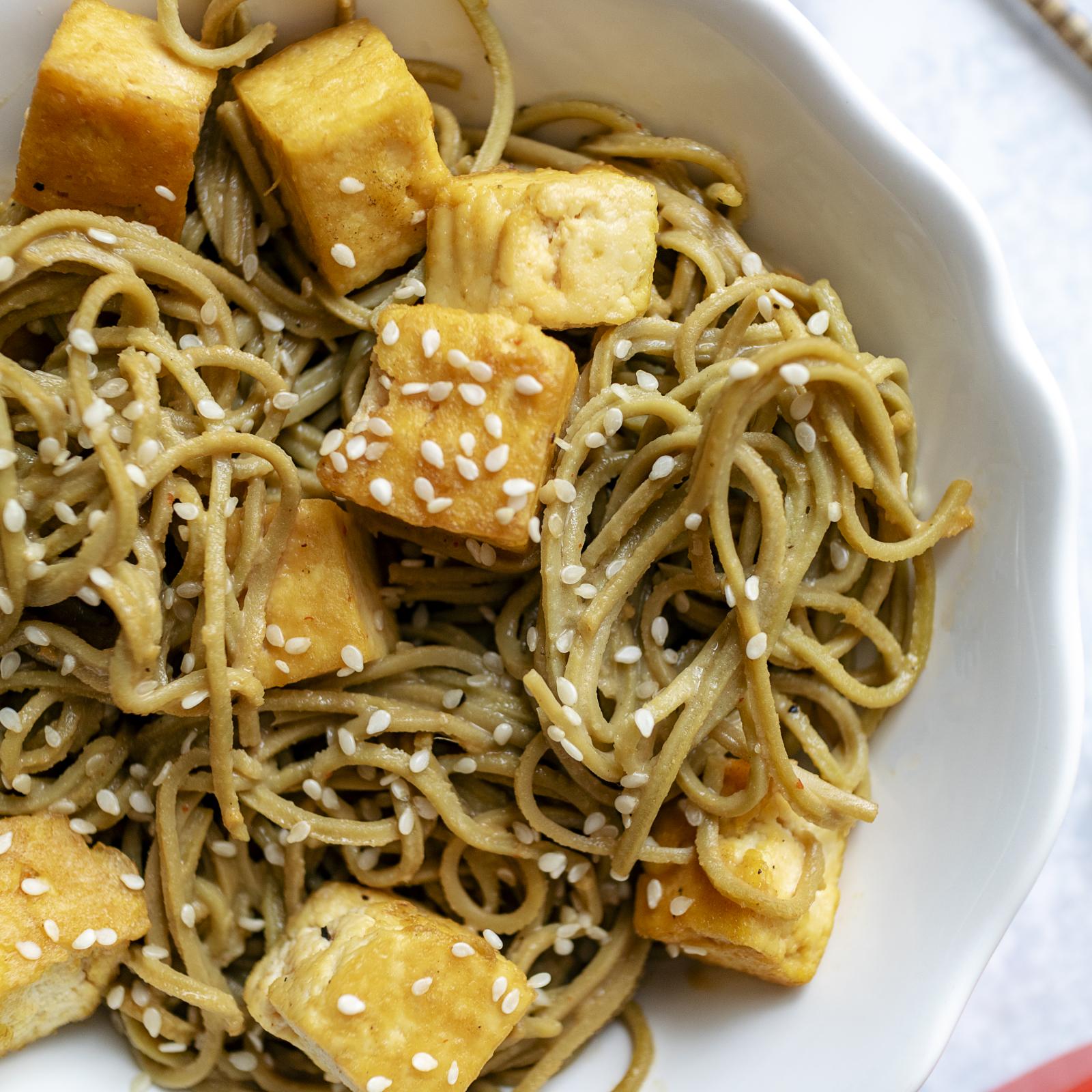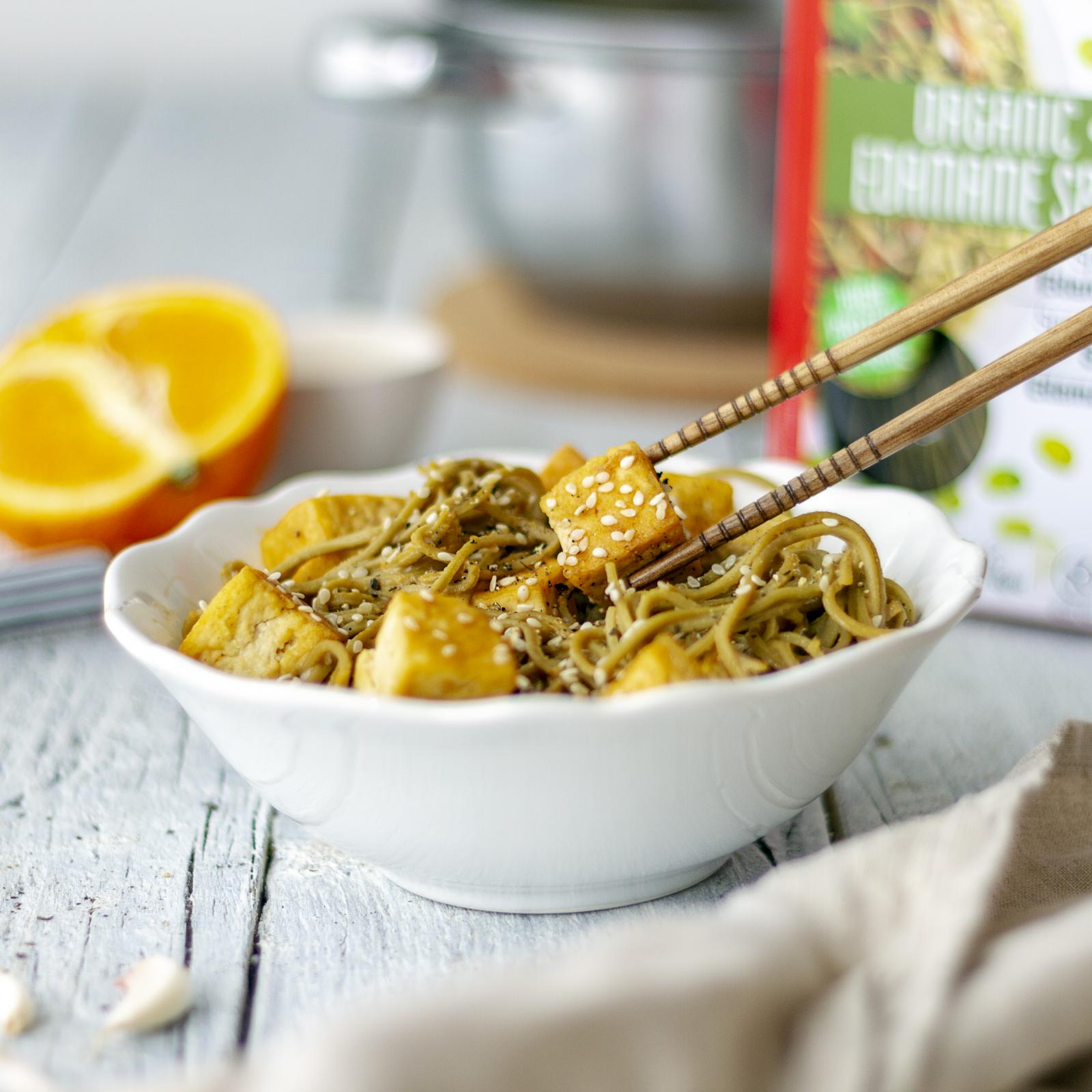 This recipe is:
vegan
high in protein
gluten free (opt for gluten free soy sauce!)
rich in fibre
easy to make
simple to create
delicious
more-ish
dairy free
NOTE: The amounts in the recipe card below calculate for 1 portion - if you're meal prepping or simply cooking for multiple hungry mouths simply scale up the ingredient list via the buttons on the right-hand side.
You might also enjoy these recipes:
If noodles are your thing, then definitely try my Vegan Peanut Noodles Recipe, this flavorful Vegan Black Bean Ramen or this easy Homemade Teriyaki Sauce to coat your noodles! 😍
📌 If you love Pinterest you can pin any of the images to your boards!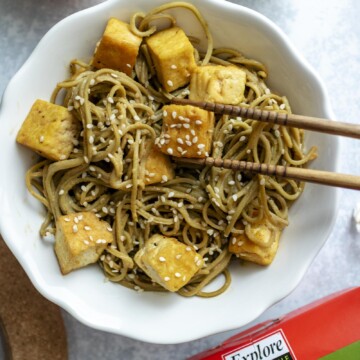 High Protein Sesame Noodles (Vegan)
These Sesame Noodles (Vegan + High Protein) are simply perfect for hot summer days as they are best served cold and super easy to prepare in just 15 minutes.
Equipment
1 saucepan

1 frying pan

1 food processor
Ingredients
100

g

edamame spaghetti

1

pinch

salt

1.5

tbsp

toasted sesame oil

200

g

extra firm tofu

drained and cubed

1

spring onion

finely chopped

1

tsp

sesame seeds

optional
For the sauce:
0.5

garlic clove

roasted

1/2

inch

fresh ginger

finely grated

1

tbsp

tahini

1

tsp

sriracha hot sauce

1

tbsp

apple cider vinegar

1

tbsp

orange juice

1

tbsp

light soy sauce

1/4

tsp

ground black pepper

1

tsp

maple syrup

1

tsp

peanut oil
Instructions
Start by preparing the Edamame Spaghetti according to the packaging instructions in lightly salted water (3-5 minutes). Drain and combine with 1 tsp of sesame oil, then set aside.

To a medium frying pan, add 1 Tbsp of sesame oil and fry the cubed tofu until golden on all sides. Set aside to cool.

Add the chopped garlic, peeled & chopped ginger root, tahini, sriracha, vinegar, orange juice, soy sauce, pepper, syrup and peanut oil (optional) to a food processor or blender and combine until a creamy sauce is created.

Combine the Edamame Spaghetti with the tofu and sauce and serve sprinkled with the spring onion & sesame seeds (optional).
Notes
This dish is best served cold - perfect for hot summer days - but if you prefer a warm dish, simply toss the Edamame Spaghetti, tofu & sauce in a hot pan and sprinkle the spring onions on top when serving.
The recipe makes 1 adult portion - if you're cooking for more than 1 person or batch cooking, simply double/triple/... the ingredients (there's a box at the top right of this recipe that easily calculates this for you!)
If you don't have fresh garlic or ginger to hand, you can replace them with the powdered versions, but the flavour will not be as fresh & intense.
The sriracha you can replace with your favourite hot sauce that you have to hand - and if you don't like it spicy, simply leave it out.
Looking for more simple vegan dinner recipes? Head to the dinner section on my blog or try one of the recipes below:
*Disclosure: This page may contain affiliate links and sponsored links that earn me a small commission, at no additional cost to you. You can find more information in my Privacy Policy.
 © Romy London / Romina Callwitz | All images and content are copyright protected. Please do not use my images and content without permission. If you wish to re-publish any recipes or images, please get in touch via email. Thanks for your support!