Deliciously succulent grilled vegan seitan chicken - perfect for a vegan BBQ, and also great pan-fried. Wonderful texture created with the flour washing method.
BBQ Grilled Seitan Chicken
This recipe is:
100% vegan
succulent
full of flavor
easy to make
wonderfully textured!
delicious to make on a BBQ
a great vegan BBQ option
simple to make and also great for seitan beginners
using the WTF (wash the flour) method
simply delicious!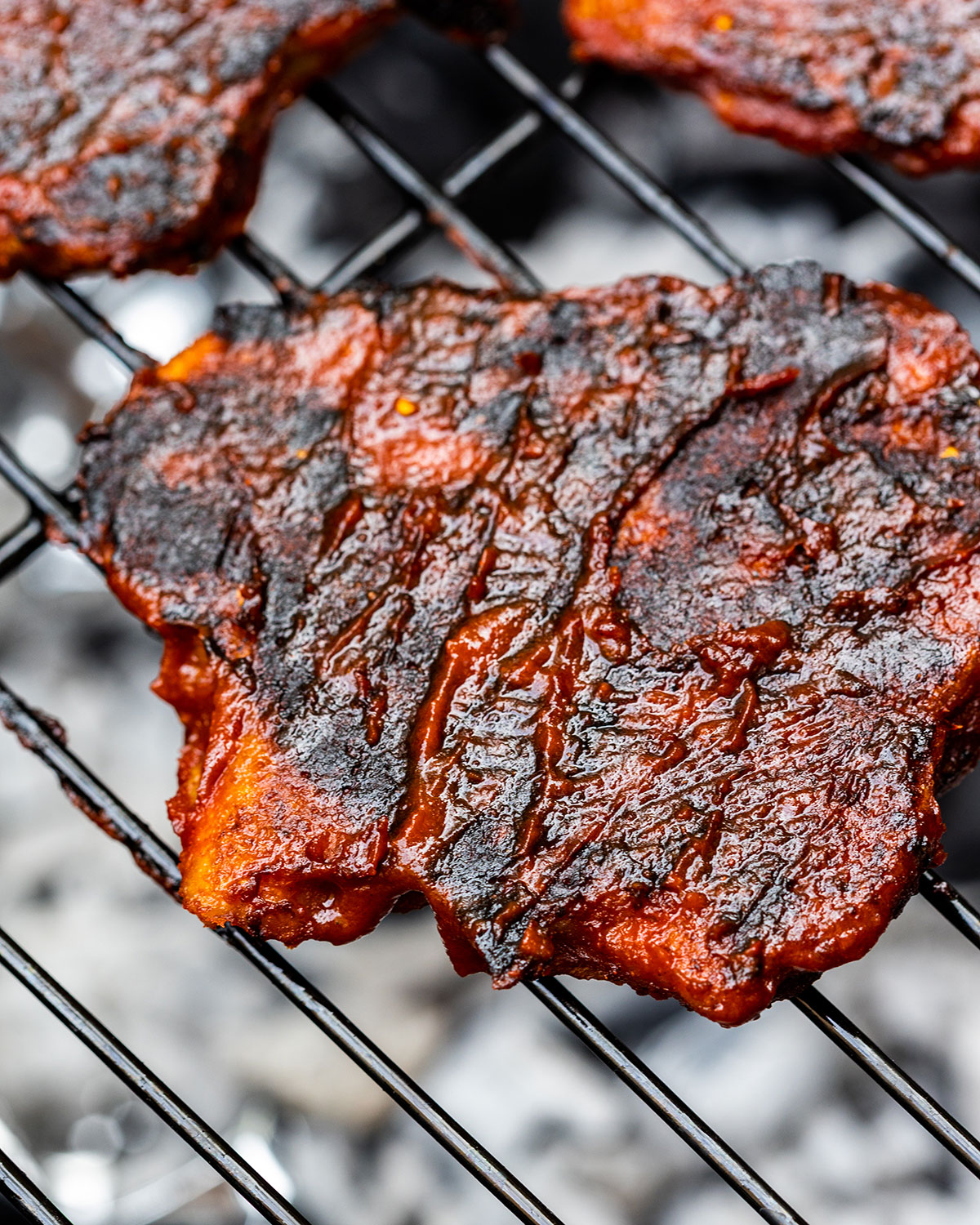 BBQ season is in full force and it's time to share a few of my favorite vegan BBQ recipes with you! This BBQ Grilled Seitan Chicken Recipe is definitely a must-have for your next BBQ party! It's created with a flour-washed seitan base, pan-seared and coated in a smokey tomato sauce, then grilled to perfection on the charcoal BBQ - simply divine! I love serving this vegan chicken seitan alongside delicious salads and flavorsome sauces, and if you're in a rush, don't you worry: It's just as delicious pan-fried!
What you'll need to make Grilled Seitan Chicken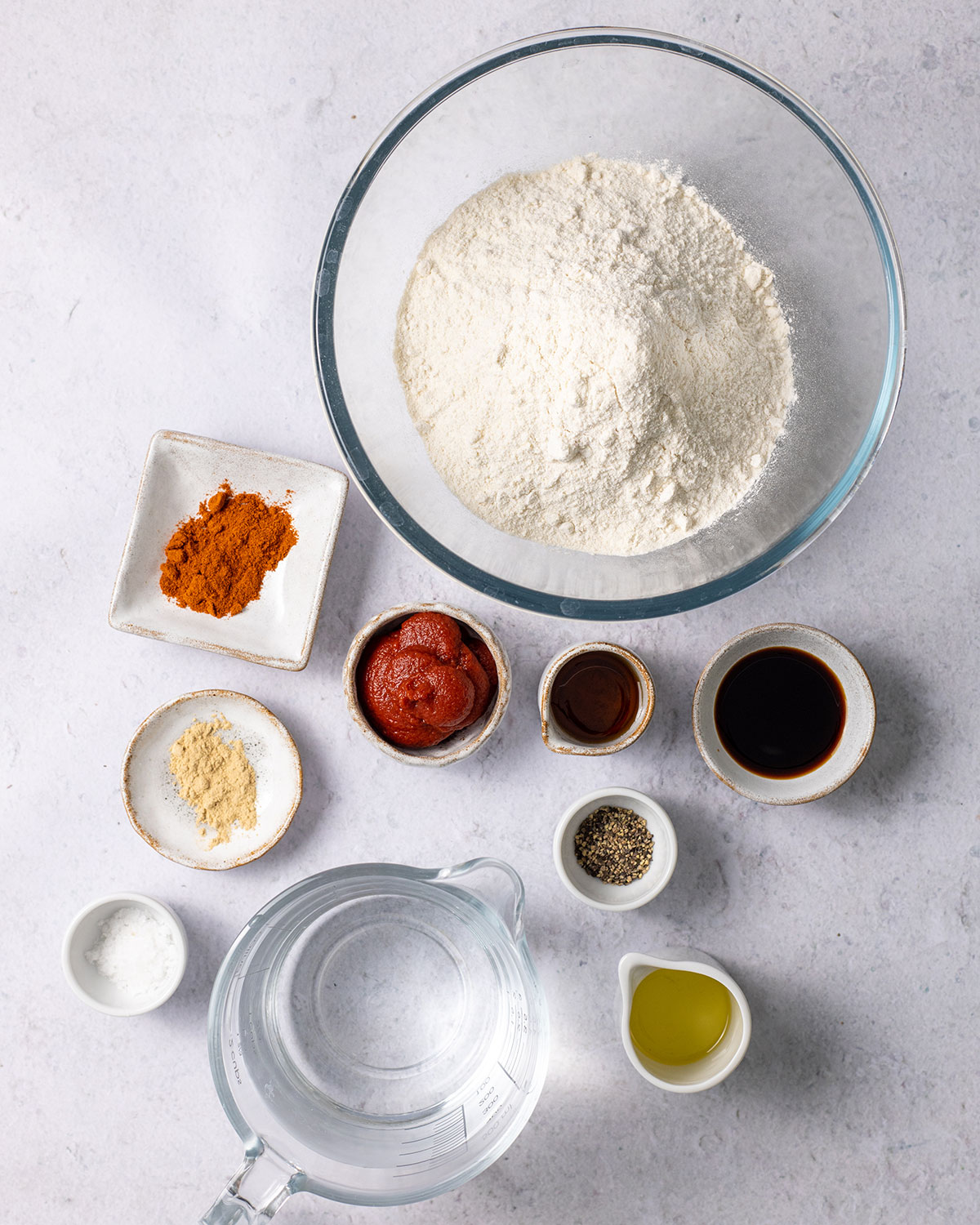 Ingredients
strong white bread flour (minimum 12% protein)
filtered water
oil for frying
smoked paprika
salt
For the sauce:
tomato paste
tamari soy sauce
maple syrup
olive oil
smoked paprika
fine salt
black pepper
Equipment
1 large mixing bowl
colander
food processor with dough hook (optional)
non-stick frying pan/skillet
barbecue or frying pan (see notes)
How to make Vegan Seitan Chicken from flour
In order to make delicious BBQ Seitan Chicken, there are a few different steps involved - they are all important to create the right texture for the seitan chicken recipe. In this method I'm using the WTF method to make my chicken seitan - WTF stands for 'wash the flour', in case it has you confused 🙂
What is the WTF method?
In the Wash-The-Flour method to make seitan, we're starting with plain high-protein wheat flour. This can come with different names on the packaging - strong white flour, bread flour for example. The best way to make sure you're using the right flour is to check that it's fine flour (not with any big grains or anything similar), that it's pure wheat flour, and has at least 12% protein. Most flours won't have the protein percentage clearly written on the packaging, but simply check the nutritional information of your flour and make sure it's at least 12g protein per 100g.
In the WTF method, we create a simple, firm dough ball from flour and water. Knead it until it is smooth, then allow for it to rest for about 10-15 minutes for the gluten to develop. We then rest the dough ball in a water-filled bowl, fully submerged underwater. It should rest for about 30 minutes. During this time the starches in the flour ball begin to slowly separate from the gluten-protein and the dough ball will become softer.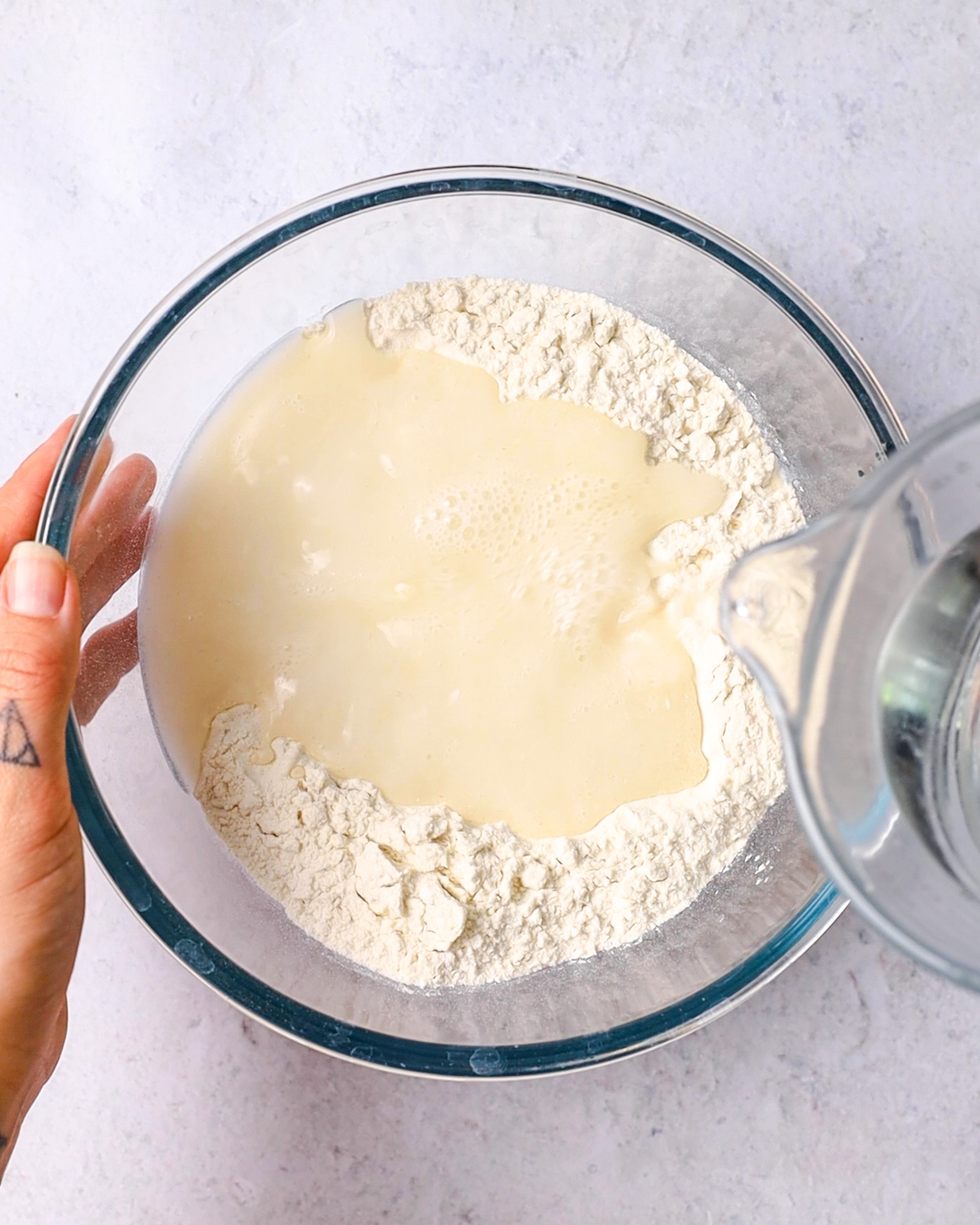 When the resting time elapses, you need to start kneading the dough underwater in the bowl. Whilst doing so, the starches from the flour will release from the dough ball and dissolve in the surrounding water, which will turn white and thick - almost cream-like. After about 2-3 minutes of firm kneading underwater, drain the water and fill the bowl with fresh water. Repeat the kneading process underwater 2-3 more times until the water doesn't become as thick anymore and remains slightly see-through.
It is normal for the gluten-ball to feel as if it's almost falling apart at this stage - don't you worry, this is normal and it will come back together in the next step. Transfer the gluten into a colander and rinse it under the tap for 10 seconds, then set the colander aside for roughly 30 minutes and allow the seitan to rest. Make sure any excess starch water can drain out of the colander.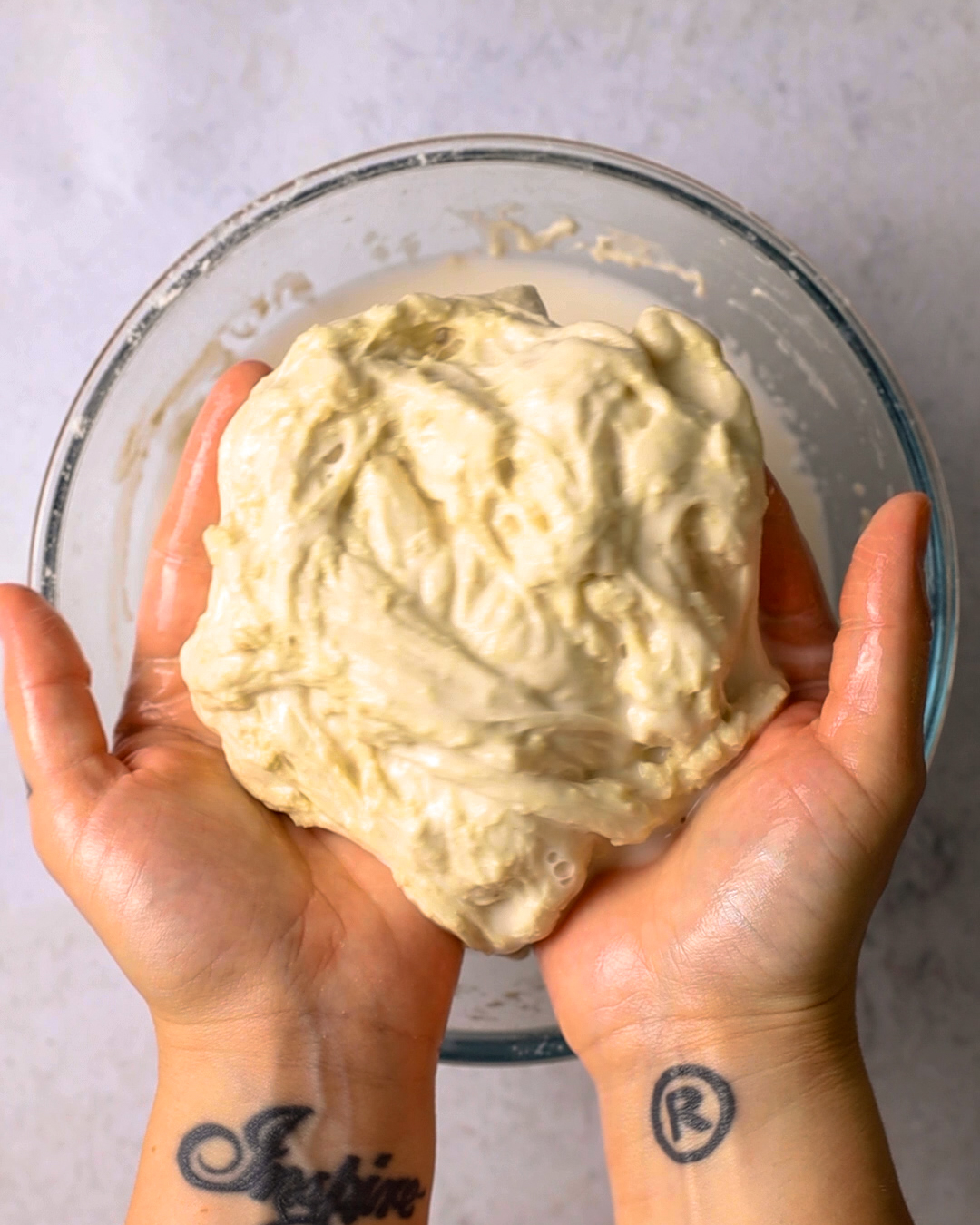 During this last resting time, the gluten-strands will reconnect and come back together into a firmer seitan dough. The timings in this WTF method to making seitan vary depending on the type of seitan and recipe you are preparing - some methods even require for the seitan to rest overnight - but the above-mentioned times are the ones suitable for this particular recipe. It's quite a quick one compared to some seitan-making methods!
Seasoning and knotting the seitan
Next up, we're seasoning the gluten dough. As chicken itself is rather flavor-neutral, I usually just add salt and pepper and sometimes a little vegan-friendly poultry-seasoning to the gluten at this point. On this occasion, I'm working with smoked paprika however as it's also part of the sauce later on, so this works really well. Washed flour seitan is generally seasoned with dry spices and herbs and to incorporate them, I like to add the dough hook to my Magimix and pulse the seitan dough and spices in there to incorporate them evenly. Afterwards, I usually let them rest for 10-15 minutes, simply for the strands to come back together properly.
Alternatively, you can also incorporate the spices by hand by simply sprinkling the seitan dough in the seasoning and kneading it until evenly incorporated - in this case, you don't need to rest it again.
You probably know that flaky, shredded chicken texture really well and in order to replicate this, we're stretching and knotting the seitan dough in the next step. In order to do so, simply knead the seasoned seitan dough and then gently stretch it into a log until it's long enough for you to knot it. Repeat about 5-6 times or until the seitan dough is firmly knotted together. Set the seitan aside whilst you're heating your pan for the next step.
Pan-searing the vegan seitan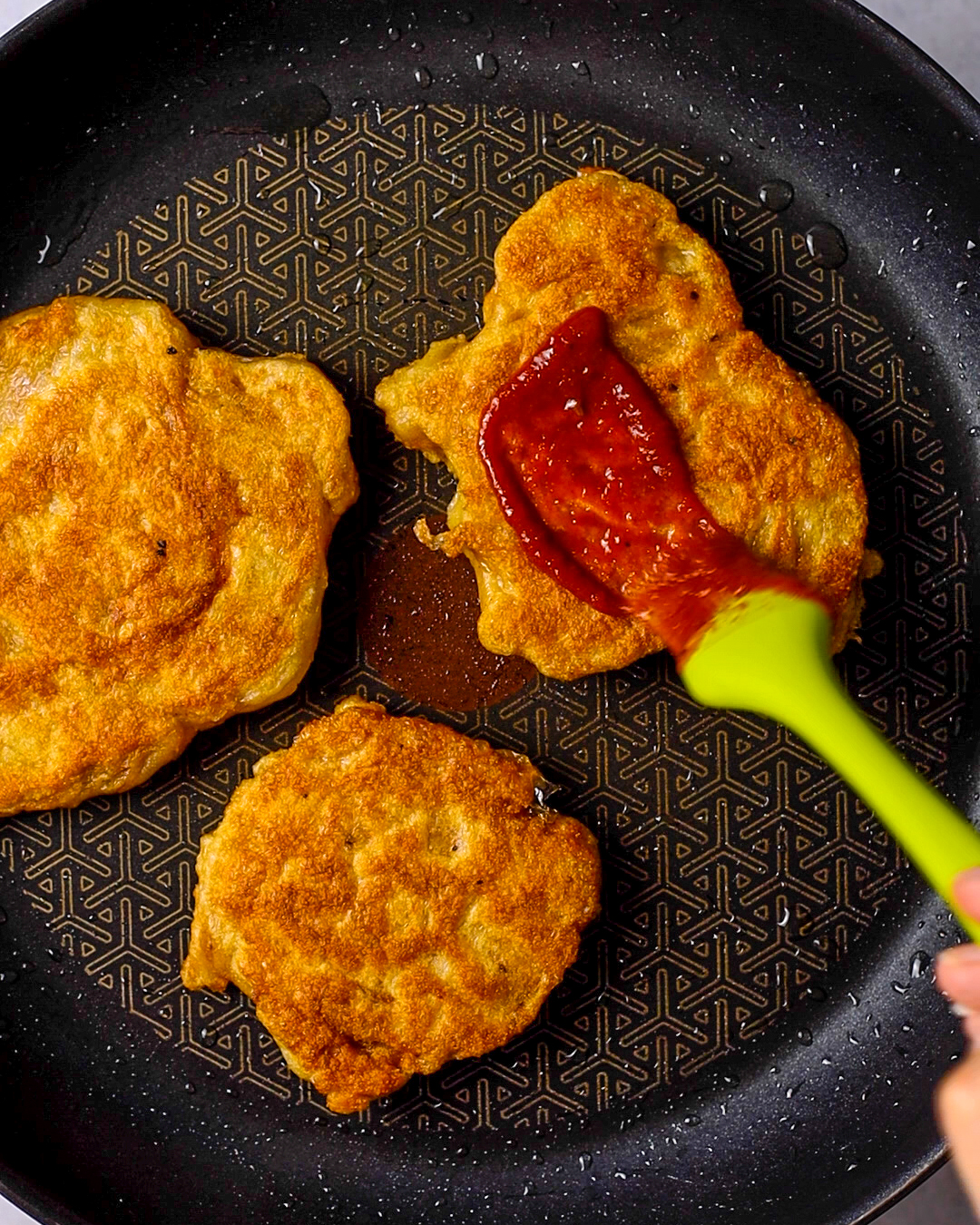 To get the wonderfully crispy skin onto this vegan chicken recipe, we're pan-searing the seitan in this step. Simply heat a little oil (roughly 1-2 tbsp) in a large non-stick frying pan, then cut or pull the knotted seitan apart into 2-3 fillets. Press them to flatten between your hands and then place them into the hot pan.
Sear on both sides for 2-3 minutes, gently pressing the fillets into the hot pan, until you get a golden, lightly crispy skin on the seitan - then remove them from the heat.
How to make the vegan chicken marinade (BBQ flavored)
Whilst the seitan is pan-searing, simply whip up the sauce by combining tomato paste, tamari soy sauce, maple syrup, olive oil, smoked paprika, fine salt and black pepper in a small bowl. Brush the pan-seared seitan in the sauce before placing it onto the BBQ.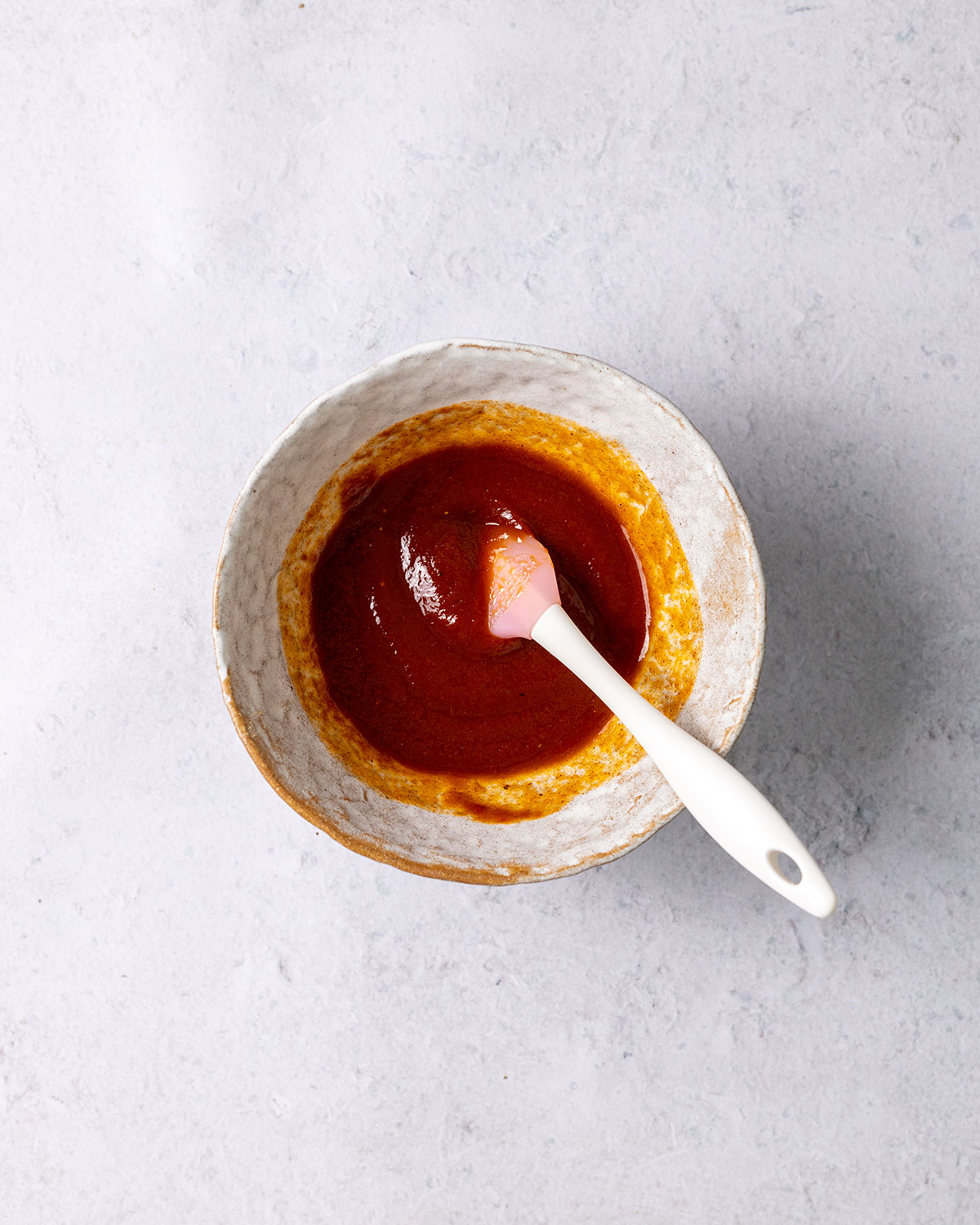 How to BBQ seitan
To grill this seitan BBQ chicken, first, make sure that your charcoal BBQ is hot and ready. It should be at 150C-170C for the perfect temperature.
Place the sauce-coated straight onto the grid over the hot coals and grill them on each side for roughly 4-5 minutes or until golden and lightly crispy.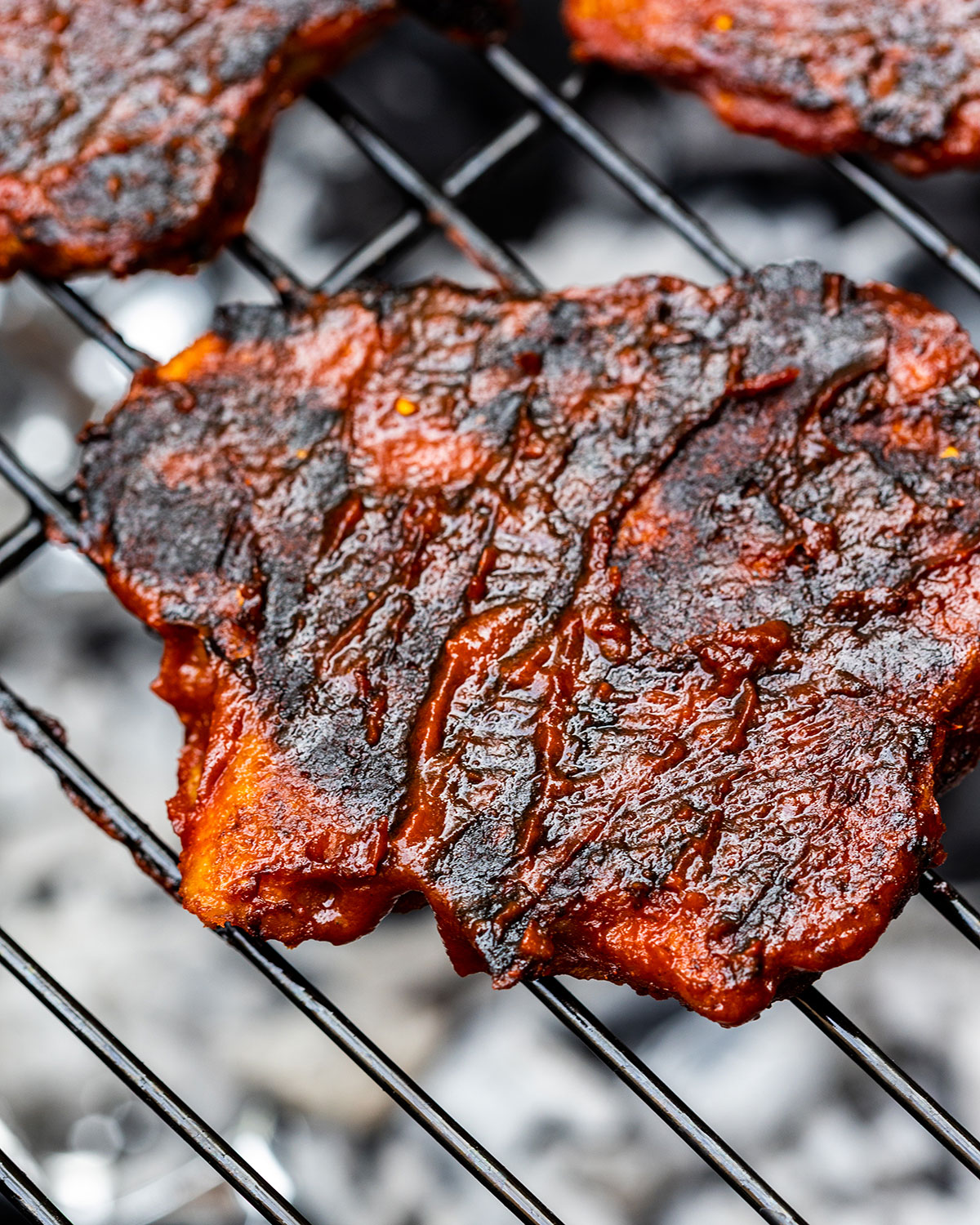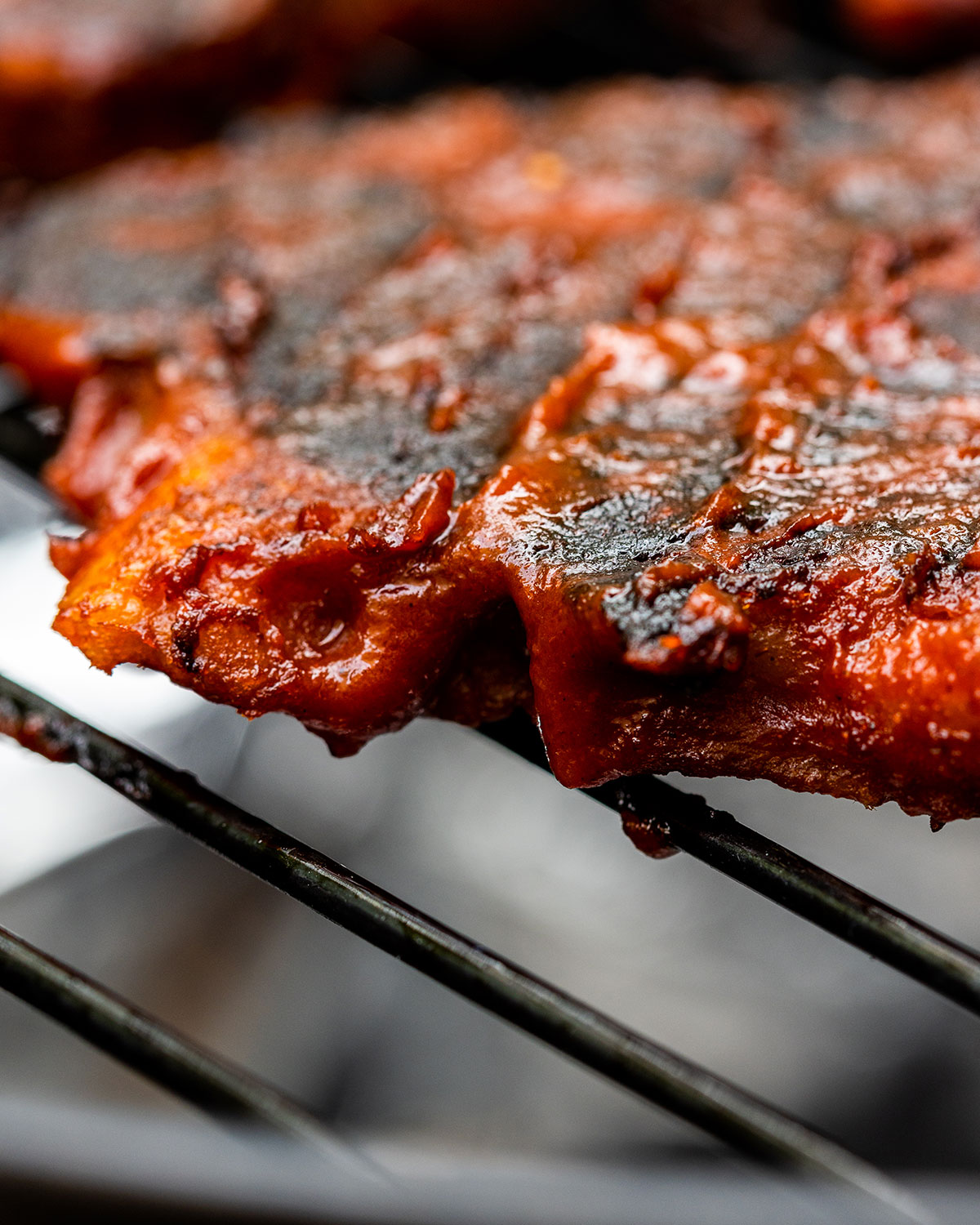 Serving
Serve the grilled seitan alongside aioli potato salad, as part of a vegan caesar salad or with Pineapple Curry BBQ Sauce.
Sign up for the newsletter for more exclusive vegan BBQ recipes and a copy of my free tofu ebook 'tofu all the way'.
Frequently Asked Questions - Grilled Seitan Chicken
Can I also make this recipe with vital wheat gluten instead of washing my flour?
Yes/No - this is not a straightforward answer. In order to get a similar texture, you would need to make this vegan seitan from flour washing, however, it is generally possible to make something similar with vital wheat gluten (= wheat gluten flour, short also named VWG). Personally, I haven't tried this option with vital wheat gluten, but in theory, you would need to add some starch into the vital wheat gluten (VWG), for example, chickpea flour, then add your spices (salt, pepper, smoked paprika) already and add water until you can create a firm dough ball. Skip the flour washing and resting stages and go straight to knotting and then pan-searing it. Again, I haven't tried this yet myself, but this should in theory work, so feel free to experiment!
Can I also pan-fry this vegan seitan instead of grilling it?
Absolutely, this seitan is great pan-fried! However, I personally prefer the smoky flavors of a charcoal BBQ and it works so great with the smoked paprika.
Which flour do I best use to wash flour?
In order for the flour to wash properly, I recommend using a strong flour that is high in protein, more than 12% protein. Most flour brands don't show the percentage on the packaging, but simply check the nutritional information and make sure that there is at least 12g protein per 100g flour.
It's also important to mention that the flour needs to be fine - everything with whole grains inside is not useful for making seitan.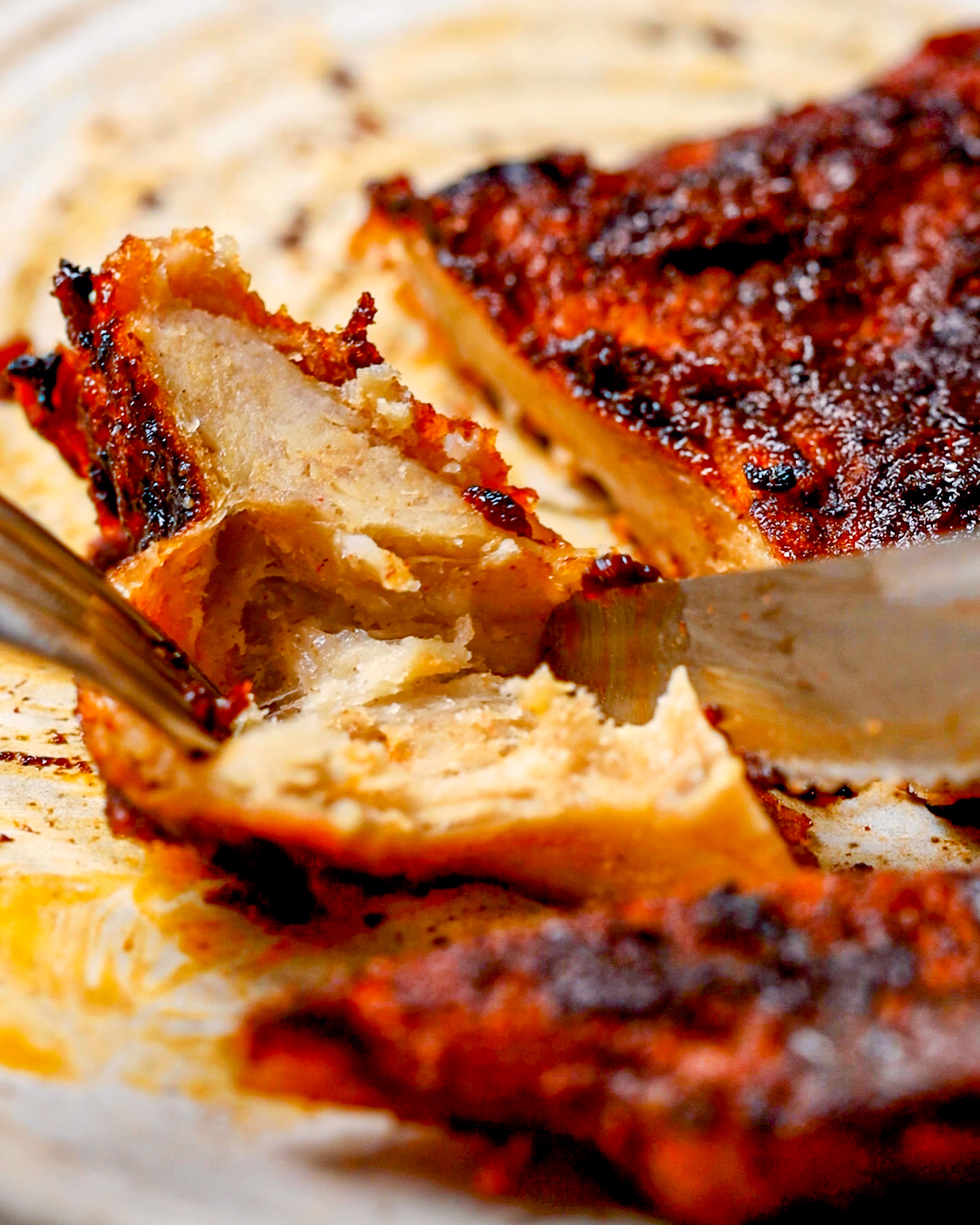 📌 If you love Pinterest you can pin any of the images to your boards!
You might also enjoy these vegan BBQ recipes:
If you enjoy this Seitan recipe - or cooking with Seitan in general - you will definitely enjoy my Seitan Kebab recipe and Vegan Steak!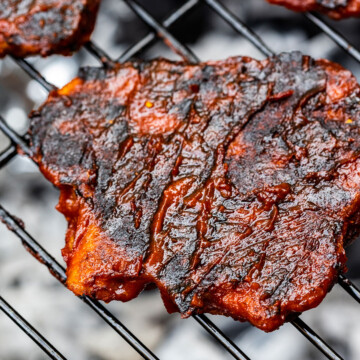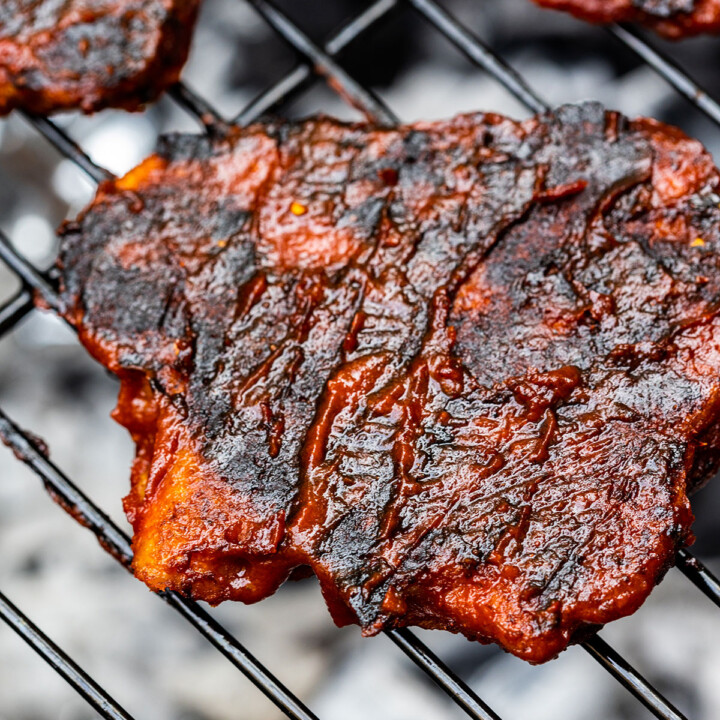 BBQ Grilled Seitan Chicken Recipe
Deliciously succulent grilled vegan seitan chicken - perfect for your next vegan BBQ party, best grilled on a charcoal BBQ, and also great pan-fried for when it has to be quick. Wonderful texture creating with the seitan flour washing method (WTF = Wash the flour).
Equipment
1 bbq or grill

1 large skillet

1 kitchen brush

1 large mixing bowl

1 small bowl
Ingredients
350

g

strong white bread flour

minimum 12% protein

filtered water

oil for frying

1/2

tsp

smoked paprika powder

1/4

tsp

salt
For the sauce:
2

tbsp

tomato paste

1

tbsp

tamari soy sauce

1

tbsp

maple syrup

1

tbsp

olive oil

2

tsp

smoked paprika powder

1/4

tsp

fine salt

1/4

tsp

black pepper
Instructions
Creating a dough ball: Place the flour into a large mixing bowl and create a well in the middle. Pour in a little water at a time until you can roll the dough into a firm dough ball and knead it in the bowl or on a lightly floured surface for 2-3 minutes until smooth.

Soaking the dough: Transfer the dough back into the bowl and allow it to rest for 10 minutes, then completely fill the bowl with water to submerge the dough ball. Allow it to rest for at least 30 minutes.

Washing the flour: Once the resting time elapses, begin kneading the dough in the bowl underwater. It will start releasing its starches and the water should become white and thicken slightly (almost cream-like!). Knead the dough for 2-3 minutes, then discard the starchy water, pour in fresh water, and repeat. Your dough should require about 3 washes in total and the water should not be as thick and more see-through in the end. It's normal for the dough to almost fall apart in this washing process. Don't worry - it will come back together in the next step. Discard the water and place the seitan dough into a big colander. Rinse it under running water for 10 seconds, then set it aside for 30 minutes to rest.

Seasoning: Remove the dough from the colander and give it a gentle knead between your hands, then place it into a kitchen machine with a dough hook, add the smoked paprika and salt, and pulse for 10-20 seconds. Alternatively, you can also incorporate the spices by hand.

Stretching & Knotting: Stretch the seitan dough until you can carefully knot it. Repeatedly stretch and knot it about 5-6 times - this step will help to create a chicken-like shredded texture in the dough, however, the knotting takes some practice, so if you're struggling, simply omit this step.

Pan-searing: Carefully portion the seitan into 2-3 cutlets and heat roughly 2 tbsp of oil over medium/high heat. Pan-fry your seitan cutlets for 2-3 minutes on each side, or until a light golden crust forms, then remove the seitan from the frying pan.

BBQ'ing: Heat your BBQ to its full heat and combine all ingredients for the sauce in a little bowl in the meantime. Brush your seitan with the sauce on both sides and place it onto the hot BBQ grid. Grill it on both sides for 4-5 minutes or until golden, then remove it from the grill and serve it alongside delicious salads and your favorite vegan BBQ goodies.
Notes
For this recipe to work out, it's vital that you use high-protein, fine wheat flour. I recommend aiming for a minimum of 12% protein in your flour and I personally use a strong white bread flour by a brand called 'Allisons'.
You can also pan-fry these seitan fillets instead of BBQ'ing them. Simply heat a little oil in the pan beforehand, brush the fillets in the sauce and pan-fry for a few minutes on each side, until golden.
*Disclosure: This page may contain affiliate links and sponsored links that earn me a small commission, at no additional cost to you. You can find more information in my Privacy Policy.
 © Romy London / Romina Callwitz | All images and content are copyright protected. Please do not use my images and content without permission. If you wish to re-publish any recipes or images, please get in touch via email. Thanks for your support!