Delicious vegan Pumpkin Pie Cheesecake - created with a simple vegan pie crust and creamy pumpkin spice cheesecake filling.
This recipe is:
vegan
egg free
dairy free
smooth & super creamy
refined sugar free
indulgent
festive
simply delicious
purely addictive!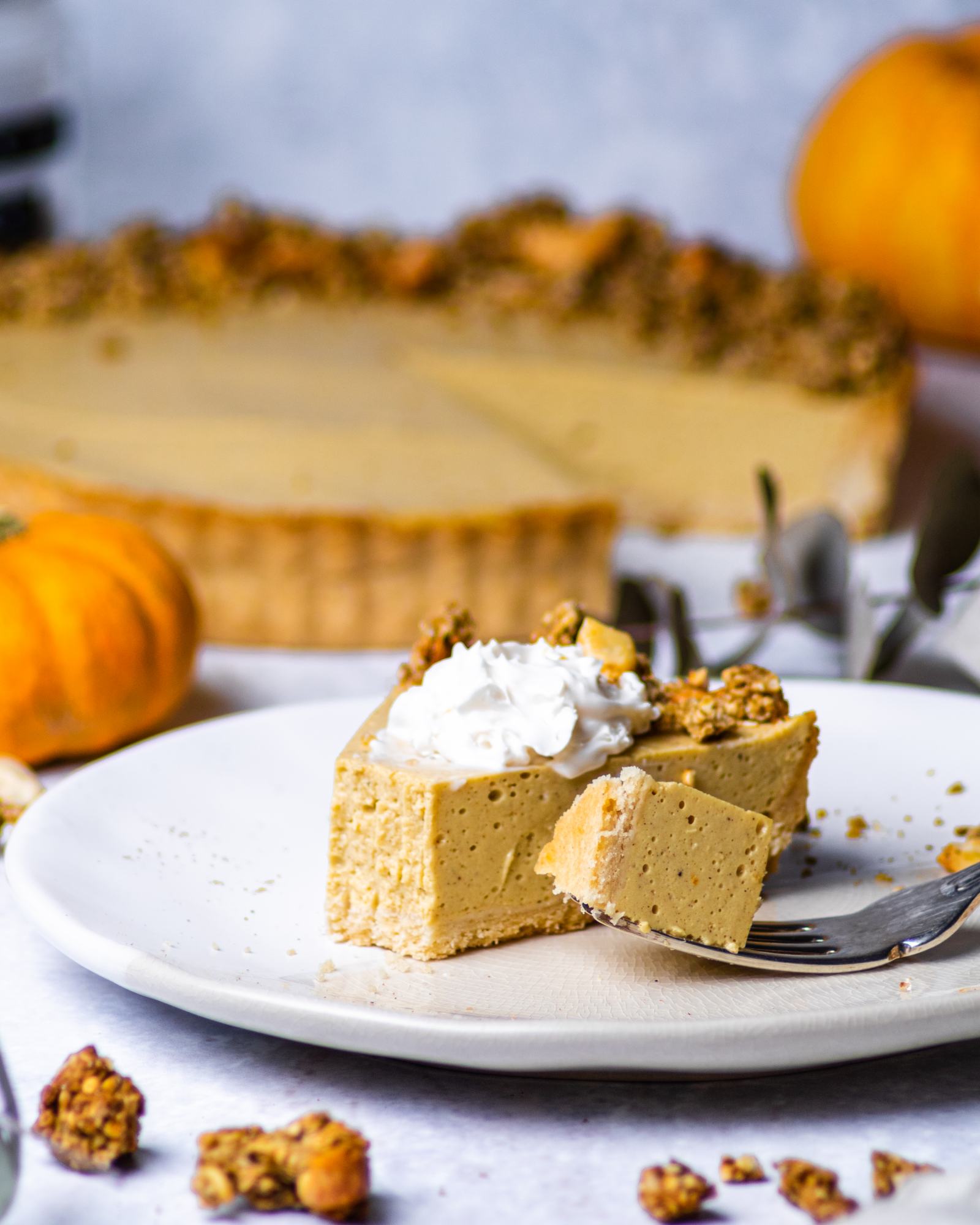 Vegan Pumpkin Pie Cheesecake
A little warning in advance: This Vegan Pumpkin Pie Cheesecake recipe is totally addictive! And I'm not just saying this - after all you're hearing this from a person that's managed to eat the entire pumpkin pie cheesecake herself within only 2 days. Be warned 😉
I've loved developing this delicious recipe - for years I've been wanting to create my own take on a pumpkin pie recipe and know I've finally gotten around to testing my ideas out in the kitchen.
Creating the Pie Crust
For the creation of the pie crust it's very important you use cold vegan vegetable shortening - the temperature here is key. It can even be helpful to add your equipment to the freezer for a few minutes before working the shortening into the pie crust to make sure there are no accidental melts and the crust comes out in the right texture.
To make the pie crust first combine the ingredients in either a Magimix with dough inset (this is what I've used for this recipe). Alternatively you can also combine the ingredients with a pastry blender. Do not use your hands to make the pastry base as it will melt the butter in the process and result in a soggy, oily base.
Once combined, the resulting dough ball needs to be covered and placed in the fridge for about 30 minutes to chill. Place the dough in between two sheets of parchment and roll it out to about 0.5cm thickness using a cold rolling pin. Carefully place it into your tart tin, gently pressing it into the corners and cut off the excess dough. You can utilise it to create beautiful decorations for your cheesecake, such as little heart or flower or leaf shapes.
Pierce the crust with fork about 6-8 times, then cover your pie crust with a baking parchment and add in baking beans to weigh down the dough. If you don't have baking beans to hand, you can alternatively use dried pulses or even rice.
Place the pie crust in the oven for around 15-20 minutes at 180C. Let it cool down entirely once done and remove the baking beans and parchment.
The Vegan Pumpkin Pie Cheesecake Filling
What I love the most about cheesecakes is the creamy smooth and refreshing filling that is set in the fridge.
To create the filling for this Vegan Pumpkin Pie Cheesecake you need to first soak the raw cashews for about 4-6 hours. A quicker way of getting the cashews to soften is to boil them in water for about 20 minutes. Drain and rinse the cashews after this process, then place them in a high-speed blender alongside the rest of the cheesecake ingredients (see full list below) apart from the Agar Agar powder and 150ml plant milk.
Blitz everything in the blender until you get a smooth and creamy filling. How long this takes very much depends on your blender and you might have to use a spatula to scrape the sides in between blends. Once everything is smooth, you can add the 150ml plant milk and Agar Agar powder to a saucepan and gently heat whilst continuously stirring with a whisk until it begins to bubble.
The next few steps have to happen really speedy so that the Agar doesn't set before it's fully combined with the filling. Pour the Agar mix into the blender with the rest of the filling and instantly blend until combined. Pour into your pastry base as soon as possible, gently smooth out the top and place the cheesecake into the fridge for 30 minutes to set.
From here on, you can begin to decorate your cheesecake to your liking - I love sprinkling pumpkin pie granola over the top (recipe coming soon) & drizzling the cheesecake with salted caramel sauce when serving - simply delicious!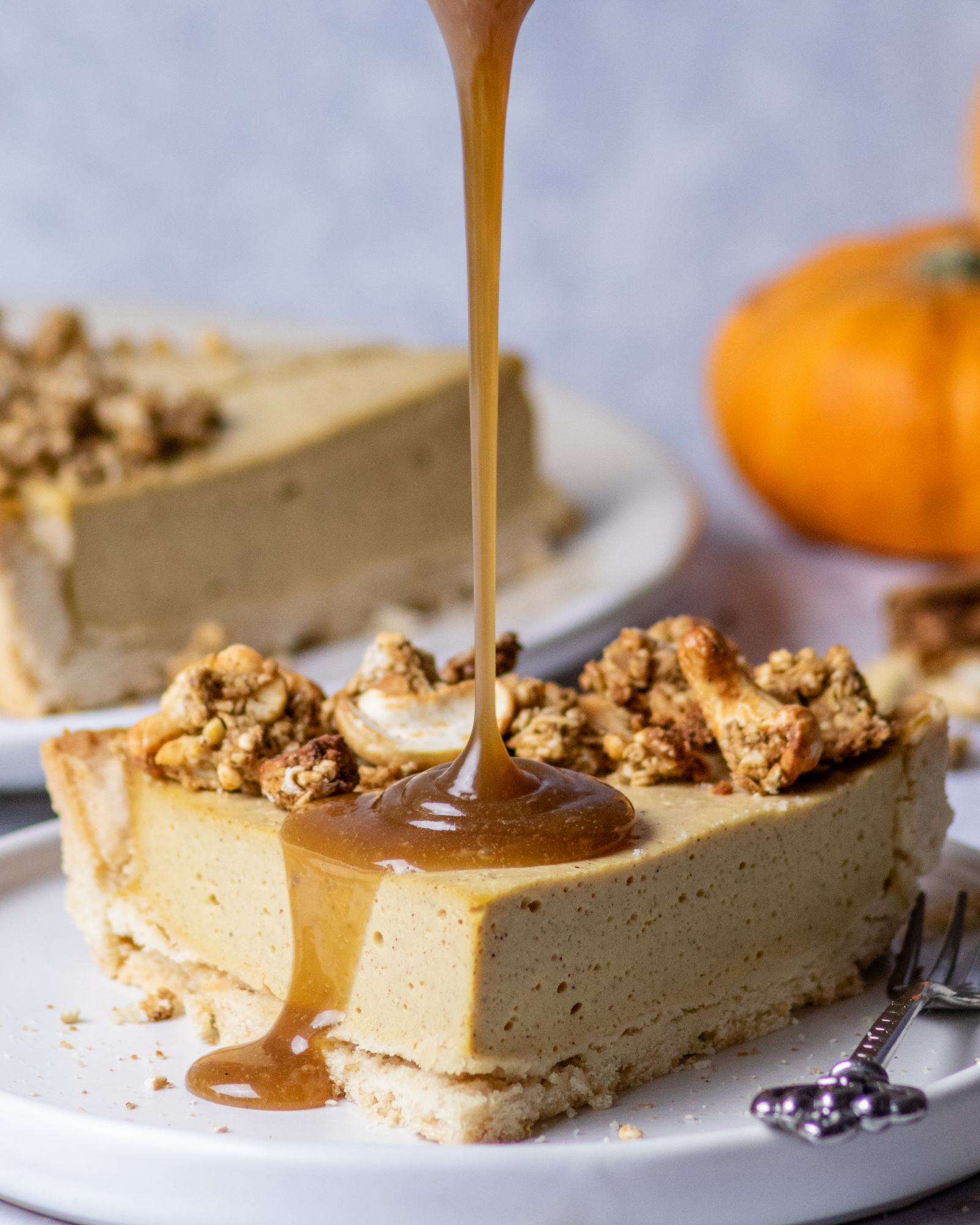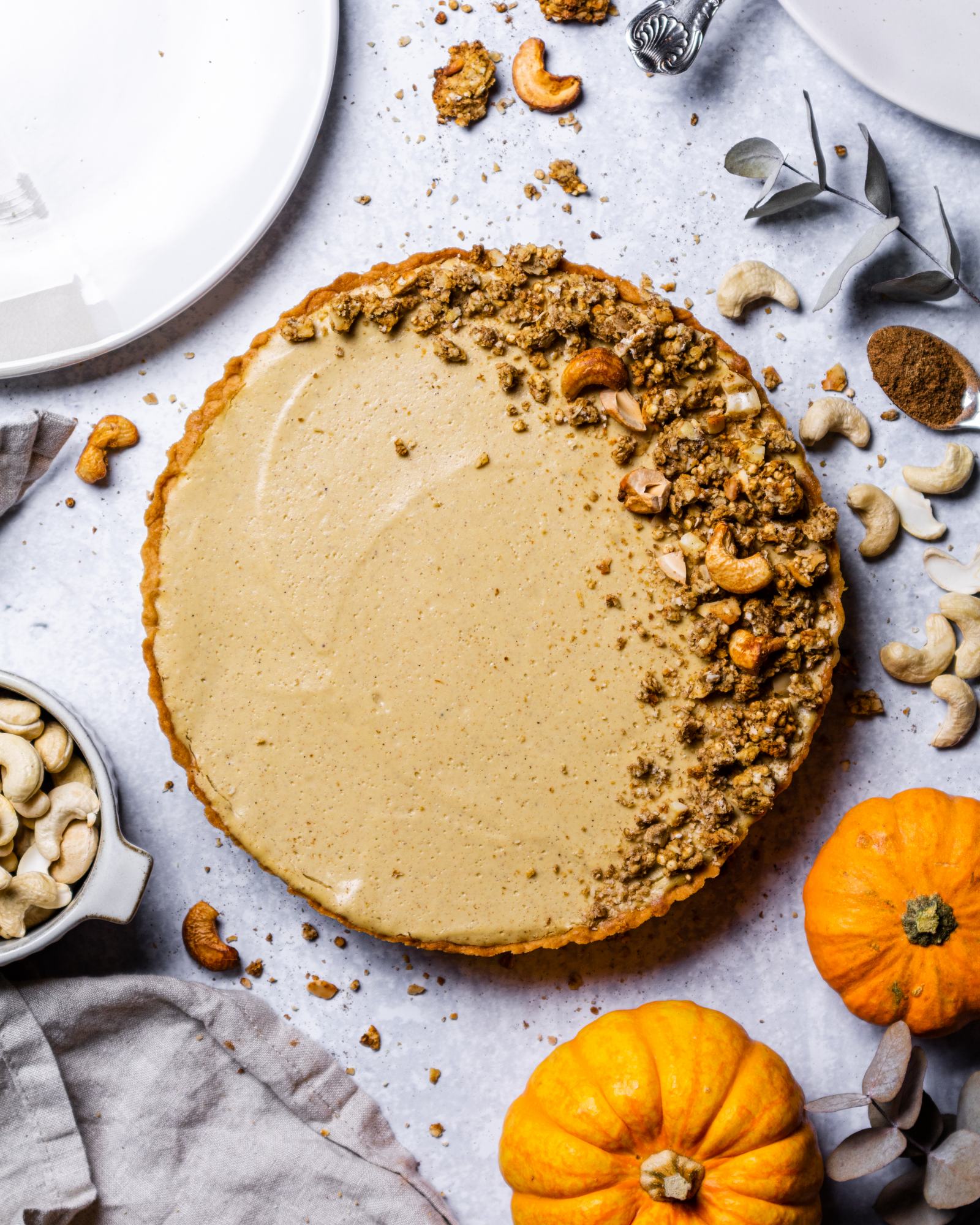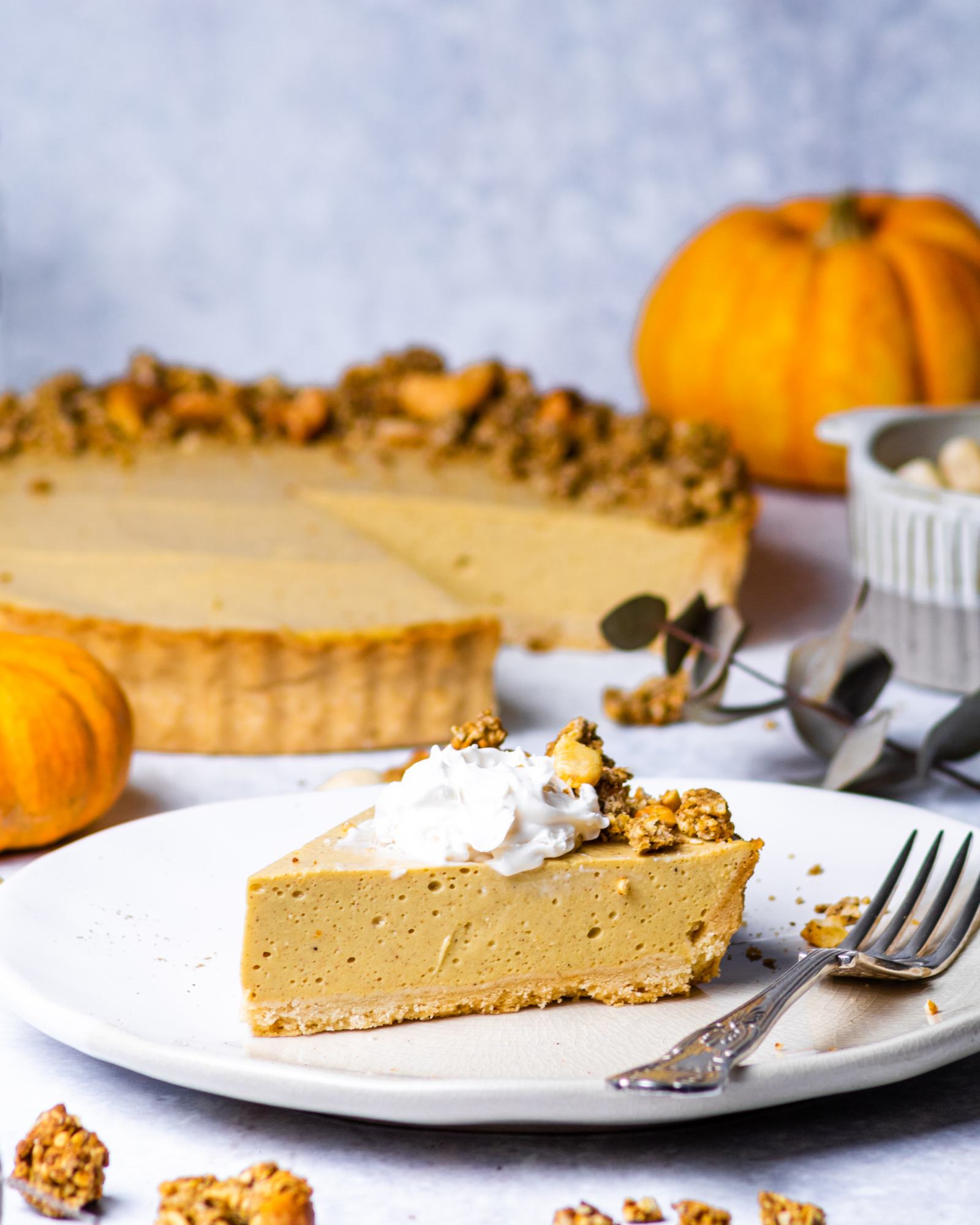 You might also enjoy these recipes:
📌 If you love Pinterest you can pin any of the images to your boards!
Print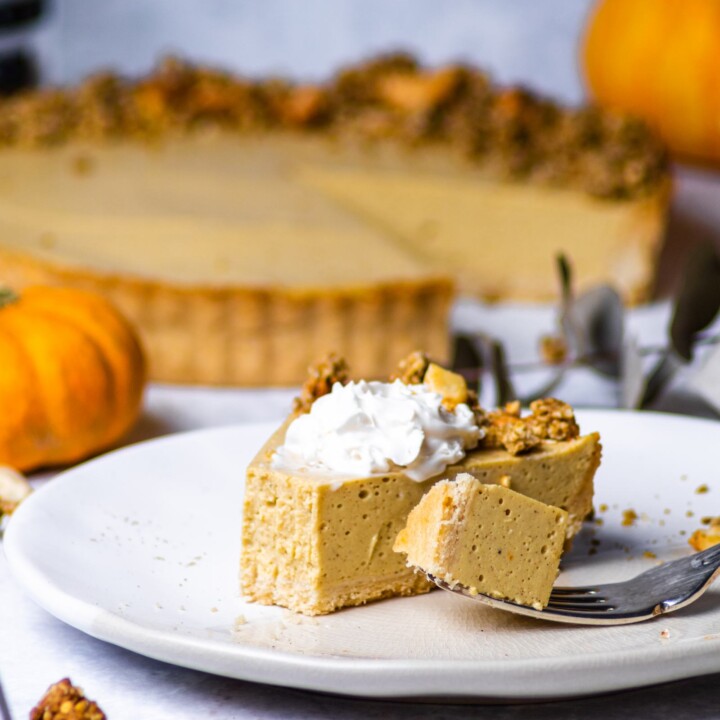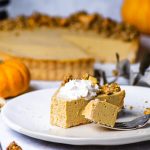 Vegan Pumpkin Pie Cheesecake
Author:

Prep Time:

30

Cook Time:

20

Total Time:

50 minutes

Yield:

1

large cake

1

x

Category:

Cheesecake

Method:

Baked

Cuisine:

British

Diet:

Vegan
---
Description
Vegan Pumpkin Pie Cheesecake - with a delicious vegan pie crust and creamy pumpkin cheesecake filling. Purely addictive!
---
The ingredients listed below are sufficient for a 9 inch tin.
For the pie crust:
200g

plain flour

60

ml water or plant milk

1 tsp

coconut sugar

1/4 tsp

salt

115g

vegetable shortening (I used Trex)
For the cheesecake filling:
100g

cashews, soaked for at least 4-6 hours or boiled in water for at least 20 minutes

300g

pumpkin puree (homemade or store-bought)

85g

maple syrup

1 tsp

cinnamon

1/4 tsp

nutmeg

1/2 tsp

ginger powder

1/4 tsp

salt

1/4 tsp

cardamom powder

1/8 tsp

ground cloves

1/2 tsp

lemon zest

150

ml plant milk

1 tsp

Agar Agar powder
---
Instructions
To create the pie crust combine all ingredients in a Magimix with dough insert. Alternatively you can mix the ingredients by hand using a hand pastry blender until the dough forms a firm ball.  Cover the dough in cling film or parchment and place it in the fridge for 15-20 minutes.
In the meantime prepare your cheesecake filling by boiling 100g cashews in a little water for 15-20 minutes or until soft. You can also soak the cashews for 4-6 hours beforehand, but if you're short in time the boiling method works just perfectly fine.
Remove the dough from the fridge, it should be nice and firm. Without holding it in your hands for too long, place it in between 2 sheets of non-stick baking parchment. Using a rolling pin, roll out the pastry dough to around 0.5 cm thickness.
Carefully place the pastry sheet into a greased pie tin, cutting off any excess dough - you can use this for your pastry decoration and get creative!
Pierce the dough about 4-5 times with a fork, then place a parchment sheet on the top to cover it. Fill in your baking beans (you can also use dried legumes or rice!) and bake on 180C for 15-20 minutes.
For the cheesecake filling, combine all ingredients in a blender - leaving the 150ml plant milk and Agar Agar aside.
Remove your pastry crust from the oven once golden, removing the baking beans and parchment. Set aside until your cheesecake filling is ready.
In a small saucepan, bring the 150ml plant milk and Agar Agar powder to a light bubble whilst continuously whisking.
The next steps have to happen quickly: Take the Agar mix off the heat and pour it straight into the blender with your cheesecake mix. Blend instantly until fully mixed, then pour into your pie crust immediately.
Smooth out the top of your cheesecake and place in the fridge for at least 30 minutes before decorating and serving.
---
Notes
I love to serve this Vegan Pumpkin Pie Cheesecake with homemade pumpkin spice granola (recipe coming soon!) and a simple & delicious salted caramel drizzle.
Keywords: pumpkin pie, vegan pumpkin pie, pumpkin cheesecake, vegan pumpkin pie cheesecake, pumpkin pie cheesecake
*Disclosure: This page may contain affiliate links and sponsored links that earn me a small commission, at no additional cost to you. You can find more information in my Privacy Policy.
 © Romy London / Romina Callwitz | All images and content are copyright protected. Please do not use my images and content without permission. If you wish to re-publish any recipes or images, please get in touch via email. Thanks for your support!