A vegan spin on traditional pork belly that is just as flavorful and satisfying! This Vegan Pork Belly Recipe is made using firm tofu, which is marinated in a savory mixture of soy sauce, hoisin sauce, and Chinese five-spice powder, then pan-fried until crispy and golden brown.
With its crispy texture, this recipe is perfect for serving over rice or noodles and can be used as a delicious addition to many vegan pork recipes on a special occasion!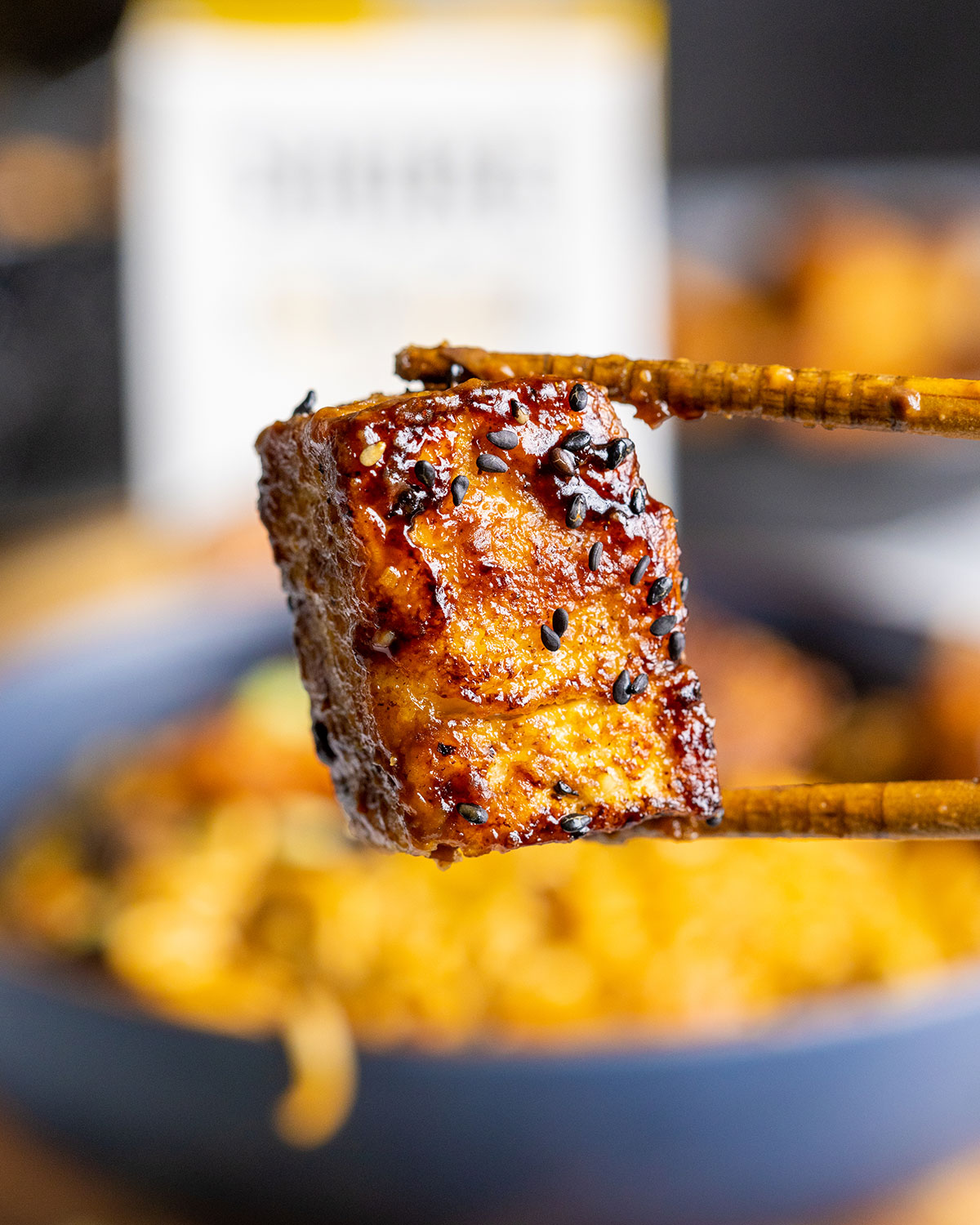 In this blog post, we'll explore the world of plant-based pork belly together - from its ingredients and preparation to its versatility and serving suggestions, and we'll also cover some extra tips for using vegan pork belly in a variety of dishes.
Jump to:
❤️ What's great about this Recipe
This recipe is:
A flavorful and satisfying vegan take on pork belly-style tofu
Easy to make with simple ingredients
Made with a savory marinade of soy sauce, hoisin sauce, Chinese five-spice powder and black pepper
Crispy and golden
It is a good source of protein
A healthier alternative to traditional pork belly
A great addition for a variety of other dishes, such as Vegan Black Bean Ramen
Perfect for a meatless meal!
Traditional Pork belly is a staple of many cuisines all around the globe - from crispy Chinese cuisine to Mexican cuisine. It is especially popular due to its juicy texture and rich flavor and has therefore been a favorite addition to meals around the world for centuries. If you enjoy the flavor of pork belly, this vegan version is the perfect replacement for you!
One of the great things about this vegan pork belly recipe is that it can be used in a variety of dishes from different cultures. For example, in Vietnamese cuisine, pork belly is often used in dishes like thit kho trung, which is a stew traditionally made with pork belly and hard-boiled eggs. But with a few substitutions, you can easily create a vegan version!
Inspiration for this recipe
This recipe is partially inspired by Lypic's co-founder, chef and Mama Đút restaurant owner Thuy Pham, who has created the famous Lypid's pork belly. Her vegan pork belly recipe also uses tapioca, rice flour, and coconut milk to create the perfect replacement for the fat layer - similar to the fat layer I prepared for this recipe.
Thuy's creations are next level amazing, so make sure you follow her on Instagram, show some love and watch her stories for more mouth-watering vegan recipes!
🌱 Ingredients & Notes
Here's everything you need for this recipe: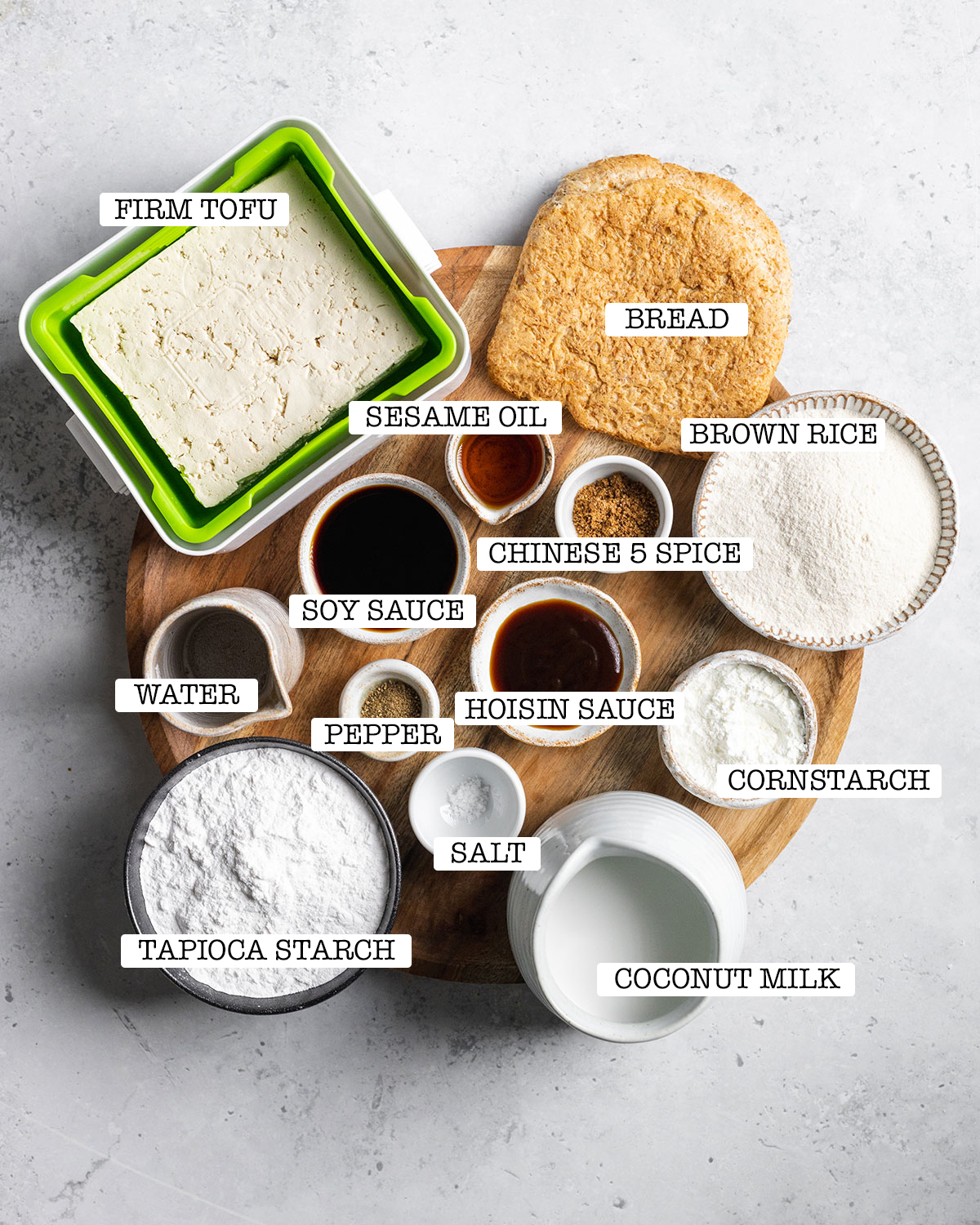 Tofu - extra-firm tofu, drained, pressed and cut into bite-size pieces
Sandwich bread - to create a crispy skin on the vegan pork belly pieces. For best results, use an end piece from a loaf of bread that has a similar size as your tofu block.
Soy sauce - I use dark soy sauce for a savory flavour in the marinade and a little tamari to create caramelized edges at the end.
Hoisin sauce - homemade or store-bought, for sweetness and umami
Chinese five spice powder - to add a complex flavor profile to the tofu
Cornstarch - to help create a crunchy texture
Oil - sesame oil for frying
Vegan fat layer - for the vegan fat layer I use rice flour, tapioca starch, full-fat coconut milk, water and salt.
Garnish - thinly sliced scallions and toasted sesame seeds
See the recipe card below for detailed quantities.
Possible Substitutions
Here are a few possible ingredient substitutions:
Soy sauce - replace with tamari or liquid aminos
Hoisin sauce - I wouldn't recommend skipping the hoisin sauce, but if you don't have any to hand, use vegan oyster sauce or plum sauce instead.
Chinese Five Spice - create your own blend by combining ground cinnamon, closed, fennel seeds, star anise and Szechuan peppercorns.
Cornstarch - try using arrowroot powder or potato starch
Oil - swap the sesame oil for peanut oil, vegetable oil or a neutral alternative with a high smoke point
🥢 Equipment
Here's everything you need for this recipe:
1 large non-stick pan
1 small mixing bowl
1 whisk
1 cutting board
1 knife
Measuring spoons
1 spatula
🔪 Instructions (Step-by-Step)
Follow this simple process to make Vegan Pork Belly at home!
Step 1: Marinate tofu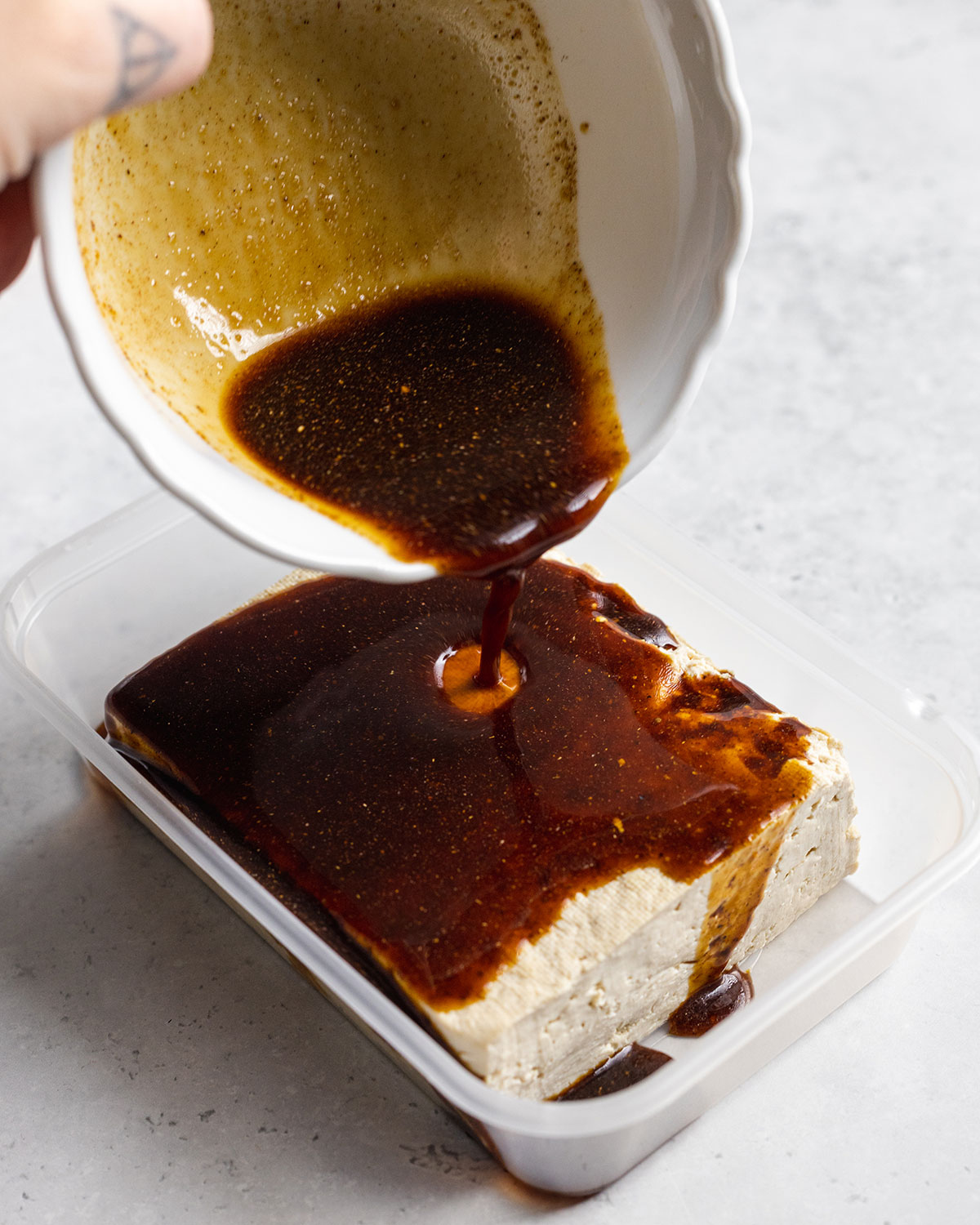 Mix the marinade & marinate the tofu for 2 hours.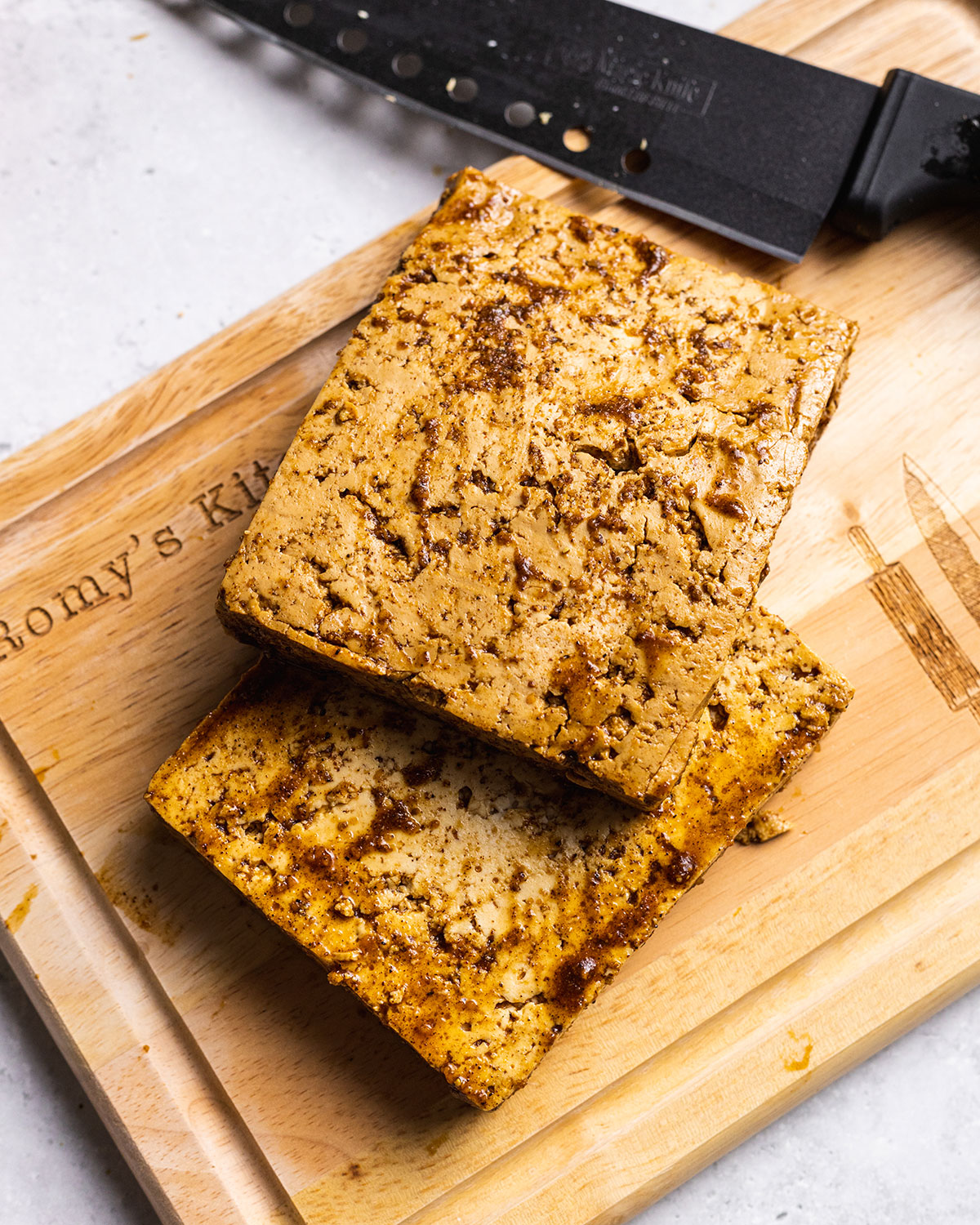 Set the remaining marinade aside and slice the tofu block.
Step 2: Fat layer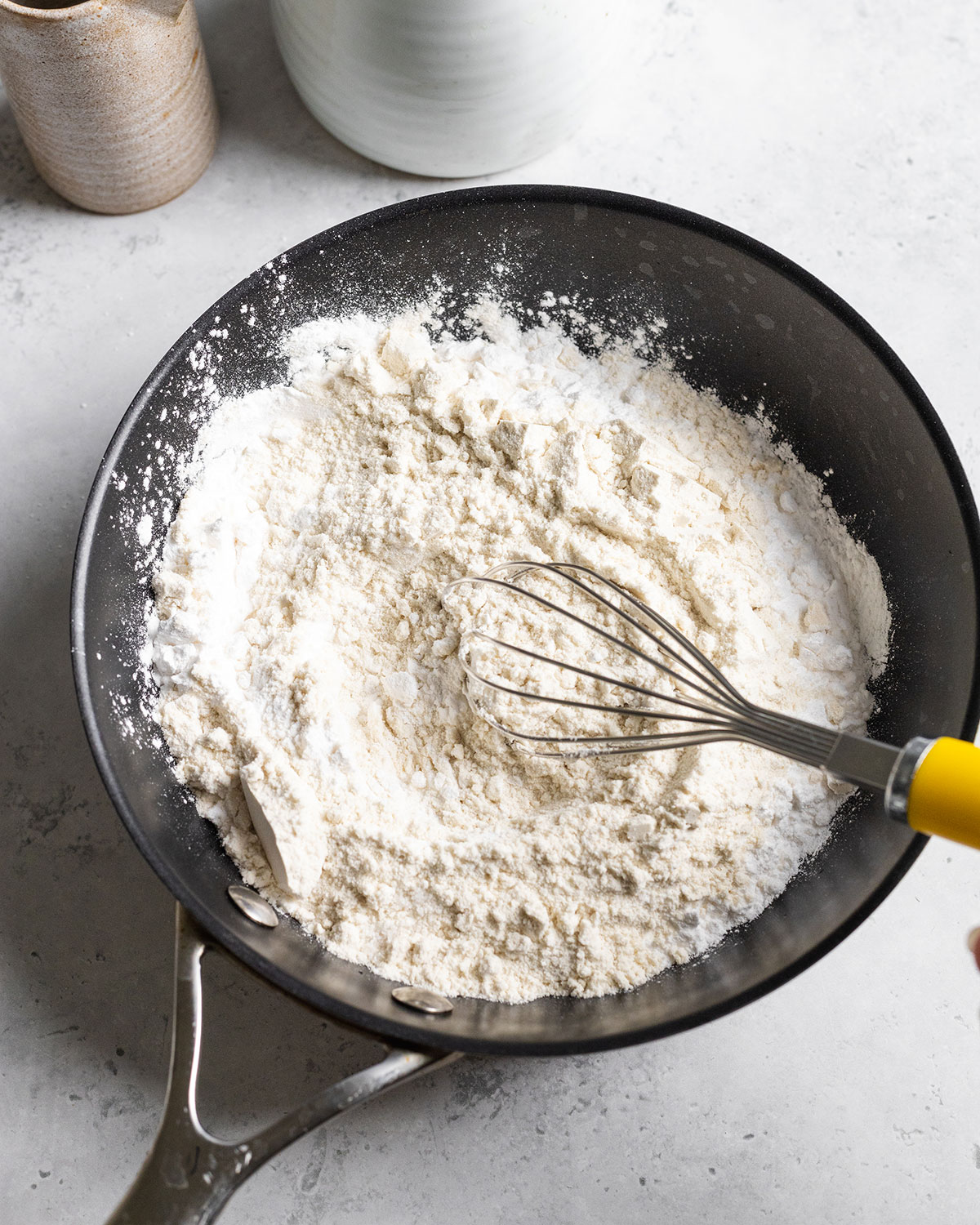 For the fat layer, combine tapioca starch, rice flour and salt.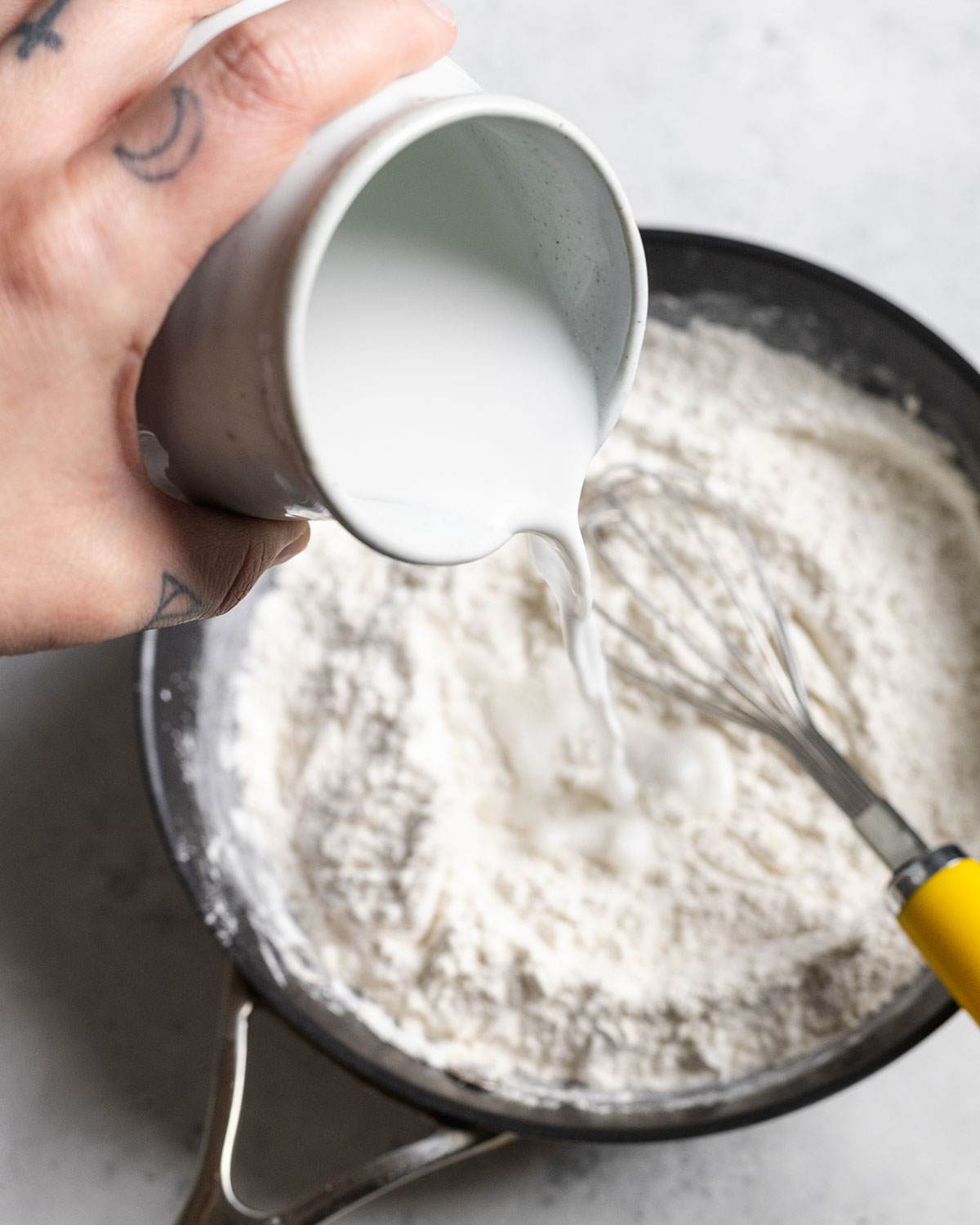 Mix in coconut milk and water over low heat.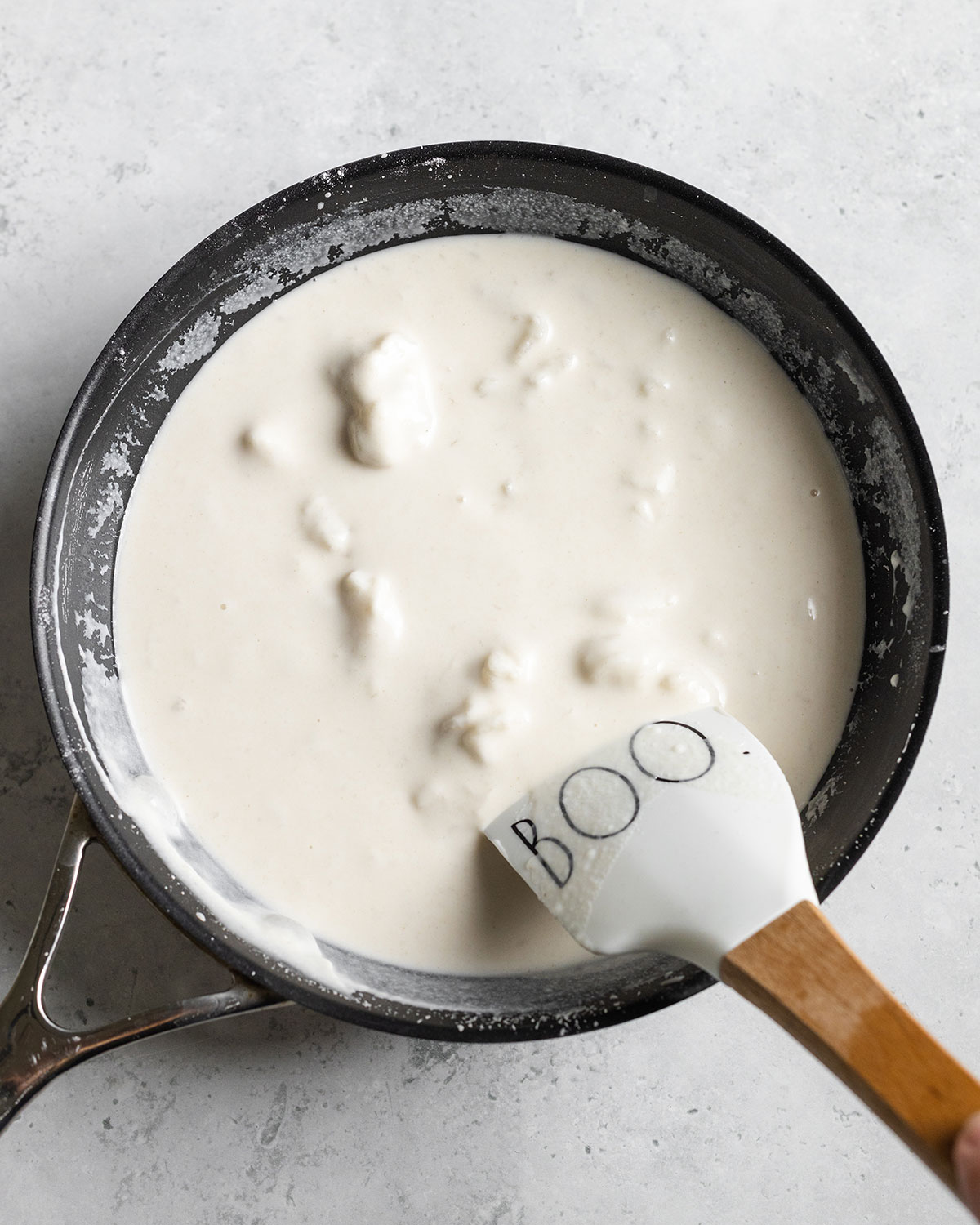 Stir as the mix thickens.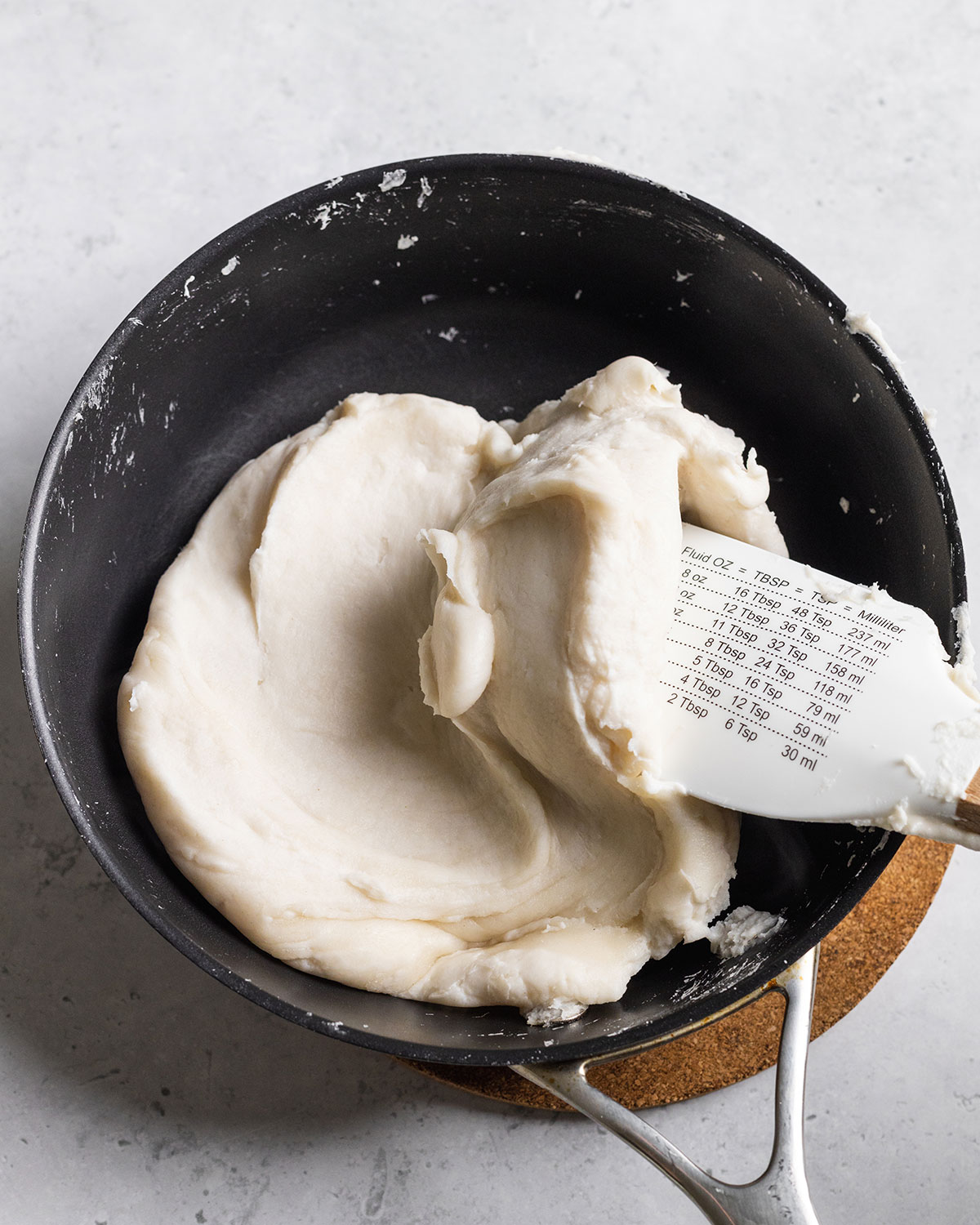 Cook until you get a thick paste.
Step 3: Layer & steam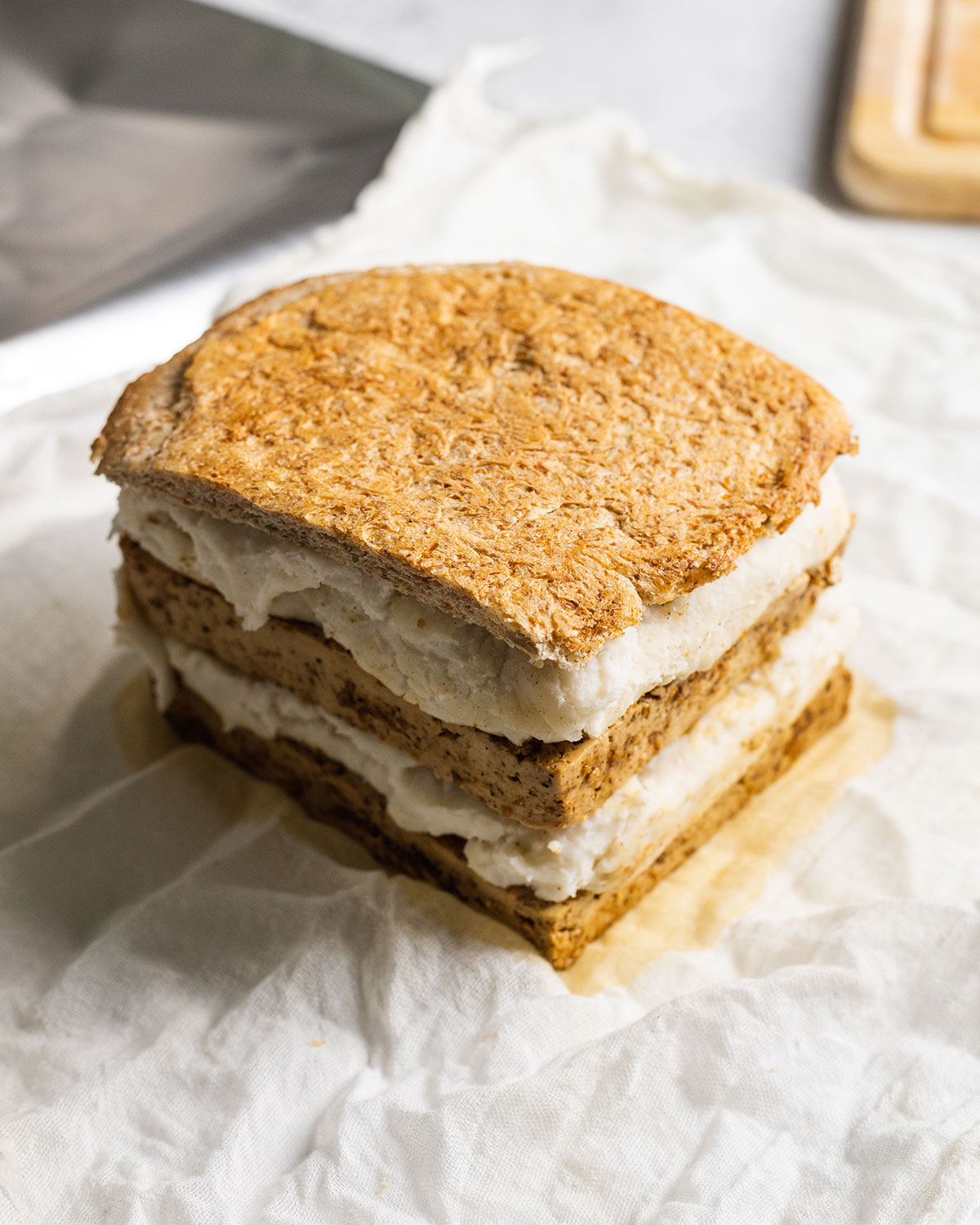 Assemble the layers.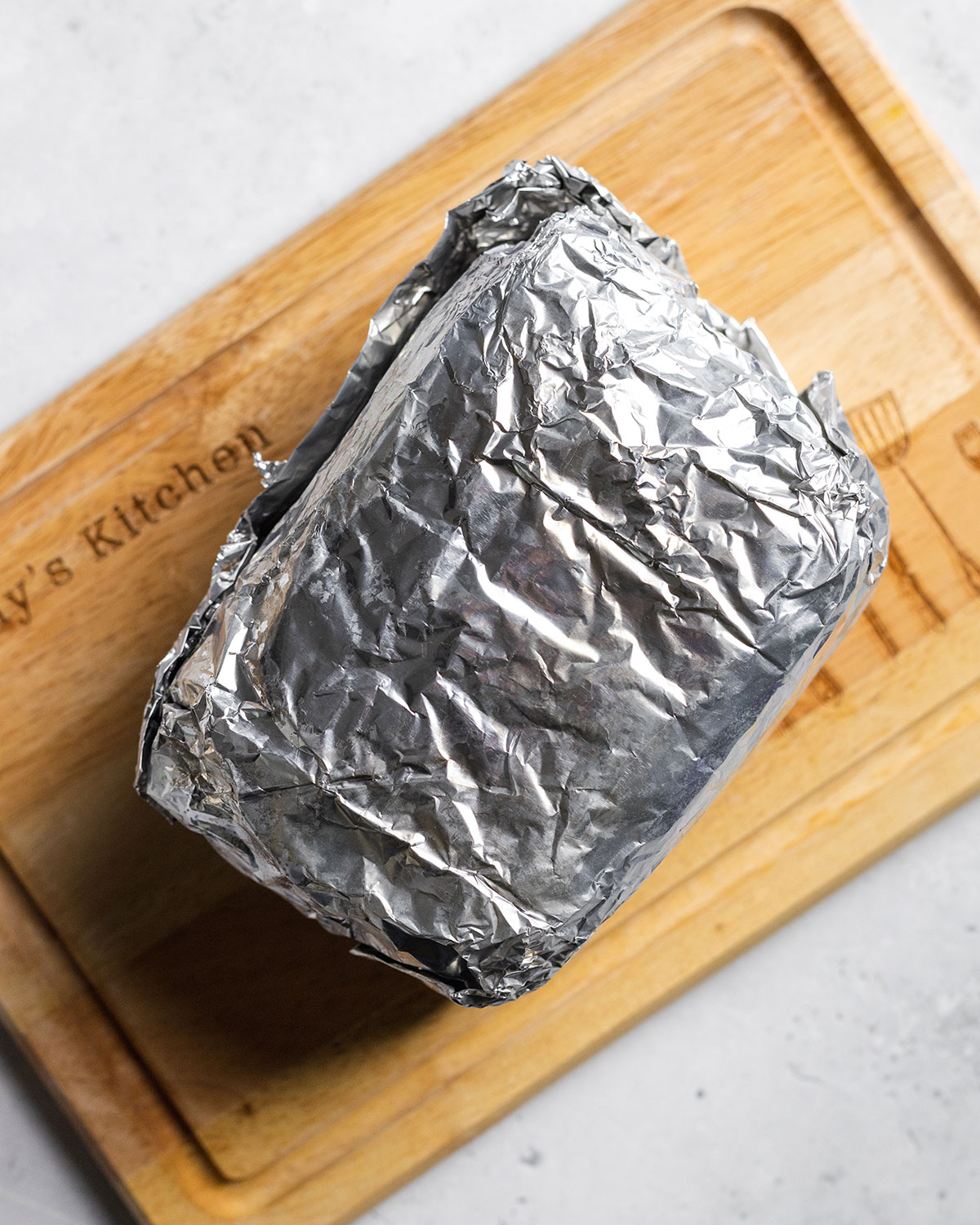 Wrap firmly and steam for 25-30 minutes.
Step 4: Slice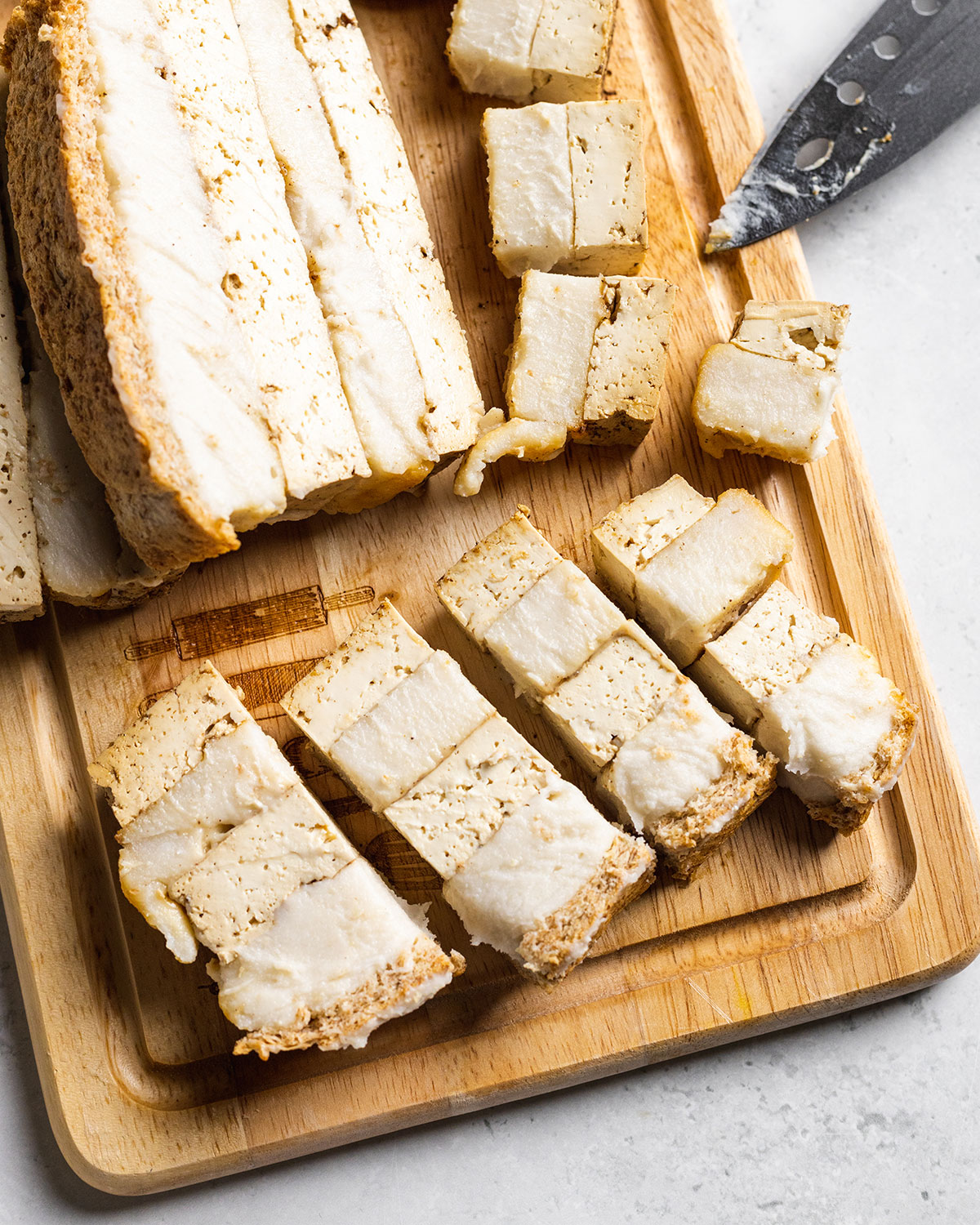 Cut into bite-size chunks.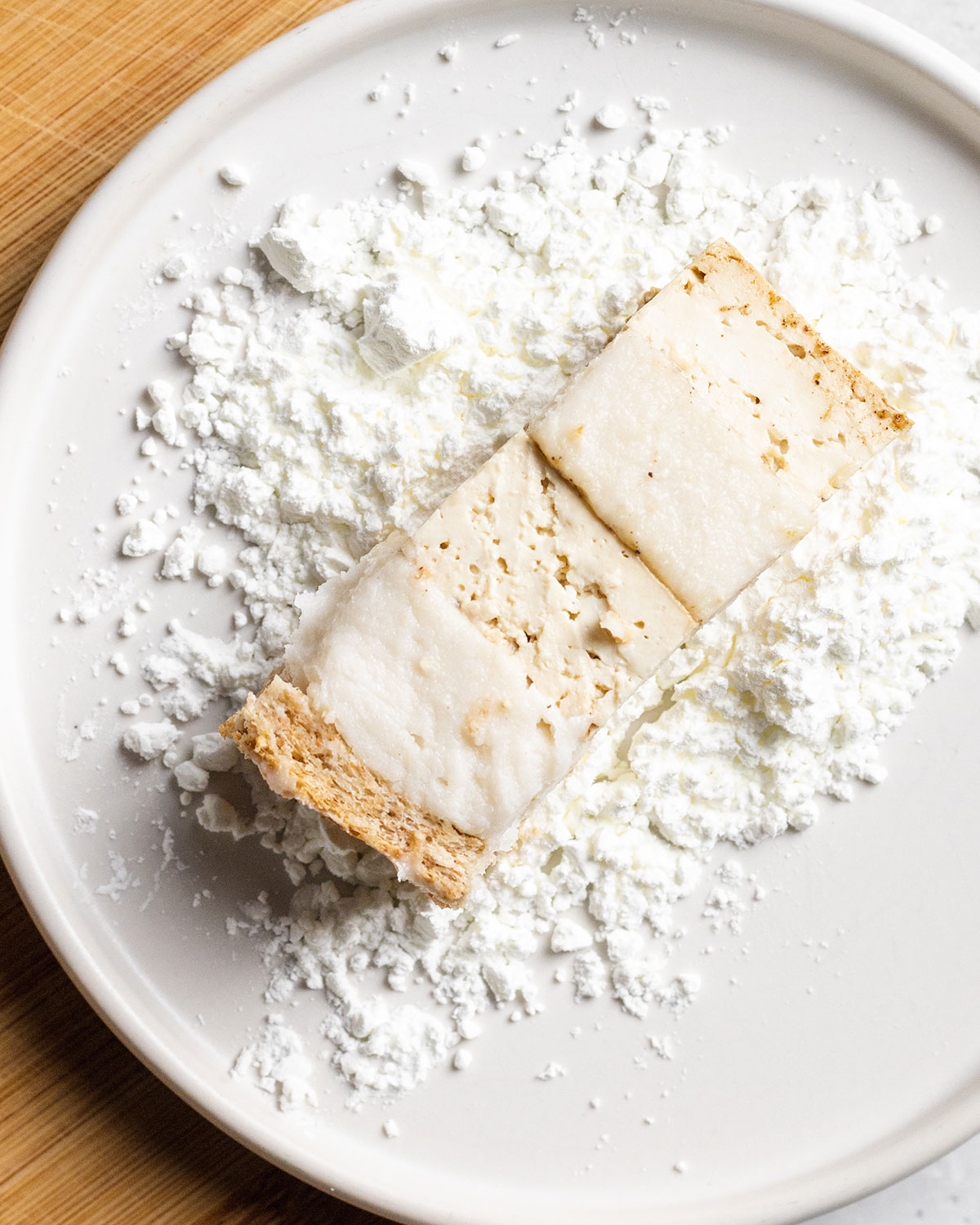 Coat chunks in cornstarch.
Step 5: Fry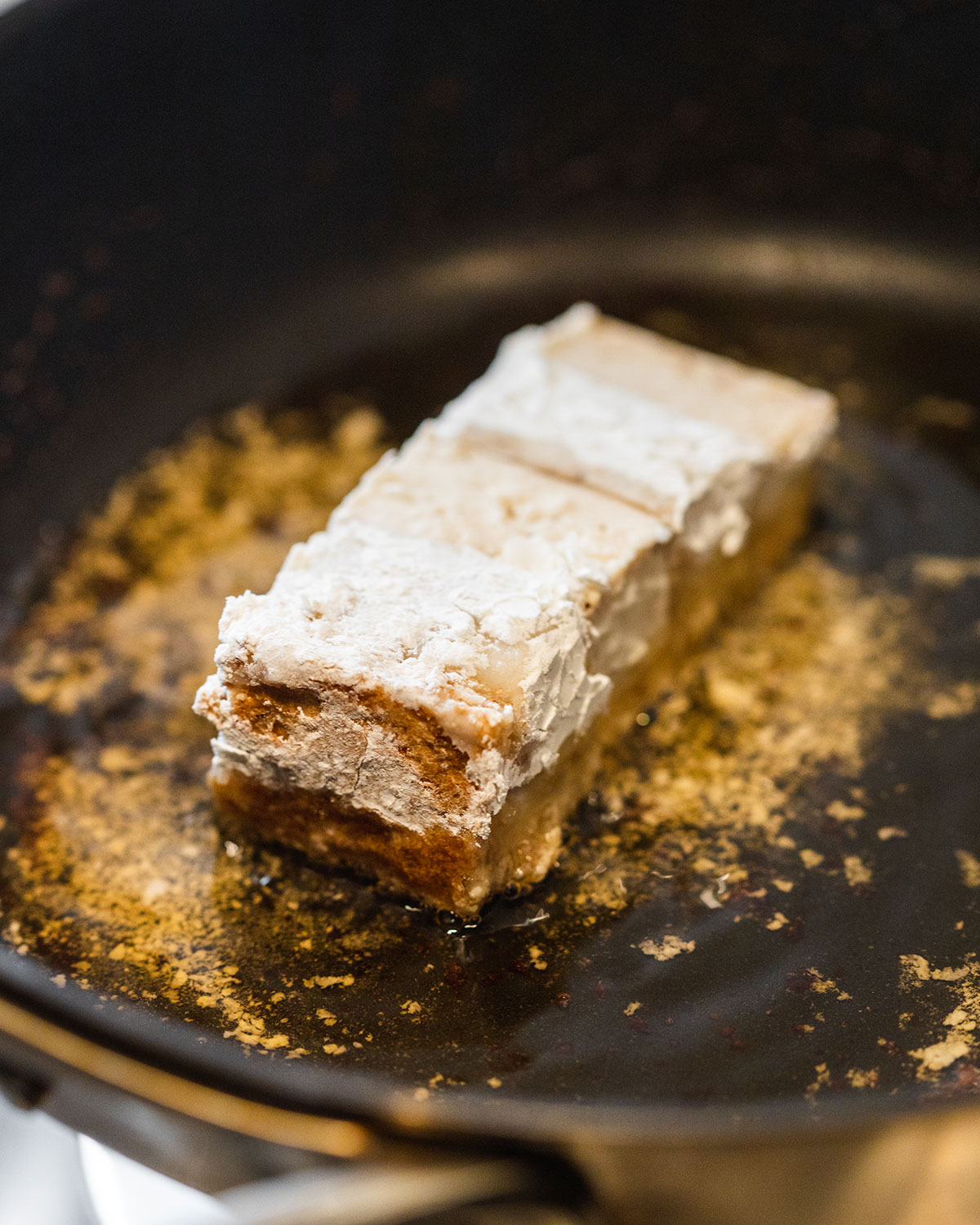 Place in hot oil.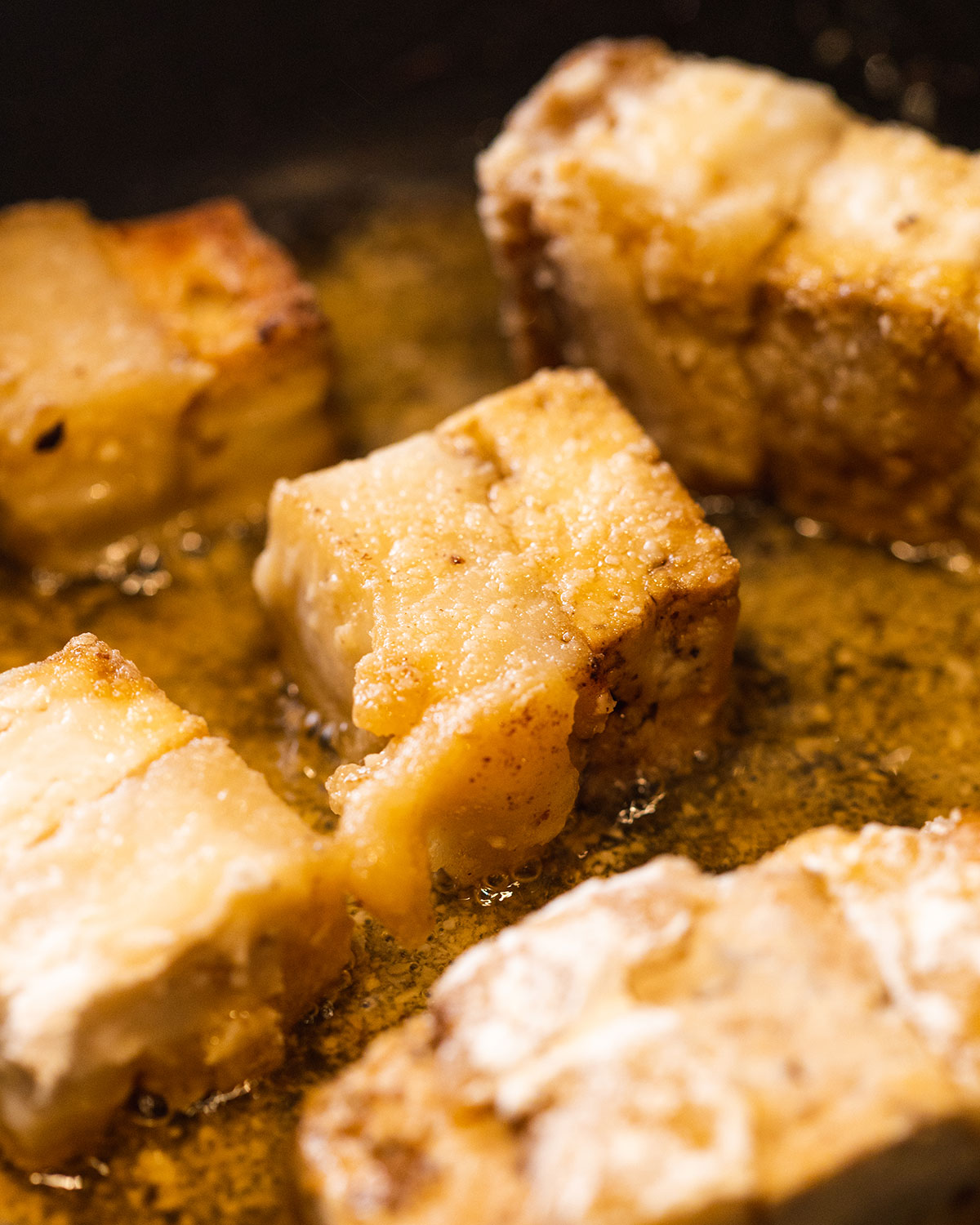 Fry until crispy.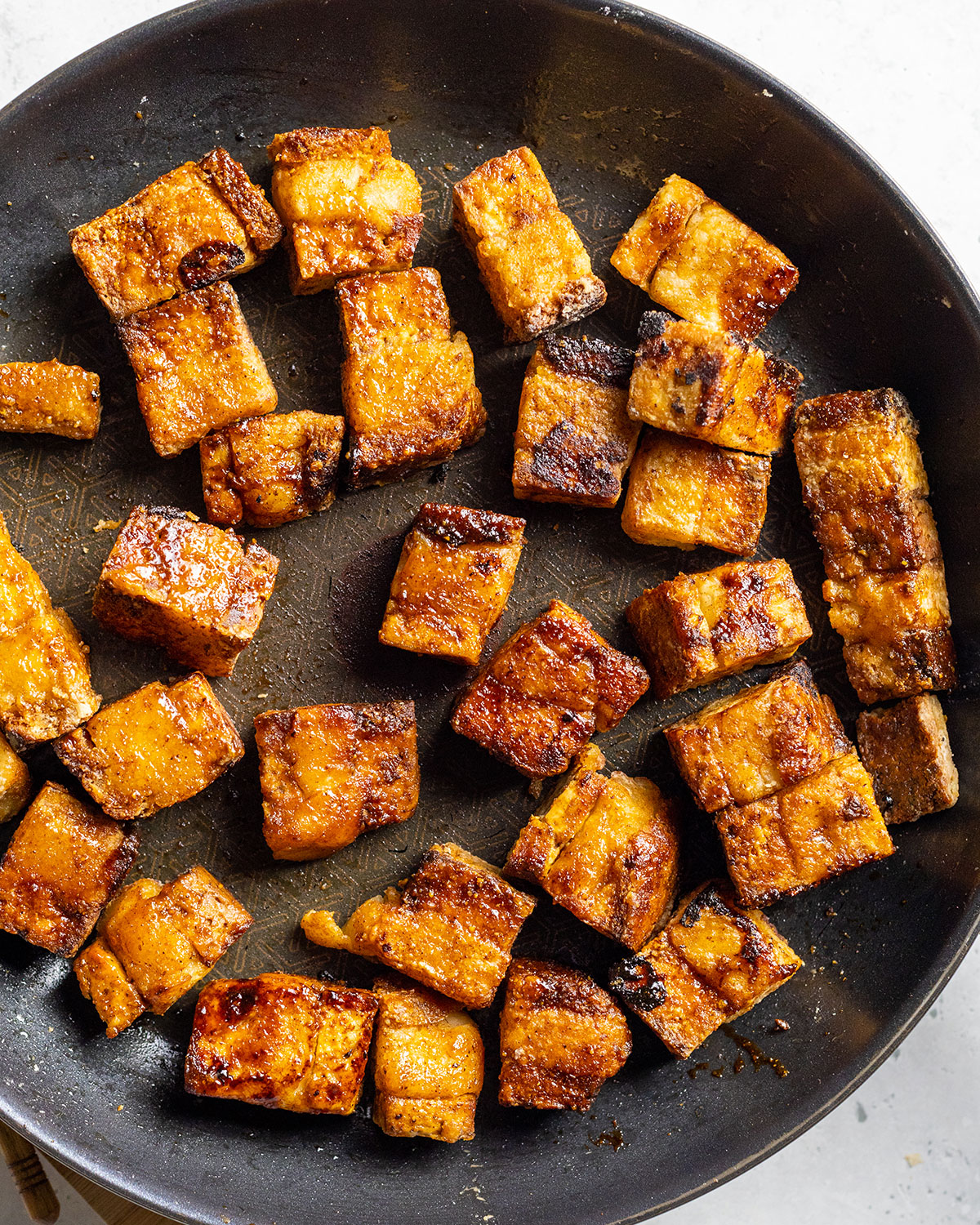 Toss with remaining marinade, then add tamari.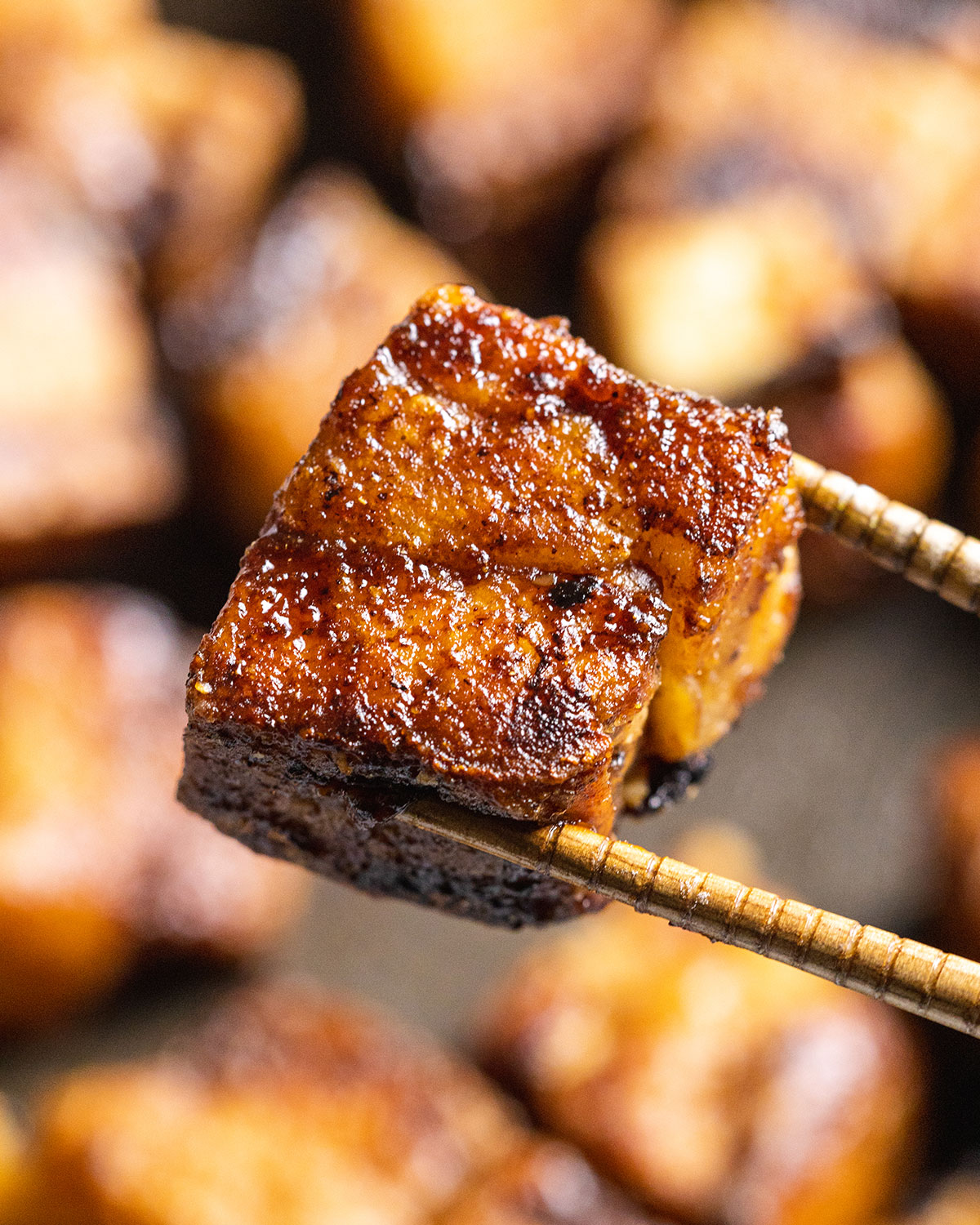 Remove from the heat when edges are caramelized.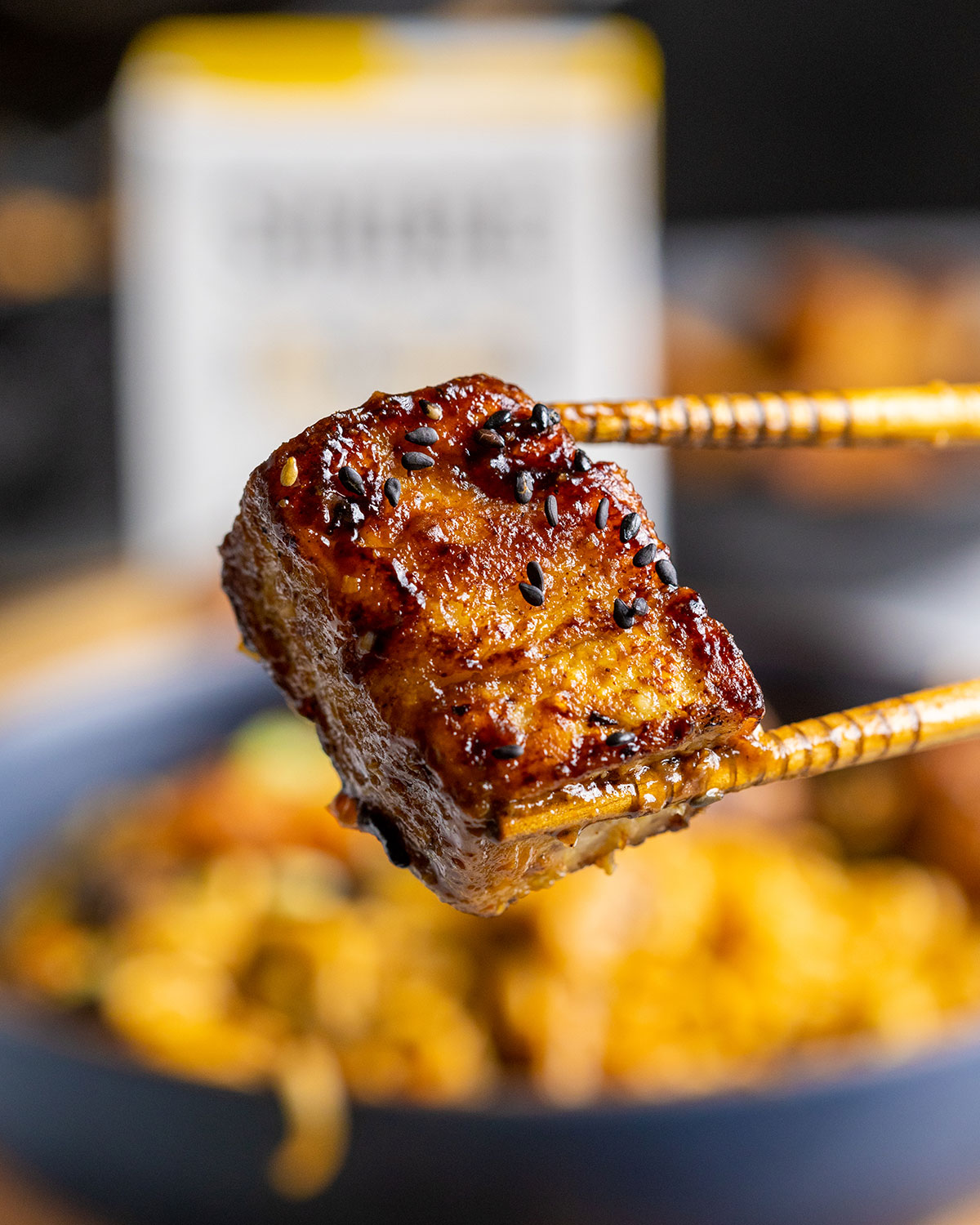 🍽️ Serving
Add this pork belly tofu to a variety of dishes, such as:
This vegan pork belly-style tofu can also be served over rice or noodles for a complete meal - and you can add some sides such as steamed bok choy or broccoli, or a simple salad with a tangy dressing to balance out the richness of the tofu.
❄️ Storing & Reheating Leftovers
Store any leftovers in an airtight container in the refrigerator for 2-3 days.
To reheat, place the tofu in a hot pan and cook until heated through and crispy. You can also reheat in the oven or microwave, but the texture may not be as crispy.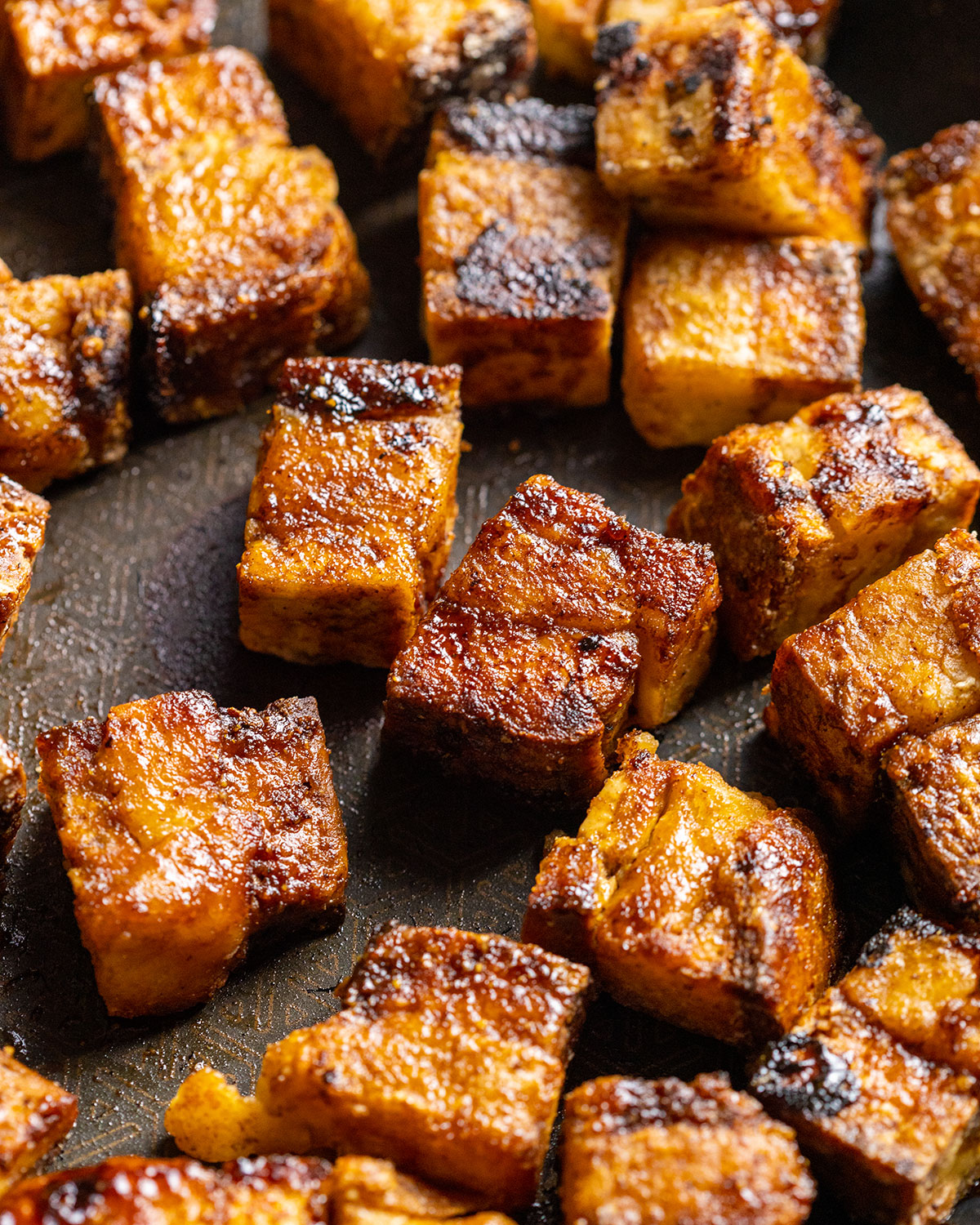 💡 Expert Tips & Tricks
How to Press Tofu
Pressing tofu is an important step in many tofu recipes, as it removes excess water from the tofu and allows it to absorb marinades and seasonings more effectively. Here's a quick and easy way to press tofu:
Remove the tofu from its packaging and drain any excess liquid.
Wrap the tofu in a clean kitchen towel or several layers of paper towels.
Place the wrapped tofu on a flat surface, such as a cutting board or plate.
Place a heavy object on top of the tofu, such as a cast iron skillet or a stack of books.
Let the tofu press for at least 15-20 minutes, or up to an hour for firmer tofu.
Unwrap the tofu and use it in your recipe as desired.
And that's it! Pressing tofu is a simple and easy way to improve the texture and flavor of your tofu dishes.
How to create a meaty texture with tofu
Freezing and thawing tofu can make it more flavorful and absorbent. It's perfect if you're looking for a meaty texture, like in this vegan pork belly-style tofu recipe. Just freeze the tofu, let it thaw, and press out any excess water before marinating. For even more flavor, try freezing and thawing it twice!
Extra tip:
If want to take your vegan pork belly to the next level try this recommendation by chef Bernardita Gotis: Use a curing process similar to that of traditional pork fatback! Simply mix together salt, garlic cloves, and warm water, and then rub the mixture onto the tofu. Let it cure for a few days at room temperature, and then use the cured tofu for vegan pork belly.
More Substitutes for Pork Belly
One of the benefits of this recipe is that it is rather easy to prepare - but if you're up for challenge you can createa pork belly substitute with an even meatier bite.
There are plenty of plant-based ingredients out there that can help you achieve the smoky flavor and meaty texture of traditional pork dishes. With so many plant-based products available, there's a good substitute out there for just about any dish you can think of! But off course, personal preference plays a big role in choosing the best substitutes for you, so feel free to experiment.
A few ideas to try:
wheat gluten, or seitan - a popular choice for its chewy texture and high protein content!
yuba, or tofu skin - slice it into small pieces, marinate and use it in a variety of dishes that use pork traditionally.
King oyster mushrooms - another great option! They can be sliced and slow-cooked to mimic the texture of pork belly.
Extra tip: For a vegan version of char siu, try using TVP slices marinated in a mixture of soy sauce, dark soy sauce, and sugar! And for vegan pork sandwiches, you can create the best alternative using either seitan or TVP slices.
Whether you're looking for a healthier alternative to pork, or just want to try something new, the possibilities are endless! And with the help of recipes like this one, you can recreate your favorite pork dishes without sacrificing taste or texture.
Related Recipes
📌 If you love Pinterest you can pin any of the images to your boards!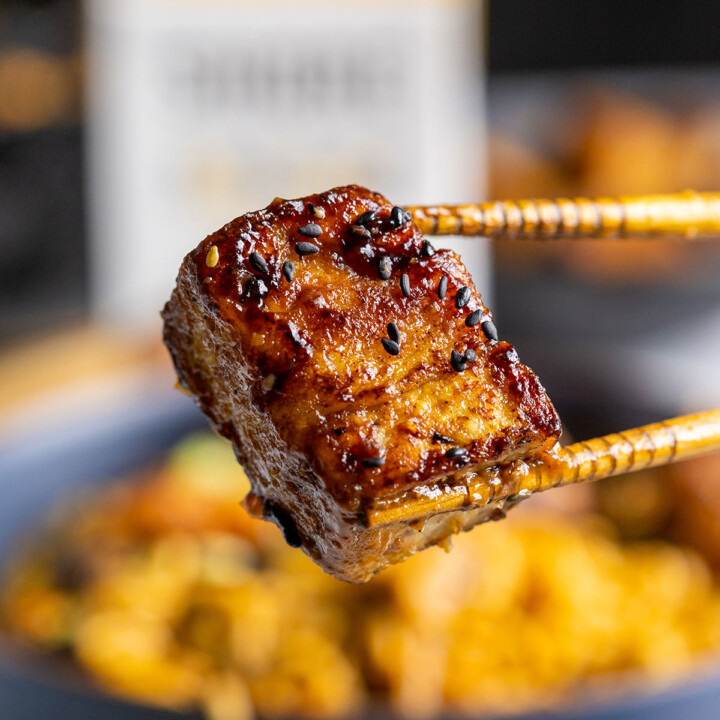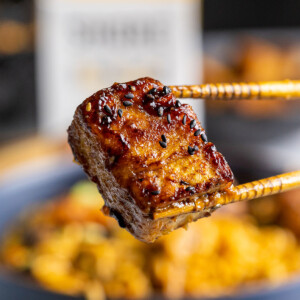 Vegan Pork Belly-Style Tofu
This vegan take on pork belly-style tofu is a flavorful and satisfying dish that's perfect for a meatless meal. The tofu is marinated and layered with a vegan fat layer and bread, then steamed, sliced and pan-fried until crispy and golden brown!
Equipment
1 large non-stick pan

1 small mixing bowl

1 whisk

1 cutting board

1 Knife

Measuring spoons

1 spatula
Ingredients
1

14-oz block

extra firm tofu (400g)

drained and pressed

1

slice

sandwich bread

use the end piece!

2

tablespoons

cornstarch

2

tablespoons

sesame oil

for frying

1

tablespoon

tamari soy sauce
For the marinade:
1/4

cup

dark soy sauce (60 ml)

2

tablespoons

hoisin sauce

2

tsp

Chinese five-spice powder

1/4

teaspoon

black pepper
For the 'fat layer':
1/2

cup

rice flour (75g)

1/2

cup

tapioca starch (80g)

1

cup

coconut milk (240 ml)

2/3

cups

water (160 ml)

1

pinch

salt
For garnish (optional):
1

tablespoon

thinly sliced scallions

spring onions

1

tablespoon

toasted sesame seeds
Instructions
First, make the marinade by mixing together the dark soy sauce, hoisin sauce, Chinese five-spice powder, and black pepper in a bowl.

Next, place the tofu block in a container that is of the same size. Pour the marinade over the tofu block and marinate it for 2 hours. After 2 hours, remove the block and store the remaining marinade for later. Slice the tofu block into 2 large slices.

To create the fat layer, combine rice flour, tapioca starch, coconut milk, water and salt in a pan on low heat. Stir the mixture constantly until it becomes a thick white paste, then remove from the heat.

Spread half of the fat on top of one tofu slice. Then, top with the second tofu slice and evenly spread the rest of the fat on top.

Use a rolling pin to flatten the slice of bread, and place it on top of the tofu/fat block. Cut the bread to size if needed.

Firmly wrap the tofu first in a clean muslin, then aluminum foil and steam it for 25-30 minutes. Let it cool down entirely, unwrap and then slice and cut the block into bite-size pork belly pieces.

Coat the tofu in cornstarch and pan-fry it in hot oil until the edges get crispy.

Once crispy, drizzle in the tamari and stir to coat. Then, remove from the heat after 1 minute. Instantly pour the remaining marinade over the tofu and stir to evenly coat.

Serve the vegan pork belly-style tofu right away and enjoy!
*Disclosure: This page may contain affiliate links and sponsored links that earn me a small commission, at no additional cost to you. You can find more information in my Privacy Policy.
 © Romy London / Romina Callwitz | All images and content are copyright protected. Please do not use my images and content without permission. If you wish to re-publish any recipes or images, please get in touch via email. Thanks for your support!