Wonderfully crunchy with a delicious hint of vanilla - try this easy Vanilla Almond Granola Recipe as a tasty addition to your breakfast bowls. 100% vegan.

Let me tell you that homemade granola is so much tastier than store-bought granola and if you've ever made your own, you will surely agree with me! This delicious Vanilla Almond Granola is super easy to create and made to a vegan recipe without palm oil or refined sugar.
Find below the ingredients and easy steps to make this delicious homemade granola, and see the FAQ section at the bottom to answer the most commonly asked questions. If there is anything that I haven't covered yet in this article, please leave a comment below. Thanks!
Ingredients
melted coconut oil
salt
maple syrup
almond butter
vanilla powder
rolled oats
almond flakes (optional)
Equipment
lined baking tray
large mixing bowl
small saucepan

Instructions (Step-by-Step)
For this easy vegan granola recipe, you don't need any complicated techniques or equipment, which makes it super easy to follow.
In a nutshell: we preheat the oven, combine the dry and wet ingredients separately, then mix everything together, spread it on a lined tray and bake it in the oven until golden. Sounds easy? Well, it is, but let me go through it in a little more detail to answer any questions you might have.
Preheating & oven temperature
It is important to preheat the oven fully before adding the granola to the oven. If the oven has not reached the peak temperature yet, the granola will not be ready within the designated time and if it sits at the wrong temperature for too long, it could either burn or become soggy - both things we would want to avoid. In general, with any recipe I always recommend preheating the oven to the right temperature, so best follow that rule in this case also.
As heat distribution might be different depending on your oven, I recommend staying nearby and watching the granola closely to avoid any edges of the spread-out granola burning and adjust your oven's heat accordingly. I'm using a conventional fan oven, but if you're cooking with gas, you might want to reduce the temperate by 10-20 degrees in order to not overbake or burn your vegan granola.
Separating wet & dry ingredients
The reason why we combine wet and dry ingredients separately is in order to get an even distribution of ingredients, so you don't end up with little chunks of vanilla flavour whilst the rest of the granola doesn't really taste like vanilla, for example.
The dry ingredients are easily stirred together in a large mixing bowl, the wet ingredients are best combined in a saucepan over low heat, to ensure the coconut oil is fully melted. The heat will also aid in melting the almond butter and bring out a delicious aroma of the vanilla, which will infuse into the rest of the wet ingredients and spread the flavour nicely throughout the granola.
Why adding salt to granola is a great idea
I like adding a pinch of salt to my sweet recipes, as I find it helps bring out the natural flavours, especially sweet ones, in a simple and easy way. It might sound counter-intuitive at first, but trust me: give it a go!
Bringing all ingredients together
Once the wet ingredients are melted and well combined, simply pour the wet mix into the dry and use a large spoon or spatula to combine everything until the granola is evenly coated. The mix should be slightly sticky.
Now it's time to spread out the mix onto a lined baking tray or two. You can easily use parchment paper to prepare your baking sheet, or silicone baking mats, which I usually like to use for my homemade granola.
It's important that the mix is spread out in an even single layer to ensure it bakes evenly, but also ensure the granola mix is connected throughout, in order to get little crunchy granola clusters throughout. If required, use more than one baking tray to evenly bake the granola.
Baking the vanilla almond granola
Transfer the lined baking tray(s) to the oven and bake at 160C (320F) for 12-15 minutes. Again, the baking time might slightly vary depending on your oven, so please stay nearby and check the granola regularly towards the end of the baking time - it can burn quicker than you think, leaving your granola with a bitter taste, so best to avoid that at any cost.
Once golden, remove your tray(s) from the oven. The granola will still be a little soft at this point, as we need to allow it to cool completely first - the cooling down is basically part of the baking process when it comes to granola. Allow it to sit at room temperature for at least 30 minutes before crunching it up into granola clusters. If it's still a little soggy after this time, sim
ply return it to the oven at a low temperature (talking roughly 140C in a conventional fan-assisted oven) and bake it for 3-4 minutes at a time until crunchy.
Storing the granola
This vanilla almond granola is best stored in a breathable container at room temperature. I leave mine in a large jar with a non-airtight lid and it stays sumptuous and crunchy for at least 2 weeks (never had it longer as it's usually long gone by then ;))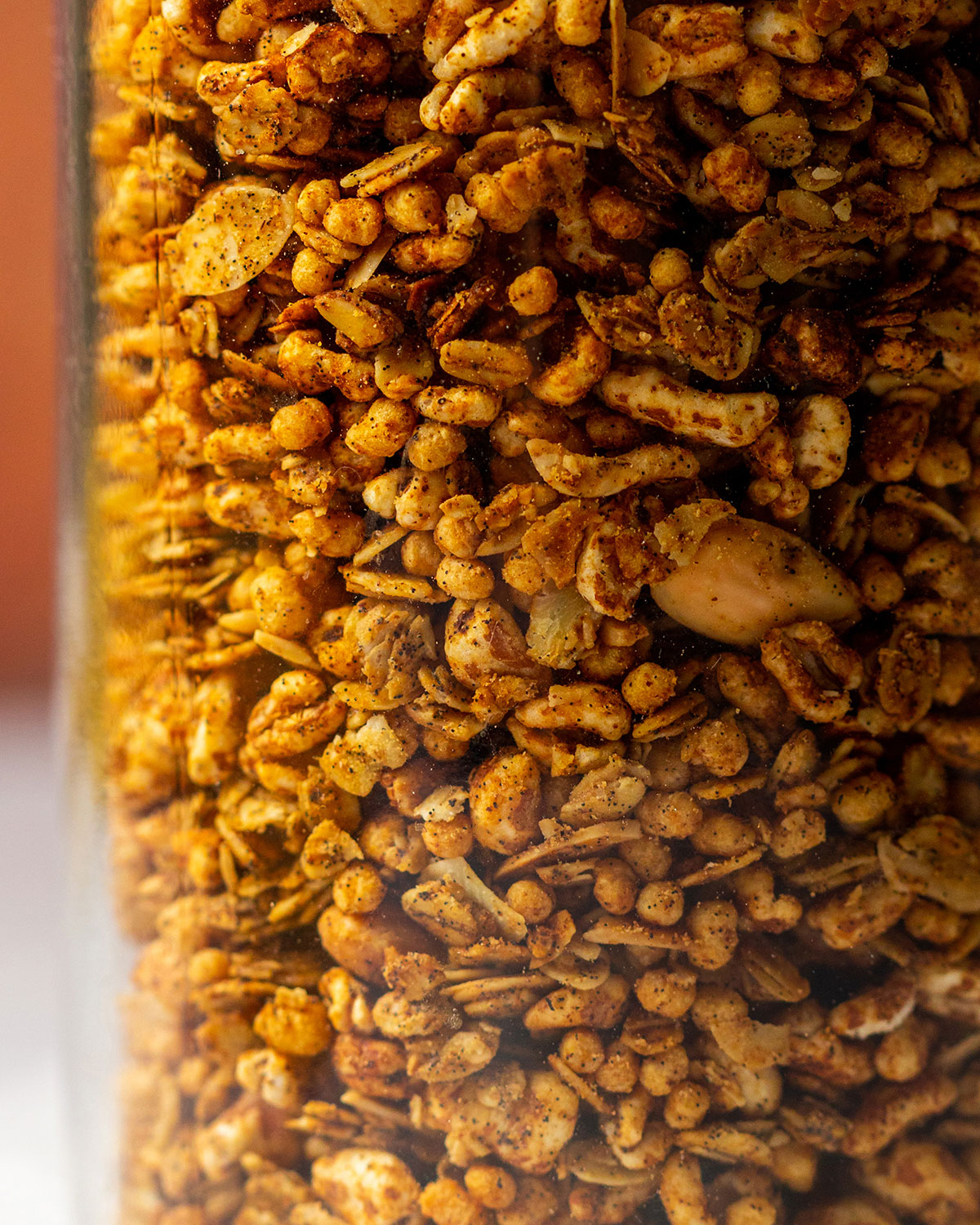 Vanilla Almond Granola Recipe - FAQ
Where to buy puffed soy crispies, puffed spelt and whole blanched almonds?
For this recipe, I've teamed up with the lovely peeps at
Koro UK - Koro is originally a German online store for all things healthy and they have a lot of wonderful ingredients available to order in bulk, such as the puffed soy crispies, puffed spelt and whole blanched almonds that I've used in this recipe.
The puffed soy crispies might be my current favourites, as they're so high in protein, yet taste like cereal and they are a great addition to granolas and smoothie bowls (or simply for a quick crunch on their own!). They exist in 2 vegan flavours on their website: plain & chocolate.
If you're looking to place an order with Koro, don't forget to use my code 'ROMY5' for 5% off your order. The code is available on all international Koro websites, including the UK and Germany.
What if my granola is still slightly soggy after baking?
Allow for your granola to cool down for at least 30 minutes after baking, only then you will see the actual texture of your granola. It is normal for the granola to still feel moist and not crunchy when it leaves the oven. The cooling down process is part of baking the granola, so please don't bake it until dry and crispy as this will make your granola burned and dry.
If your granola is still soft after cooling down, you can return it to the oven on a low temperature (140C/284F) for 3-4 minutes at a time until you get the
desired crunch.
How to store this healthy homemade granola?
The granola is best stored at room temperature in a covered but not airtight container. I like to keep mine in a large glass jar with a lid, but I also don't live in a humid climate, which will change things up for you (see notes below!).
Don't keep your granola in the fridge as I have found it takes away the flavour intensity of the vanilla and it's really not necessary to store at cool temperatures as we are not using fresh ingredients.
If you live in a hot and humid climate, the shelf life of your healthy homemade granola might be shorter. In this case, it's best to ensure the granola is 100% dry before adding it to an airtight container and storing the granola in a cool place.
Can I make this recipe gluten free?
Yes! Simply replace the ingredients with gluten free alternatives, e.g. gluten free oats and you're ready to go. Just ensure to stick to the amounts for the recipes to get the right ratio between wet and dry ingredients.
Can I use vanilla extract instead of vanilla powder?
Sure you can, however, be aware that the intensity of vanilla extract is usually much lower than using pure vanilla powder and it's definitely worth investing in the powder if you're cooking or baking with vanilla regularly. For an intense flavour using powder, you only need a small amount, but if using extract instead you might want to use roughly 5 times the recommended amount. However, this can vary depending on the brand you use, so I can only recommend going with your gut and changing things up as you go along.
Can I use sliced almonds instead of whole blanched almonds?
Definitely, go for it!
Can I use brown sugar instead of maple syrup?
Absolutely, mix the brown sugar with the oil and the other 'wet' ingredients and ensure it's fully melted before stirring it into the dry mix.
Extra tip: for an extra intense almond flavour, you can also add in 1/4 tsp almond extract!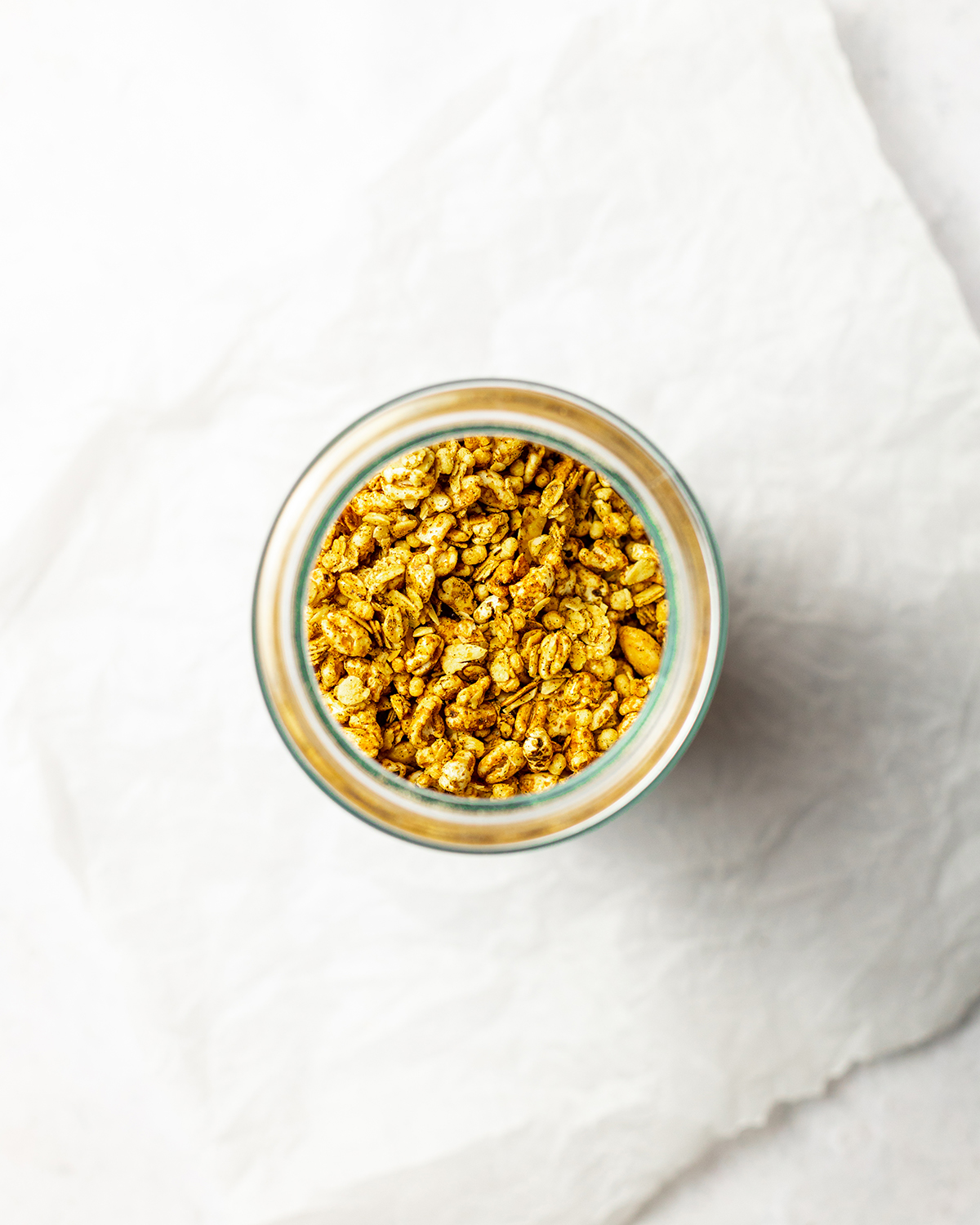 This recipe is:
100% vegan
easy to make
great for breakfast and as a topping for smoothie bowls, baked oats, porridge, pancakes and Co.
simply delicious
super nutty
extra crunchy
great to make in bulk
oven-baked
egg-free
dairy-free
free from honey
palm oil free
📌 If you love Pinterest you can pin any of the images to your boards!
Print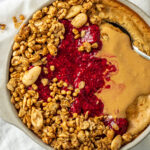 Vanilla Almond Granola Recipe (Vegan)
Author:

Prep Time:

5

Cook Time:

12

Total Time:

17 minutes

Yield:

8

portions

1

x

Category:

Granola

Method:

Oven Baked

Cuisine:

British

Diet:

Vegan
---
Description
Deliciously nutty with a hint of vanilla - this easy recipe for vegan vanilla almond granola adds the perfect crunch to your breakfast bowls and Co.! Created to palm oil-free and refined sugar-free for tasty snacking.
---
40g

coconut oil, melted
pinch of salt

2 tbsp

maple syrup

50g

almond butter, unsweetened

1 tsp

vanilla powder (I used @buywholefoodsonline)

40g

puffed soy crispies

40g

puffed spelt

50g

whole almonds (blanched)

100g

rolled oats

30g

almond flakes (optional)
---
Instructions
Preheating: Line a baking tray and preheat your oven to 160C (320F).
Mixing dry ingredients: In a large bowl, combine the dry ingredients: oats, almonds, puffed spelt and puffed soy crispies.
Mixing wet ingredients: In a small saucepan melt the coconut oil over low heat on the stove, then stir in the almond butter, vanilla powder, maple syrup and pinch of salt until combined and remove from the heat.
Combining: Pour the wet ingredients into the dry ingredients and combine everything with a spatula until everything is equally coated, then transfer the mixture onto a lined baking tray and spread it out evenly on the sheet.
Baking: Bake at 160C (320F) for 12-15 minutes and allow for the granola to cool down completely at room temperature before crunching it up and removing it from the baking tray.
---
Notes
Extra tip: for an extra intense almond flavour, you can also add in 1/4 tsp almond extract! 
Keywords: vegan granola recipe, granola recipe vegan, granola vanilla almond, vanilla almond granola, granola vegan, vegan granola, Vanilla Almond Granola Recipe (Vegan)
Here are a few other recipes you might be interested in:
 © Romy London / Romina Callwitz | All images and content are copyright protected. Please do not use my images and content without permission. If you wish to re-publish any recipes or images, please get in touch via email. Thanks for your support!
*Disclosure: This page may contain affiliate links and sponsored links that earn me a small commission, at no additional cost to you. You can find more information in my Privacy Policy.