A delicious chutney recipe made from fresh raspberries and red onions. Delicious & tangy - this Raspberry Red Onion Chutney recipe is definitely one to try!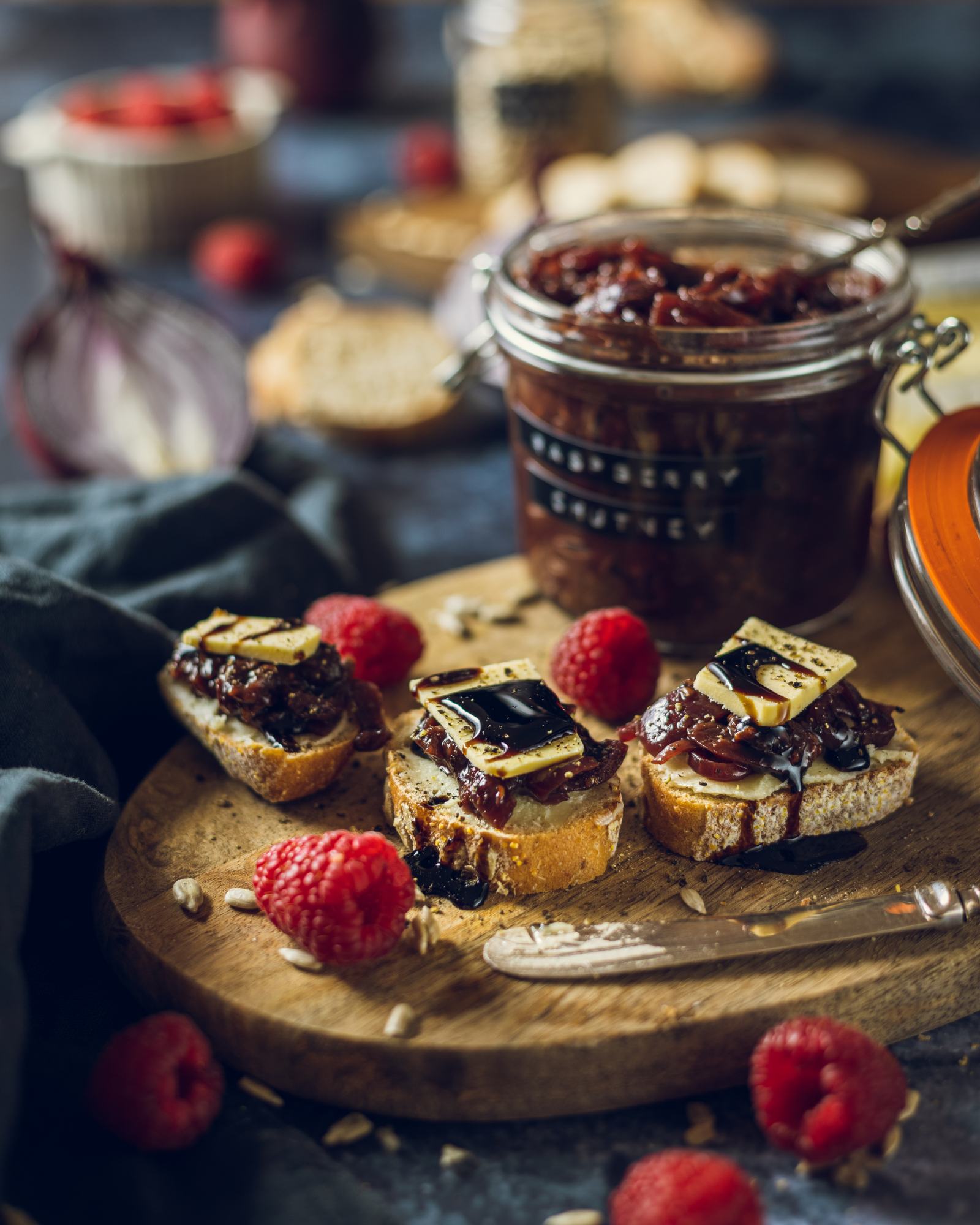 When it comes to unconventional food pairings, I definitely love to experiment - maybe not successful every single time, but every now and then I discover a true gem! This raspberry red onion chutney recipe was first developed as an experiment and it was definitely worth going into creation mode for! It adds a wonderful sweet & tangy flavour to whatever they're served with.
I'd recommend pairing it with (vegan) cheese, and some delicious crackers such as my homemade apple crackers!
Everyone that's tried it thus far has thoroughly enjoyed this chutney recipe, so I'd recommend giving it a go for your next (vegan) cheese board!
Table of Contents
Recipe Notes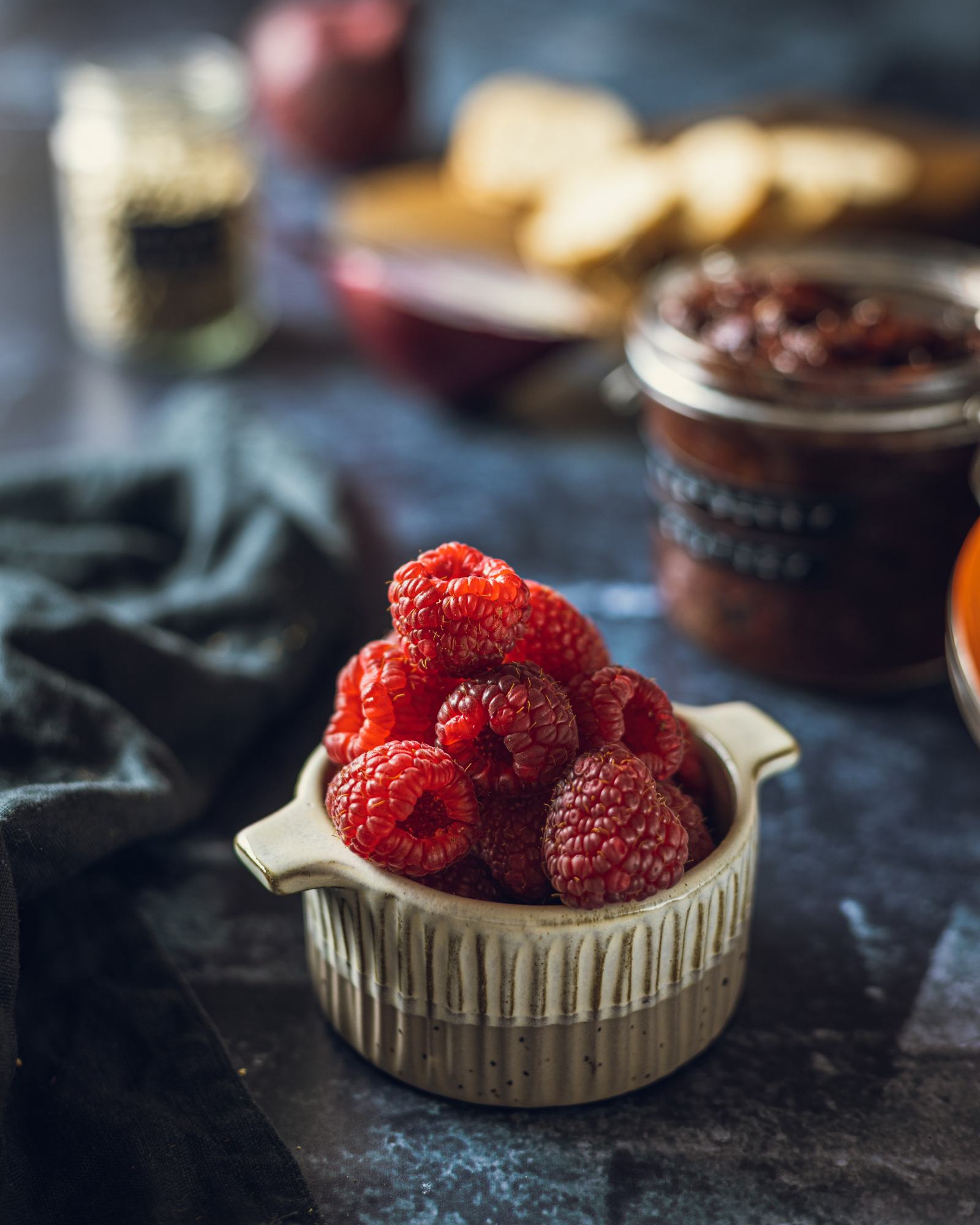 Ingredients
As you can guess from the recipe name, my key ingredients for this onion chutney are red onions and raspberries, but there are a few other ingredients that make this fruity and tangy chutney come together perfectly (some more surprising than others):
raisins
lemon zest
sea salt
apple cider vinegar
maple syrup
I've probably mentioned it a hundred times before: I'm not a big fan of raisins - normally! There are a few exceptions, however, that actually make me enjoy these little things. And one of them is this raspberry chutney!
The raisins get totally involved in the flavor of the raspberry and red onion chutney and add a nice and chewy texture to it, as well as some natural sweetness.
For the special tang of this chutney, lemon zest, apple cider vinegar, and balsamic vinegar are coming together deliciously - and form the perfect counterbalance to the sweetness of the red onions, raspberries and maple syrup, making this homemade red onion chutney recipe absolutely divine!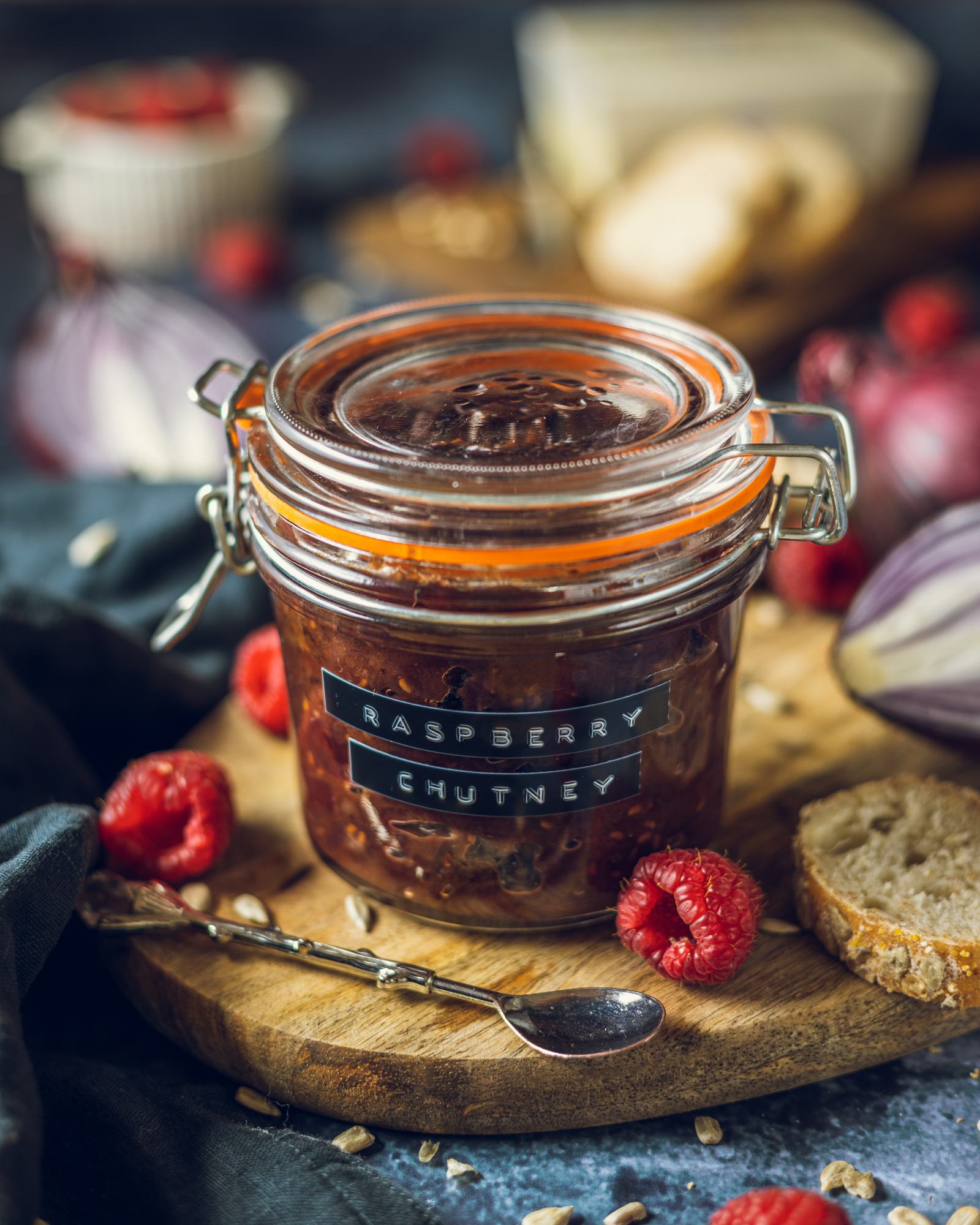 How to make raspberry red onion chutney
The steps for creating this delicious chutney recipe are very simple and straightforward:
Step 1: Caramelize the onions
The thinly sliced onions are added to a medium-size saucepan alongside a little oil and cooked for a few minutes until they start to become translucent and begin to caramelize. This should take about 5-6 minutes.
Add the remainder of the ingredients (leaving out the raspberries) to the saucepan and cook until the onions are completely softened and all ingredients well incorporated - for about 4-5 minutes.
Step 2: Adding the raspberries
Lastly, add the raspberries to the saucepan and stir until they begin to break down. Cook everything on low/medium heat stirring regularly to reduce the liquid. This should take about 25 minutes.
Step 3: Storage
Once the red onion chutney is thickened, it's ready! Remove the saucepan from the heat and store it in a jar or airtight container in the fridge and used it within 2 weeks.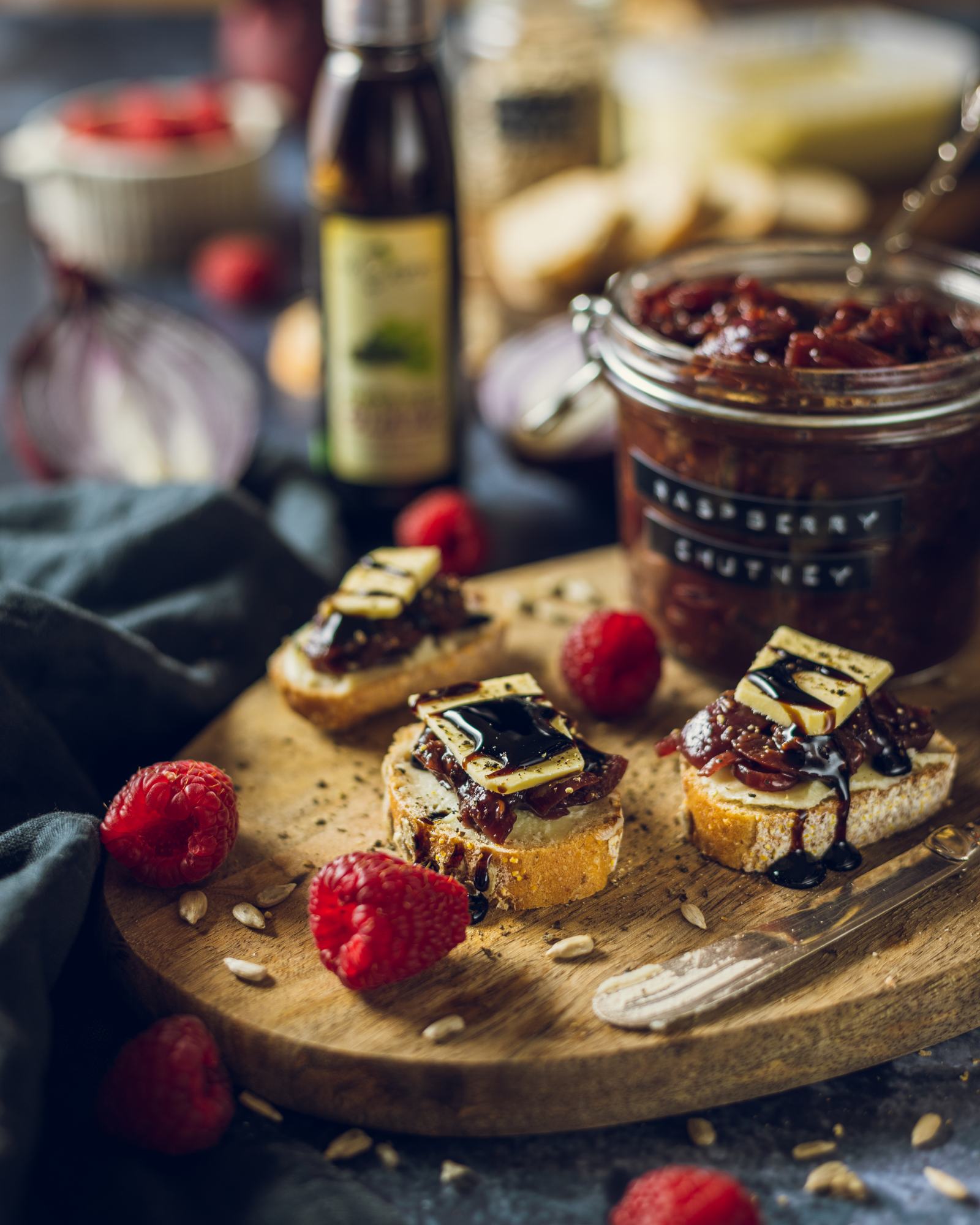 How to serve onion chutney
I love to serve this chutney on fresh, toasted bread, alongside vegan cheese. Oh and how about a glass of wine, whilst we're at it? 😉
It is also a wonderful addition to a vegan cheeseboard. If that's your kinda thing, then you might also want to try making your own crackers alongside, such as these Easy Vegan Apple Crackers or Sweet Potato Crackers.
And if you're looking for a fantastic vegan cheese cause to serve, drizzle and dip alongside, then definitely give this Ultimate Vegan Cheese Sauce a go.
This recipe is:
100% vegan
perfect with non-dairy cheese
sweet & tangy
easy to make
naturally gluten-free
quick & simple
great on toasted bread, crackers and flatbreads
approved by the 'food gods' 😉
a tasty addition to your cheese board!
Related Recipes
📌 If you love Pinterest you can pin any of the images to your boards!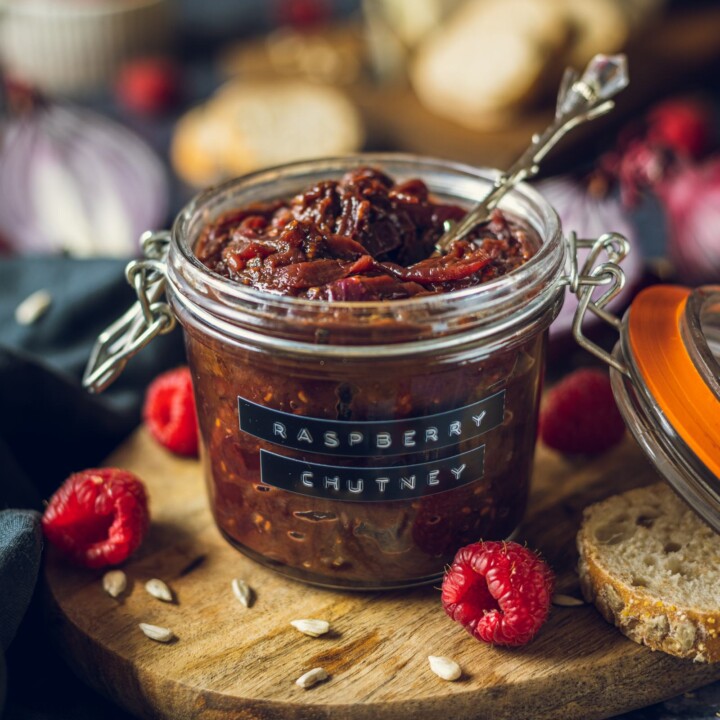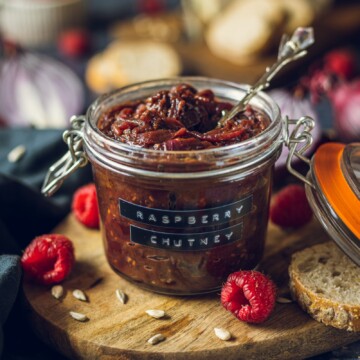 Raspberry Red Onion Chutney
This raspberry and red onion chutney is the perfect companion for your (vegan) cheeseboard - deliciously sweet and tangy! And the best thing about this recipe? It's ready within just 30 minutes!
Ingredients
3

large red onions

peeled & finely sliced

1

tbsp

olive oil (14 ml)

1-2

tbsp

raisins

1

tsp

lemon zest

or juice of 1 lemon

1/2

tsp

sea salt

3

tbsp

apple cider vinegar (45 ml)

3

tbsp

aged balsamic vinegar (45 ml)

2

tbsp

maple syrup (30 ml)

1 1/4

cups

fresh raspberries (150 g)

washed
Instructions
Prepare the onions: Peel the onions then cut them into quarters and thinly slice them with a sharp knife. 

Soften the onions: Heat the olive oil in a medium-size saucepan over medium heat and add the onions, stir regularly until the onions begin to soften.

Add ingredients: Add in the raisins, lemon zest, sea salt and stir to combine.

Pour in liquid ingredients: Pour in the apple cider vinegar, aged balsamic vinegar and maple syrup, stir again and let them cook on low/medium heat for about 10 minutes.

Add the raspberries: Add in the washed fresh raspberries, gently stir until the raspberries break down.

Reduce: Cook for a further 25 minutes, stirring well every 5, or until the liquid had reduced and the chutney thickened. Remove from the heat.

Store: Store in a jar or air-tight container in the fridge and serve with crackers, vegan cheese & pickles.
Notes
If you don't have fresh raspberries to hand, you can also replace them with frozen raspberries, however, they might be more watery and the chutney will take longer to cook down.
Looking for more recipes? Check out my vegan recipe section!
Latest Recipes
© Romy London / Romina Callwitz | All images and content are copyright protected. Please do not use my images and content without prior permission. If you wish to re-publish this recipe, please get in touch via email. Thank you so much for supporting romylondonuk.com!
*Disclosure: This page may contain affiliate links and sponsored links that earn me a small commission, at no additional cost to you. You can find more information in my Privacy Policy.