This One Pot Coconut Curry Pasta is the perfect nutritious meal for when you've simply got no time to stand in the kitchen for too long. And the best thing about it: There's not much washing up either!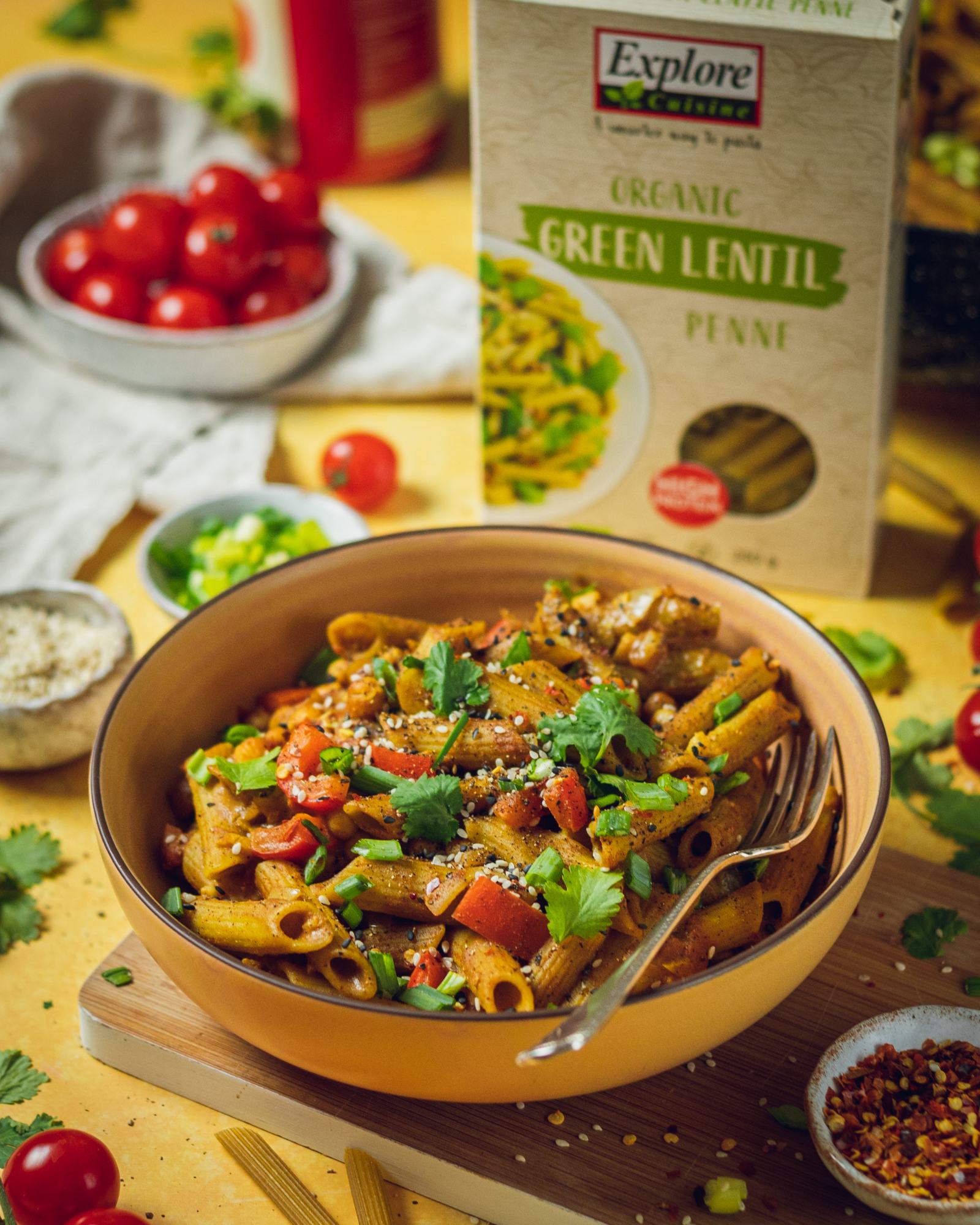 Coconut Curry Pasta
One-Pot dishes have always been one of my favourites - they're simply so easy to make, delicious and filling, quick & don't require much additional work. This yummy One Pot Coconut Curry Pasta is the perfect fusion between a pasta dish and a curry, basically the ultimate comfort food! With the addition of coconut milk, this pasta dish turns super creamy and more-ish with a little kick!
I love adding a decent amount of fresh ginger into this dish - fresh ginger is a healthy addition to this dish and it also adds a nice spice to this dish. You can easily pick your favourite curry powders to use in this recipe, so you can adjust the spice to your own liking. I personally like using mild curry powder for this dish and adjusting it with chilli afterwards.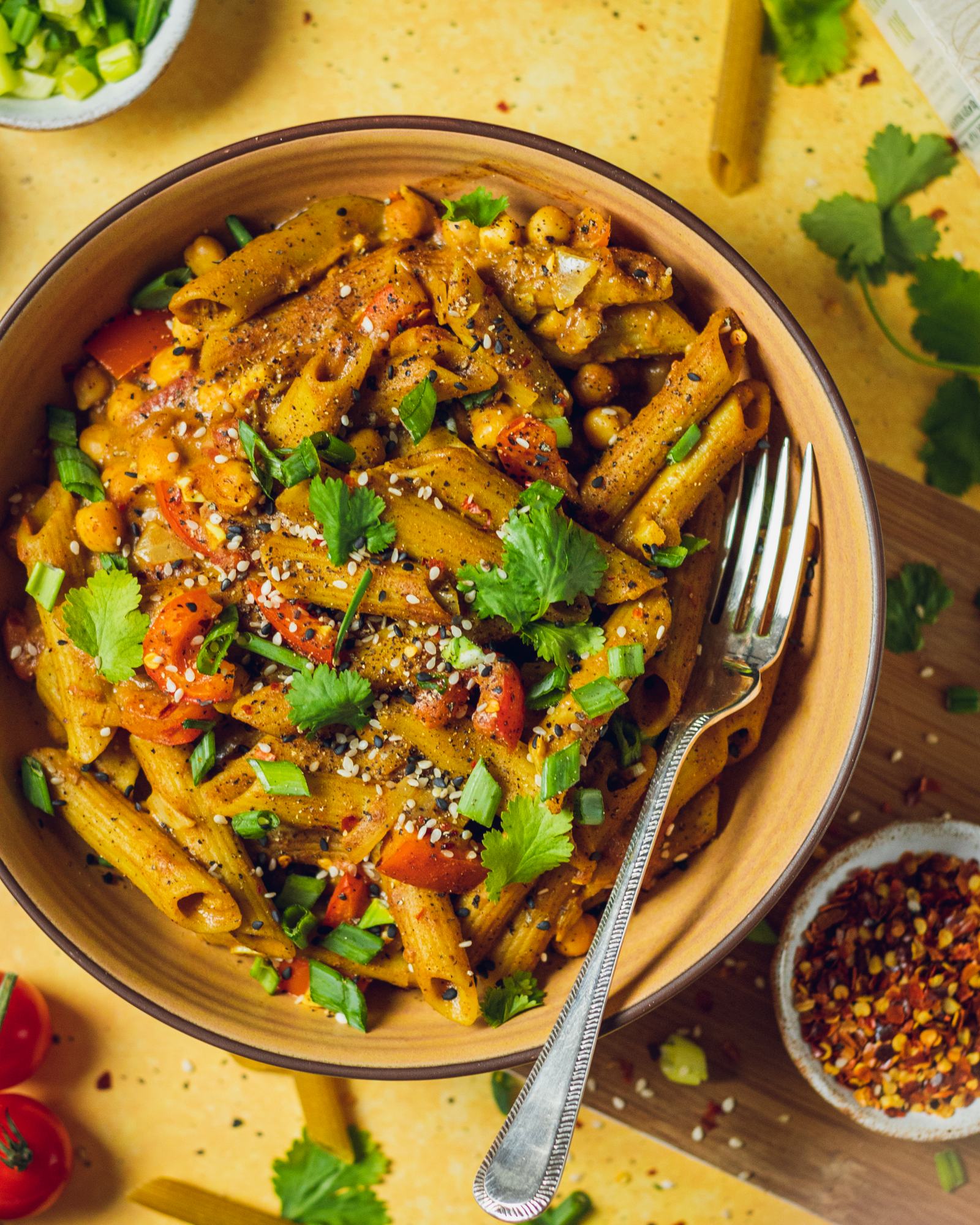 Ingredients
rapeseed oil
yellow. onion
fresh garlic
fresh ginger
curry powder
garam masala
chickpeas
red bell pepper
green lentil penne (I used Explore Cuisine!)
chopped tomatoes
coconut milk
salt & pepper
To serve (optional):
spring onions
fresh coriander
sesame seeds
Equipment
one large non-stick pan with lid
Yes, simple as that - only one piece of equipment is needed for this delicious & easy recipe!)
Instructions (Step-by-Step)
The trick is in the name! Yes, you really only need one pot to make this recipe - it's the perfect dish for the lazy cook and washing up will be a real treat. And yes, one-pot means that also the pasta in this dish is cooked in the same pot and at the same time as all of the other ingredients.
The secret lies in adding all ingredients at a certain time so they can cook perfectly and the entire dish can be ready at the right time.
Starting with a little oil and sautéing the onion, once translucent add in the crushed garlic and finely chopped ginger. Cook for a few minutes, then add in all the spices - curry powder and garam masala. Stir in the powders to mix them with the cooked veg, they will become fragrant in the hot pan and the kitchen will begin to smell amazing! Pour in the drained chickpeas and chopped red bell pepper as well as the uncooked green lentil penne.
Next, add in the liquids: chopped tomatoes, coconut milk and water. Stir everything to evenly combine all ingredients, then bring to a boil over medium/high heat. As soon as it begins to boil, reduce the heat to low/medium, place the lid on the top of the pan and let the One Pot Coconut Curry Pasta simmer for 10 minutes or until the veg & pasta are cooked. Ensure to stir regularly to avoid any food cooking onto the bottom of your pan.
Once the cooking time elapses, season to taste with sea salt and black pepper and serve with fresh coriander, spring onions and sesame seeds (for a good crunch!). If you'd like to adjust the spiciness of the dish, you can season it to taste with chilli powder or chilli sauce as well.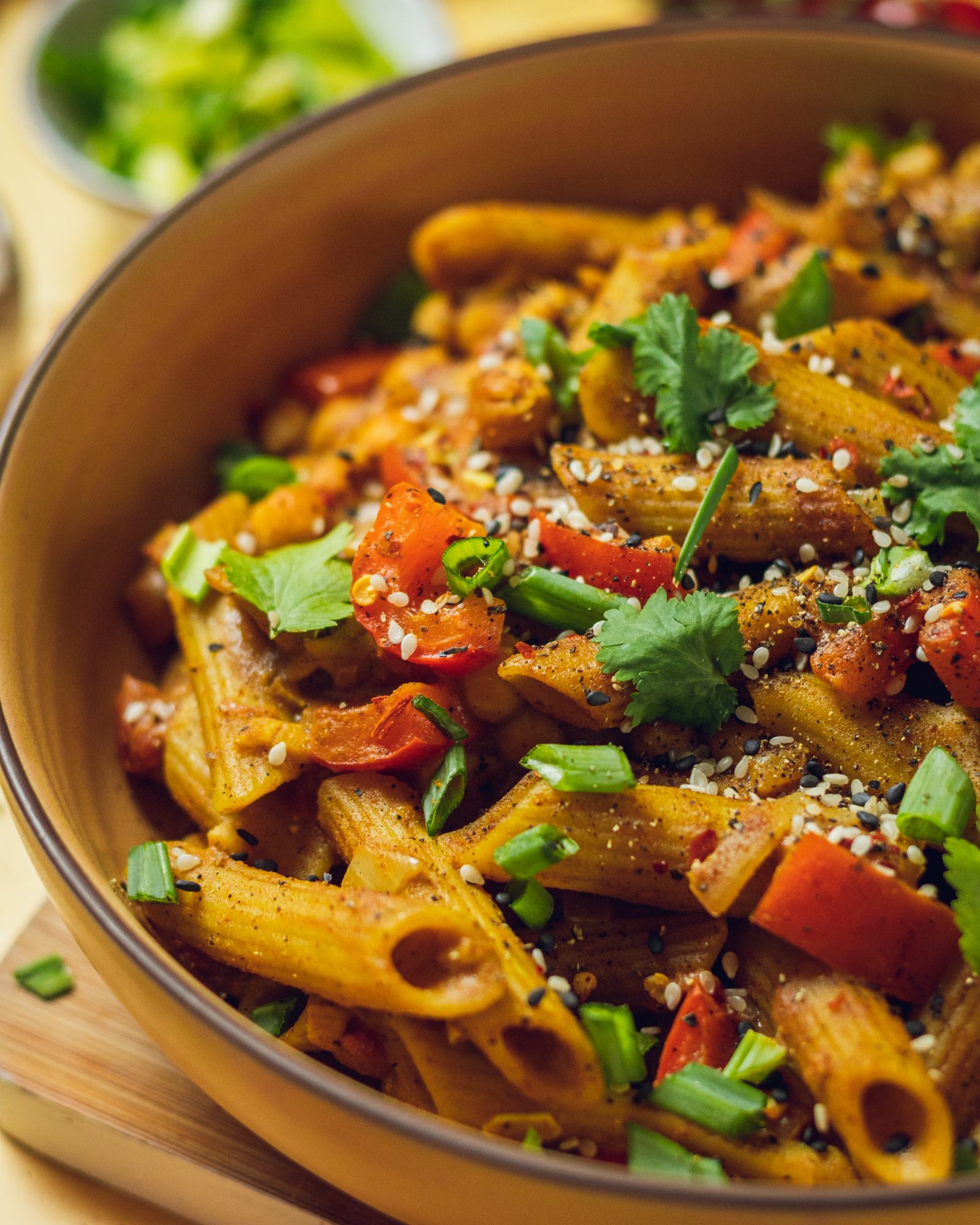 What makes this dish high-protein
This packs a generous portion of plant-based protein! Using Green Lentil Penne, the usually carb-heavy pasta part of a dish, becomes the holder of the protein power in this recipe! With 21g of protein per 100g, this recipe holds about 15g protein per portion - just from the pasta alone! I love cooking with this green lentil penne - it cooks quickly, is organic, gluten-free, vegan, very nutritious and tasty. It's also a great source of fibre, packs a good bite and is deliciously 'al-dente'!
Explore Cuisine offers a wide variety of different pasta alternatives that are shelf-stable, nutrient-rich, and delicious! Check out their website to see the full range!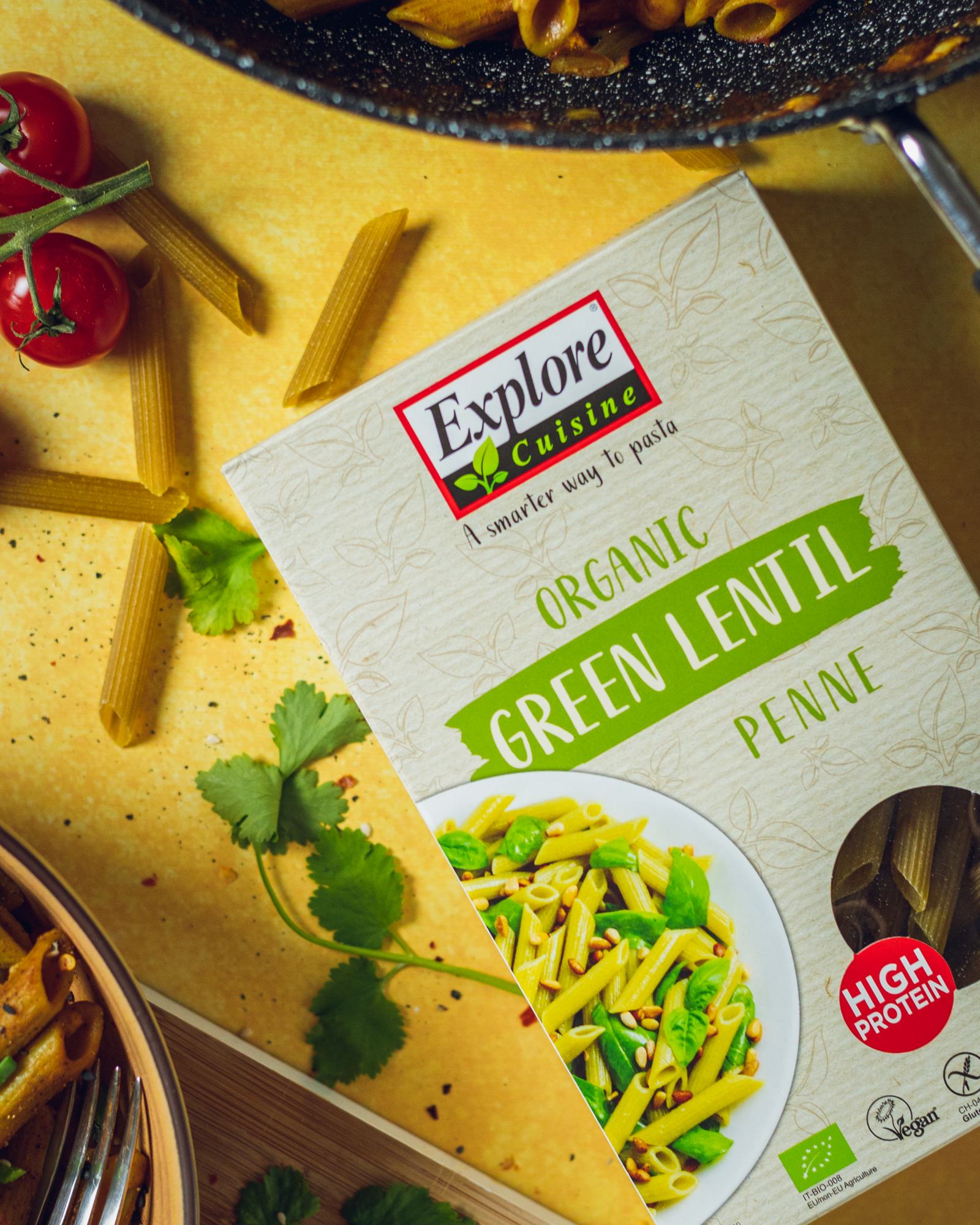 Variations
One of the great things about this dish is that it's easily adjustable depending on your personal preference or simply what you have to hand. Here are a few guidelines to making this dish taste its best:
vegetables: In this recipe I've used onions & garlic, they're a great carrier of flavour and I wouldn't replace them in this recipe, unless you're allergic. If you really need to leave them out, add a little bit of finely chopped celery. This is great to replace the flavour of the onion. With regards to the rest of the vegetables, I like red peppers in this one pot dish. You can also use your favourite veggies instead - aubergine (eggplant), broccoli, spinach and kale are all great additions to this dish!
legumes: to give the dish more volume and also to add a little more protein, I like adding chickpeas. They are simply delicious in a curry, and therefore also work wonderfully in this one pot coconut. curry pasta recipe. Alternatively you can also use another type of legume - how about butter beans, cannellini beans or lentils? They're all delicious!
Like it spicy? If you like your curry pasta to be on the spicy side, you can easily adjust it to your liking. It's always best to adjust the spiciness to your personal preference at the end of the recipe creation. Chilli powder or a hot sauce are perfect to take the heat up a notch! And adjusting the spice at the end is also perfect for when you're. sharing this dish with someone that prefers it more or less spicy than you.
This recipe is:
100% vegan
naturally gluten-free (as I'm using Green Lentil Penne by Explore Cuisine)
a delicious fusion
filling
nutritious
easy to create
comforting
made entirely in one pot
high in protein
colourful
Related Recipes
If you love this recipe, I'm certain you'll also enjoy my Falafel Curry or my Creamy Butter Bean Curry - so next time you need some flavorsome dinner inspiration, give these a go!
📌 If you love Pinterest you can pin any of the images to your boards!
One-Pot Coconut Curry Pasta
This One Pot Coconut Curry Pasta is the perfect nutritious meal for when you've simply got no time to stand in the kitchen for too long. And the best thing about it: There's not much washing up either!
This recipe is using high-protein green lentil penne and an addition of chickpeas for a delicious serving of plant-based protein.
Ingredients
1

tbsp

canola oil

rapeseed oil

1

medium

brown onion

finely diced

3

cloves garlic

crushed or grated

1

inch

piece fresh ginger

finely chopped or grated

4

tbsp

curry powder

1

tbsp

garam masala

1

can

chickpeas (400 g, 7 oz)

drained

1

red bell pepper

chopped

250

g

green lentil penne

1

can

chopped tomatoes (400 g, 7 oz)

1

can

full-fat coconut milk (400 g, 7 oz)

300

ml

water

salt and black pepper to taste
To serve:
spring onion

fresh coriander

sesame seeds
Instructions
Add a 1 tablespoon canola oil to a large non-stick pan over medium heat, then add in your chopped onions and sauté for a minute. Crush the garlic and finely chop the fresh ginger,  add it to the pan and cook for another 2 minutes whilst stirring regularly.

Sprinkle in the curry powder and garam masala and stir to combine everything. Drain the chickpeas and add them to the pan alongside the chopped bell peppers and green lentil penne.

Gently pour in a tin of chopped tomatoes and a tin of coconut milk mix everything together. Add 300ml water and bring to a boil. Once boiling, reduce the heat to medium/low, pop a lid onto the pan and let everything simmer for 10 minutes. Season to taste with salt & pepper.

Serve the One Pot Coconut Curry Pasta with spring onions, fresh coriander and sesame seeds.
Notes
You can swap out the chickpeas and veggies for your favourites! Aubergine, broccoli and spinach all work really well with the curry pasta so just go with what you have to hand.
Latest Recipes
*Disclosure: This page may contain affiliate links and sponsored links that earn me a small commission, at no additional cost to you. You can find more information in my Privacy Policy.
 © Romy London / Romina Callwitz | All images and content are copyright protected. Please do not use my images and content without permission. If you wish to re-publish any recipes or images, please get in touch via email. Thanks for your support!