Delicious gluten-free & vegan Gingerbread waffles - super fluffy & delicious, created with an oat flour base and the taste of Christmas!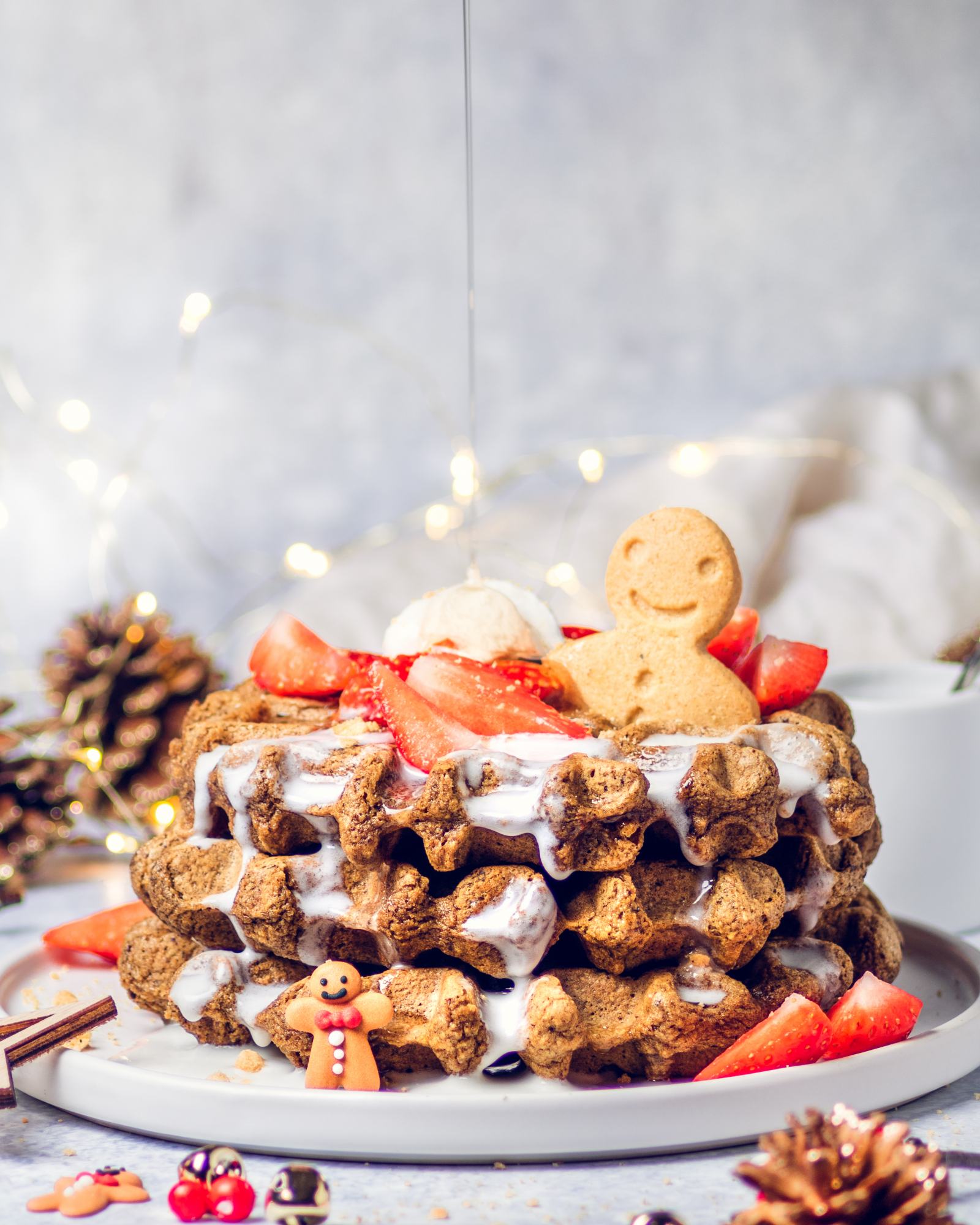 Christmas is (almost) here - at least when it comes to my breakfast table because that's currently full of festive re-inventions such as these delicious Gingerbread Waffles that are both vegan & gluten-free!
Gingerbread waffles - The base
For the base of my gingerbread waffles, I like to use homemade oat flour created from gluten-free oats. Of course, if you don't have any trouble with gluten, simply use regular oats to create your oat flour (or buy it ready-made!). For ease, I create my oat flour in my blender - which actually happens to have a flour setting!
If your blender doesn't have a flour setting you can also blend up the oat flour in a food processor. To create these waffles it doesn't necessarily have to be the smoothest oat flour, just bear in mind that your waffles will turn out chunkier in texture if the oat flour is not fine.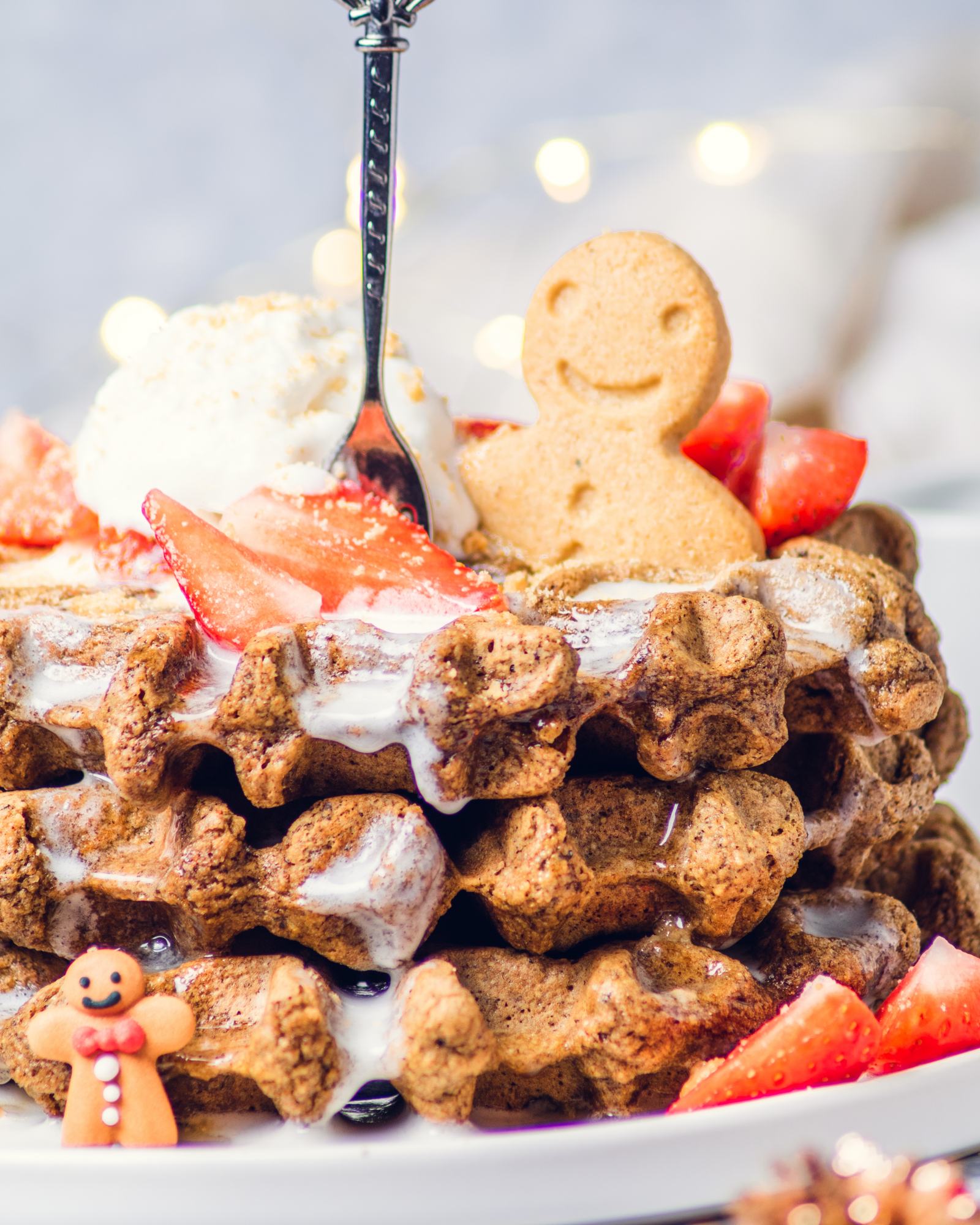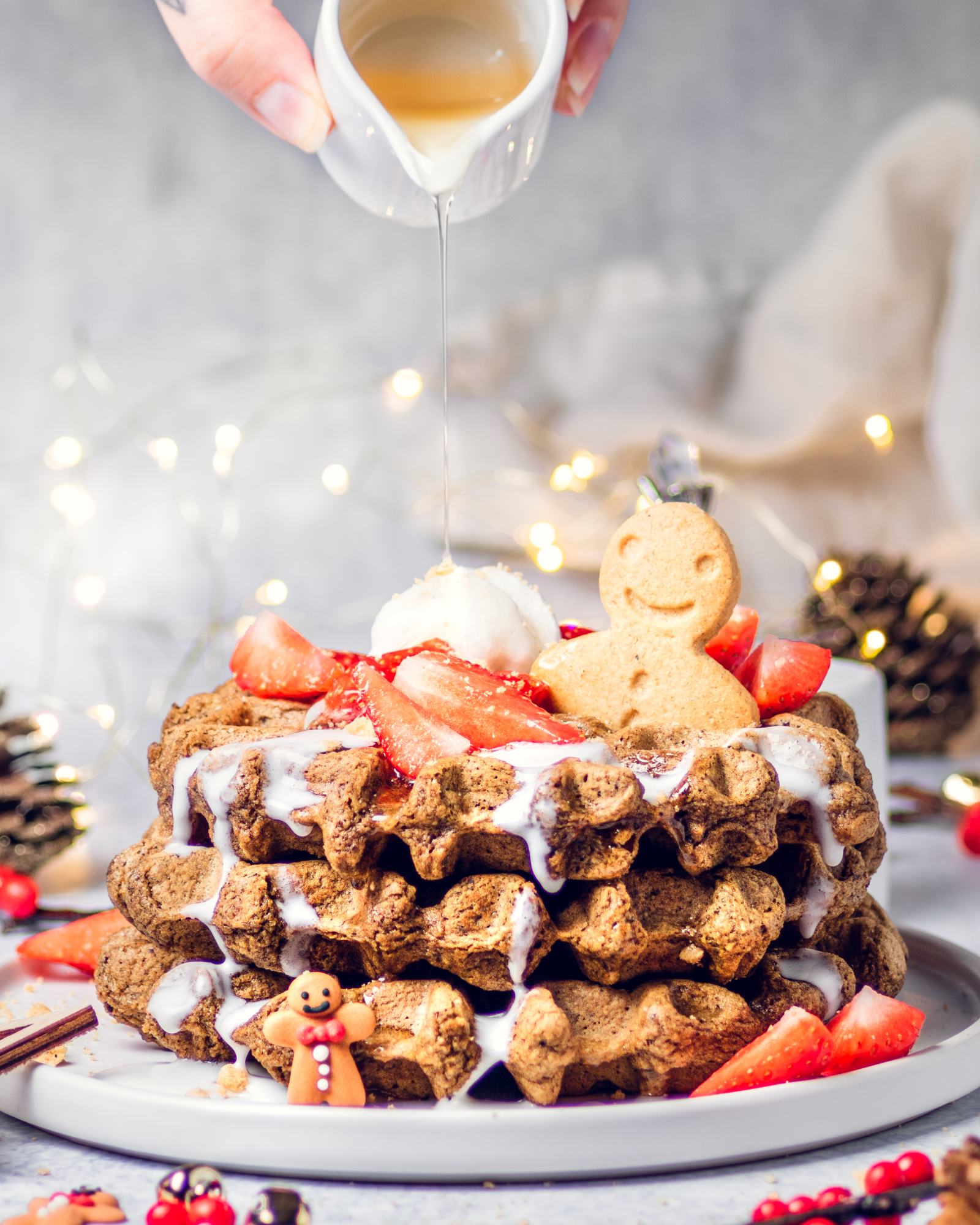 Creating the perfect gluten-free batter texture
As these waffles are gluten-free, the texture of the batter will feel very different from a regular, non-gluten-free batter. You might know these to be very runny and liquid, the gluten-free waffle batter however needs to be thicker in order to make the perfect gluten-free waffles.
To make these gingerbread waffles, I first combined all the dry ingredients including the spices in a large bowl, then slowly added in the maple syrup and milk - and stirred with a spatula until combined. The oat flour will begin to slowly absorb the liquid and create a thick batter - so set it aside for 10 minutes to settle.
You will realize that the batter will become very firm during this time, hence why I stir in about 200ml water to get a smoother batter before I add it to the waffle maker.
With my large round waffle maker, I was able to make 3 full gingerbread waffles - however, the amount varies based on the size and shape of your waffle maker, so it's all about trial and error here (sorry!). Have a look here to check the size and shape of my waffle maker. And after all - it's always better to have too many waffles, right?
I hope you enjoy these gingerbread waffles just as much as (& the little gingerbread man!) did!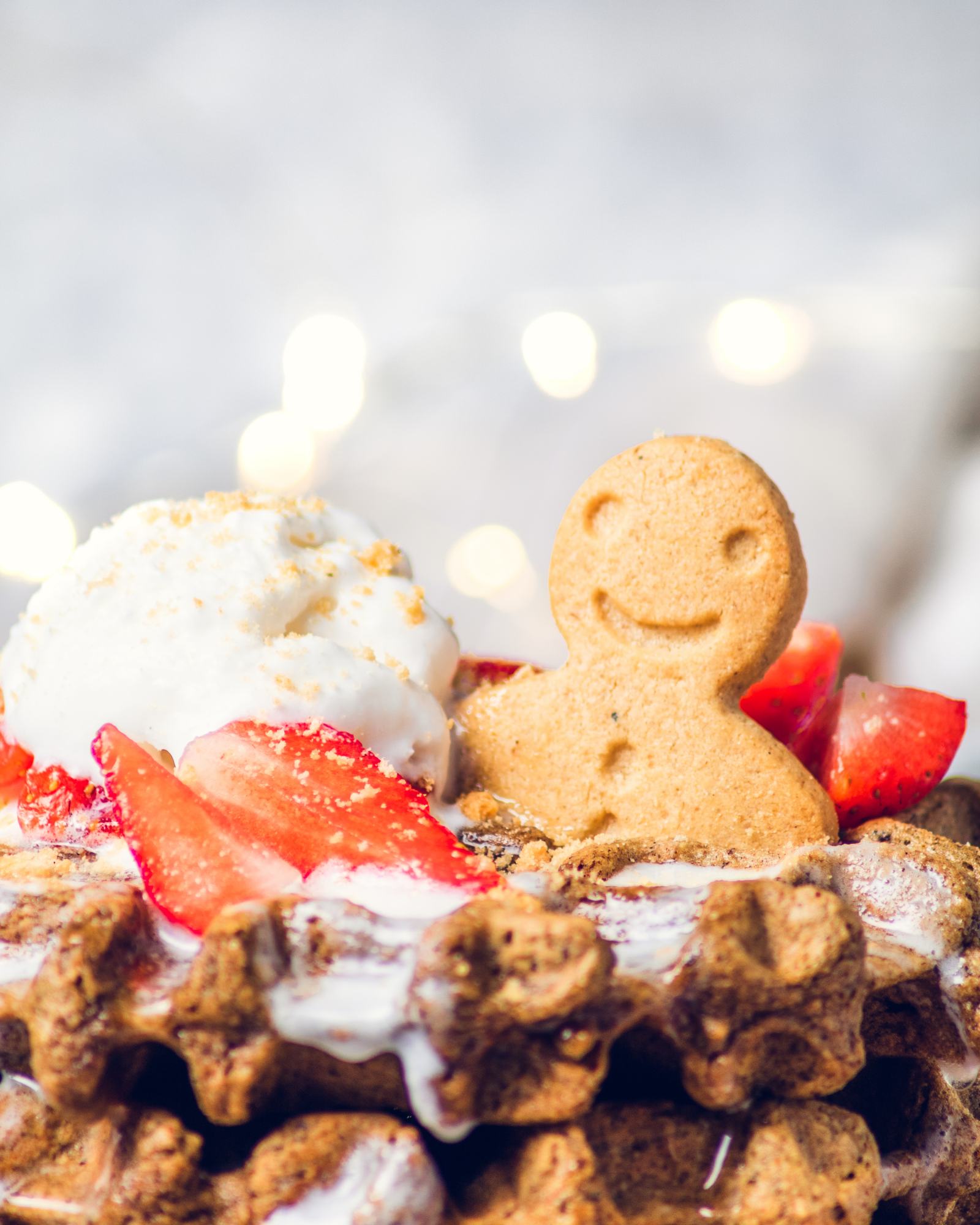 You might also enjoy these recipes:
📌 If you love Pinterest you can pin any of the images to your boards!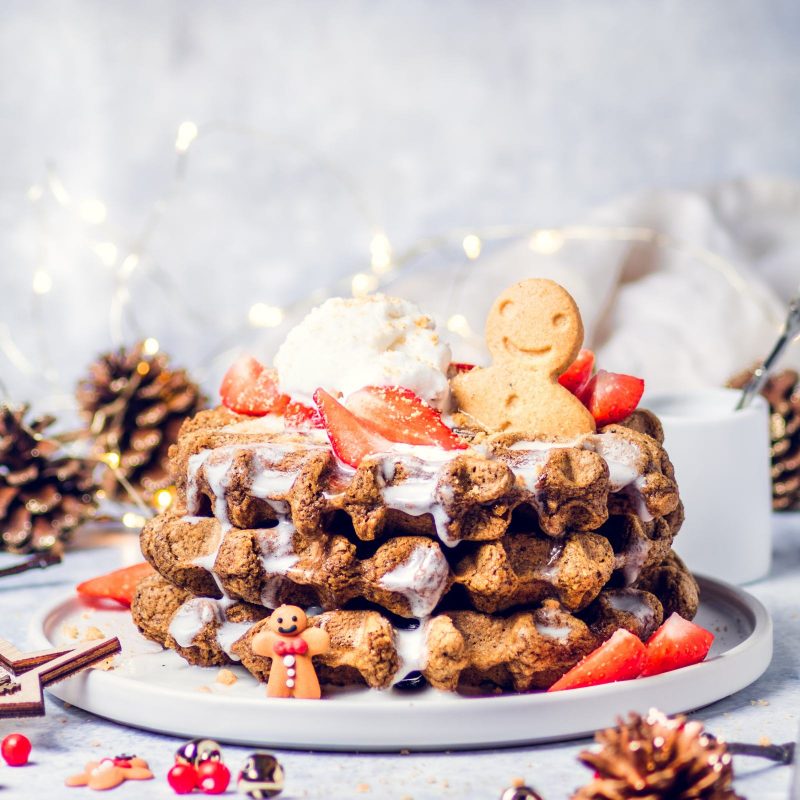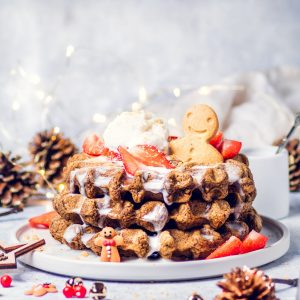 Gingerbread Waffles (Vegan & Gluten-free)
Simple & delicious gingerbread waffles - vegan & gluten free! The best breakfast treat in the Christmas time (yes, breakfast!). I hope you enjoy this recipe as much as I did!
Ingredients
200

g

oat flour

1/2

tsp

baking soda

1

tsp

baking powder

2

tsp

ground ginger

2

tsp

cinnamon

1

pinch

ground nutmeg

1

pinch

ground cloves

2

tbsp

ground flaxseeds

2

tbsp

maple syrup

300

ml

soy milk

200

ml

water
Instructions
Combine all dry ingredients in a bowl, including the spices and stir to combine.

Create a well in-midst the dry ingredients and pour in the maple syrup and plant milk. Stir until combined and set aside for 10 minutes.

Pour 200ml water into the mix and blend to combine. Carefully grease your waffle iron (I use coconut oil) and pour the waffle batter in, leaving about 1 inch on the outer edge as the waffles will expand.

Cook until the waffle only lightly steams, then carefully open and remove it from the waffle maker.
Notes
How many waffles you'll get out the mix will depend on the size of your individual waffles. I've got a large round waffle maker and could make 3 waffles with it.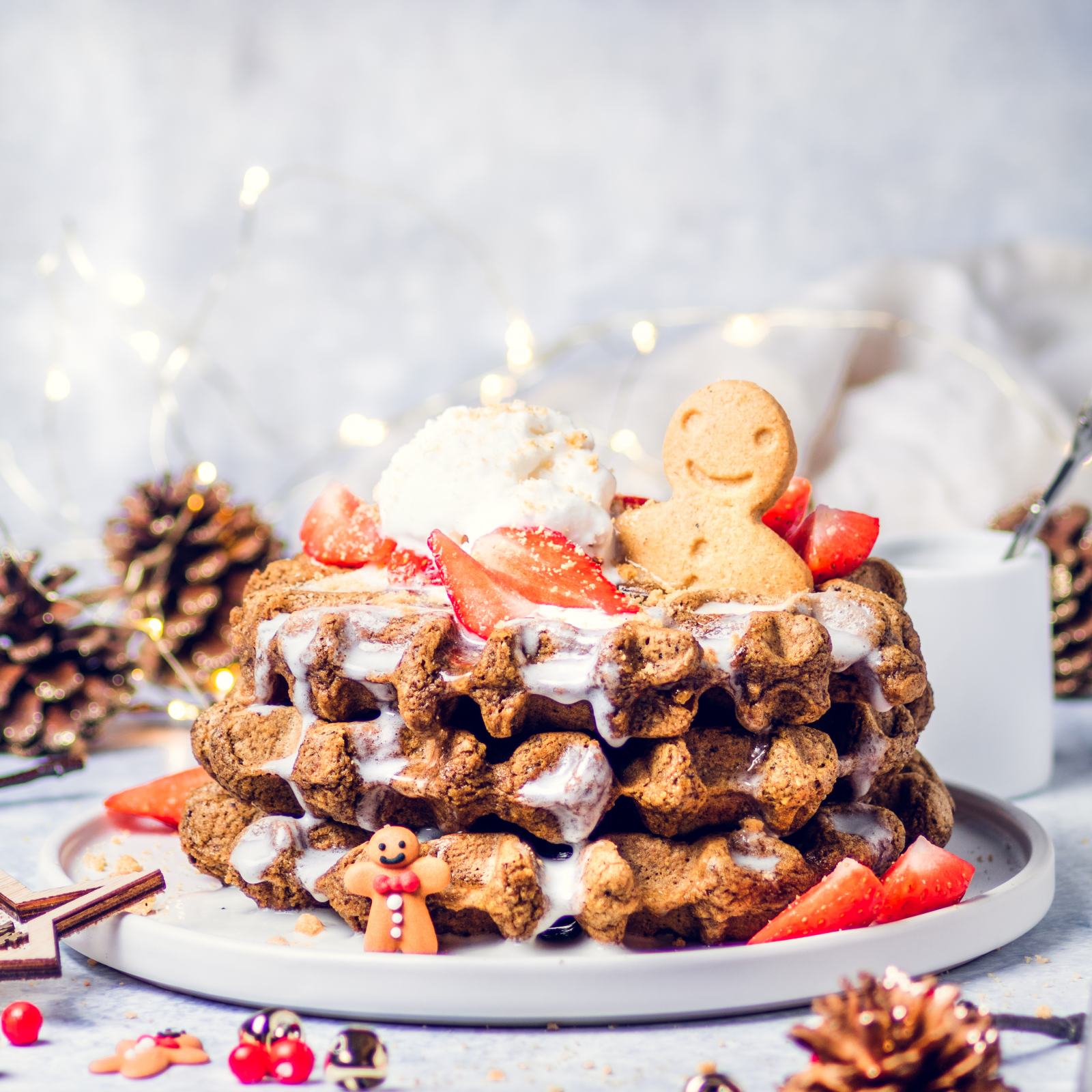 Looking for more breakfast inspiration? Check out my vegan breakfast section!