The vegan pancake recipe you didn't know you needed this season! These Gingerbread Pancakes are a perfect addition to your breakfast table, not just on Christmas morning!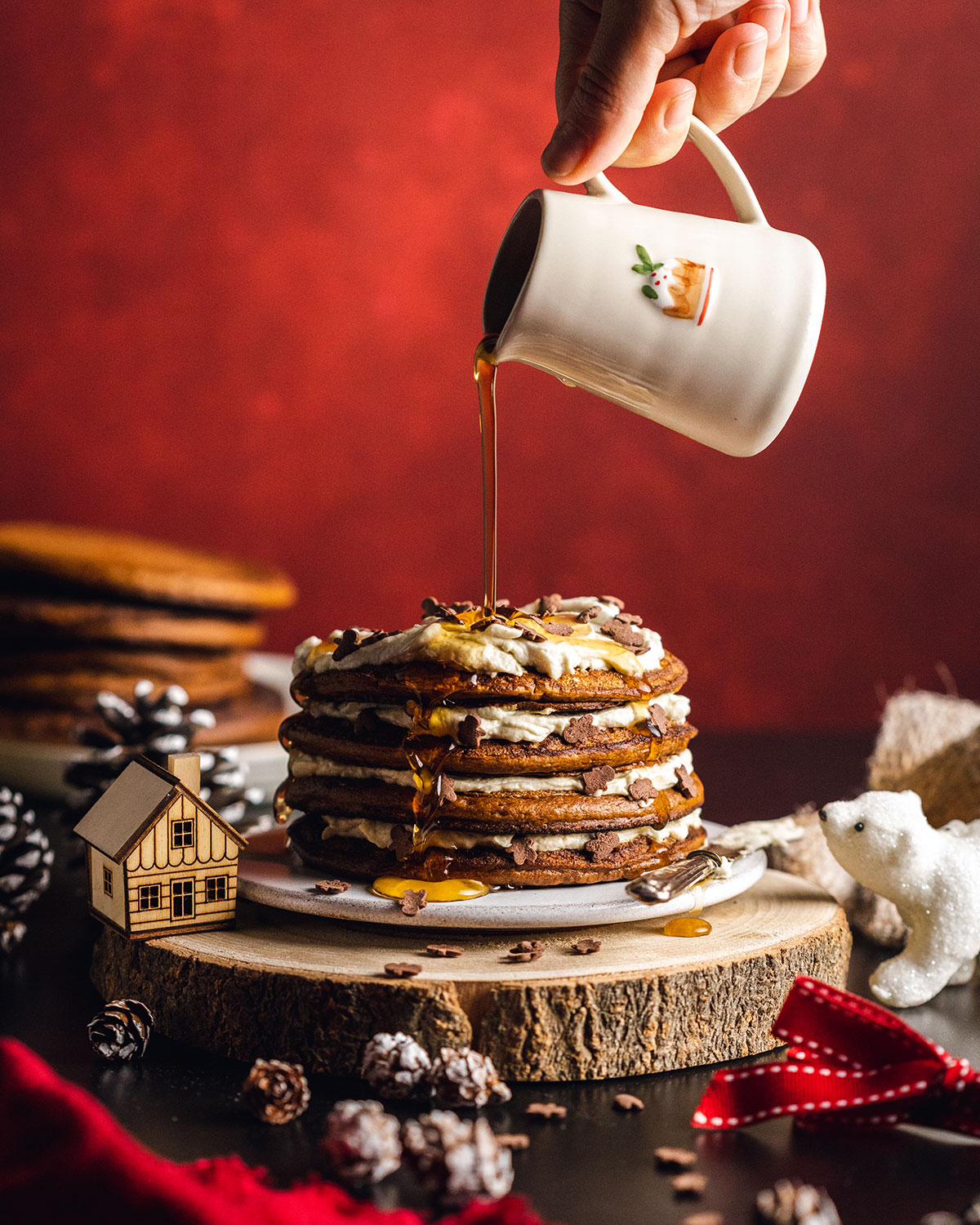 Vegan Gingerbread Pancakes
It's the season! These gingerbread pancakes are super fluffy and delicious, with notes of ginger, cinnamon, and molasses - perfect for your breakfast on Christmas morning, or really any other day during the season. Or the entire year to be frankly honest, we don't judge here 😉
By now, there are a whole plethora of pancake recipes on my blog, and I think it goes to show how much love and dedication I have for these little layers of goodness! When I was little, having pancakes was always a special occasion in our house, as my mum wouldn't make them that often - and I think, when I became an adult I just started to treat myself to pancakes all the time, simply because I could, ha!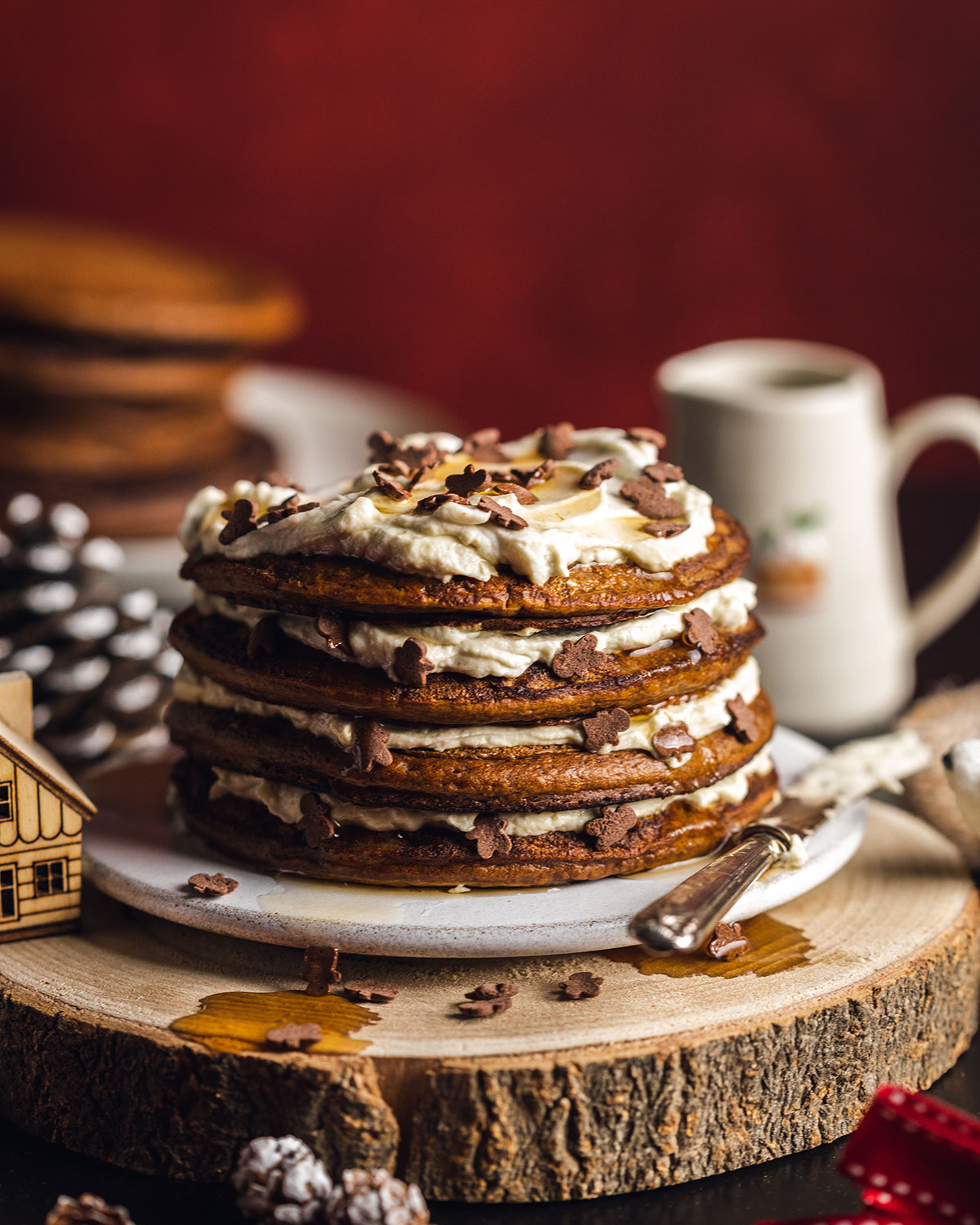 INGREDIENTS FOR GINGERBREAD PANCAKES
This pancake recipe uses a handful of simple ingredients to give the pancakes their gingerbread flavouring and fluffy texture:
plant milk: I usually opt for unsweetened soya milk, but feel free to use your favourite plant milk for these pancakes! As we're adding maple syrup, it's best to go with unsweetened plant milk, but the recipe will work just as well with a sweetened one, if that's what you have in the pantry.
apple cider vinegar: This helps curdle your plant milk and create the wonderfully fluffy pancakes! Read the instructions below on how this is used in the recipe.
dairy-free yogurt: I like to use a 'thick' version of vegan yogurt, such as coconut yogurt or oat yogurt - I find yogurts such as Alpro are often too watery and create a batter that's slightly too runny. If you are using a runny type of yogurt, then simply reduce the plant milk in the recipe by 30 ml.
maple syrup: we're sweetening the pancakes with maple syrup! I very much prefer the flavour of maple syrup to sweeten pancakes to other sugars, but you can swap this out for agave or date syrup, if you don't have any maple to hand.
molasses: the addition of molasses gives these pancakes the typical gingerbread flavour!
vanilla extract: totally optional for these pancakes, but I find it adds a lovely additional note to the flavour.
plain flour: you can use all-purpose flour for this recipe
baking powder
baking soda
salt: just a pinch!
coconut oil: I usually use deodorised coconut oil to grease my pancake pans for this recipe. Deodorised means that the oil does not taste of coconut, but feel free to swap this for another flavour neutral oil, such as rapeseed, or go with extra virgin coconut oil if you like the flavour.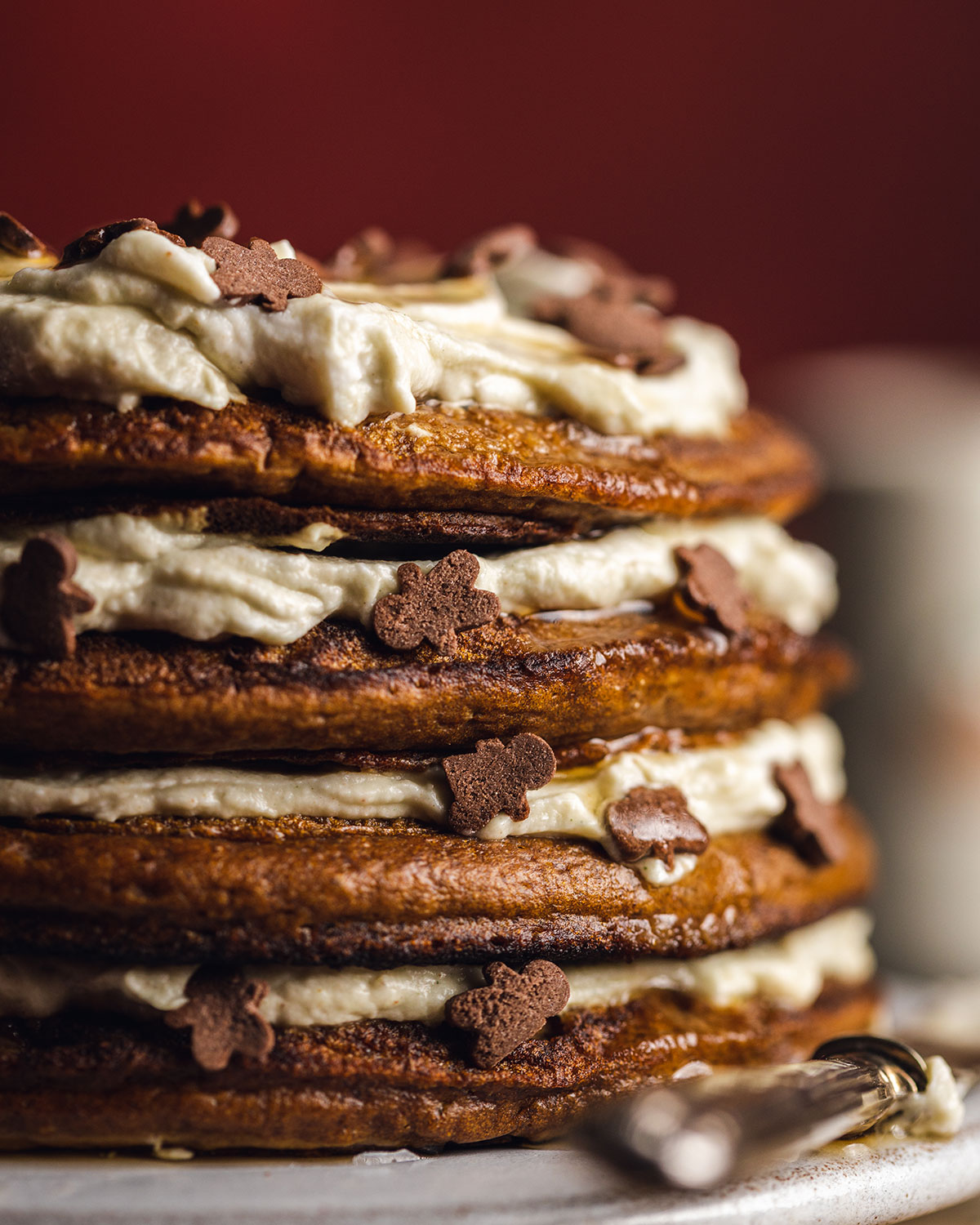 How to make Gingerbread Pancakes
To make these delicious Christmas pancakes, you only need to follow a few simple steps:
Step 1: Curdle the plant milk
To begin this recipe, pour the plant milk into a jug and stir in the apple cider vinegar. Set everything aside and allow for the milk to curdle. This should take about 10 minutes.
Step 2: Combine dry ingredients
In the meantime, prepare your dry ingredients: Sift the flour, baking powder, baking soda, salt, cinnamon and ginger powder into a medium-size mixing bowl to avoid any lumps.
Step 3: Create the batter
One curdled, stir the vegan yogurt, maple syrup, molasses, and vanilla extract into the milk mixture. Whisk thoroughly until well combined. This might require some rigorous whisking as the molasses is usually quite thick and sticky in texture and doesn't easily incorporate. A few firm whisks should do the job to break it down though!
Pour the mixture into the dry ingredients and whisk to combine into a smooth pancake batter. Set aside for 5 minutes.
Step 4: Cook the pancakes
In the meantime, heat your non-stick pan over low/medium heat and grease it with a little coconut oil. Pour in about 3 tablespoons of the batter at a time, shape your pancakes with the back of a spoon and flip once the edges have firmed up. Feel free to create other pancake shapes with the batter, but be aware that the handling and cooking time will vary.
Step 5: Serving the pancakes
I recommend serving these gingerbread pancakes stacked! They are delicious with layers of sweetened yogurt in between - I particularly love mixing dairy-free yogurt with a dash of maple syrup and a spoonful of vegan vanilla protein powder, which creates a delicious, thick, vanilla-flavoured mousse and goes along perfect with these pancakes!
Top with your favourite pancake toppings and drizzle with maple syrup before serving!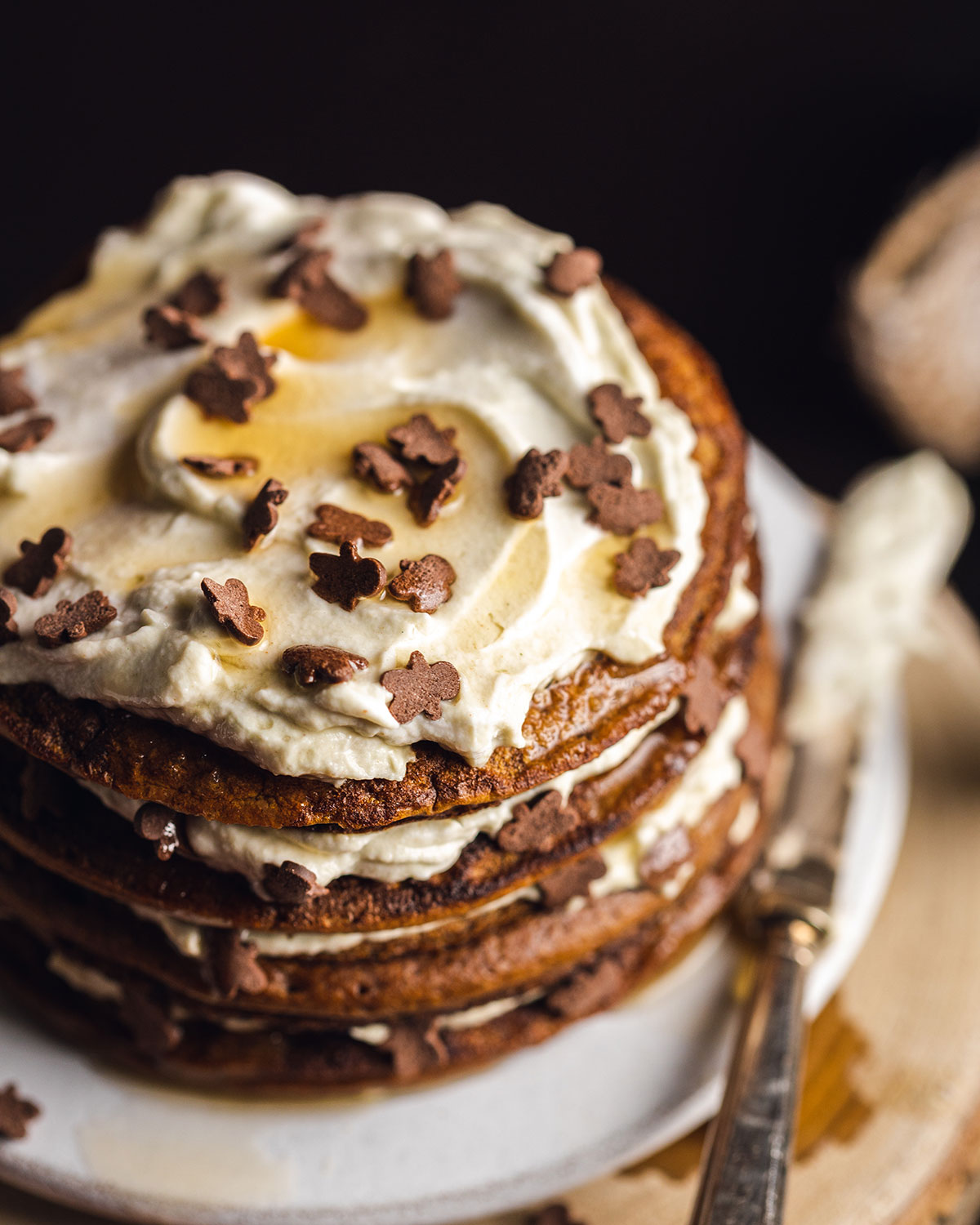 Can I make these pancakes gluten-free?
This is a very common question I get for my pancake recipes! The answer is: yes, these gingerbread pancakes can be made gluten-free, however, it is important to note that you should use a gluten-free flour substitute intended for baking.
I like to use Doves Farm gluten-free (FREEE) flours for my gluten-free baking or supermarket's own brands, which are usually made of a mix of different flour components.
Gluten-free flours that are not good on their own for making this pancake recipe are nut flours, rice flour, oat flour, tapioca flour, and similar textures - these are too chemically different to replace regular flour and would require an entirely different recipe to make pancakes. Long story short: Don't replace the plain flour with any of these.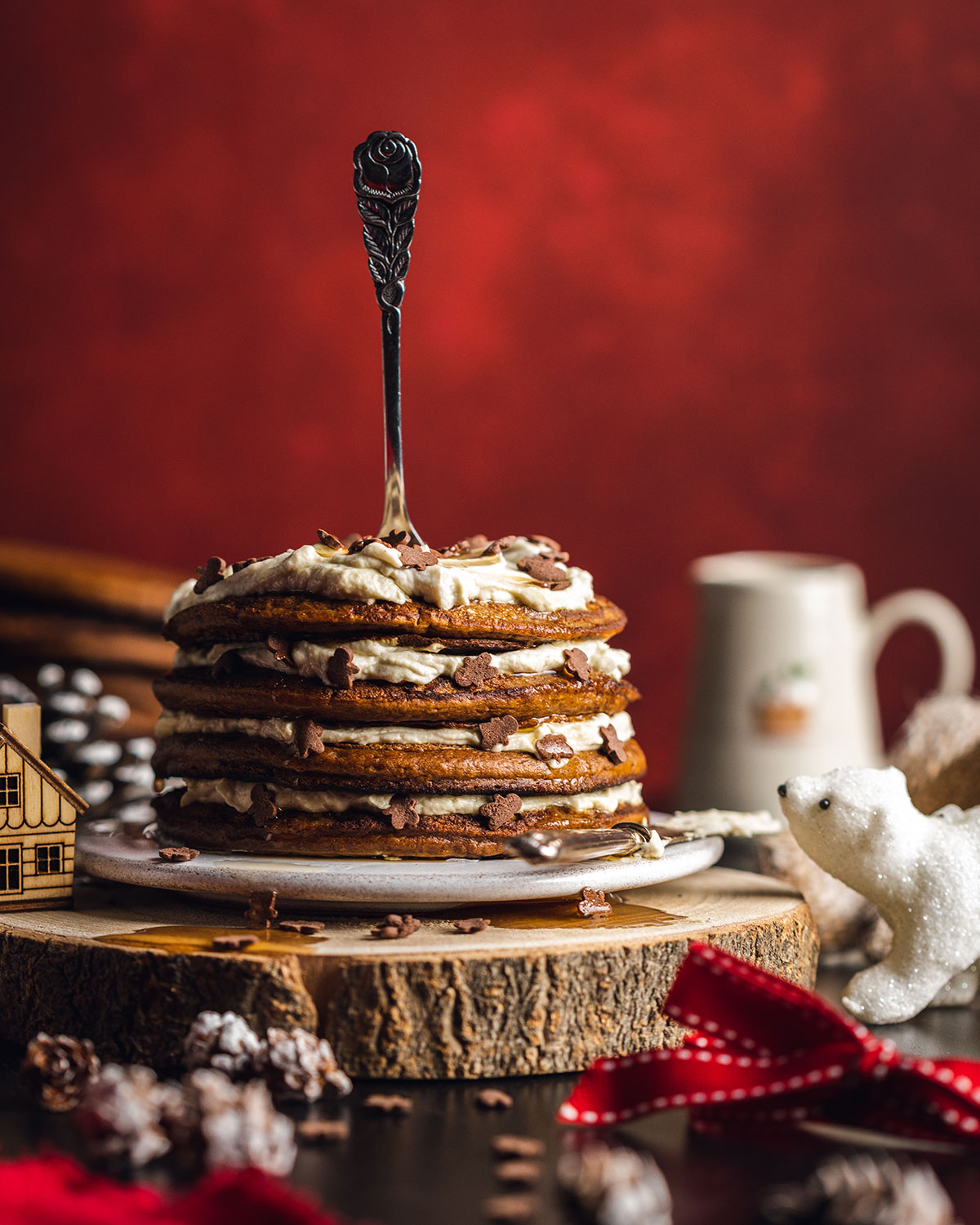 These vegan pancakes are:
100% vegan
easy to make
super soft and fluffy
wonderful for stacking!
American-style
egg-free and dairy-free
perfect for the festive season
delicious not just on Christmas morning
seasoned with typical gingerbread flavours!
If you tried this recipe, I would really appreciate if you could leave a review below or tag me if you share a picture of it on Instagram 🙂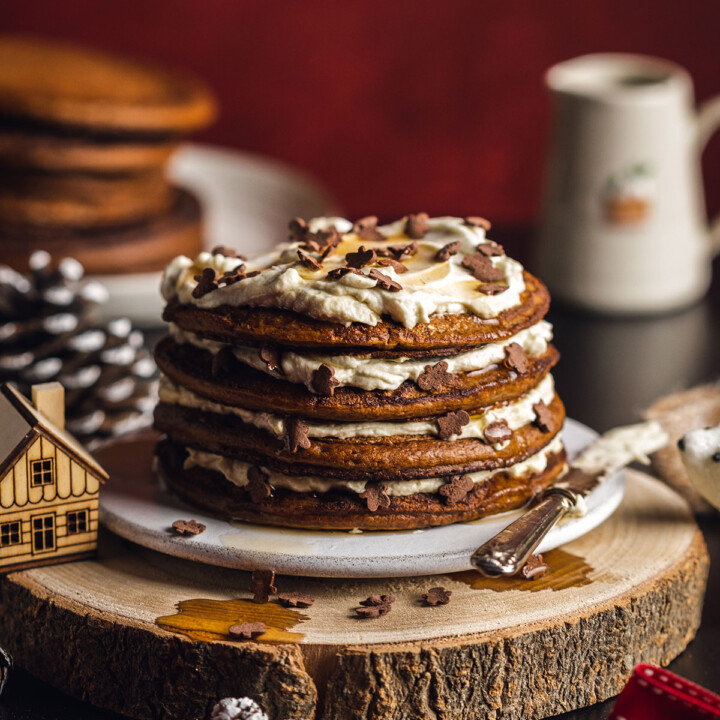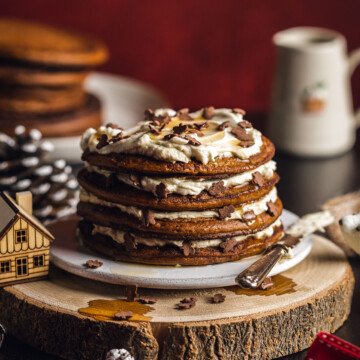 Gingerbread Pancakes
This pancake recipe is simply perfect for Christmas morning! Super fluffy and delicious - and it's also seasoned with the typical gingerbread flavours, making it a delicious addition for your Christmas breakfast. 
Equipment
1 mixing bowl

1 jug

1 whisk
Ingredients
200

ml

plant milk

1

tbsp

apple cider vinegar

2

tbsp

coconut yogurt

2

tbsp

maple syrup

1

tbsp

molasses

1/2

tsp

vanilla extract

120

g

all-purpose flour

1

tsp

baking powder

1

tsp

baking soda

1

pinch

salt

1

tsp

ground cinnamon

1

tsp

ground ginger

coconut oil
Instructions
Start by placing the plant milk into a jug and stirring through the apple cider vinegar, then set aside to curdle for about 10 minutes. 

In the meantime, sift the flour, baking powder, baking soda, salt, cinnamon and ginger into a mixing bowl.

Stir the yogurt, maple syrup, molasses and vanilla extract into the curdled plant milk and whisk thoroughly to mix in the sticky molasses. 

Pour the wet mix into the mixing bowl with the flour and whisk until you get a smooth batter. Set aside for 5 minutes and preheat and grease your non-stick pan in the meantime. 

Add about 3 tbsp of batter into the pan and shape your pancake with the back of a spoon. Carefully, but quickly flip once the edges begin to firm up. Repeat until the batter is used up. Please see the notes below for more information on the cooking process. 

Serve your gingerbread pancakes stacked and fill maple-sweetened yogurt between the layers. Top with your favourite toppings and drizzle with maple syrup before serving.
Notes
These pancakes can easily burn as they include molasses, so make sure to stay nearby to flip them at the right time and avoid burnt pancakes. I recommend only adding about 2 tbsp per pancake and only making them about 1cm (1/2 inch) thick to ensure they cook evenly without the bottom burning. I use my gas stove on the lowest settings to make the pancakes and usually need to flip after 1-2 minutes, to give you an indicator - but it might be different depending on your stove and equipment, so keep a close eye on them. 

For best results, I like to use a non-stick pan intended for crepes and pancakes - it works wonders! For the perfectly round and equal pancakes, I use a small pan (from Ikea) and fry my pancakes on one side in there before flipping them into a larger pan to finish them. 

If you're not a fan of coconut, then I recommend using either deodorized coconut oil or a flavour-neutral alternative such as rapeseed for greasing your pan.
If - like me - you love Pinterest, you can find me here & if you like, you can pin the image below 😊
© Romy London / Romina Callwitz | All images and content are copyright protected. Please do not use my images and content without prior permission. If you wish to re-publish this recipe, please get in touch via email. Thank you so much for supporting romylondonuk.com!
*Disclosure: This page may contain affiliate links that earn me a small commission, at no additional cost to you. You can find more information in my Privacy Policy.