Fluffy Vegan Meringue Ghosts made with aquafaba (yes, that's that magical chickpea water you've heard of!) - crunchy on the outside and wonderfully sweet & easy to make.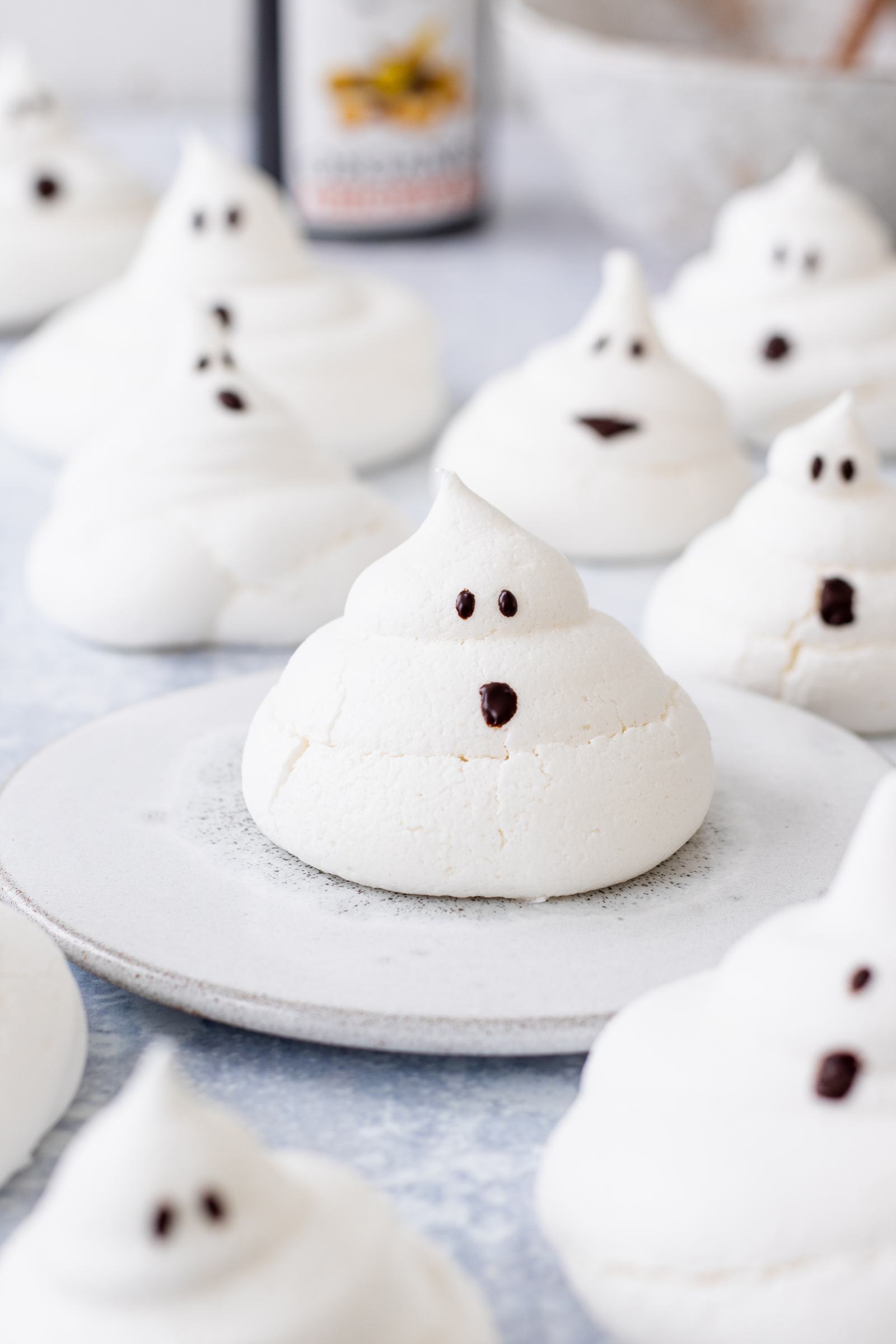 Welcome to the spooky season! From here on, only scary and cute foods shall be consumed (such as these Aquafaba Meringue Ghosts - aren't they adorable?!) Now, I'm normally not one for cutesy-ish food, however, I couldn't help but try my hand on some vegan meringue and in the pre-Halloween times, this was just bound to happen.
These ghost meringues have turned out wonderfully sweet & crunchy. Made from aquafaba & baked at a low temperature, you can store them for up to a week in an air-tight container - if you manage to make them last that long of course.
Ingredients
aquafaba
cream of tartar
icing sugar
dairy-free chocolate spread OR dark chocolate
Equipment
an electric whisk or a kitchen aid
lined oven trays
a piping bag & nozzle
What is aquafaba?
Now, if you've looked into vegan recipes for a while, you've probably heard of aquafaba before. One wondrous day, not so long ago, someone unknown came up with the genius idea to whip up the liquid that comes in a tin of chickpeas - and the rest was history!
Jokes aside, I do seriously wonder how it was first discovered that whipping up chickpea water (or in fact, almost any bean water) created a perfectly fluffy replacement for egg whites, but I'm definitely glad it was discovered!
To make aquafaba there are a few things to be aware of:
make sure your chickpea water does not contain salt. Lots of tins available in the supermarket have added salt, thickeners, or preservatives. Best go with an organic alternative that's also salt-free.
You will need to consistently whisk the chickpea water on a high speed for 10-15 minutes, so it's definitely recommended to use an electric whisk or - if you have - a kitchen machine. I personally whip my aquafaba in the Magimix with a whipping inset.
Allow for your aquafaba to form stiff peaks first before adding any other ingredients, such as the icing sugar in this case.
The aquafaba won't form stiff peaks if there is any kind of oil added to it. Therefore always make sure to only make oil-free additions and thoroughly clean your equipment beforehand.
Once your aquafaba is all fluffy and holds its stiff shape, your aquafaba is ready for the next step.

How to make aquafaba meringue
The whipping of the chickpea water is a vital step in this recipe. Ensure to whip it on a high speed for at least 10-15 minutes, or until it forms stiff peaks. Once you've reached this point, slowly add the icing sugar and cream of tartar. Continue to whisk until combined, then transfer your mix into a piping bag with a simple round nozzle.
Make sure to pre-heat your oven to 130C and line your baking trays.
With the piping bag, gently squeeze out your ghosts onto the baking sheets. There are 2 different techniques you can try to shape your ghosts:
The circling technique: Starting in the middle point of the ghost, carefully circle the nozzle to the outside and up to shape your ghost.
the squish technique (it's a working title!): This is the technique I've used on this occasion. Simply approach your baking sheet straight from the top at a 90-degree angle. Get close to the sheet with the nozzle and squish for 1-2 seconds without moving the nozzle. Then stop, move a centimetre higher and repeat until you've got all tiers of your ghost done. I usually go with 3 levels, as I find it looks the neatest.
Be very gently once they are piped on your baking tray - they will easily break if you touch them. Once you've got enough ghosts on a tray, transfer it to the preheated oven and bake for about 2 hrs at 130C. DO NOT open the oven door during this time. You need to preserve as much of the steady low temperature in the oven as possible. After 2 hours, turn off the oven and allow for the meringue to cool down completely in the closed oven before removing them. Removing them too early can result in a soggy mixture or the meringue crumbling too easily.
Variations of this recipe
If you're not making ghosts or simply want to adjust this recipe to your own liking, there are multiple ways to do so. You can add flavourings to your aquafaba 'batter' - just make sure they don't contain any oils or fats. You could also add food colouring to colour your meringue. Best add this in at the beginning, little by little, so you can still make adjustments to the colour as you go along.
These meringue ghosts are:
100% vegan
naturally gluten-free
simple to make
a lot of fun to create
baked at a low temperature
sweet
super cute & adorable
the perfect vegan Halloween treat!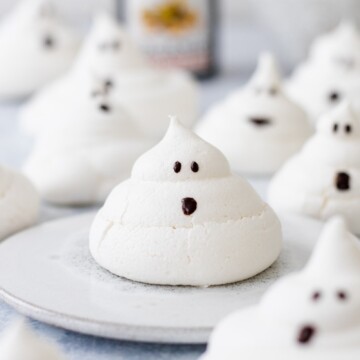 Vegan Meringue Ghosts
Fluffy, sweet vegan aquafaba meringue ghosts - just in time for the spooky season!
Equipment
1 large mixing bowl

1 electric whisk

2 lined baking trays
Ingredients
1

can

aquafaba

unsalted chickpea water of 1 400g-can of cooked chickpeas

1

tsp

cream of tartar

170

g

confectioner's sugar

1-2

tsp

vegan chocolate spread

or dark chocolate, melted
Instructions
Preheat your oven to 130C.

Drain your chickpeas and place the chickpea water into a large mixing bowl. Ensure there are no other food leftovers on the inside of your bowl as any form of oil will prevent your aquafaba from fluffing properly.

Add the cream of tartar to the bowl, then whisk it with an electric whisk for roughly 5-7 minutes until it has more than doubled in size. Your aquafaba should become white, foamy and fluffy at this point. Mix until you get stiff peaks that can hold themselves up.

Slowly add in the icing sugar spoon by spoon whilst continuing to whisk. Once all the sugar has been mixed in, you should end up with a glossy, fluffy mixture.

Transfer the aquafaba to a piping bag with a round nozzle and pipe onto a lined baking tray into ghost shapes.

Carefully transfer to the oven and bake for 2 hours. Please leave the oven shut for the entire baking time. Once the baking time elapses, leave the ghosts in the oven to cool down entirely. Remove once they have cooled entirely.

Gently heat 1-2 teaspoons of chocolate spread and use a toothpick to carefully add the eyes and mouths onto your fluffy ghosts. For best results, let it set for an hour before serving, or keep the ghosts in an airtight container for up to a week.
Try out these treats as well:
Vegan Chocolate Hazelnut Babka