If I had to pick one treat that defined my childhood, it would definitely be Kinder eggs! They were more than a regular treat I got from my aunt and grandpa whenever I visited them, and my great-aunt would even make sure she always had some in stock whenever I stopped by.
Kinder Chocolate is something I have definitely been missing since going vegan - there is simply no good store-bought equivalent of this chocolate. But after my Kinder Chocolate recipe went live, it comes with no surprise that I've taken it upon myself to create vegan Kinder chocolate at home.
Vegan Kinder Egg
This recipe is:
100% Vegan
actually quite simple to make
a delicious treat
naturally gluten-free
chocolate-y
fun to make
perfect for Easter!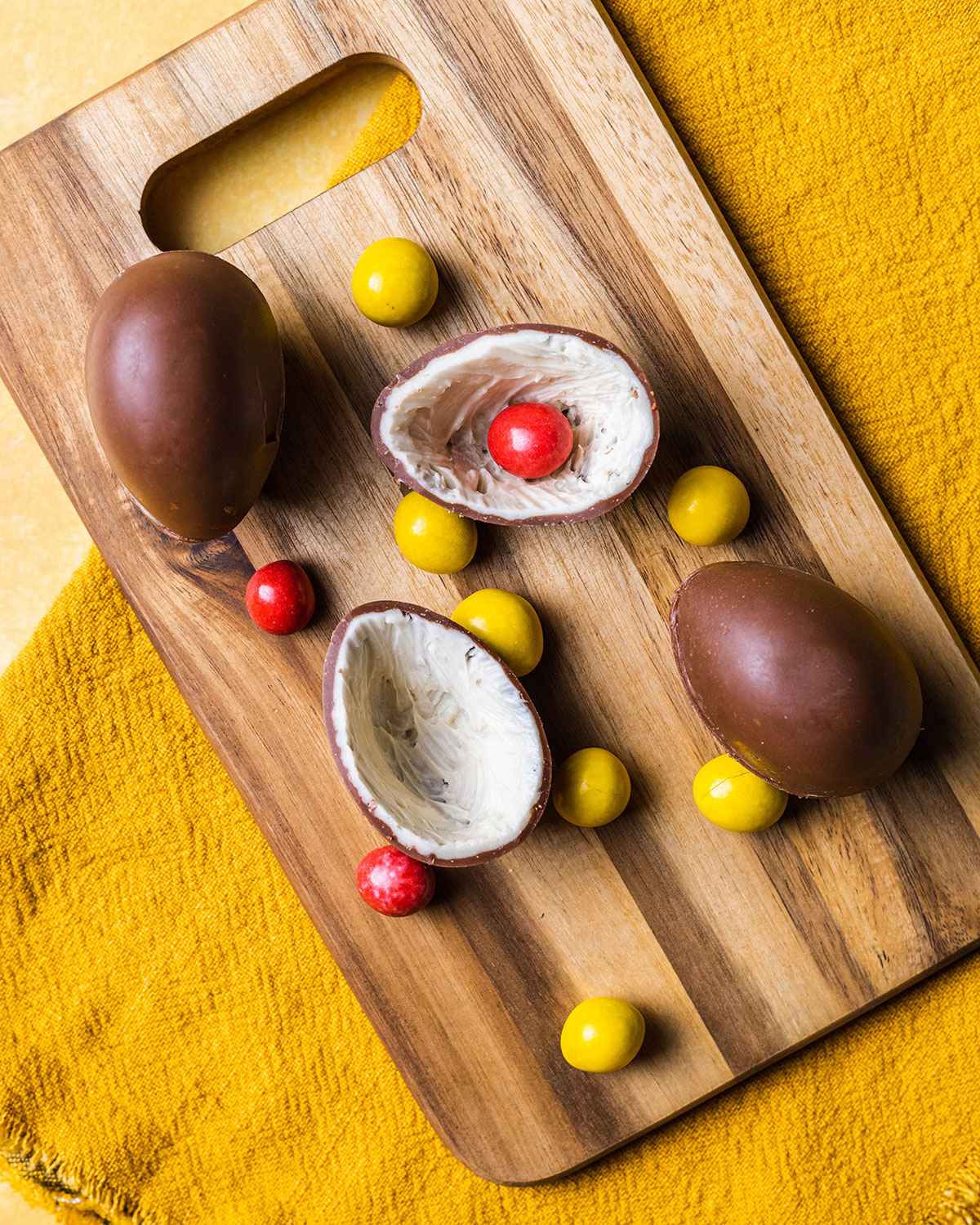 Ingredients for this recipe
Here's what you need to make these vegan Kinder eggs:
Ingredients:
Vegan Chocolate: Either dark chocolate or a vegan-friendly milk-chocolate alternative. I've used NOMO on this occasion.
Coconut Oil: If you're not into coconut flavor, then opt for a deodorised coconut oil - this means that it does not come with the typical coconut flavor in the oil.
Smooth Cashew Butter: You can use store-bought cashew butter, just make sure it only uses cashews as the sole ingredient.
Dairy-free cream: I Iike to use the vegan Elmlea Double Cream for this recipe.
Salt: we're using just a pinch in this recipe to balance out the flavors for the cream filling.
Powdered Sugar/Icing Sugar: for some simple sweetness!
Equipment:
Double boiler: This can simply be a heat-proof bowl above a small saucepan of steaming water
silicone egg-mould: I got mine on Amazon and this size is perfect for the typical Kinder Egg shape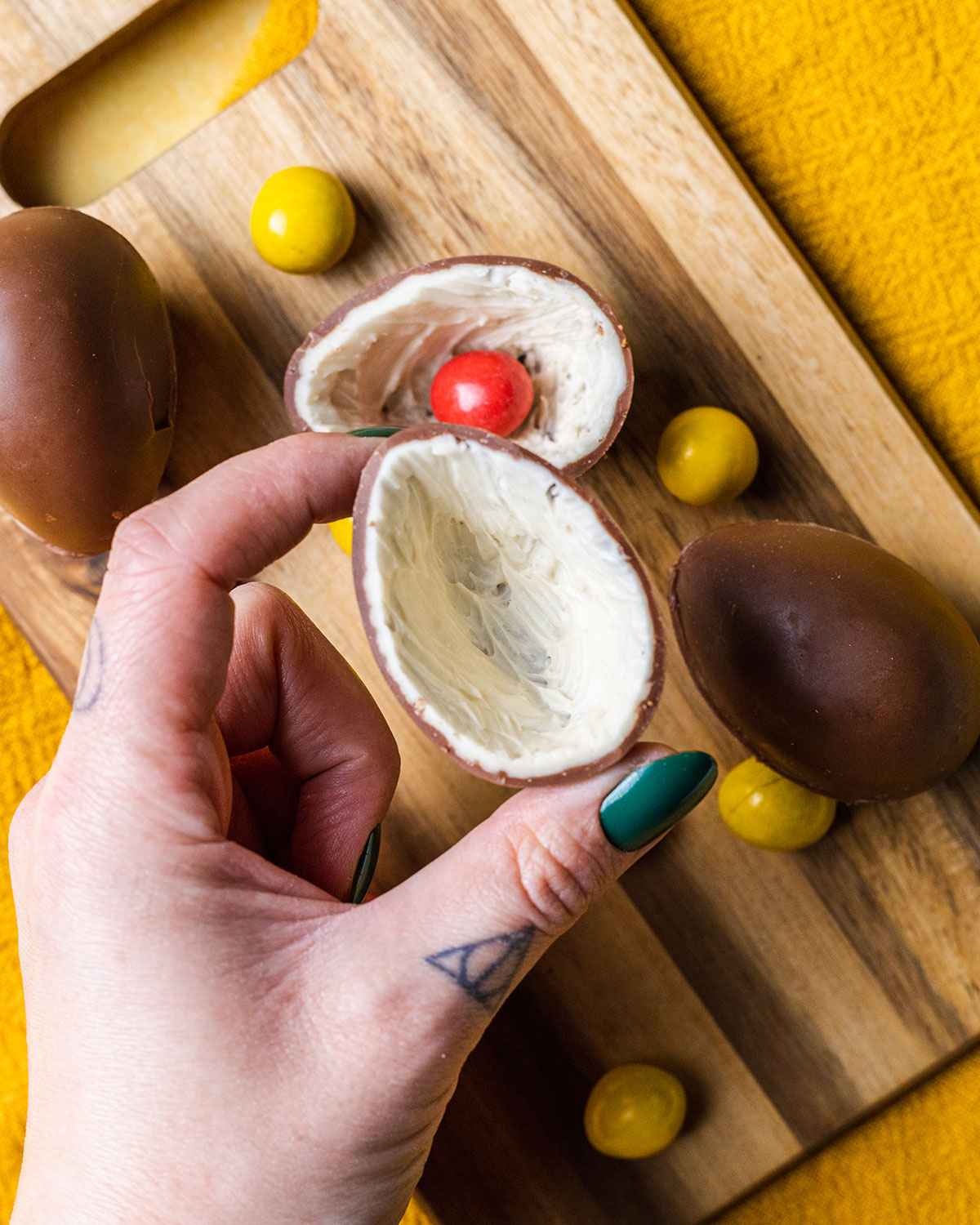 How to make Vegan Kinder Eggs
The steps for this recipe are fairly simple, but what takes time, is allowing for the silicone mold to rest in between and waiting for the chocolate to harden. Make sure not to skip the resting steps as it could otherwise ruin your chocolate eggs.
Step 1: The chocolate shell
Start by melting your vegan chocolate in a double boiler. If you're using a bowl above a water-filled saucepan, then make sure the bowl does not touch the hot water underneath - otherwise, this could burn your chocolate and make it lumpy.
Brush the melted chocolate into 6 holes of the silicone mold in 2 layers. After each layer, place the mold into the fridge for 5 minutes to set.
If you want to temper the chocolate for this recipe, then please check out my chocolate tempering guide in the Vegan Ferrero Rocher recipe.
Step 2: Mixing the cream filling
You can keep your chocolate eggshells in the fridge whilst you prepare the cream filling for your eggs.
First, melt the coconut oil in a double boiler. Whisk up the cashew butter and vegan cream in a small bowl until well combined and stir in the salt and powdered sugar. Mix in the melted coconut oil and allow the mix to cool down for 10 minutes.
Brush the cream filling into each chocolate egg half, then carefully place the mold in the fridge to set.
Step 3: Assembly
Once your chocolate eggs are fully set, remove the halves from the silicone mold (carefully!). Heat a skillet over low heat for 1 minute, then remove from the heat and press a chocolate egg half onto the warm skillet - the open side facing down. Gently press until the edges begin to melt, then press the edges against a second chocolate egg half to close the egg.
If you want you can add fillings to your chocolate eggs, such as sprinkles or mini marshmallows - or even smaller chocolate eggs!
Storage
Store the Vegan Kinder eggs in the fridge for up to 7 days.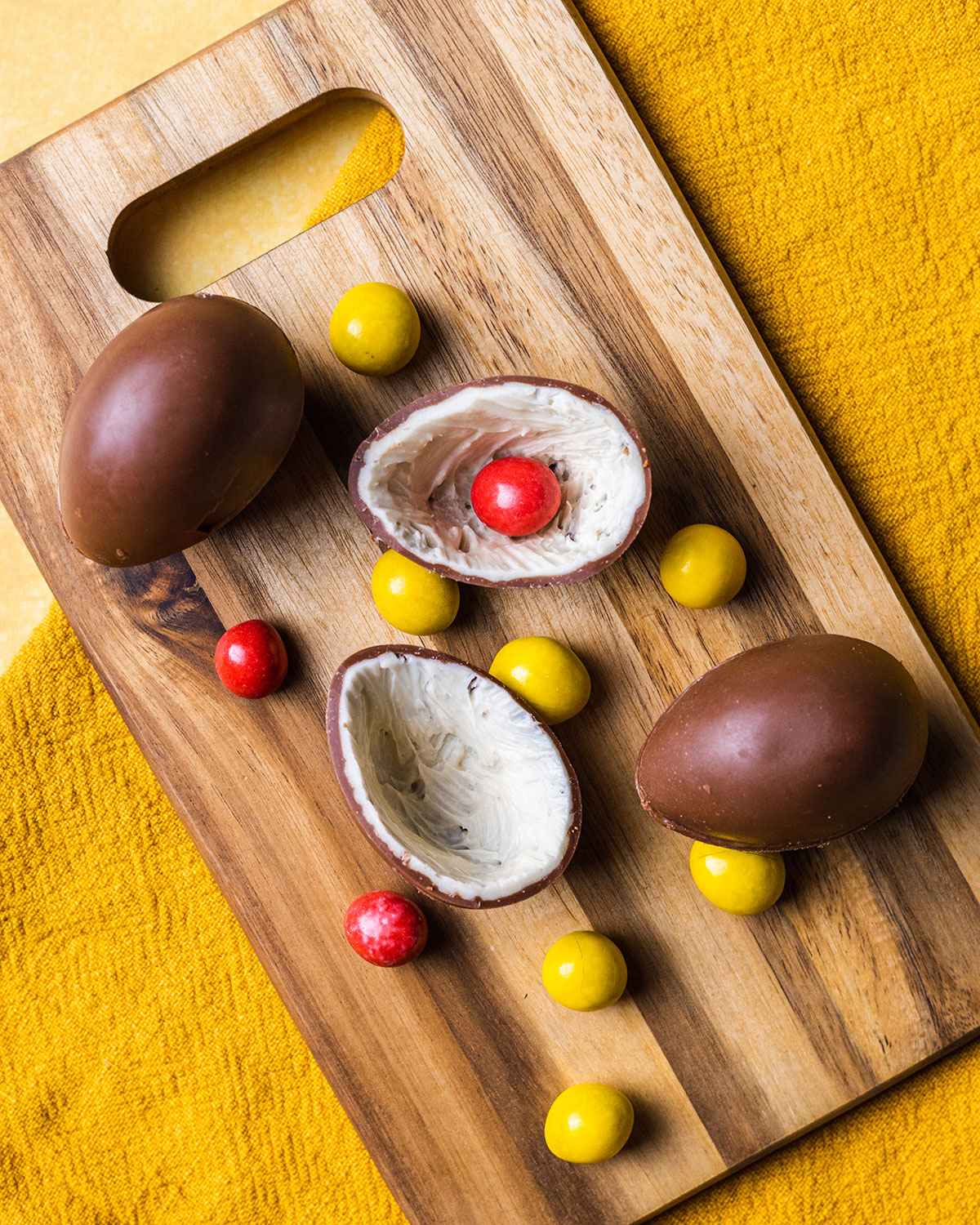 📌 If you love Pinterest you can pin any of the images to your boards!
You might also enjoy these recipes: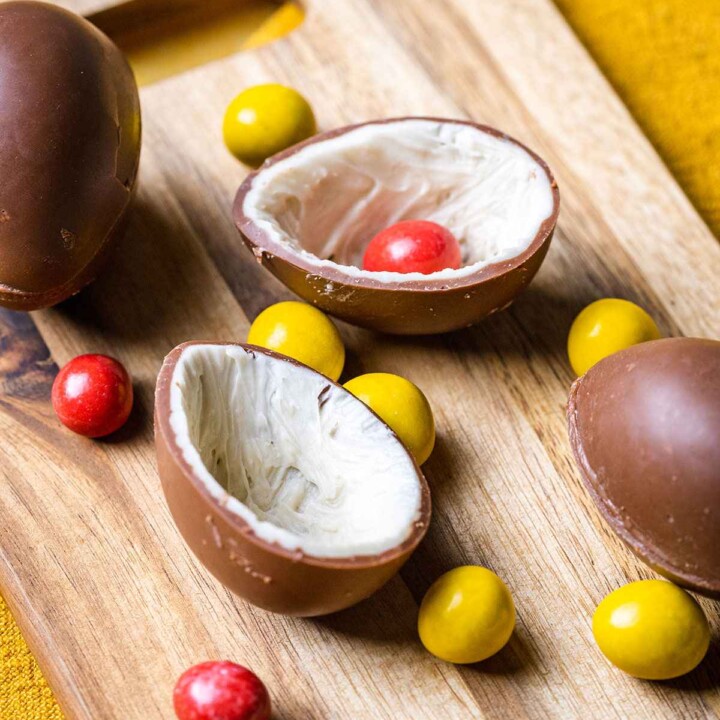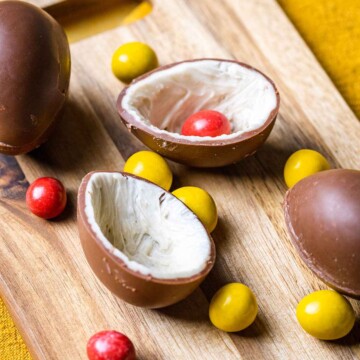 Vegan Kinder Eggs
This homemade kinder egg recipe is super easy to make - with a vegan chocolate shell and cream inside, made with only a few simple ingredients.
Equipment
1 Double boiler

1 egg-shaped silicone mold
Ingredients
100

g

vegan chocolate (3.5 oz)

dark or milk chocolate-alternative

25

ml

coconut oil (1 tbsp + 2 tsp)

deodorised

1

tsp

smooth cashew butter

30

ml

dairy-free cream (2 tbsp)

1

pinch of

salt

15

g

powdered sugar (1 + 3/4 tbsp)
Instructions
Melt the chocolate over low heat in a double boiler, then brush the melted chocolate into 6 egg-half molds. Create 2 layers of chocolate, allowing for the silicone mold to rest in the fridge to set in between.

Whilst the mold is in the fridge, prepare the cream filling: melt the coconut oil and whisk together the cashew butter and cream, then stir in the coconut oil, salt and powdered sugar.

Brush the cream into the chocolate eggs and place it in the fridge to set for at least 10 minutes or preferrably longer.

Once set, carefully remove the egg halves from the silicone mold. Press them open side down into a warm skillet to gently melt the edges and press 2 egg halves together to create a chocolate egg. Repeat until all eggs are ready.
Notes
Store your chocolate eggs in the fridge for up to 7 days. 
You can add a little vanilla extract to your cream filling if you love vanilla! 
Wear gloves when assembling the Kinder eggs to avoid fingerprints. 
Totally optional, but you can add fillings to your eggs if you like - such as sprinkles, mini marshmallows, vegan smarties or little chocolate eggs,
 © Romy London / Romina Callwitz | All images and content are copyright protected. Please do not use my images and content without permission. If you wish to re-publish any recipes or images, please get in touch via email. Thanks for your support!