Oh, I remember too well, that when I first went onto keto last year, I was struggling so much to find a vegan keto breakfast idea that was vegan, keto-friendly, tasty and most importantly: that I actually liked - until I found this Vegan Keto Breakfast Bowl!
Vegan Keto Breakfasts
During my first week of keto, I tried to stick to savory breakfasts, thinking that anything even remotely sweet would have too many fruit sugars and therefore a high carb content. So I had tofu for breakfast for 10 days - in pretty much all shapes and forms, and on Day 11 I simply thought 'That's it, I can't see tofu anymore!' and I sat down to calculate a better breakfast option for myself (cause tbh, vegan keto is a lot of calculating!)
Berries such as strawberries and raspberries are actually very low in net carbs and actually fit perfectly into a keto diet when consumed in small amounts.
Finding a sweet vegan keto breakfast option
As a sweet-breakfast-loving person my pre-keto breakfasts mainly consisted of cereal, porridge, granola, and other toppings - so switching to savory morning meals turned out to be rather difficult for me. I also was absolutely over tofu scramble after only a few days! I, therefore, made the decision to consume the main part of my net carbs for breakfast and keep the carbs for the rest of my daily meals at a minimum - simply needing something sweet-tasting to get me started for the day!
This turned out to work really well for me and I have to admit that I absolutely came to love this breakfast combination - even off keto!
Vegan Keto Breakfast Bowl Recipe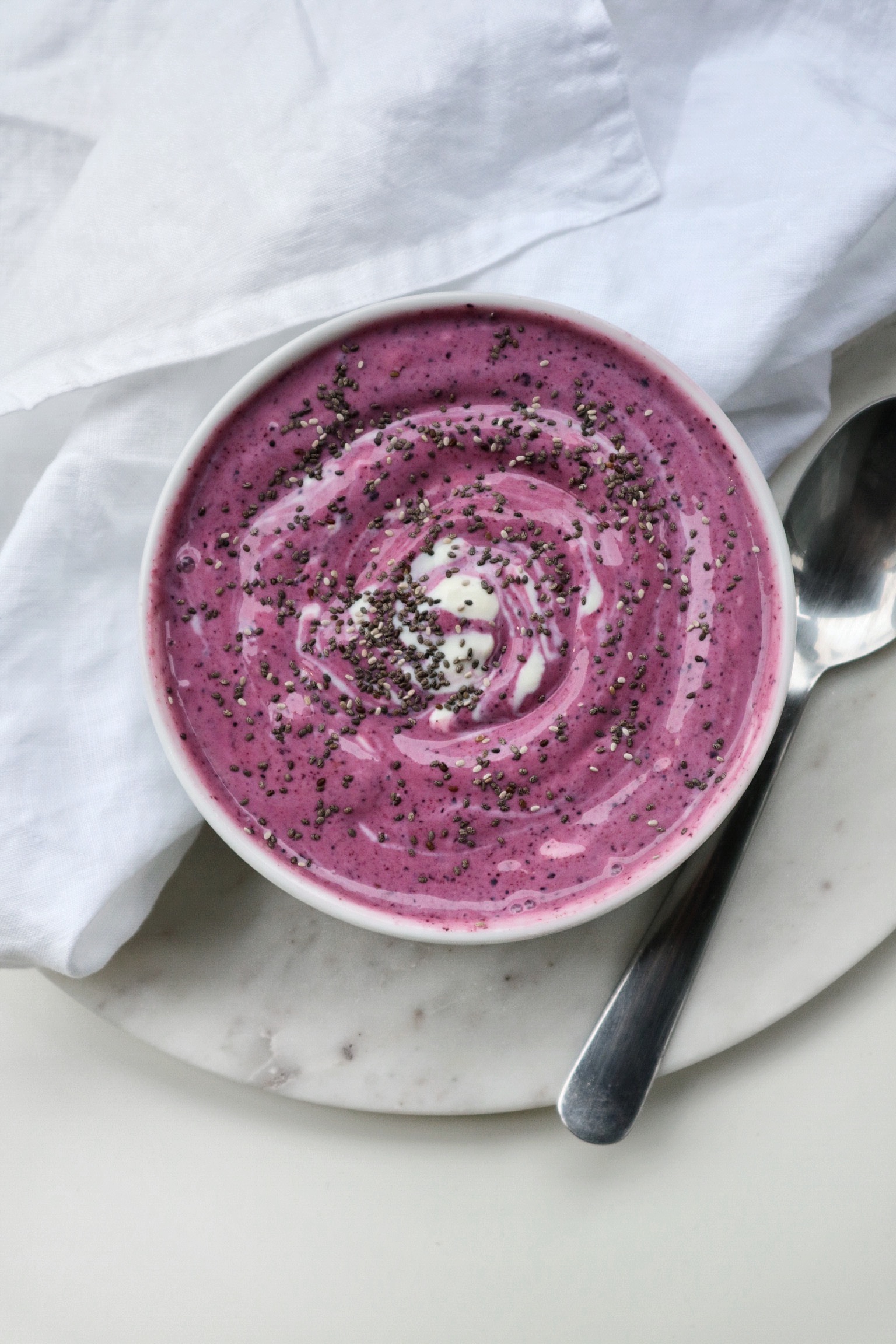 Ingredients
For this simple keto breakfast, you only need a few ingredients:
berries: I love them frozen and use a mix of strawberries and raspberries for my breakfast bowl. This creates a beautifuk pink colour for my smoothie bowl.
coconut yogurt: this is higher in fat than other plantbased alternatives and therefore perfect for keto.
ground cinnamon: adds a wonderful spice to the keto bowl.
stevia (optional): great is you like it extra sweet – I used Natvia
For the (optional) toppings:
You will see that I often use Pip & Nut's Coconut & Almond Butter as a topping for my bowl - simply as I am absolutely addicted to it and if you haven't tried it yet, you definitely should! (If you've ever wondered who buys those 1 kg buckets of Pip & Nut - that's me!)
Of course, you are welcome to replace this topping with one of your personal preferences - or even leave it out completely. I am sure there are options that are even lower in net carbs, but this is my absolute fave and well worth sacrificing net carbs from the rest of the day.
Net carbs for this recipe
If you are counting net carbs, then make sure to calculate your net carbs based on the products and amounts you use as they can slightly differ depending on the product/brand. With the products, I used this breakfast came to around 14g net carbs.
Instructions
The steps for making this keto breakfast are super simple:
Step 1: Blender
Simply place the frozen berries into a blender alongside the coconut yogurt. Add ground cinnamon and stevia, which is optional, but recommended if you like your breakfast sweet.
Blend on a high speed until smooth. You might have to take short breaks and scrape down the sides of your blender to get to the perfect texture. Alternatively, you can also add the breakfast smoothie ingredients to a tall jug and blend with a stick blender. I've done this on multiple occasions and it always worked out well.
The frozen berries will create a thick and creamy texture for your breakfast bowl, which is absolutely delicious!
Step 2: Serving and adding toppings
Pour the blended breakfast into a bowl and add your favorite keto-friendly toppings! I love adding nut butter and some crunchy toppings, such as raw cacao nibs, chia seeds, or nuts.
Adjust to your personal liking and serve immediately.
📌 If you love Pinterest you can pin any of the images to your boards!
You might also enjoy these vegan keto recipes: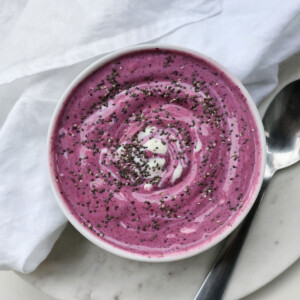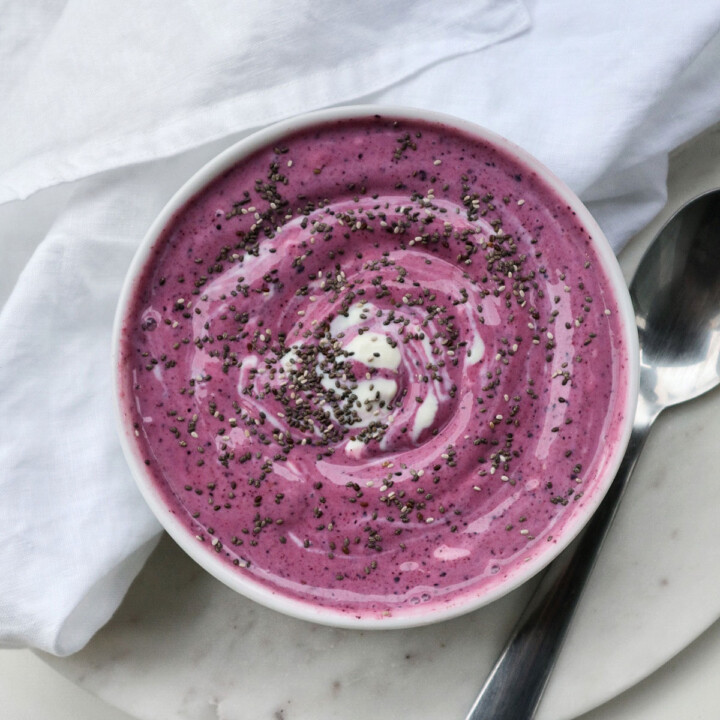 Vegan Keto Breakfast Bowl
Delicious and refreshing vegan keto breakfast bowl with dairy-free yogurt and frozen berries.
Equipment
1 blender

or stick blender

1 bowl
Ingredients
50

g

frozen berries

strawberry, raspberry, blueberry, blackberry

200

g

coconut yogurt (full fat)

1/2

tsp

ground cinnamon

1/2

tsp

sugar-free sweetener

2

tbsp

nut butter

peanut butter, almond butter

1

tsp

raw cacao nibs
Instructions
Add the frozen berries, cinnamon and stevia to a large container and add the yogurt on top.

Using a stick blender combine all ingredients. I figured a stick blender works best for me as it is quite a small amount for a regular blender size.

Add to a bowl, top with the nut butter and cacao nibs and voila: breakfast is served!
Notes
For nutritional information, I recommend calculating with the products you use as that's the main factor for determining the nutritional details for this breakfast.
You can also blend some protein powder into the yogurt for some extra vegan protein. I like to add vanilla soy protein isolate.
Top your breakfast bowl with nuts and seeds
Are you looking for more keto recipes? Get in touch and let me know whether you're after more snacks, breakfasts, or mains and I'll happily include more on the blog.
 © Romy London / Romina Callwitz | All images and content are copyright protected. Please do not use my images and content without permission. If you wish to re-publish any recipes or images, please get in touch via email. Thanks for your support!