Treat your sweet tooth with this healthy and refreshing Vegan Chocolate Hazelnut Protein Magnum Ice Cream!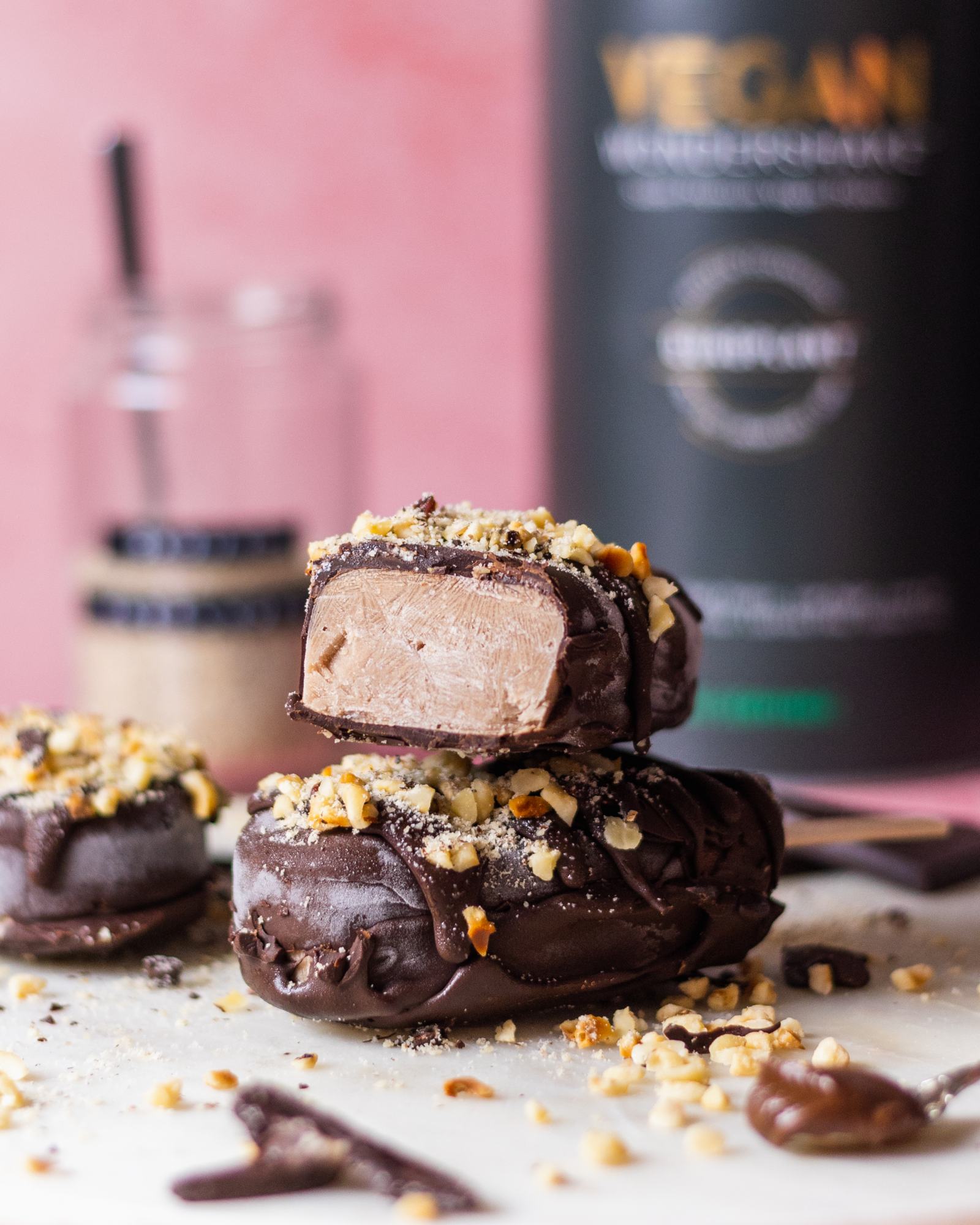 Homemade Vegan Protein Ice Pops
Summer Time is here! And with summertime, long warm days and lots of sunshine (okay, some sunshine - I'm in London after all) comes the craving for some cold and refreshing snacks - and this is where these Vegan Chocolate Hazelnut Protein Magnum Ice Cream Pops come in!
I do admit, I'm a super fussy ice cream eater and have been so pretty much my entire life. So I guess it comes with no surprise that I love making my own ice cream instead of buying the store-bought version. Over the years I've actually become so fussy, that I would not even eat ice cream for most of the year and only enjoy some on the hottest days of summer (of which there are not that many here). I guess I've just tried too much bad ice cream over the years!
What I love most about making my own ice cream is that I can pick exactly what flavours I'm feeling like and I know exactly what goes into them (especially. in terms of sugars & co!). I like my ice cream smooth & creamy, with nutty flavours and without sweeteners, artificial flavours or preservatives. Oh and if they have a crunch on top - even better!
And you will see that I've combined all of these traits in this recipe for Vegan Protein Magnum Ice Cream Pops.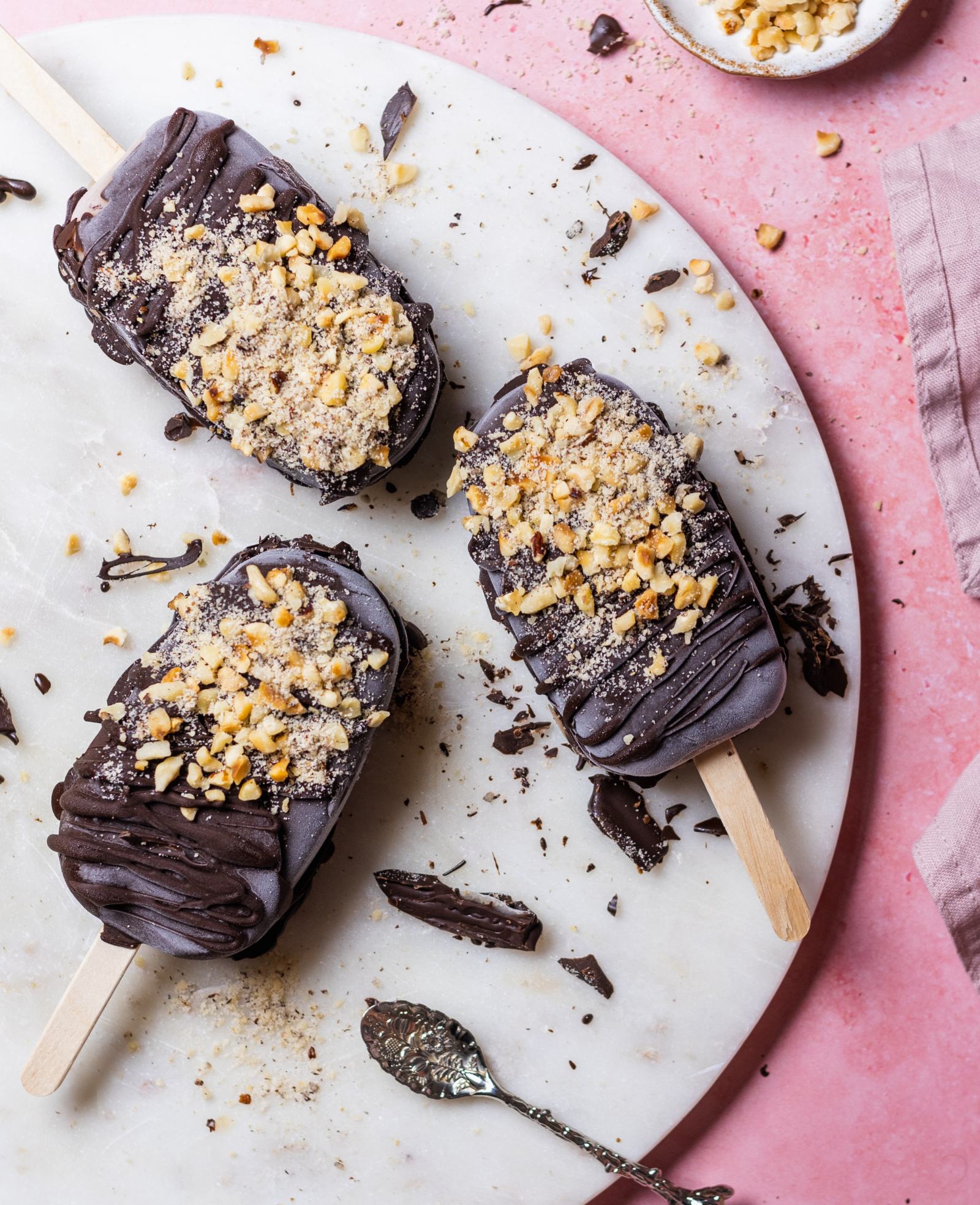 What you'll need
Ingredients
plain coconut yoghurt (sweetened, or unsweetened)
chocolate & hazelnut protein powder (I've used The Wondershake by The Protein Works - tastes like Nutella!)
raw cacao powder
maple syrup (optional)
dark chocolate
crushed hazelnuts
ground hazelnuts (totally optional)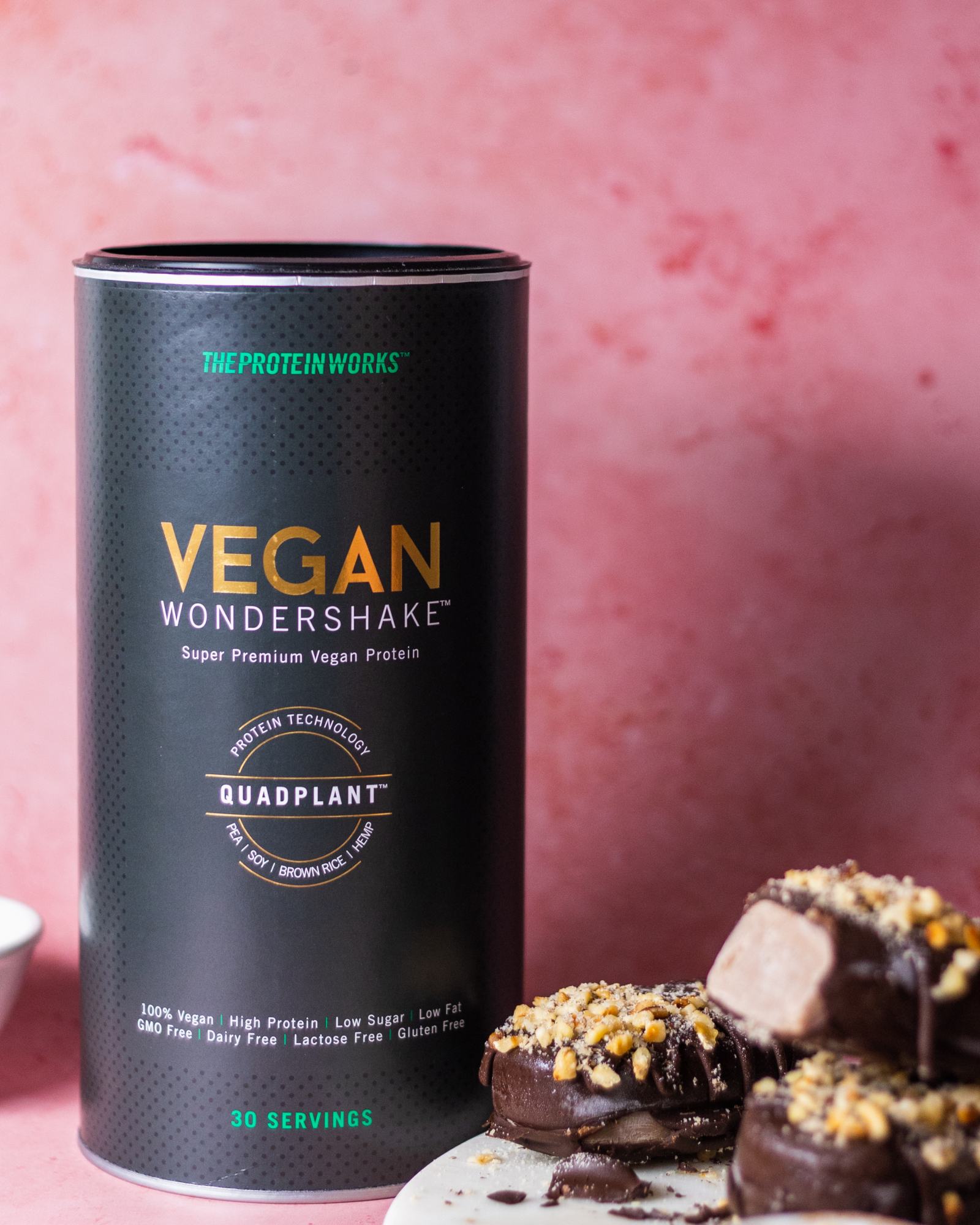 Equipment
mixing bowl
measuring spoons
whisk or spoon
ice cream mould (I got mine from Amazon)
ice cream sticks (you technically only need 3 for this recipe, if using the same mould)
double boiler to melt chocolate
piping bag (optional)
The piping bag is of course totally optional. I like to use one to evenly distribute the protein magnum ice cream filling and avoid any air bubbles, but if you don't have one to hand, you can also utilise a spoon to transfer the mixture to the mould.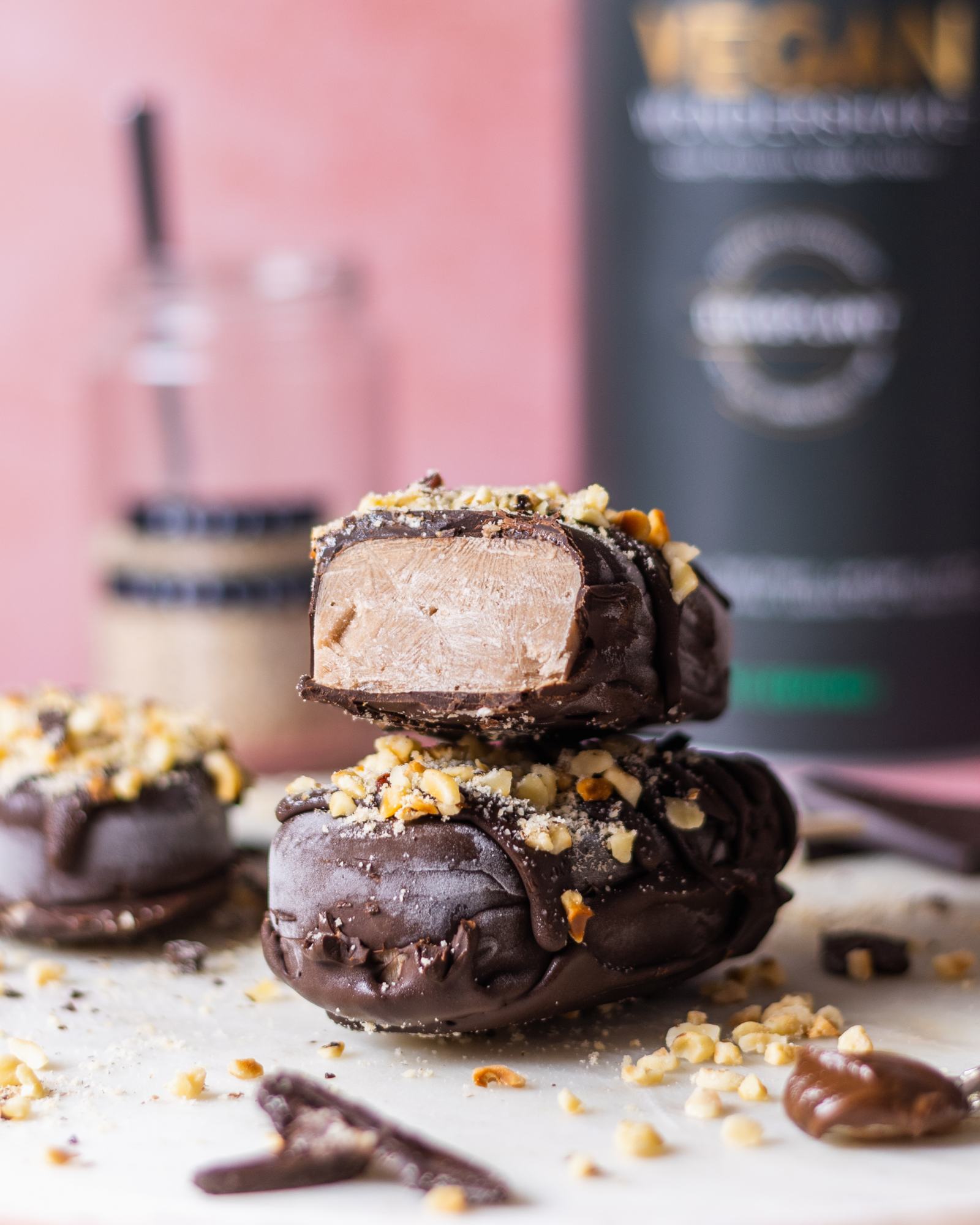 How to make Vegan Protein Magnum Ice Cream
There are 2 main components to these Protein Magnum Ice Cream Pops: the chocolate and the filling. Okay, if you want to decorate them further, then the decoration is technically number 3 😉
With the ice cream moulds I've tried different techniques over the years, but I have found the following steps to give the best results:
Step 1: The chocolate later
Start by melting the chocolate over a double boiler. Make sure to melt it at a low temperature over a water bath (melting point for cacao butter is 26C after all!), this is a work of patience, not rush, as chocolate can easily burn or change in flavour and texture if heated too quickly or at high temperature. Once melted, add about one tablespoon of the melted dark chocolate to each of the 3 ice cream moulds and move the moulds around to distribute the chocolate evenly. Instantly place the mould in the freezer for 5 minutes to set. Keep the remainder of the chocolate melted over low heat, we will get back to it in about 45 minutes.
Step 2: The filling
In the meantime, combine all ingredients for the filling:  yoghurt, protein powder, cacao powder, maple syrup. This is super straightforward simply blend up the ingredients with a whisk until smooth and fluffy and no lumps are left. Remove the chocolate-filled ice cream mould from the freezer once the chocolate has set, add your filling to a piping bag and slowly pipe it into the mould, evenly dividing the mixture. Smooth out the top with the nozzle or the back of a spoon if needed.
Place the mould into the freezer for 30-40 minutes to set the ice cream.
Step 3: Chocolate coating
Once the filling is set you can gently pour more melted chocolate on top to seal your ice cream pops. Place them back in the freezer to fully set.
Step 4: Decorate!
Carefully remove your chocolate & hazelnut protein magnum ice cream from the moulds and use any leftover melted chocolate & crushed hazelnuts (+ ground hazelnuts, totally optional) for the decoration: simply drizzle the chocolate over an ice pop, instantly sprinkle over the hazelnuts and repeat with the rest of the ice cream pops. Enjoy after 5 minutes (once the decoration has set) or keep them in the freezer until you're in for a refreshing, delicious & healthy protein snack!

Variations for this recipe
There are a couple of variations you can make for this recipe.
Protein powder
First and foremost: I've used a chocolate & hazelnut flavoured protein powder for this recipe and if you're a lover of Nutella and have access to ordering from The Protein Works, I'd highly recommend you give this vegan premium protein powder a go, it's one of the most indulgent, best-tasting protein powders I've ever tried and I have gone through a lot!
If, however, you don't have access to it, here are a few things you can try:
melt a chocolate & hazelnut spread or chocolate bar (roughly 40g) and blend this into your filling
add 1 tsp extra cacao powder and use a few drops of hazelnut essence to get to your desired flavour
Your texture might be slightly thinner without protein powder,  so if you're going for the options above, I'd recommend adding at least 1 tablespoon of unflavoured protein powder to thicken the mix and make it more thick and creamy. If you're going protein powder-free, then try adding about a tablespoon of oat flour instead. or enough until you get the texture right.
Chocolate
If you use hazelnut flavoured chocolate, you can take the chocolate & hazelnut flavour of this recipe to the next level! Make sure to use smooth chocolate though - the hazelnut chocolate from Seed & Bean could be an option if you're in the UK!
Decorations
you can go all out when it comes to the decorations for your ice cream pops! Use different types of nuts, granola, white chocolate, chocolate chunks, mini marshmallows, smarties - wherever your preference! I like to keep it simple & matching the flavours of the ice cream 😉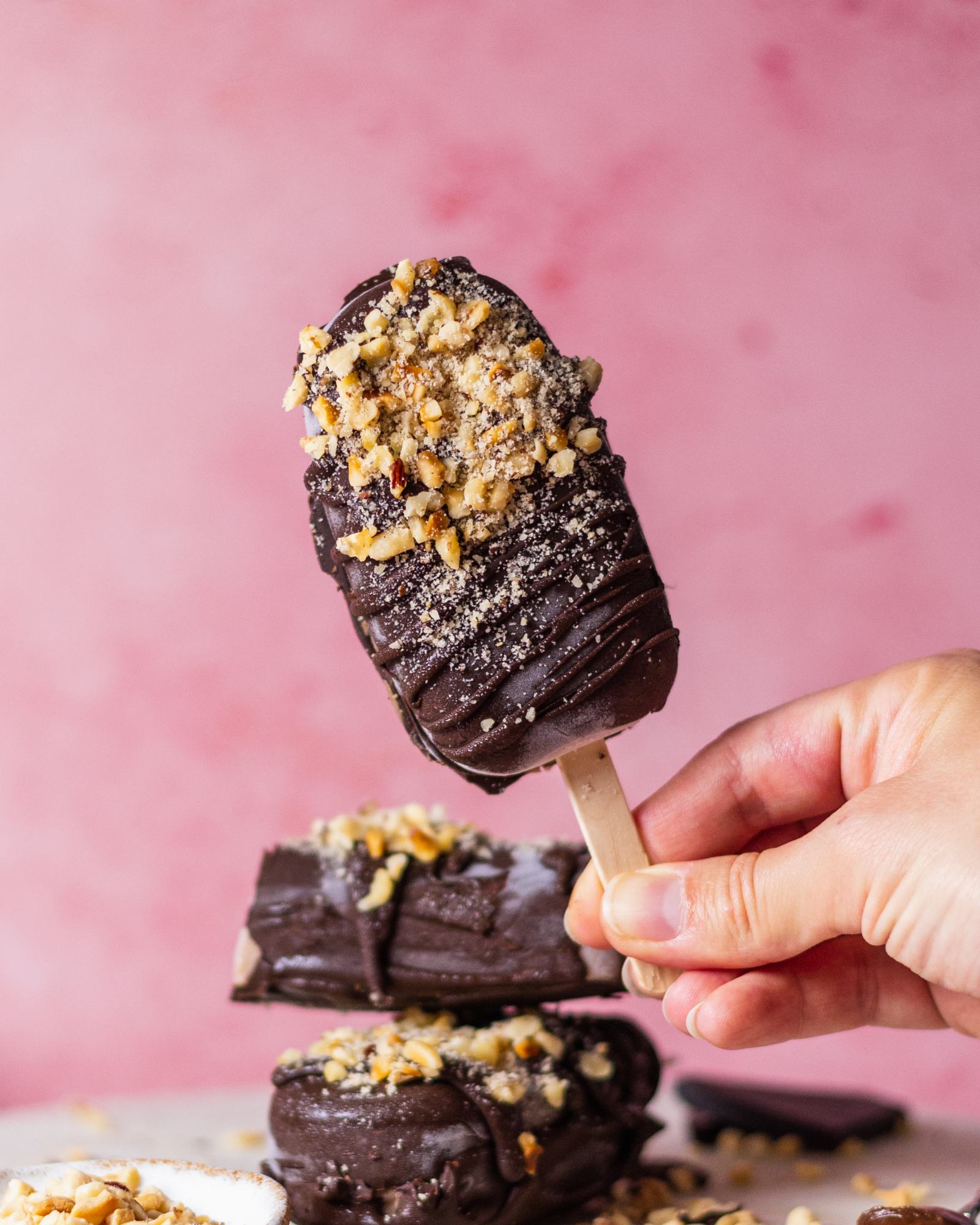 This recipe is:
100% vegan
gluten-free
low sugar
dairy-free
delicious & creamy
high in protein
refreshing
📌 If you love Pinterest you can pin any of the images to your boards!
Print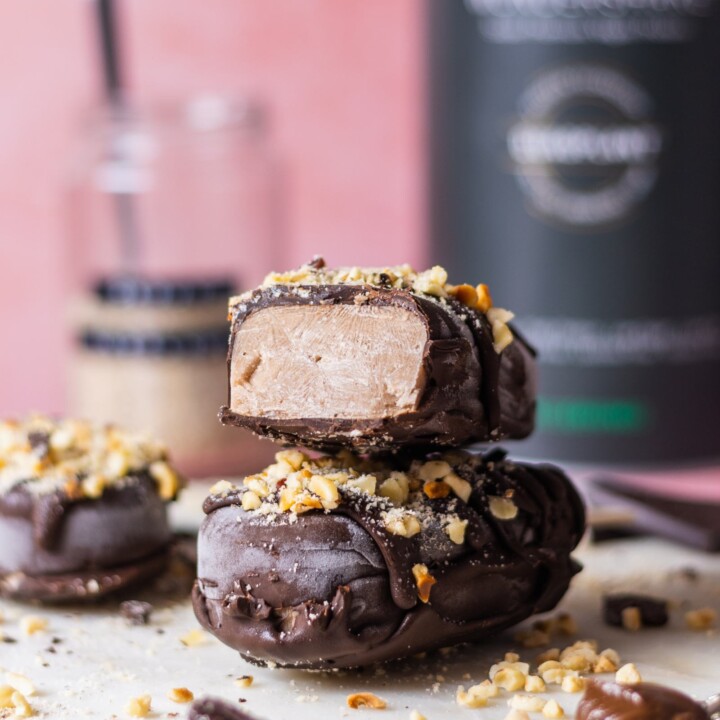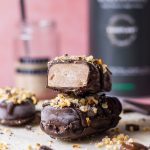 Vegan Chocolate and Hazelnut Protein Ice Cream
Author:

Prep Time:

30

Total Time:

30 minutes

Yield:

3

1

x

Category:

Ice Cream

Method:

Frozen

Cuisine:

Italian

Diet:

Vegan
---
Description
Treat your sweet tooth with this healthy and refreshing Vegan Chocolate Hazelnut Protein Magnum Ice Cream! Dairy-free, healthy & refined sugar-free recipe.
---
250g

plain coconut yoghurt (sweetened, or unsweetened)

40g

chocolate & hazelnut protein powder (I've used The Wondershake by The Protein Works)

1 tsp

cacao powder

1 Tbsp

maple syrup (optional)

150g

dark chocolate, melted

2 tsp

crushed hazelnuts
---
Instructions
In a double boiler melt the dark chocolate. Add about 1 Tbsp of melted chocolate into each of 3 moulds (amount may vary slightly depending on the size of your mould) and move the chocolate around to coat the sides and bottom with a thin layer. Place the moulds into the freezer for 5-10 minutes for the chocolate to set.
In a mixing bowl combine the plain coconut yoghurt with the protein powder, cacao powder and maple syrup. Whisk up all the ingredients until smoothly combined, then transfer the mix to a piping bag.
Evenly divide the protein ice cream filling into the ice cream moulds and place them back into your freezer for a minimum of 30 minutes or until set.
Coat the top of the frozen popsicles with chocolate and place in the freezer to set for 5 minutes.  Drizzle any excess melted chocolate over the top and instantly decorate with crushed hazelnuts.
The. popsicles are ready to enjoy after 5 more minutes in the freezer, or keep them in there until you're ready for a refreshing, protein loaded snack!
---
Notes
You can also spoon the mix until the ice cream moulds, instead of using a piping bag. However if you're looking for the smoothest possible result without air bubbles, I recommend using a piping bag.
The amount of ingredients you need for your popsicles might slightly vary depending on the size of the moulds that you're using. I've used these moulds from Amazon, and the ingredients outlined above made 3 popsicles.  Please feel free to adjust the amounts of ingredients to suit your moulds, if you're using a different size.
Keywords: vegan ice cream, protein ice cream, high protein snacks, vegan protein snacks, vegan protein, vegan ice cream, vegan magnums, homemade magnums,
If you're looking for more high-protein vegan recipes, check out these ones:
Low Carb Chocolate Protein Cookies
3-Ingredient Vegan Frozen Yoghurt Bars
Vegan Protein Cheesecake Pudding
*Disclosure: This page may contain affiliate links and sponsored links that earn me a small commission, at no additional cost to you. You can find more information in my Privacy Policy.
 © Romy London / Romina Callwitz | All images and content are copyright protected. Please do not use my images and content without permission. If you wish to re-publish any recipes or images, please get in touch via email. Thanks for your support!