Re-create this delicious vegan chocolate coffee tart with this super simple recipe – even if you've never made a tart before (let alone a vegan one!)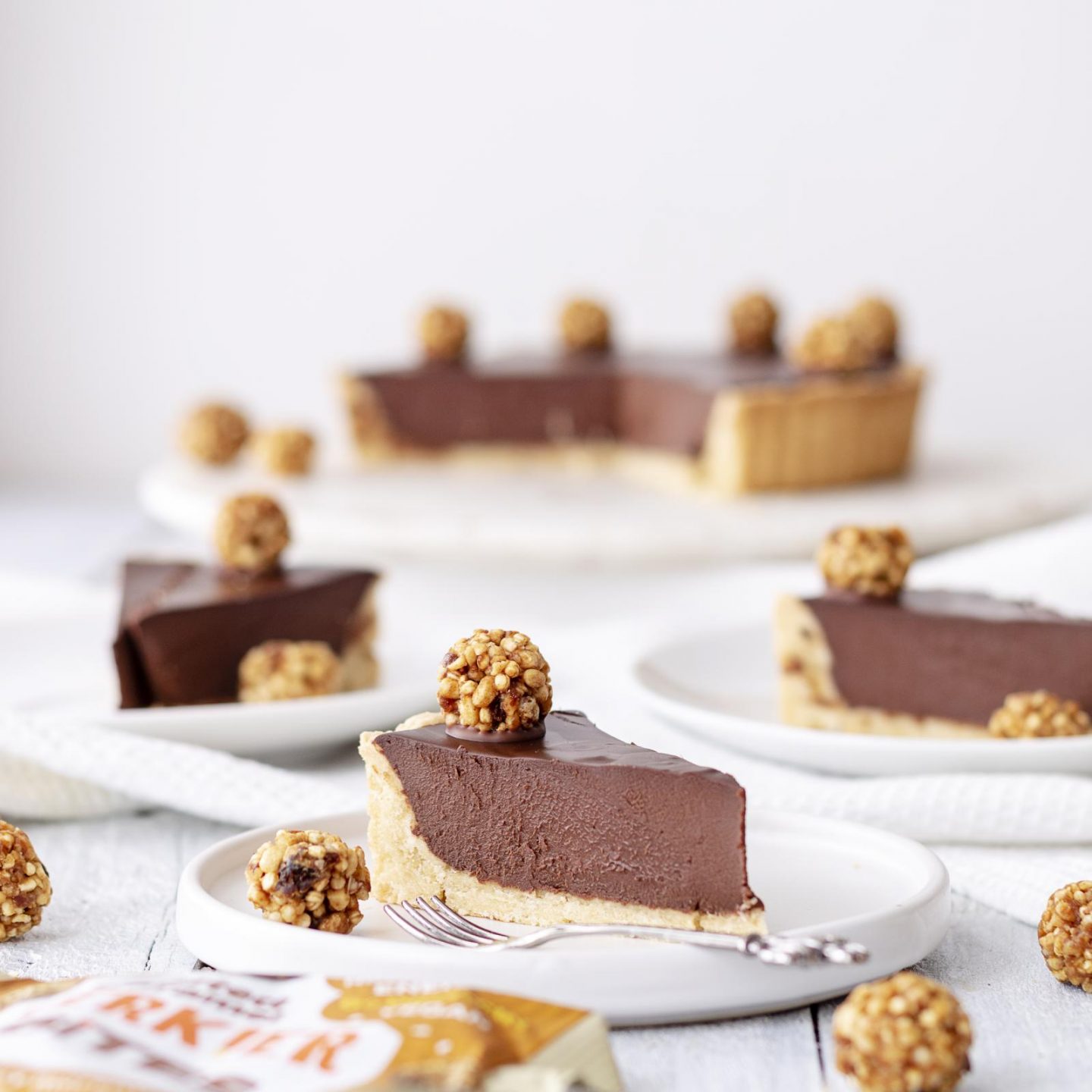 Can't go wrong with a Vegan Chocolate Coffee Tart, am I right? That's what I thought when I first brainstormed some vegan tart ideas – after all, almost everyone loves chocolate and as tarts and cakes are mostly eaten in the afternoon, the coffee with do the trick with the so-called 'afternoon-pick-me-up' 😉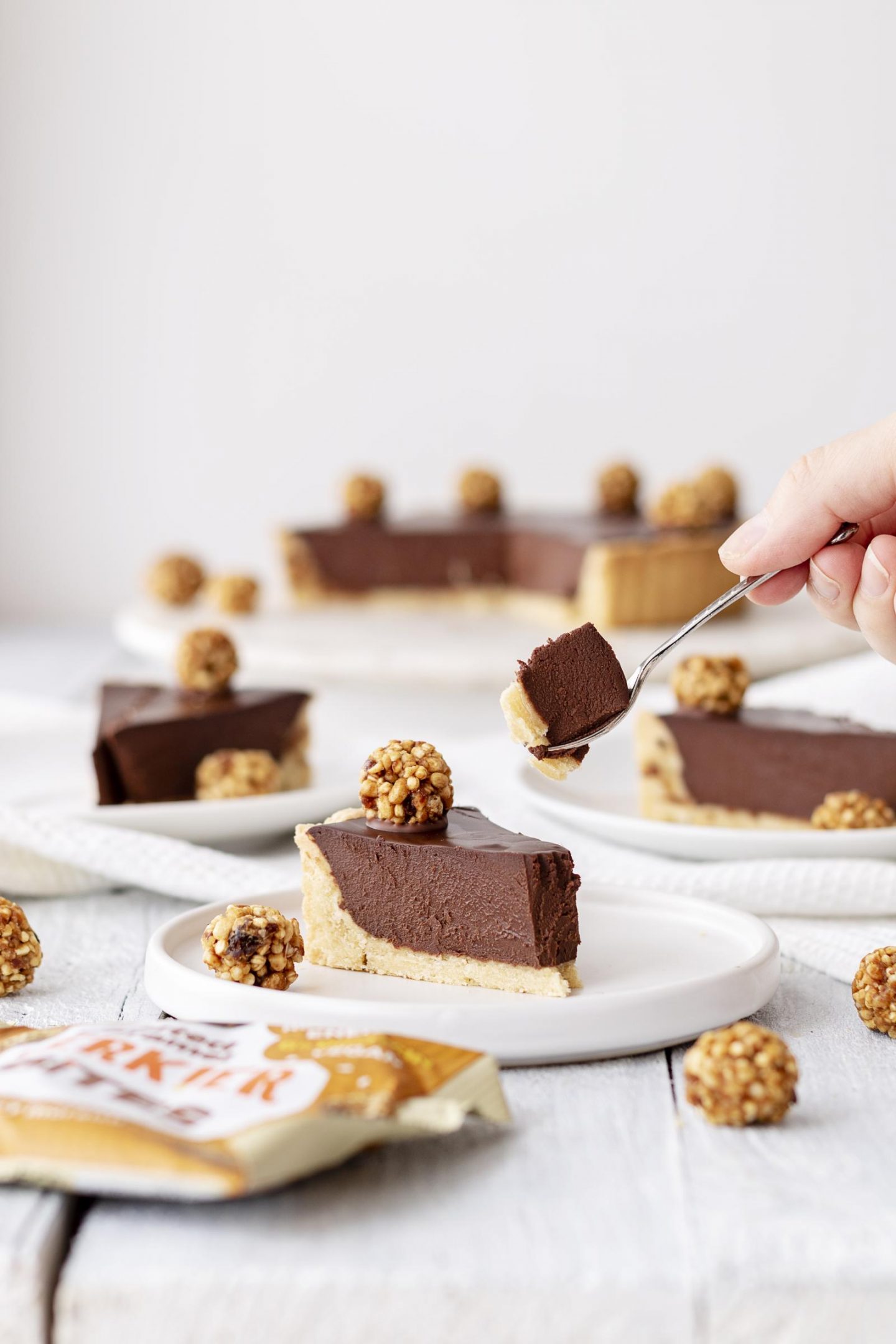 What for this Vegan Chocolate Coffee Tart Recipe
Ingredients
Tart Base:
Plain gluten-free flour

Palm oil free butter (I used Naturli)


Brown sugar

Cold almond milk
Tart Filling:
Almond milk

Fresh coffee

Dark chocolate (I used Seed & Bean)
Cold palm oil free butter (I used Naturli)
Additionally:
Coconut oil or palm oil free butter to grease the tart tin

Dried legumes or pulses to blind bake the tart base
How I first created this vegan chocolate coffee tart
I originally created this chocolatey goodness for Perkier's Cakes For Apes campaign back in April 2019. Perkier launched their campaign in collaboration with the International Animal Rescue to create awareness around the omnipresent problem around palm oil and raise funds through palm oil-free cake sales at the same time. So after creating this deliciousness I created my own little bake sale and sold cake to my local neighbours – it was great as I finally got to meet some of them face to face rather than just through messaging (yes, we have a neighbourhood Whatsapp chat, ha!).
Anyways, the feedback I had received for this vegan chocolate coffee tart has been unreal and some of my neighbours even came back for seconds and thirds, and I was very overwhelmed with all of these wonderful responses and I hope you'll enjoy this recipe just as much – whether you're baking it for your neighbours, family or even just yourself (cause honestly: why not ;P)
If you're wondering what a palm oil-free vegan butter alternative is, I can't recommend the 'Naturli Spreadable' enough – not only does it taste delicious, but they're also palm oil-free and a wonderful vegan company!
What is blind baking?
For this recipe, I tried out the technique of 'blind baking' for the very first time. It basically means that you bake the tart base without the filling.
In order to do so, you need to cover the base with baking parchment and fill it with dried legumes, pulses or similar – I've actually used dried soya beans that I had found at the back of my cupboard (didn't have a clue what to make from them, so this was perfect to put them to good use).
The blind baking process is important to ensure that the base doesn't rise up doing the process – we're making a tart after all, not a fluffy sponge cake.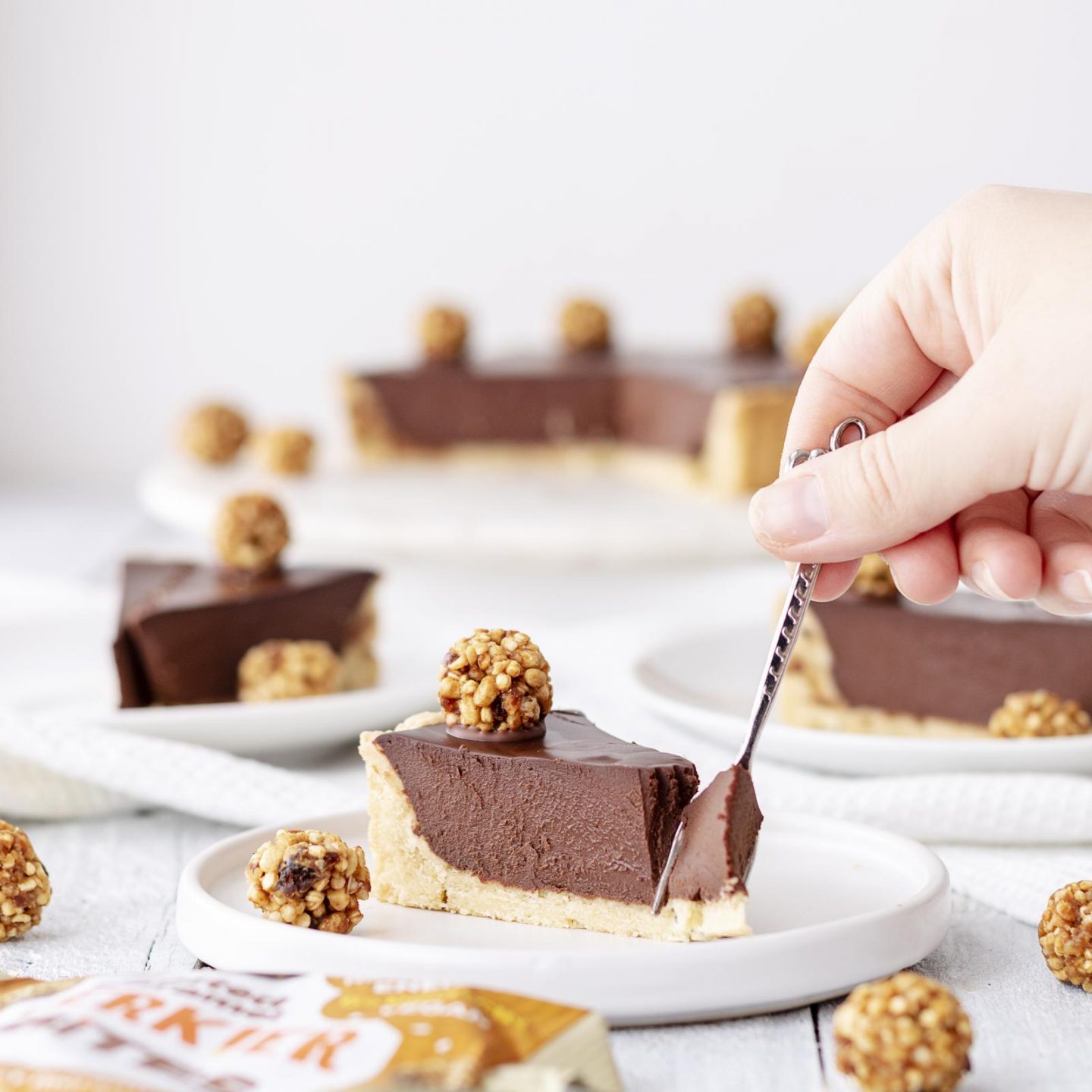 Smooth Chocolate Filling
After the blind baking process set aside the tart base to cool – perfect timing to prepare the filling for the vegan chocolate coffee tart! I've used a block of vegan dark chocolate in this case (Seed & Bean is perfect, as they are organic, vegan, super delicious and don't have bits such as nuts in them), heated a mix of almond milk and coffee and then slowly broke the chocolate into it to melt. Ensure to gently stir throughout the melting process and once you have a smooth chocolate mousse add in the cold (vegan) butter – it'll help firm up your tart filling.
Transfer the tart to the fridge to firm up – I'd recommend at least 3.5 hours, but you can always leave it overnight to be on the safe side.
For my bake sale, I had decorated the vegan chocolate coffee tart with Perkier Salted Caramel Bites – they added a great crunch to the smooth filling of the tart. They also come in a Cacao & Peanut and Cacao & Orange flavour and I'm very much tempted to re-create this tart in that flavour combination in the future… okay, making myself hungry just typing this out here, ha!
This recipe is:
100% vegan
gorgeously chocolatey
light and delicate
easy to make gluten-free
simply delicious
easy to make
egg-free
dairy-free
Print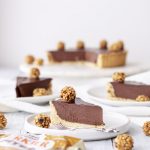 Vegan Chocolate Coffee Tart
Author:

Prep Time:

20

Cook Time:

25

Total Time:

45 minutes

Yield:

8

-

10

1

x

Category:

Cake

Method:

Baking

Cuisine:

British

Diet:

Vegan
---
Description
Re-create this delicious vegan chocolate coffee tart with this super simple recipe – even if you've never made a tart before (let alone a vegan one!)
---
Tart Base:
200g

plain gluten-free flour
120g palm oil free butter (I used Naturli)


60g

brown sugar

2 Tbsp

cold almond milk
Tart Filling:
100

ml almond milk

100

ml fresh coffee

400g

dark chocolate (I used Seed & Bean)

100g

cold palm oil free butter (I used Naturli)
Additionally:
Coconut oil or palm oil free butter to grease the tart tin

Dried legumes or pulses to blind bake the tart base
---
Instructions
Start by creating the tart dough: Combine the cubed vegan butter with the plain gluten free flour, brown sugar and almond milk. Roll the dough into a ball, cover it with kitchen foil and place it in the fridge for about 30 minutes.

Preheat your oven to 200C and grease your tart tin. Thinly roll out the dough between two baking sheets, then gently place the dough into the tart tin. Alternatively you can press gently press the dough into the tart tin with your hands, if this is easier for you.

Place a baking sheet onto the tart base and fill it with dried legumes or pulses, then bake the base blind for about 25-30 minutes (I used dried soy beans). Remove the legumes/pulses and let your tart base cool completely.

For the filling combine the almond milk with freshly brewed coffee and heat the mix, but don't boil it. Roughly chop the dark chocolate and place it in a bowl, then pour over the hot coffee-almond milk mix and gently stir until the chocolate is melted and you have a smooth mix. Add in the cold butter and stir until combined and smooth.

Gently pour the mixture into the tart base. Use a spatula or a knife to smooth the top and place the tart into your fridge for at least 3.5 hrs to set.

Feel free to decorate the tart to your liking (I love adding some cheeky Perkier Bites to the top!) & enjoy!
---
Keywords: vegan tart, vegan chocolate coffee tart, vegan chocolate tart, gluten free vegan tart, gluten free vegan chocolate tart
Looking for more inspiration for vegan cakes and bakes? Find them on my website here in the Cakes & Bakes section, here are a few of my favourites: