If you're a fan of pizza, then you've surely been to Pizza Hut at some point - after all the restaurant chain has been around since 1958, serving up their signature pan pizza alongside other dishes such as pasta, breadsticks and dessert.
The history of vegan options at Pizza Hut
When I went vegan in 2014, I thought I'd never be able to have pizza at Pizza Hut again but I was proven wrong in 2017, when Pizza Hut first launched vegan cheese across their UK franchise after an initial trial.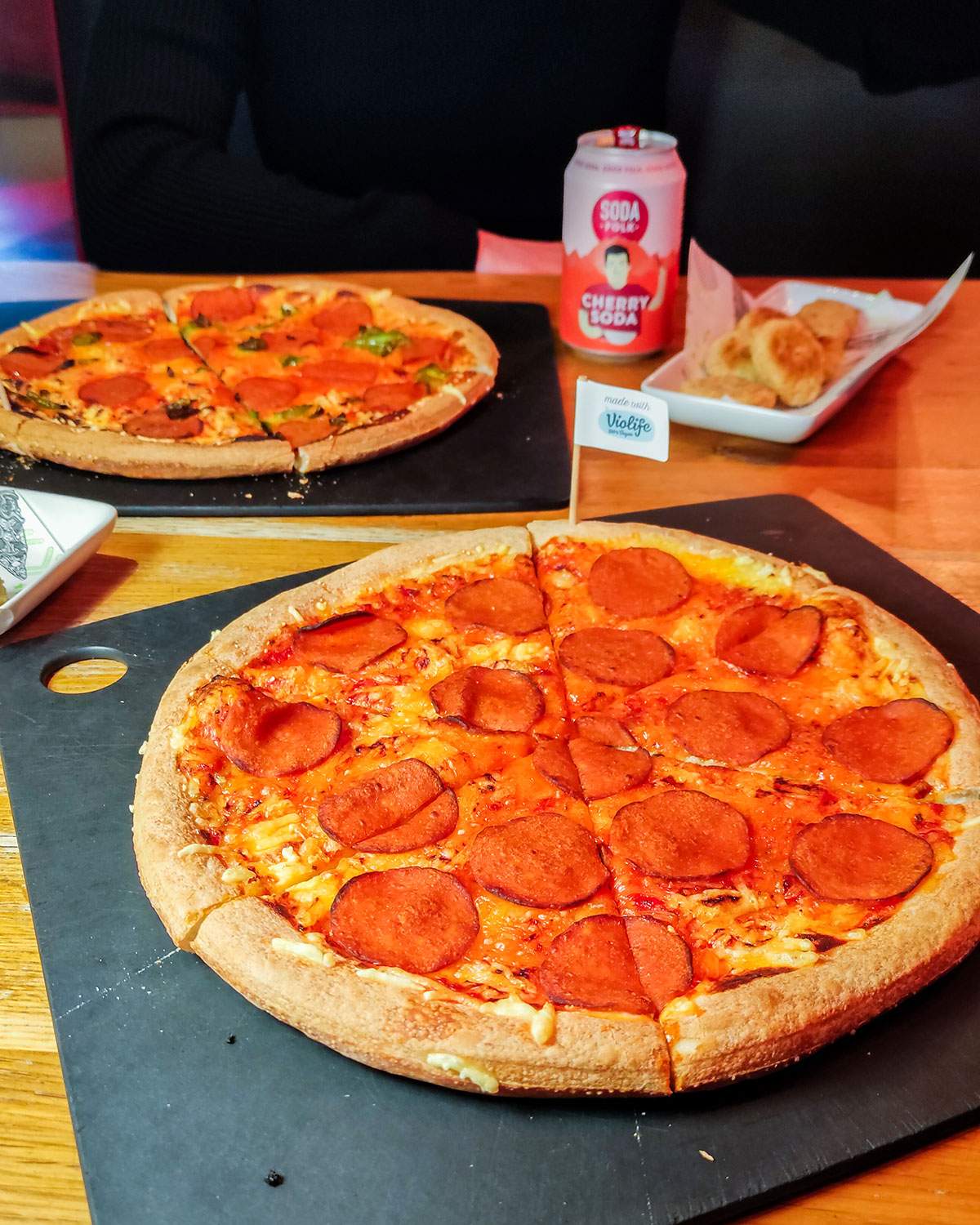 Vegan cheese in the UK
In 2017, Pizza Hut was one of the first pizza chains launching vegan cheese on their main menu permanently in the United Kingdom.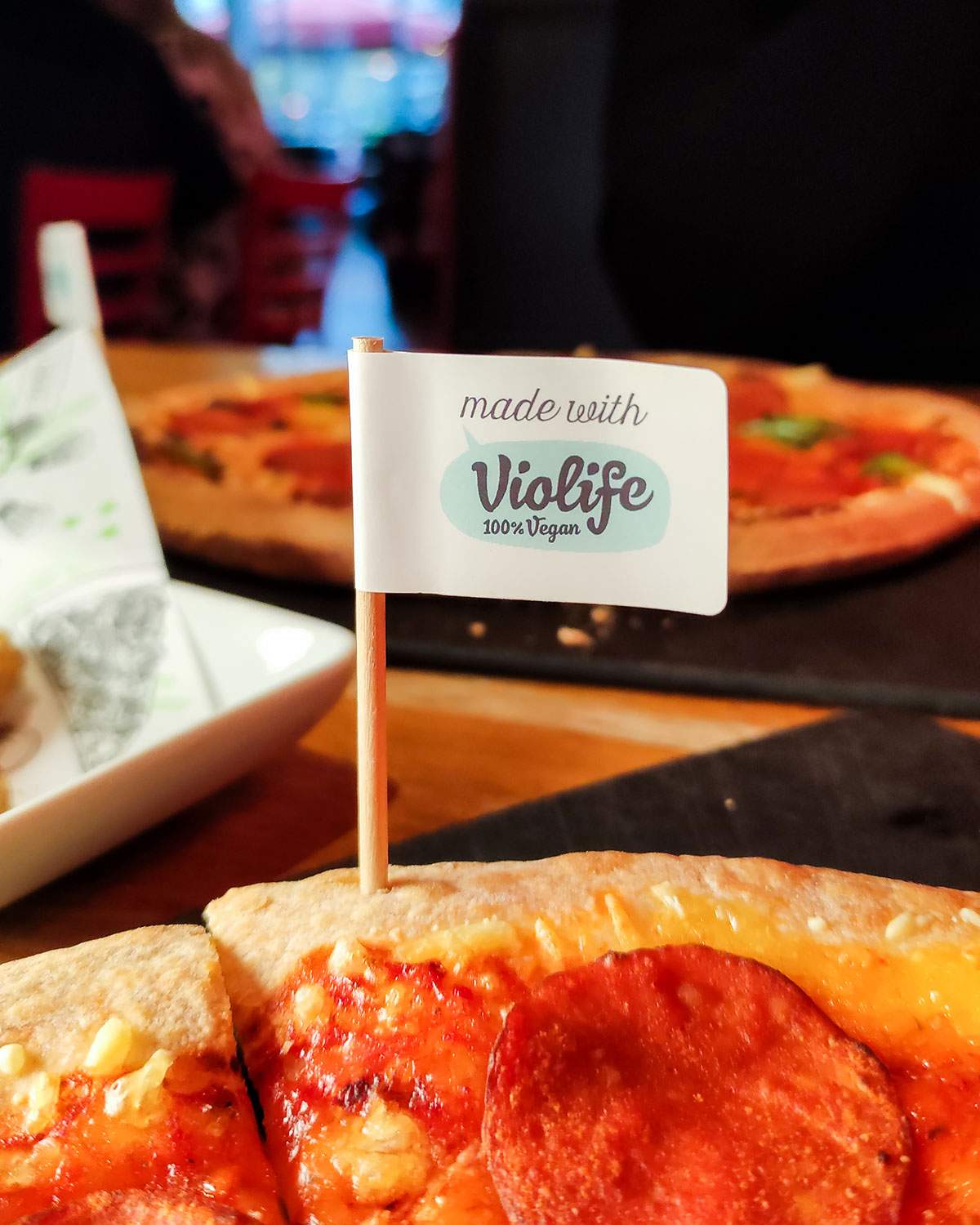 Vegan cheese in Australia
In Australia, their vegan cheese first launched in 2018 and was rolled out across every single one of their Pizza Hut locations down under by late 2019.
Vegan cheese in the US
In the US, Pizza Hut are yet to launch a vegan cheese but there's still hope!
Nowadays, Pizza Hut offer a number of vegan options on their UK menu, including pizzas, different crust flavors, side dishes and also vegan desserts.
Vegan Options at Pizza Hut UK in 2022
There are a number of vegan options available to you if you're looking to eat vegan at Pizza Hut restaurants and this vegan menu guide lists them all for you.
The good news is, that the vegan options are available at all UK pizza hut stores!
Vegan Pizza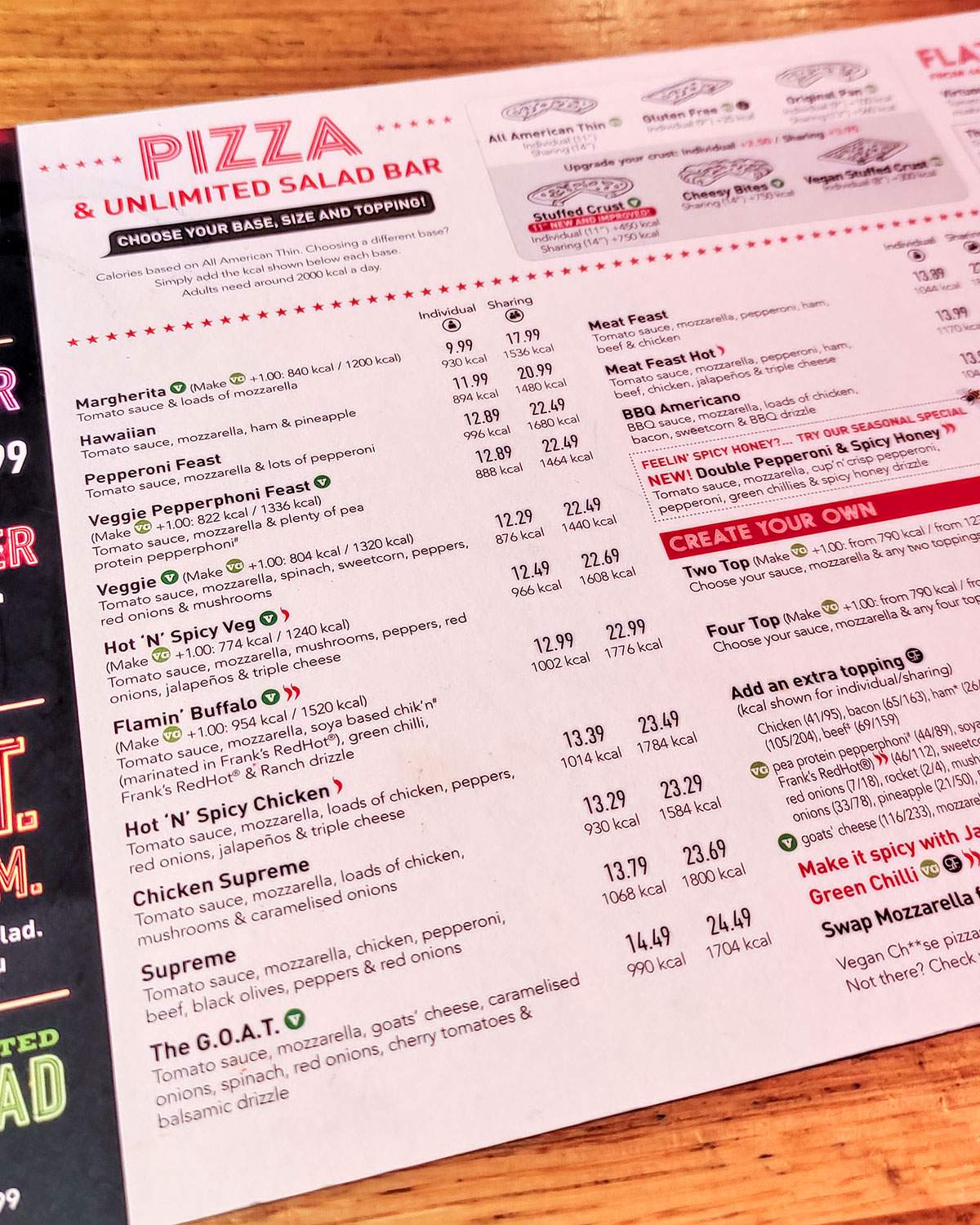 As of November 2022, there are 5 vegan pizzas on the Pizza Hut vegan menu including vegan cheese options:
Vegan Flamin' Buffalo - a delicious vegan pizza with a kick! The Vegan Flamin' Buffalo comes covered with tomato sauce, vegan Violife cheese, green chilli and soya-based chicken-style pieces that are marinated in Franks RedHot Sauce. The finished pizza is drizzled with more of Frank's RedHot and a vegan-friendly ranch drizzle. This pizza has 954 calories.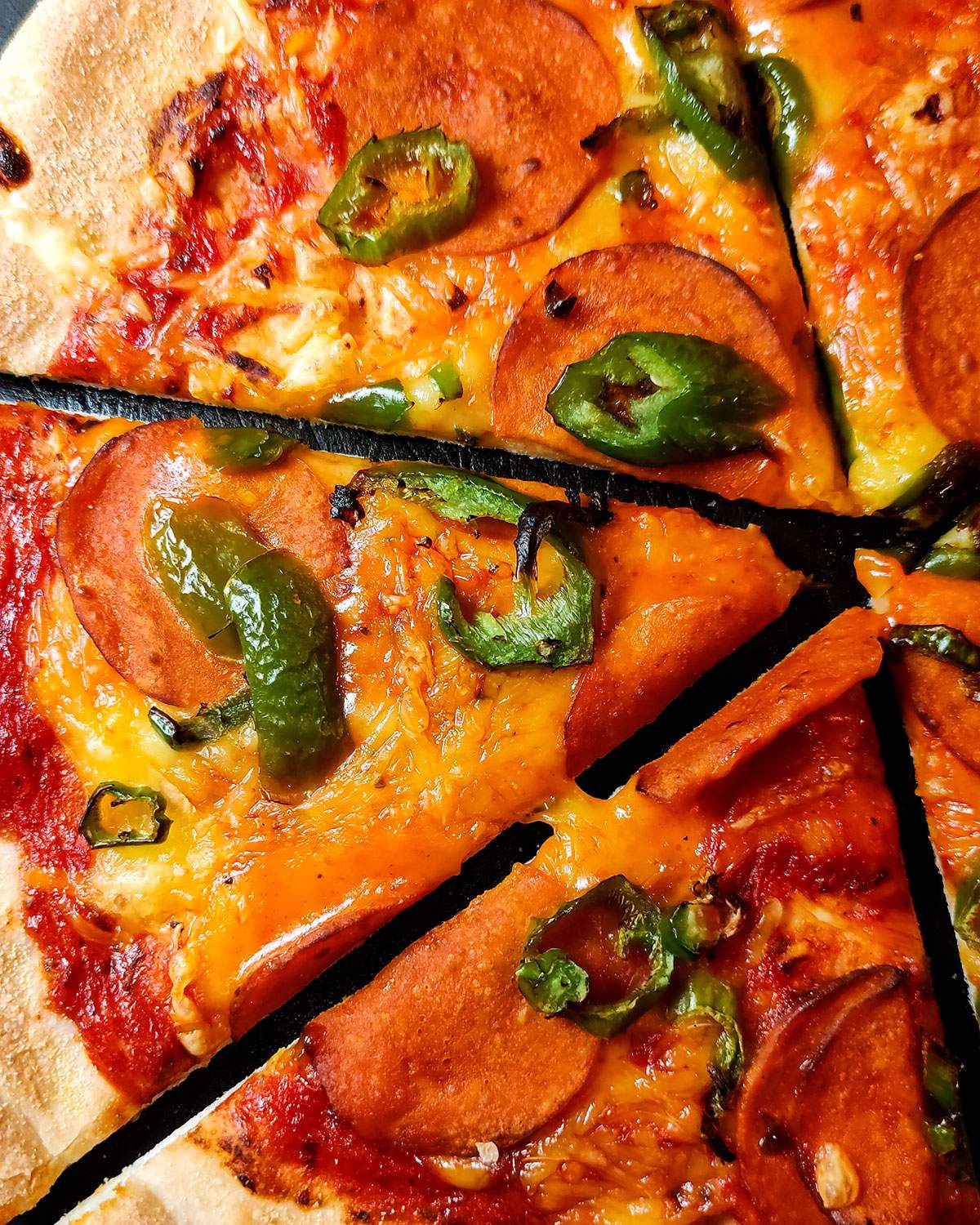 Vegan Pepperphoni Feast - The Vegan Pepperphoni Feast is made up of a tomato base, vegan cheese and a generous serving of vegan pepperoni, the so-called 'Pepperphoni' which is made primarily of pea protein. This pizza has 822 calories.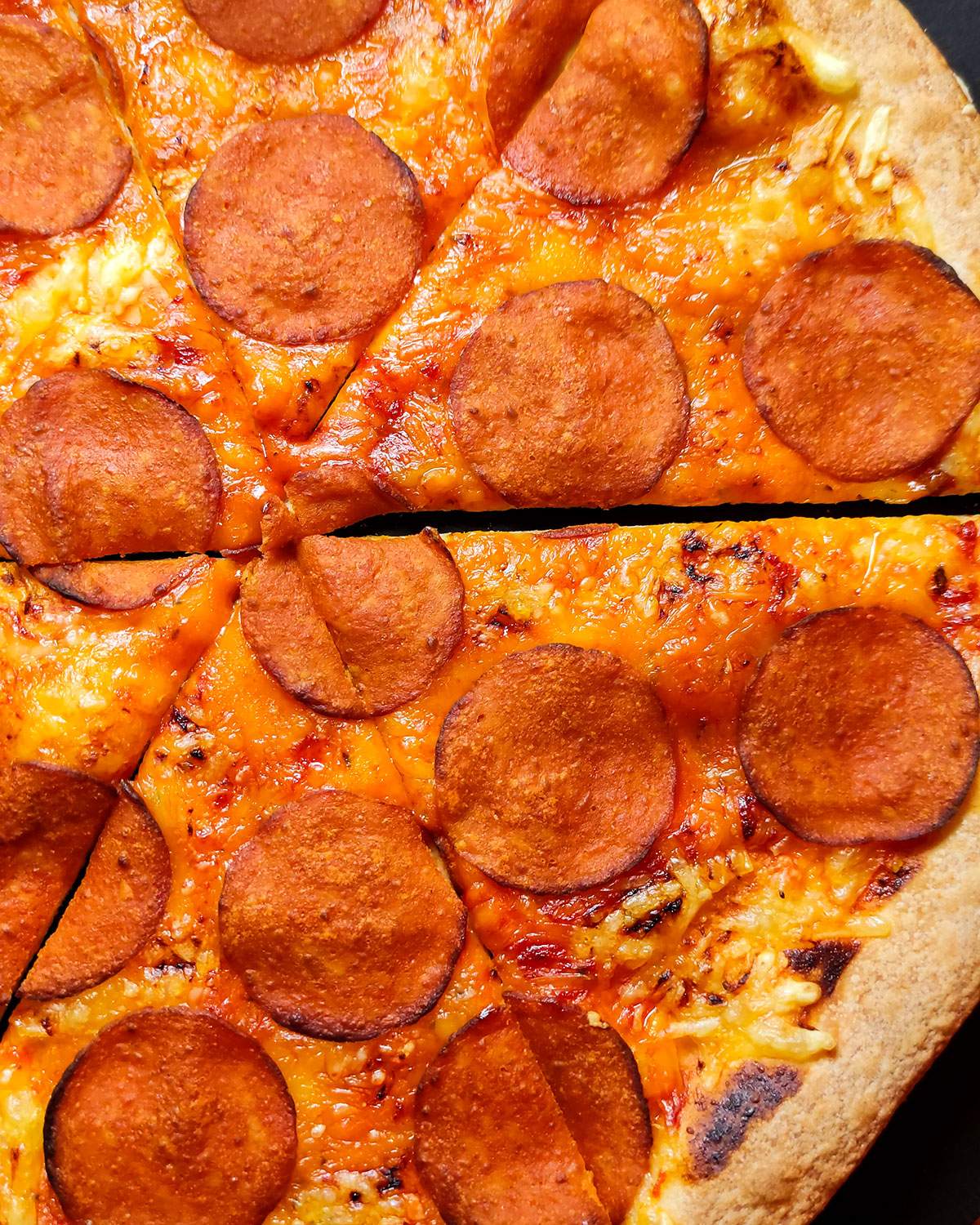 Vegan Veggie - this pizza is one of three vegan pizzas that doesn't come with a vegan meat alternative but instead is loaded with vegetables. The pizza comes with a tomato place, vegan cheese, spinach, sweetcorn, mixed peppers, red onions and mushrooms. This pizza has 804 calories.
Vegan Hot 'N' Spicy Veg - you could call this pizza a spicy version of their vegan veggie! It come with a tomato base, vegan cheese, mushrooms, peppers, red onion and spicy jalapeños. This pizza has 774 calories.
Vegan Margherita - Simple and delicious! The vegan Margherita is topped with tomato sauce and vegan Violife cheese. This pizza has 840 calories.
You can also create your own vegan pizza - more on that further below!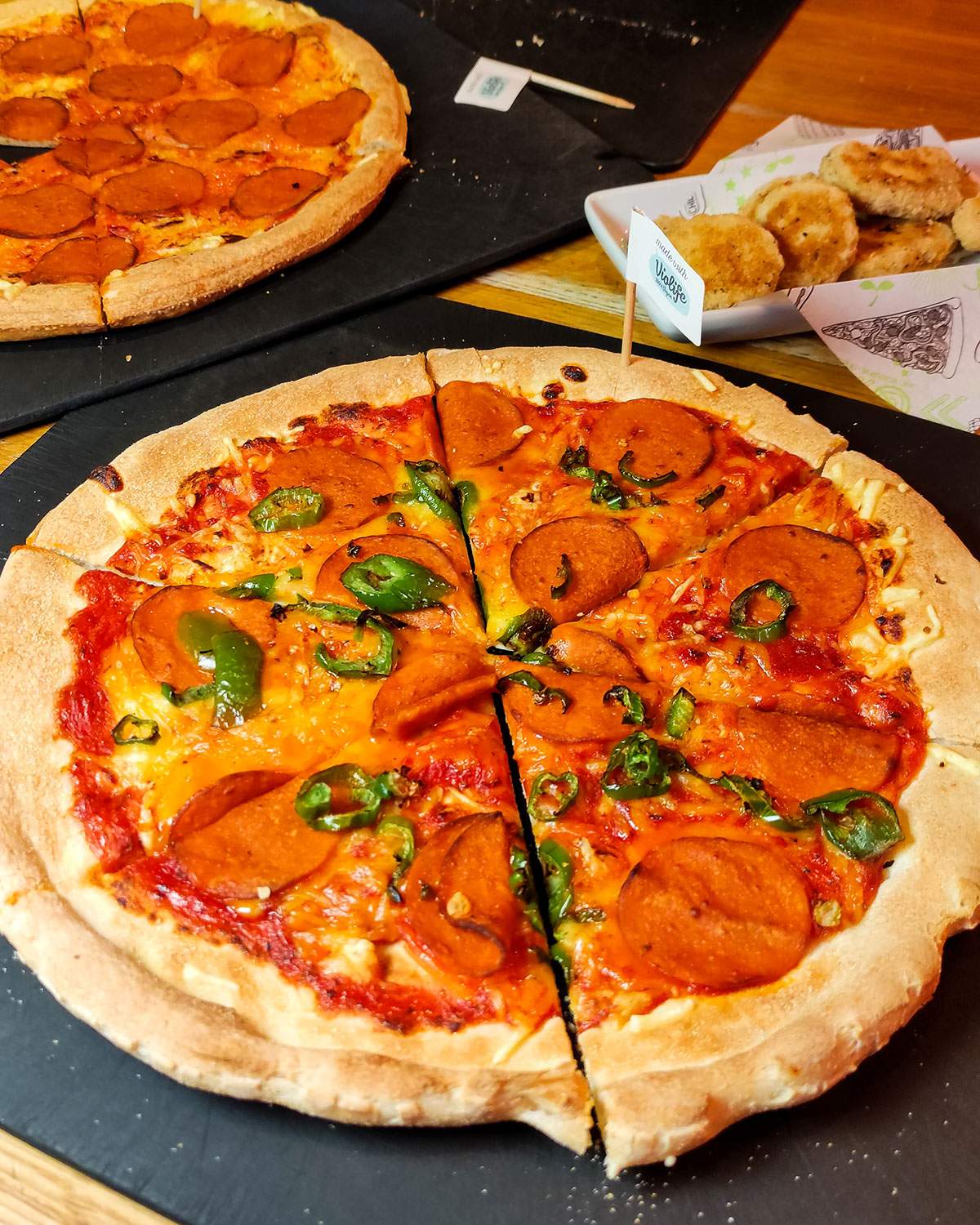 Vegan Flatbreads
For a lighter option, these flatbreads are fantastic! They include the Pizza Hut salad bar, where you can help yourself.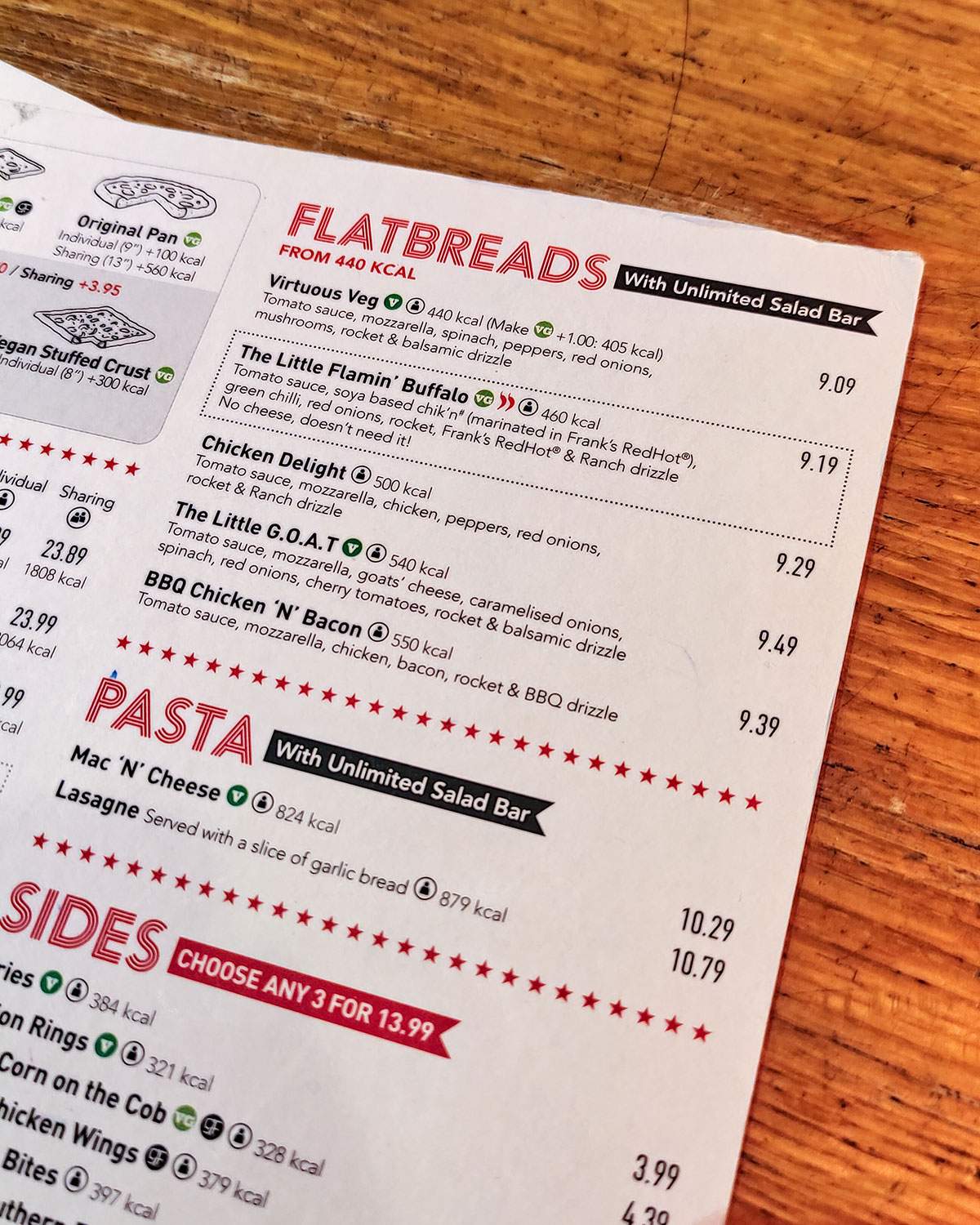 The Little Flamin' Buffalo Flatbread - this flatbread is made with a base of tomato sauce, topped with soya-based chicken-style pieces marinated in Frank's RedHot, green chilli, red onions, and rocket salad. Drizzled with more of Frank's RedHot (their type of Buffalo sauce) and a vegan ranch. (461 calories)
Vegan Virtuous Veg Flatbread - this flatbread also comes with a tomato sauce base, topped with vegan cheese and loaded with vegetables such as spinach, peppers, red onions, mushrooms and fresh rocket salad, finished off with a balsamic drizzle. (401 calories)
Vegan Pasta
Pizza Hut restaurants in the UK have yet to add a vegan pasta to their menu. I'd love to see a plant-based alternative on their menu here, and hope they will add a vegan option with the next menu update.
Vegan Salad
At Pizza Hut you get access to the salad bar when you order a main course. There is one free bowl of salad with every main course, but you can order more if you like. If you like to enjoy salad as your main dish, the team at Pizza Hut will bring you a plate to help yourself to Unlimited Salad.
If you're looking to get a discount on your Pizza Hut order, tastecard is a great option in the UK! You can get some great saves on your pizza - salad bar and side dishes are not part of the tastecard deal but you can order them in addition and your tastecard discount is automatically calculated based on the included items.
Find more information on how to use tastecard below.
Most of the salad bar is vegan, including:
BBQ tomato pasta
diced beetroot
lettuce mix
peppers
red onion
sweetcorn
cherry tomatoes
cucumber
shredded carrot
jalapeños
bacon bits
croutons
tortilla chips
crispy onions
sultanas
The vegan-friendly salad dressings and dips are:
Thousand island dressing (new recipe)
blue cheese dressing (new recipe)
garlic mayonnaise (new recipe)
light mayonnaise (new recipe)
low fat french dressing
salsa
garlic & chilli infused oil
olive oil with balsamic vinegar
For a vegan salad, simply pick your choice of vegetables and opt for the oil and vinegar dressing.
Vegan Side Dishes *
*not included in tastecard discount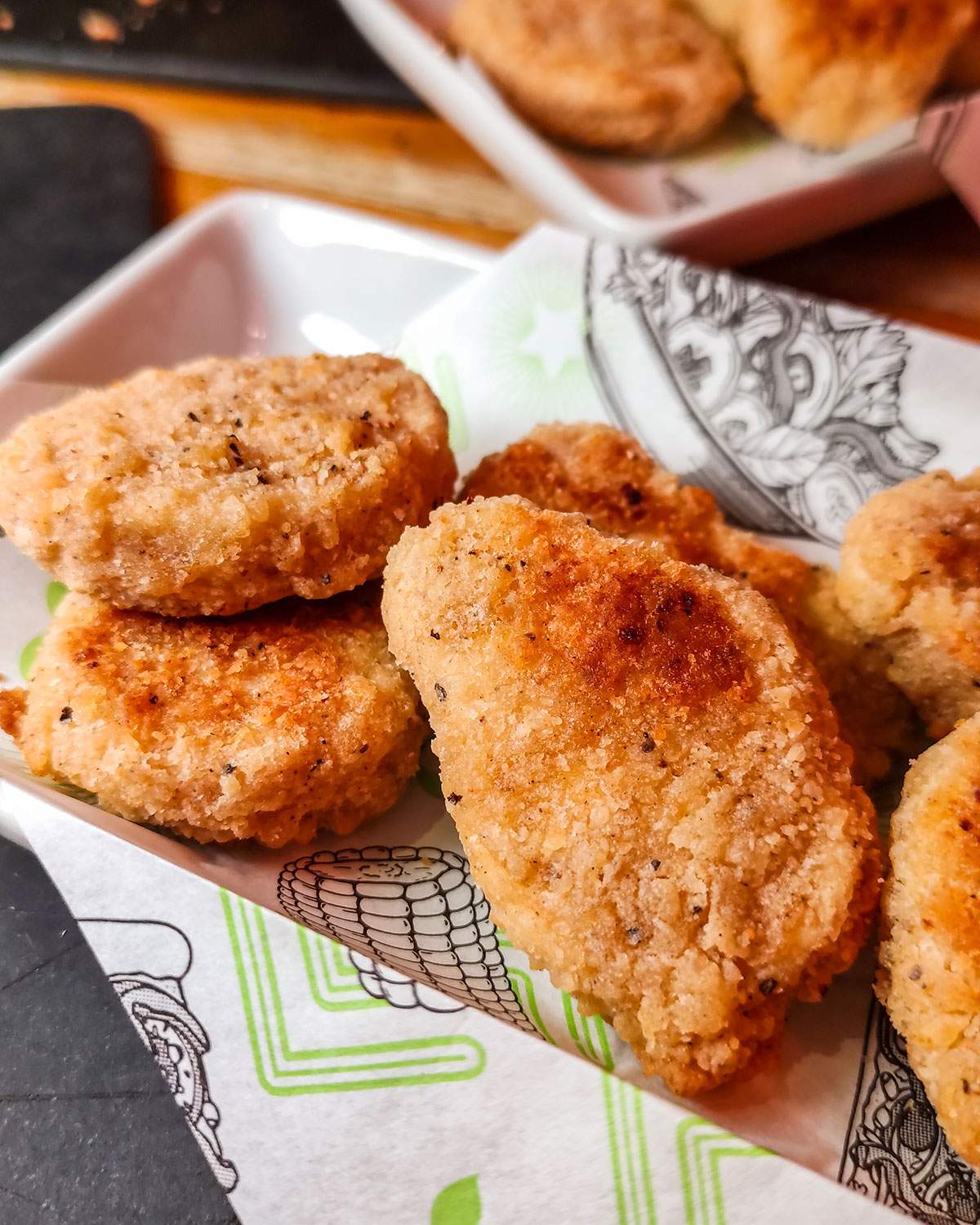 Vegan Southern Fried Nuggets - Pizza Hut serve Quorn for their vegan nuggets (248 calories)
Mini Corn on the Cob - yes, the corn on the cob is vegan at Pizza Hut, as it's not served with butter (yay!). (328 calories)
Extra tipp: If you're going for the vegan nuggets, order some BBQ sauce on the side for dipping!
Vegan Sauces
The vegan sauces include:
tomato ketchup
barbecue sauce
barbecue sauce dip pot
Vegan Desserts
Pizza Hut currently serves 2 vegan desserts:
I Can't Believe It's Not Cheesecake - this dreamy vegan cheesecake is made with caramel and biscuits and reminds suspiciously of Biscoff! Simply delicious! (468 calories)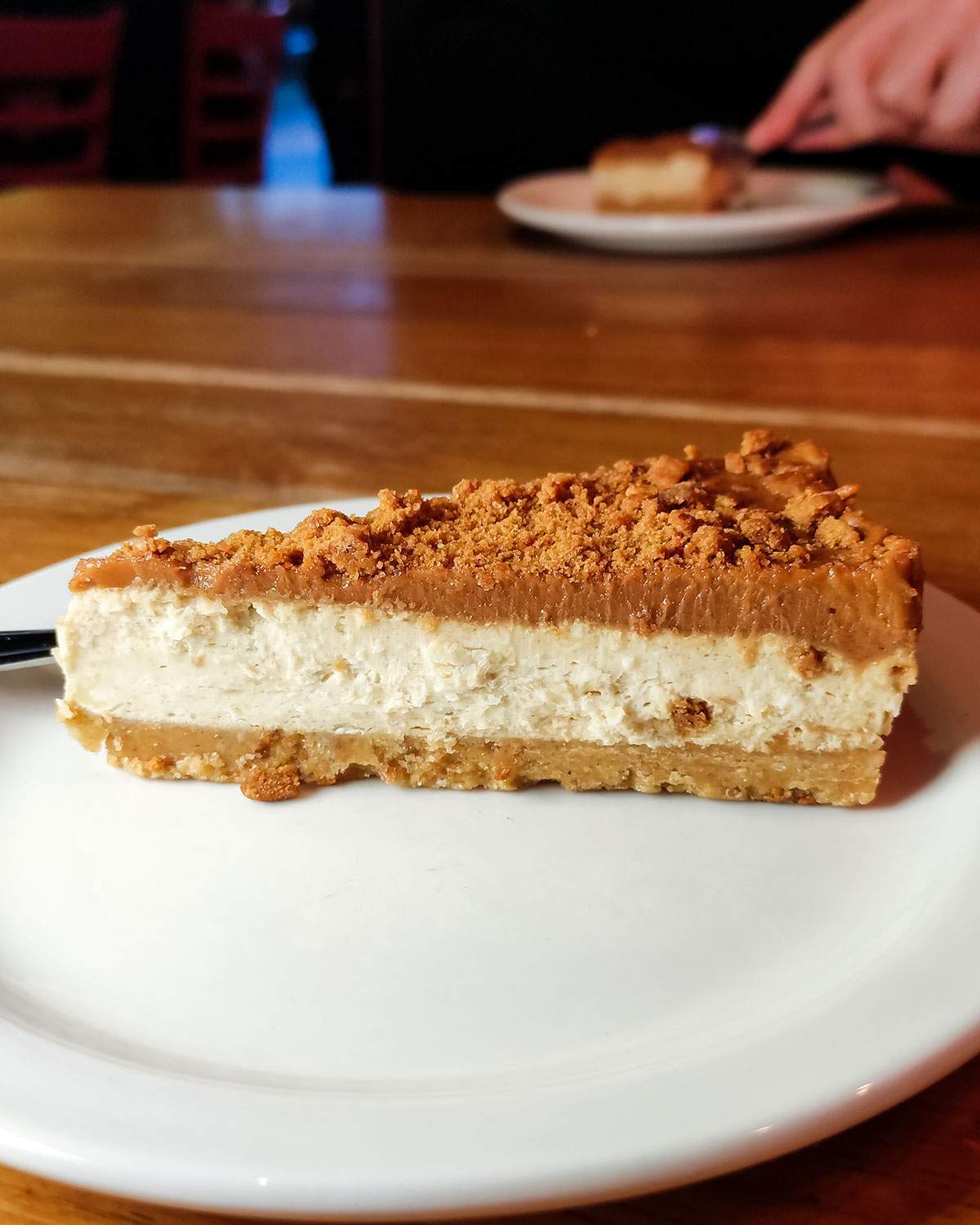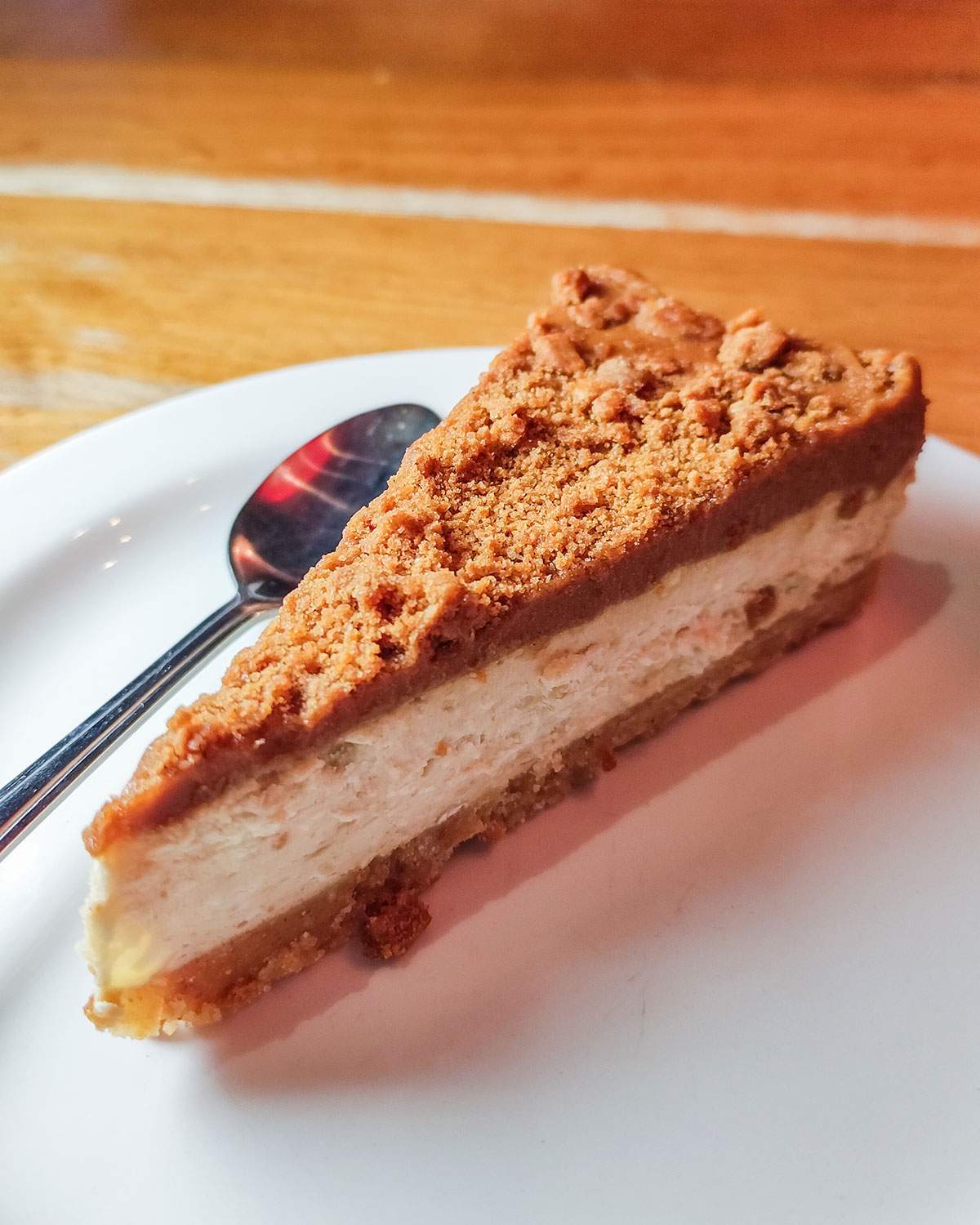 Raspberry Ice - this is a refreshing vegan sorbet made with raspberries (188 calories).
Vegan Drinks *
*not included in tastecard discount
The vegan drink options include:
espresso
black Americano
black tea
pepsi (bottle)
Gingerella ginger ale
still/sparkling water
Sodafold cream soda
Sodafolk cherry soda
J20 apple & raspberry
J20 orange & passion fruit
Irn Bru
orange/apple juice
Unlimited squash
fruit shoot
Budweiser
San Miguel
Brewdog Punk IPA
Bulmers Original Cider
Kopparberg Strawberry & Lime
Prosecco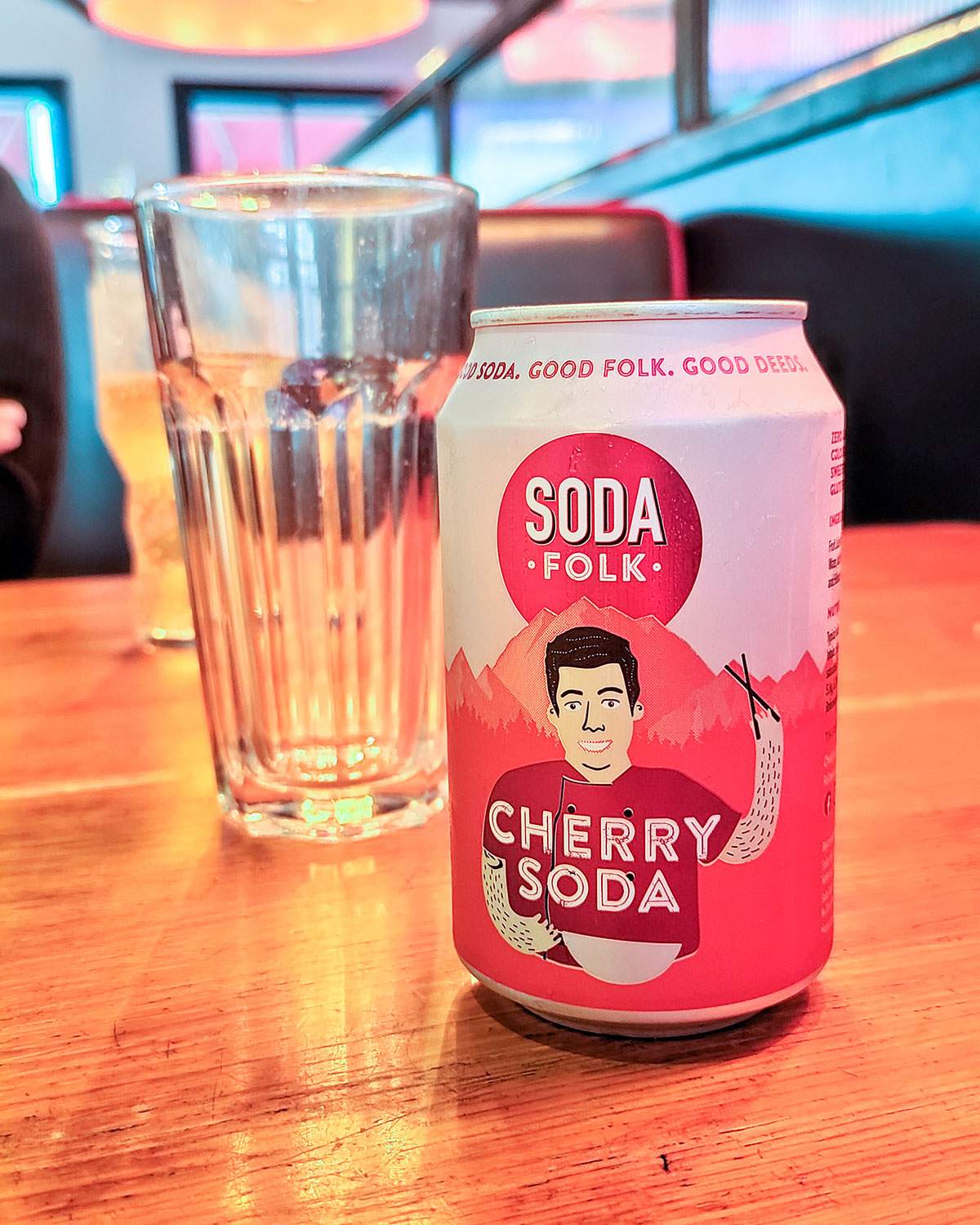 Diet Pepsi is not vegan-friendly and due to possible cross-contamination at the Unlimited Drinks station, all of Pizza Hut's self-serve drinks are not considered vegan.
Vegan Specials
In addition to their permanent menu, Pizza Hut often offers specials for a limited time only. Keep an eye out, as they might be launching new vegan products for World Vegan Month in November or Veganuary in January!
The franchise keep working on new menu options to cater to vegan diets, and I'm excited to see what they will add to their vegan menu next. Maybe we'll see some new vegan pizzas in 2023!
Create your own vegan pizza
In addition to ordering from Pizza Hut's main menu, you can also put together your own vegan pizza and chose your favorite toppings alongside dairy-free cheese.
The toppings that are currently vegan are:
pea protein pepperphoni
soya based chik'n
soya based chik'n (marinated in Frank's Red Hot)
sweetcorn
cherry tomatoes
black olives
red onions
rocket salad (arugula)
mushrooms
spinach
peppers
caramelised onions
pineapple
Frank's RedHot
ranch drizzle
jalapeños
green chilli
Make sure to chose the Violife alternative to dairy cheese with your personalised pizza order!
How to save money at Pizza Hut UK 🇬🇧
In the UK, Pizza Hut partners with tastecard which can get you an amazing discount on your Pizza Hut order!
What is tastecard?
tastecard is a monthly subscription service that helps you save money on some of your favourite restaurants, cinema trips, theme park visits and other attractions.
There are currently 2.4 million tastecard members across the UK and Ireland and it's a great way to find good deals for restaurant visits or days out with the family. If you're new to tastecard, you can even try it for free for the first 30 days. Simply sign up on their website.
What deals are included with tastecard?
The deals connected to tastecard range from 2-for-1 dining, 50% off pizza delivery, 25% off barista drinks up to 40% off cinema bookings and up to 50% off days out, in addition to other member perks that help you save on some of the biggest UK brands.
Which deals do I get with tastecard at Pizza Hut?
Pizza Hut UK works with tastecard in two ways: you can save 50% off your pizza delivery, or use their Pizza Hut 2 for 1 deal when dining in. The pizza is included in the 2 for 1 deal, but be aware that side dishes, drinks and the salad bar are not part of the deal - you can still order them in addition though!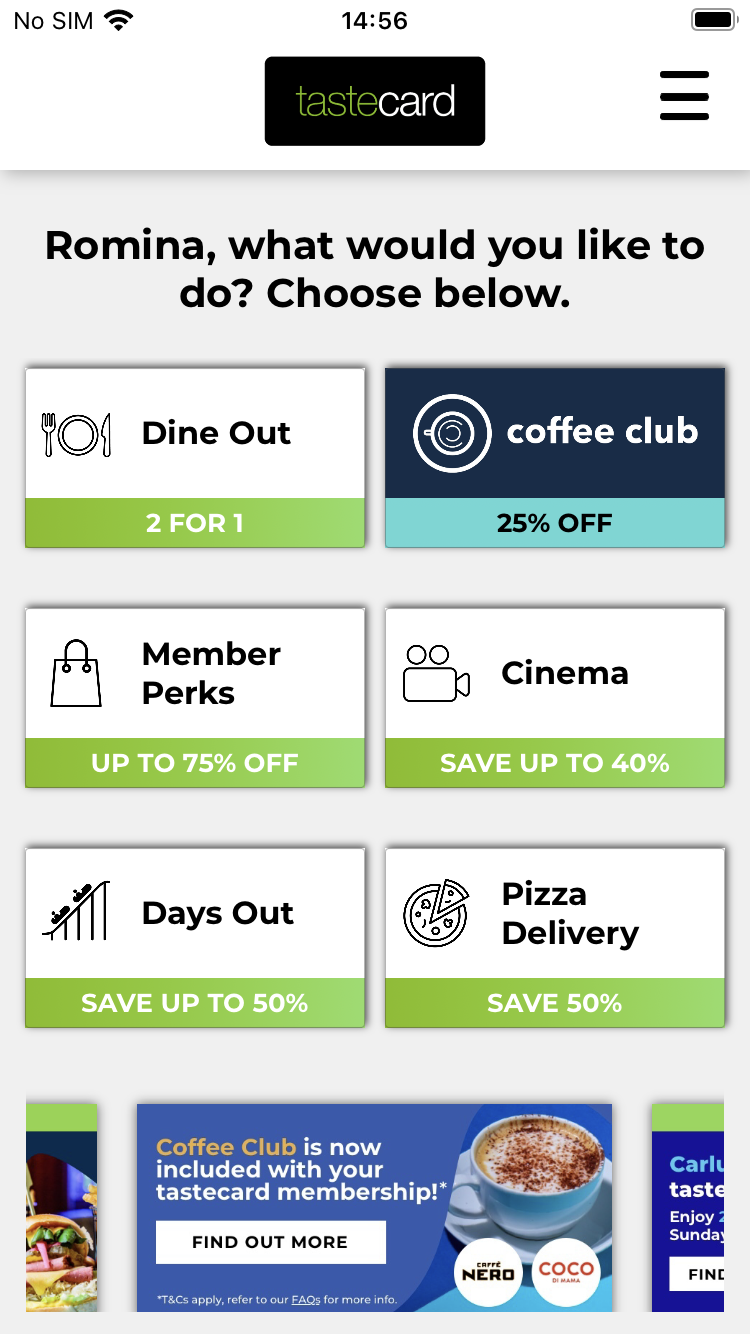 How do I use tastecard at Pizza Hut?
To use your tastecard, simply sign up via the website and download the tastecard app.
Sign in with your account, then pick the relevant option from the menu - for pizza hut, it's either the Dine Out or the Pizza Delivery Option. Use the location search to pick your restaurant location.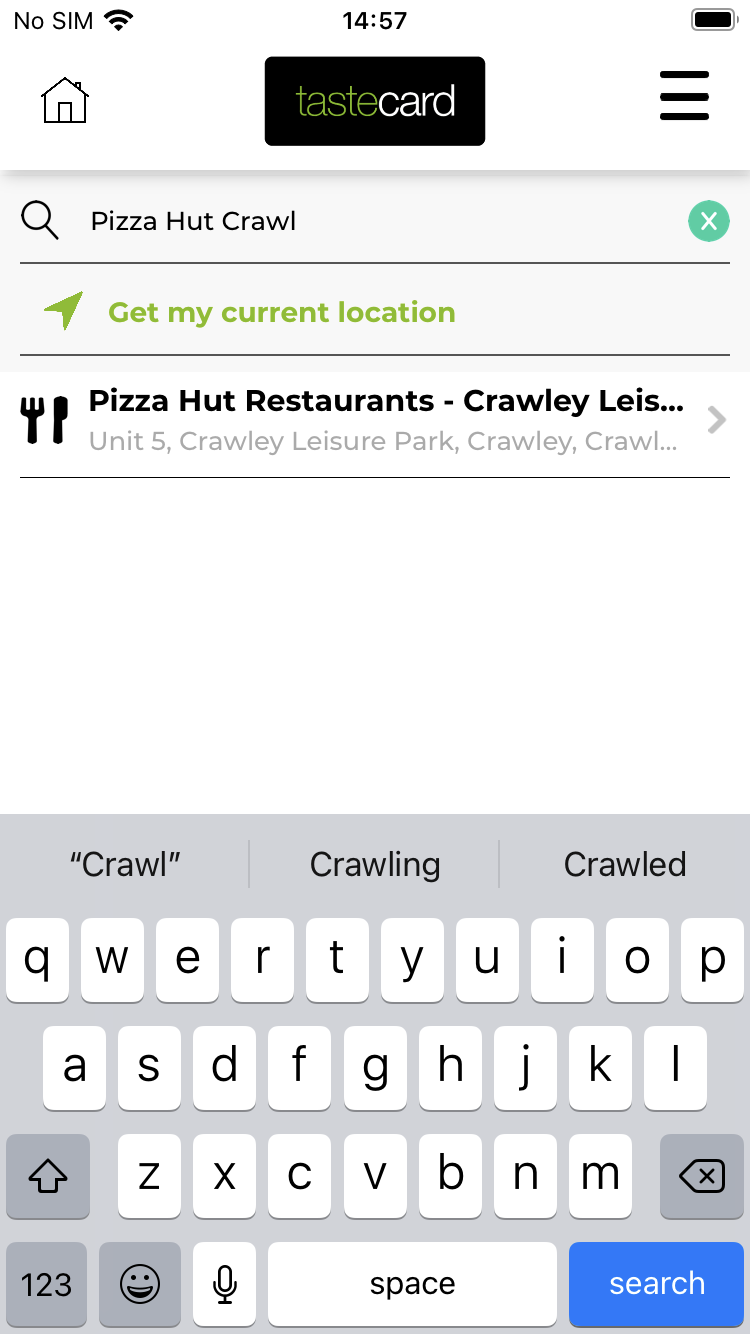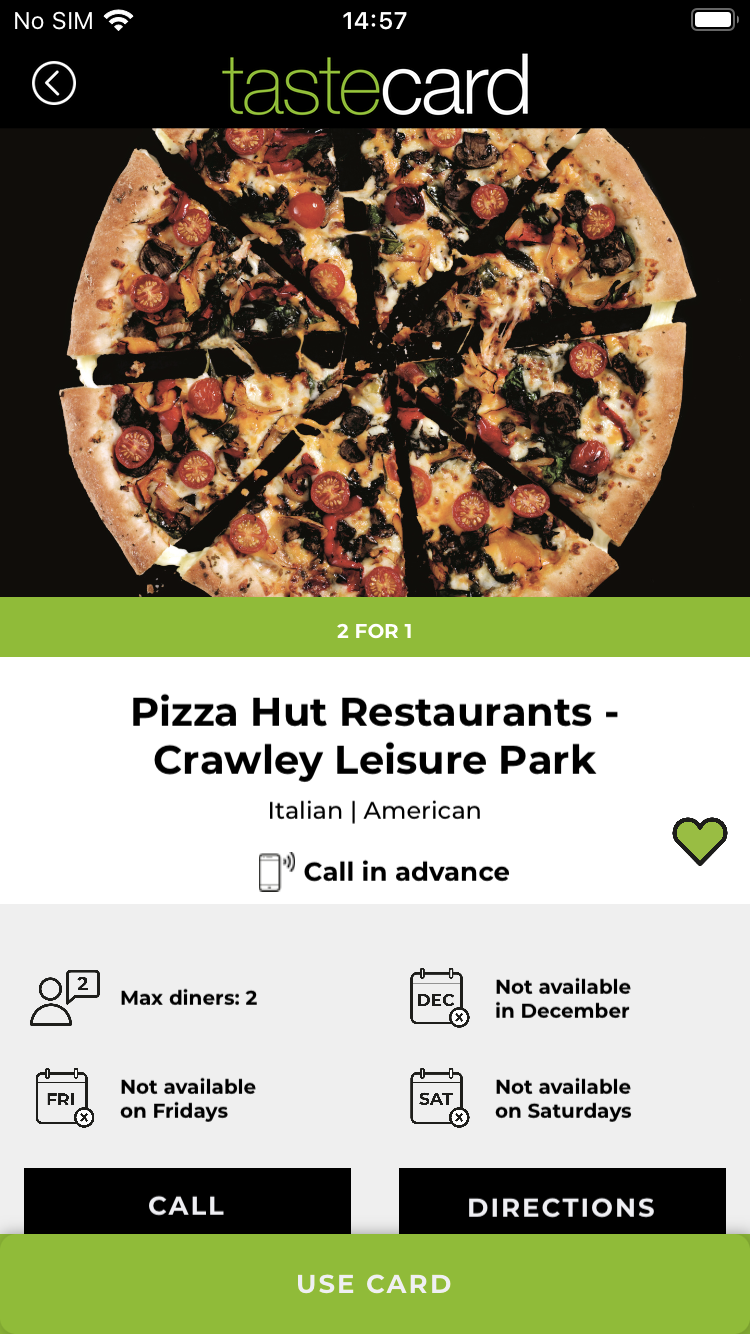 Check the restaurant terms and restaurant-specific exclusions for using your tastecard, and check if you need to call in advance to book a table.
Once in the restaurant, mention your tastecard and before paying, open the restaurant on the app and tap 'use card' at the bottom of the screen. You will then see your membership number and also a scannable QR code that the servers can use to apply your discount.
Using tastecard on the Pizza Hut website
In some Pizza Hut restaurants, you can only pay cashless online when dining in. In that case follow the order steps on the pizza hut website (there's usually a QR code on your table), and enter your tastecard membership number into the discount fields at checkout.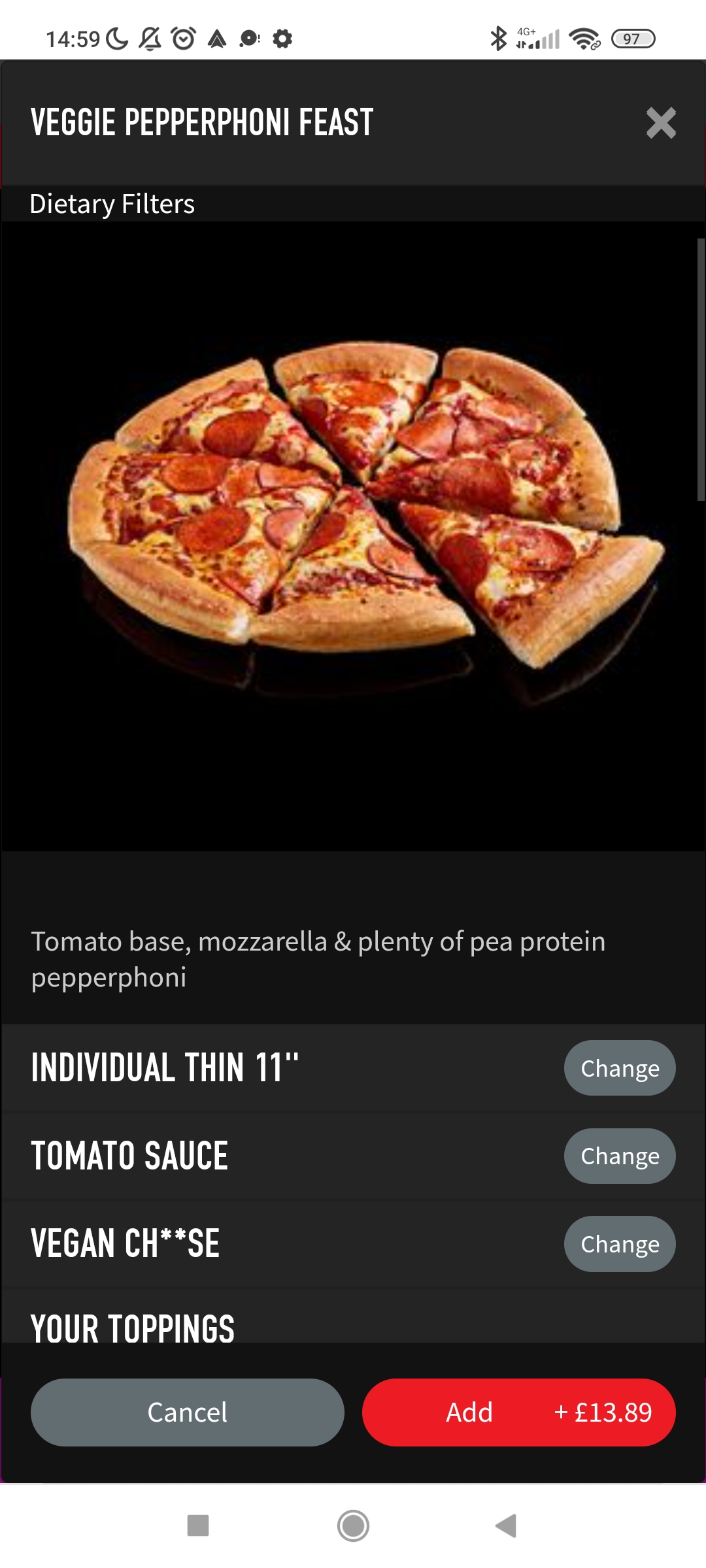 Vegan Options at Pizza Hut US 🇺🇸
In the United States, Pizza Hut has yet to launch vegan cheese, so sadly none of their fixed menu items are vegan-friendly. You can, however, order a vegan pizza by choosing one of their vegetable pizzas without cheese.
Even though the US does not have a dedicated vegan menu, the pizza dough is generally vegan-friendly and their vegan crusts include their Original Pan, Thin 'N' Crispy and Hand Tossed crust. Choose the marinara or buffalo sauce and top with your favorite veggies!
You can also enjoy the cinnamon sticks for dessert, they are vegan! Just leave out the icing as that's not dairy-free.
Beyond Meat Pizza
In addition to their vegetable loaded pizzas, Pizza Hut US introduced vegan sausage by Beyond Meat to their pizza in 2020.
The vegan sausage range includes the Beyond Italian Sausage Pizza, which is created with the vegan sausage and dairy cheese and the Great Beyond Pizza, which includes the vegan sausage, dairy cheese and a selection of veggie toppings.
Both of these pizzas can be ordered vegan by choosing no cheese, but best check with your local pizza hut.
In 2022, Pizza Hut additionally launched a Beyond Pepperoni Pizza in 70 stores across the United States. Let's hope they expand this launch further as this pizza sounds amazing!
Vegan Options at Pizza Hut Canada 🇨🇦
In Canada, unfortunately none of the pizzas are considered vegan as the dough is marked as containing milk on their allergen menu. Instead you can enjoy the chain's French fries and the warm spinach salad without chicken. You can drizzle the salad with the French and poppy seed dressings. For dessert, enjoy the brownies! They are free from dairy and eggs too.
Vegan Options at Pizza Hut Australia 🇦🇺
If you love vegan pizza, then choose the Traditional, Deep Pan or Thin n Crispy dough!
The vegan pizza sauces include:
marinara
BBQ
smoky BBQ
buffalo
chipotle
hickory and brown sugar
hot chili
You can choose any of these, load with veggies and top with vegan cheese for a delicious vegan pizza!
On their menu you can also find the following vegan pizzas:
Vegan Deluxe
Vegan Mediterranean
Vegan Margherita
Vegan Cheese Lovers
Vegan Mediterranean Personal Pan
For vegan side dishes you can order:
garlic bread
vegan cheesy garlic bread
spud bites
hot chips (aka French fries)
tomato and sweet chilli dipping sauce
The vegan dessert options include:
Vegan Cornetto
Magnum Dairy Free Almond
Frequently Asked Questions
Which vegan cheese does Pizza Hut use?
In the UK, Pizza Hut works with Violife to supply the dairy-alternative vegan cheese for their vegan dishes. In Australia, they use a vegan cheese from a brand called "Dairy Free Down Under". In the US, Pizza Hut haven't launches a vegan cheese yet (but there's still hope!).

All pizzas using their vegan cheese are marked with a little Violife flag. If it's missing from your pizza, double-check with your server.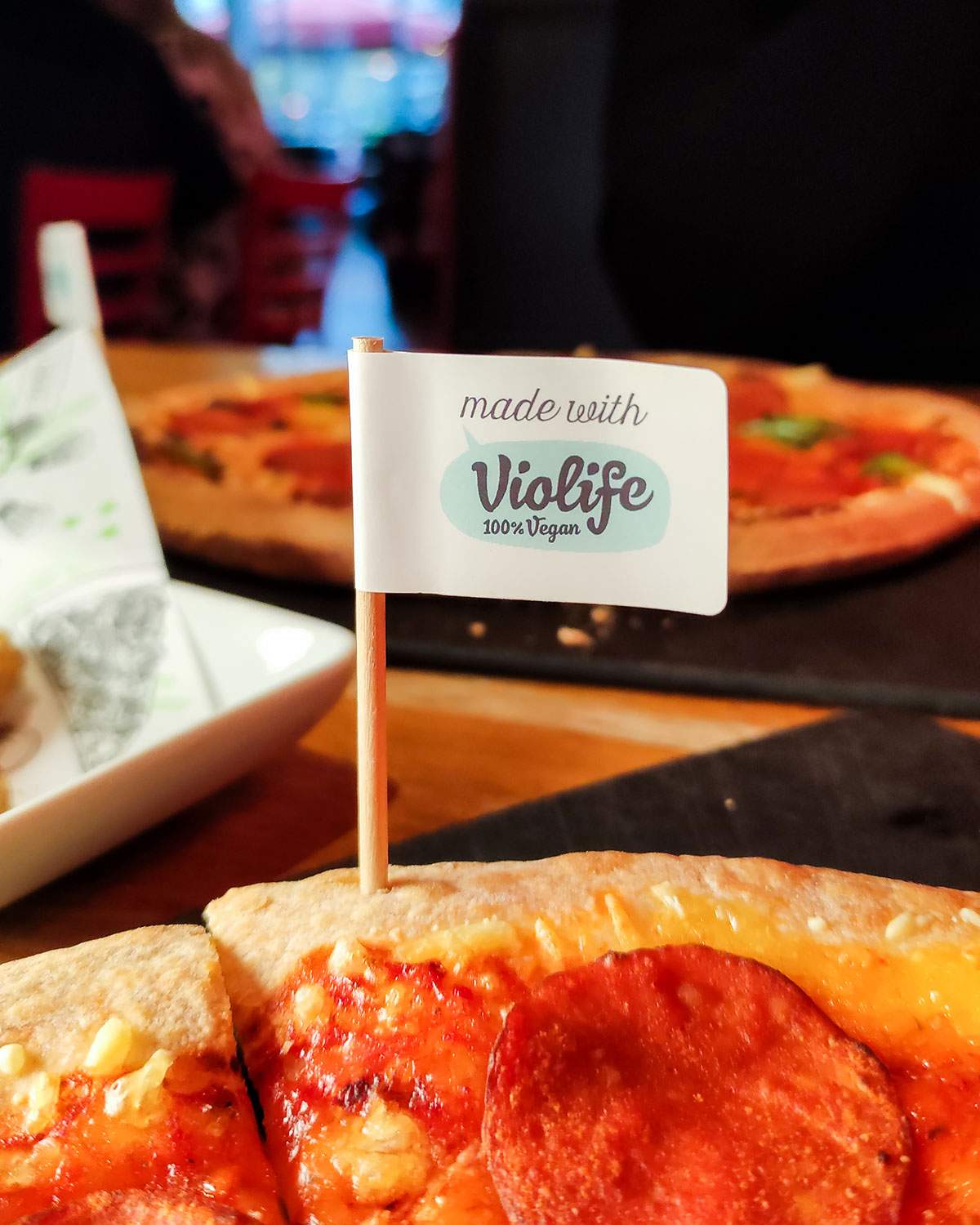 Which desserts are vegan at Pizza Hut?
Pizza Hut UK currently offers a vegan cheesecake which is caramel and biscuit flavoured, as well as raspberry sorbet.
Is Pizza Hut pizza dough vegan?
Pizza Hut keeps all of its dough free from animal products and it's therefore vegan-friendly.
Which crusts are vegan at Pizza Hut?
Their vegan pizza crusts include the All American Thin, the Gluten Free crust, the Original Pan and the Vegan Stuffed Crust.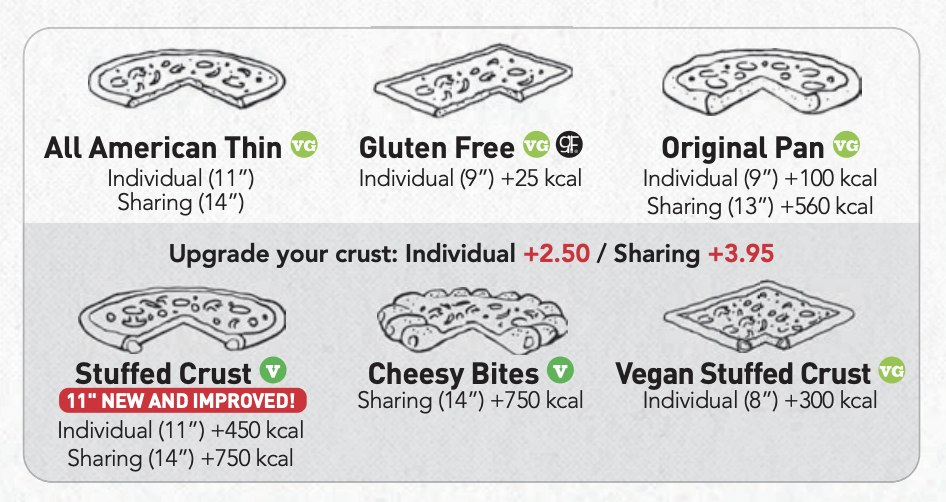 *Disclosure: This page may contain affiliate links and sponsored links that earn me a small commission, at no additional cost to you. You can find more information in my Privacy Policy.
 © Romy London / Romina Callwitz | All images and content are copyright protected. Please do not use my images and content without permission. If you wish to re-publish any recipes or images, please get in touch via email. Thanks for your support!
Disclosure: this blog post has been created in paid collaboration with tastecard.