Is there truly a better way to start a new chapter, than going for pizza? I honestly don't think so! I've officially moved out of the office (literally - can't believe how much stuff I had there... had to bring a suitcase to take it all home, ha!) and I'm now embarking on that freelance life, yesssss!
Still felt a bit odd not going into the office on the first Monday morning, but I am certain it'll only take a couple of days (or even weeks?) to get used to my new lifestyle and create a new routine for myself. Definitely couldn't have wished for a better start to it all, when Pizza Express got in touch about their autumn menu and asked me to review it for them.
So here I went, on a Monday during lunchtime, to the picturesque Kew Gardens station to give their Pizza Express Vegan Menu a try!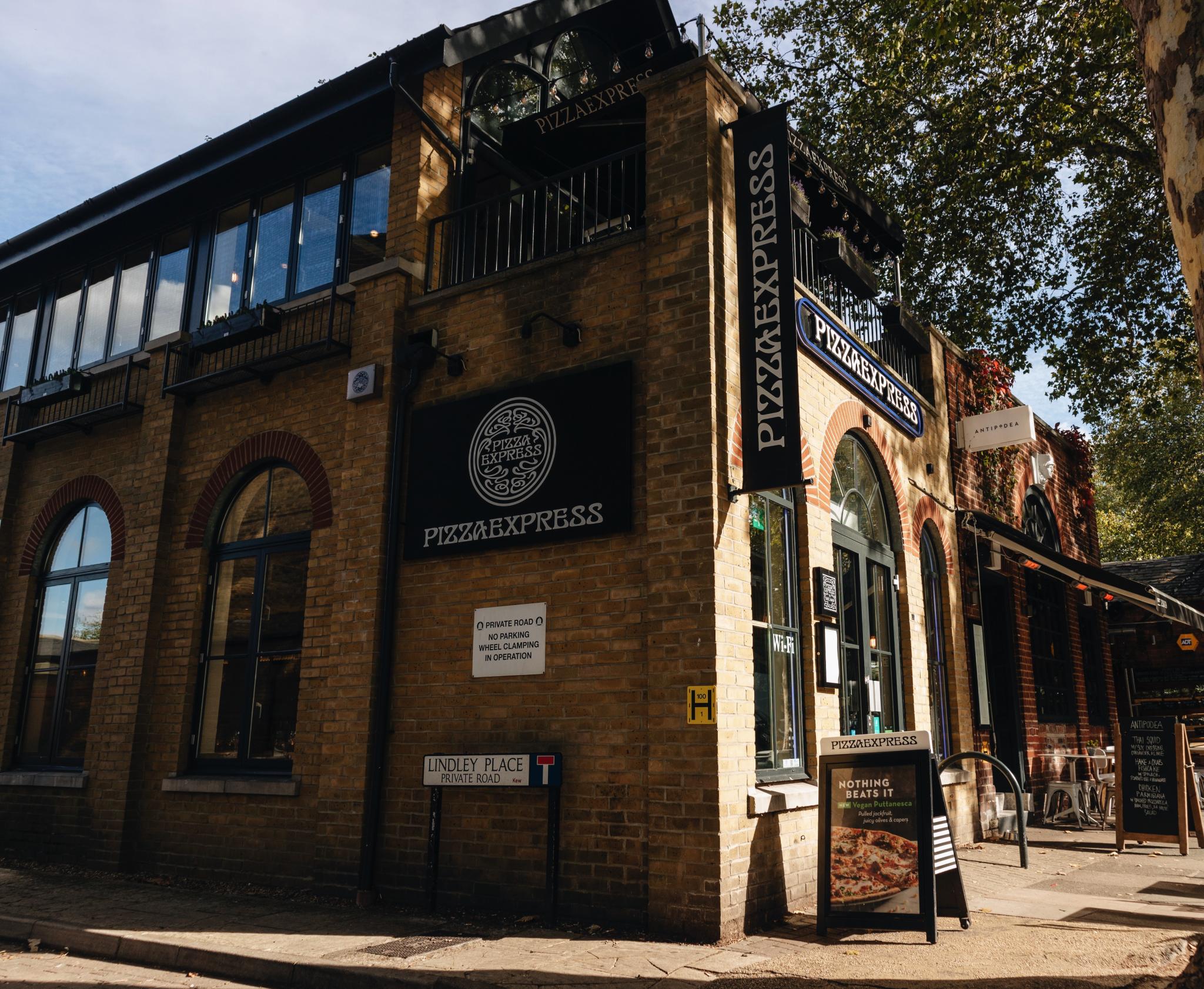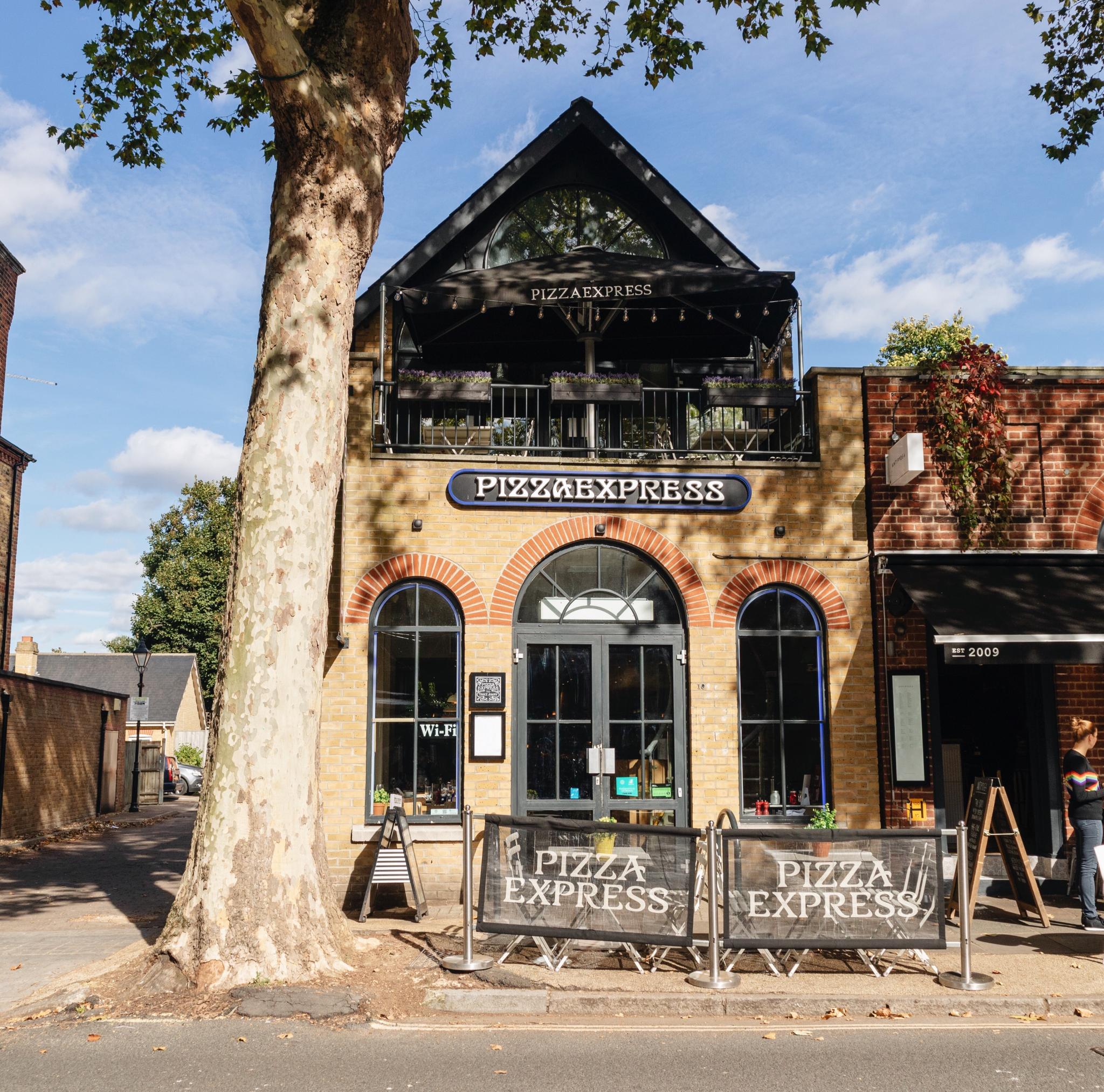 The vegan menu at Pizza Express
I honestly have to admit that I can't remember the last time I have visited a Pizza Express - it's definitely been a while - but I still remember going regularly when I first went vegan: On the one hand cause there was simply a brand between my work and my house, and on the other hand because they had a cheese-less vegetarian pizza on the menu, which happened to be vegan. 26 year old me back then was still under the impression that I had left anything cheese-like behind me when I chose to go vegan and that I had to settle for the cheese-less life - but let's be honest: vegan cheese options were horrendous even just a couple of years ago (yay to how far the industry has come since!).
Also, Pizza Express has greatly developed its menu and added plenty of additional vegan options since I went vegan in 2014 - in fact, they now have their own separate vegan menu complete with starters, mains, and desserts. 26-year-old-me probably wouldn't believe it!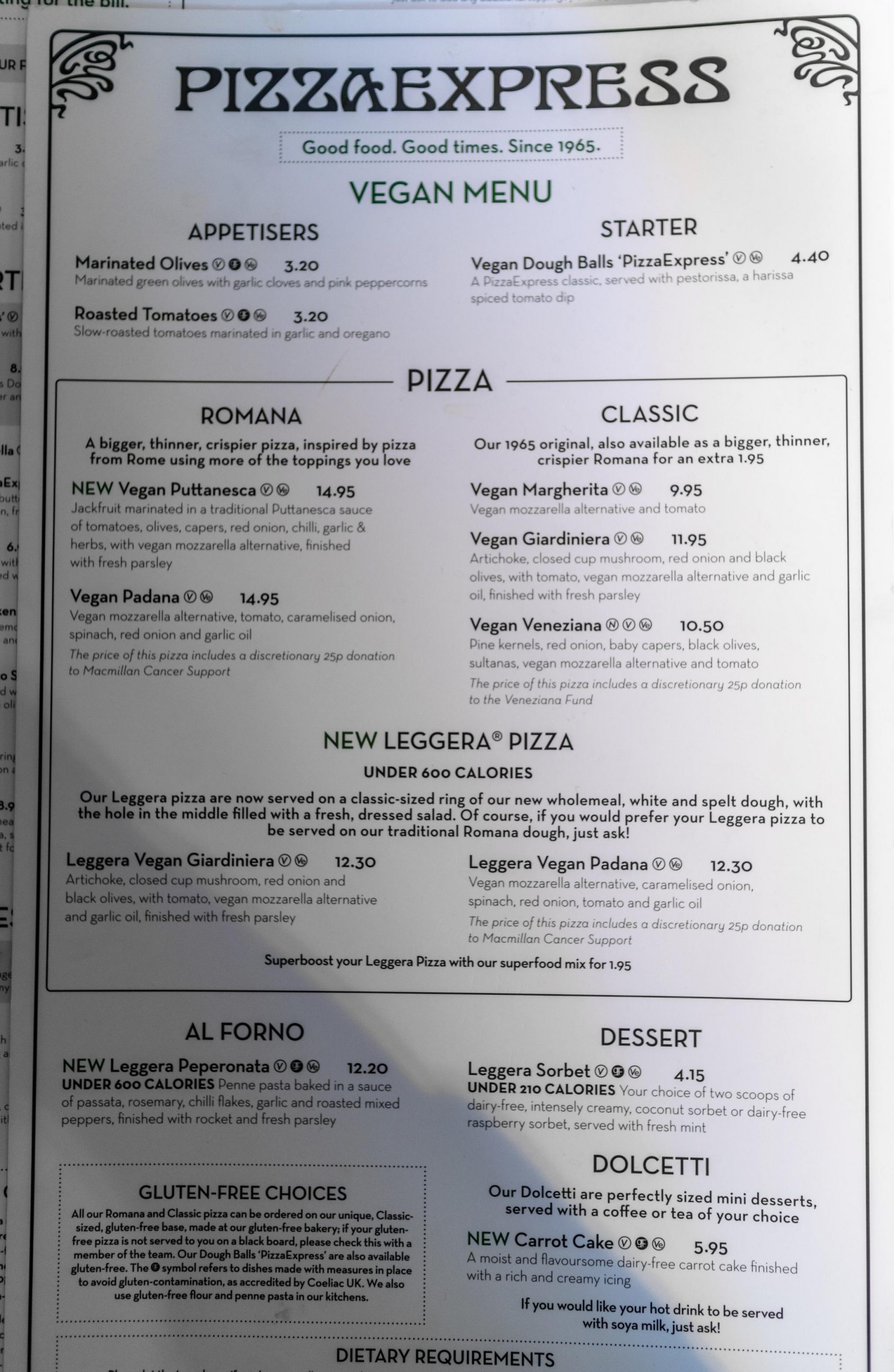 As they also adjust their menu every season of the year and add a couple of seasonal dishes to the menu, there are a couple of items on the menu that are new for the autumn:
- Vegan Puttanesca on Romana Base
- Leggera Peperonata (basically Penne pasta with a spicy sauce)
- Carrot Cake
And guess who was really up for trying these new options? Yup, you got it right - everyone I shared this menu with on Instagram stories, ha! 😉 Not surprising - don't we all wish our weeks would always start with pizza?!
Vegan Starters at Pizza Express
I started to take it slow and start with the Roasted Tomatoes as a starter. The Antipasti lover that I am, they directly caught my eye - and I am sure I've had them before, but as a starter, it's probably never the star of the show, so I did not remember it. However: could not go wrong with this total classic!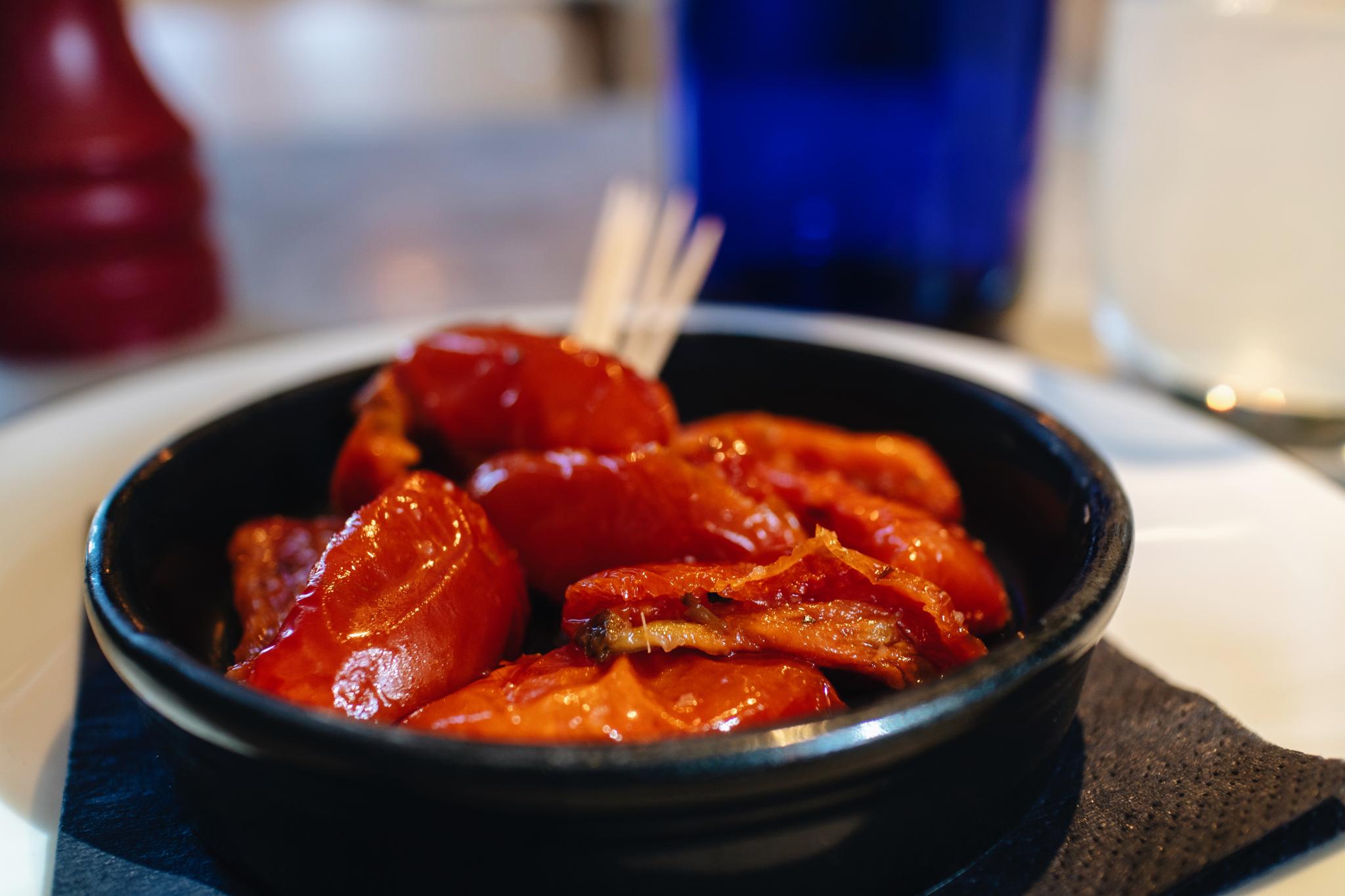 Vegan Pizza at Pizza Express
The pizzas within the Pizza Express Vegan Menu generally come in 3 different versions: Romana, Classic, and Leggera. Classic is, as the name already tells, the classic medium pizza base, whilst Romana is a thinner but bigger base, which is also crispier at the same time. Leggera is basically a lower calorie pizza version - it has a hole in the middle which is filled with a fresh salad. You could technically call it a massive pizza bagel with a salad 😉 I've actually had this pizza style a couple of years back and loved it - I believe Pizza Express were the first ones to introduce this style of pizza in the UK (at least as far as I'm aware of!)
The latter is probably also the perfect menu item for when you feel that an entire pizza will likely be too much.
As a main however I tried their newest pizza addition: Vegan Puttanesca. It came on a Romana base, which is generally a bigger, thinner, crispier pizza base. Personally I very much prefer thin pizza bases. They are more authentically like Italian pizza and not going towards the size of American pizza bases (hello carb overload!). The only downside to the thin bases is, that the pizza cools down so much quicker and it was already clear to me that I'd have to eat this pizza cold after taking photos of it (blogger life, huh?)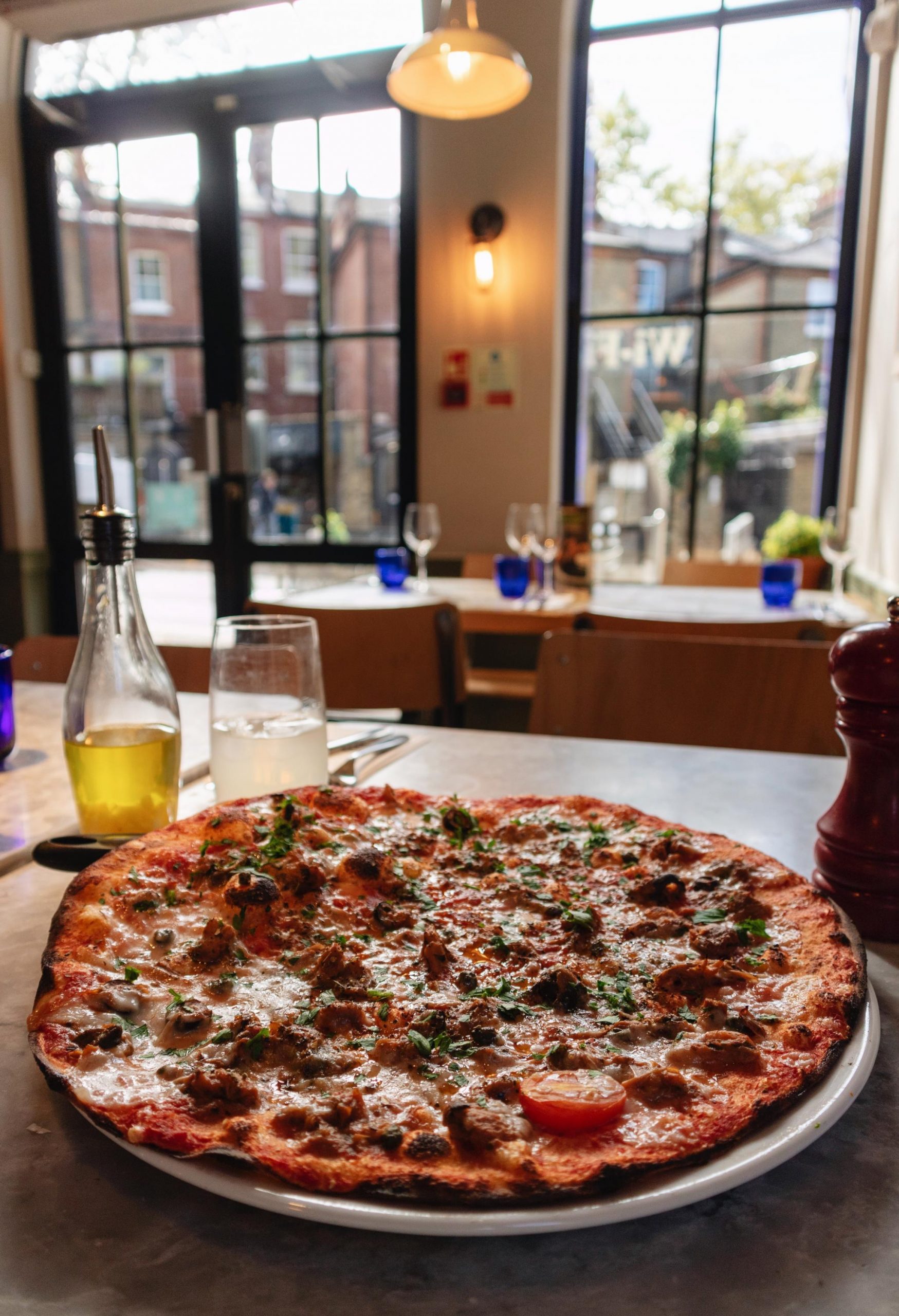 That was however not to a detriment, as it was still absolutely fantastic! The pizza base comes with a Puttanesca-style sauce, which traditionally is an Italian tomato sauce with capers & olives. In addition, the pizza came with the currently probably most trendy item it could possibly have: Jackfruit! Has anyone else realised how much it's been popping up everywhere for the past 1.5 years? Not complaining of course, as I absolutely love Jackfruit - as long as it's well seasoned.
As I remember it from Pizza Express: they were never big on overloading their pizzas with toppings, however, the toppings that are there are very well seasoned with herbs - and this probably summarises this pizza for me. Personally, I would have loved a little more toppings, especially on the jackfruit - and I wondered about that sole little tomato on the corner of the pizza (maybe a blind passenger) - but all in all the flavour combination of the pizza worked really well and made up for the small number of toppings.
It's definitely proven to me that Puttanesca not only works with pasta!
If you read the ingredients and are wondering about the chilli - it's not spicy and the chilli is very subtle on the pizza. If you do however like it with a good kick: Pizza Express has Garlic Oil and Chilli Oil available that you can drizzle over your pizza to your liking.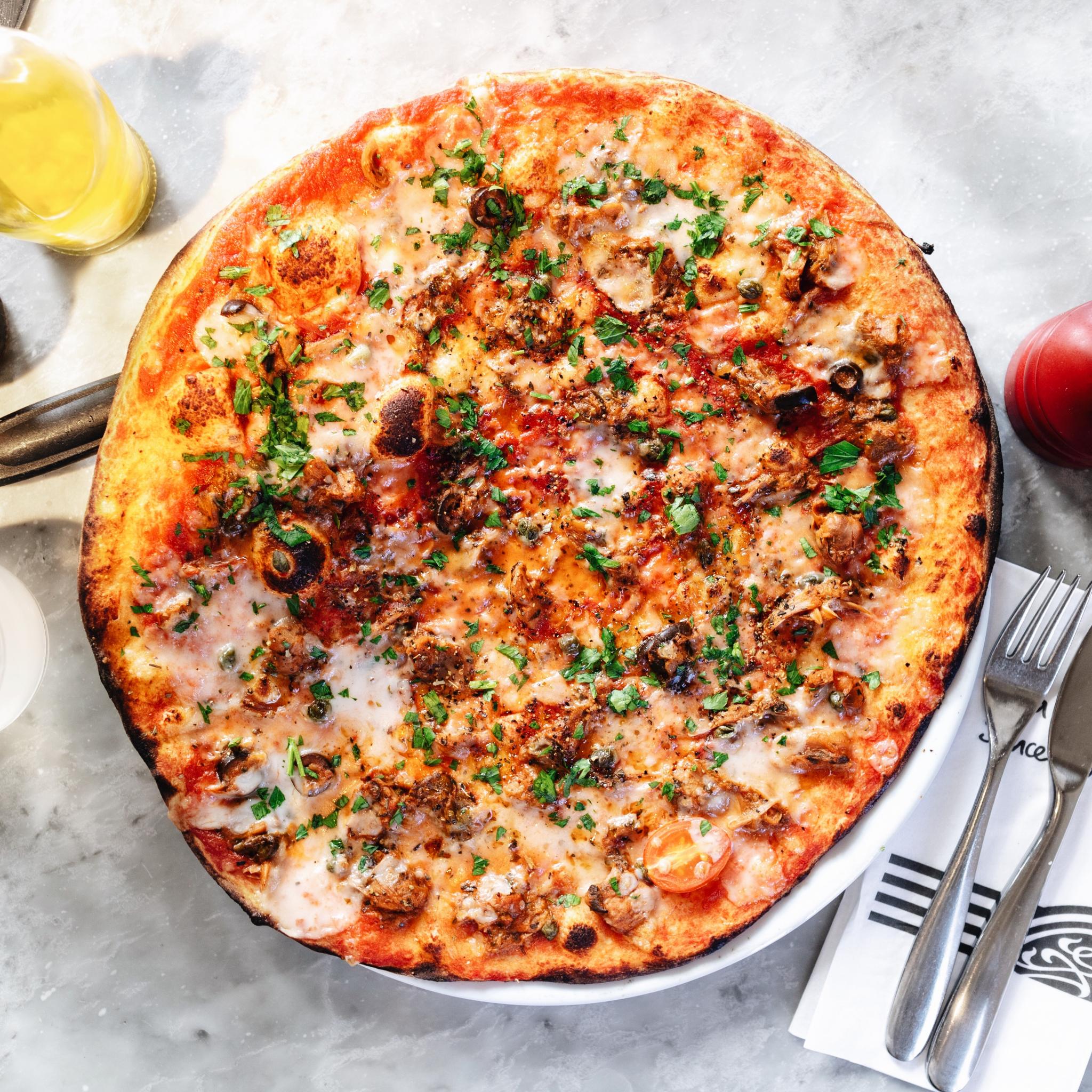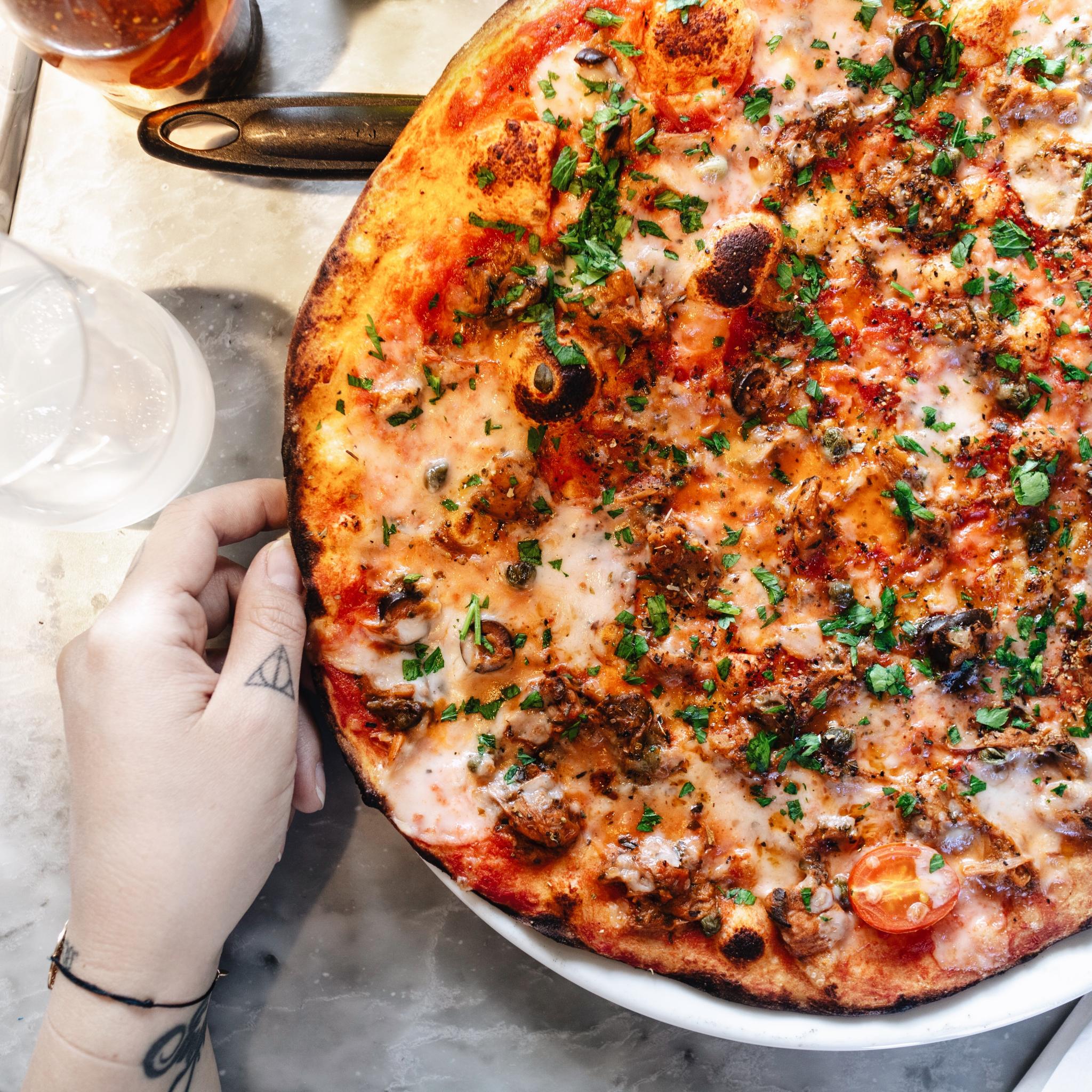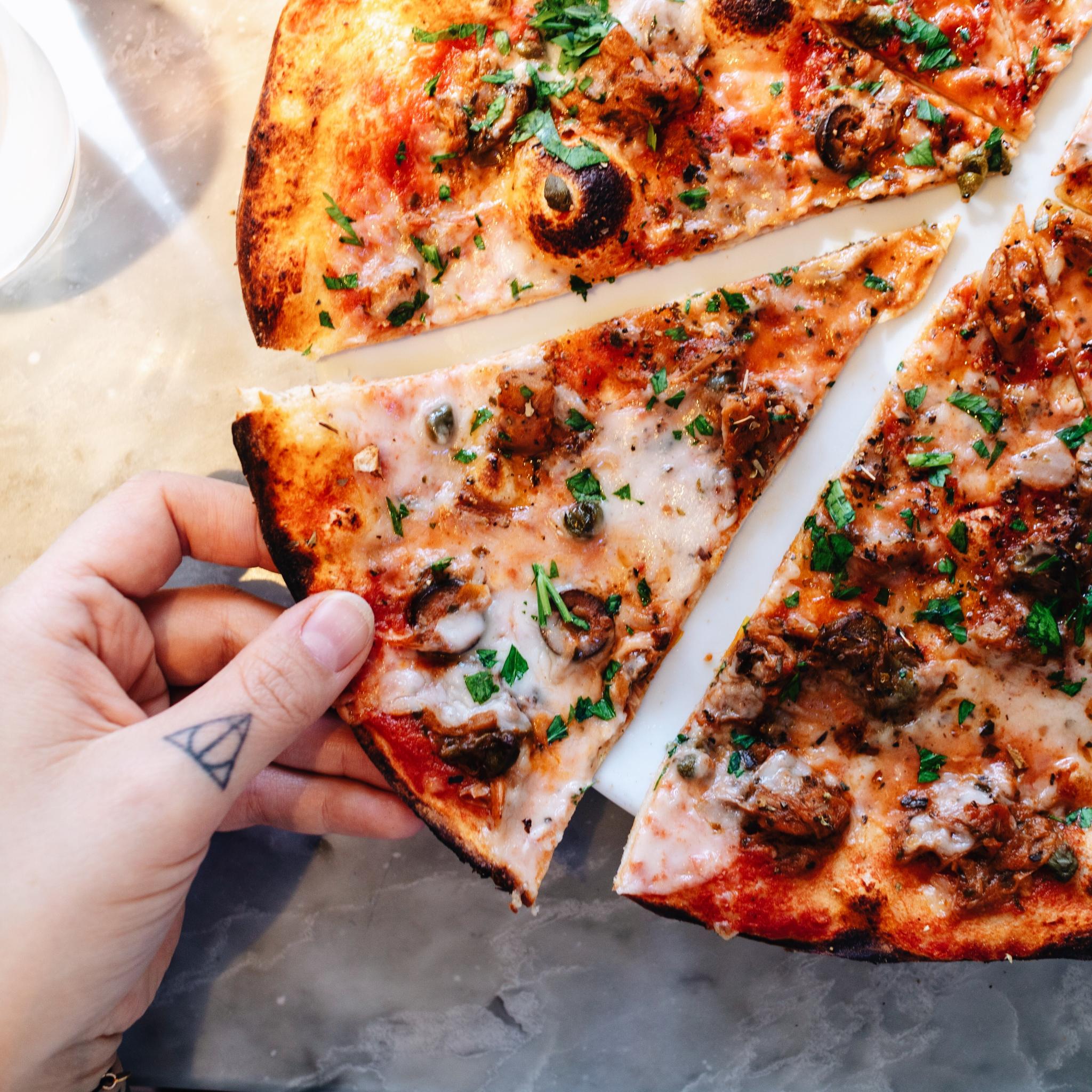 Vegan Desserts at Pizza Express
Rounding off my lunch at Pizza Express I tasted their Carrot Cake, which had been newly added for their autumn menu.
With my distinct love for vegan carrot cake, you can probably call me somewhat of a carrot cake connoisseur - after all on this blog alone you can find plenty of carrot cake flavoured items, such as a 2-layer carrot cake, muffins and even a carrot-mug-cake 😉
The carrot cake at Pizza Express however didn't get past an 'okay' for me. It was 'okay', but nothing I could go out of my way for. The frosting was a little too thick for my taste - as you know I'm not the biggest sweet tooth and avoid sugary sweets, so the sweetness of the frosting was a little too much for me. If you're however a sweet tooth you might absolutely like it, so I believe it's totally down to personal preference.
Give it a go when you're next trying the Pizza Express Vegan Menu, and let me know what you thought of it!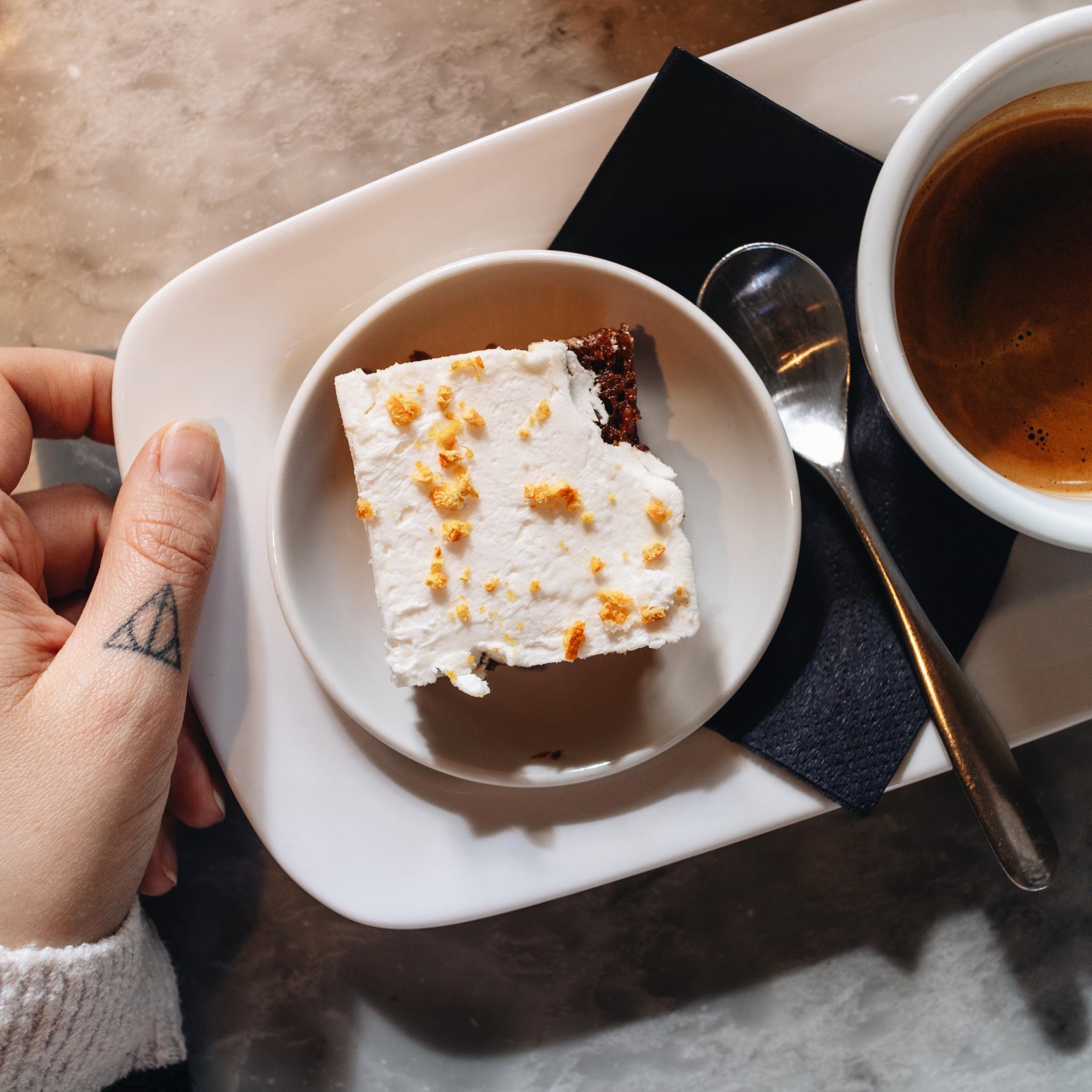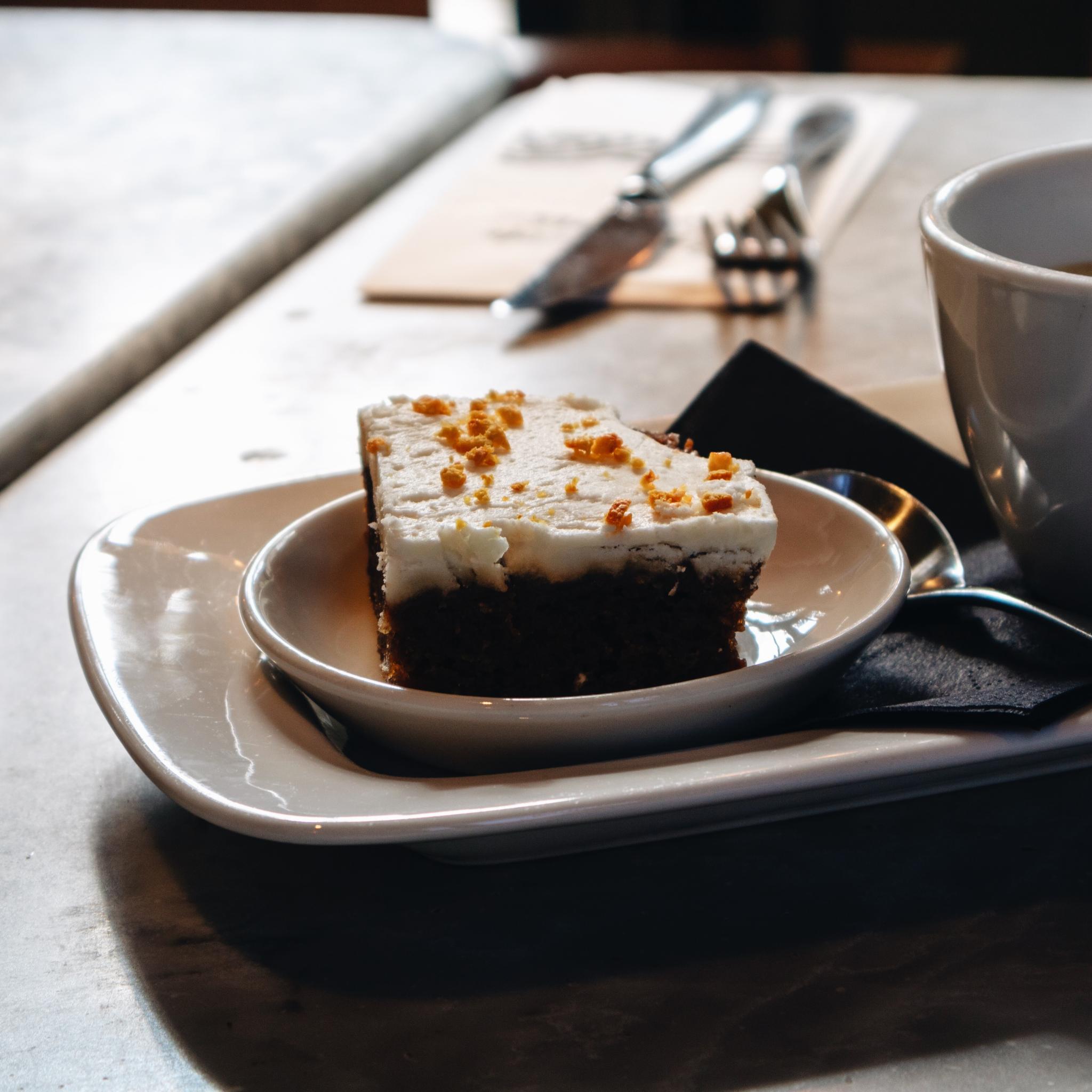 Would I recommend it?
It's definitely a good option for a great tasting lunch (or dinner!) - especially when heading out with non-vegan friends as they also get theirs on the menu. So if that's what you're looking for - Pizza Express is your (wo)man!
Thanks to the wonderful Pizza Express Team that let me try the vegan autumn menu!
If you love vegan pizza, take a look at my article about the Vegan Options at Pizza Hut!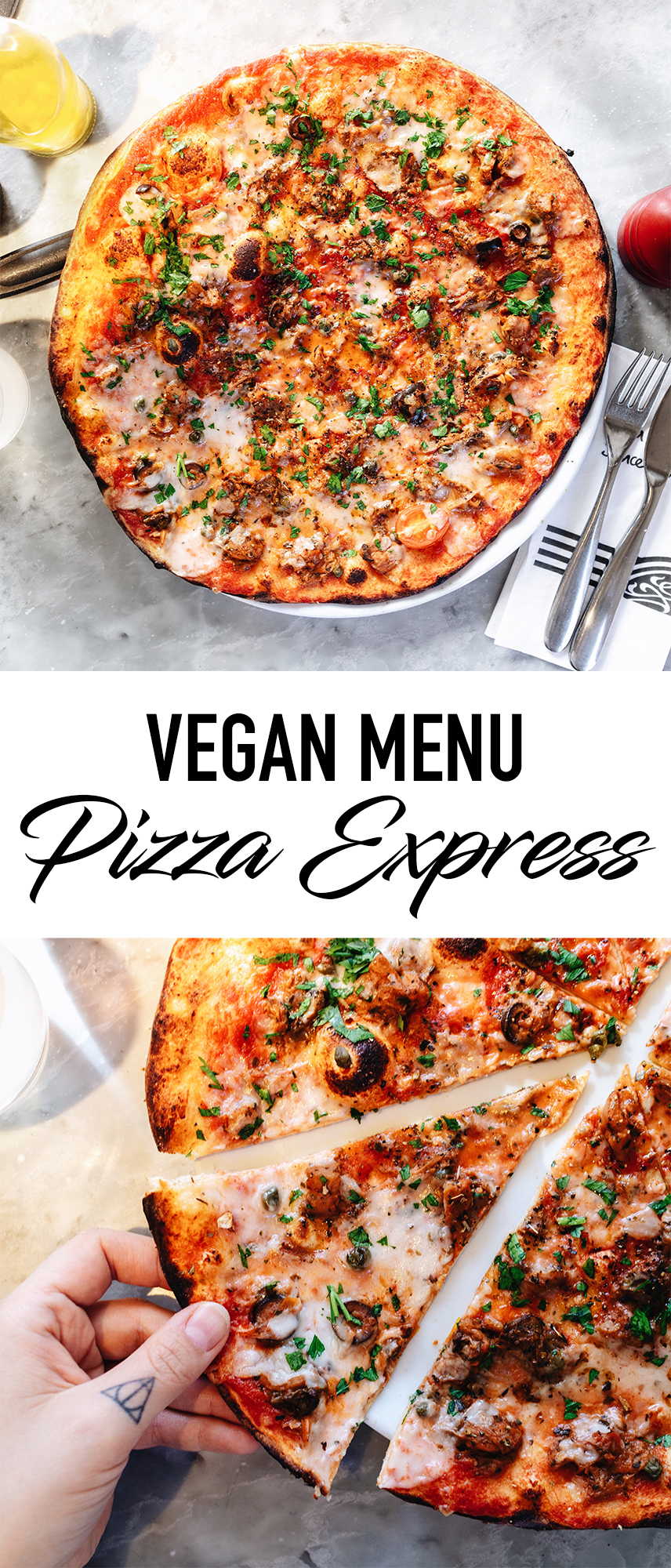 *Disclosure: This page may contain affiliate links and sponsored links that earn me a small commission, at no additional cost to you. You can find more information in my Privacy Policy.
 © Romy London / Romina Callwitz | All images and content are copyright protected. Please do not use my images and content without permission. If you wish to re-publish any recipes or images, please get in touch via email. Thanks for your support!
Recent Posts