This simple peanut butter fudge is hands down the best fudge recipe I've ever made! It creates the most amazing buttery fudge and the best thing is: it uses just 3 ingredients and is also vegan!
Peanut Butter Fudge Recipe
This recipe is:
100% vegan
gluten-free
egg-free
dairy-free
super buttery and fudgy
super delicious
really easy to make
simply the best fudge!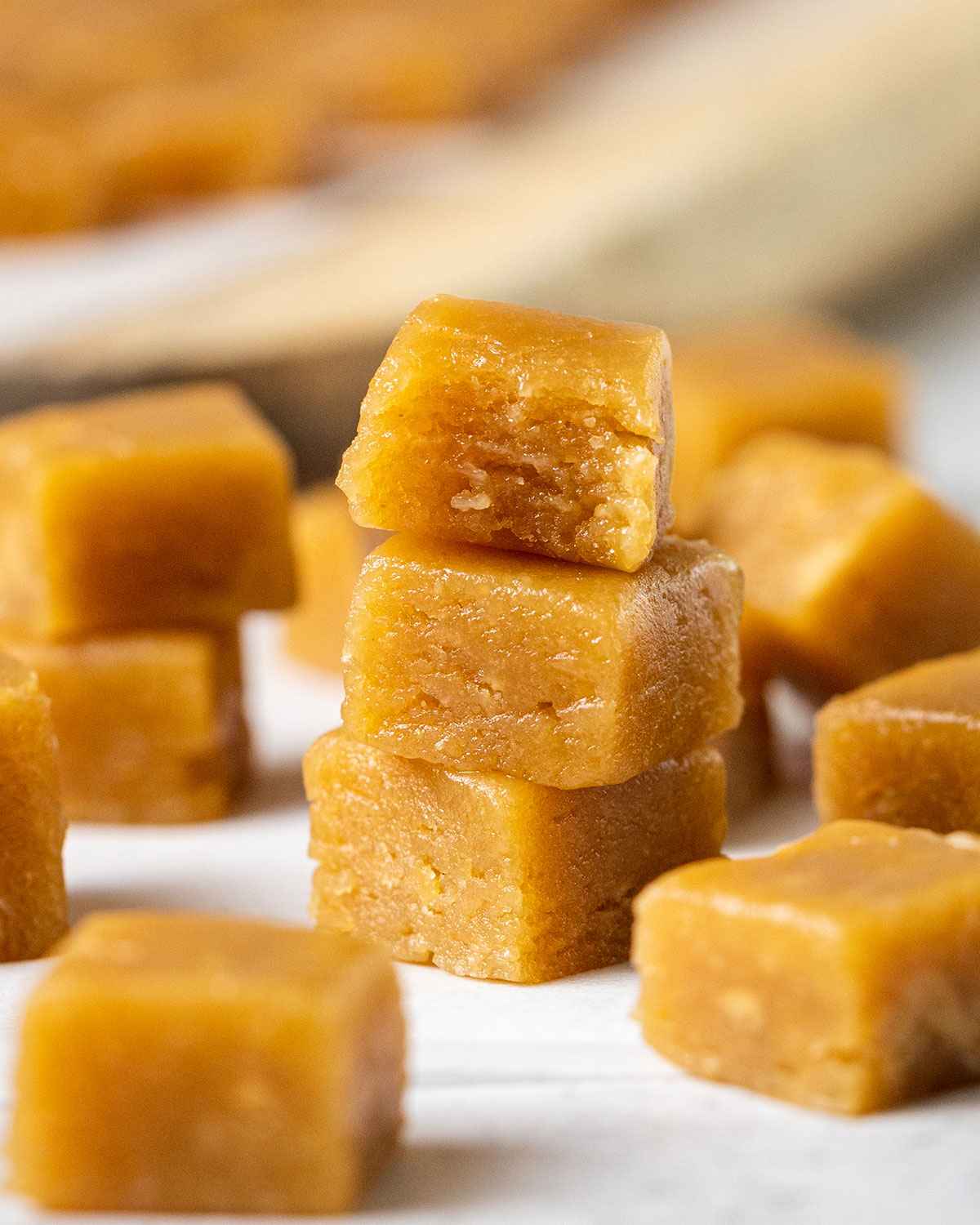 I've simply fallen in love with peanut butter fudge since moving to the UK and trying my first vegan fudge on the south coast a few years ago. It's so smooth, buttery, and delicious and I knew I simply had to figure out how to make this delicious treat at home.
Why this recipe works
This recipe is simply the best fudge recipe out there, but I might be biased, ha! Here's what I love most about it:
it's so easy to make! It's fridge-ready in just a few minutes, with no complicated ingredients or equipment needed.
it only requires 3 ingredients - truly mind-blowing!
it's vegan!
it's a perfect peanut butter candy to treat yourself or gift to family and friends - who doesn't love an edible homemade gift! It's a wonderful gift for Mother's Day too, just saying.
Ingredients for this Peanut Butter Fudge
This easy peanut butter fudge recipe only uses 3 ingredients that are easy to get in the grocery store.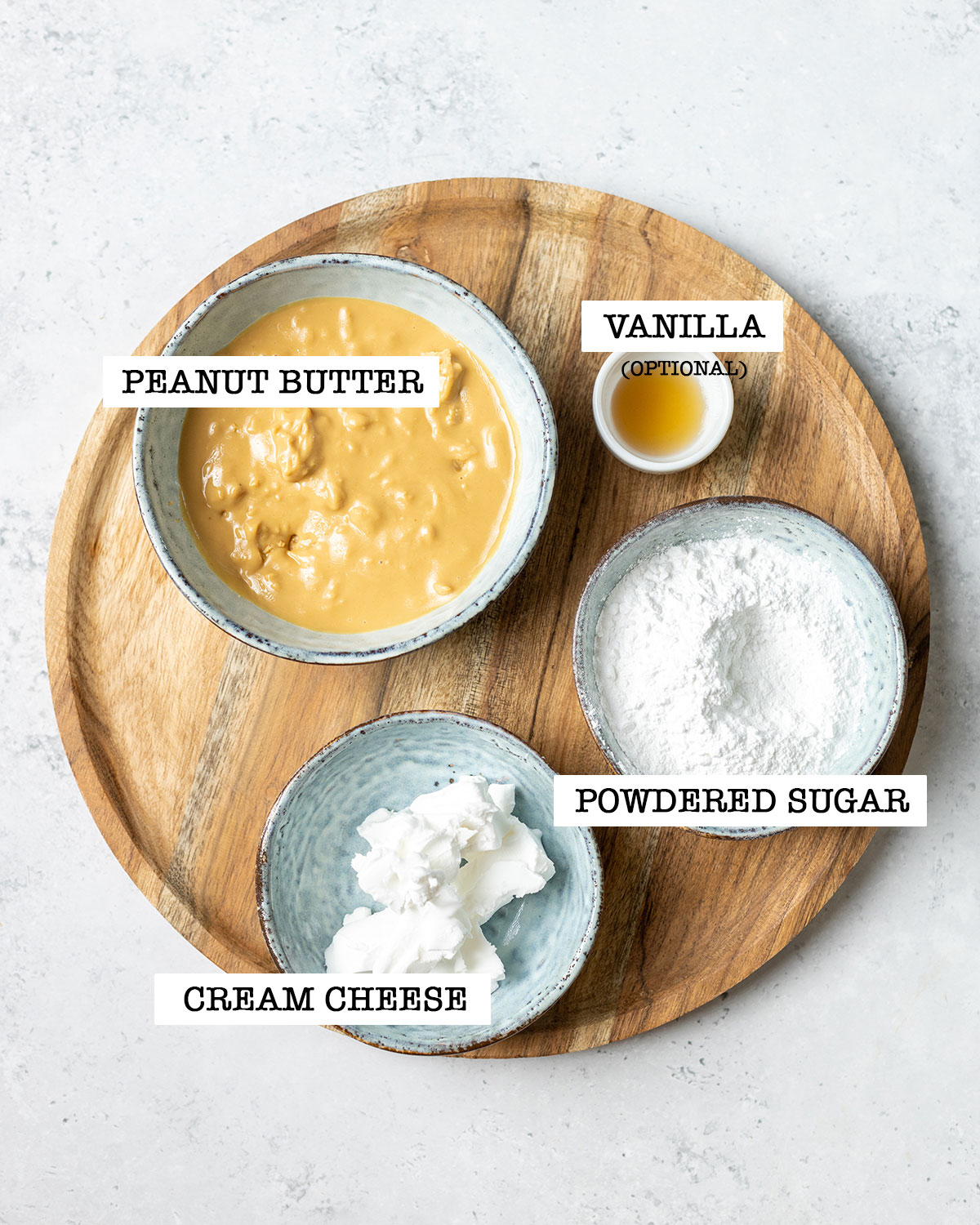 Ingredients:
Smooth Peanut Butter: For this recipe, I've used the smooth peanut butter from Manilife. It's perfectly smooth and runny, making it perfect to whip it into this buttery vegan fudge. You can use a different brand of smooth peanut butter, but for best results, choose one that is unsweetened and only uses peanuts as the only ingredient.
Vegan Cream Cheese: I like to use the plain vegan cream cheese from Violife for making this recipe. You can definitely use other brands, just make sure it's low in salt and unflavored.
Powdered Sugar: To sweeten the fudge, we add powdered sugar to the fudge. It blends wonderfully into the fudge mix and helps firm it up in the fridge.
Vanilla Extract or Vanilla Powder (optional): this is an optional ingredient for our vegan fudge recipe, but if you love vanilla flavored fudge, then you'll love adding a little bit of vanilla into this homemade fudge recipe!
Equipment:
electric hand whisk
mixing bowl
rectangular fridge container
parchment
How to make fudge
What I love most about this fudge recipe is simply how super easy it is to make! The peanut butter fudge mixture is ready in just a few minutes and then hardens in the fridge. It's so simple and easy to whip up, and it makes it the perfect vegan peanut butter candy or edible gift for friends and family.
Step 1: Preparation
To start with, line your fridge container with a little parchment. This makes it easier for you to remove the fudge from the container later on.
Before you start, also measure all your ingredients for the fudge, so you're ready to roll!
Step 2: Whip up the cream cheese
Place your vegan cream cheese into a mixing bowl and whip it with an electric hand whisk until creamy.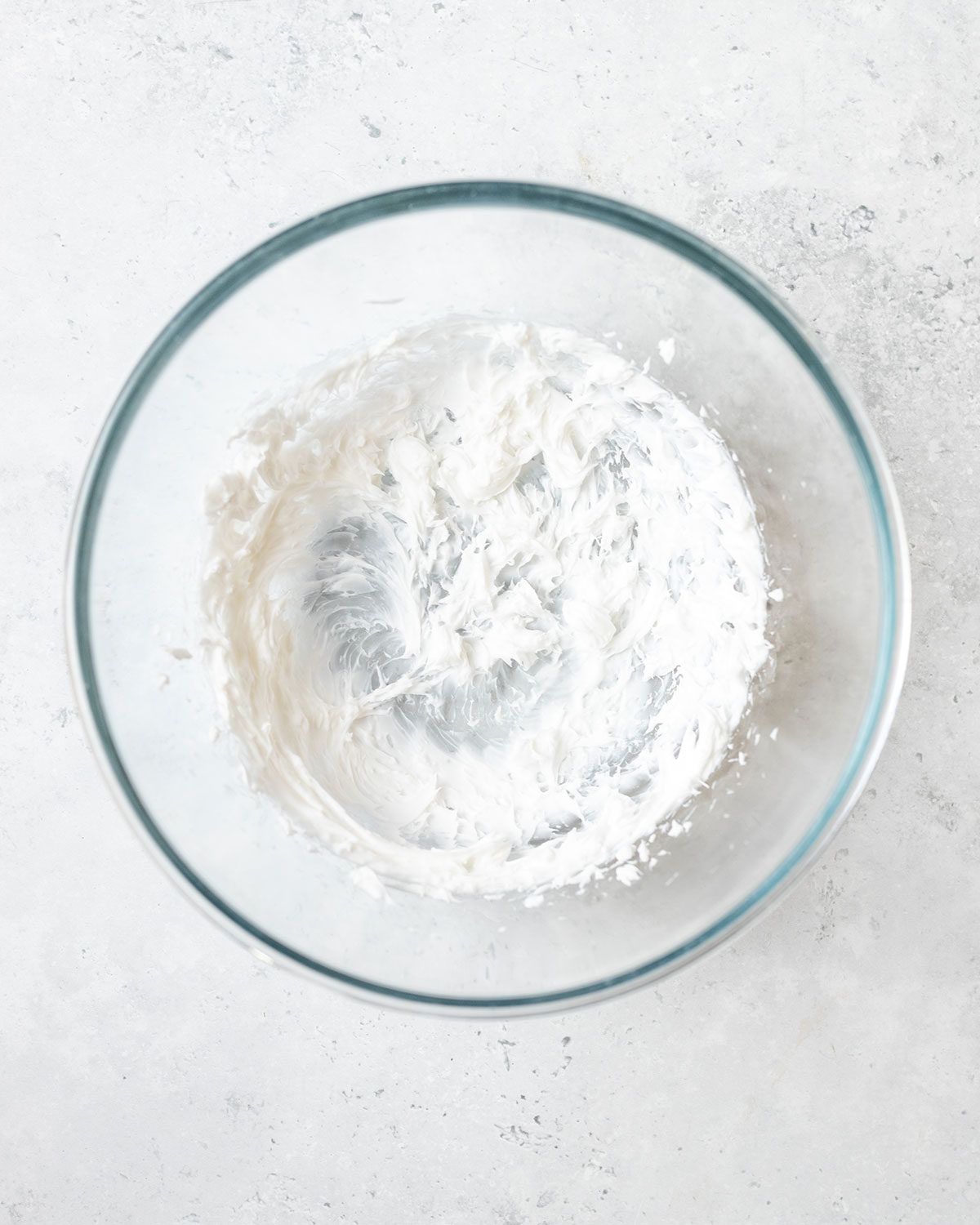 Step 3: Add peanut butter
Slowly add the smooth peanut butter into the whipped cream cheese and continue to whip. Add the powdered sugar and mix until smooth.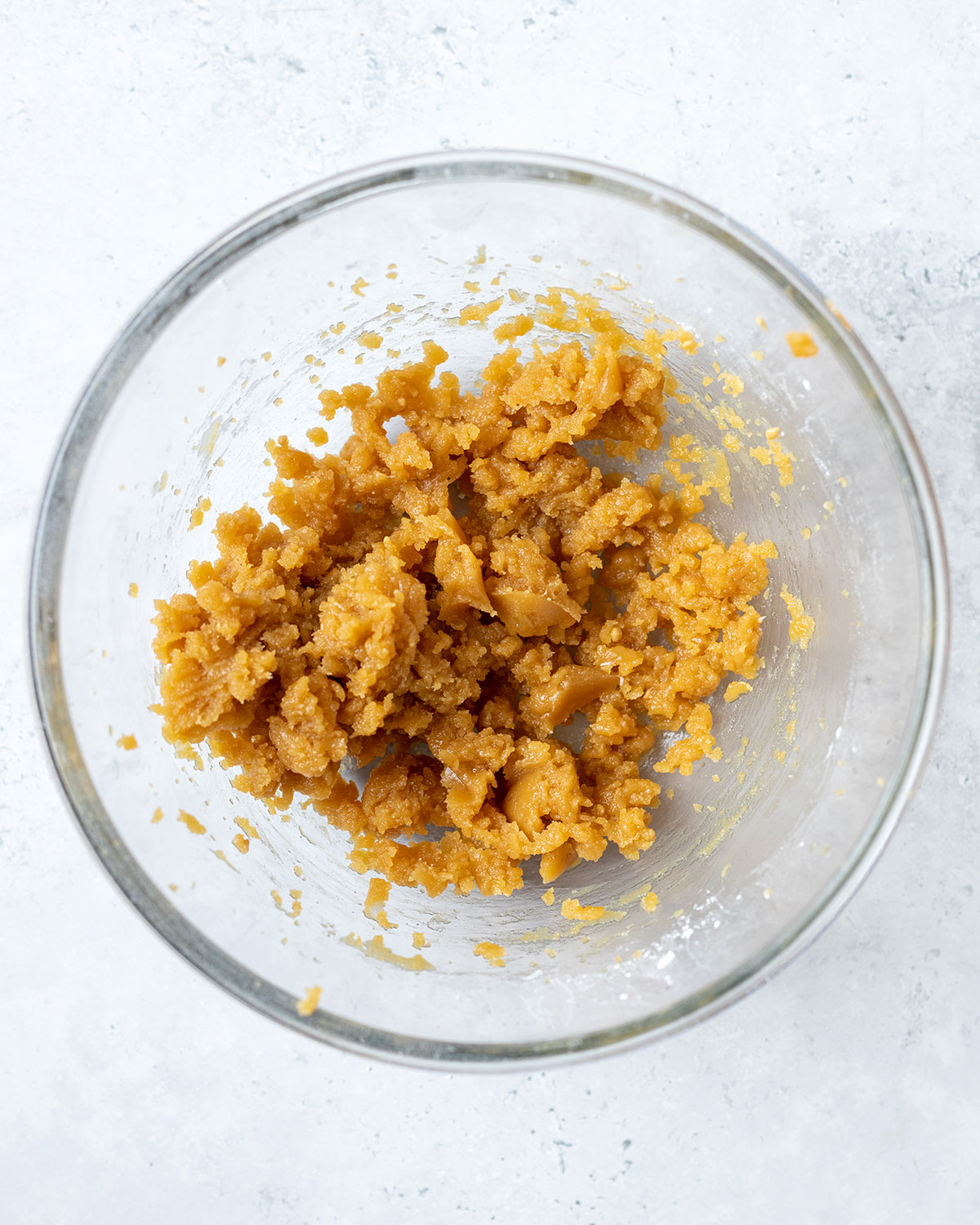 Step 4: Transfer to the fridge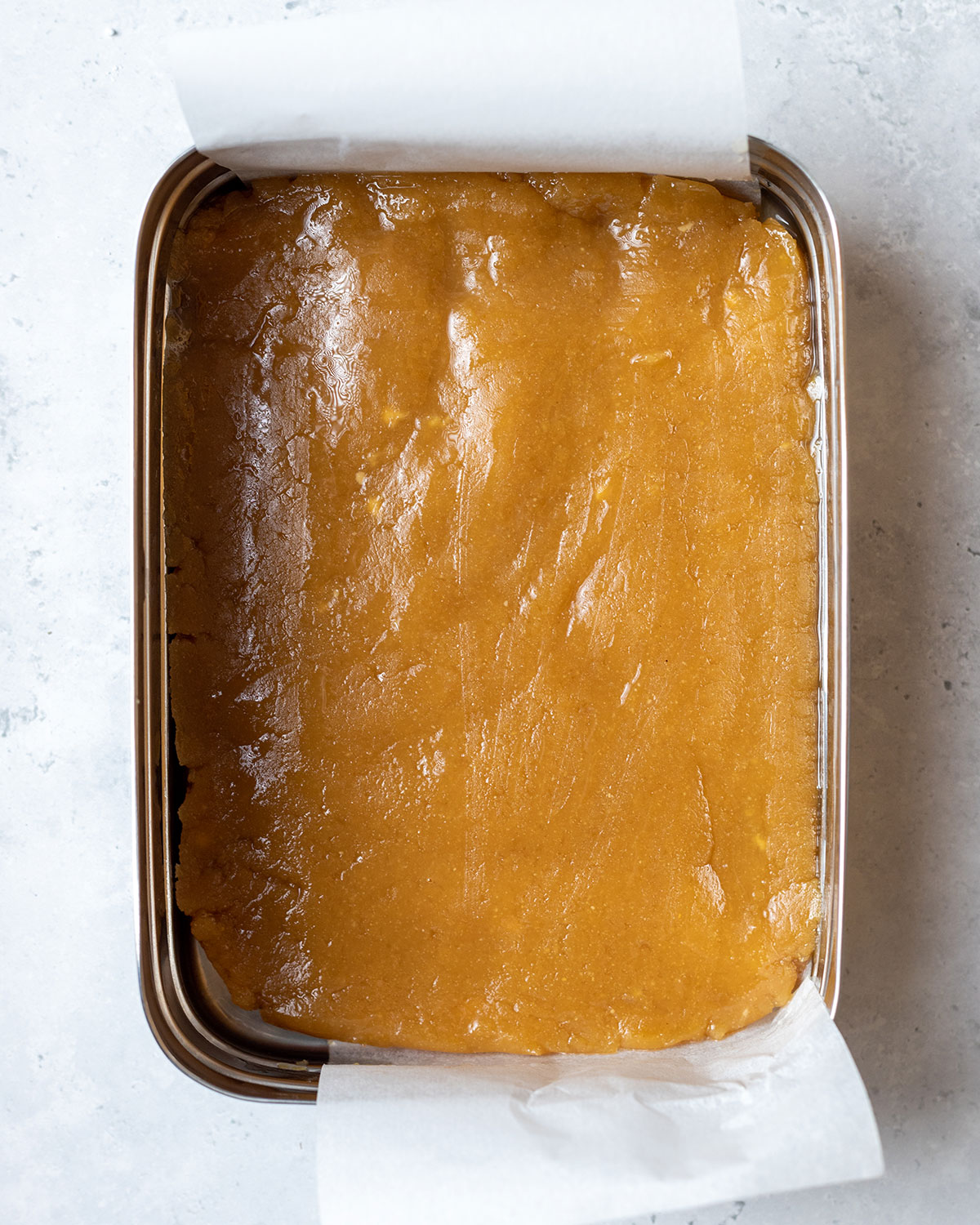 Transfer the peanut butter fudge mix to the lined fridge container. Gently smooth out the top with a spatula and transfer the container to the fridge to set for 2 hours.
Serving and Storage
After 2 hours in the fridge, your easy vegan fudge will be set and ready to remove from the container. Cut it into bite-size chunks with a knife and store your fudge in an air-tight container in the fridge for up to 7 days.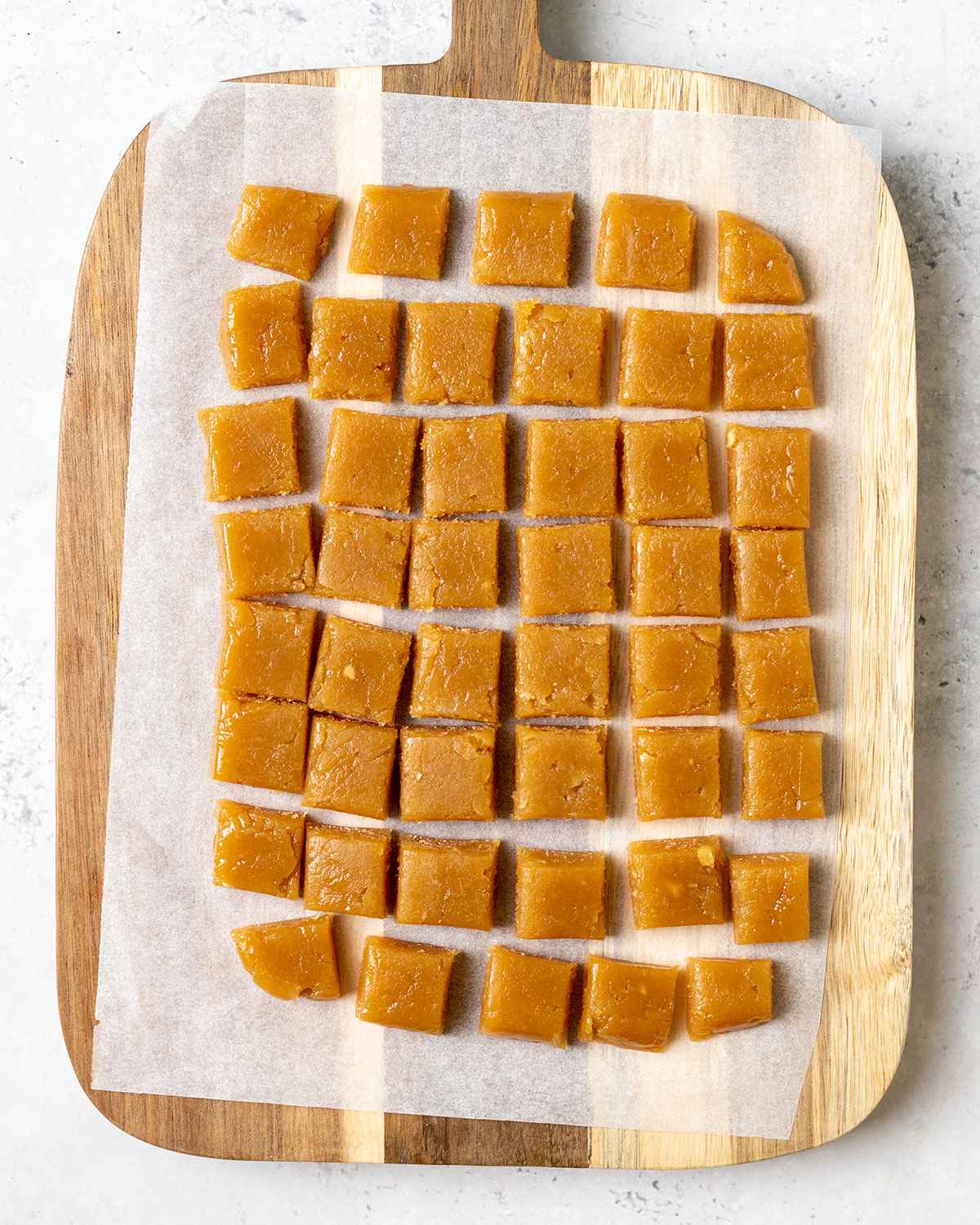 Frequently Asked Questions - Peanut Butter Fudge
How can I flavor the fudge?
Instead of vanilla extract you can also add other extract to your personal liking, e.g. orange or almond.
Can I replace the peanut butter?
In theory, this recipe should work with any nut butter, not just peanut butter - but it strightly won't be peanut butter fudge anymore in that case.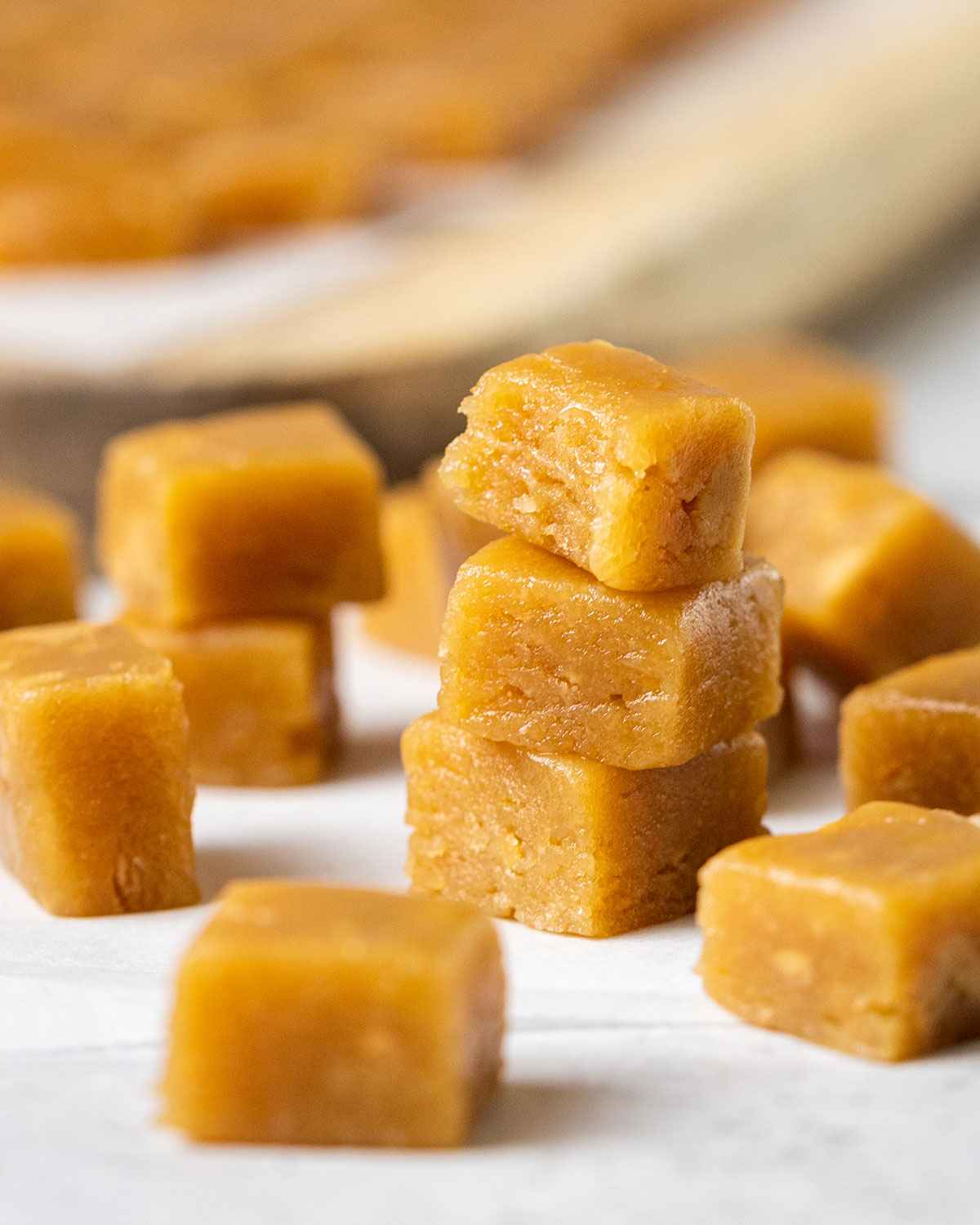 📌 If you love Pinterest you can pin any of the images to your boards!
You might also enjoy these recipes: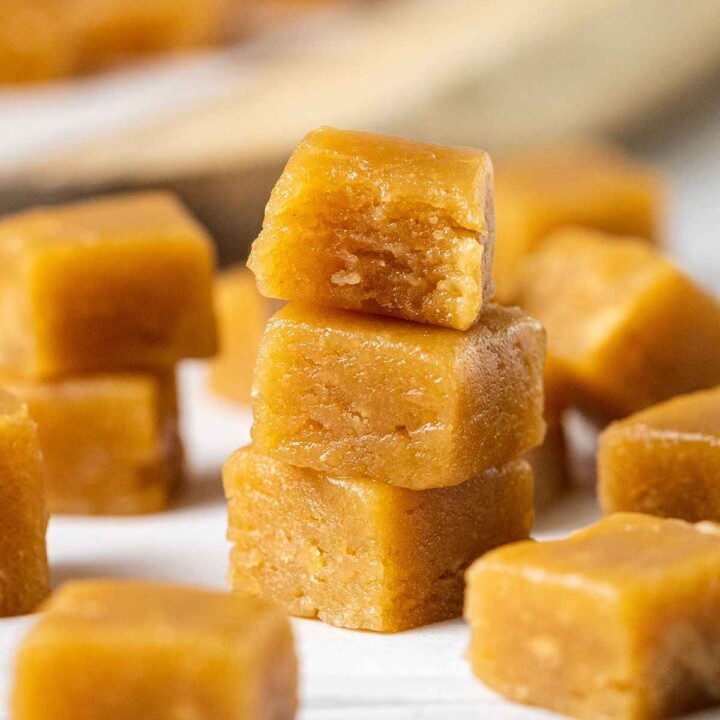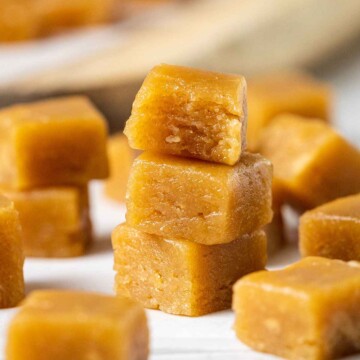 Peanut Butter Fudge
This easy Peanut Butter Fduge is the best homemade fudge you'll ever try! It's super buttery and smooth, uses only 3 ingredients and so simple to prepare in just a few minutes.
Equipment
1 mixing bowl

1 electric hand whisk

1 spatula

1 rectangular fridge container
Ingredients
1/2

cup

smooth peanut butter (130 g)

1/4

cup

dairy-free cream cheese (58 g)

plain and unsalted

1/3

cup

powdered sugar (54 g)

1/2

tsp

vanilla extract

optional
Instructions
Whip up the cream cheese with an electric hand whisk, then drizzle in the smooth peanut butter and powdered sugar. Continue to mix until well combined and smooth. If adding vanilla, blend it into the fudge mixture now.

Transfer the peanut butter fudge mix into a lined fridge container. Smooth out the top with a spatula and transfer to the fridge for 2 hours.

Carefully remove the fridge from the container once set and cut your fudge into bite-size pieces.
Notes
Store this easy peanut butter fudge in an air-tight container in the fridge for up to 7 days.
 © Romy London / Romina Callwitz | All images and content are copyright protected. Please do not use my images and content without permission. If you wish to re-publish any recipes or images, please get in touch via email. Thanks for your support!