Sandwich goals are coming true with this delicious Easy Chickpea Tuna Sandwich! Created with chickpeas, vegan mayo & capers - simple and easy to make.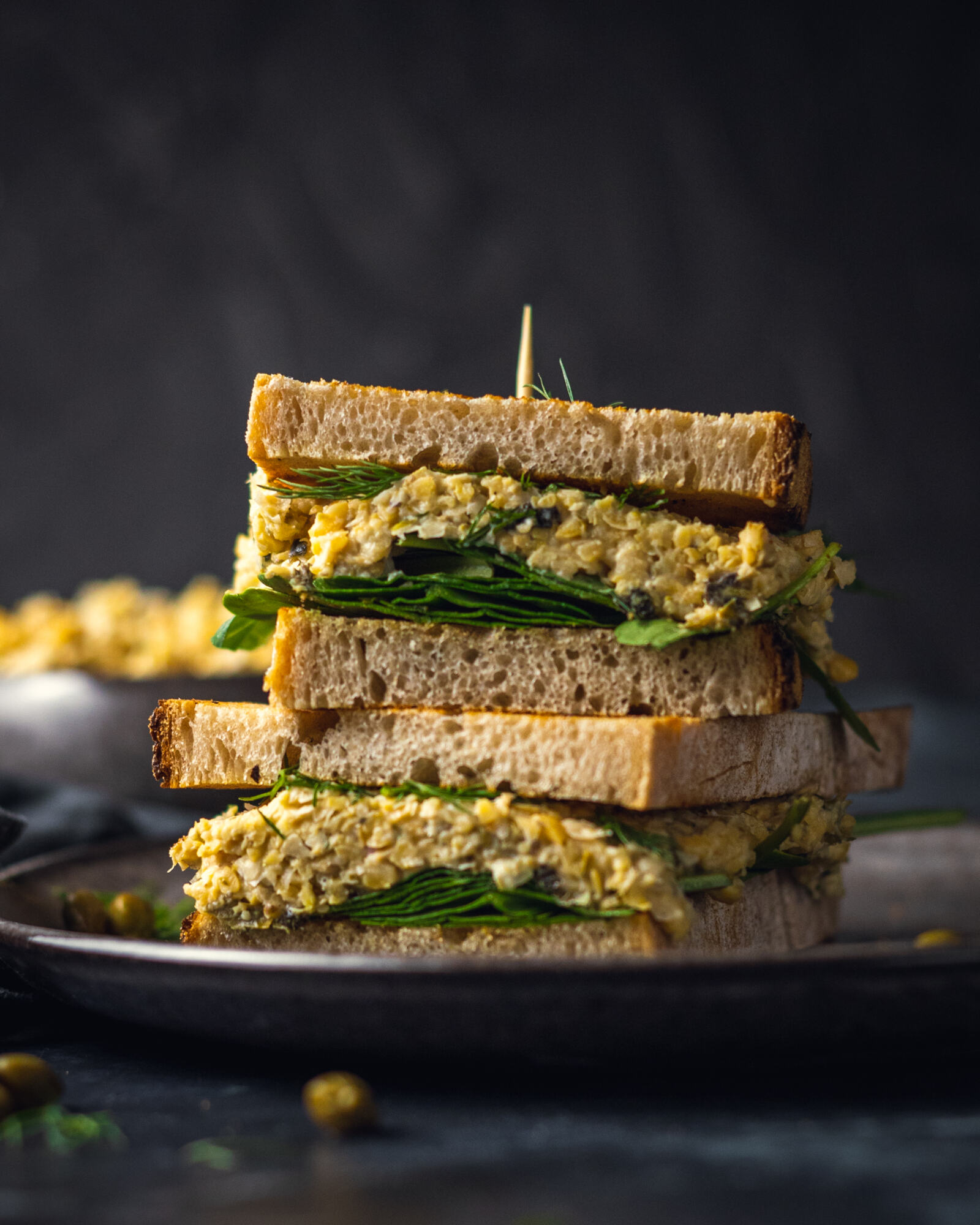 Vegan Chickpea Tuna Recipe
The sandwich of sandwiches! This easy vegan tuna mayo sandwich recipe is super simple to make and only uses 3 main ingredients aside from salt and pepper.
I have to admit before I lived in the UK 'tuna mayo' was pretty much unknown to me - after all, where I grew up in Germany, charcuterie and cheese were the only things people added onto their sandwiches. The first time I came across 'tuna mayo' however, was in my first couple of months in the UK - living and working as an Aupair looking after a little boy, when his mum asked me to make him a tuna mayo pasta for lunch. Back then I wasn't vegan yet, so I, of course, tried some of this combination as well and instantly fell in love with the combination of flavours - I've always been a huge fan of anything to do with mayonnaise, so this wasn't much of a surprise.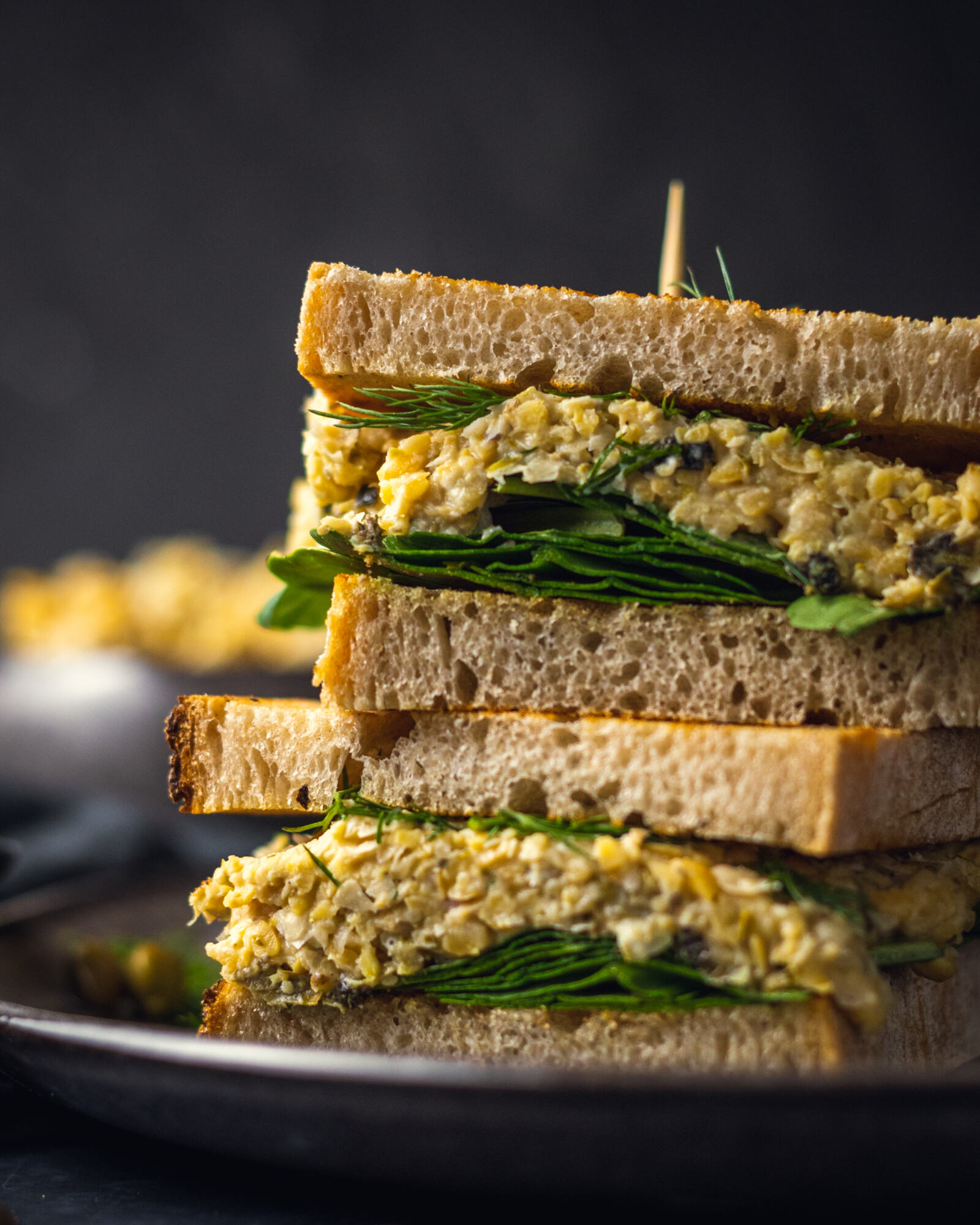 What you'll need to make this chickpea 'tuna' mayo recipe
Ingredients
chickpeas: I use tinned, unsalted ones for this recipe, but you can also soak & cook dried chickpeas ahead of making this recipe. It's just important that they're soft enough for your food processor to pulse them.
capers: Best use the small, pickled kind for this recipe!
vegan mayonnaise: vegan mayo is mostly readily available in supermarkets nowadays. I like using Follow your heart or Mr Organic for my chickpea 'tuna'
salt & pepper to taste
fresh parsley to garnish (optional)
Equipment
That's all! See: It's super simple!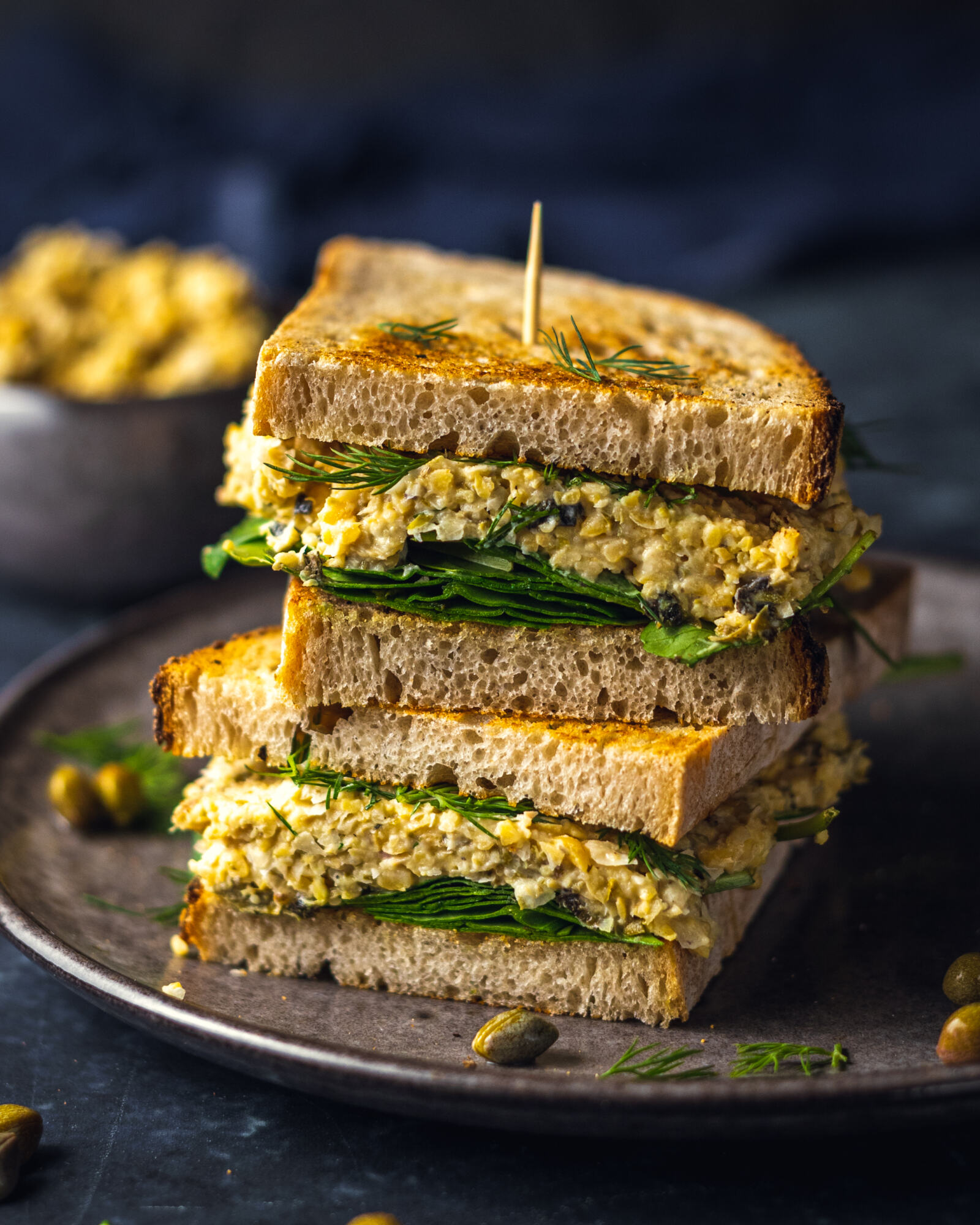 How to make vegan tuna mayo
The base of this recipe is super simple - all you need is a food processor, however, you can also utilise a blender or a stick blender. And it all else fails, then the back of a fork is also useful to help mash the chickpeas for your tuna mayo recipe.
Simply place all ingredients into a food processor and pulse until the majority of the chickpeas are broken down. It should only take about one minute. I like my tuna mayo to still include some chickpea chunks for an extra bite, however, if you prefer it super smooth and simply pulse and blend it for a little longer until you get your desired texture.
Extra tip: Enjoy this chickpea tuna on freshly baked focaccia for a next-level sandwich!
Great additions to this recipe
Seaweed/Nori Sheets
For a little extra 'fishy' flavour, I love adding a sprinkle of nori sheets (sushi sheets!) to this recipe, they add a wonderful seafood flavour to any tuna mayo sandwich or salad.
Toasted bread
Give me a toasted slice of sourdough alongside this vegan tuna mayo and I'm happy! You can, however, use a lot of different types of bread alongside, such as rye bread and crispbread.
Fresh spinach or lettuce
I love adding some fresh spinach to my tuna mayo sandwiches - it's a delicious combination with the smooth and tangy flavours of the sandwich filling.
Sesame seeds
Add some white or black sesame seeds for a delicious crunch! You can add these prior to the blending process - as we're only pulsing here, the sesame seeds won't fully breakdown and you'll still get a good crunch. Alternatively, stir them into your ready-made vegan tuna mayo!
Shishimi
For a little spicy kick, shishimi seasoning makes a great addition! Simply adjust to your personal taste - I recommend adding this after the blending process and simply season to taste.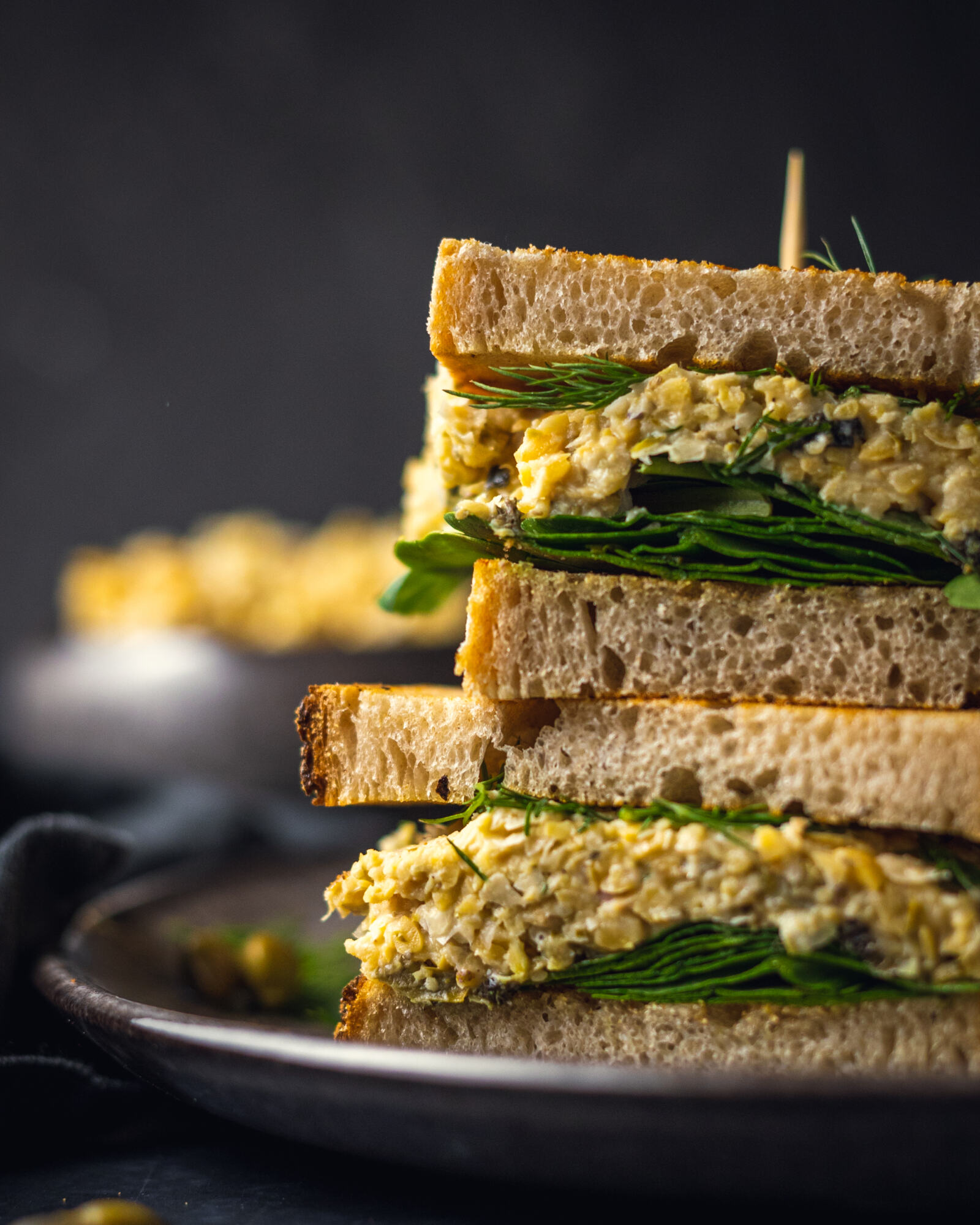 How to store vegan chickpea tuna mayo
It's best to keep your tuna mayo in the fridge in an airtight container and consume it within 3 days.
This recipe is:
100% vegan
super simple to make
easy
only using 3 main ingredients
great on toasted bread or salad
delicious
full of flavour
📌 If you love Pinterest you can pin any of the images to your boards!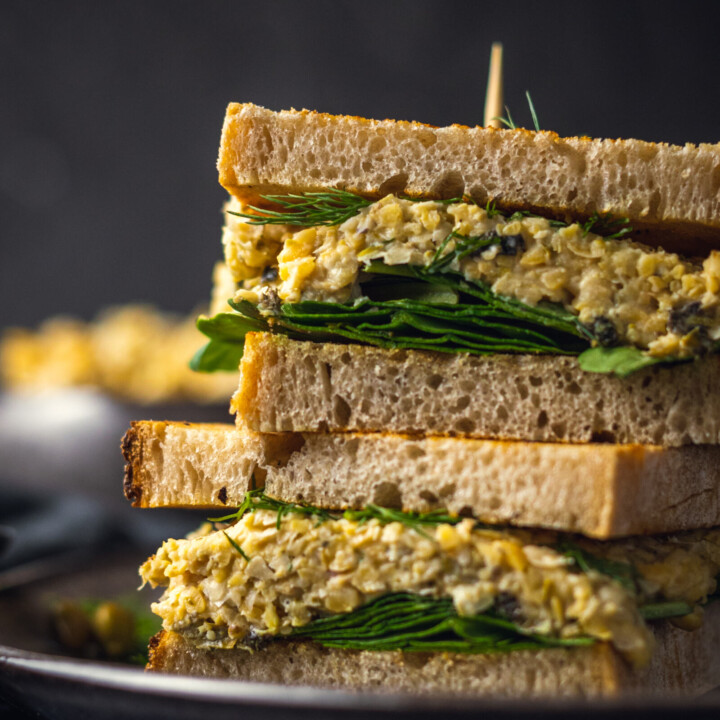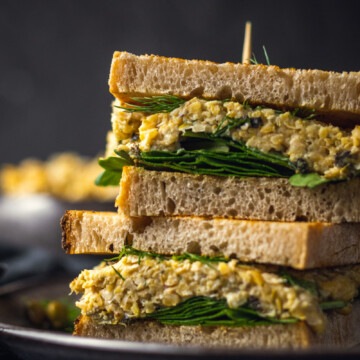 Chickpea Tuna Mayo
Sandwich goals are coming true with this delicious Easy Chickpea Tuna Sandwich! Created with chickpeas, vegan mayo & capers - simple and easy to make.
Equipment
1 blender or food processor
Ingredients
1

7-oz

can cooked chickpeas

drained

2

tbsp

capers

2

tbsp

vegan mayo

salt and pepper to taste

fresh parsley to garnish
Instructions
Add the chickpeas, capers and vegan mayo to a food processor and pulse for 20-30 until chunky and combined.

Spread the mix onto your sandwich, season to taste with salt & pepper.

Garnish with fresh parsley, cut in half and enjoy!
Notes
This sandwich filling is also delicious as a side or mixed with cold, cooked paste to create a delicious vegan tuna mayo pasta salad.

For an extra 'fishy' flavour you can add seaweed or nori sheets to the blender. It adds a wonderful seasoning to the tuna mayo.
*Disclosure: This page may contain affiliate links and sponsored links that earn me a small commission, at no additional cost to you. You can find more information in my Privacy Policy.
 © Romy London / Romina Callwitz | All images and content are copyright protected. Please do not use my images and content without permission. If you wish to re-publish any recipes or images, please get in touch via email. Thanks for your support!