Get ready to be enchanted by this scrumptious treat that will transport you straight into a world of the season's best flavors! This irresistible recipe for a Sweet Vegan Pumpkin Loaf that's bound to become your new autumn obsession.
Picture this: a slice of this heavenly loaf, perfectly moist and tender, gracing your plate. As you take a bite, the aroma of cinnamon, ginger, and cloves envelops your senses, transporting you to a cozy autumn wonderland!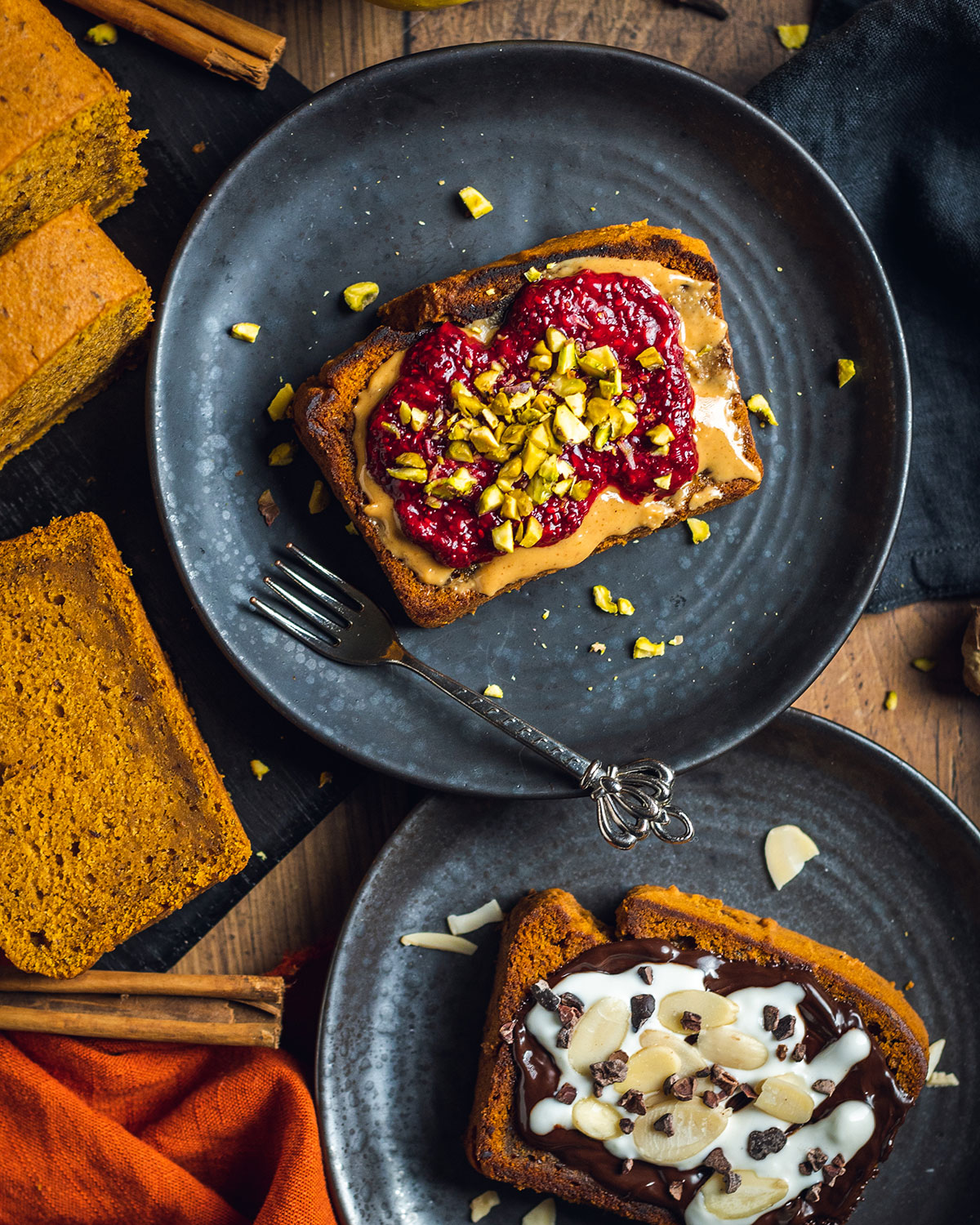 Let me tell you, this pumpkin loaf recipe is absolute autumn magic! The moment you step into the kitchen and start baking, the heavenly scent of seasonal spices fills the air, instantly transporting you to a cozy wonderland. I wish I could share the delightful aroma with you through the screen, but trust me, it's impossible to resist!
There's something truly magical about baking in the autumn season! For me, this Sweet Vegan Pumpkin Loaf is more than just a delicious treat - it's a labor of love that fills the house with the scent of aromatic spices and it instantly takes me back to cosy autumn afternoons spent watching Gilmore Girls with a hot cup of tea, a blanket & a delicious, sweet something in my hands.
❤️ Why You'll Love This Recipe
Perfectly moist and tender loaf infused with aromatic spices
Delightful flavors of cinnamon, ginger, and cloves
Cozy autumn vibes with every bite
Easy to make with simple ingredients
Vegan-friendly recipe
Crowd-pleasing treat for gatherings or self-indulgence
Irresistible aroma that fills the kitchen
Versatile and suitable for various dietary preferences (can be made gluten-free)
Captures the essence of autumn in every slice
Creates a warm and cozy atmosphere with its seasonal scents
A delicious way to enjoy the flavors of pumpkin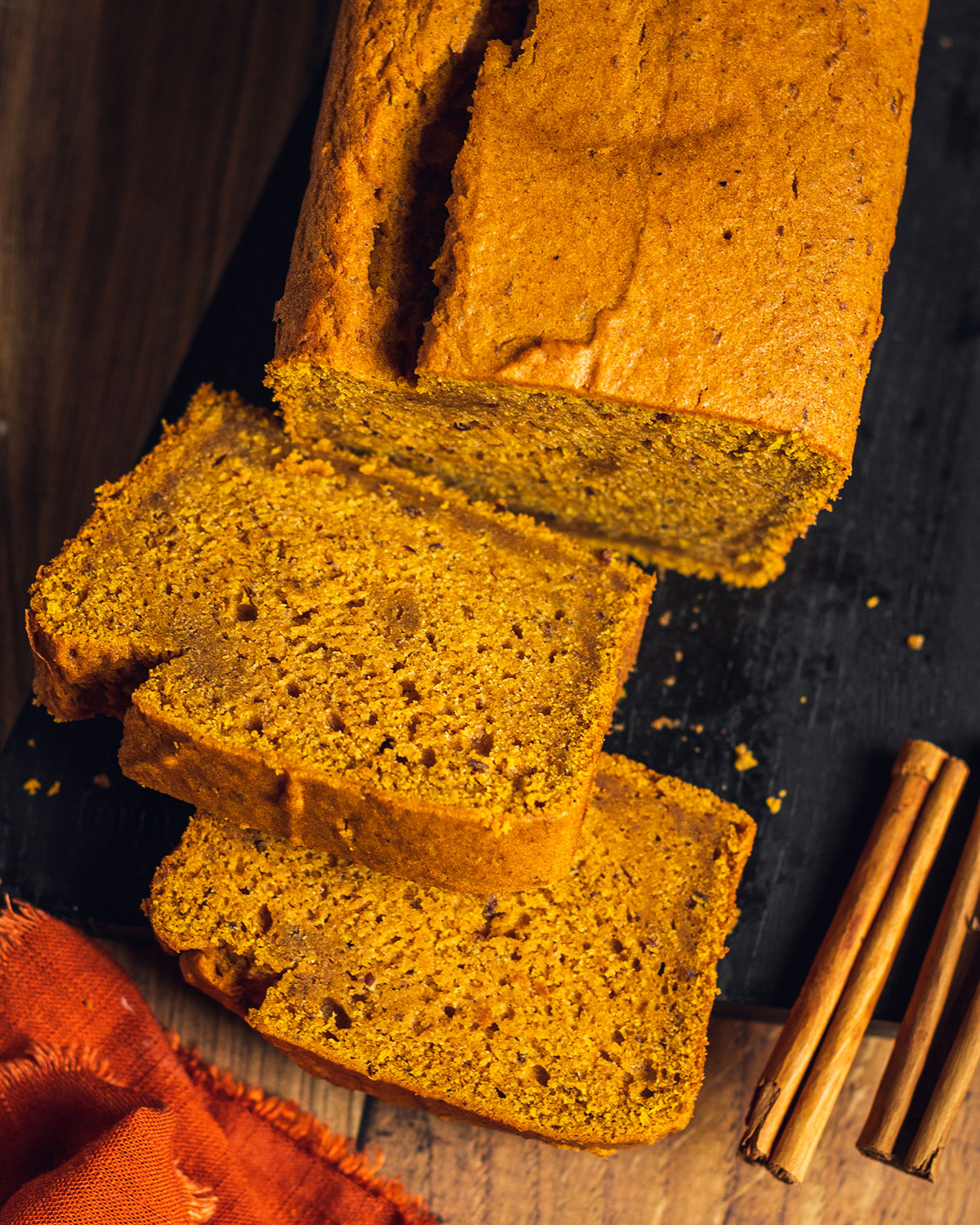 🌱 Ingredients & Notes
All-purpose flour: I've used all-purpose flour, aka plain flour. You can easily swap it for a gluten-free flour blend to make this vegan pumpkin loaf gluten free! Make sure the flour blend is intended for baking.
Baking soda and baking powder: help the loaf rise and create the wonderfully light texture.
Spices: I've used ground cinnamon, ginger, cloves, nutmeg. The spices add a lovely warmth and flavor to the pumpkin loaf.
Plant milk: You can use sweetened or unsweetened plant milk for this recipe. I personally like to go with sweetened soya milk as I always have some at home. The plant milk provides moisture for the loaf and helps bind the ingredients together.
Apple cider vinegar: reacts with the baking soda for a lighter, fluffier texture. Don't worry, you won't taste it in the final result!
Dairy-free butter: For some extra richness and moisture. Make sure it's softened but not melted. I used Flora Plantbased.
Golden caster sugar: For the sweet touch. I used Billington's.
Pumpkin puree: The star ingredient for this loaf! The pumpkin puree gives flavor, moisture, and a tender texture to the loaf. I used tinned pumpkin from Tesco! For the pumpkin puree, make sure to use pure pumpkin puree without any added spices or sweeteners.
Flaxseeds: act as an egg substitute and help bind the ingredients together. I used organic ground linseed from Buy Whole Foods Online.
Find the full measurements in the printable recipe card at the bottom of this post.
Substitutions
Here are some possible ingredient substitutions for the Sweet Vegan Pumpkin Loaf:
Instead of plain flour, you can use gluten-free flour blend for a gluten-free version.
For plant milk, you can use any type of non-dairy milk such as almond milk, soy milk, or oat milk.
If you don't have apple cider vinegar, you can substitute it with white vinegar or lemon juice.
Instead of unsalted vegan butter, you can use coconut oil or vegetable oil.
If you can't find golden caster sugar, you can use regular caster sugar or granulated sugar.
If you don't have flaxseeds, you can use chia seeds as a substitute.
Remember to adjust the quantities of the substituted ingredients accordingly. Enjoy baking the Sweet Vegan Pumpkin Loaf with your preferred ingredient substitutions!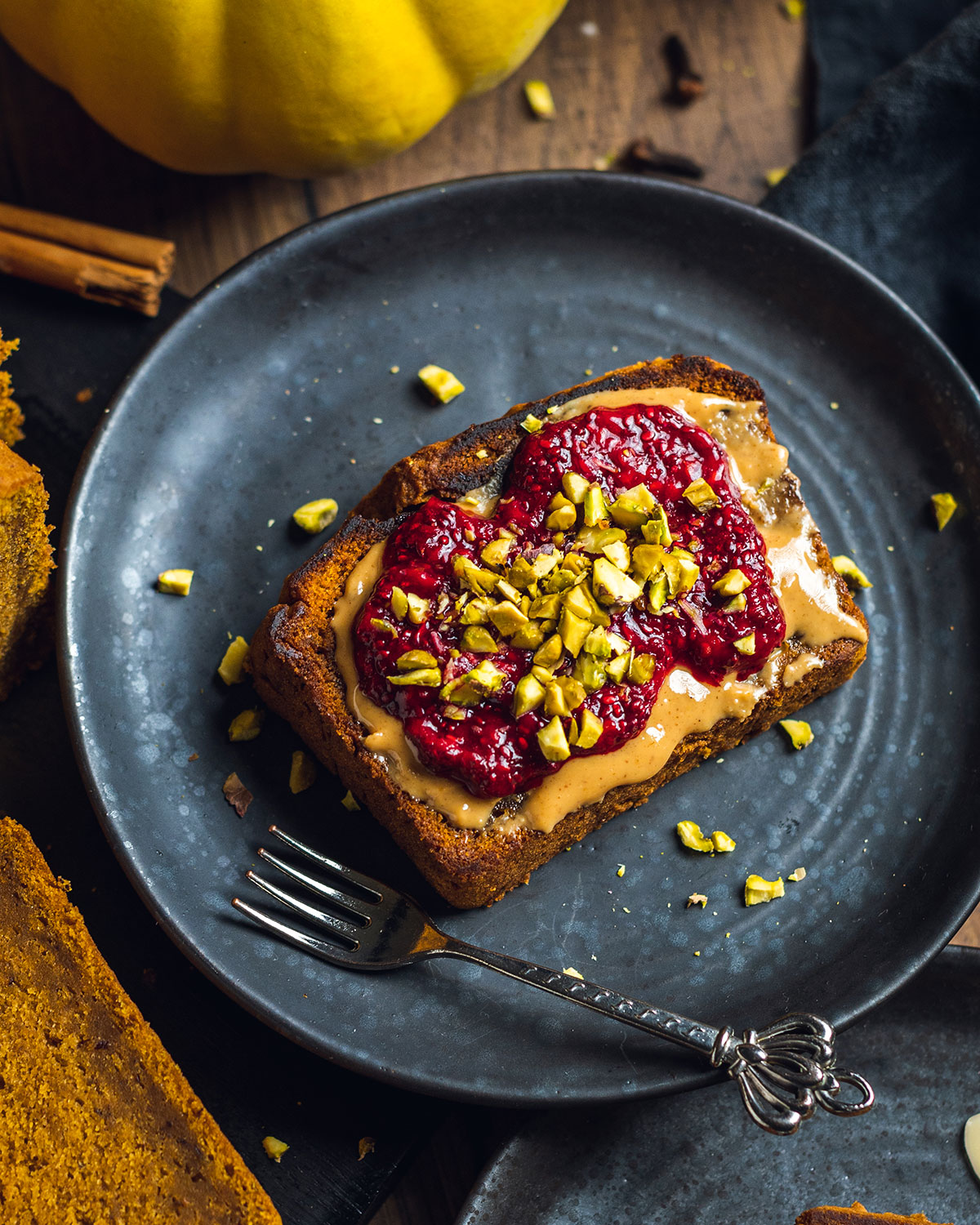 🧑‍🍳 Instructions
Step 1 - Preheat oven to 180°C (356°F) and grease a lined loaf tin.
Step 2 - Sift flour, baking soda, baking powder, cinnamon, ginger, cloves, and nutmeg into a mixing bowl. Add salt and stir to combine.
Step 3 - In a separate jug, combine plant milk and vinegar. Set aside to curdle for 10 minutes.
Step 4 - Cream butter and sugar together using an electric whisk.
Step 5 - Add pumpkin puree and milk mixture to the butter and sugar. Blend until combined.
Step 6 - Stir in flaxseeds and let the mixture rest for 10 minutes.
Step 7 - Slowly pour the wet mixture into the flour mixture and fold until smooth.
Step 8 - Transfer the batter to the greased loaf tin and bake for 35-45 minutes at 180°C (356°F) until golden and a toothpick comes out clean.
Step 9 - Allow the loaf to cool for 30 minutes before slicing. Enjoy toasted on its own or with dairy-free butter or nut butter.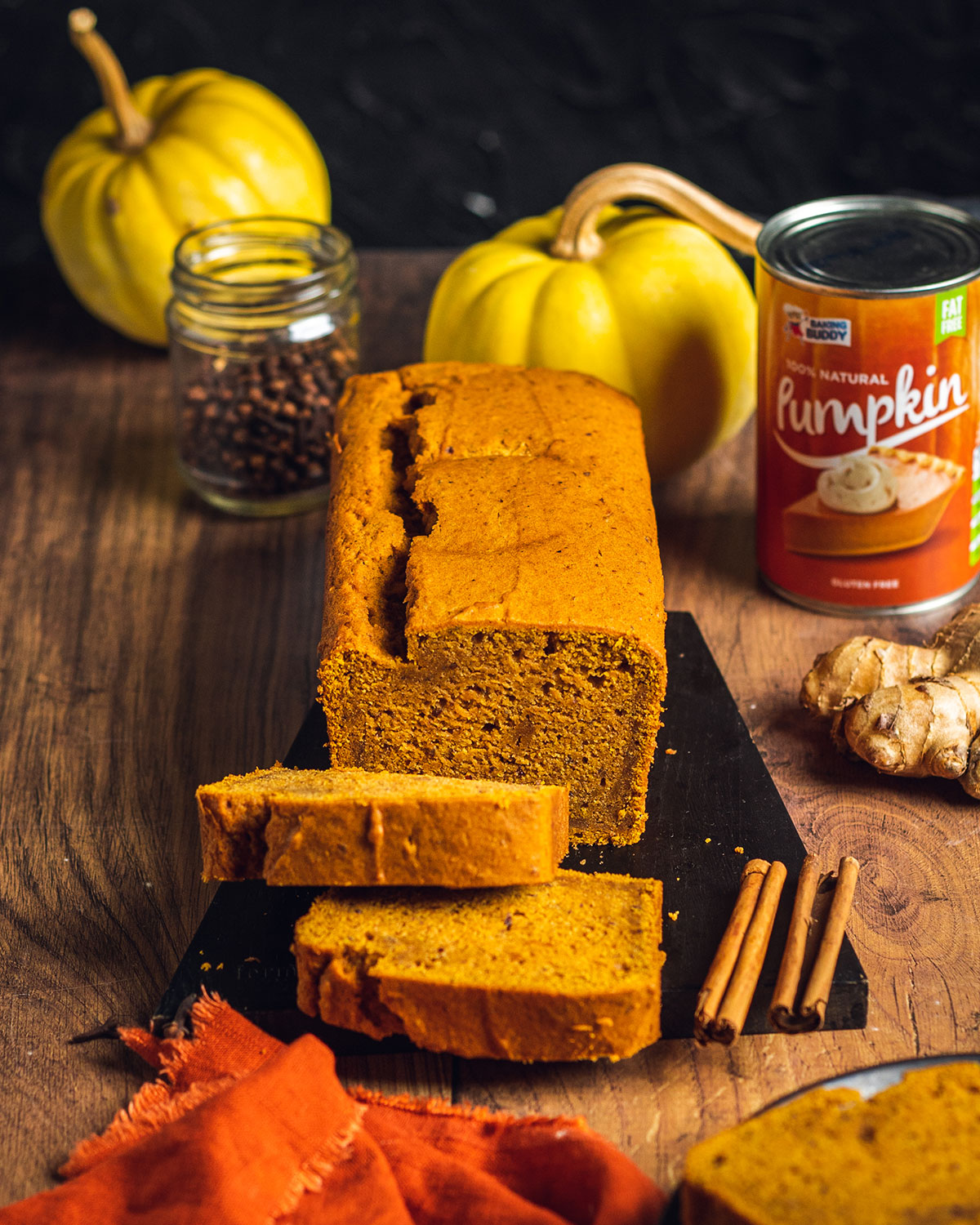 ❄️ How to Store
To keep your delicious Sweet Vegan Pumpkin Loaf fresh and moist, follow these steps:
Once completely cooled, wrap the loaf tightly in plastic wrap or place it in an airtight container.
Store the wrapped loaf at room temperature for up to 3 days.
For longer storage, you can refrigerate the loaf for up to 1 week. Make sure to wrap it tightly to prevent it from drying out.
If you prefer to freeze the loaf, it can be stored in the freezer for up to 3 months. Wrap it tightly and place it in a freezer-safe container or bag.
When ready to enjoy, thaw the loaf in the refrigerator overnight. You can then reheat individual slices in the microwave or oven for a warm and fresh taste.
Remember, the sooner you consume the loaf, the better it will taste. Enjoy your Sweet Vegan Pumpkin Loaf within the recommended storage time for the best experience!
💡 Top Tips
Here are some additional ideas to take your loaf to the next level:
Add a touch of vanilla extract for an extra flavor boost.
For a nutty variation, fold in chopped walnuts or pecans into the batter.
To make it a festive treat, sprinkle some pumpkin seeds or cinnamon sugar on top before baking.
For a citrus twist, zest some orange or lemon and add it to the batter.
If you prefer a sweeter loaf, drizzle a simple glaze made with powdered sugar and plant milk on top once it has cooled.
I hope these additional expert tips will help you customize and elevate your Sweet Vegan Pumpkin Loaf to new levels of deliciousness!
📌 More Pumpkin Recipes:
📝 Recipe Card
Print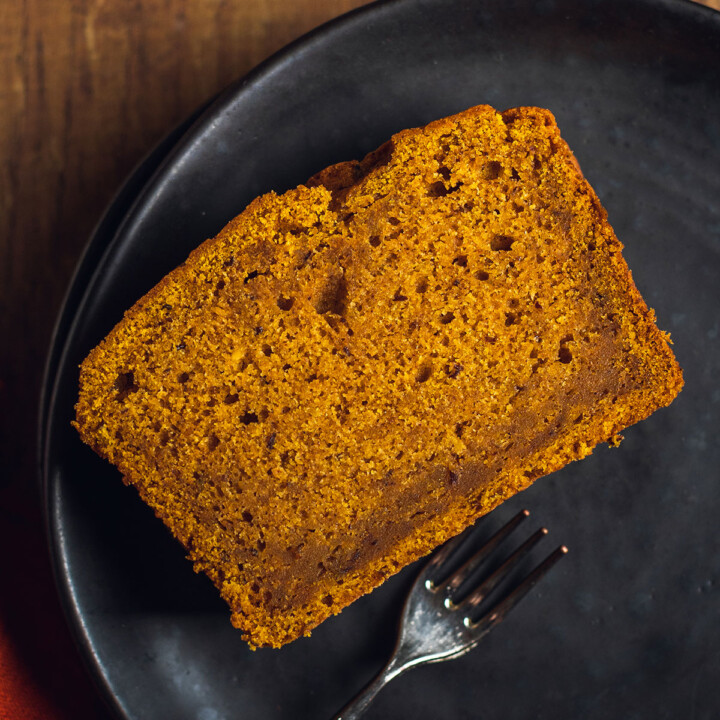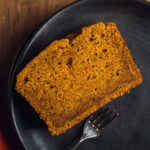 Vegan Pumpkin Loaf
Author:

Prep Time:

25

Cook Time:

40

Total Time:

1 hour 5 minutes

Yield:

8

slices

1

x

Category:

Fall

Method:

Oven Baked

Cuisine:

American

Diet:

Vegan
---
Description
Pumpkin season is upon us! I hope you enjoy this vegan sweet pumpkin loaf recipe just as much as I did. It's a great crowd-pleaser for breakfast or as a delicious afternoon treat and the spices simply make the kitchen smell fantastic whilst it's in the oven!
---
300g

plain flour (all-purpose)

1 tsp

baking soda

1/2 tsp

baking powder

2 tsp

ground cinnamon

1 tsp

ground ginger

1/2 tsp

ground cloves

1/4 tsp

ground nutmeg

1/4 tsp

fine salt

150

ml plant milk

1 tbsp

apple cider vinegar

160g

dairy-free butter (the unsalted kind!), softened

250g

golden caster sugar

1

tin pumpkin puree (

425 g

)

2 tbsp

flaxseeds
---
Instructions
Preheat your oven to 180C (356F) and lightly grease a lined loaf tin.
Start by sifting the fl0ur, baking soda, baking powder, cinnamon, ginger, cloves and nutmeg into a large mixing bowl. Sprinkle in the salt, then stir to combine.
In a separate jug, place the plant milk and vinegar. Give them a quick stir, then set aside to curdle for at least 10 minutes.
In the meantime, use an electric whisk to cream the butter, then sprinkle in the sugar until well combined.
Pour in the pumpkin puree and the milk mixture and continue to blend until well combined. It's normal for the mix to look slightly curdled and not smooth - don't worry!
Stir in the flaxseeds and let the mix rest for 10 minutes.
Slowly pour the wet mix into the flour mixture and fold everything in with a spatula until you get a smooth, fluffy batter.
Transfer the batter to the lined and greased loaf tin and bake it in the middle of the preheated oven for 35-45 minutes or until golden on top and a toothpick comes out clean.
Allow for the loaf to cool for 30 minutes before slicing and enjoy the slices toasted on their own or with dairy-free butter or nut butter (chocolate spread is great also!)
---
Notes
Make sure to line your loaf tin with non-stick baking parchment and lightly grease it, in addition, to ensure you can easily remove your baked loaf later on! I like to use structured parchment - it's a little pricier but makes for perfect bakes every time.
You can slice and freeze the loaf for up to 3 months.
Keywords: pumpkin loaf, vegan pumpkin loaf
Don't forget to check out the rest of the exclusive recipes here