Get ready for a delightful spoonful of comfort with this Vegan Orzo Soup! Packed with wholesome flavors and nourishing ingredients, this easy-to-make bowl of goodness is a perfect solution for cozy nights or quick, satisfying meals.
This recipe is:
100% vegan
hearty and delicious
using simple ingredients and easy to make at home
dairy free and egg-free
easy to make gluten free with gluten free orzo
wonderfully warming and great for cold days
perfect for lunch or dinner
delicious alongside a slice of crusty bread
freezer-friendly and easily batchable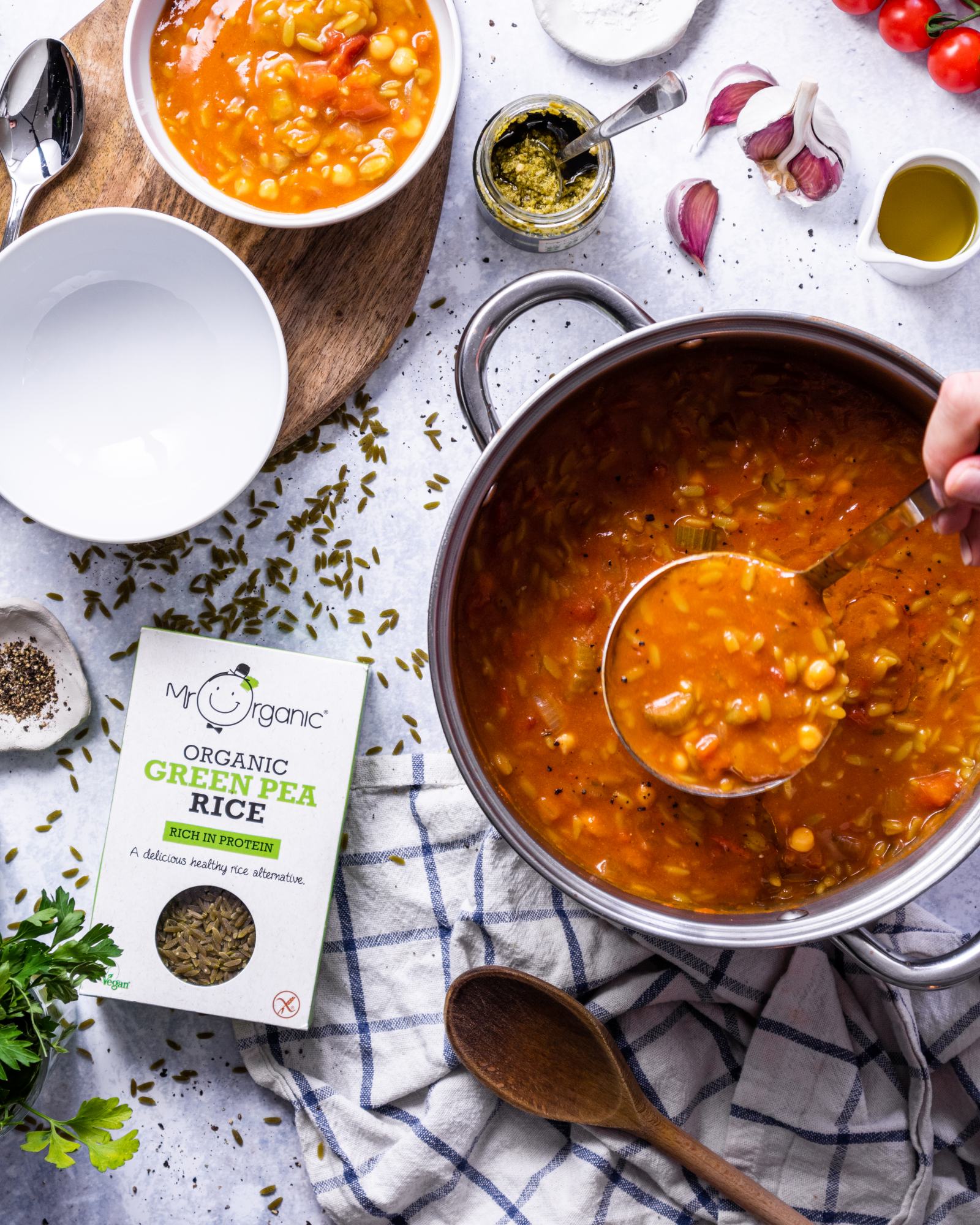 Jump to:
I've always believed that soups are like a canvas ready for a burst of flavors! Experimenting with diverse ingredients and bold flavors has led me to concoct this delightful Easy Vegan Orzo Soup Recipe. Bursting with wholesomeness from chickpeas, celery, and tangy tomatoes, this soup takes it up a notch with the addition of Orzo pasta.
In my kitchen, pasta in soups is a game-changer, and in a tomato-based soup like this, it offers not just texture but also a comforting heartiness.
On this occasion, I used a gluten-free orzo called 'green pea rice,' a protein-rich, single-ingredient pasta that marries seamlessly with the soup's flavors. Fear not, you can easily swap it with regular orzo, both yielding equally delicious results!
🍅 Ingredients & Notes
Olive oil - For sautéing the vegetables.
Onion, celery & garlic - these are our aromatics that form the base flavors of this soup recipe.
Tomato puree - For flavor depth and thickness.
Chopped tomatoes - For texture and tanginess.
Chickpeas - For extra protein and texture to add a hearty element to the soup. I used canned chickpeas. Make sure to drain and rinse before adding them to the orzo soup.
Orzo pasta - Use store-bought orzo pasta made from Durum Wheat Semolina for the traditional version. Alternatively, opt for gluten-free options such as 'Green Pea Rice' from Mr Organic, used here, for a gluten-free meal.
Vegetable stock - Essential for cooking the orzo and infusing it with flavor. Ensure it's vegan-friendly (e.g., Kallo).
Basil pesto - this is optional, but simply delicious drizzle onto the orzo soup before serving. I used Vegan-friendly basil pesto from Mr Organic.
Equipment
1 large saucepan with a lid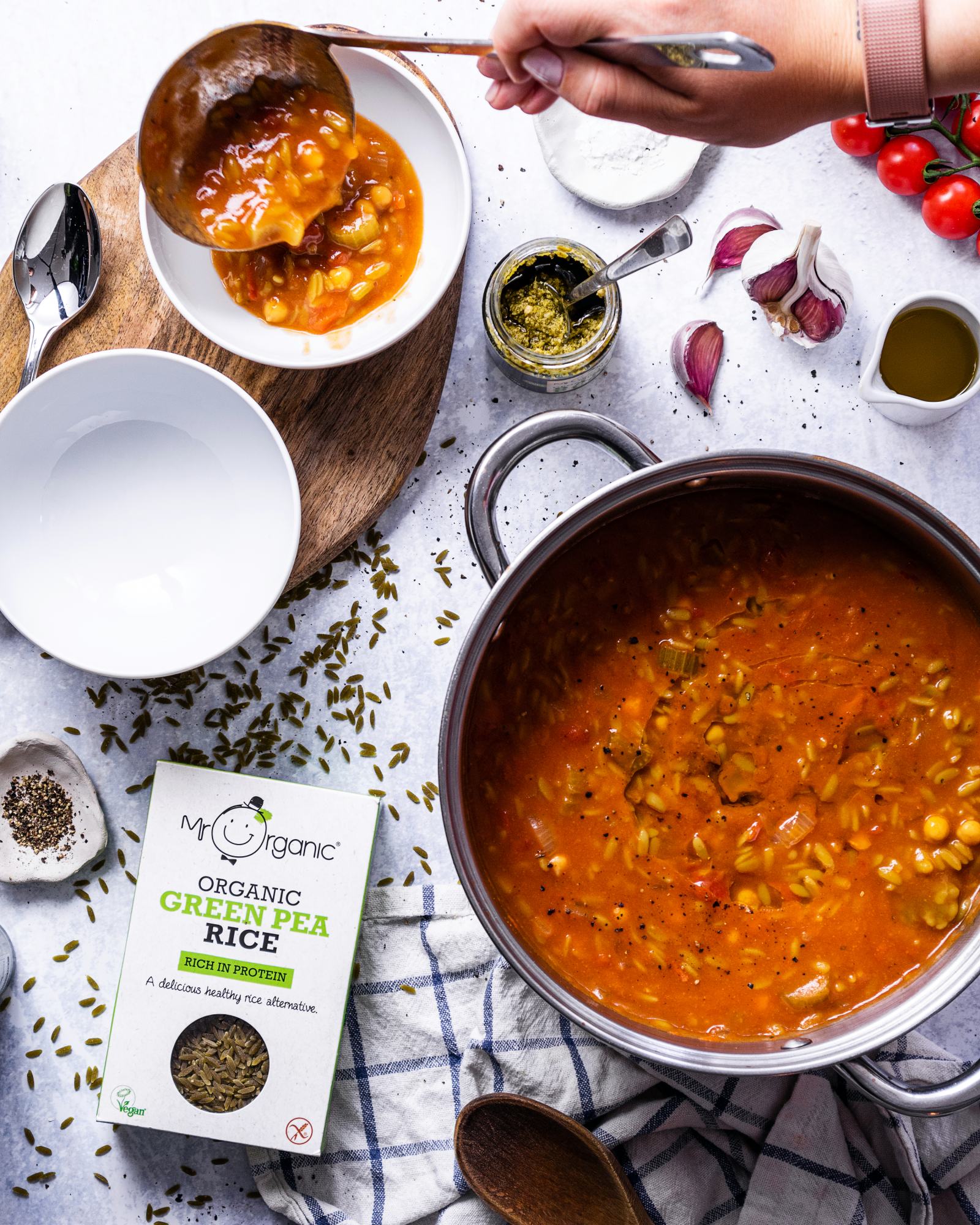 🧑‍🍳 Instructions (Step-by-Step)
Step 1 - Sauté Aromatics:
Heat 1 tablespoon of oil over medium/high heat in a large pot.
Add diced onion and celery. Sauté for approximately 10 minutes until softened.
Introduce minced garlic to the pan and cook for an additional minute, stirring occasionally.
Step 2 - Simmer Ingredients:
Stir in the tomato puree, chopped tomatoes, drained chickpeas, and orzo pasta into the pot.
Increase the heat and bring the mixture to a boil, then reduce the heat to medium/low.
Simmer the mixture uncovered for 6-8 minutes, allowing the flavors to meld and the orzo to cook to your desired tenderness.
Step 3 - Finish and Serve:
Add an additional tablespoon of oil to the pot.
Drizzle the remaining basil pesto over the soup and stir gently to combine.
Once fully cooked, ladle the soup into bowls and serve with crusty bread for a satisfying meal.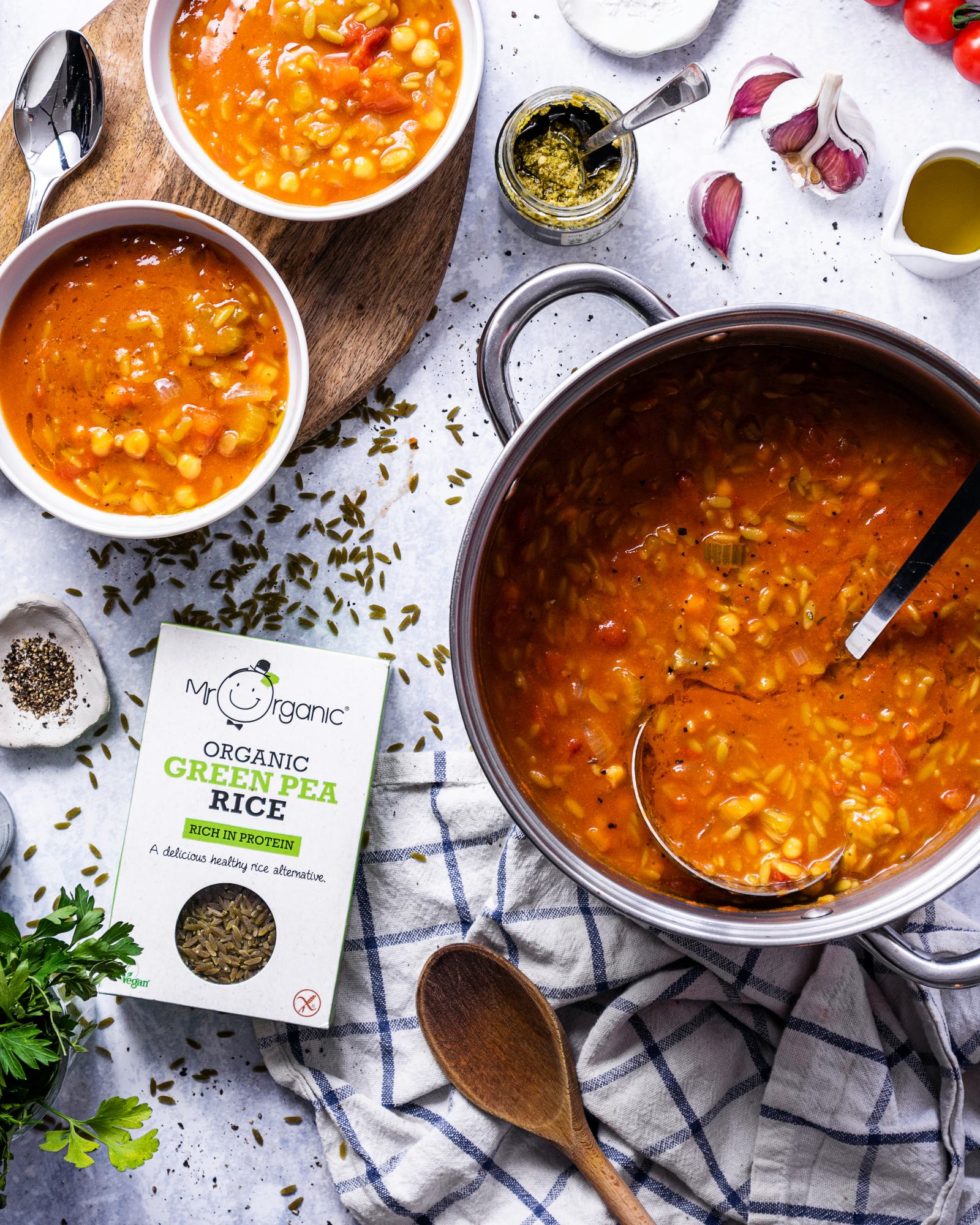 How To Serve
Garnish each bowl with a fresh basil leaf or a sprinkle of chopped parsley for added freshness and color. Consider topping the soup with a dollop of vegan sour cream or a swirl of dairy-free yogurt for extra creaminess.
Serve the soup with a side of garlic bread, toasted croutons, or a mixed greens salad for a more substantial meal.
Storing Leftovers
Allow the soup to cool completely before transferring it to an airtight container or individual meal prep containers.
Store leftovers in the refrigerator for up to 3-4 days. Ensure it's stored in a sealed container to maintain freshness.
Freezing
For longer storage, the soup can be frozen. Portion it into freezer-safe containers or resealable bags, leaving some room for expansion, and freeze for up to 2-3 months.
Reheating
When reheating, gently warm the soup on the stovetop over low to medium heat, stirring occasionally. If it thickens too much upon reheating, you can add a splash of vegetable broth or water to adjust the consistency.
📌 If you love Pinterest you can pin any of the images to your boards!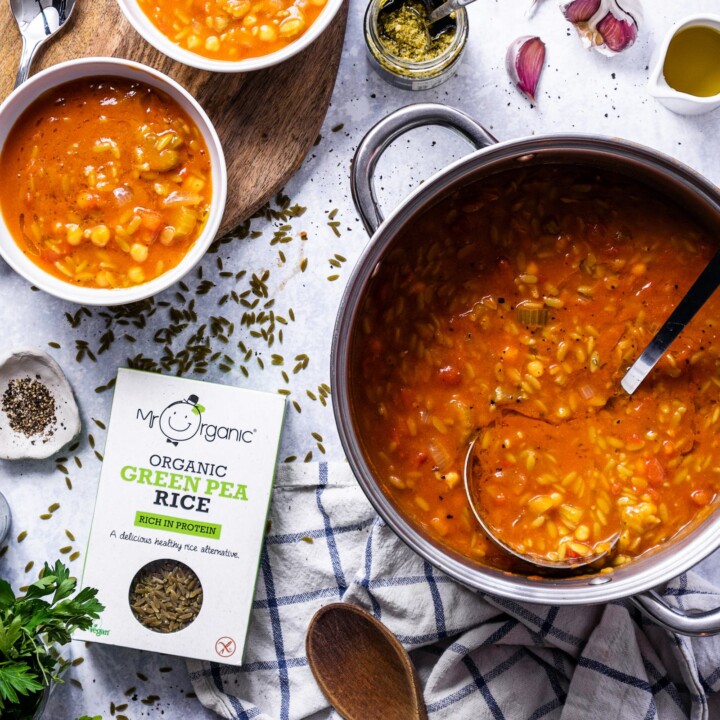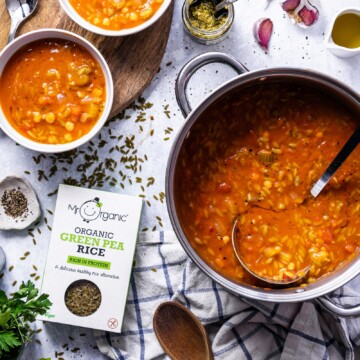 Vegan Orzo Soup
Enjoy vegan comfort with this hearty Vegan Orzo Soup - wholesome, easy, and packed with nourishing flavors. Perfect cozy meal for cold days!
Ingredients
2

tbsp

olive oil

1

large onion

finely chopped

2

celery sticks

diced

3

garlic cloves

minced or grated

2

tbsp

tomato puree

1

can

chopped tomatoes (400 g, 14 oz)

1

can

cooked chickpeas (14 oz or 400g; 240g - drained weight)

drained and rinsed

1

cup

dry orzo pasta (150 g)

regular or gluten-free

4

cups

vegetable stock (roughly (700 ml)

vegan-friendly

2

tbsp

vegan basil pesto

optional

Salt and pepper

to taste
Instructions
Heat 2 tablespoons of olive oil in a large pot over medium-high heat. Add finely chopped onion and diced celery. Sauté for about 10 minutes until they soften. Stir occasionally.

Drop minced garlic into the pot and cook for an additional minute until fragrant. Add tomato puree, chopped tomatoes, and drained chickpeas. Mix everything together.

Next, add in the dry orzo pasta and stir to mix it in.

Pour in the vegetable stock, then increase the heat and bring the mixture to a boil. Once boiling, reduce the heat to medium-low and let it simmer for 6-8 minutes.

Season to taste with salt and pepper. Let the soup simmer for 5 minutes more, allowing the flavors to meld together.

Ladle the flavorful Vegan Orzo Soup into bowls. Garnish with fresh herbs, a drizzle of olive oil, and a drizzle of vegan basil pesto, if desired. Serve warm with crusty bread for a comforting and satisfying meal!
Looking for more delicious vegan dinner recipes? Why not try some of these:
*Disclosure: This page may contain affiliate links and sponsored links that earn me a small commission, at no additional cost to you. You can find more information in my Privacy Policy.
 © Romy London / Romina Callwitz | All images and content are copyright protected. Please do not use my images and content without permission. If you wish to re-publish any recipes or images, please get in touch via email. Thanks for your support!