This month we're officially kicking off BBQ season with this delicious recipe for Grilled Stuffed Chick'n Rolls! The base for this recipe is created with Seitan and tofu, so it's super high in protein - and the rolls are stuffed with a combination of vegan ham slices, vegan cheeze and fresh basil leaves, all in all, a delicious Mediterranean flavour!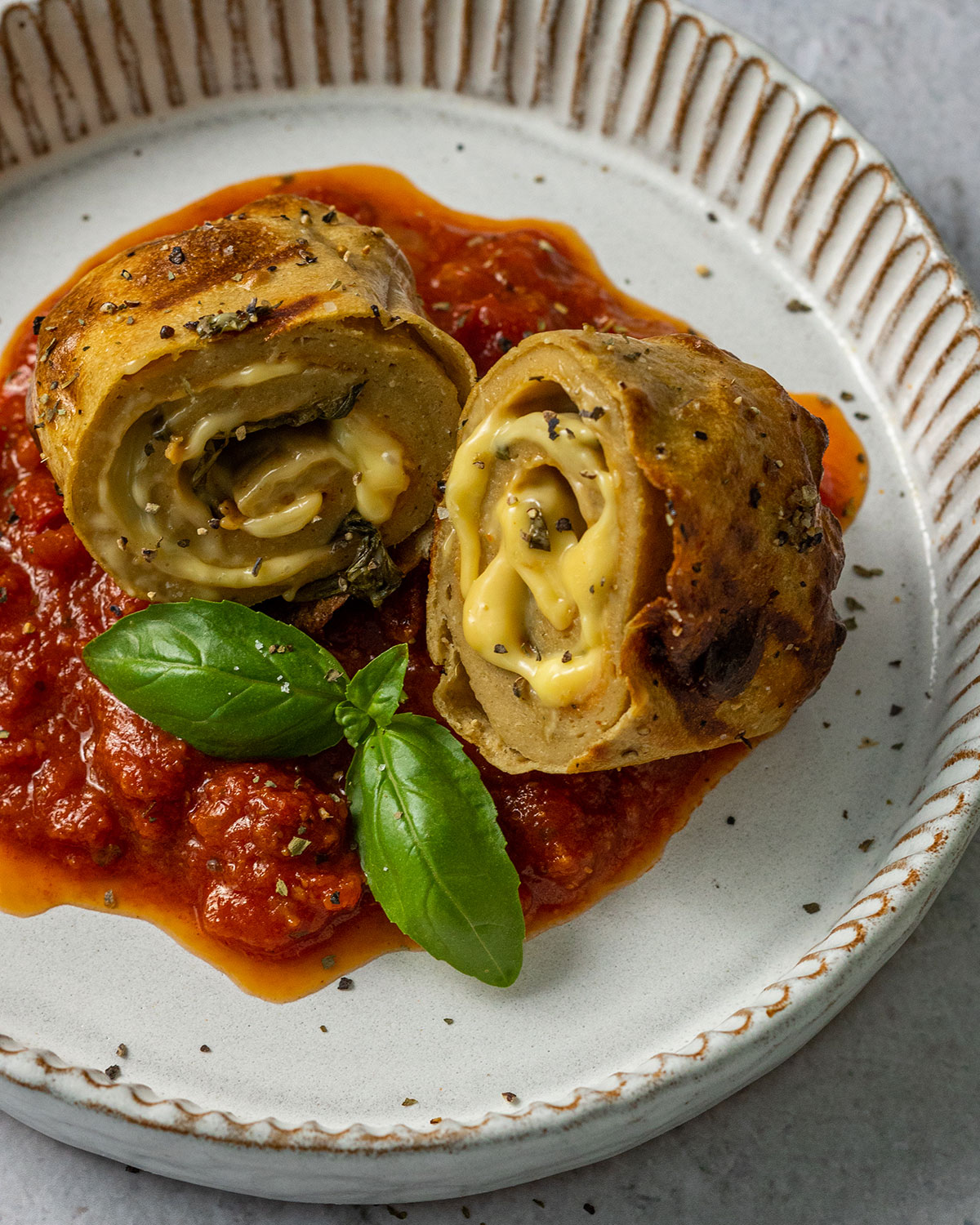 This recipe has been inspired by Italian-style chicken involtini, but re-invented with vegan ingredients and perfect for the grill!
The steps for the recipe are actually pretty simple, but as the Seitan needs to steam for an hour, it can be somewhat time-intense to make. The great news is, that the recipe can be easily made ahead of time! Next time you're planning a BBQ party, simply make the Seitan in advance and allow for it to cool completely after the steaming process. You can keep it in the fridge for up to 5 days or in the freezer for up to 3 months - but ensure to thaw it at room temperature for 2 hrs first in case you're freezing it.
Serve this recipe alongside your favourite BBQ goodies, fresh salads or in combination with a delicious tomato sauce - all options are welcome!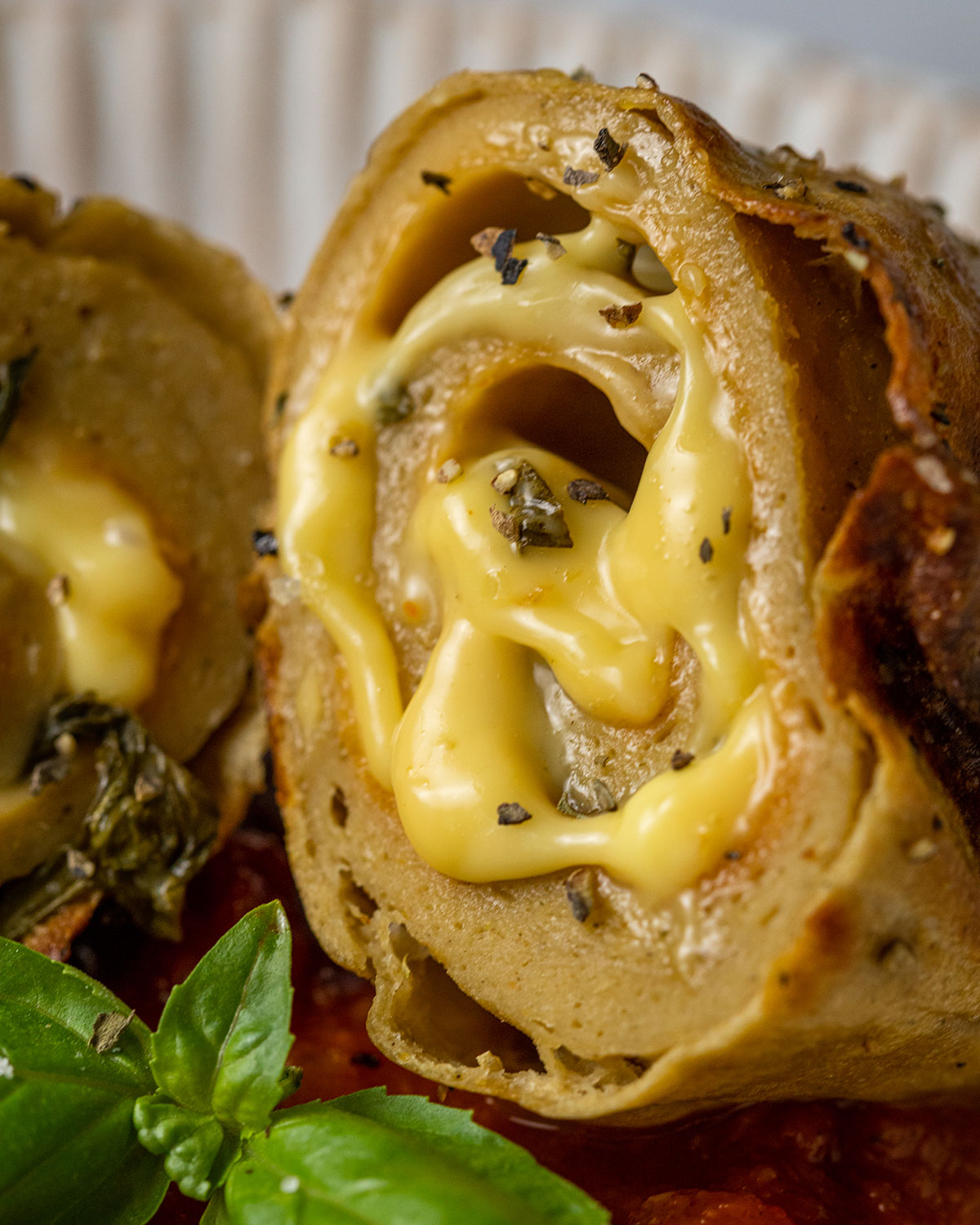 This recipe is:
100% vegan (as everything on the blog!)
high in protein
egg-free
dairy-free
super cheesy
easy to make
perfect for the BBQ, but also great pan-fried!
really delicious
full of Mediterranean flavours!
📌 If you love Pinterest you can pin any of the images to your boards!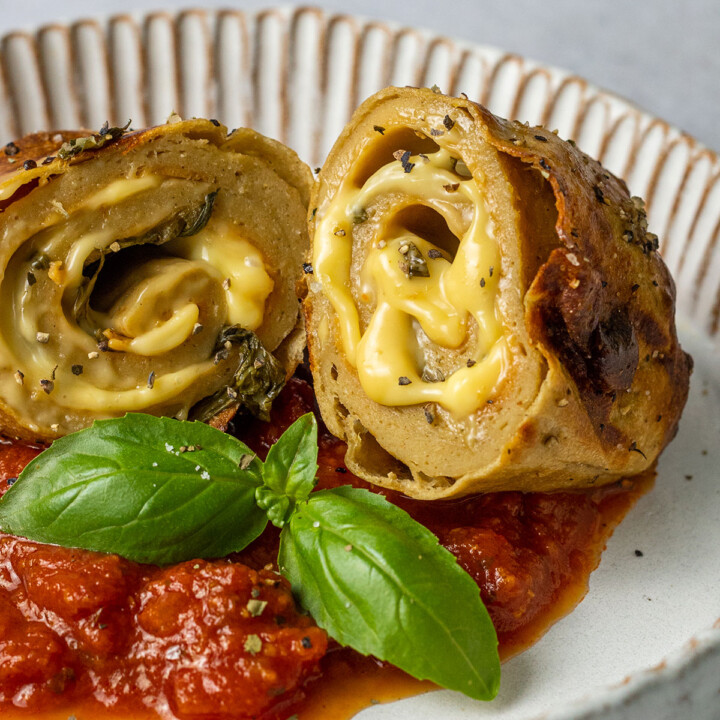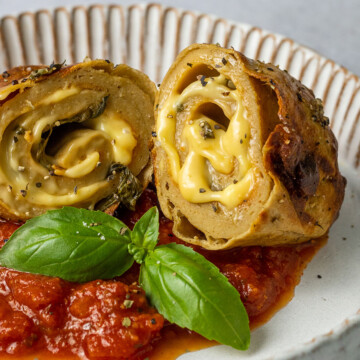 Vegan Stuffed Chicken Rolls
Delicious vegan chick'n style rolls filled with vegan ham, cheese and fresh basil - perfect for the next BBQ!
Equipment
1 food processor

1 large bowl
Ingredients
Wet ingredients:
350

g

soft silken tofu

1

can of chickpeas (400 g)

unsalted

2

tbsp

tamari soy sauce

1

tbsp

olive oil
Dry ingredients:
60

g

chickpea flour

20

g

nutritional yeast

1/2

tsp

white pepper

2

tsp

onion powder

1/2

tsp

garlic powder

1

tbsp

vegan-friendly poultry seasoning

optional

280

g

vital wheat gluten
For the filling:
vegan ham slices

vegan cheese slices

fresh basil leaves
Other:
oil for brushing

tomato sauce to serve
Instructions
In a food processor, combine all the wet ingredients until smooth. Swap to a dough hook or transfer the mix to a large mixing bowl, then sprinkle in the dry mixture and mix until you get a firm dough ball.

Lightly flour a surface with a little extra vital wheat gluten and knead the dough for 2 minutes. Use a rolling pin to roll the dough into a roughly 30cm x 40cm rectangle.

Use a knife or pizza cutter to cut the rectangle along the center lengthwise, then cut horizontally into 5 strips. Gently roll each strip individually with the rolling pin to stretch them out further, then place vegan ham slices onto each strip, followed by vegan cheeze and fresh basil leaves. Leave about 1 cm empty around the edges.

Carefully roll up each strip and squeeze the Seitan pieces together to seal each end and the sides. Brush in olive oil, then cover each roll in baking parchment and tightly wrap them in aluminium foil.

Steam the little parcels over boiling water for 1 hour, then allow for them to cool down for 30 minutes and gently unwrap them.

Brush each roll with olive oil, season with salt and pepper and place it onto the hot grill. BBQ until golden, and serve the rolls alongside a delicious tomato sauce & fresh basil or your favourite BBQ additions.
 © Romy London / Romina Callwitz | All images and content are copyright protected. Please do not use my images and content without permission. If you wish to re-publish any recipes or images, please get in touch via email. Thanks for your support!