Hello everyone,
Another week, another blog post?
Well yes! As promised I'm bringing you some vegan keto friendly recipes this week that I have tried out during my Keto time so far and have come to like.
It took me a while to adjust to this change in my diet, but as they say: everything becomes a habit after 21 days. So it also worked for me.
After 5 weeks of Keto I feel very much adjusted to this low-carb alternative diet and don't even feel the need to eat a huge plate or pasta.
My skin has also become much better since I have not been eating any refined sugar and hardly any fruit sugar. My vitamins I am still getting as every morning I eat 50g frozen berries within my breakfast and I am also eating plenty of greens such as kale, spinach,rocket salad and watercress.
The keto diet also helped me regulate my portion size. As previously mentioned in my last blog post, I have been counting my calories since the beginning,which might sound tedious, but it actually helped me to get a better understanding for correct portion size without over or under eating. It also made me realise calorie relations between different foods and helped me prioritize what I want to eat to feel properly satisfied without going over my macros.
But well, enough keto talk – how about some recipes now?!
1. My favourite keto breakfast
Within my first week of keto I tried to stick to savoury breakfasts, thinking that anything even remotely sweet would have too many fruit sugars and therefore a high carb content.
After researching on day 7 I realised that I had been way more strict with the car vs than I needed to be and that I actually only should count net carbs (see my last blog post for more information about net carbs).
Berries such as strawberries and raspberries are very low in carbs and actually fit perfectly into a keto diet, when consumed in small amounts.
As a sweet-breakfast loving person my pre-keto breakfast mainly consisted of cereal, porridge, granola and other toppings – so switching to savoury morning meals turned out to be rather difficult for me. I also was absolutely over tofu scramble after day 6! I therefore decided to consume the main part of my carbs for breakfast and keeping the carbs for the rest of my daily meals at a minimum.
This turned out to work really well for me and I have to admit that I absolutely came to love this breakfast combination:
– 50g frozen berries (strawberry, raspberry, blueberry, blackberry – or a mix of them)
– 200g alpro soy yogurt with coconut (or plain)
– 1/2 tsp cinnamon
– optional 1/4 tsp stevia (if you like it extra sweet)
– 30g Pip&Nut almond & coconut butter (a dream!)
– 1 tsp cacao nibs
Very simple:
1. Add the frozen berries, cinnamon and Stevia to a large container and add the yogurt on top.
2. Using a stick blender combine all ingredients. I figured a stick blender works best for me as it is quite a small amount for a regular blender size.
3. Add to a bowl, top with the almond & coconut butter and cacao and voila: breakfast is served!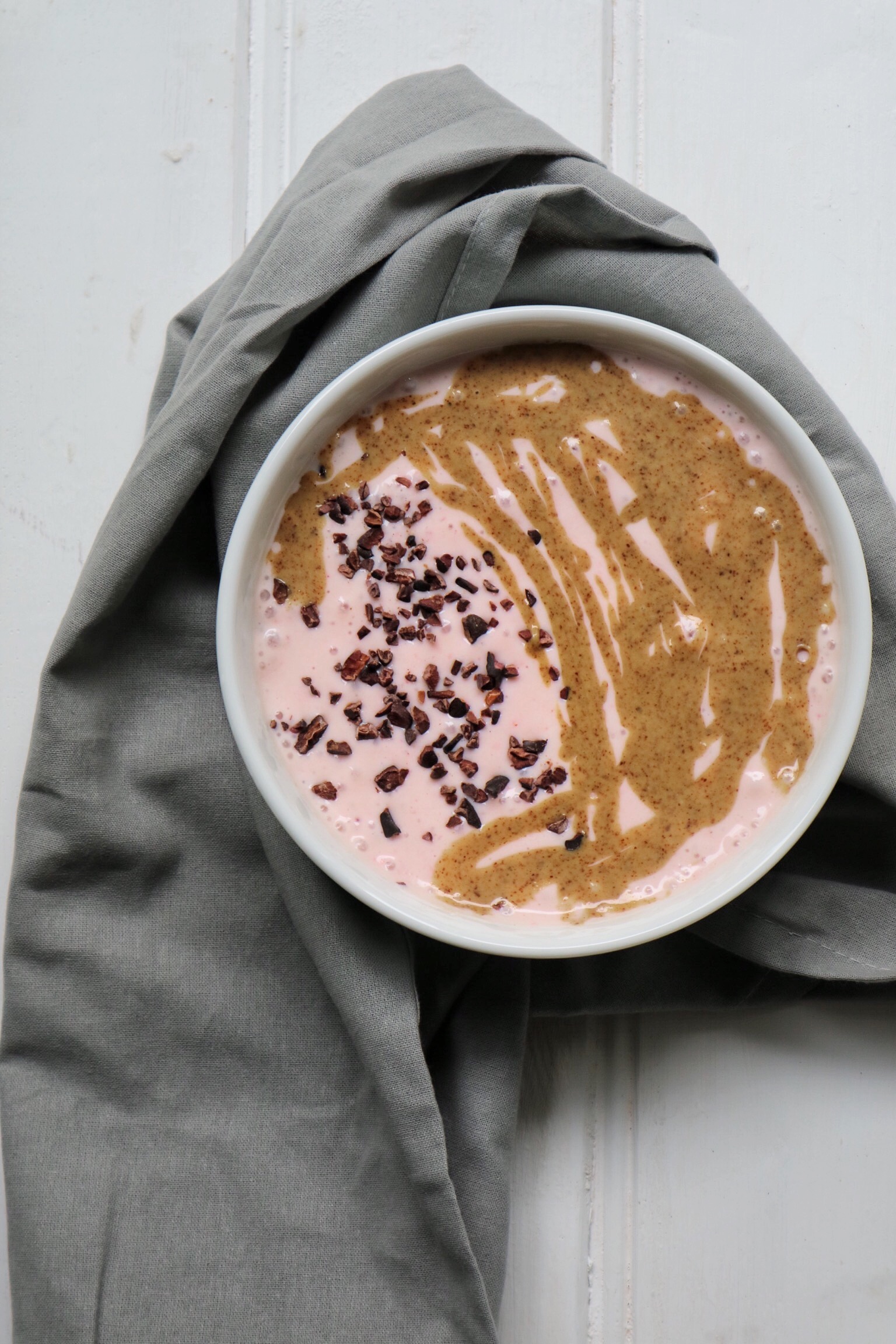 2. A basic: vegan keto crackers
I very quickly realised that most of my meals mainly consist of 'soft' foods, such as salads, sauces, dips etc. and I was missing something crunchy, a little snack in between. So I went on a mission to create a vegan keto-friendly cracker version, which is savoury and perfect for topping or dipping (especially into the Mr Organic Grilled Aubergine Add In!)
This cracker version is high in fats, and mainly consisting of soy flour, seeds and oils.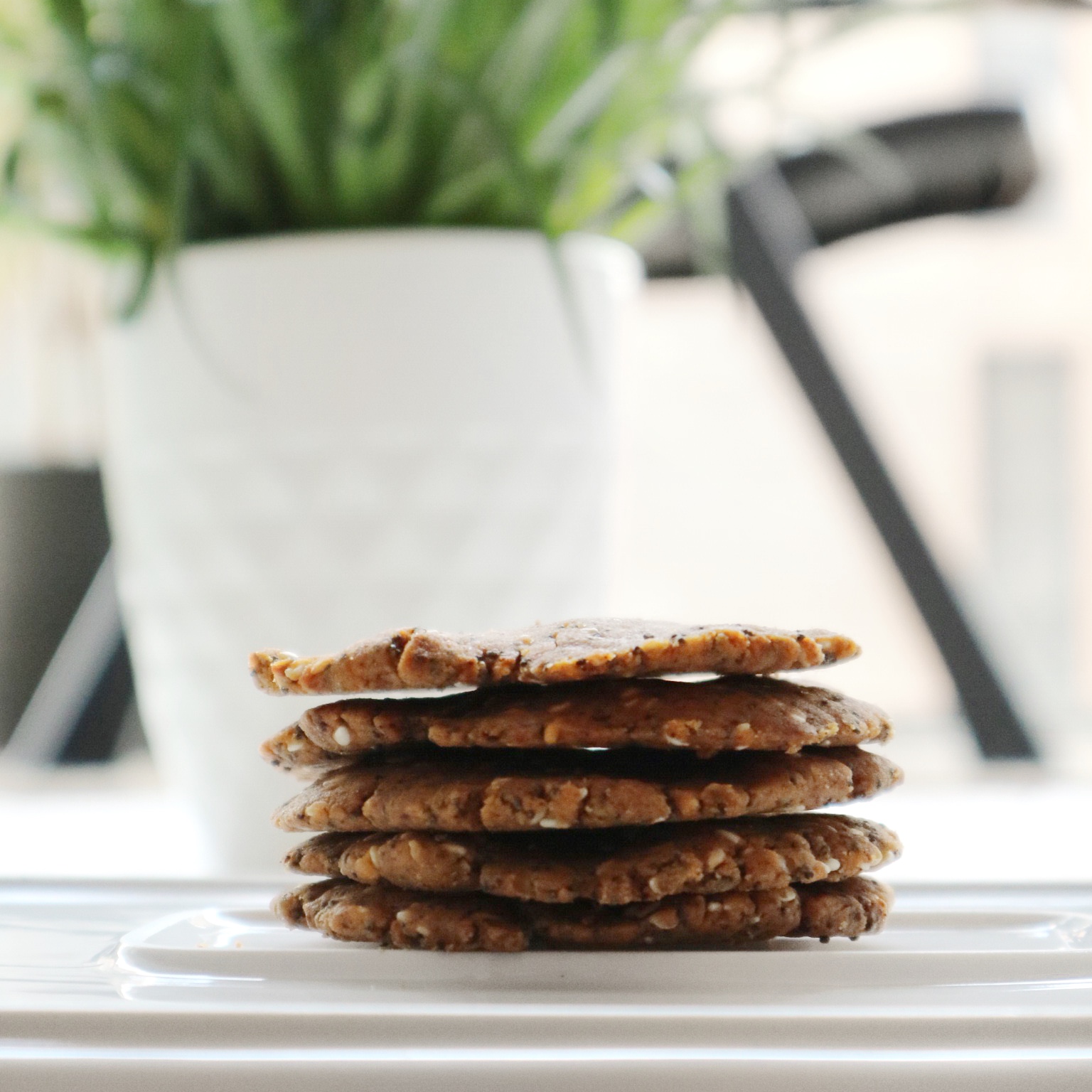 Ingredients:
100g soy flour
20g sesame seeds
20g poppy seeds
3Tbsp Extra Virgin Olive Oil or melted vegan butter
salt, pepper, garlic powder & paprike powder to taste
Makes about 13 crackers, each cracker will then have 1g carbs, 6g fats and 4.6g protein
Again – very simple:
1. Combine the dry ingredients and melt the vegan butter (if not using oil)
2. Combine everything, then form into small balls.
3. Lightly oil a baking tray (I prefer this to using baking paper, as it is much more non-stick!), then press the dough balls between your palms to form a round(ish) thinner cracker. You should aim for about 3-5mm thickness as the cracker can otherwise break to easily if made too thin.
4. Bake at 175 degrees for about 30 minutes.
5. Take the crackers out of the oven and let them cool completely before removing them from the tray.
3. Cauliflower steak
A classic! And super-tasty on top. What more can you ask for?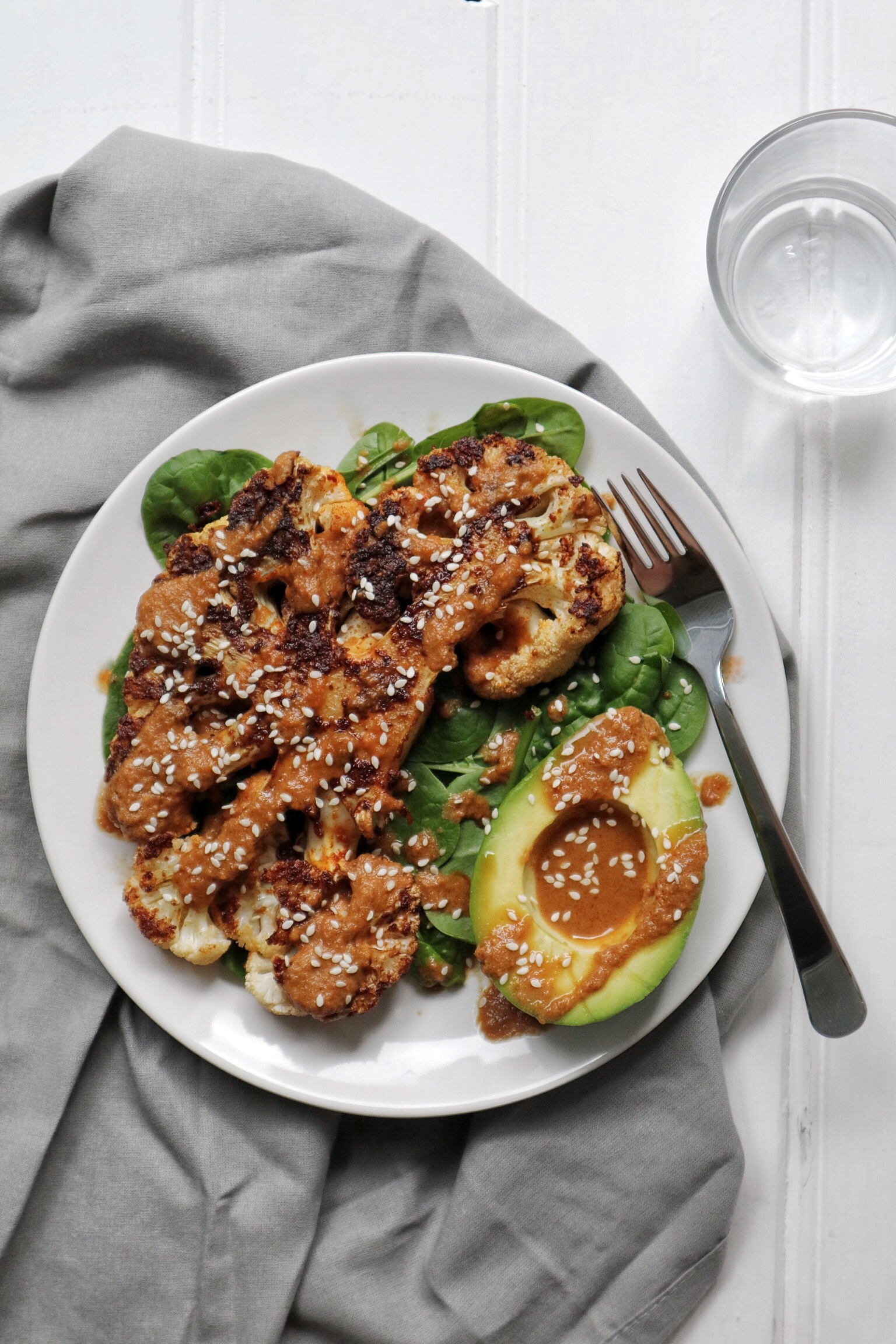 Ingredients:
– 1 medium sized cauliflower
– 2 Tbsp soy sauce
– 1 tsp liquid smoke
– 1/4 tsp pepper
– 2 Tbsp peanut flour
– 1 1/2 Tbsp peanut butter
– 1 tsp soy sauce (for the sauce)
– salt, pepper to taste
– 1/4 tsp ginger powder
– 1 tsp lemon juice
– cold water
– optional: Sriracha or Hot Sauce
– optional: sesame seeds for topping
Simply wash your cauliflower, then starting from the middle, slice the cauliflower in 1cm thick 'steaks'. The outer parts of the cauliflower cannot be used for the steak as you will see that the florets will fall apart after cutting the middle stems – but hey: the outer parts can be used perfectly for cauliflower rice (Have a look at the next recipe below!)
Create a light marinade for the cauliflower using soy sauce, liquid smoke and pepper. Add the steak to a shallow dish to rest it in the marinade for at least 30 minutes.
Once the time has elapsed, roll the steak in the peanut flour, then fry the steak in some olive oil, until browning on both sides.
To create the sauce combine peanut butter, soy sauce, (optional: hot sauce), salt, pepper, ginger powder, lemon juice and a little water with a whisk. Add the water slowly to this mixture whilst whisking and ensure that the sauce remains thick and does not become to watery. Adjust water amount accordingly.
Drizzle the peanut sauce across your steak and top with sesame seeds for a little healthy extra fats and a crunch. Enjoy!
4. Cauliflower 'Egg' fried 'rice
Perfect if you've either just created a cauliflower steak the day before, or if you simply want to create an easy filling lunch time dish.
Ingredients:
1 medium sized head of cauliflower
1 Tbsp olive oil
100g Vegan Egg (from Follow Your Heart)
1 pinch of garlic powder
salt, pepper, paprika powder to taste
Optional: Sriracha
Cut the cauliflower into small florets, then steam over boiling water for about 10-15 minutes or until softening.
Add 2-3 florets at a time to a food processor and pulse until the consistency resembled a flaky rice.
Remove the cauliflower rice from the blender before adding the next florets.
In a large pan heat some olive oil and add a pinch of garlic powder. Prepare the vegan egg according to packaging instructions and add to the hot pan. Immediately start to scramble. After 5 minutes scrambling/cooking time, add your cauliflower rice and keep scrambling the pan mixture until the vegan egg has firmed.
Add salt, pepper and paprika powder to taste. If you like it tangy, add a good splash of Sriracha!
Enjoy!
Want more keto-friendly recipes? Let me know in the comments section below – I'll happily share some more vegan keto recipe creations!