These delicious Vegan Singapore Inspired Noodles are the perfect exotic dinner for your tastebuds!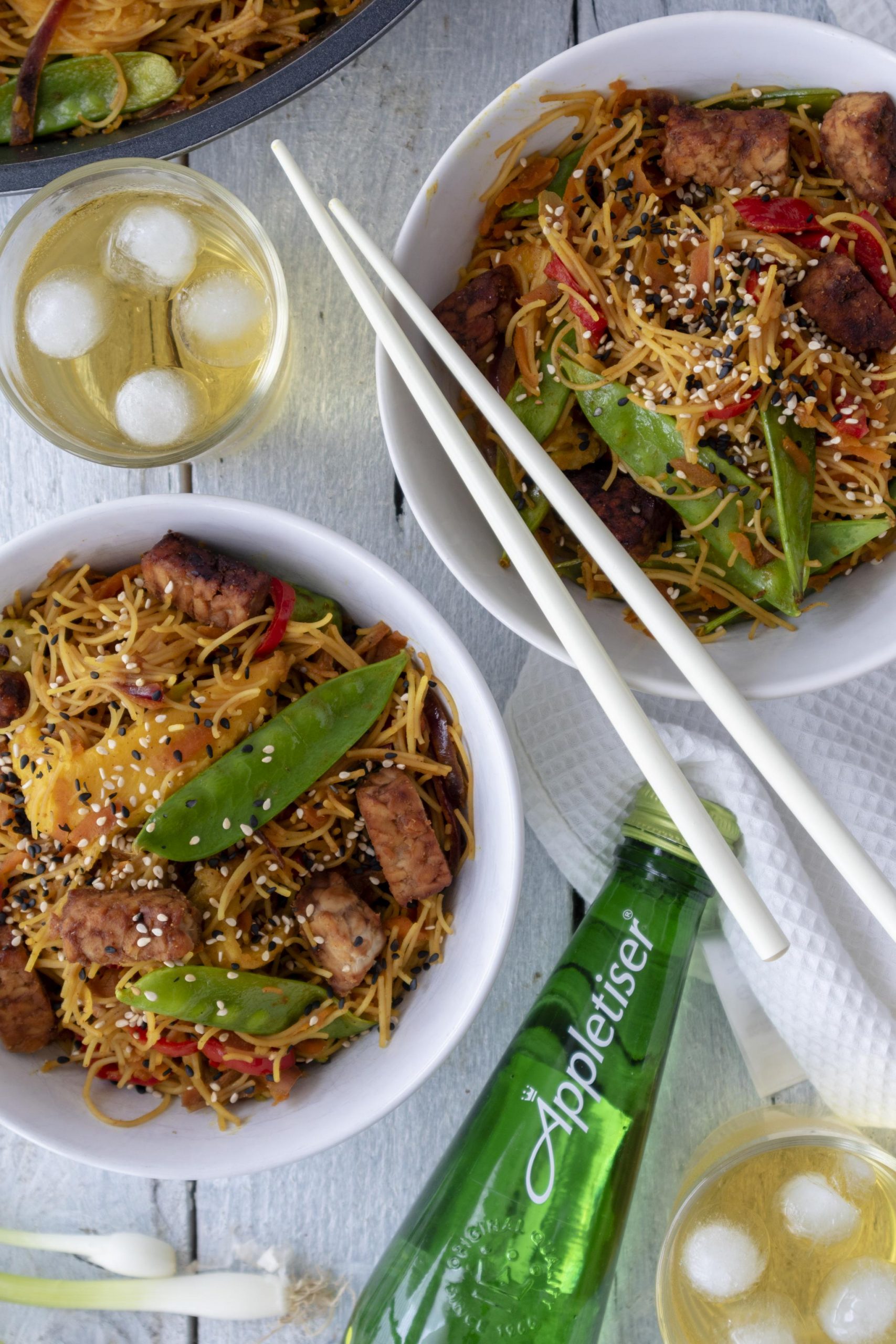 Singapore is calling! And yes, this does not only refer to this Delicious Vegan Singapore Inspired Noodles Recipe you've clicked on here (cause that is definitely calling my name) but this time it's literally calling: I'm going to Singapore!
I couldn't be more excited! As you may have read in my previous post about 'Fernweh', this is a very special trip for me to go on, probably a once-in-a-lifetime opportunity – and the excitement is already giving me sleepless nights.
This trip has actually been planned a year in advance – I can't believe the past year has gone by so quickly and now I am literally about to board the plane taking me to the beautiful place that is Singapore (at least I assume it's beautiful, I've seen lots of pictures 😉)
On that note – if you know of anything I should definitely check out whilst I'm there, or have any advice on Netflix shows to watch on the 13 hrs flight, send me a message 😉
One thing I am definitely looking forward to is all the vegan food there is to try. I've actually never been that knowledgeable with Singaporean food – simply as my Mum mainly cooked German & Italian at home and I've never been to a Singaporean restaurant (are there any good ones in London?). I have however seen these Singapore Inspired noodles before though I can't remember clearly where it was – I browse the internet a lot after all.
Traditionally Singapore noodles fall under the stir fry category. They are created with curried rice noodles, scrambled eggs, shrimp, pork (or other meat) and vegetables – so not very vegan friendly in its traditional form. After some research online I found out that nobody actually seems to be sure how the recipe originally was developed, or whether it actually came from Singapore originally.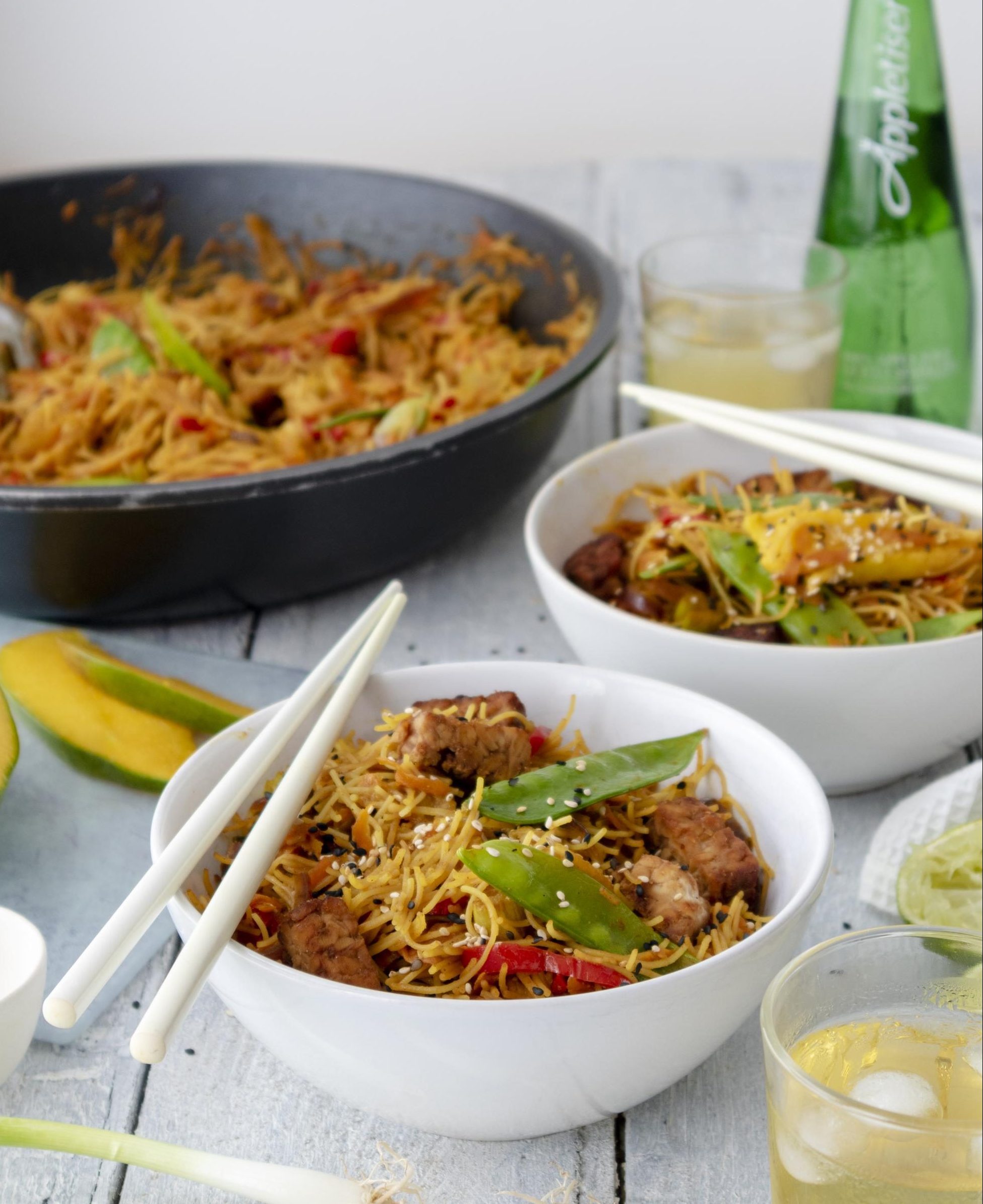 However, seeing how wonderful and vibrant the recipe is, I was intrigued to get my own take on it and create a tasty & healthy vegan version myself!
As you will see from the recipe below, I have added fresh mango to this dish – the freshness and natural sweetness complement the traditional flavours of the Singapore noodles. It was a perfect addition that made the recipe even more exciting and also added some healthy 1-of-your-5-a-day to this dish.
I love getting in some extra vitamins where possible in my dishes – especially when the dishes turn out so delicious! It makes my 5-a-day definitely a special experience and I like to make sure that the drinks alongside my dishes also go along with this concept. This makes Appletiser a #PerfectPairing with this tasty dish – adding another 1-of-your-5 and refreshing sparkle to the dish without any unnecessary sugar.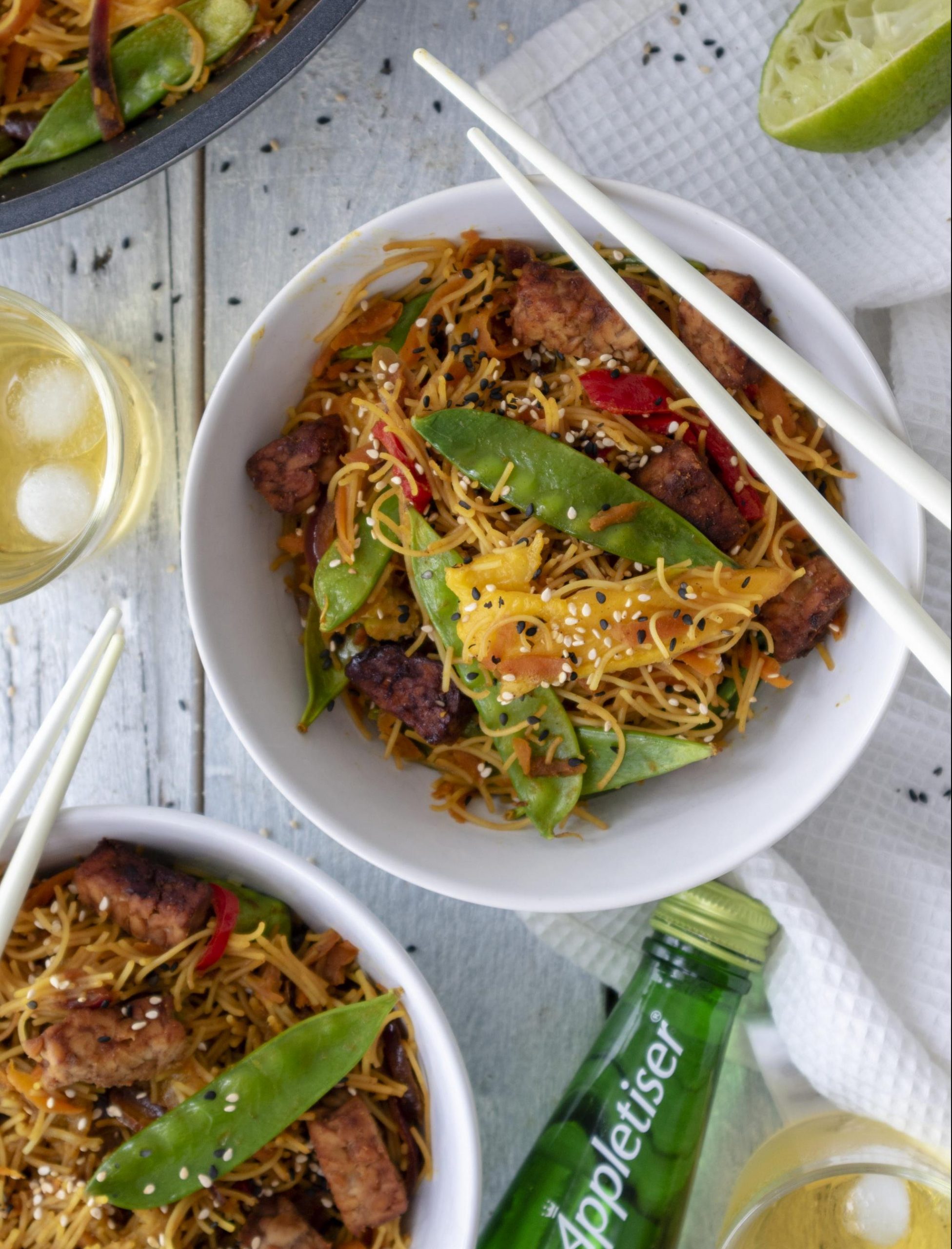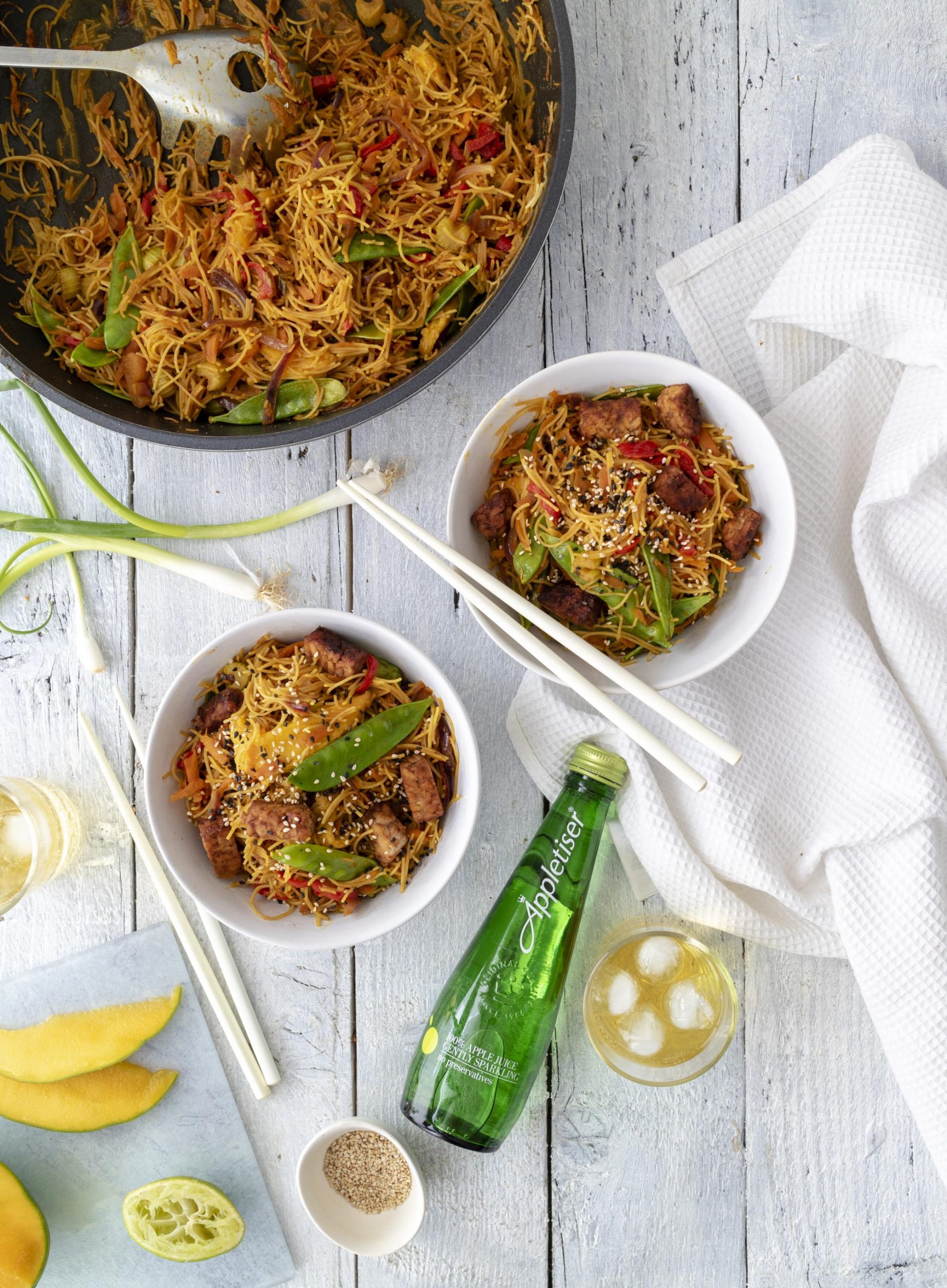 What you'll need to make these Vegan Singapore Inspired Noodles
Tempeh is a vital ingredient in my version of this classic Asian dish – and I don't see it as a replacement for meat, but simply to add some delicious texture to the veggies & noodles.
Some other ingredients you will need for this recipe:
Toasted sesame oil
Shallots
Red bell peppers
Carrots
Mangetout (or sugar snap peas)
Tamari Soy Sauce
Curry powder
Mango
Garlic
Lime juice
Tempeh
Olive oil
Recipe preparation
To create the recipe, simply start by preparing your ingredients: chopping up the shallot and bell pepper, then wash, peel & shred the carrots so you have all ingredients ready to go.
Cut the Tempeh into bite-size chunks. Create a marinade for the tempeh by combining. the minced garlic, liquid smoke, tamari and olive oil and marinate the tempeh for about 15 minutes.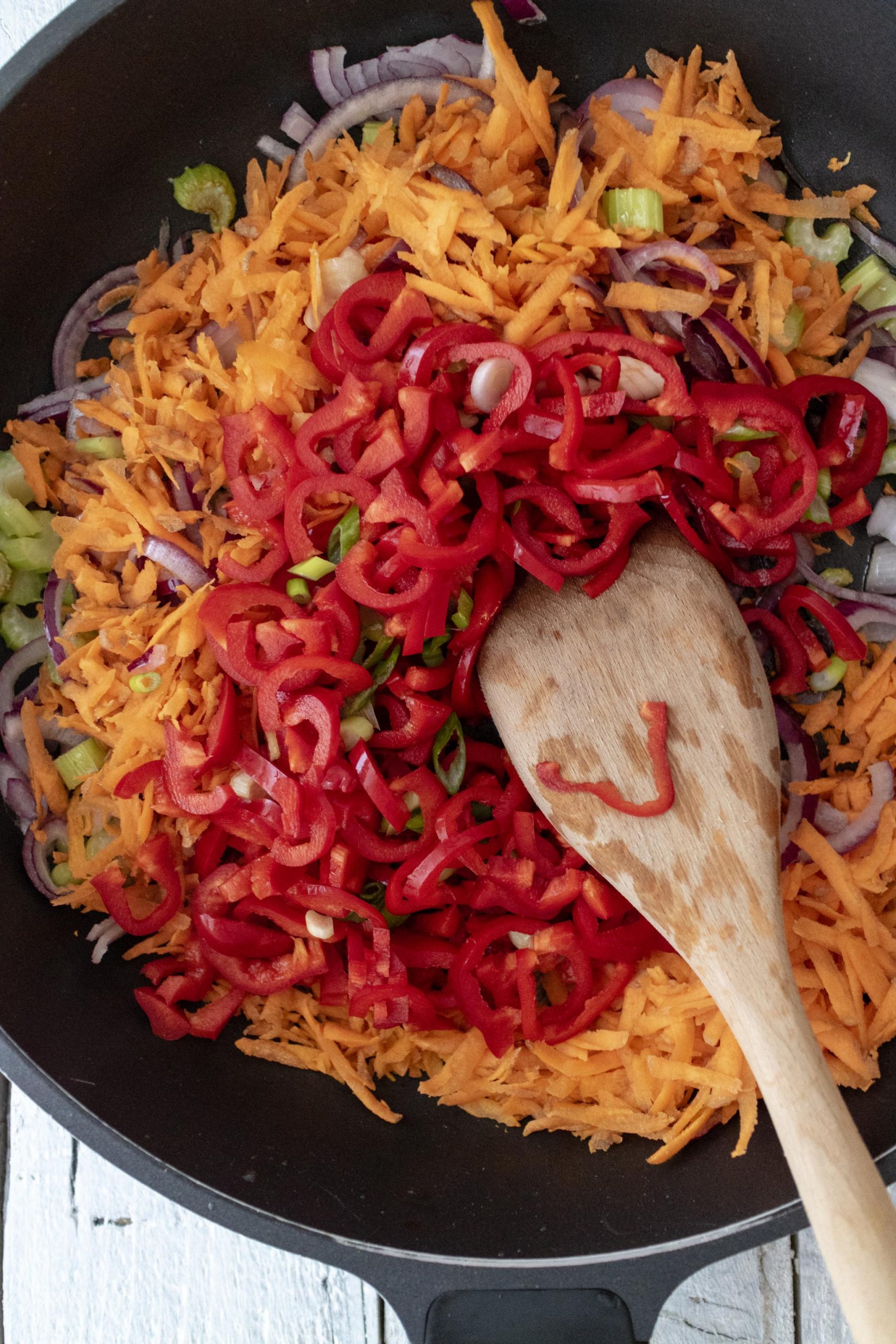 How to make Vegan Singapore Inspired Noodles
Add the tempeh & its marinade to a medium-sized pan to fry. In a separate large pan, heat the toasted sesame oil & chopped shallot until tender and translucent. Put on the kettle in the meantime and place the rice vermicelli in a large bowl. When boiling, cover the vermicelli with the hot water and let them soak for 2 minutes, then drain the water.
Add the sliced bell pepper to the pan with the shallot and cook for about 2 minutes before you add the shredded carrot. Mix everything in the pan and drizzle in the tamari. Add the mange-tout and the rice vermicelli, sprinkle in the curry powder and gently coat the ingredients with the curry in the pan. Reduce the heat to medium-low, then add in the peeled mango slices.
In a small bowl, combine the sauce ingredients and pour over the sauce into the pan. Lastly, add the tempeh and sprinkle with sesame seeds and sriracha (optional)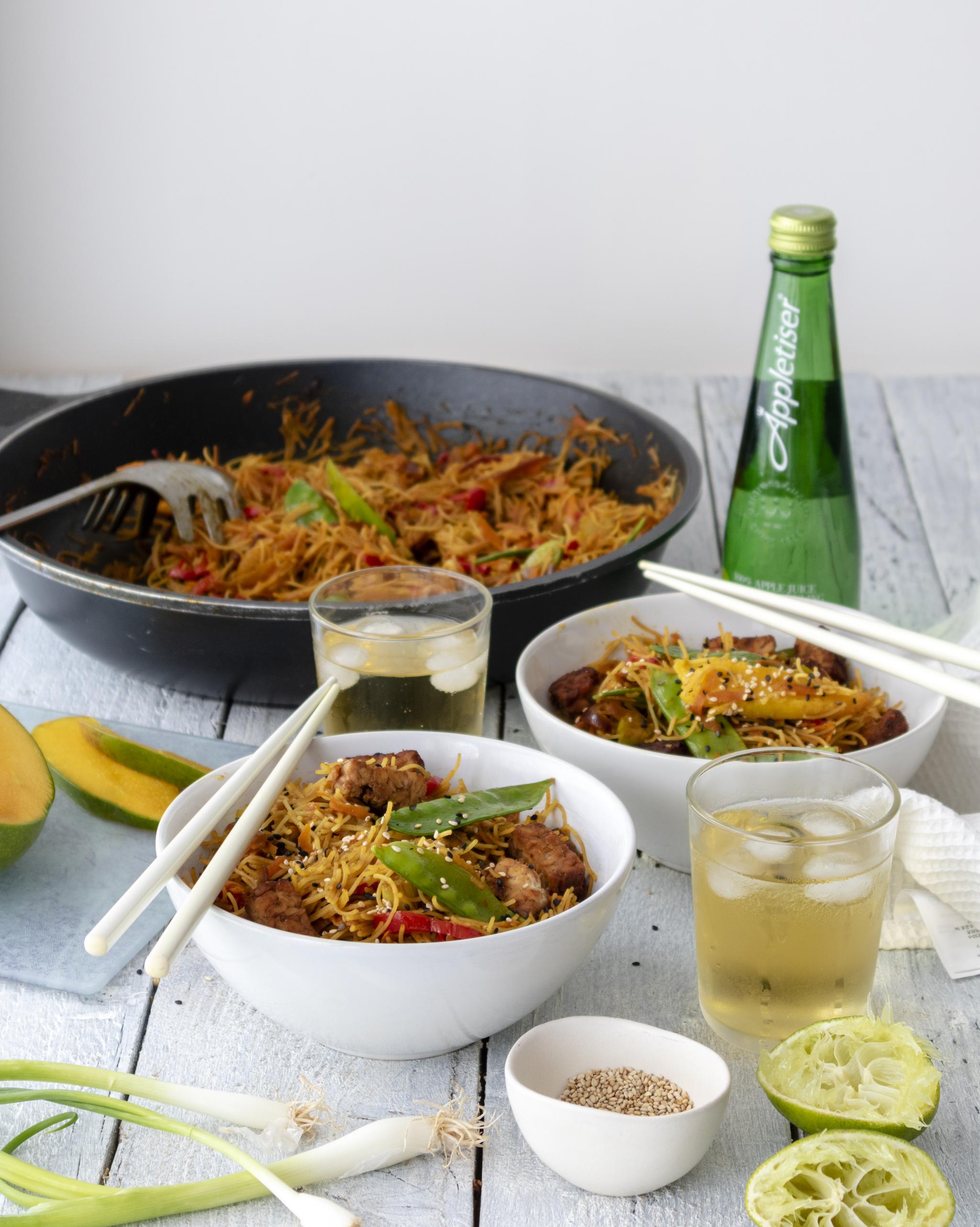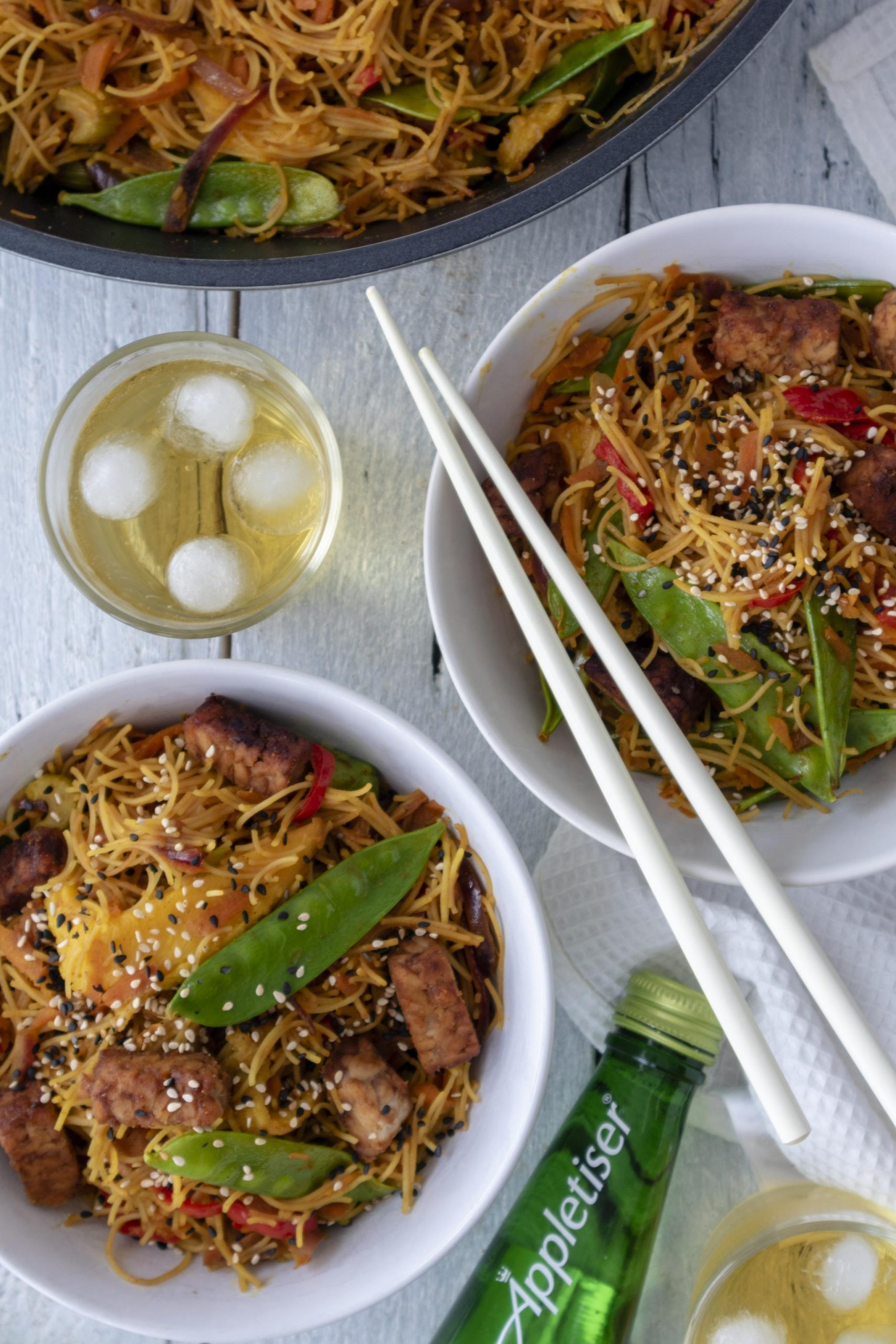 This recipe is:
vegan
gluten free
full of flavour
loaded with fruits & veggies
more-ish
perfect for meal prep
a delicious vegan meal
super tasty!
If you enjoyed cooking (and eating!) this meal then you'll love these: