I definitely love coming up with keto ways to satisfy my food cravings- and pancakes are definitely at the top of the list! They're one of my favourite Sunday morning breakfasts – right up there with French Toast, but that's still a high-carby dish that's waiting to be ketonised, and I'll happily leave that challenge to the next person 😉
But with pancakes I was convinced that it should be possible with a few replacements from my regular pancake recipe, so I got onto testing a few recipes and ingredients andended up with this version of keto friendly pancakes!
Of course as net carbs and actual nutritional information depends on the individual products that you're using, I am leaving these out here, but I am sure I don't need to remind you to calculate the net carbs for your individual products 😉
The pancakes turned out very fluffy actually which I absolutely loved, but be aware that without the flour they won't hold together as well as they otherwise would, so be careful when flipping them in the pan.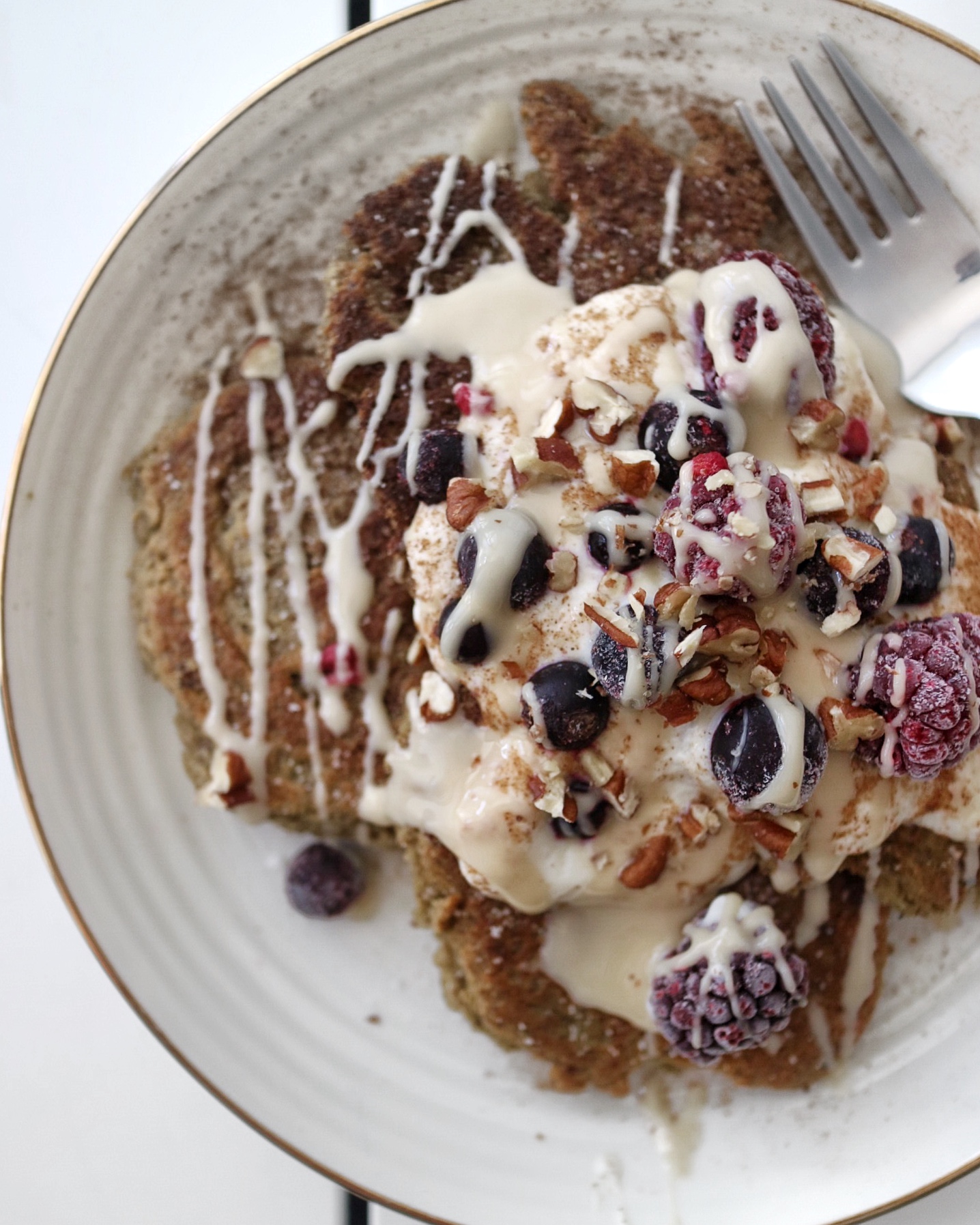 Ingredients
1/3 cup protein powder (I used VEGA Vanilla protein powder)
1/3 cup ground flaxseeds
1/3 cup plant-based milk
1/4 tsp baking soda
1/3 cup yogurt
Method:
1. Simply blend all ingredients apart from the yogurt until well combined.
2. Let the dough rest for 15 minutes, then add the yogurt in last and mix well. Let it rest for another 10 minutes before continuing.
3. Heat your pan over medium to high heat and add a spoon of coconut oil to the pan. Add a tablespoon of dough to the pan for each pancake and cook them in batches to avoid then sticking together.
4. Assemble the pancakes on a plate and add your favourite toppings: I absolutely love almond butter or coconut yogurt (sometimes both!) and sesame or hemp seeds can add a nice little crunch! And so do toasted pecans… yum!
If you like to add fruit, then berries would be the most suitable as they are very low in carbs compared to other fruits (double check only if you're on keto or low carb of course)
5. – and most importantly: enjoy!