As crazy as it sounds – but yes, Mac n Cheese can be made keto… and vegan!
The important part hereby is to simply replace the macaroni with zero carb noodles. These don't add any particular nutritional benefit to your meal in itself but they help creating a well known comfort dish in keto version (& vegan of course, but I don't think I have to keep mentioning this, after all everything on this website is vegan ;))
They also help to keep you feeling satisfied after your dish, so they're perfect to re-creayte this classical dish on keto basis.
Important: for the flavour of this dish it's vital that you use Extra Virgin Coconut Oil – this version tastes less coconut-ty than the non-virgin version – and unless you like your mac with coconut, I'd recommend making sure 😉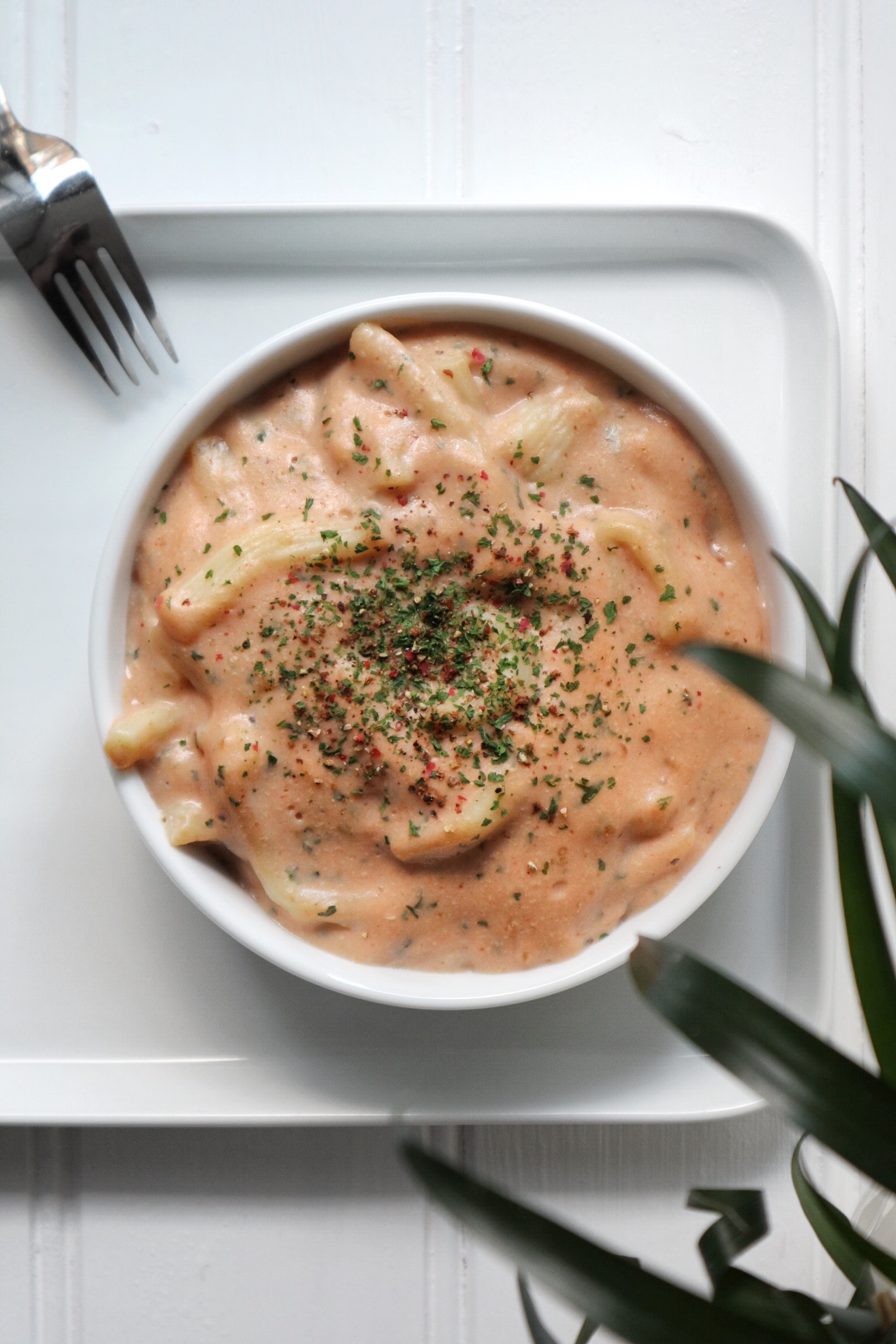 Ingredients
– 1 pack of macaroni style zero carb noodles (I used Slim Pasta Penne)
For the cheese sauce:
– 1 cup soy milk
– 1-2 tbsp tapioca starch
– 3 tbsp nutritional yeast
– 1 tsp salt
– 1/2 tsp onion powder
– 1/4 tsp garlic powder
– 1/2 tsp mustard powder
– 1 tbsp tomato paste
– 1/2 cup coconut oil
Method:
1. Prepare the pasta according to packaging instructions.
2. Add the rest of the ingredients apart from the coconut oil to a saucepan and heat up on a medium heat whilst whisking to combine.
3. Once everything starts to bubble & thicken, remove the sauce from the heat and add in the coconut oil.
4. Heat it up again on the stove until the mix is thickening, then reduce the heat to a minimum and stir in the pasta.
5. Serve & top with some salt & pepper and you're ready to enjoy!
As an optional finish you can also transfer the Mac & Cheese to an oven proof dish and bake in the oven until the crust is crispy – if you like then like that 😉
And how about adding some additions to the meal? I'm talking seitan pieces or edamame beans, what do you think?