When I went on Keto last year I very quickly realised that most of my meals mainly consist of 'soft' foods, such as salads, sauces, dips etc. and I was missing something crunchy – like a little snack in between. So I went on a mission to create a vegan keto-friendly cracker version, which is savoury and perfect for topping or dipping (especially into the vegan & keto-friendly Mr Organic Grilled Aubergine Add In!)
This cracker version is high in fats, and mainly consisting of soy flour, seeds and oils. For most accurate nutritional values please use a calorie counter for the ingredients/brands that you are using as Net Carbs and Co can differ depending on the products you are using. I mainly use My Fitness Pal and Carb Manager.
This recipe makes about 13 crackers (depending on the size you choose). With the products I used, each cracker had about 1g net carbs, 6g fats and 4.6g protein.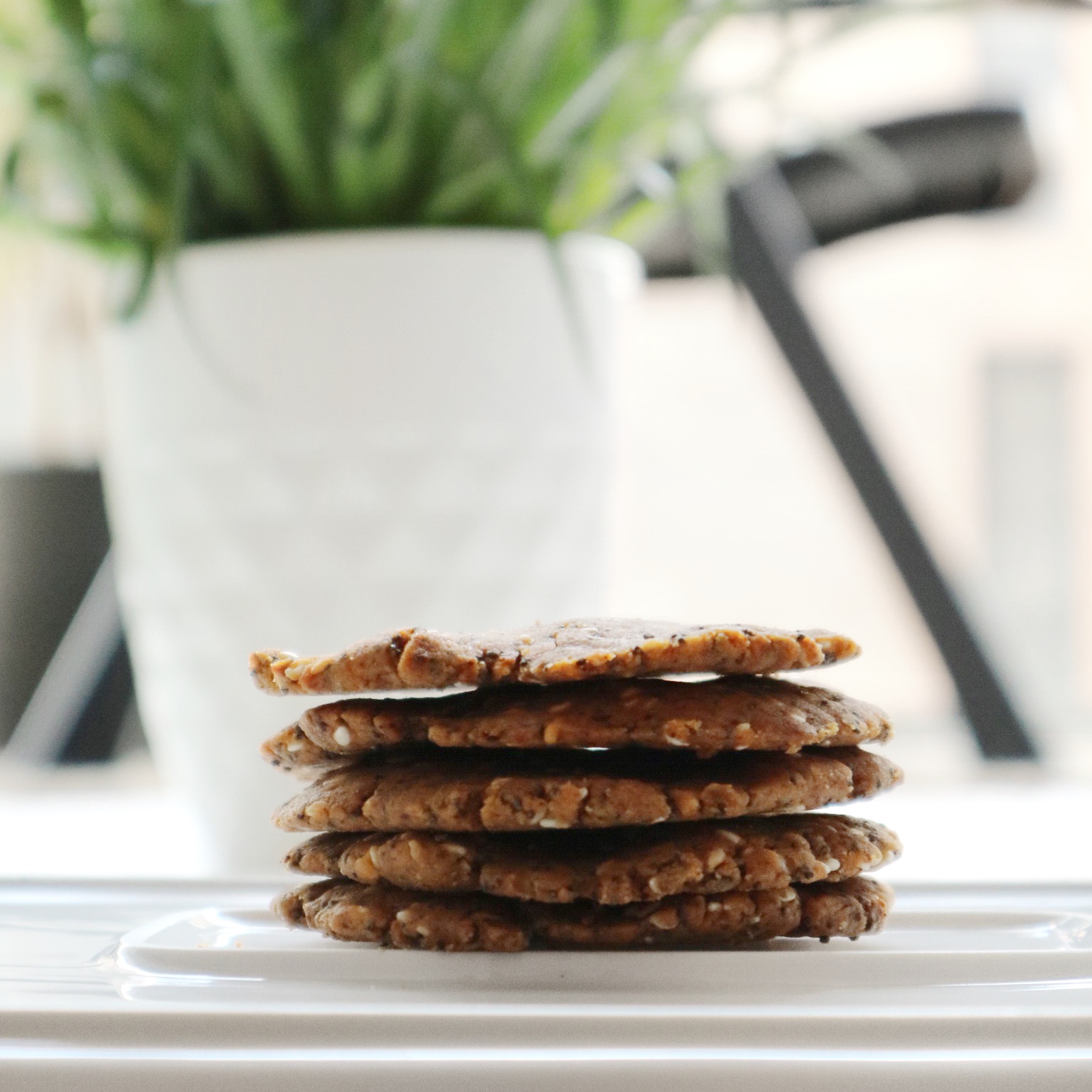 Ingredients:
100g soy flour
20g sesame seeds
20g poppy seeds
3Tbsp Extra Virgin Olive Oil or melted vegan butter
salt, pepper, garlic powder & paprika powder to taste
Method:
1. Combine the dry ingredients and melt the vegan butter (if not using oil)
2. Combine with the rest of the ingredients, then form into small balls with your hands.
3. Lightly oil a baking tray (I prefer this to using baking paper, as it is much more non-stick!), then press the dough balls between your palms to form a round(ish) thinner cracker. You should aim for about 3-5mm thickness as the cracker can otherwise break to easily if made too thin.
4. Bake at 175 degrees for about 30 minutes.
5. Take the crackers out of the oven and let them cool completely before removing them from the tray.
Here are a few keto-friendly ideas of what these crackers taste great with:
– Guacamole
– Vegan Margarine
– Tofu Ricotta
Let me know if you have any other keto-friendly dips or products that these crackers work well with – always happy to try out new combinations!