When you spot amazing vegan food online, you just gotta try it, right?
Well this is how my 'relationship' with The Athenian started - I stumbled across their food whilst scrolling the web and my initial thought was 'OMG I need to try this' and it kept popping up all over my feed from then onwards - in Facebook ads, in other blogger's Instagram stories... and when then also Nick said one day 'Have you seen this 'The Athenian' place yet? Their food looks really nice' I just knew: I had to go.
Coincidence or not - the day after I had made the decision to visit in my head I had an email from them in my inbox. I believe it was a sign that The Athenian and I was just a combination that had to happen. Was it love at first sight? Probably - if that's something you believe in 😉 Did the love last after getting to know each other better? Heck yeah!
On a rainy Saturday last weekend, Nick and I made our way down to The Athenian with some hungry tummies. They have a total of 6 branches in London now: White City, Victoria, Tooting, Shoreditch, Elephant & Castle, and Southbank Food Market, with the Tooting branch just newly opened. Have a clickety-click here to see the full addresses for these branches.
For our very first visit we chose the White City location, however, simply as it was the easiest for us to get to (& simply the perfect commute for such a rainy Saturday in London). The Athenian also has a restaurant in Bristol, in case that's closer for you to get the delicious food experience also.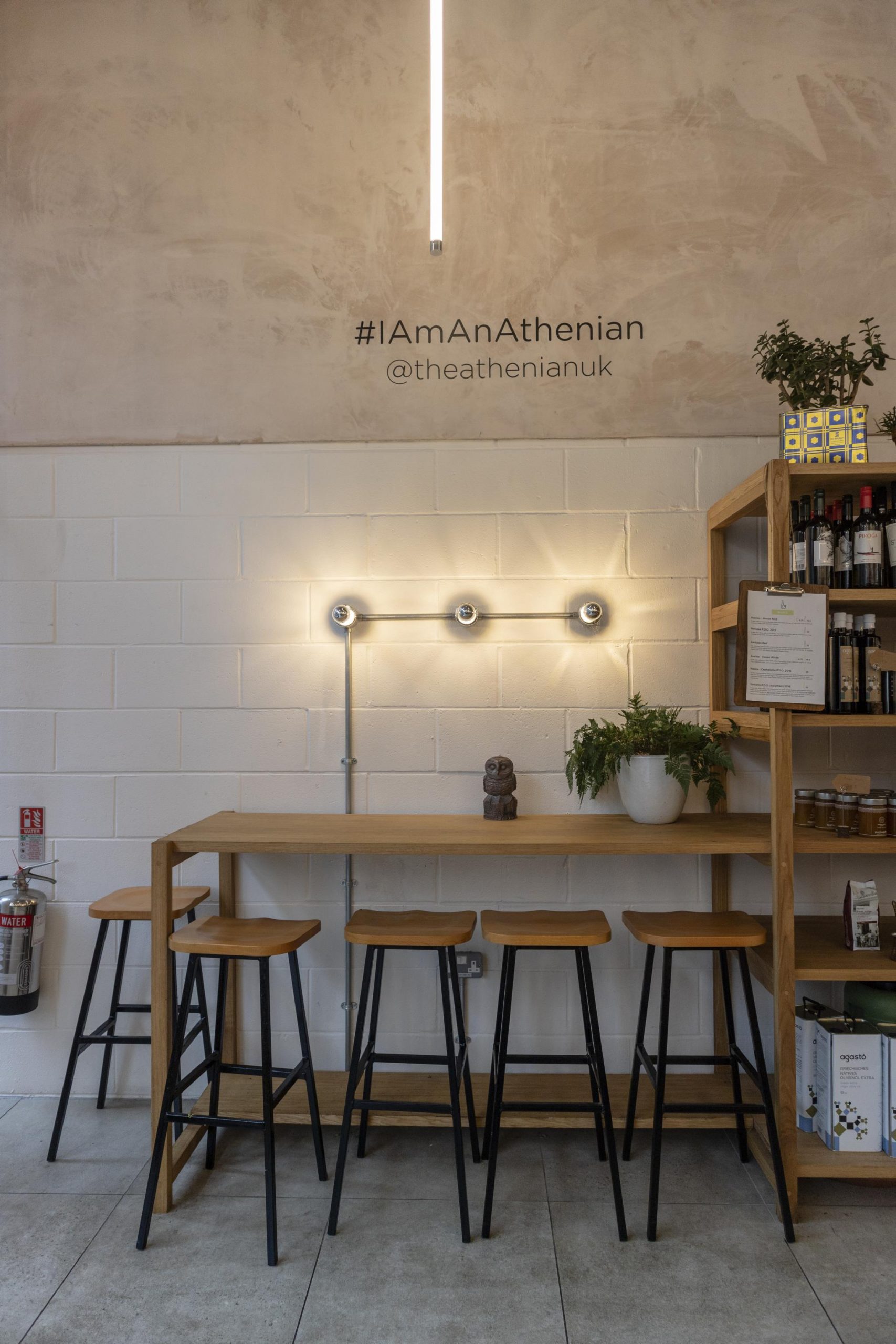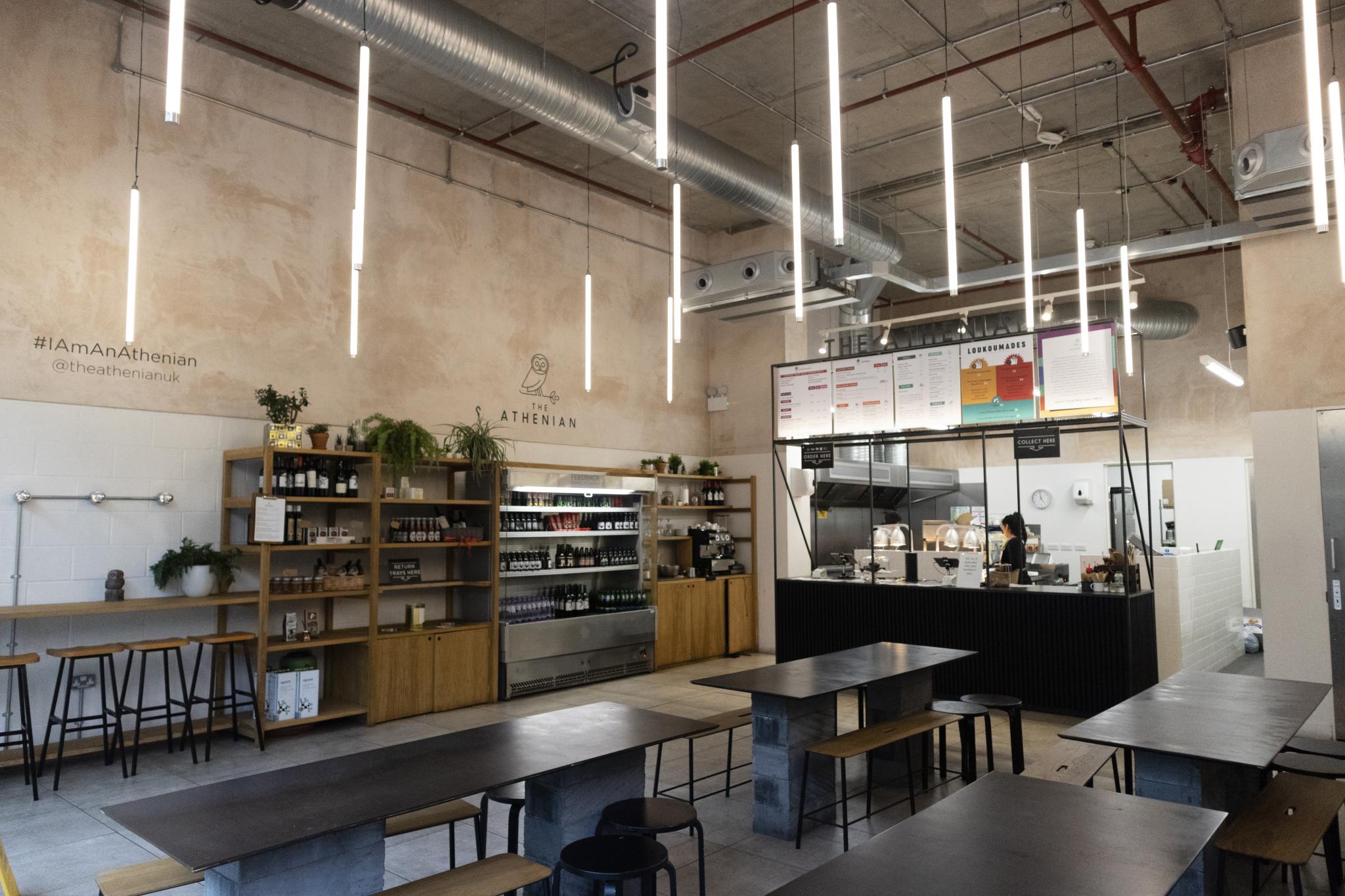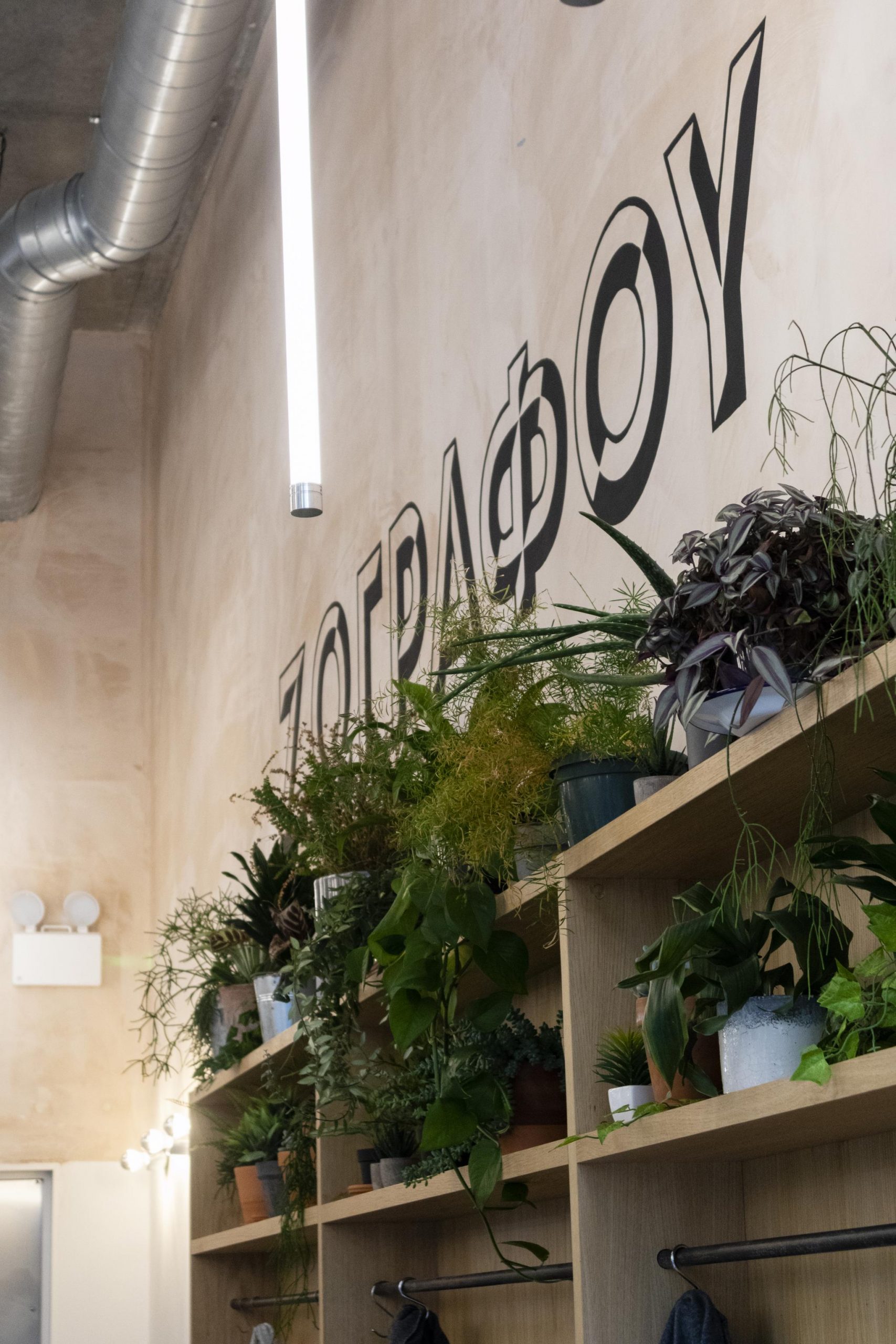 The Location
The White City branch is actually located in White City Place, right next to one of the major offices of the BBC - gosh these people must get great lunch options! The entire setup & design of the restaurant could also be described as a 'fancy canteen' with its long tables, so it's only fitting that they offer greek street food. The modern decoration including a gorgeous display of plants definitely give the place a chic look, which unwillingly reminded me of Shoreditch 😉
The chain has actually opened its doors in the UK around 3 years ago, with the White City branch being roughly 1 year old at the time I'm writing this review. In addition to selling cooked food, they also sell Greek oils, Calamata olives, wine & condiments at the branch.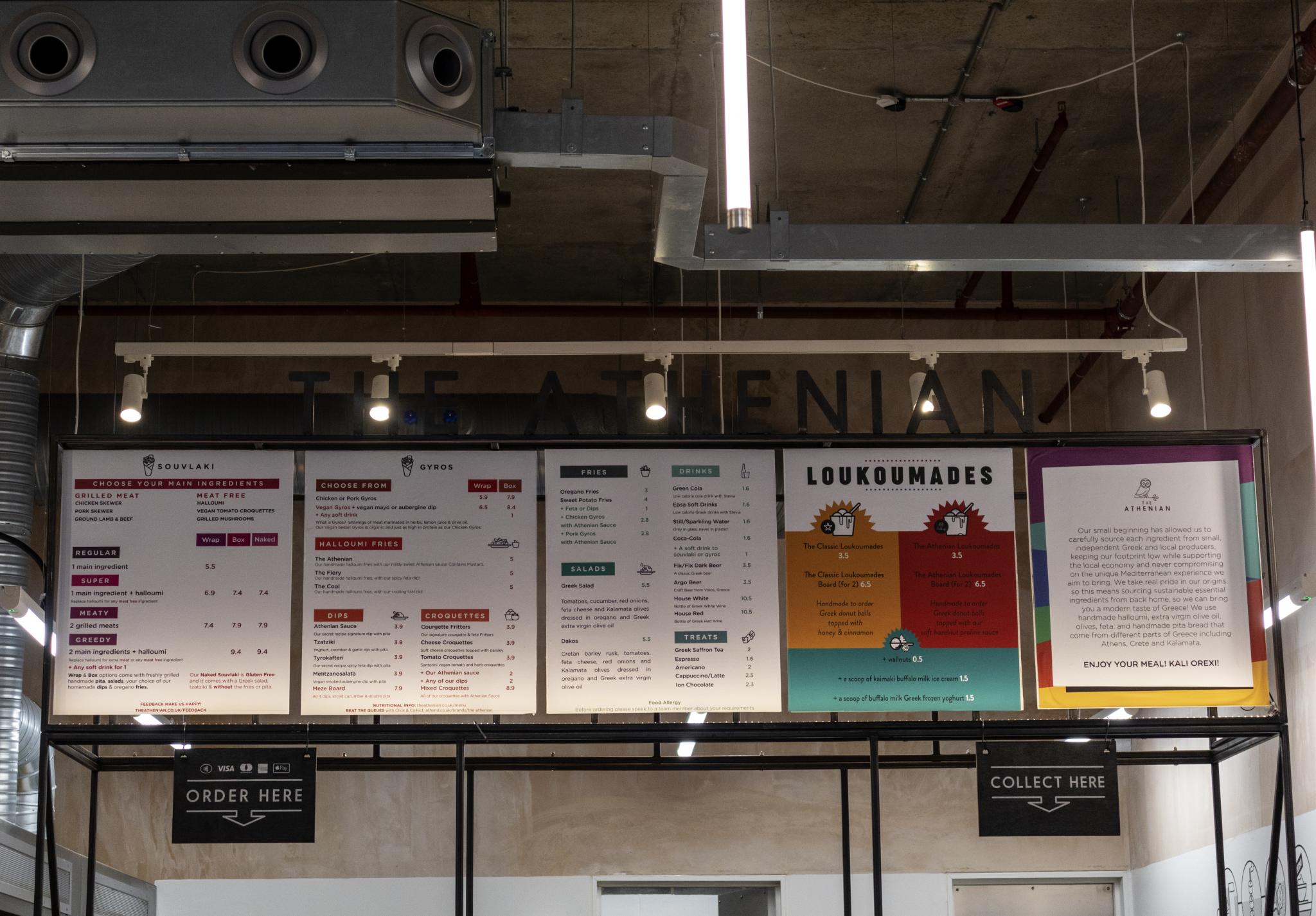 The menu
As you might spot right away: The Athenian is not a fully vegan restaurant and they do offer both meaty & vegetarian options as well. Their vegan menu is in fact super fresh (literally!) as they have only just introduced it about 1.5 months ago - and yes I'm already having my fingers crossed that they'll expand it in the future 😉
There are however already a bunch of options available that'll satisfy every vegan craving.
Their Souvlaki offers different combinations of their so-called 'main ingredients' in either wrap or box alongside a handmade pitta, salad, a dip (Aubergine is the vegan option here) & oregano fries or in 'naked form' - without pitta, which makes this option gluten-free. The naked option also comes with a greek salad instead of the pitta, so be aware to replace the greek salad (which contains feta cheese) for the 'naked' vegan version! The vegan filling options for the Souvlaki are the Vegan Tomato Croquettes and the Grilled Mushrooms.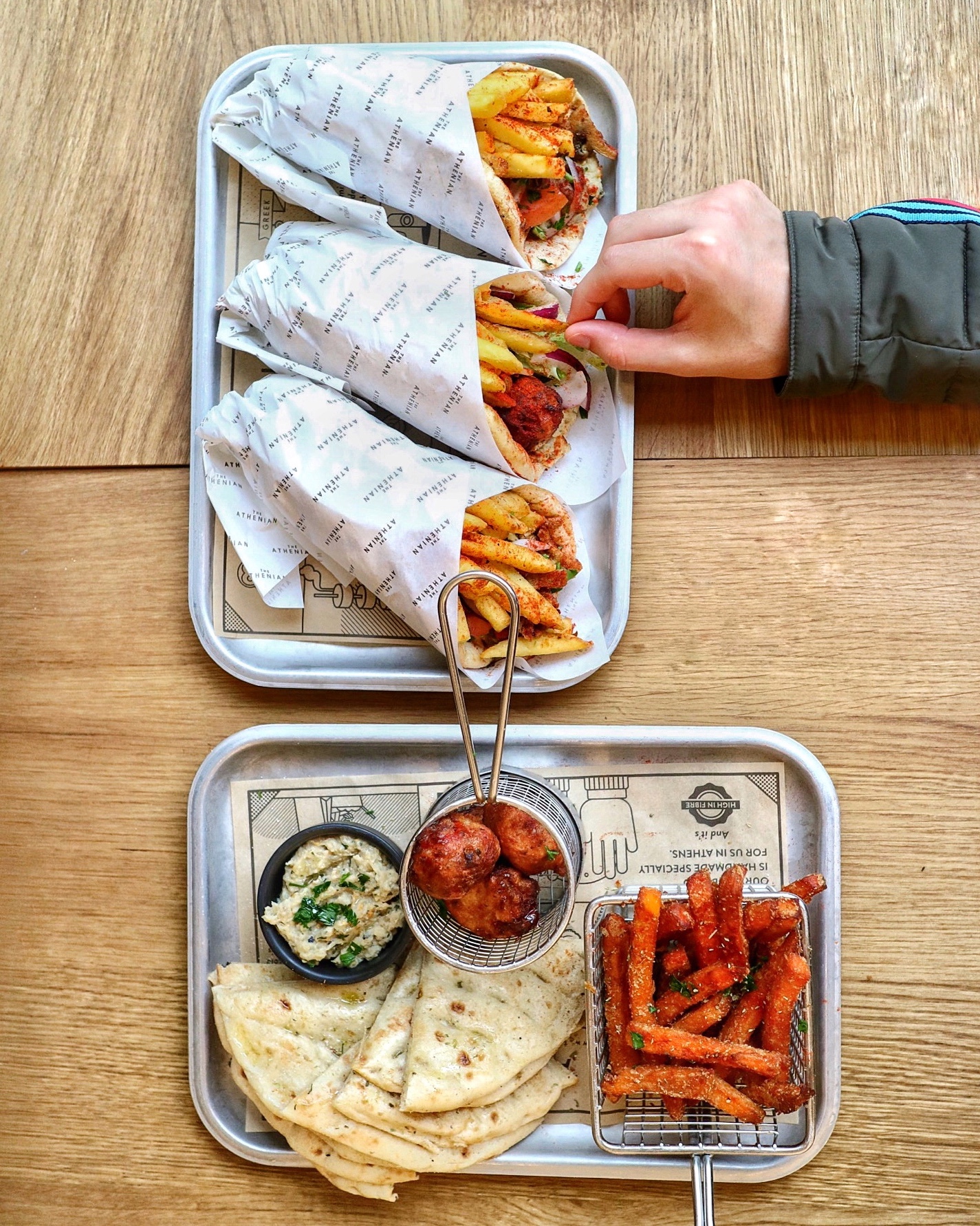 Aside from the Souvlaki they also have Gyros on offer - and yes, including Vegan Gyros, heck yeah! Their vegan gyros is Seitan based & also organic, which makes it sadly not suitable for gluten-free vegans, so in case you're gluten-free, you better stop reading below this section before I ramble on about how good it is 😉 *spoiler alert*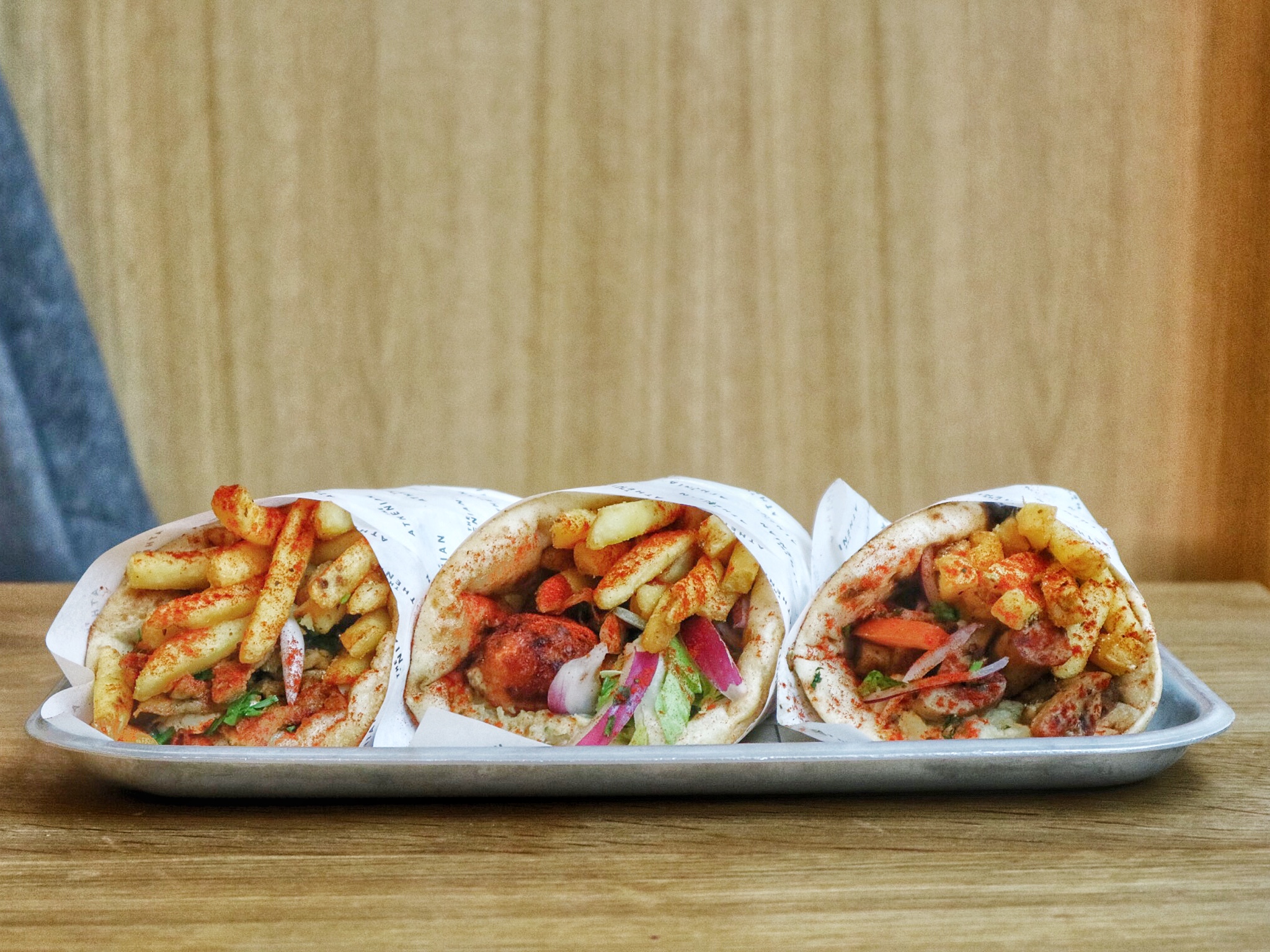 The gyros can be ordered as either a wrap or box and - same as the Souvlaki - comes with salad, a dip, and fries.
In addition to the food, The Athenian also offer a wide variety of greek soft drinks and beer.
Vegan items at The Athenian
Here's everything we tried during our visit at The Athenian in West London:
Vegan Gyros Wrap with vegan mayo, salad & oregano fries in a pitta
with Vegan Aubergine Dip, salad & fries in a pitta wrap
Grilled Mushroom Souvlaki with Vegan Aubergine Dip, salad & fries in a pitta wrap
Tomato Croquettes on their own
Pitta bread with Aubergine Dip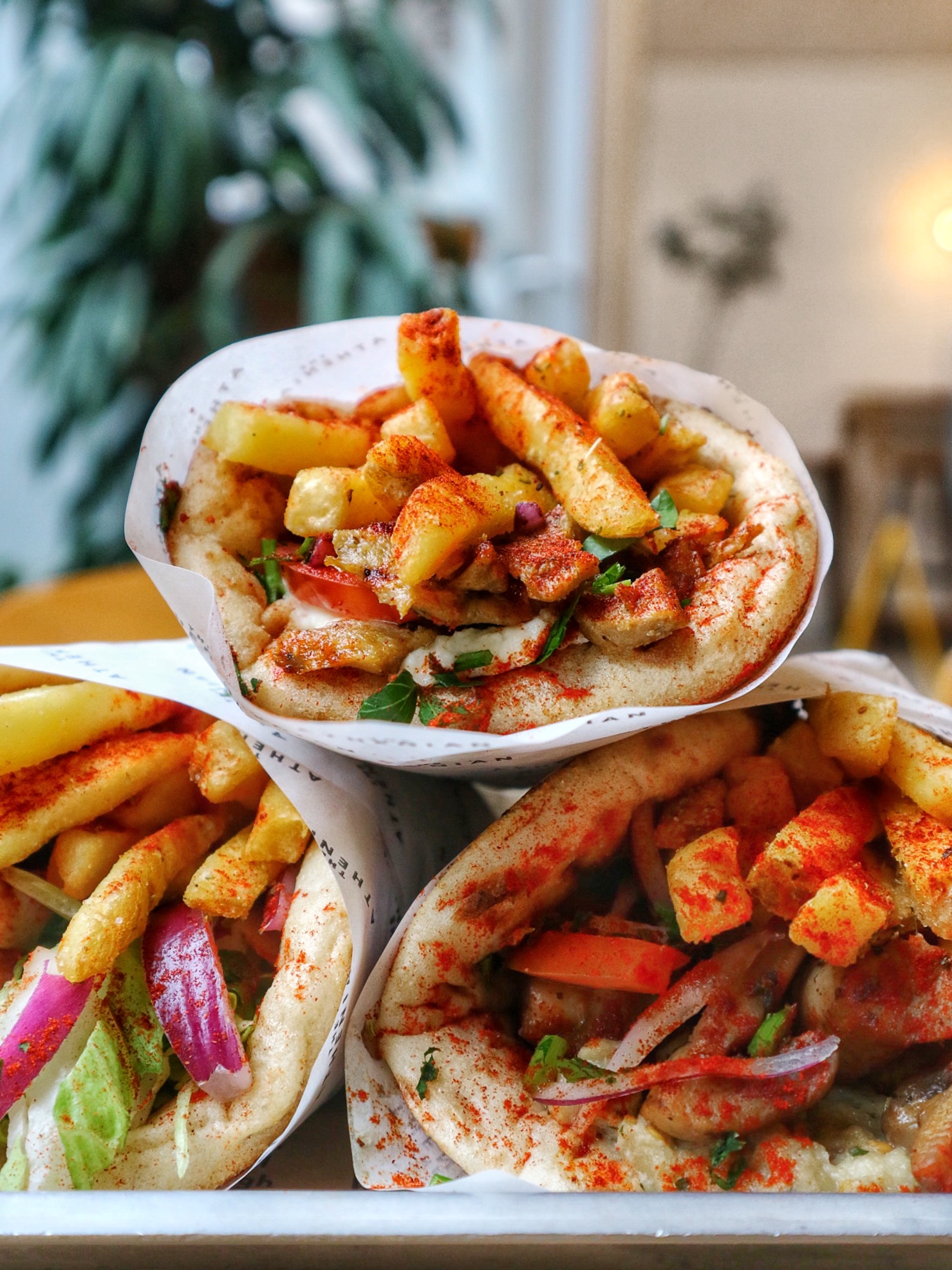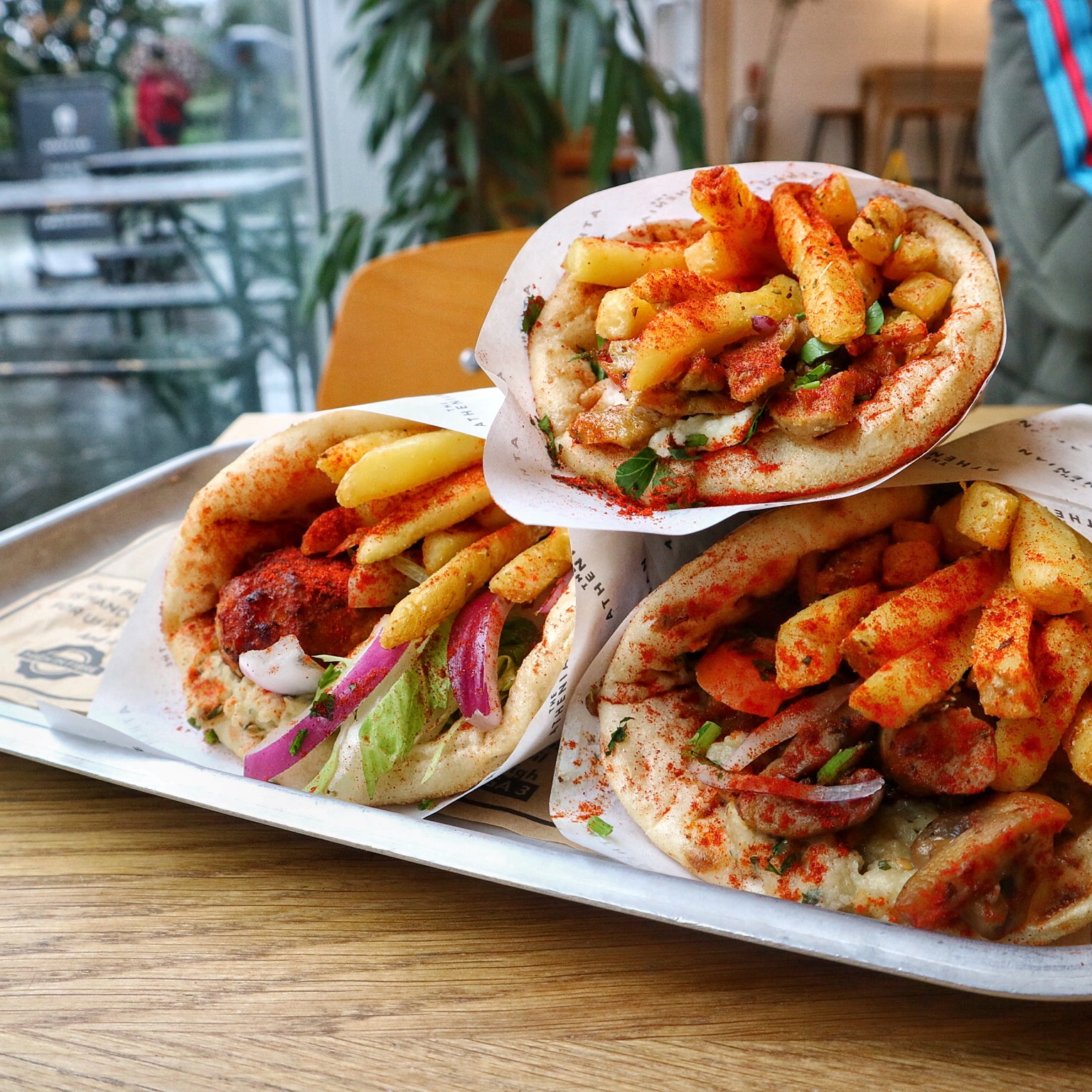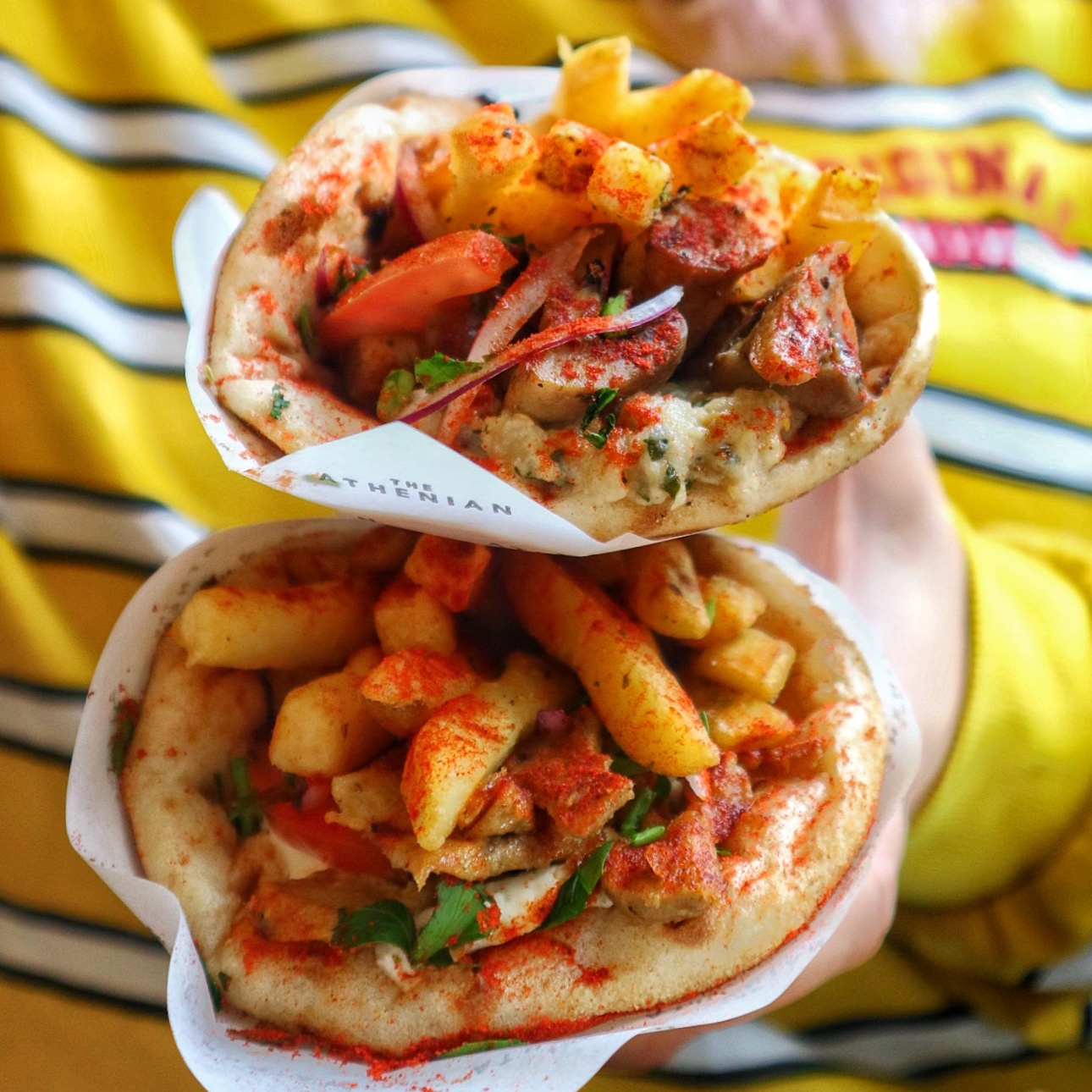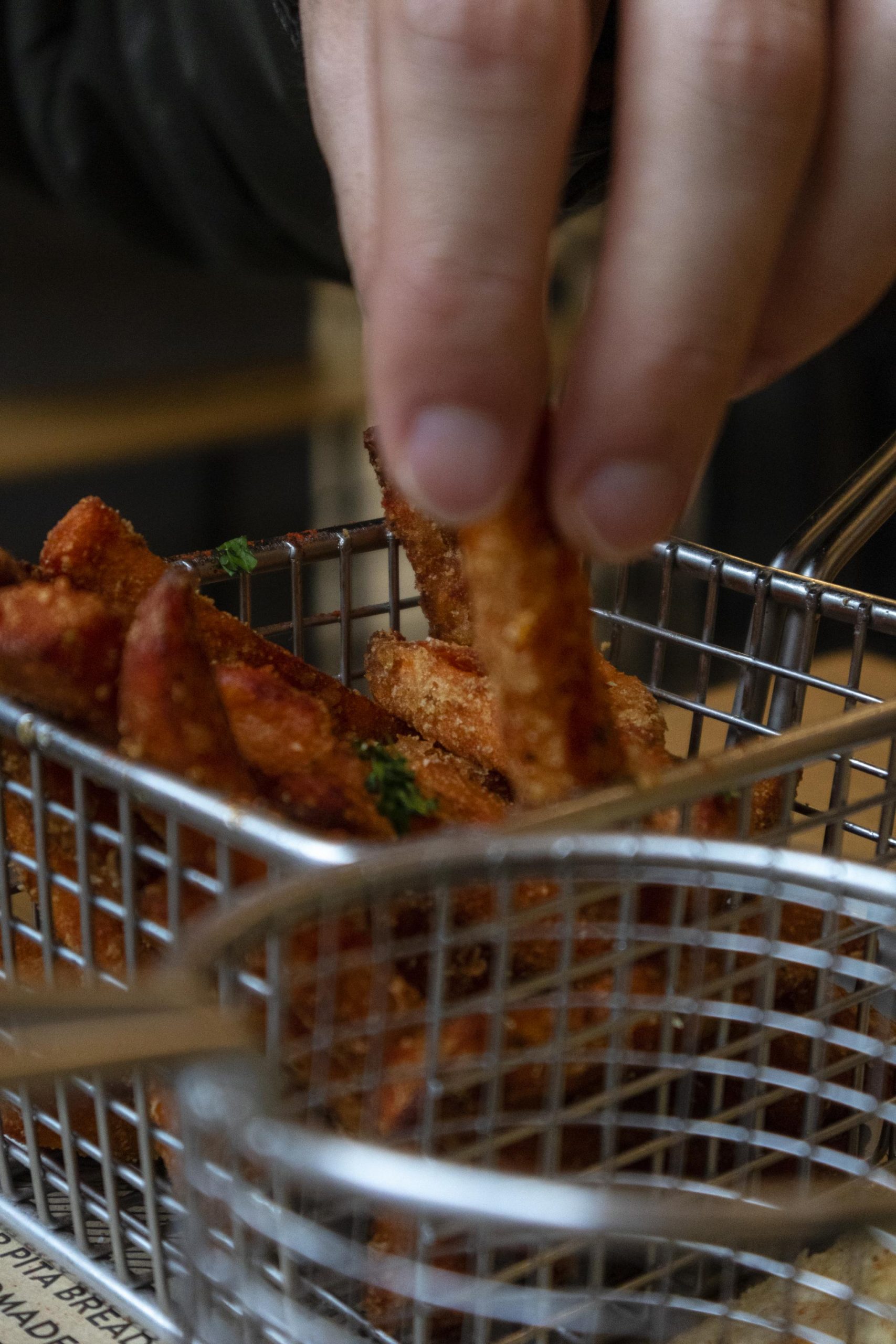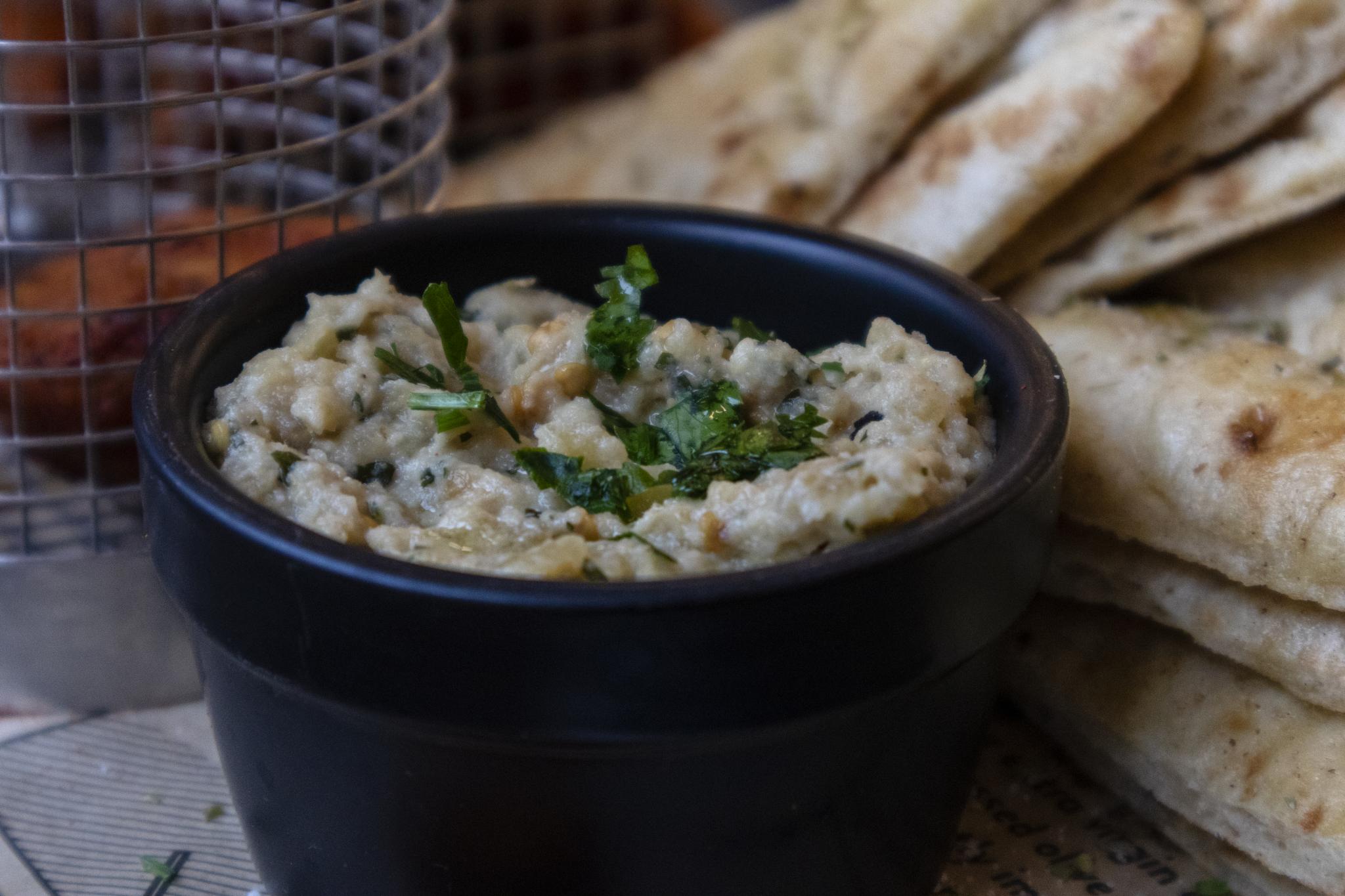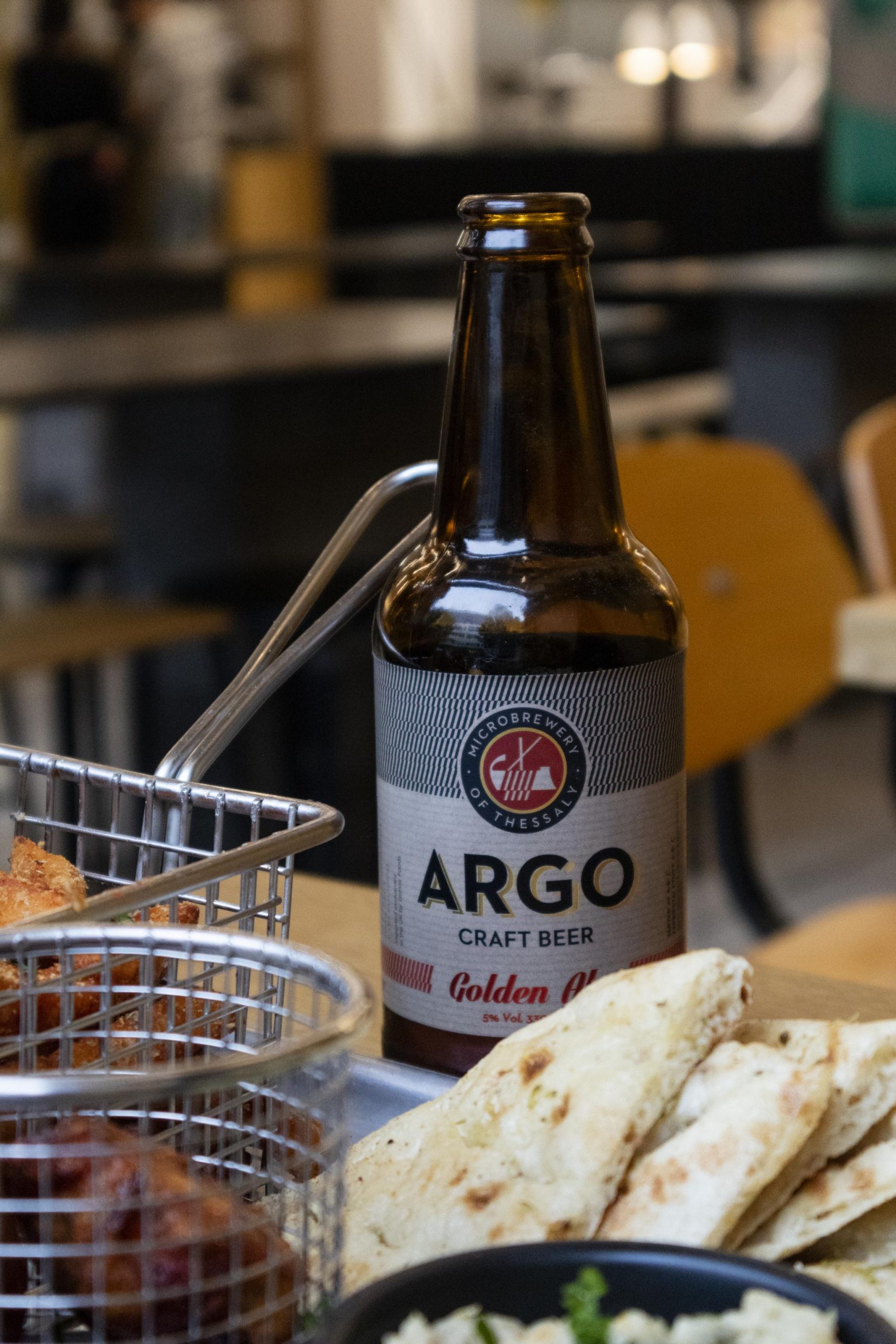 My Verdict
My absolute favorites off their menu were:
- the Gyros wrap: the marinated Seitan was very well seasoned and it added great texture to the wrap without being too chewy (which can easily happen when Seitan is not well prepared), the vegan mayo was the perfect condiment on the wrap and the oregano fries & smoked paprika powder sprinkled on top just rounded up this wrap perfectly.
- The tomato croquettes: Never had anything like it before and I was absolutely wow'd. In a nutshell: they are battered and deep-fried tomatoes. Super simple, but oh-so-effective on the taste buds. Loved making this tasty discovery and the lovely manager of the branch told us that it's a traditional recipe from a greek island, where people grow a large variety of different tomatoes - they basically came up with more and more ways to prepare them, and these croquettes are just one tasty version of it.
I also really enjoyed the Grilled Mushroom Souvlaki, though after having the spiced Seitan wrap upfront, it kind of felt as if it was lacking something - though I am sure this was simply down to the order I ate the wraps in (note to self, start with less seasoned/spiced options next time!)
Whilst loving the tomato croquettes on their own, I was a little unsure about them in the souvlaki, mainly because of the combination with the aubergine dip. As I also had the pitta (which was super fluffy and purely delicious!) on the side with aubergine dip, I realised that I was not very fond of the smoked aubergine dip and simply didn't enjoy the combination with the croquettes on the souvlaki. I think it was simply down to personal preference and just a flavour I wasn't to familiar with. Oddly enough I think it really worked with the Grilled Mushrooms though!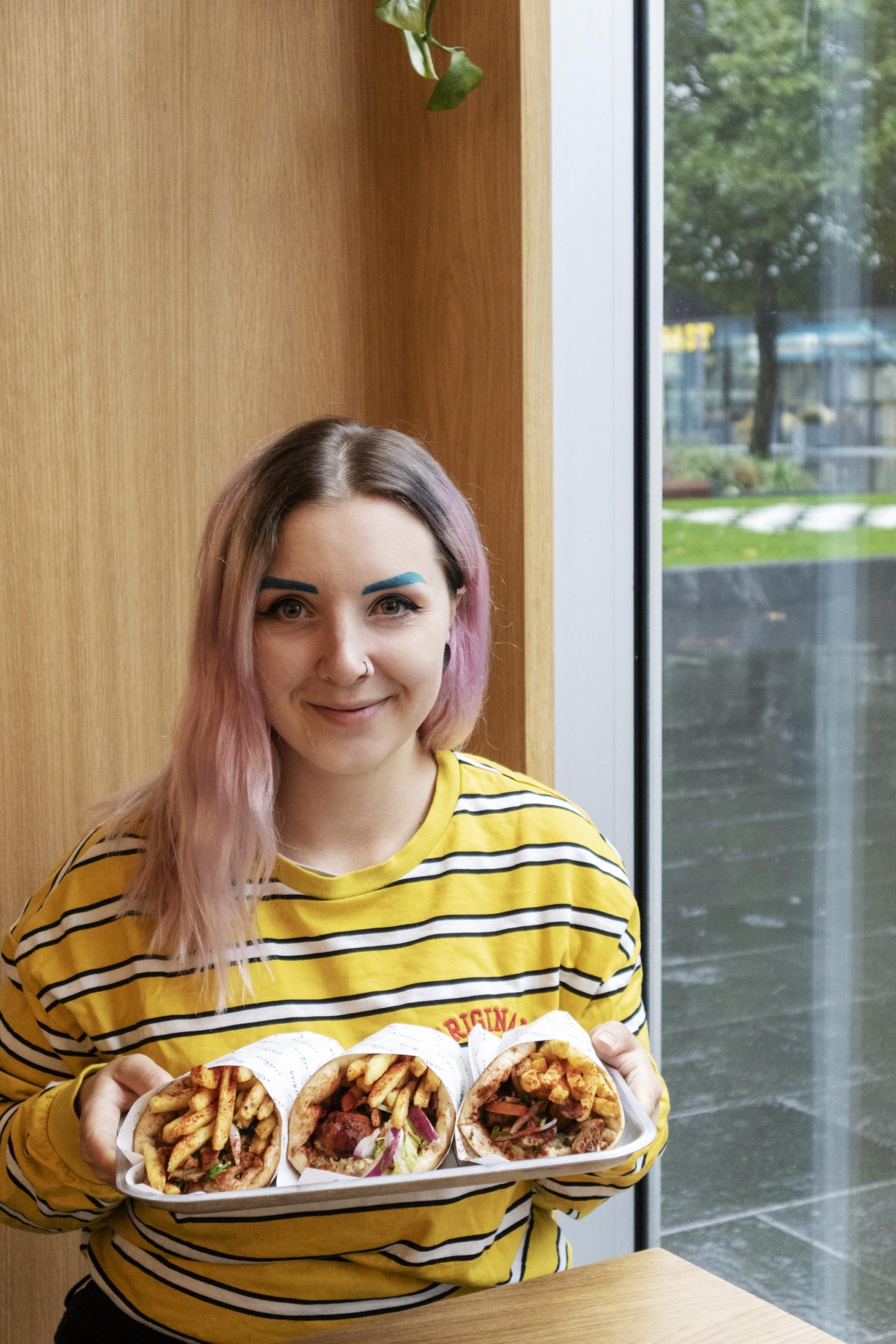 The bottom line
The wraps were super-filling, especially with the fries added to them - each wraps is definitely a filling lunch option on its own, so I wasn't surprised to hear that the branch has huge lines out the door during weekdays lunchtimes.
I know I'll surely be back for another one of the vegan gyros wraps and those heavenly tomato croquettes (but will probably try to avoid lunchtime ;))
Find out more about The Athenian on their website.
If you love reading about more vegan menus at restaurants, have a look at my articles about the Vegan Options at Pizza Hut and at Pizza Express!

*Disclosure: This page may contain affiliate links and sponsored links that earn me a small commission, at no additional cost to you. You can find more information in my Privacy Policy.
 © Romy London / Romina Callwitz | All images and content are copyright protected. Please do not use my images and content without permission. If you wish to re-publish any recipes or images, please get in touch via email. Thanks for your support!
Recent posts