Delicious simple homemade Vegan Chocolate & Hazelnut Granola – for a perfect crunch, not just during breakfast!

It's pure breakfast dreams come true with this crunchy vegan Chocolate & Hazelnut Granola! I love adding granolas to the top of my smoothie and porridge bowls – they simply add the perfect bite to an otherwise smooth breakfast and come in so many flavours that can really add something special to your dish.
This granola recipe is inspired by a very classic flavour combination: chocolate & hazelnut. Not just a classic, but also one of my faves – after all, I grew up on Nutella (before I went vegan, that is ;)) and know that delicious combination too well.
I've decided to keep this recipe on the healthy side whilst still tasting indulgent – adding dark chocolate chunks but no refined sugar in the recipe. Instead I am using maple syrup to sweeten the vegan chocolate & hazelnut granola.
Vegan Chocolate & Hazelnut Granola Ingredients
For this granola the the ingredients are mixed together in 2 parts: "wet" and dry. The wet mix will help coat the dry ingredients into the flavours of the granola and stick them together into crunchy chunks. The ingredients for this part consist of melted coconut oil, raw cacao powder, maple syrup and a pinch of salt. The pinch of salt helps bring out the natural flavours of the cacao, so don't be surprised that it's included here.
For the dry ingredients I have used large rolled oats, almond flakes and puffed quinoa – alongside roughly chopped hazelnuts and dark chocolate chunks to add some delicious chocolate-y indulgence to the granola. With the dry ingredients you can be flexible – if you don't have any of them to hand, just leave them out and replace the amount with more oats, so that you end up with the right wet/dry ratio once you combine both.
Baking The Granola
Once the wet & dry ingredients are combined, I like to bake my granola on a silicone baking mat. Trying out different options in the past, the mat is working best for me as I can easily remove the granola once done and it doesn't get stuck on the mat at all. You can of course also try non-stick parchment, however I'd recommend using a structured non-stick parchment. With regular baking parchment and granola making I sadly haven't made any good experiences as it easily gets stuck on the baked granola and it turns out tricky trying to remove it all-together.
For the baking process there are 2 things to bear in mind: The heat can't be too hot as it otherwise burns the granola (or parts of the granola) too easily. And secondly: for the granola to be crunchy the moisture needs to be pulled out of the mix in the oven.
As both these things are very dependant on your oven, here are some tips and tricks, so you know what to look out for when baking the granola:
It's very important to properly pre-heat your oven prior to adding the granola – otherwise it will not be done in time and still hold too much moisture.
Do not increase the temperature or you will burn your granola.
Bake the granola for 12-15 minutes or until you see some pieces of the granola become a golden colour on the top. The time depends on your oven, so make sure to stay nearby and check on it regularly during the baking time.
Once the baking time elapsed, stir the granola (carefully! And don't burn yourself!) and leave it in the hot oven for another 20 minutes with the door slightly opened. I often use a wooden spoon to keep the oven open – this will help any excess moisture in the oven escape. If you leave the door shut, the moisture will crawl back into your granola making it anything else than crunchy and that is what we're trying to avoid.
If your granola is still non-crunchy after this time, you can continue to bake it at around 50C with the door slightly open until it is dry and crunchy to your liking, make sure to check on it every 5 minutes.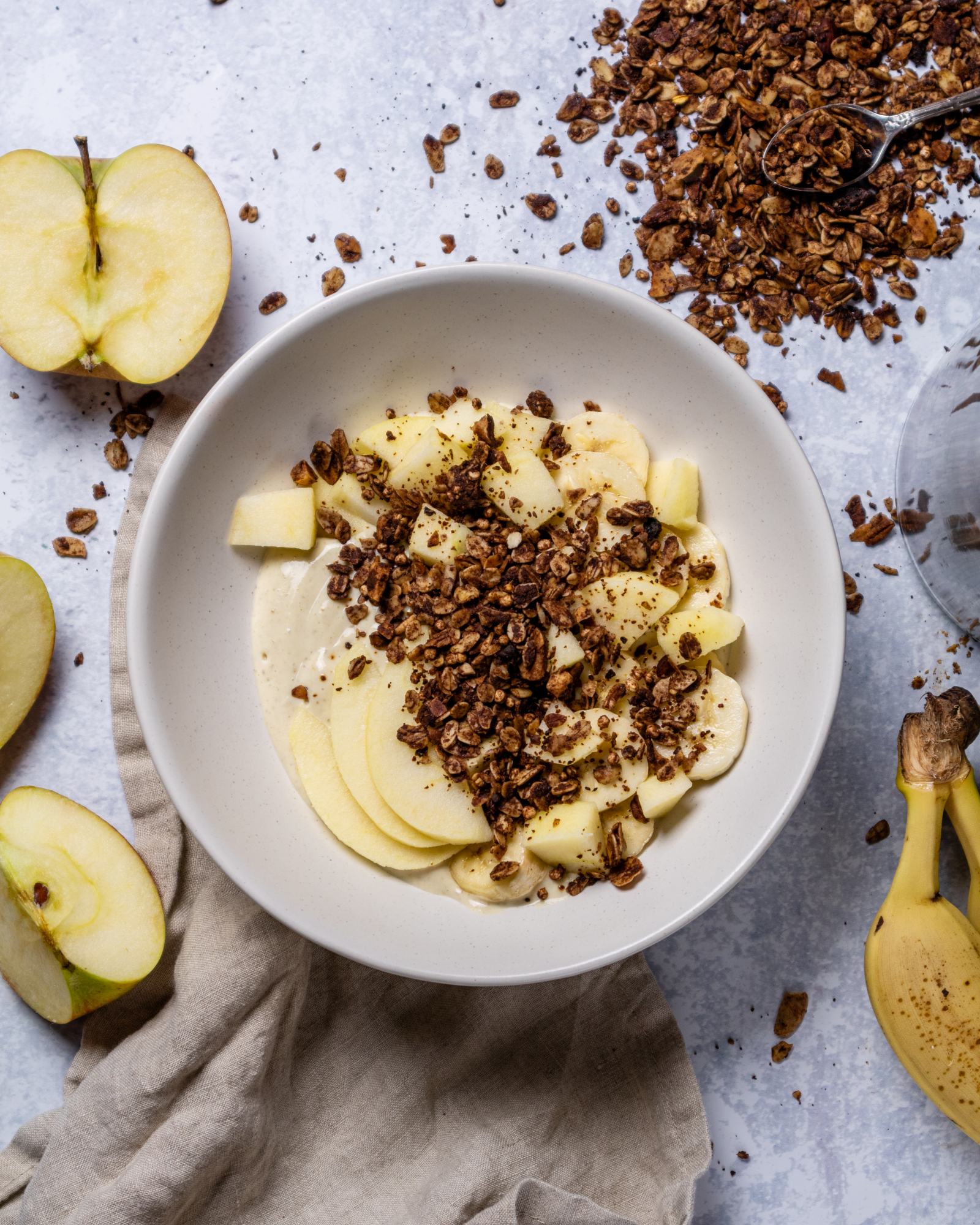 This granola recipe is:
Vegan
Dairy Free
Refined Sugar Free
Gluten Free Option (swap out the oats for gf ones!)
Extra Crunchy
Super Chocolate-y
Hazelnut-ty
Indulgent
Addictive
Perfect for smoothie bowls, porridge, cake toppings, fruit, yogurt or simply as a snack
Simple & easy to make
Print
Vegan Chocolate & Hazelnut Granola
Author:

Prep Time:

5

Cook Time:

15

Total Time:

20 minutes

Yield:

10

1

x

Category:

Breakfast

Method:

Baking

Cuisine:

Vegan
---
Description
Healthy Vegan Chocolate & Hazelnut Granola – crunchy, refined sugar free and super chocolate-y! Great on smoothie bowls, cereal, yogurt, porridge, with fruit or simply as an indulgent snack.
---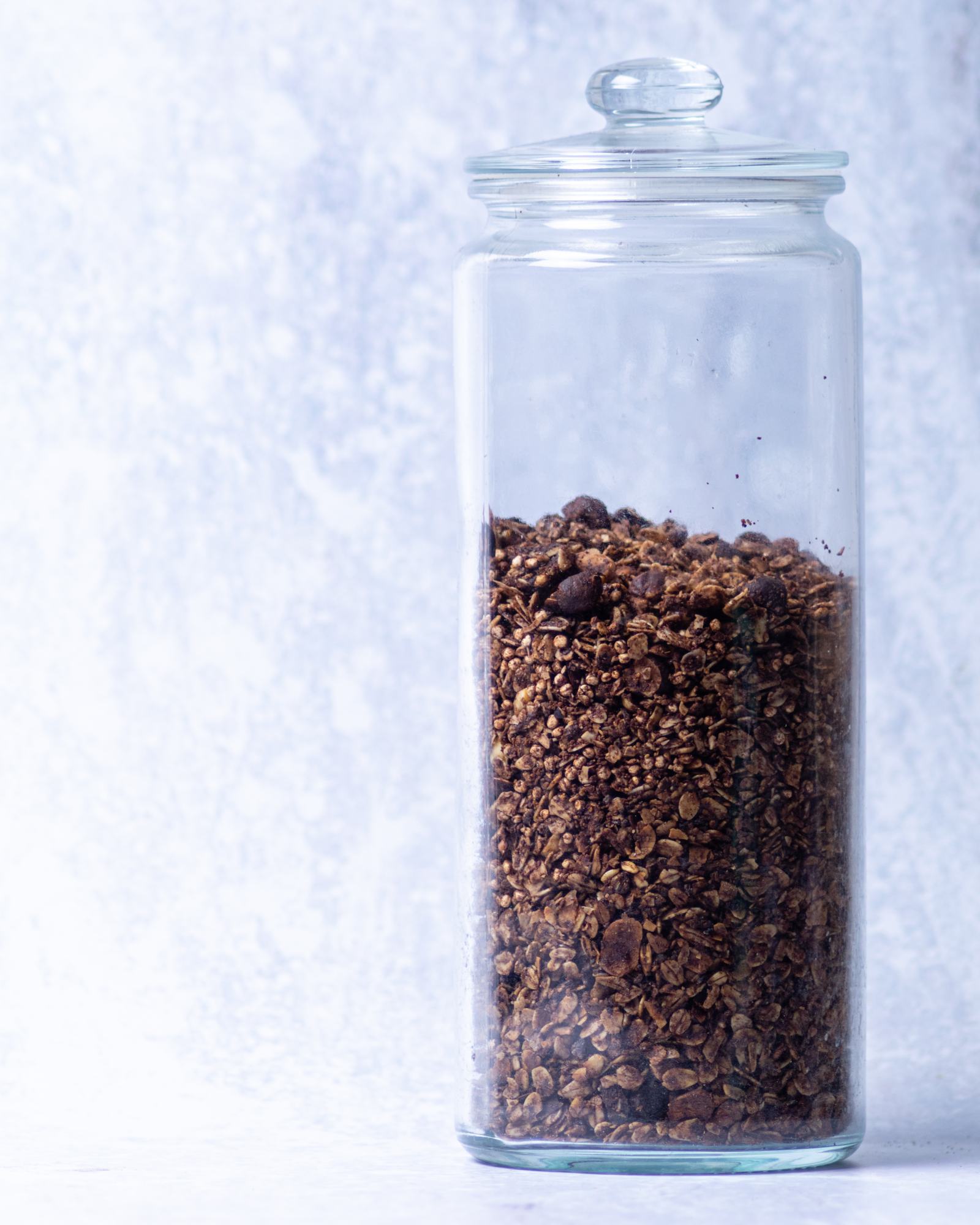 ---
Instructions
Preheat your oven to 160C.
Gently melt the coconut oil in a small saucepan over low heat, then add in the raw cacao powder, maple syrup and pinch of salt. Take the saucepan off the heat and stir to combine the ingredients.
In a separate large bowl, combine the oats, almond flakes and puffed quinoa.
Roughly chop the hazelnuts (or chop them finer if you don't want a chunky granola) and the chocolate bar and add the chunks to the oat/almond mix.
Gently pour in the liquid mix and stir through the oat mix with a spatula until the entire mix is coated.
Roll out a non-stick baking mat (silicone is ideal!) and spread the granola mix out thinly. Then place in the oven to bake for 12-15 minutes.
After the baking time elapses, turn off the oven, carefully stir through the granola and leave it in the oven with the door slightly open for another 20 minutes for any excess moisture to escape.
Keep the granola in a closed container and enjoy with your breakfast, desserts or simply as a snack!
---
Keywords: vegan granola, chocolate granola, granola recipe, healthy granola recipe, homemade granola
Looking for more vegan breakfast inspiration? Check out my breakfast recipe section!