Apple and Cinnamon - a combination that simply screams autumn! It's one of my favourite flavour combinations to enjoy in the run-up to Christmas, so it was a no-brainer that I turn a classical cinnamon bun into this deliciously sweet Vegan Apple Cinnamon Buns recipe!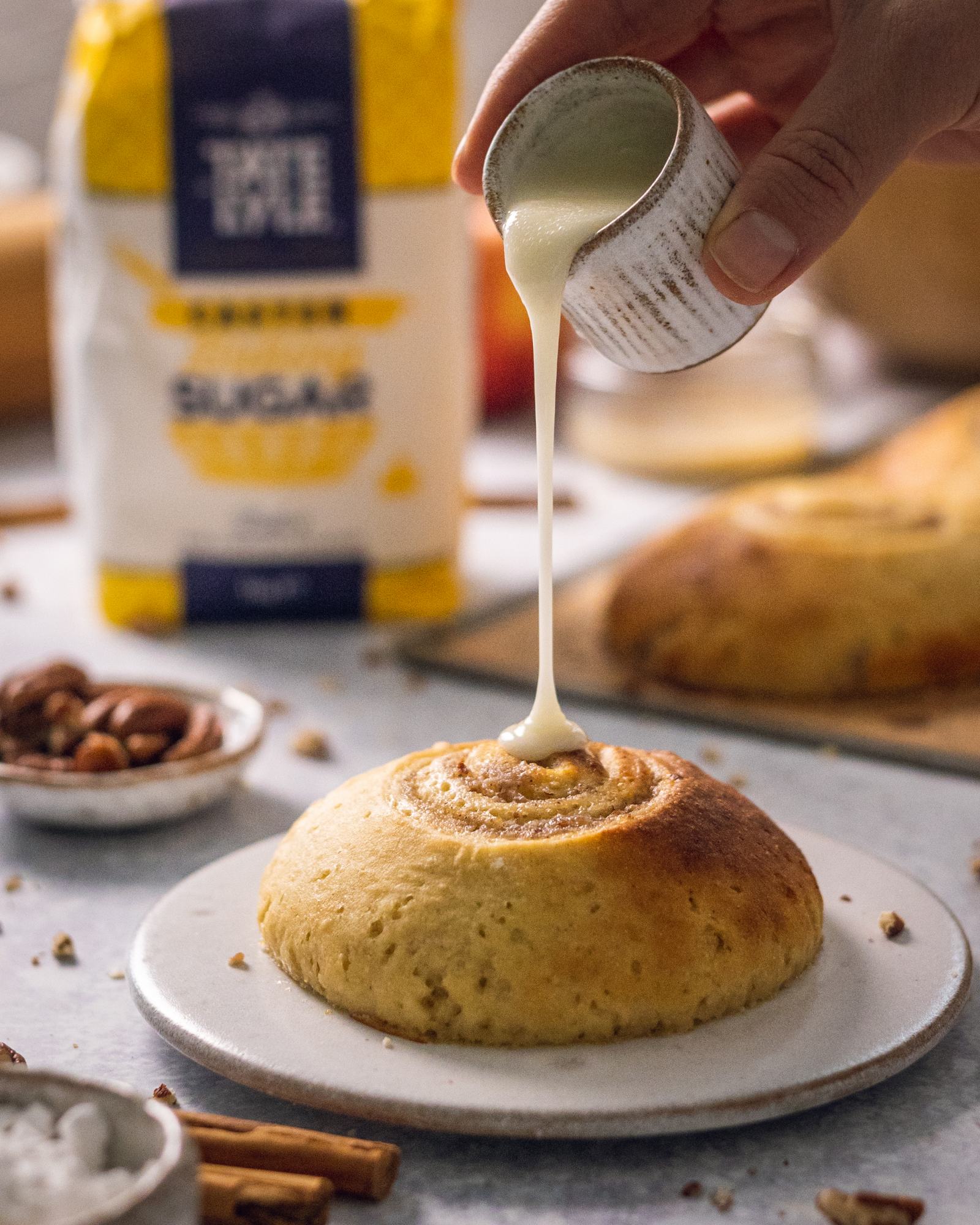 Apple Cinnamon Buns
Ingredients for this vegan recipe
For the glaze (optional):
icing sugar

plant milk

toasted pecans
Equipment
a large mixing bowl
a wooden spoon
a rolling pin
baking mat or non-stick baking parchment
a small bowl
an oven tray to toast the pecans
a whisk
a sharp knife
a saucepan
a jug
How to create the buns
These Vegan Apple Cinnamon Buns are created with a yeasty vegan brioche style dough. Without eggs and milk a soft fluffy dough is not easy to create, however with a simple hack you can create a deliciously soft and fluffy rising vegan dough.
To get the right rise for this recipe, the dough uses dry active yeast alongside plain flour, a little sugar to activate the yeast, a little salt for flavour balance, plant milk & oil (I use rapeseed oil as it's very flavour neutral).
How to make vegan brioche dough
The hack to creating the perfect dough for this recipe lies in the technique. As you will see in the ingredients list below, I've separated the plant milk, and flour into 2 portions each, one of which will be whisked up and slowly heated in a saucepan on the stove. This technique stems from Japanese cuisine and is called 'Thangzhong'. It is often used in Japanese baking to get the perfect fluffy dough and it works perfectly for recipes such as these Vegan Apple Cinnamon Buns.
Once on the stove, the mix is heated and stirred until it begins to thicken. This should only take about 5-10 minutes. Once thick, remove from the heat.
In a large mixing bowl, combine the rest of the dry ingredients: flour, sugar, yeast, salt. In a separate jug, combine the oil & plant milk aka your liquid ingredients. Make sure they are at a warm room temperature. Create a well in the large bowl, add in the thick sticky Thangzhong and pour the liquid ingredients on top, then combine everything with a wooden spoon.
Transfer to a floured surface and knead with your hands until the dough is smooth.
Rising times for these apple cinnamon buns
Place the dough back into a lightly greased mixing bowl, cover with cling film or a damp, clean kitchen towel and allow for the dough to rise in a warm place for 1 hour. This is the first rise for the dough.
Once the time elapses, knead the dough again with your hands for 1 minute, then use a floured rolling pin to carefully roll it out to roughly 1cm thickness.
We will add our filling (description below), shape our buns and then allow for them to rise another 45 minutes before baking.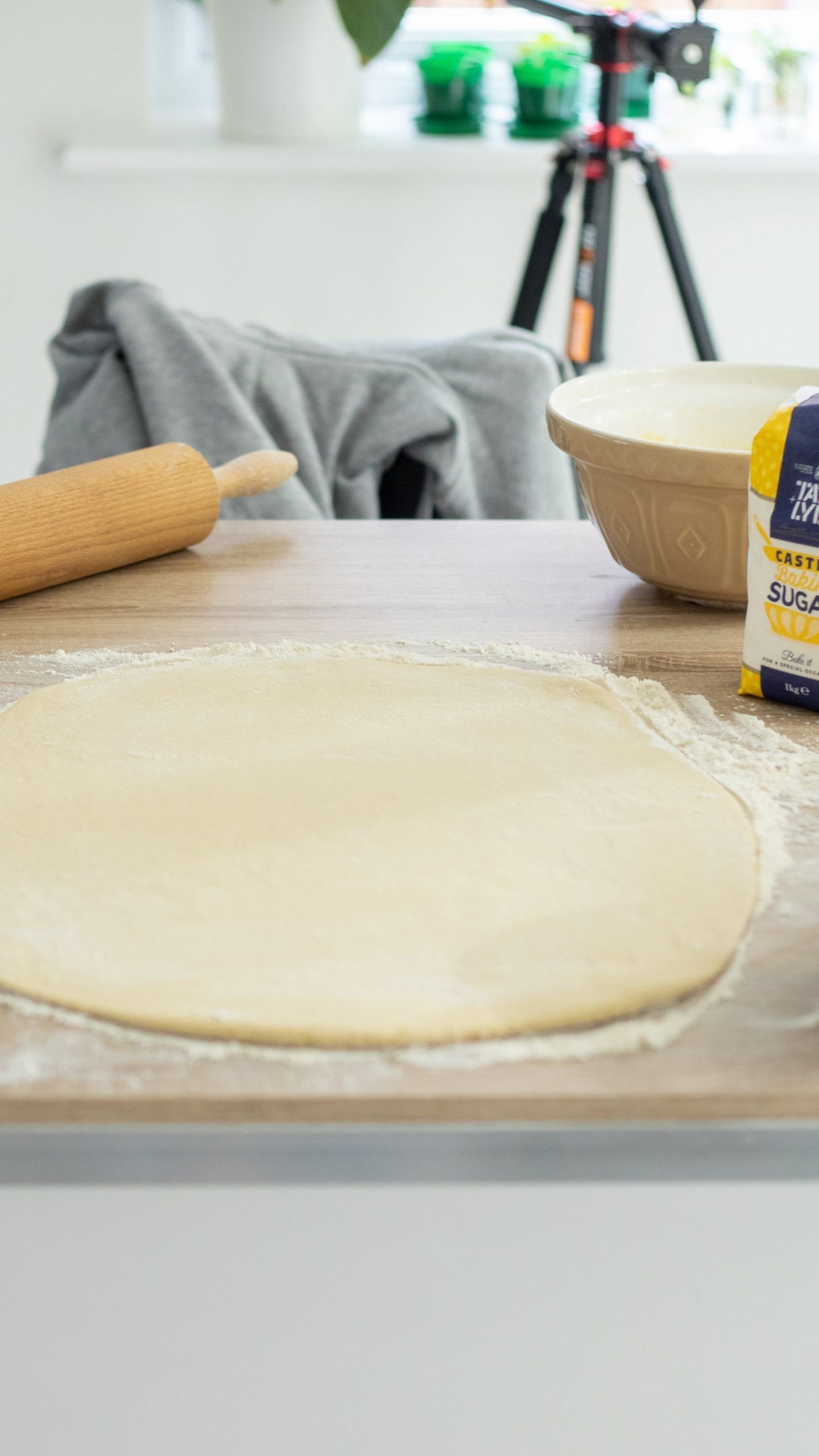 Apple Cinnamon Bun Filling
During the first rise I usually work on creating the filling for these buns. This is where the second portion of the caster sugar comes in. Peel and chop all of the apples and add them to a saucepan over medium heat alongside the cinnamon, sugar and water. Bring to a boil, then allow to simmer until the apples are softened.
Transfer to a blender and blend until smooth. Alternatively you can use a stick blender to create your apple & cinnamon paste. If it's still a little water-y at this point, add it back to the saucepan over a low heat and allow for it to bubble away until it thickens, whilst stirring regularly.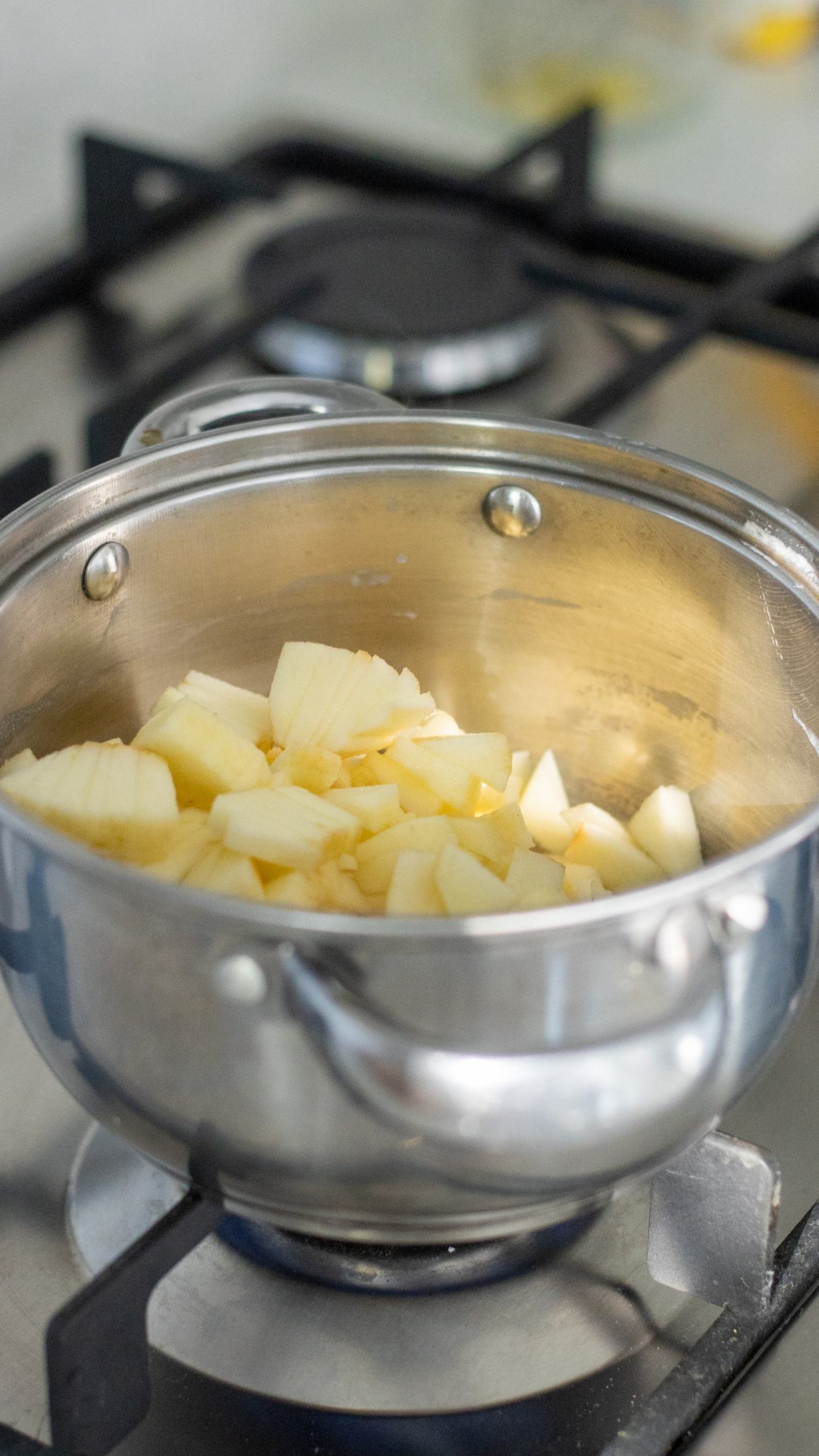 Shaping and baking the buns
Spread the apple cinnamon filling across the rolled out dough. For an extra crunch you can also add some crushed nuts, then gently cut the dough into strips using either a sharp knife or a pizza cutter (I always go for the pizza cutter option!). Cut them to about 2-3 cm thickness, then carefully roll up each strip into a bun and place your buns onto a baking sheet. If you don't want them to stick together, leave at least a whole bun worth of space in between them.
Cover and allow them to rise for a further 45 minutes, then transfer to the oven and bake for 15-20 minutes or until golden. Allow for the buns to cool down slightly, then drizzle them with a little icing & enjoy!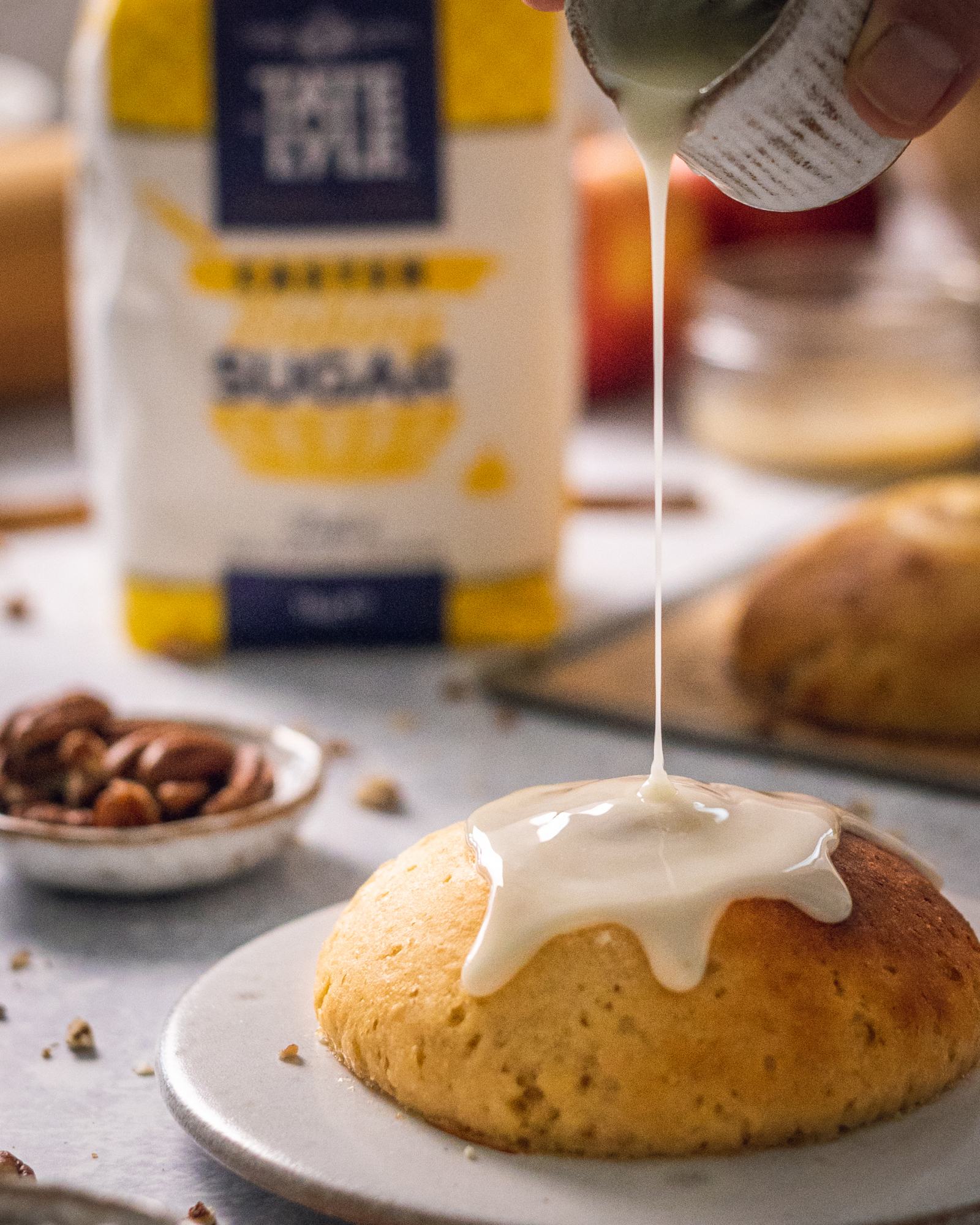 This recipe is:
100% vegan
easy to make
fun to create
delicious as a snack or breakfast to go
great to share with friends & family
wonderfully sweet
full of seasonal flavours
📌 If you love Pinterest you can pin any of the images to your boards!
Print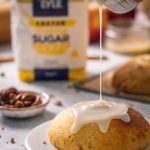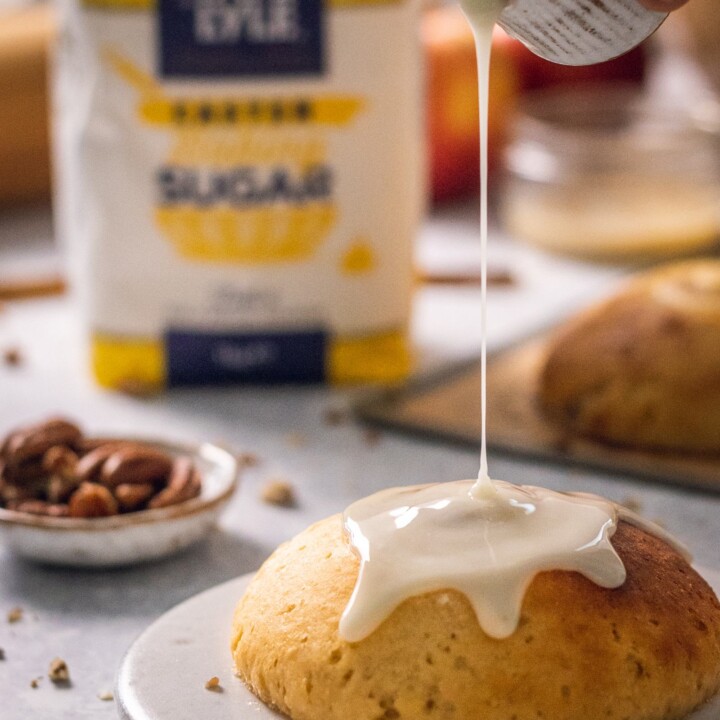 Vegan Apple Cinnamon Buns Recipe
Author:

Prep Time:

120

Cook Time:

15

Total Time:

2 hours 15 minutes

Yield:

8

1

x

Category:

Baked Goods

Method:

Oven Baked

Cuisine:

American

Diet:

Vegan
---
Description
Delicious soft vegan apple cinnamon buns recipe - easy to make and perfect for sharing with friends & family.
---
40g

plain flour +

420g

plain flour

180

ml plant milk +

160

ml plant milk

14g

yeast

40g

caster sugar +

50g

caster sugar (I used Tate & Lyle Pure Cane Caster Sugar)

A pinch of salt

40

ml rapeseed oil

2

apples, peeled and diced

1 tsp

cinnamon

70

ml water
For the glaze (optional):
A few tablespoon of icing sugar

A few teaspoons of plant milk

Toasted pecans
---
Instructions
In a large bowl combine the 420g plain flour, yeast, 40g sugar and salt. In a large jug combine the 160ml plant milk and rapeseed oil and set aside.

Add 40g of plain flour and 180ml plant milk to a non-stick saucepan and heat over low heat whilst continuously stirring until the mix begins to become thick and sticky, then remove from the heat. 

Create a well in the bowl with the dry ingredients and pour the contents of the jug inside. Roughly combine and slowly add in the heated sticky flour mix. Combine all ingredients with a wooden spatula and knead the dough on a lightly floured surface until soft & smooth. 

Place the dough ball into a greased bowl and cover with a damp kitchen towel. Set into a warm place and leave to rise for 1 hr. 

In the meantime, peel and dice the apples and place them in a saucepan alongside with the cinnamon, water & 50g sugar. Bring to a simmer until the apples have softened. Transfer to a blender & blend until smooth, then pour the mix back into the saucepan over low heat to allow for the mix to thicken. 

After an hour, gently knead the dough for 1 minute before rolling it out to 0.5-1cm thickness. Spread the apple cinnamon paste on top, then use a sharp knife to cut into strips. Carefully roll up each strip and place them upright onto a lined baking tray. Cover again for 45 minutes and preheat the oven to 190C in the meantime. 

Bake for 15-20 minutes or until the buns turn lightly golden. Allow for the buns to cool for 30 minutes before removing them from the tray. Combine a little icing sugar with a little plant milk and stir it up until you get a thick but smooth paste. Drizzle on top of the buns, sprinkle over a few toasted pecans and allow to set for about an hour. Enjoy right away or keep in an airtight container for up to 5 days. 
---
Notes
If you're topping your buns with nuts, such as the pecans I've used on this occasion, they taste best toasted. Simply pop them in your oven at 160C for a few minutes. Stay close by as they can easily burn! Alternatively you can also toast them on the stove in a non-stick frying pan over low/medium heat.
Alternatively to rapeseed oil you can also use melted extra virgin coconut oil.
If you want your buns to be nice and shiny, you can brush them with a vegan 'egg' wash made from 1 part maple syrup, 1 part plant milk.
For an extra crunch, add some chopped nuts onto your apple cinnamon paste!
Keywords: apple cinnamon buns recipe, cinnamon buns recipe, vegan cinnamon buns, vegan apple cinnamon buns, cinnamon buns, vegan bakes, vegan baking
Looking for more vegan bakes? Why not give these a go:
Vegan Blueberry Oat Crumble Bars
Vegan Apple Pockets with Marzipan
*Disclosure: This page may contain affiliate links and sponsored links that earn me a small commission, at no additional cost to you. You can find more information in my Privacy Policy.
 © Romy London / Romina Callwitz | All images and content are copyright protected. Please do not use my images and content without permission. If you wish to re-publish any recipes or images, please get in touch via email. Thanks for your support!