📍50 Berners St, Fitzrovia, London W1T 3NG
Nearest Tube: Oxford Street, Tottenham Court Road
Book A Table
Oh boy – where to begin. If you've known me for a while, you probably know that I absolutely love everything themed Alice in Wonderland. The Disney movie was one of my absolute favourites when I was a kid (and still is!) and I was totally fascinated with it.
I vividly remember that I had a friend in kindergarten who's had the VHS at home (and I didn't!) and every time I went around their house I just wanted to watch it – despite it being the midst of summer and wonderful weather outside 😉
Since growing up (age-wise that is :p) I have hosted two Alice in Wonderland themed tea parties myself (you can actually see the photos of one of them here).
Two years ago I've also visited the Alice exhibition at the British Library and even went to Oxford with a friend to check out the university and the place where the Alice author lived (not to mention that the hall in the Oxford Uni has also inspired the Great Hall in Harry Potter!)
So it was an absolute no-brainer that I had to try out the Vegan Mad Hatter Teaparty at Sanderson's in Central London.
Their teaparties are located in the café inside the gorgeous Sanderson Hotel – just a short walk away from Oxford Street, so very central and easy to get to.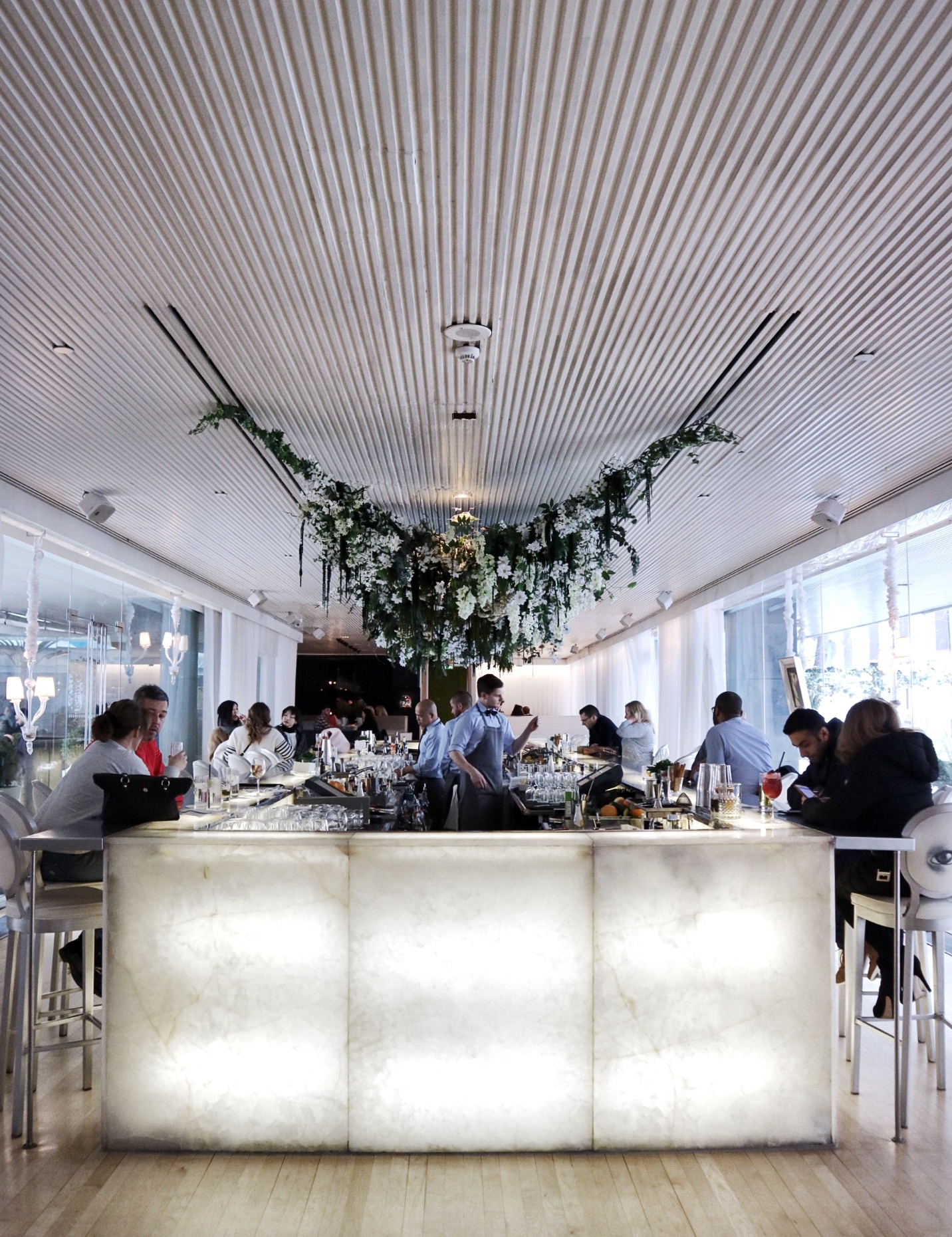 Their café/bar is definitely more on the fancy side & perfect to bring someone along for a special day (I might head back there when my Mum's next visiting!)
I went with my friend Rebecca who runs a stunning vegan Instagram account (@thezestylime) and she was totally hooked once I told her where we were going.
Upon entering the café/bar we were both stunned by the beautiful floral decoration above their bar, and were soon to find out that the theme was spun throughout the café area.
We were actually seated outside – yes you read that right, despite it being London temperatures at the end of March 😉 but their tents and heaters made it totally bearable and a lovely place to sit. I was definitely happy that their tables are all made of white marble (cause Instagram theme, you know ;))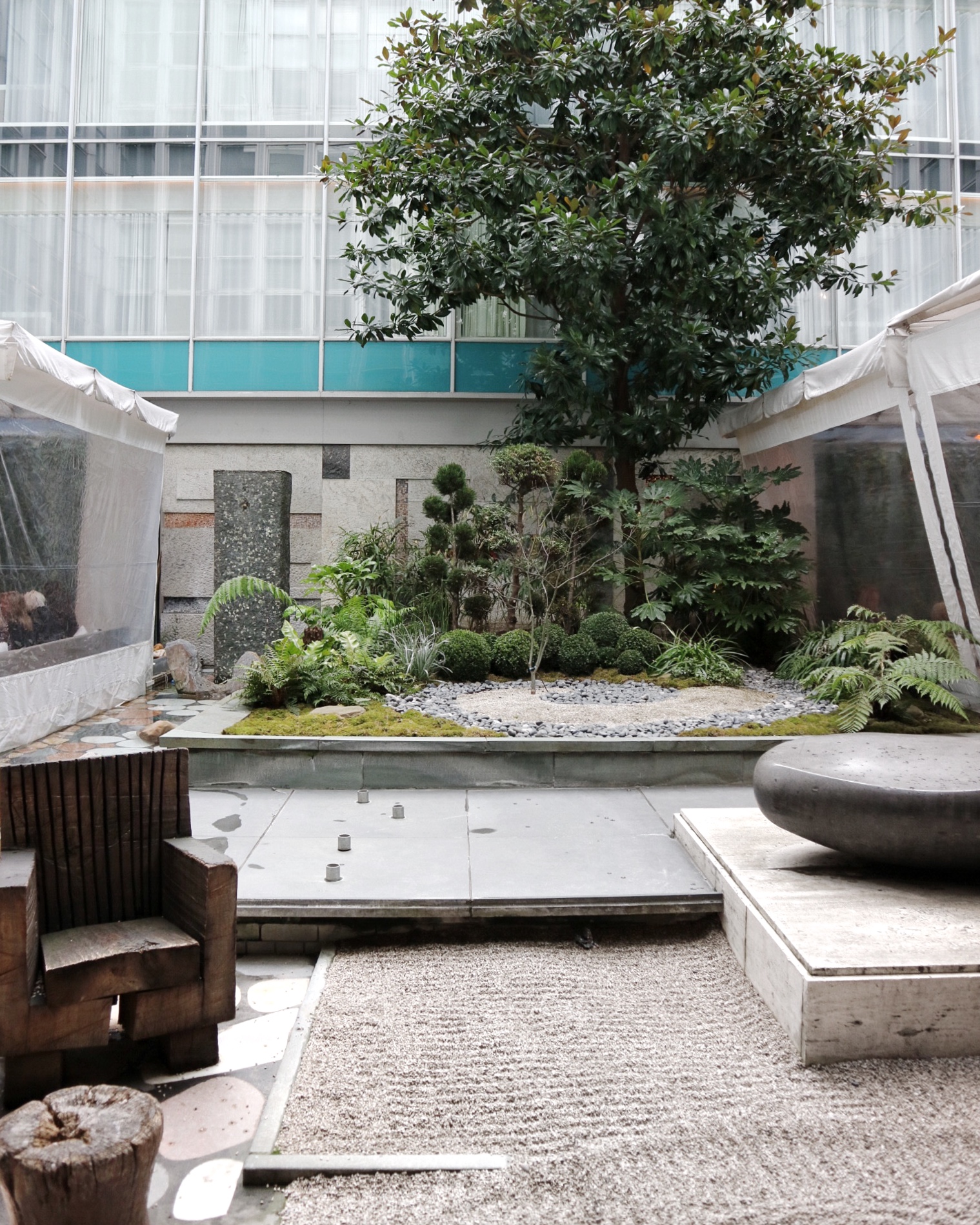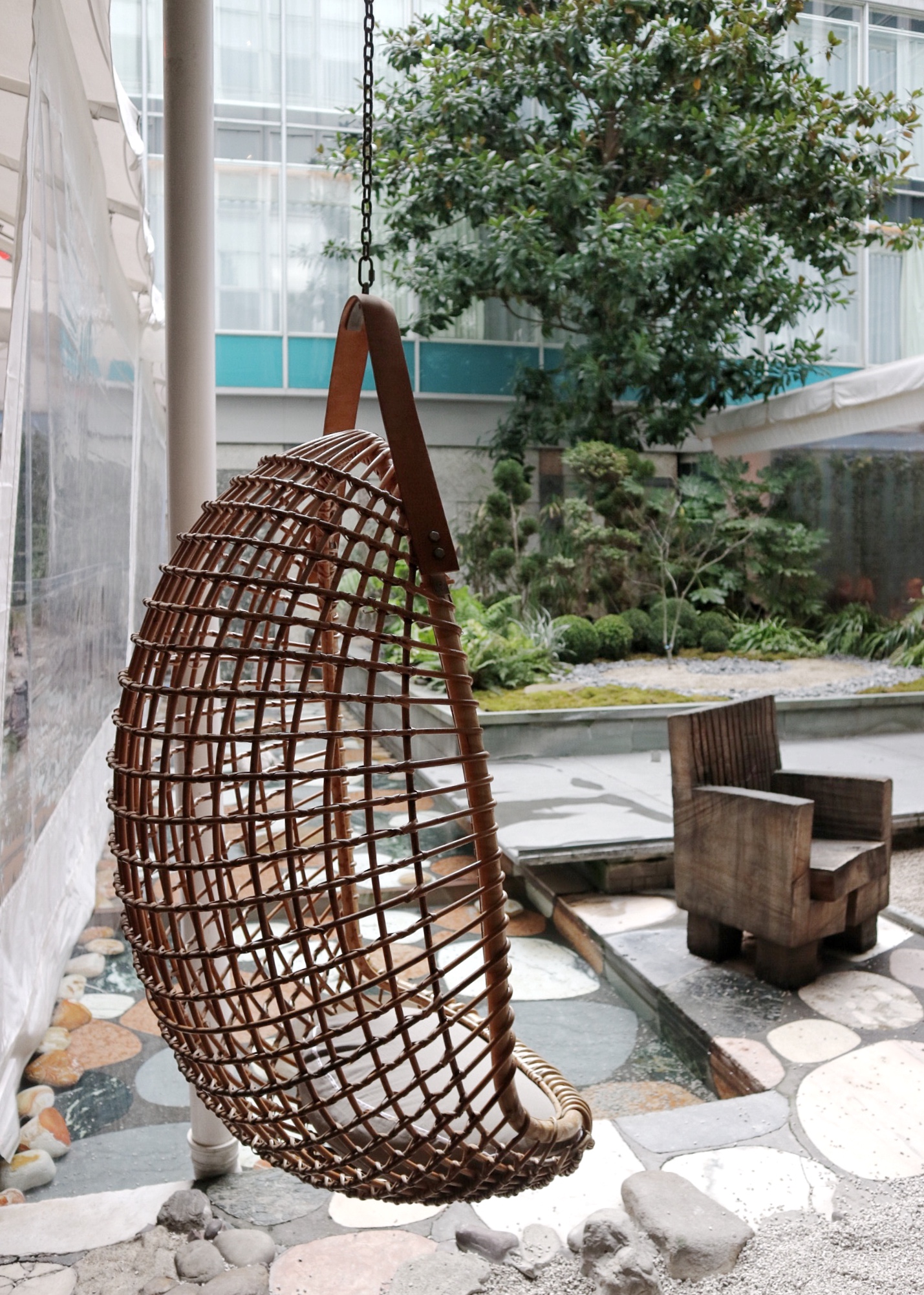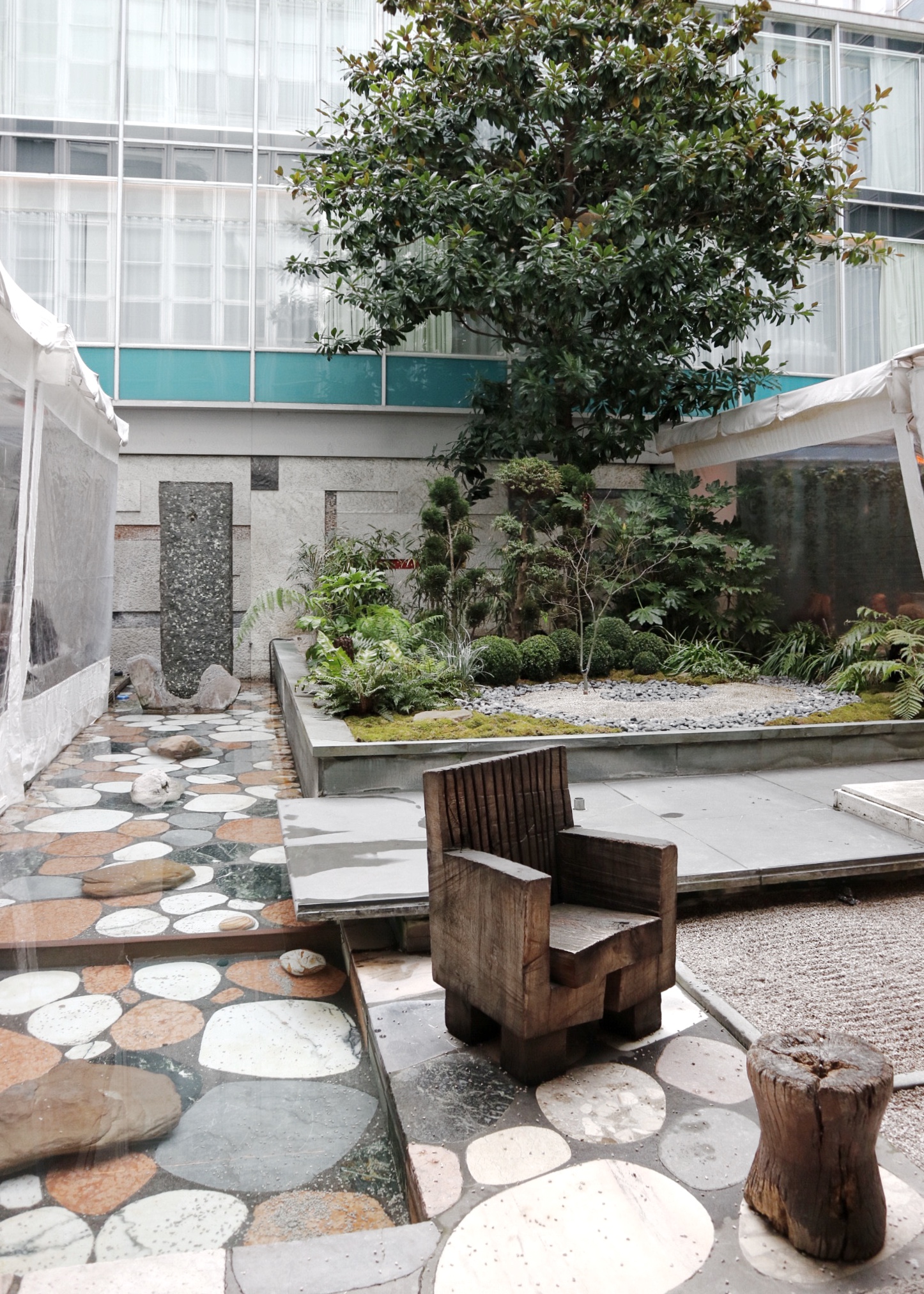 To begin with we each received a glass of champagne (we instantly knew this was off to a good start!) and could also choose from 5 Alice In Wonderland themed teas – as part of the Afternoon Tea they are actually bottomless!
I went with a good ol' classic: chocolate orange!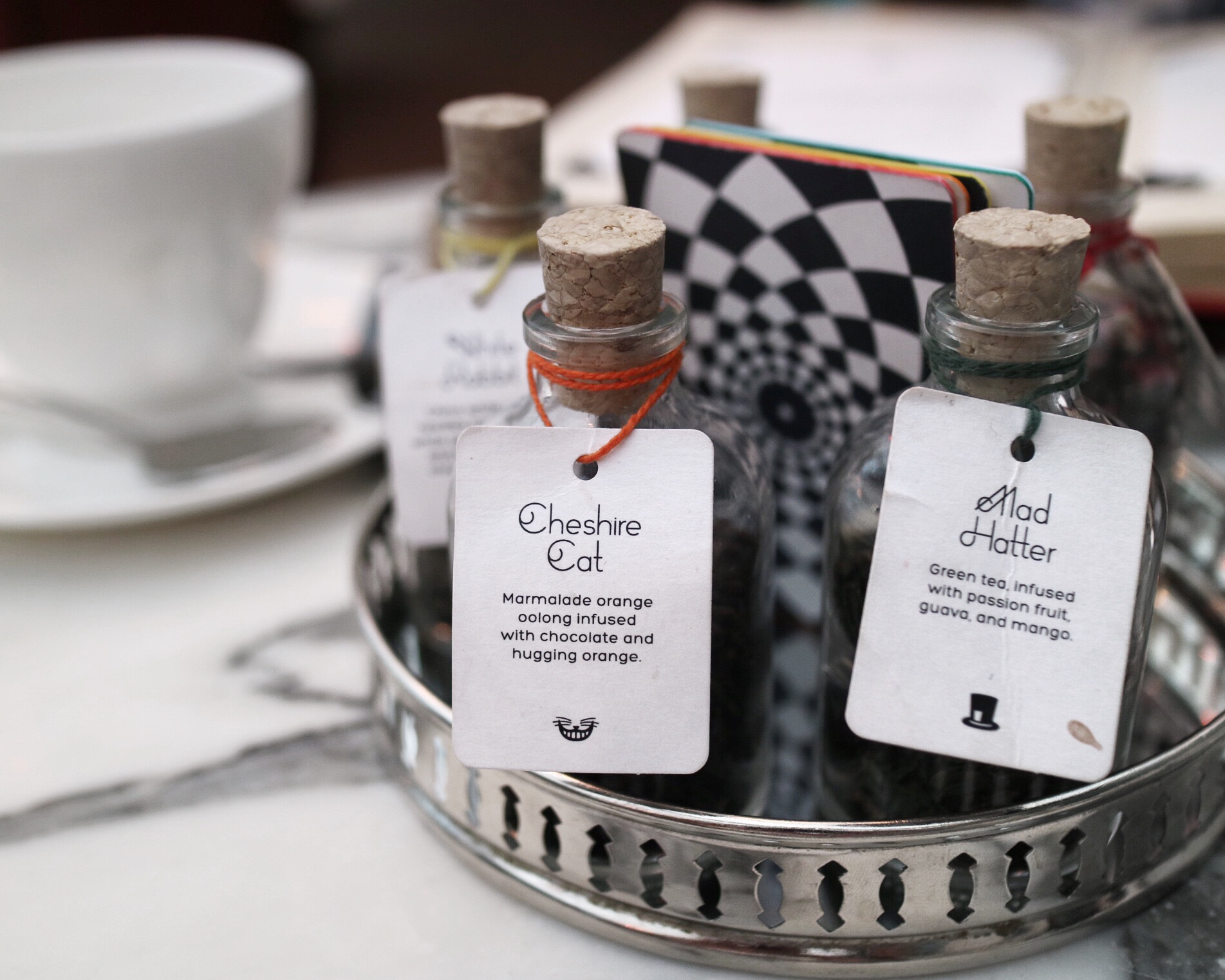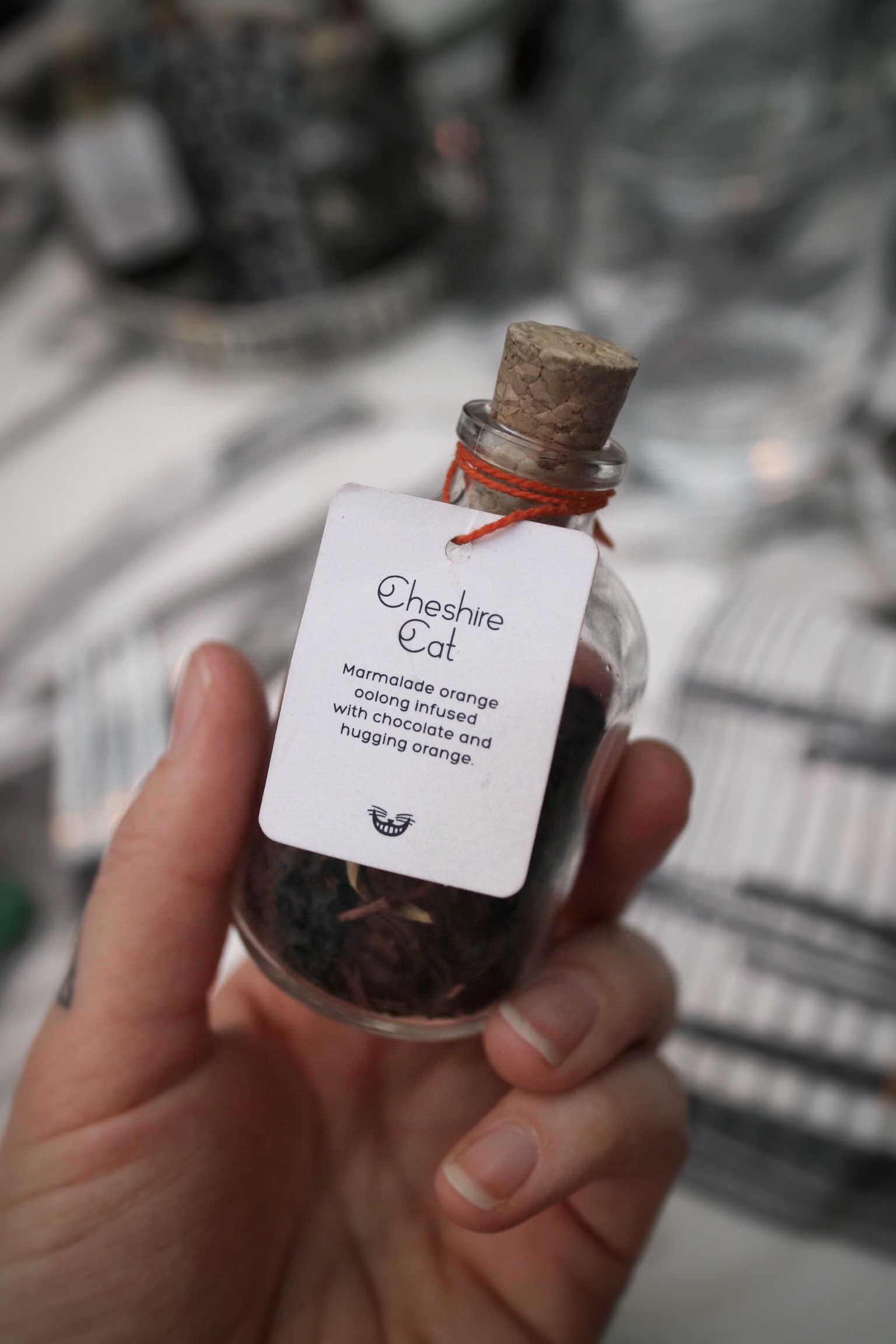 Everything was Alice themed and just look at the wonderful details – I absolutely love this kind of attention to detail!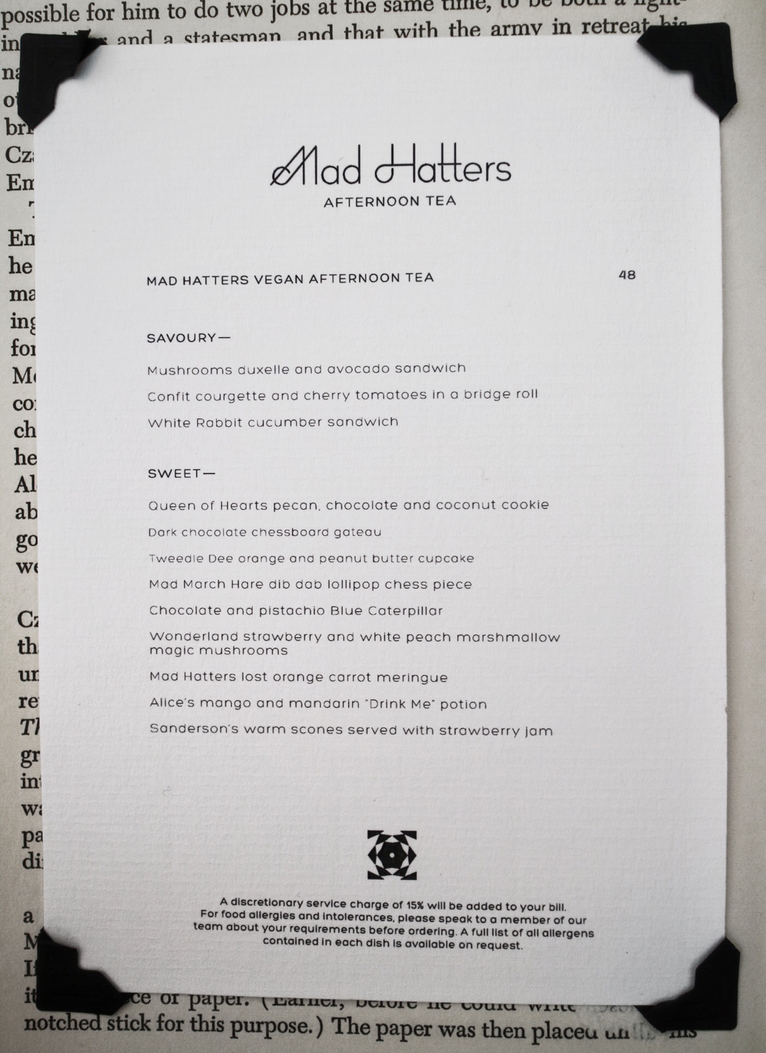 The menu was printed into an old book – isn't that amazing?!
All of the food was presented in the real afternoon tea style: on a gorgeous etagère!
But just look for yourself: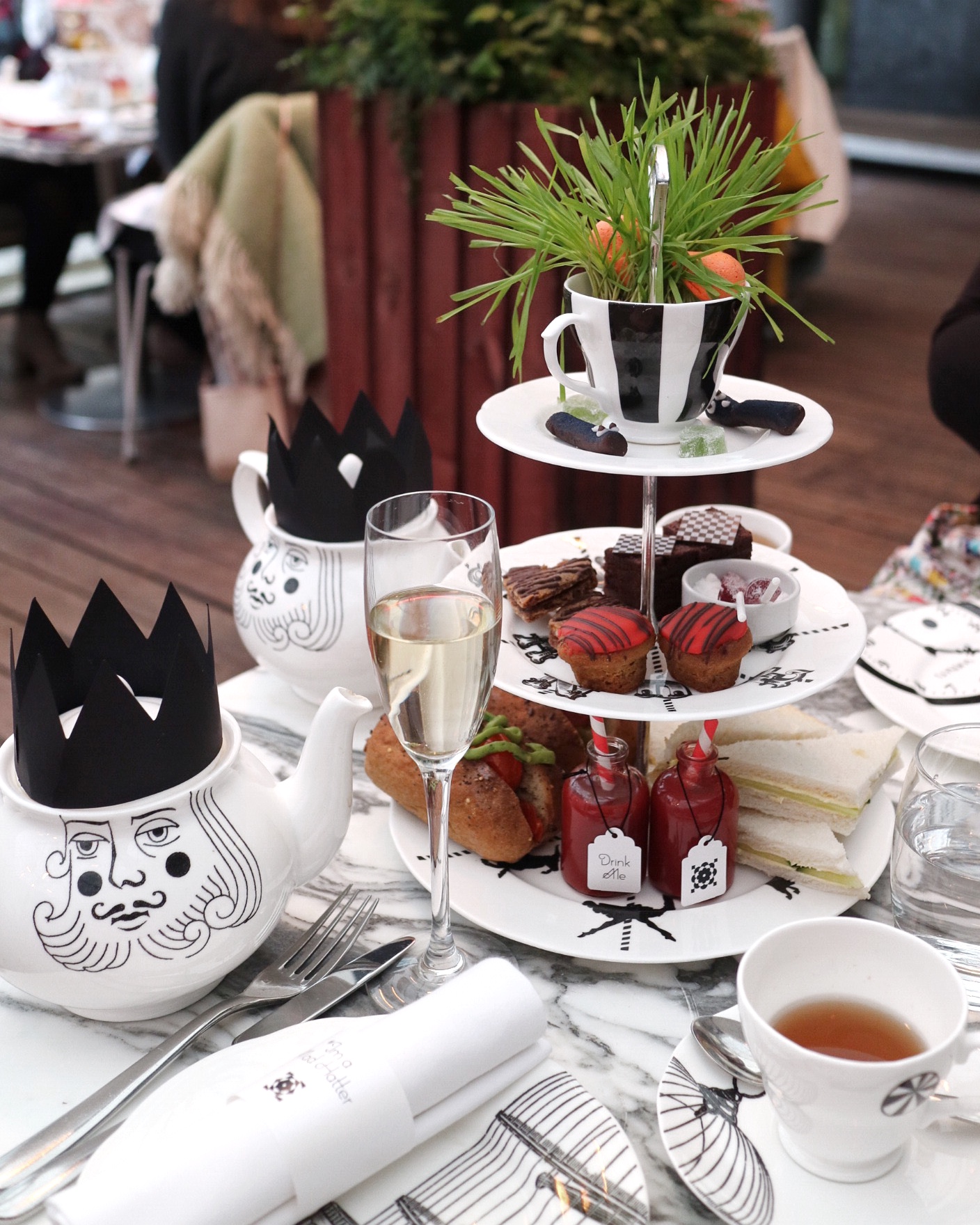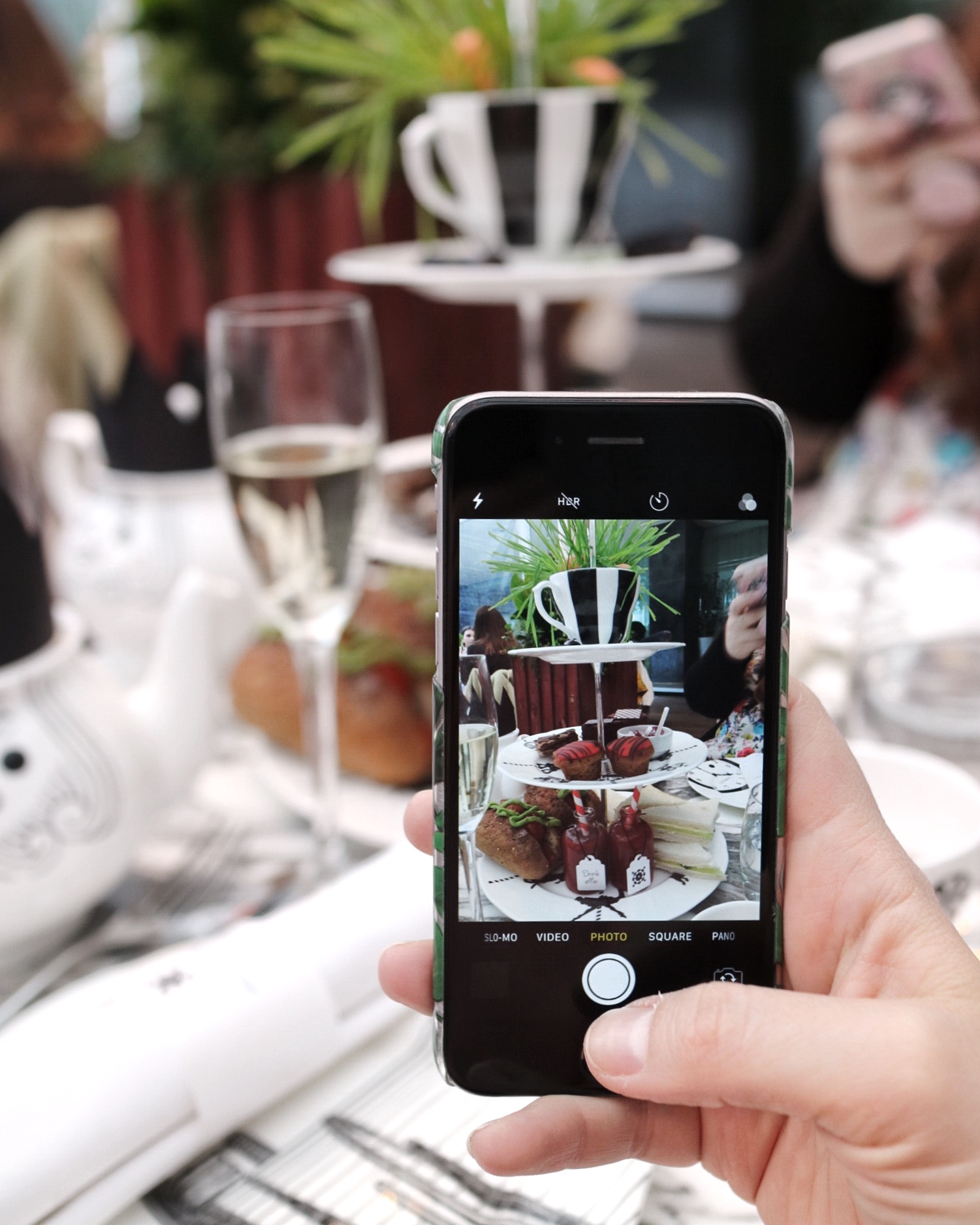 Oh my days! I didn't even know where to start – but luckily as both of us being food bloggers we had plenty of time photographing everything before we would even make a start on it all 😉
At the top of the Etagère were two little carrots made from vegan meringues accompanied by two cute little chocolate caterpillars.
The middle level was definitely the sweet station of the afternoon tea – with little chessboard gateau (doesn't it sound fancy! I would describe is at a perfectly square brownie bite ;)), a 'Queen of Hearts' pecan, chocolate & coconut cookie – which was definitely one of my favourite things on it – two mini cupcakes and super sour lollipops, which painted both my tongue and teeth completely red (yes ladies & gentlemen, at this point you're allowed to laugh at me! ;))
In addition we also received two freshly baked scones with vegan butter & marmalade.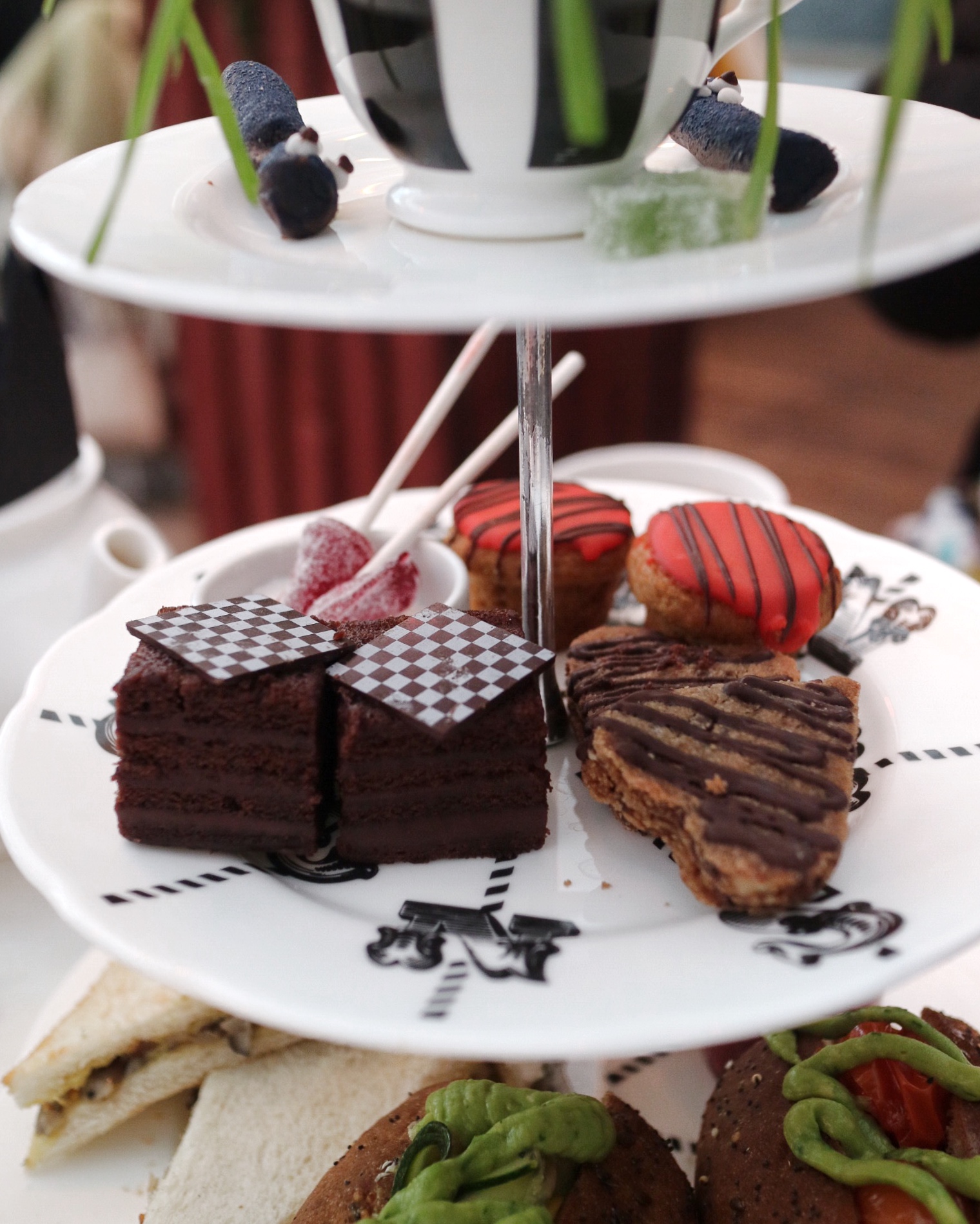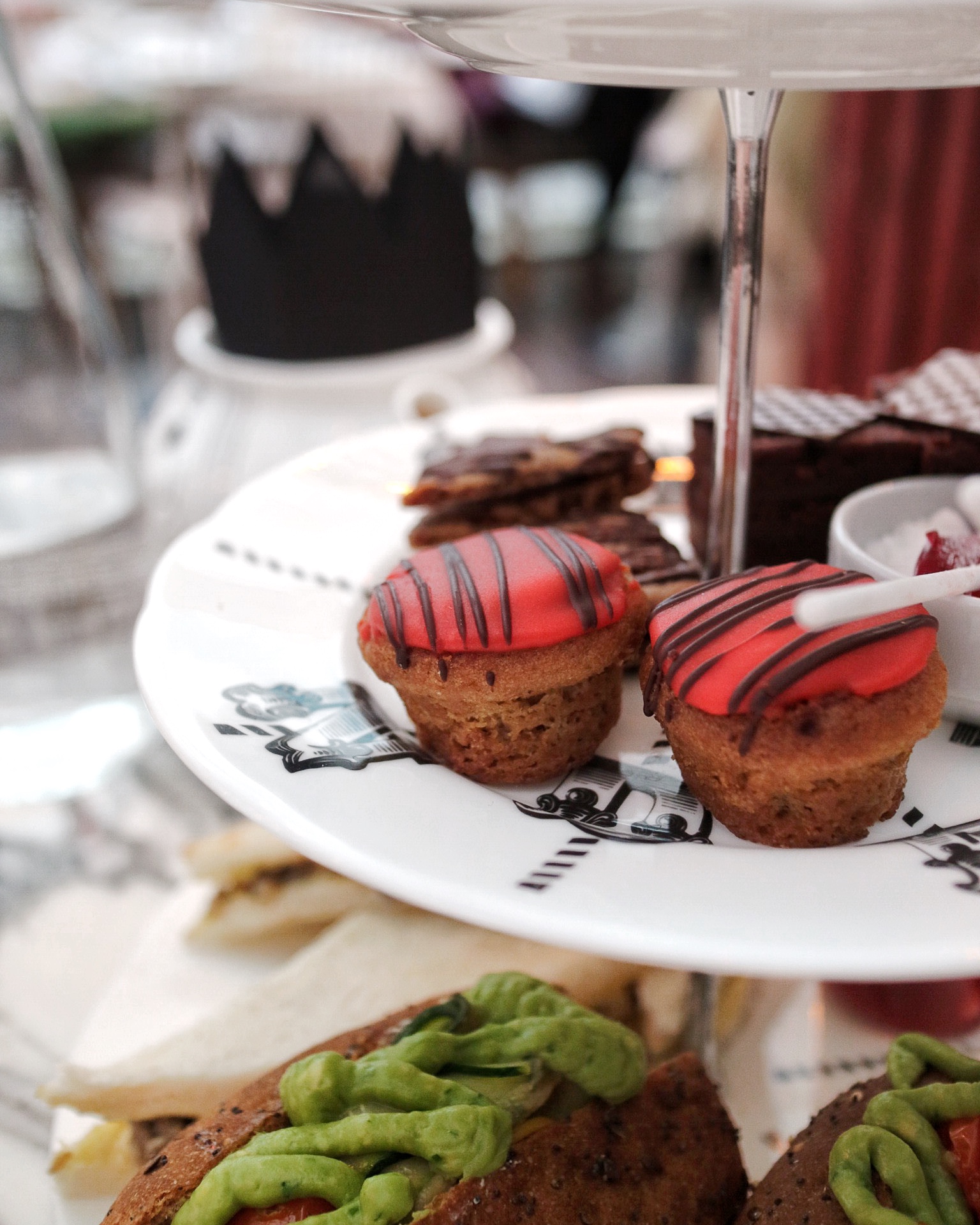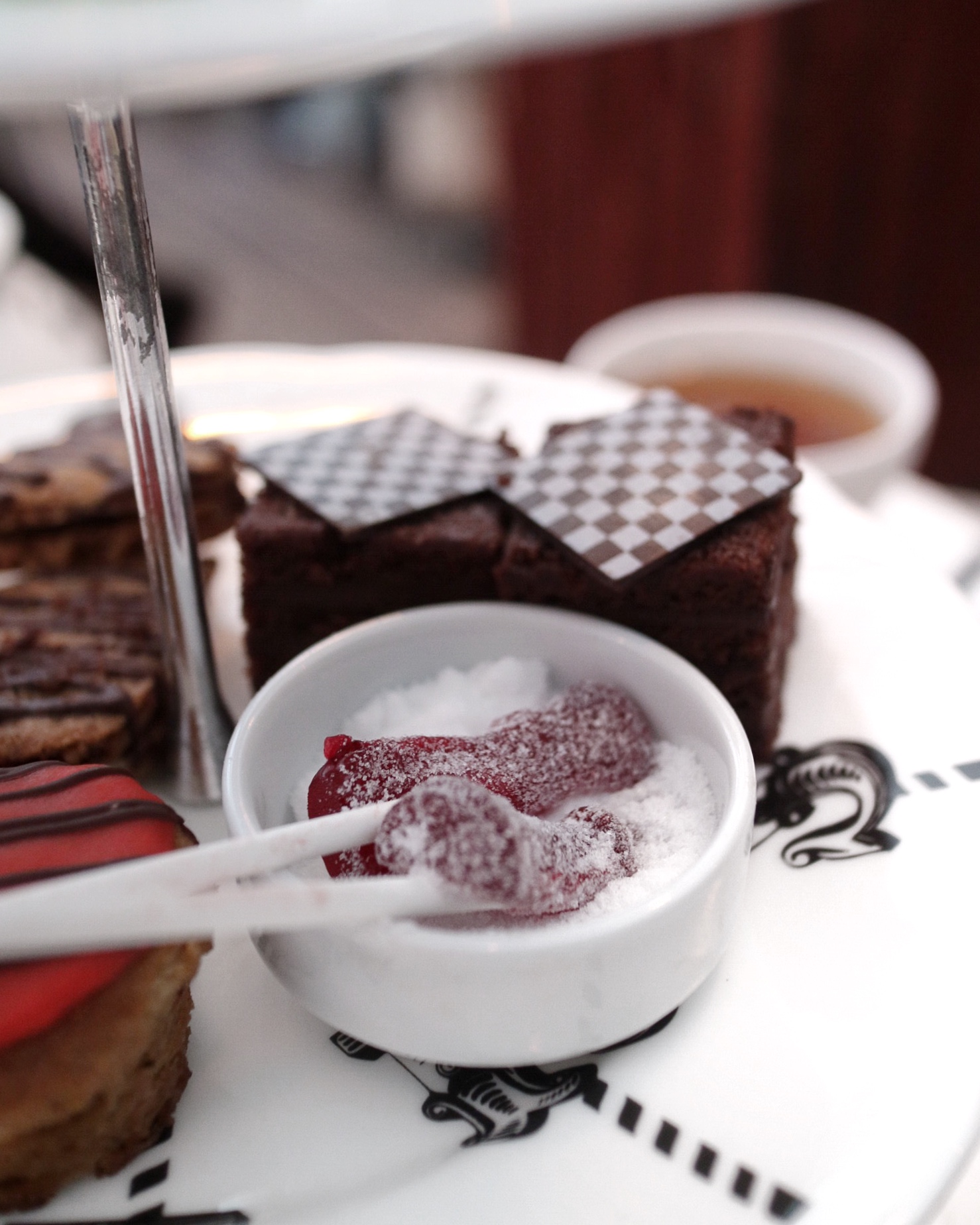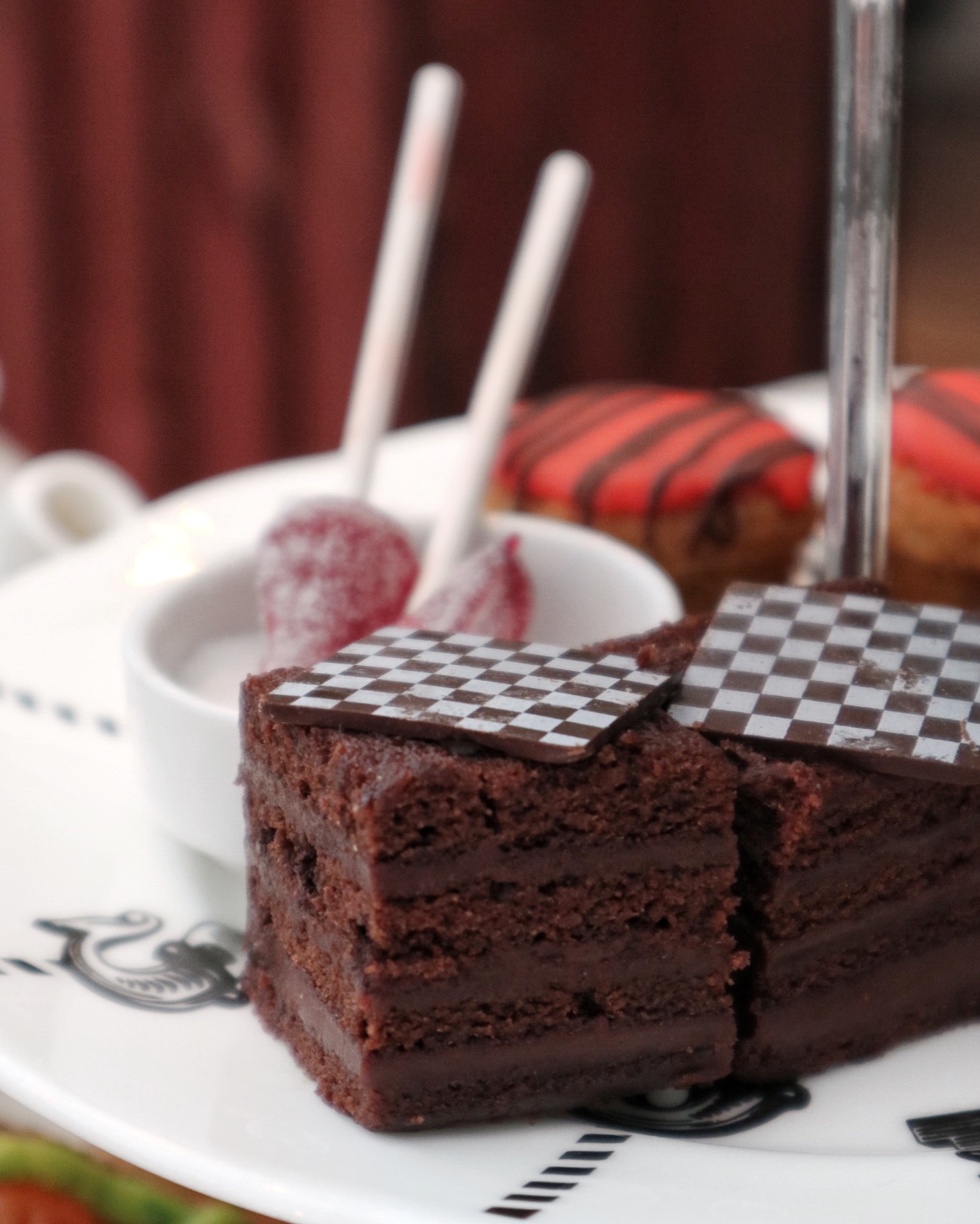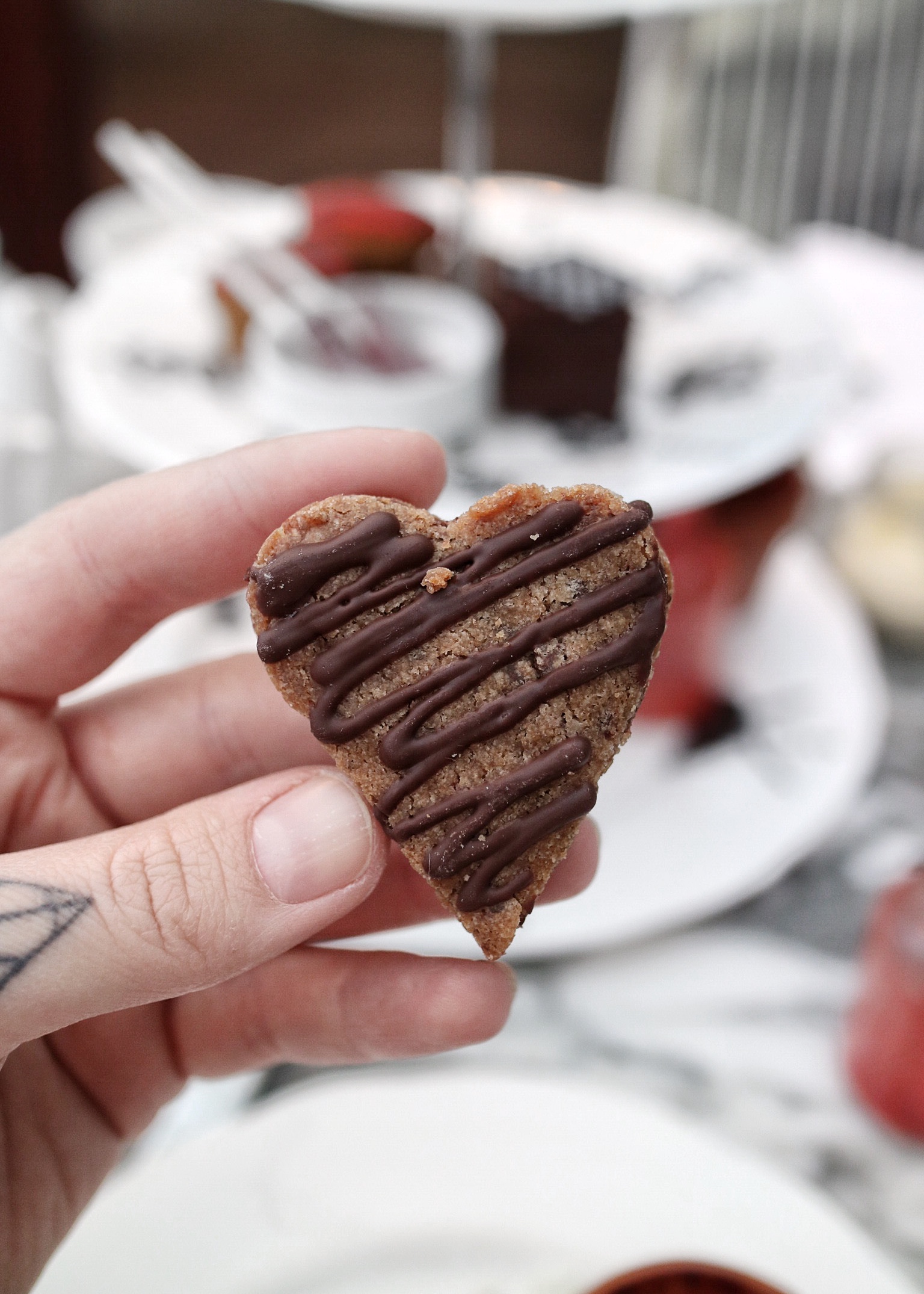 The bottom was reserved for the mostly savoury part of the menu – also including two little 'Drink Me' potions that were made out of mango & mandarin.
On the savoury side the etagère was holding two cucumber sandwiches, two confit courgette & cherry tomatoes in a bridge roll and two avocado sandwiches with mushrooms. You can probably imagine that we've had trouble deciding where to start!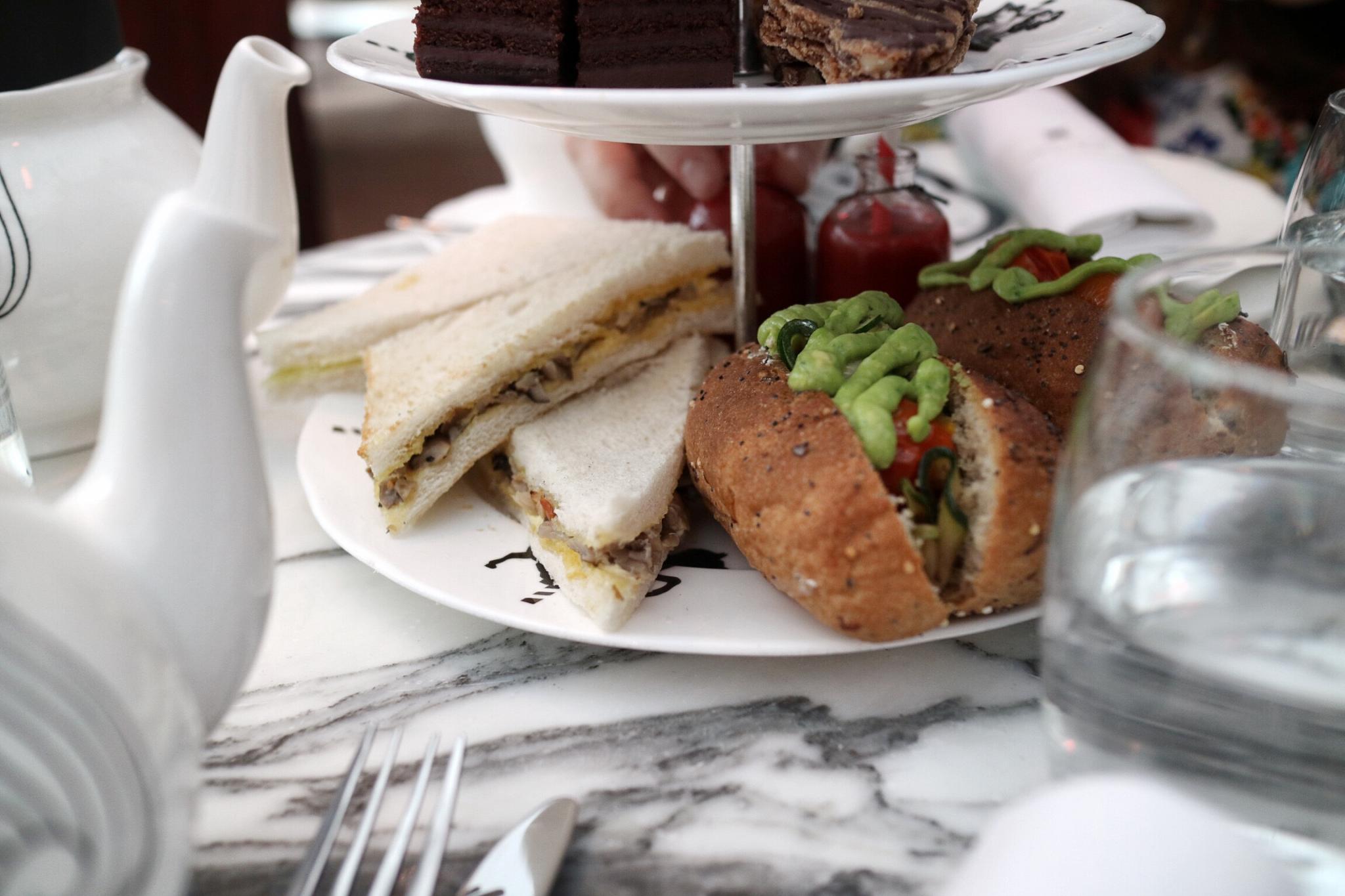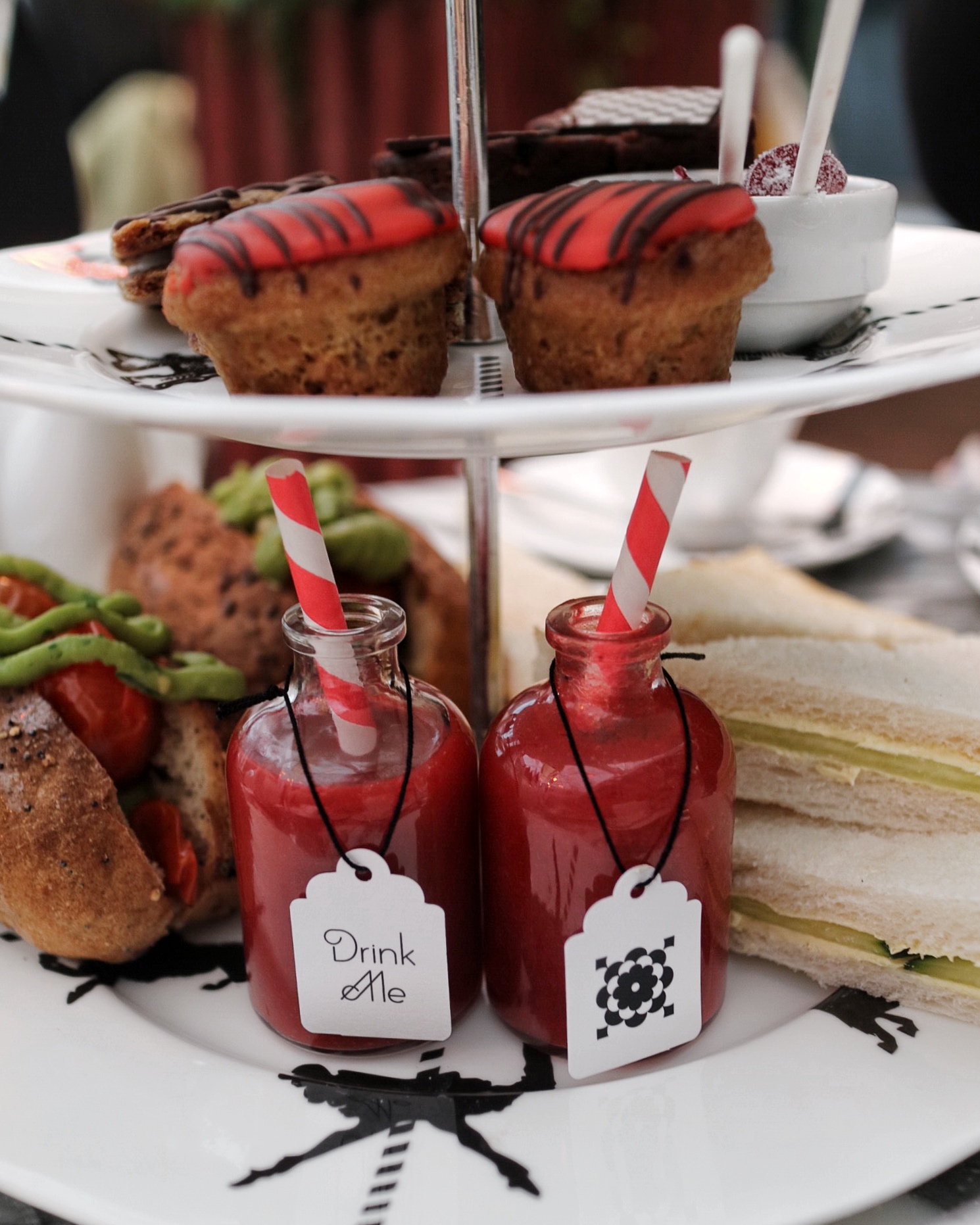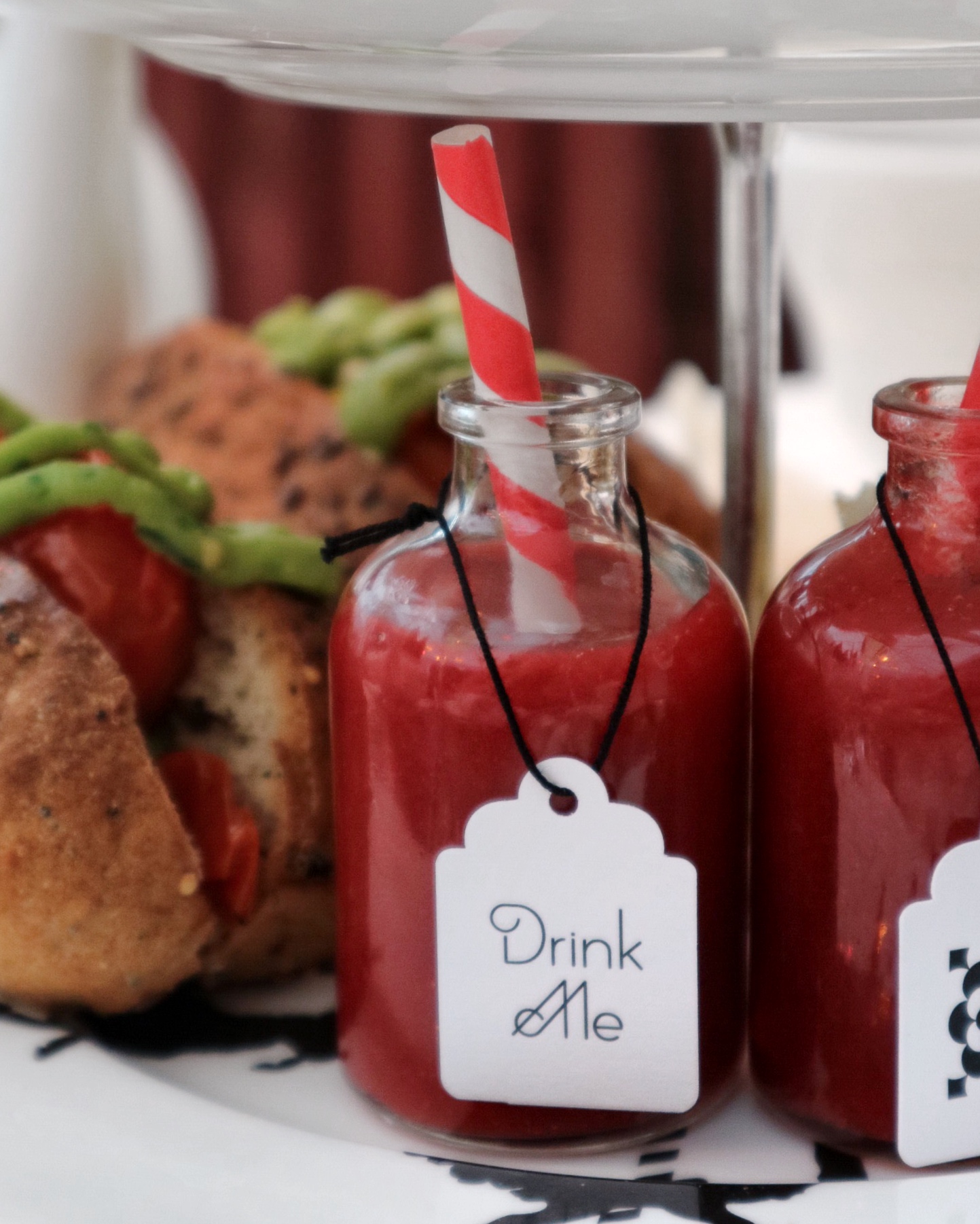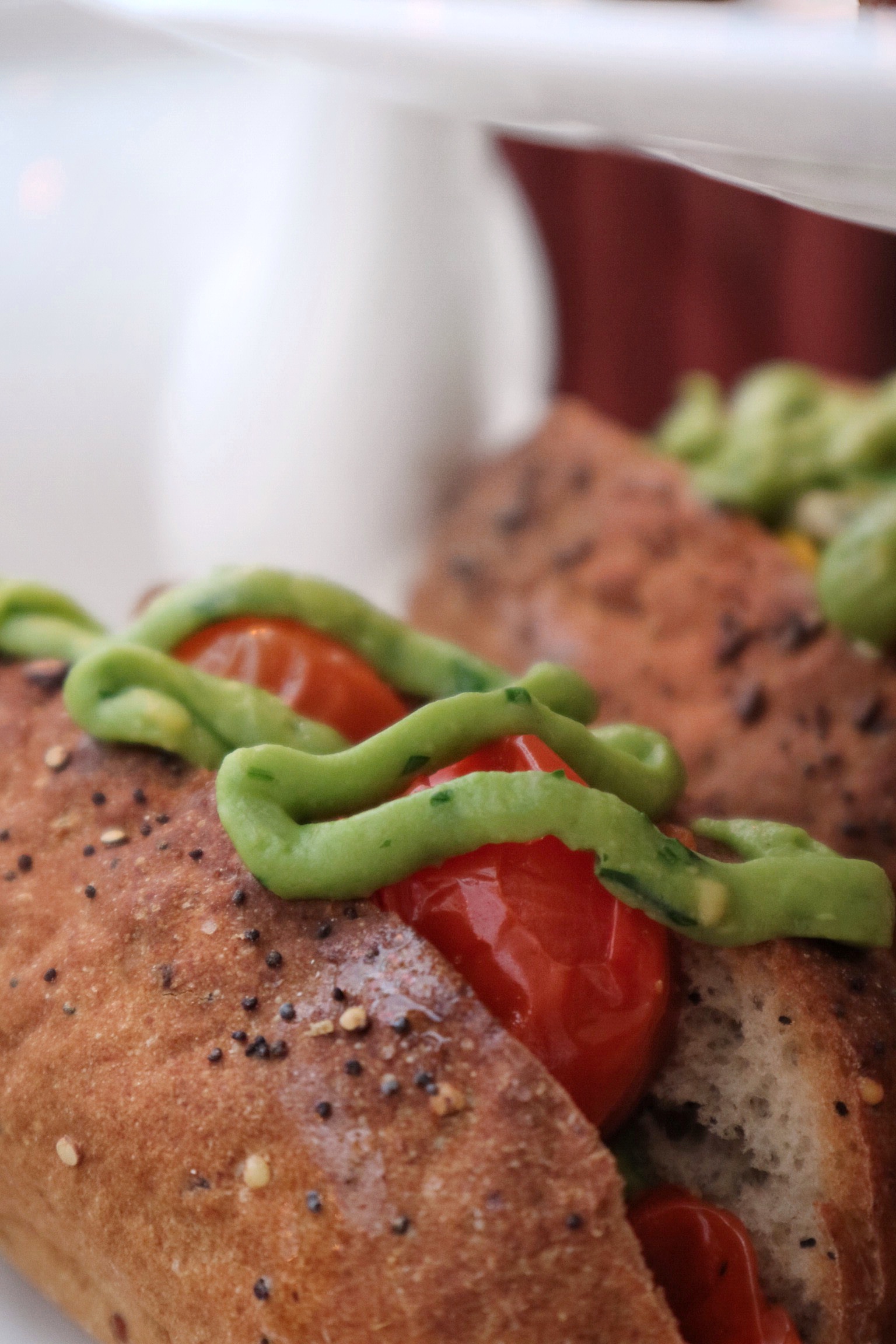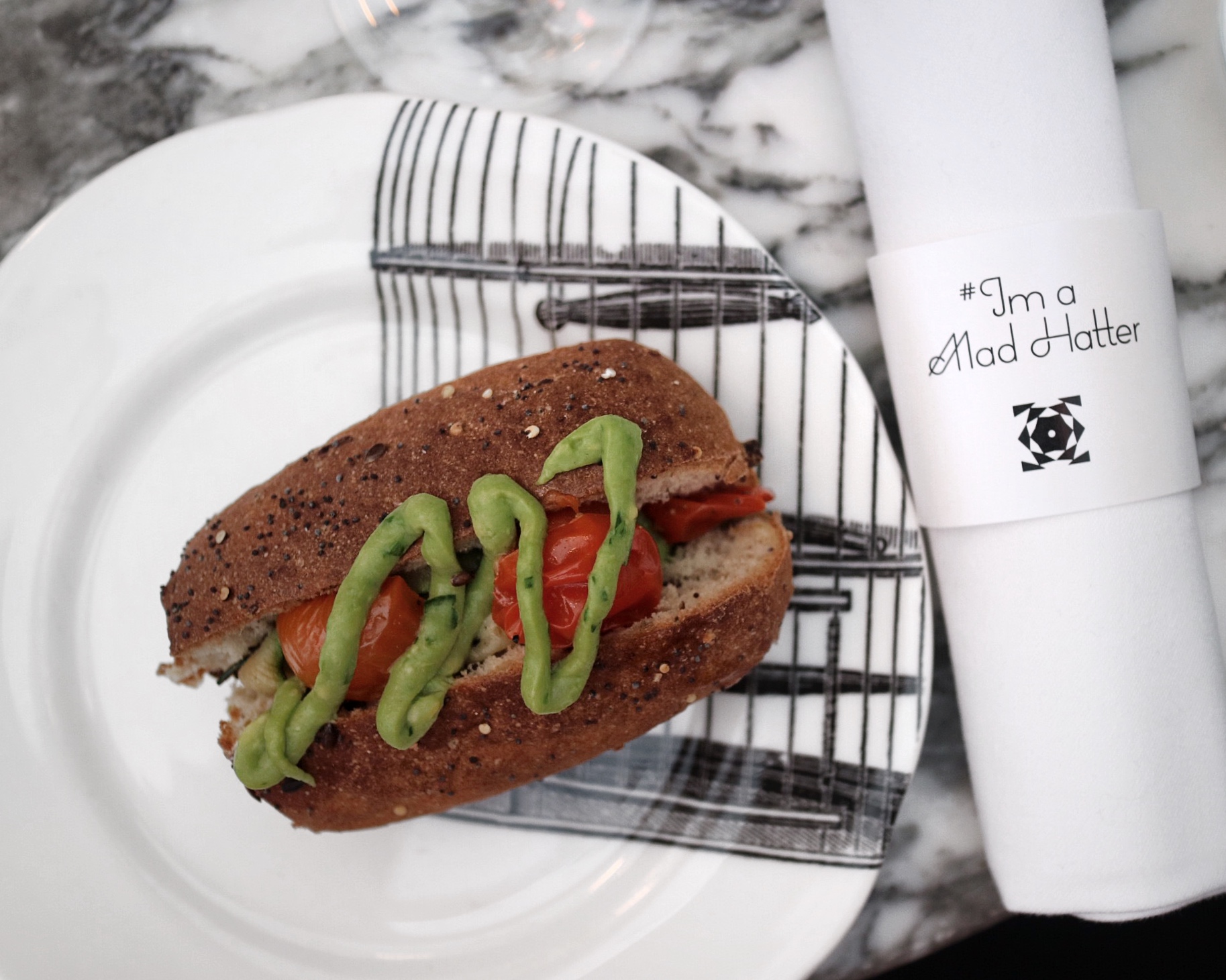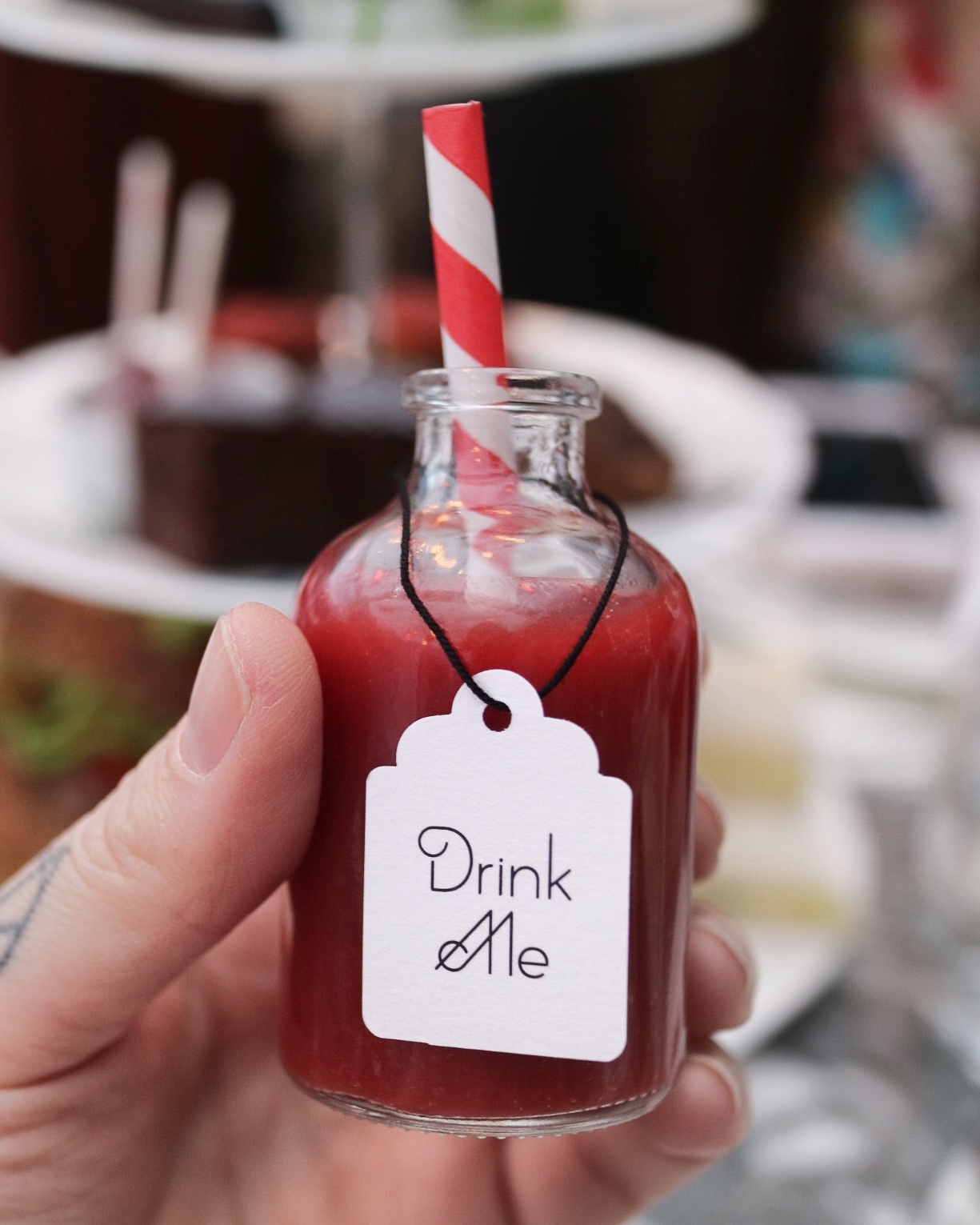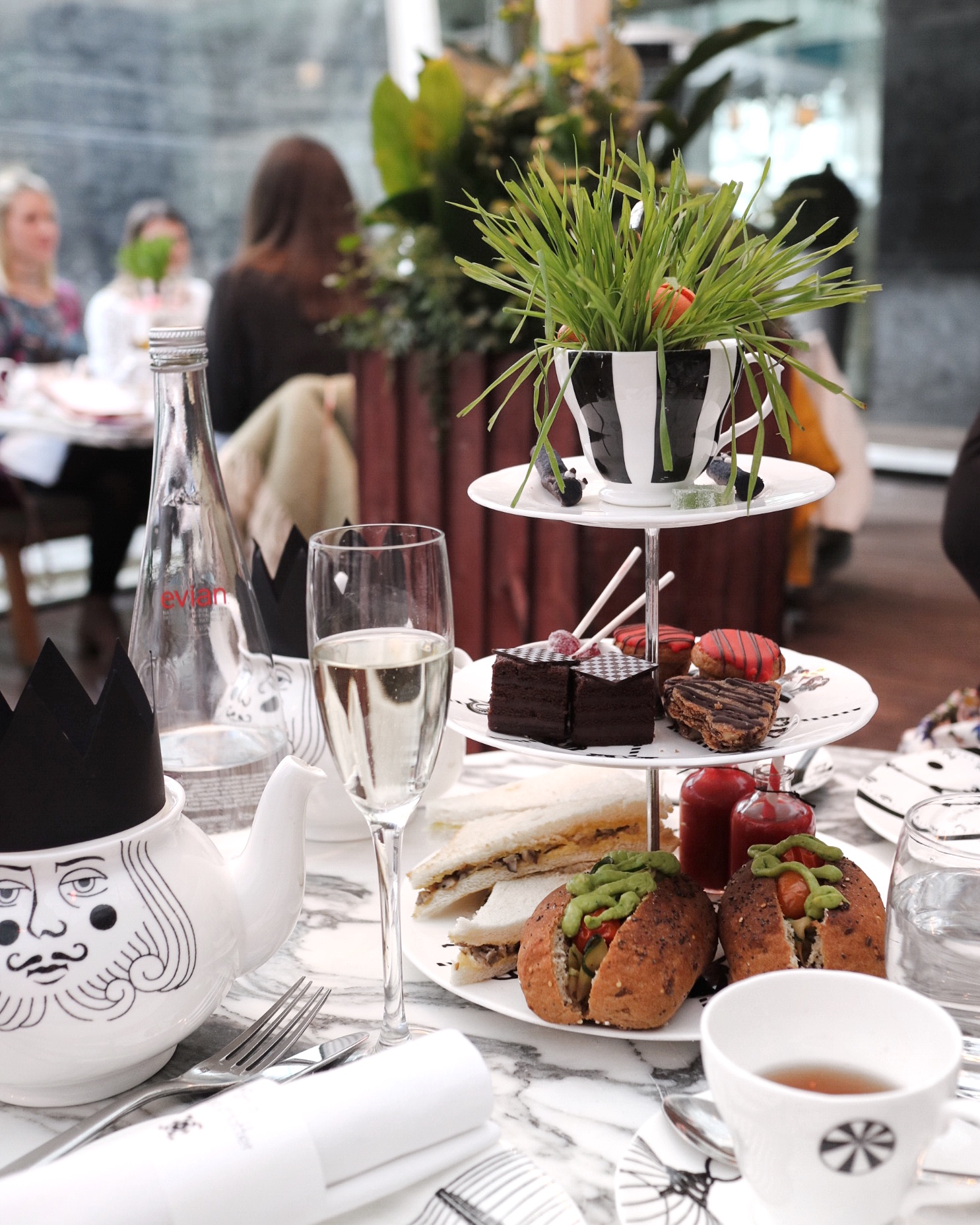 Besides the etagère we were also served a tasty sorbet which was served in tiny flower pots and decorated with edible flowers (attention to detail, ladies & gentlemen!)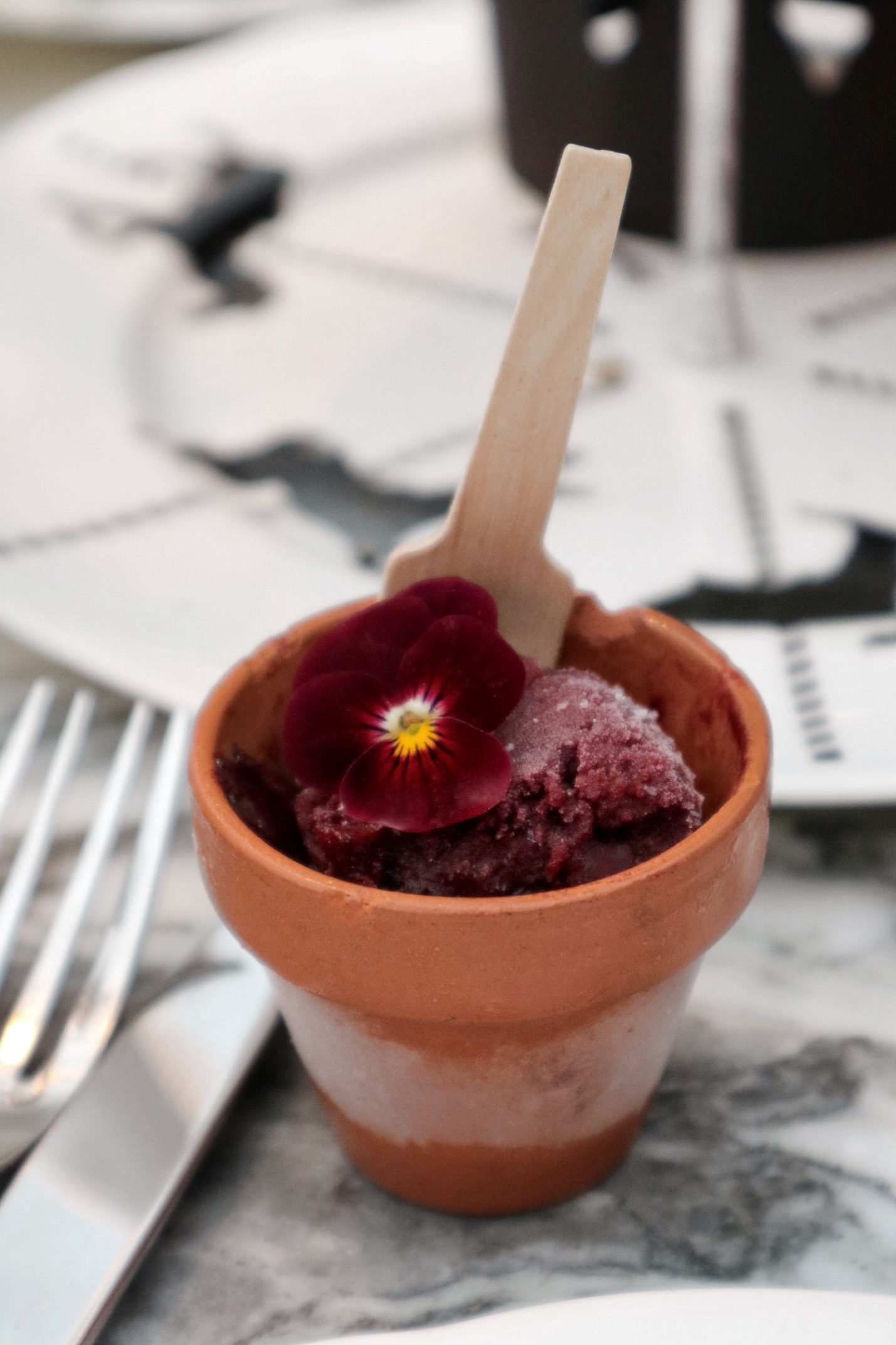 All in all it was a purely lovely afternoon – and I would go back any time! Will probably plan this in as a treat next time my mum is visiting London.
If you want to find out more about Sanderson's afternoon teas, have a look on their website here.
And if you get to go, make sure to venture off into the hotel reception where they are keeping some of the most interesting chair designs 😉