Looking for a great gravy that packs multiple levels of flavor? Then look no further because this Brandy Peppercorn Sauce will be right up your alley!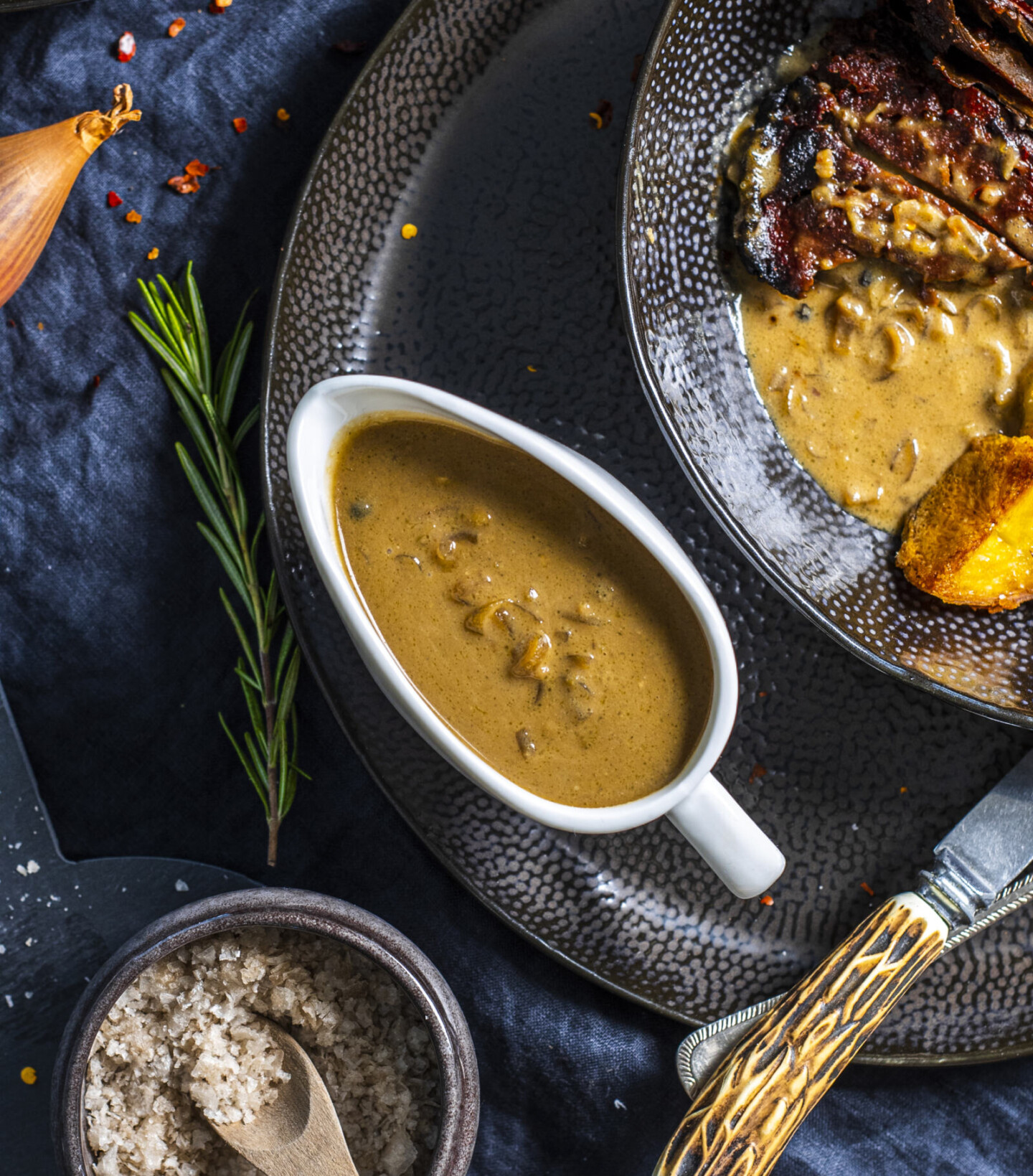 Brandy Peppercorn Sauce
Loaded with a comforting and rich peppery note, it warms up a meal on even the coldest of nights. This luscious sauce pairs well with a variety of roast dinners and is a great option if you're serving lots of different dishes on the dinner table. I love this sauce with anything mushroom flavored, such as the mushroom steak or the garlic and thyme mushroom pie.
This recipe is exclusively from my upcoming Vegan Cookbook "The Ultimate Guide to Vegan Roasts".
INGREDIENTS FOR THIS RECIPE
This luscious gravy is super easy to make, all you need is:
vegan butter
shallots
sea salt
garlic
whole peppercorns
vegan brandy
tamari
dairy-free cream
vegetable stock
mushroom powder (optional)
ground black pepper
cornstarch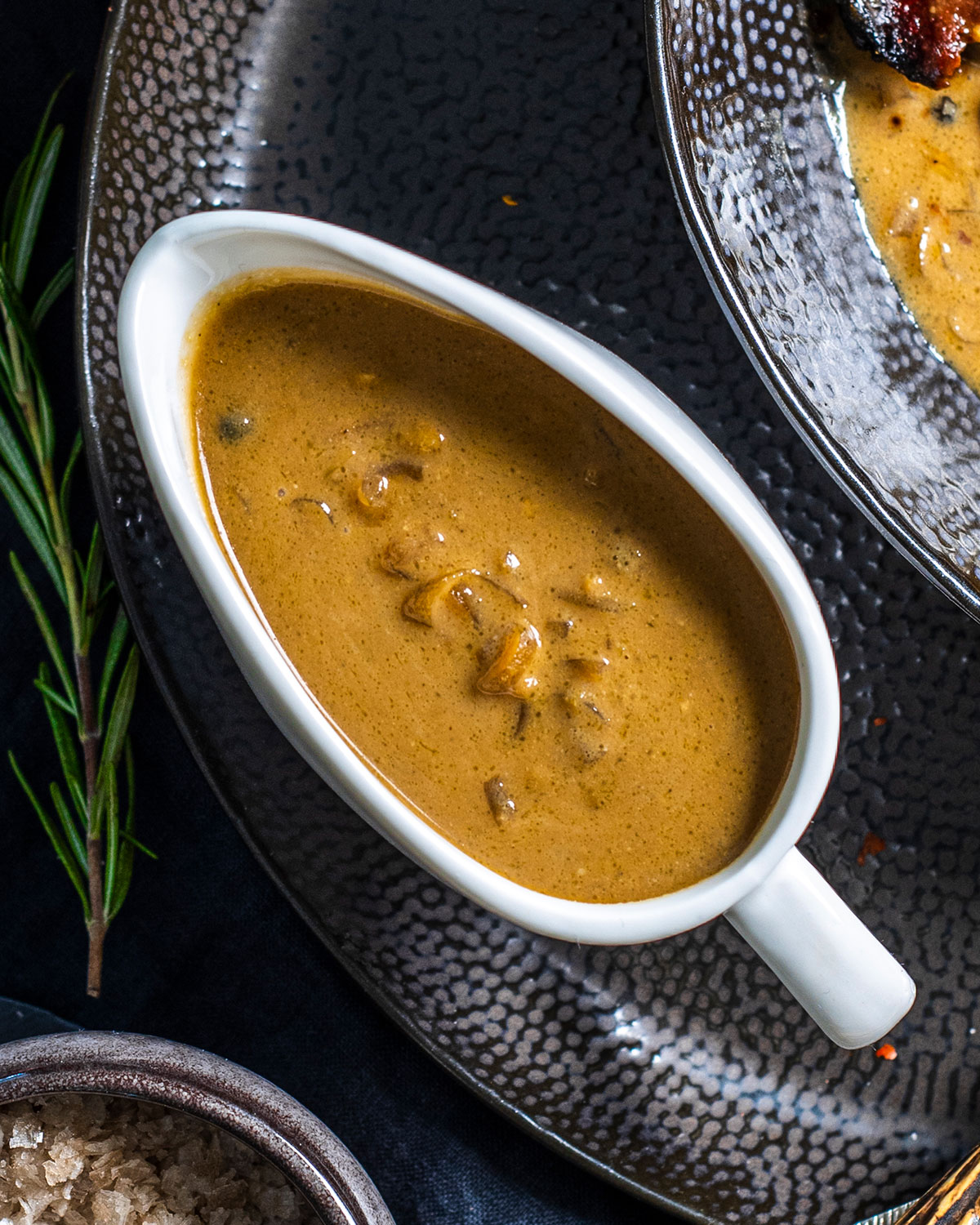 This vegan gravy recipe is:
100% vegan
gluten-free
quick and easy to make
simply delicious!
perfect for your next vegan roast dinner
from my first cookbook 'The Ultimate Guide to Vegan Roasts'
If you've tried and loved this recipe, I would love for you to leave a star rating and short review at the bottom of this recipe post ❤️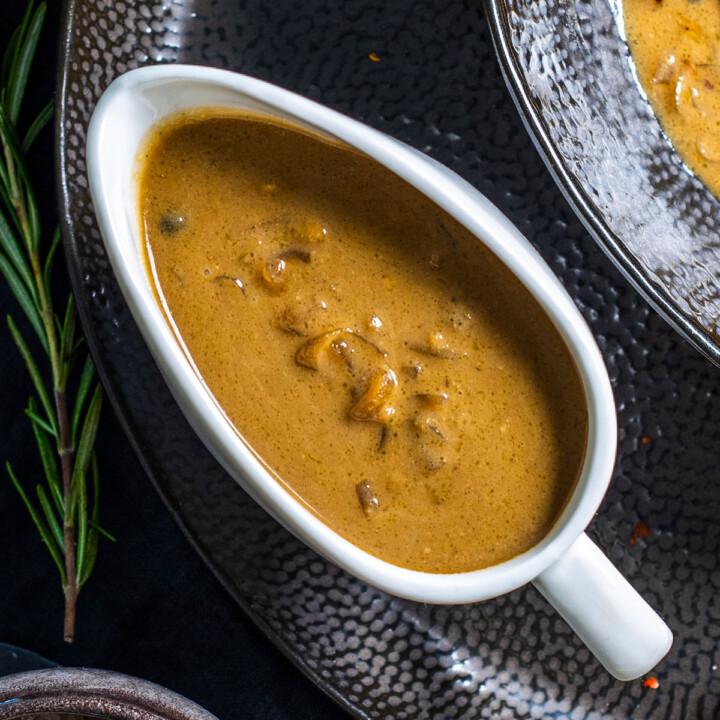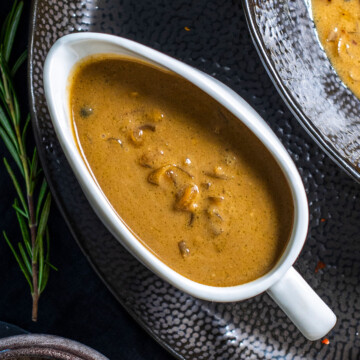 Brandy Peppercorn Sauce
Enjoy this luscious vegan gravy from my first cookbook "The Ultimate Guide to Vegan Roasts".
Equipment
1 saucepan

1 spoon or whisk
Ingredients
2

tbsp

vegan butter, unsalted

28 g

2

shallots, roughly 3 oz

85 g

1/2

tsp

sea salt, plus more to taste

2

tsp

crushed garlic

10 g

1

tbsp

whole peppercorns

6 g

2

tbsp

vegan brandy

30 ml

1

tbsp

tamari

15 ml

1

cup

dairy-free cream

240 ml

1

cup

vegetable stock

240 ml

1

tsp

mushroom powder

ground black pepper to taste

1

tsp

cornstarch

2

tbsp

water

30 ml
Instructions
Melt the vegan butter in a saucepan over medium heat. Add the shallots and sauté for 4 to 5 minutes, until translucent. Sprinkle in the salt after about 2 minutes.

Add the garlic and sauté for 1 minute. Sprinkle in the whole peppercornsand allow them to sit in the hot oil for 3 to 4 minutes before adding thebrandy.

Let the brandy bubble away for a minute, then add the tamari. Simmer itall for 3 to 4 minutes, until you get a thick liquid in the saucepan.

Pour in the dairy-free cream and vegetable stock, then stir in the mushroom powder (if using). Add a lid to the saucepan and bring the sauce to a simmer. Cook for 10 minutes over low heat, stirringfrequently, then season to taste with salt and black pepper.

Run the sauce through a fine-mesh sieve to remove the whole peppercorns and shallots. You can also leave them in the finished sauce. Make it the way you prefer! Mix the cornstarch with water tocreate a slurry, add it to the sauce and stir until the sauce thickens.Serve with your favorite roast.

Why not try this one with the mushroomsteak or the garlic and thyme mushroom roast pie?
© Romy London / Romina Callwitz | All images and content are copyright protected. Please do not use my images and content without prior permission. If you wish to re-publish this recipe, please get in touch via email. Thank you so much for supporting romylondonuk.com!
*Disclosure: This page may contain affiliate links that earn me a small commission, at no additional cost to you. You can find more information in my Privacy Policy.