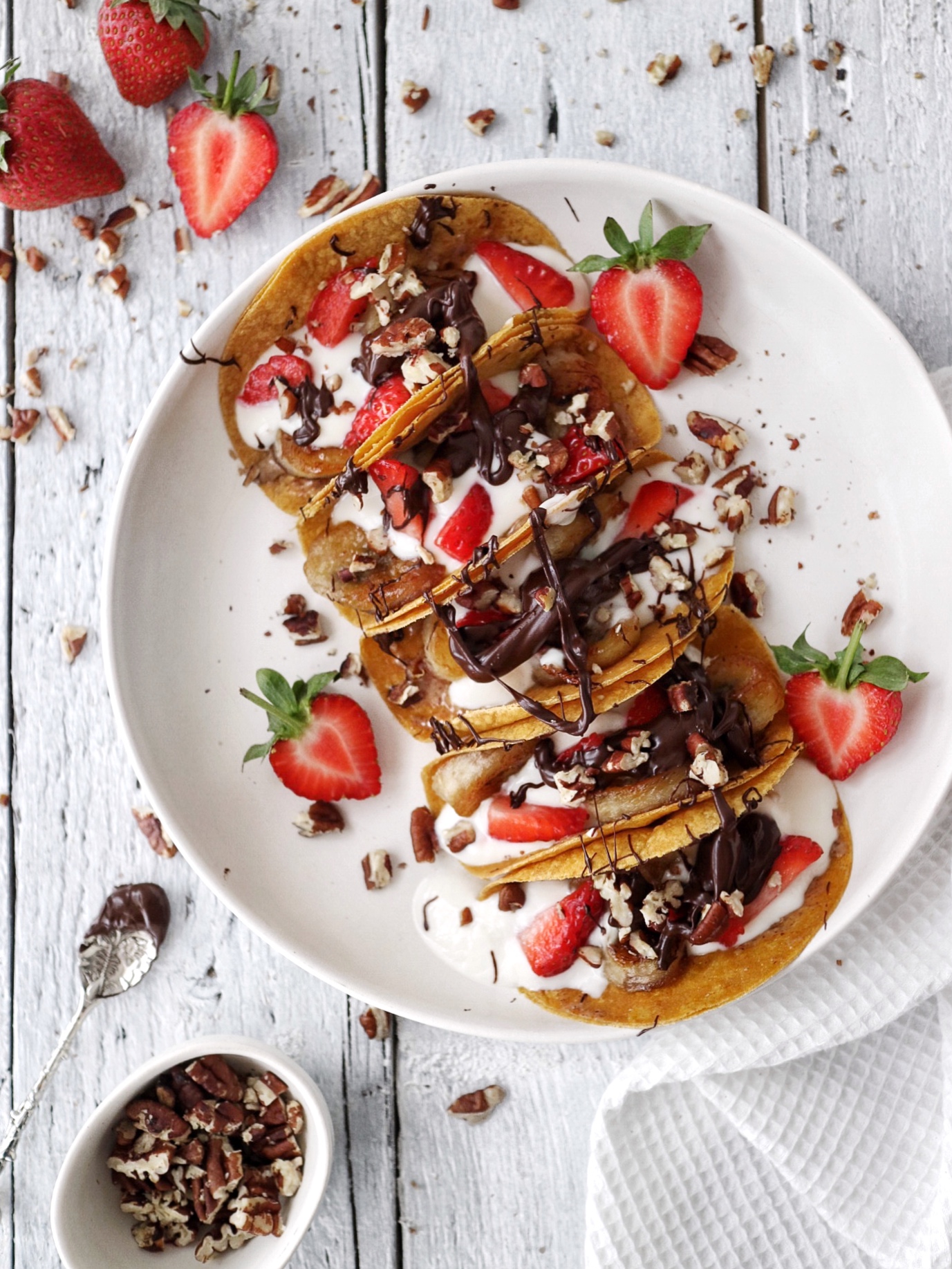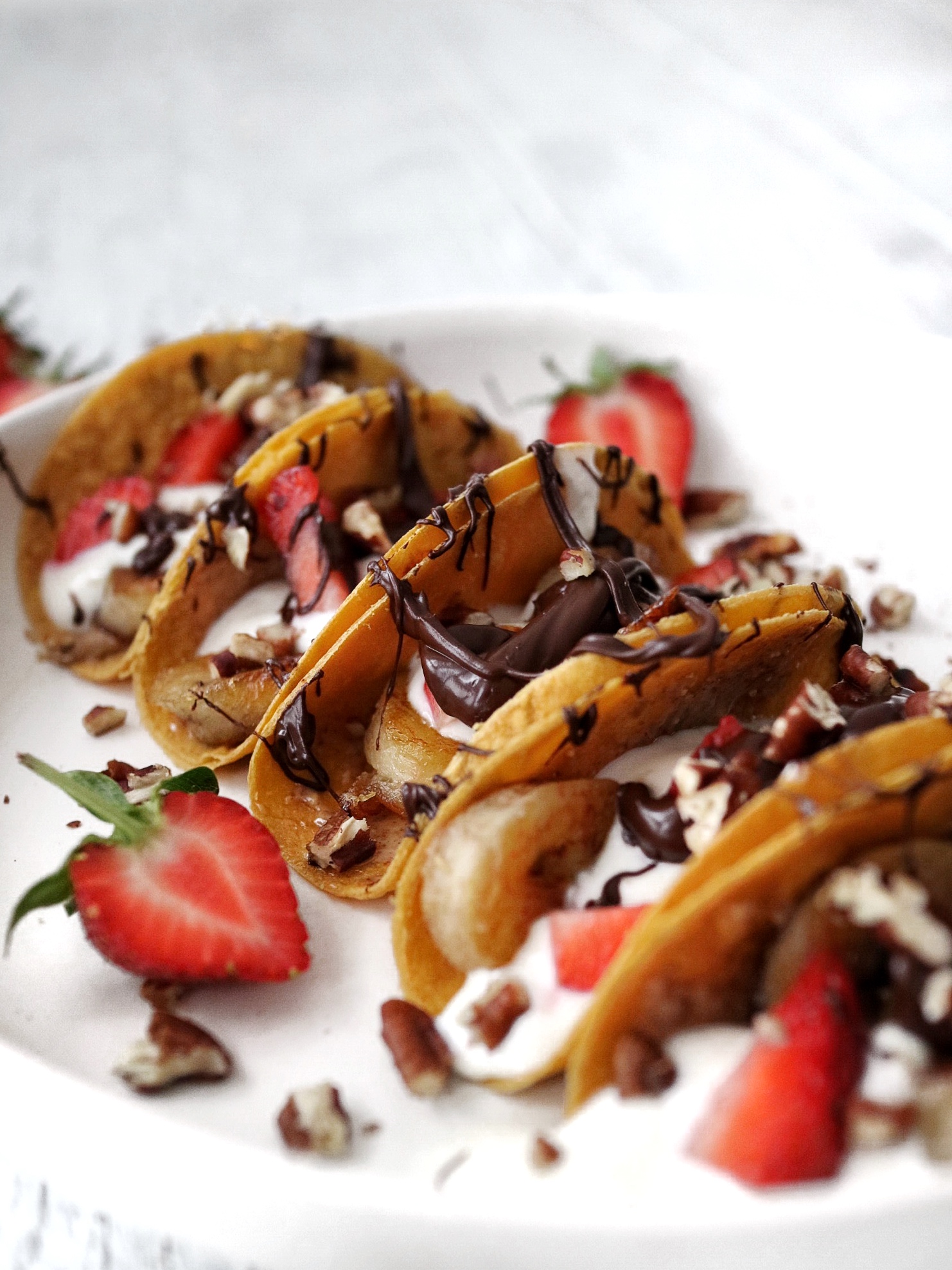 Ingredients:
2 Sweet Potato Wraps (I used these ones from BFree!)
1 cup Coconut Yogurt
2 Bananas
1 Tbsp vegan Honey (I used Vegablum - replace with Agave or Maple Syrup if you don't have vegan honey to hand!)
A little coconut oil for frying
1/4 tsp Cinnamon
A handful of fresh Strawberries
2 Tbsp Pecans
Vegan Chocolate Spread for the drizzle (I used Mr Organic!)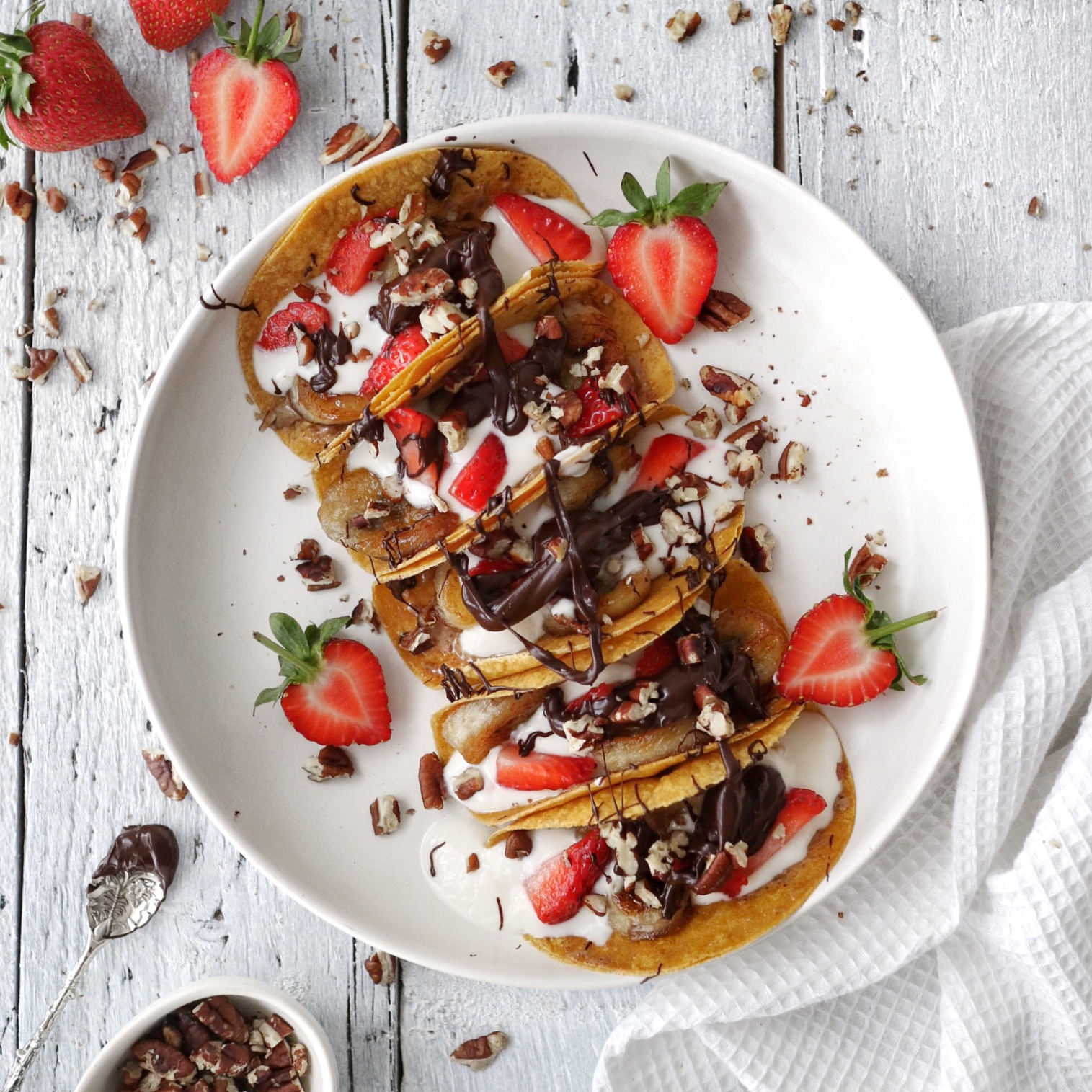 Method:
1. Start by cutting your wraps to shape! I used a big round cutter (that I believe is meant to be used for burgers!) to cut each wrap into 3 small tacos. Don't waste the cut-out leftovers! I dipped them into my leftover yogurt & chocolate spread after - yum!
2. Heat a small frying pan over medium heat and add the coconut oil. Cut the bananas into thick bite-size slices and add them to the pan, then drizzle over the vegan honey.
Let them fry for about 1 minute on each side (or until golden!) and make sure to flip them so they don't burn.
3. Drizzle a little cinnamon on top of the banana and set aside.
4. Now assemble the Tacos on your plate. Start by placing one of the tacos on the edge of the plate. Holding it in the taco shape with one hand, place the next taco next to it, so they are leaning against each other. Repeat until your plate is full with a row of tacos.
5. Now let's stuff these bad boys! Begin by dividing the banana between the tacos, then add about a spoonful of yogurt to each.
6. Cut up the strawberries into small chunks and place them on top of the yogurt.
7. Heat a dry pan over medium heat & place the pecans inside. Toast them for about 1-2 minutes. Alternatively, you can toast them in the oven, but ensure to keep an eye on them as they can easily burn!
8. Break the toasted pecans with your hands and sprinkle them on top of your tacos.
9. Et voila! You're ready to go & enjoy!