Oh… hang on… did we miss one?!
Yes we did – and I'm not even afraid to admit it! Everyone who's been following my Instastories knows that these past few weeks have been super hectic as they were my final weeks in my job (in case you didn't knowL I quit my job! But more about that here) – not wanting to make excuses for myself, my priorities were simply somewhere else during September.
Whatsoever, welcome to another month' favourites!
I honestly had so many items on my mental shortlist, that I've been finding it difficult to narrow them all down & not overcrowd this month' favourites. I hope you'll enjoy these products & services as much as I did over the past 60 days!
1. Pumpkin Scented Soy Wax Candles by Harpers Candles
It's actually kind of surprising that no candles from Harper's have been featured on my favourites so far, to be honest. I've been super obsessed with these wonderful candles for the past two years and regularly stock up with them at local vegan events.
This pumpkin candle has been Nick's absolute favourite and I have seen him get it out the cupboard multiple times throughout the past year – not only during autumn and winter 😉 I think I actually overdid it with this scent once last year and as I'm super super sensitive to scents in general, it's taken me a couple of month before I got back into the scent – and now I'm actually all over it!
I'm now already looking forward to seeing the girls at Vegfest London, which is taking place later this month, and I am already prepared to stock up on Christmas candles (it's just around the corner after all ;))
2. Yoga Mat Spray by Utama Spice
Yes – you're reading that right: Yoga Mat Spray!
I've been super excited to try this out – after all, up until a few weeks ago I wasn't even aware that there was such a thing as Yoga Mat Spray! I ordered two separate ones from Utama Spice – this Supa Dupa Spray and an Energizing Spray. and I've been loving both of them.
It's definitely great to have two separate sprays – to use them during yoga practise depending on the mood. This Supa Dupa Spray is very rich and I find it very soothing and calming – whilst the energising spray is very fresh & minty. Yes, I'm totally trying to describe scents to you here, and I'm actually finding this more difficult than I thought it would be, ha!
I'm almost certain that the Supa Dupa Spray contains Cinnamon, which is one of my favourite flavours and scents towards the colder part of the year, so I thought it was only suitable to snap it here in an autumnal theme 😉
You can check out all available sprays from Utama Spice here: https://utamaspice.com/mindfulness/yoga-mat-spray/
They're a company based in Bali and they currently ship from either the US or Asia (but are working on setting up a distribution centre for Europe also!), but yes, they deliver to the UK for a delivery charge.
3. Free Soul Vegan Chocolate Protein Powder
Is there such a thing as #proteinporn? Cause if so, I just found it!
I stumbled across Free Soul at a recent boxing & yoga event at New Motion Fitness – they were sampling in between sessions and I instantly fell in love with their chocolate protein! Believe it or not – it makes everything taste like an amazing chocolate-y dessert and not like a typical protein at all. It's also got 66% protein and a lot of extra micronutrients, which makes it a perfect allrounder to add to your day.
I've actually been adding it into my morning porridge, to add some tasty chocolate flavour and extra protein to my morning dishes – easiest way ever with this tasty powder!
All I need to do is keep it safe from my other half though… he likes sneaking in on my vegan protein powders, especially when they're this tasty! (I hope he doesn't read how tasty it is here :p)
4. NUSH Chive Almond Milk Cheese
Guys, I have a confession to make: I apparently manage to eat an entire tub of vegan cream cheese at once… and I'm not even sorry, as it was so tasty!
Ordered this goody on Ocado last weekend – simply as I was feeling adventurous and wanted to check out some vegan products I hadn't tried before… and then managed to empty it within a day! Some fresh bread with cream cheese and avocado topping is simply one of my fave's work-day snacks at the moment.
This cream cheese was not only super tasty, but the texture was also amazing – creamy & fluffy and spread just perfectly. I could've honestly spooned this out of the packaging!
5. Eat First
EatFirst recently got in touch with me and asked whether I wanted to try out their vegan menu items – and who am I to say 'no' to food, right?
I actually ended up enjoying the food so much, that I decided to feature it here (drumroll please!)
To give you some background knowledge about EatFirst: they are a food delivery company, bringing chef-made prepared gourmet meals to your door, that you can either heat in an oven or a microwave. Each dish's ingredients is divided in the tray and they come with a quick & easy instructions of how to heat them up.
Their chef is very into Asian cuisine and they currently have two vegan mains available via their website: Vegetable Udon & Teriyaki Tofu – both were absolutely delicious! I shared the dishes with Nick for dinner – he went for the Teriyaki, but was friendly enough to let me taste some – and I enjoyed the Udon, which was spicier than I expected it to be, but not too spicy to deal with (disclaimer: I'm super sensitive to spice, so you might not find it as spicy if you're used to a little more heat)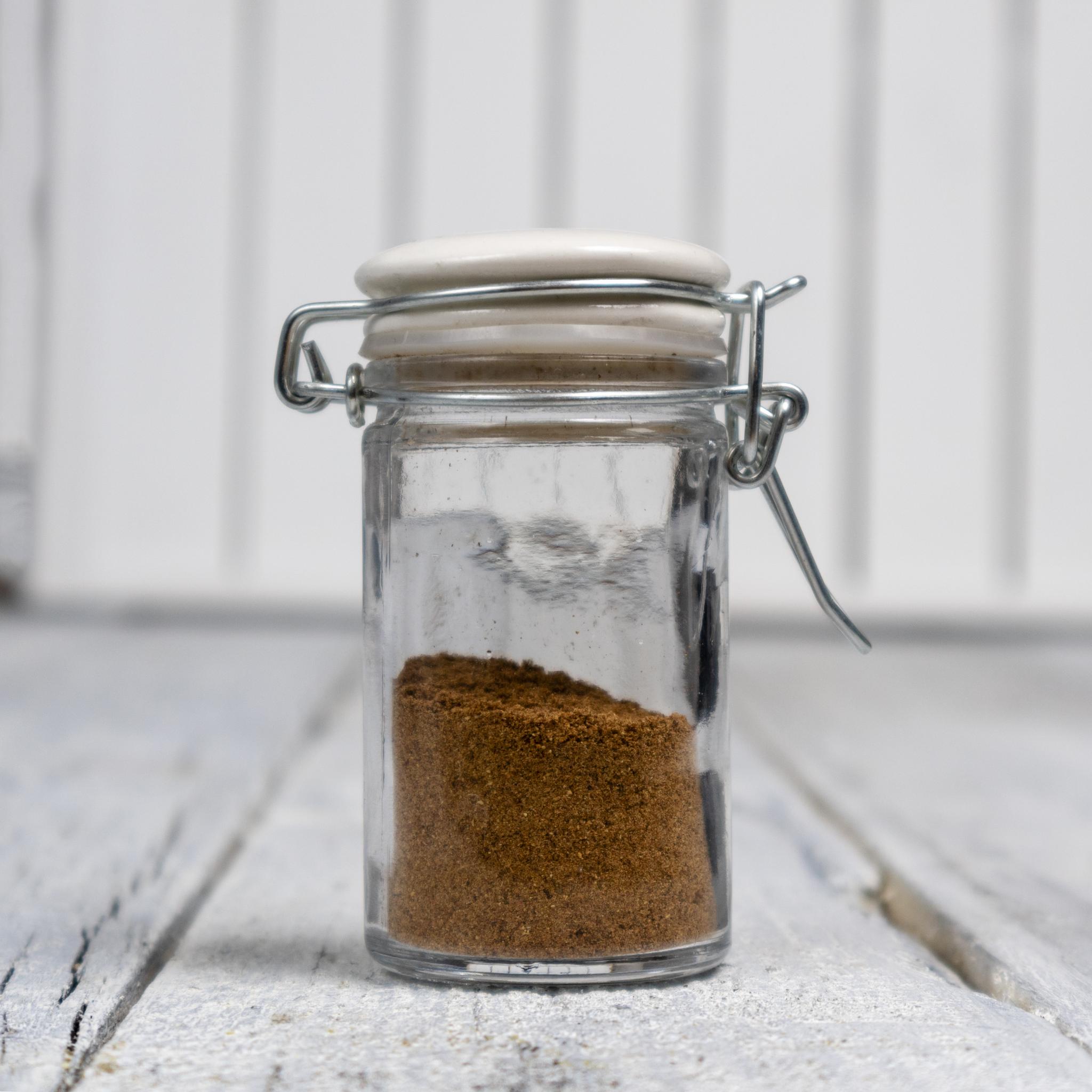 Okay, strictly not a product – but I've been hyping all over pumpkin spice this year, and it's incredibly easy to make!
After an Instagram Poll it turned out that I was not the only person always wondering where to buy it in the UK or how to make it – so I decided to include a quick & simply recipe on the blog, which you can find here.
Perfect for waffles, muffins, pancakes, loafs and also porridge (check out the recipe here!)