Wow – another month gone by?! How did that even happen?
Honestly can't believe that we're already on number three of my monthly favourites! And in the beginning I thought it would be such a long time and I would have just too much to share each month – and here we already are again. Seems like it was just yesterday that I hit that 'Publish' button on the last post!
I have a very colourful (literally for some!) combination of products for you this month – I hope you're ready!
1. Notebook by Three Sixty Five Ldn
Well isn't this a lovely way to start the monthly favourites of July? Super grateful for this present by the wonderful Tiffany – and definitely the most beautiful notebook I have owned & completely coated in vegan leather! Definitely love the personalisation with my blog initials added to it – gives it a lovely personal touch and also makes it the perfect present for that vegan friend of yours! (or also a non-vegan one, cause tbh, this notebook is dope af! ;))
There are also other colours and covers available – simply have a look over on the website here – perfect for the daily hustle 😉
2. Happy Food by Bettina Campolucci Bordi
Yes, it's that time of the year again: I just splurged on a whole bunch of new cookbooks! As if I didn't have 12345 already! Nick might want to agree to disagree on whether or not more books were necessary… 😉
I've definitely fallen in love with this stunning cook book by the wonderful Bettina from @bettinaskitchen – I've been following Bettina's Instagram account for quite some time (& also her ever changing awesome socks!) so I simply could not not get a copy of her debut cook book!
Can't wait to try out some of the recipes! I've had a Friday night-sofa-read-through the book already – as you do when you're nearing your 30s 😀
I can already tell: Bettina, you have outdone yourself with this book! Stunning imagery (as per usual!) and super creative recipes that already make me dribble whilst reading them.
If you watch my Instagram story on a regular basis, then you might know by now that I am absolutely obsessed with Essential Oils. It's one of my favourite finds of this year so far actually. It's crazy to find out that our ancestors knew so much about the power of different plant extracts & it's kind of gotten lost in modern day medicine. Instead we constantly add chemicals to our bodies, which – in the long run – cause our body more harm than good, and all of it just for a quick-fix when something is not functioning right with our bodies.
I have stopped taking commercial medication years ago – well, that's maybe not true. I do take them in an emergency, if really nothing else seems to help anymore. Also worth noting that probably lots of colds & allergies would pass, if I could just sit them out, but sadly, girls gotta go to work and do a job! And I am one of those people that simply can't be productive or concentrate if not feeling 100%.
So this is were essential oils come in for me! There are actually a lot of different types and also qualities of oils and they can be used in a variety of ways. Essential oils can be inhaled (use them in a diffusor for example!) used externally or even internally if they are a food-grade quality.
Different oils can have different effects on the human body – also depending on the quality and also the way they're being used of course. One of my favourites has recently been lavender, as it seems to help calm down my allergy symptoms. Whenever I'm at home you can see my diffusor on with a couple of lavender drops inside. I simply love the relaxing scent that it spreads across the room!
I believe I purchased this bottle in either As Nature Intended or Holland & Barrett a while ago, I don't remember for sure as I've already had it for a while (Essential oils last for ages as you would only just use a small amount at a time!
This one if however now a food grade, so it should not be taken internally.
Oh my days, right? The perfect addition to the ultimate vegan pizza party – and pretty much any lazy Friday night at home with a refreshing cider and Netflix. A good ol' pizza from the freezer just fits right in to complete the perfect Friday night. Is pizza a Friday night kinda thing for you also? I don't even know how I've gotten to that habit, but I simply think that pizza is the best way to start an awesome weekend 😉
This pizza by One Planet Pizza I've actually tried for the very first time at the Vegan Nights in June (see my blog post about the event here) I've walked past their stall plenty of times at previous events, but never had a chance to try their pizza – simply because their stalls always had massive queues!
The guys from One Planet Pizza were super kind and did actually send me a bunch of their pizzas in the post, so that I could get to try even more flavours (I had tried the Hawaii & Funghi versions at the Vegan Nights event!)
This one below is actually their Three Sheese pizza – with the extra portion of Bute Island Sheese! Pure yum! Nick and me actually devoured this one in front of the TV, cheering on the teams in the World Cup, the perfect eve!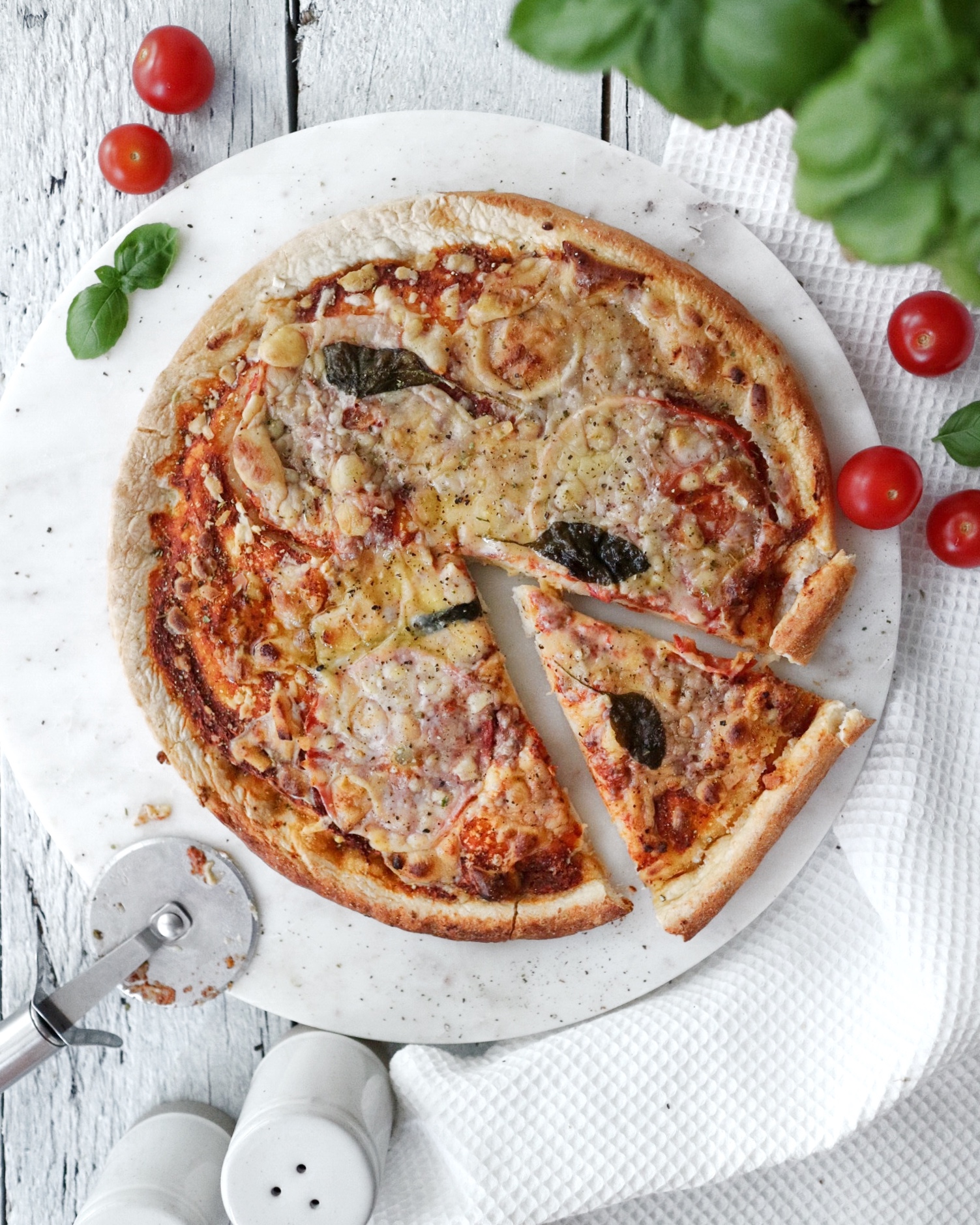 5. Rebel Kitchen's Mylk
If you've been looking for the perfect vegan milk (or 'mylk' in this case!) to drink on its own, then look no further cause I've found it for you!
As it was World Mylk Day last month the lovely team at Rebel Kitchen sent me some of their new Skimmed Mylk to try and I have to say: It's bombin'! Probably the first vegan milk I happily drink straight out of the carton – after it's been in the fridge for a couple of hours of course 😉 The perfect refreshment after a long, hot summer day!
6. Naturli's Patties & Vegan Butter
You may remember this product from my recent recipe for Vegan Big Mac, ay? These patties are definitely the best vegan ones yet, in my opinion! And super accessible since they just launched in 400 Sainsbury's stores across the UK – alongside the vegan butter that just launched last week (In Danish packaging here thought, as I had a sample ;))
Their vegan butter is actually absolutely amazing and I have to admit that I fell in love with this brand since I joined their launch party at the Danish Embassy in London a couple of weeks ago. They also have the most amazing vegan hazelnut ice cream, a pure creamy, nutty dream – but sadly we're gonna have to wait for that product in the UK a little longer!
A pure spontaneous supermarket find, as I simply just couldn't say 'no' to cinnamon swirls when I spotted this one on the shelf (I mean: who can?!) This was my first time actually trying these out – and despite the high sugar content (hey, it's a treat!) these were super easy & quick to prepare in the oven and tasted absolutely delicious – can only recommend!
Whilst I love making my own cinnamon swirls (I have a super delicious recipe here!) these will actually be my go-to quick-fix for the cinnamon-swirl hunger in the future.
7. Pulsin Salted Caramel Brownie
Yes, I do admit: I was totally sold on these when I heard the new flavour: S A L T E D C A R A M E L – doesn't that just sound like pure perfection?
I've been loving the sweet-salty flavour combination for the past few years (tbh I think popcorn got me hooked on that combo!) and everything Salted Caramel flavoured is definitely ranking high on my list.
When hearing that Pulsin were launching a Salted Caramel Brownie, I got actually totally excited and couldn't wait to try them out! I've been loving Pulsin's Protein Bars FOR YEARS already – even though I did not buy them necessarily for their protein content, but because they were simply delicious (that Maple flavour though, ugh!)
Oh and we're off to the Big Finale! The other week I was actually hosting a giveaway for these tasty poptails over on my Instagram and made one lucky person super happy 😉
These poptails just sound too good to be true, and I can't believe that noones come up with the idea before! I honestly wish I still had some of these in my freezer – they have been the perfect cool down on these hot summer days, but sadly I already demolished them all in the heatwave… whoops! It's difficult to tell which one of these has been my favourite, they've all been super delicious, but if I was made to choose, then the Whisky Sour & Mojito are definitely ranking high!
What have been your favourites in the past month? I'd love to find out if you have any recommendations for new products that I should definitely try 😉 I'm always up for trying out new things & flavours!